By Lambert Strether of Corrente
Dear Readers,
As you know, I am diffident, and as a good WASP, I hate talking about money — and if you cringe to hear me talking about about I hate to talk about, you can just jump down to the tip jar — and this year I have even more excuses for diffidence. However, this is the time of year for the Water Cooler annual fundraiser, and I hope that you — even in the teeth, or rather the spikes, of the corona virus — will do what it takes to keep Water Cooler going. Our goal is 300 donors. What Yves wrote in 2017 is still true:
Besides providing general business news, Water Cooler files all the scamming and grifting and phishing under the heading of "The Bezzle," provides a contextual view of official statistics, maintains a watch on important indices, and follows shipping and supply chain news as a non-financial window into globalization. In politics, Water Cooler provides detailed, gritty coverage of important races, of sausage-making on policy, especially health care, and tracks the continuing legitimacy crisis of the political class as a whole, especially out in the "flyover states." In addition, Water Cooler covers ecological news under climate change, and gives dispatches from the front of Class Warfare. That's a lot of material to cover and bullshit to wade through on a daily basis!
To 2017's work load, I've also added a regular polling feature based on the work of alert reader dk, counters for the primaries, and at reader request, coverage of #COVID19 statistics, as well as the Greed and Fear meter and Rapture Index. I sit down and open a new file at 11:30AM (if I don't oversleep). When you count in selecting the day's plant, I'm finished with the regular features and in a little under an hour. I then have perhaps 90 minutes to write the rest of the post! Granted, I do updates, but you can see I'm very, very productive (and this doesn't count reading to stay on top of the news flow, which I do constantly). I'm not lollygagging about!*
A word on #COVID19, part of the constant reading and link curation that I do: I am covering this topic — especially the epidemiology, policy, and pragmatic aspects (masks; isolation projects) — with sufficient care, I trust, but I also feel it's necessary to create some space that is not about #COVID19. Hence, I continue coverage of climate, the 2020 campaign, and by a natural extension of thought topics like the Internet of Sh*t. I hope that is congenial to you.
2019's reasons for donating still hold true:
1) You should support Water Cooler to protect us all against increased levels of ambient bullshit. If we had Bullshit Meter, in 2020 it would be pinned.
2) You should support Water Cooler to help us become even more knowledgeable citizens and voters. This includes all aspects of citizenship, from elections through sewing masks, if need be.
3) You should support Water Cooler for random, serendipitous reasons. Like lots of cryptic allusions, ancient reggae 45s, snowclones, and under-rated tweets. Also, although I do not wish to bring the really personal aspects of my life into the blog, I do have people who it is my pleasure and duty to support, and I really, really, really want to keep doing that for them, especially now.
So, if you can't contemplate social distancing without the day's Water Cooler, please go to the Tip Jar and give what you can. If you can give a lot, give a lot. If you can give a little, give a little. Yellow waders don't come cheap! Thank you!
NOTE * It would be remiss of me not to mention all the plant images, links, and suggestions sent in by readers. The NC commentariat is truly the best commentariat, and Water Cooler would not be what it is without you.
* * *
2019's Water Cooler fundraiser went very well, and we would like 2020's to go just as well. Our goal is 300 donors. What Yves wrote in 2017 is true this year as well:
To be crass, Lambert is making well under a living wage for his work on Water Cooler and that is not right. We need you to live up to what we hope is one of the widely-held values in the commentariat, that people should be paid fairly for their work, especially work that has already been done! That means digging into your wallets, whether a little or for a lot, and chipping in for Water Cooler.
Readers, I couldn't write Water Cooler without independent funding from you; there's no mainstream market for calling out bullshit. You are paying me for work I have already done — unlike the Naked Capitalism fundraiser proper, which sets the budget for the following year — and so having played the fiddle, I am now passing my cap. Please click the Donate button below and contribute what you can. Even if you can only make a small contribution, we'd still appreciate that, because we also have readers who can make much bigger donations. Again, our target is 300 donors, and we'd like to return to our regularly scheduled programming as soon as possible. I really enjoy writing Water Cooler, and I hope you enjoy reading it. Thank you!
* * *
To make the business relationships clear, Yves writes:
Water Cooler is a separate store front within Naked Capitalism to pay for [Lambert's] considerable effort on it over and above all the work he already does on the site… Yes, Lambert also gets paid out of the annual fundraiser, but that is for the considerable amount of work he does besides Water Cooler, such as DJing the site, helping manage the comments section, managing a lot of the tech issues, and helping in tooth-gnashing over other "business of running the business" matters.
* * *
Here is the screen that will appear, which I have helpfully annotated.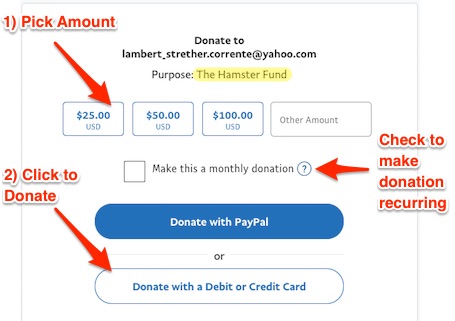 If you hate PayPal, you can email me at lambert [UNDERSCORE] strether [DOT] corrente [AT] yahoo [DOT] com, and I will give you directions on how to send a check. Thank you!
If you hate PayPal — even though you can use a credit card or debit card on PayPal — you can email me at lambert [UNDERSCORE] strether [DOT] corrente [AT] yahoo [DOT] com, and I will give you directions on how to send a check.