Scientists Find Bacteria That Eats Plastic EcoWatch (David L)
The 5 techniques of science denial Cranky Uncle (Bob H)
Scientists find a way to extract color from black PhysOrg
#COVID-19
Coronavirus fears spark prison unrest worldwide New York Magazine (resilc)
'Help us': After deaths on coronavirus-hit ship, guests clamor to leave Reuters (furzy)
Health/Medical
China

China Shuts Down All Cinemas, Again Hollywood Reporter
India

India's sudden lockdown threatens food supply chains Financial Times. You heard it here first! Jerri posted on this issue yesterday. See also: Farmers warn over food supply with harvest workers shut out

As coronavirus cases spike, India begins preparations for Stage 3 LiveMint (J-LS)

Amidst a Lockdown, Why Must Cops Wield the Lathi With Such Impunity and Callousness? The Wire (J-LS)
UK/Europe

Covid-19: Why the EU is haunted by the euro crisis divisions Tony Connelly, RTE. PlutoniumKun: "Very important article on the arguments within the EU over a fiscal response to the virus."

Coronavirus: Prime Minister Boris Johnson tests positive BBC
Brazil

Brazil Undone London Review of Books. Gah.
US

We are quite literally doing a worse job of containing the virus than any other country on earth.

— Chris Hayes (@chrislhayes) March 27, 2020
Bailout Bill

There's an outrageous lack of controls on the huge amount of corporate assistance provided in Section 4003 of the just passed stimulus bill. (1/9)

— Marcus Stanley (@MarcusMStanley) March 27, 2020

For $2 trillion, you could give $500 billion to frontline health care facilities and then cut a $10,000 check to every single worker in America.

Please try to explain to me how this wouldnt be better than giving much of the emergency stimulus money to corporations.

I'll wait.

— David Sirota (@davidsirota) March 28, 2020

This announcement of layoffs by United Airlines came literally a few hours after they got $25B in grants from the government so they wouldn't have to lay anyone off.

Congress is full of a bunch of fucking morons. https://t.co/UrNRiOIgbO

— Matt Stoller (@matthewstoller) March 27, 2020
Shortages/Supply Chain

An emergency room physician who made pleas for more safety equipment and more urgent measures to protect staff at PeaceHealth St. Joseph Medical Center was fired on Friday. https://t.co/xdPzg53fLC

— The Seattle Times (@seattletimes) March 28, 2020

Not enough personal protective equipment for nurses/nurse assistants/physicians. My father is a neurologist in NY called to consult on COVID-19 patient is reduced to wearing a garbage bag on his head, a face mask made from uncle Giuseppe take out dinner stapled to a shower cap. pic.twitter.com/uoypkC1Maq

— M. Goodleaf (@mgudesblatt) March 27, 2020
Political Responses
Finance/Economy

Red April: What happens on the first of the month when residents, restaurants, and retail stores don't pay rent? Slate (Dan K)

a href="https://onezero.medium.com/drivers-say-the-uber-coronavirus-fund-is-failing-them-8c36aceace78″ rel="nofollow">These People Are Evil': Drivers Speak Out Against Uber's New Coronavirus Sick Leave Fund OneZero

The Helicopters Are Coming Willem Buiter, Project Syndicate (David L). For those of you who found NC during that other crisis, Buiter was one of our favorite commentators.

Bosses are panic-buying spy software to keep tabs on remote workers https://t.co/Jch6haKJTB

— Los Angeles Times (@latimes) March 28, 2020

For the Class of 2020, a Job-Eating Virus Recalls the Great Recession New York Times (resilc)
Venezuela
Trump admin's $15 million bounty on Maduro triggers explosive confession of violent Guaidó plot Grayzone Project (Chuck L)
Imperial Collapse Watch
Farewell To Sanctions American Conservative (resilc)
Trump Transition
How Popular Is Donald Trump? FiveThirtyEight (resilc)

Walmart Was Almost Charged Criminally Over Opioids. Trump Appointees Killed the Indictment. ProPublica
2020
This is such a meta story. Look at how the media covering this story. At first it was in the Lifestyle section. Now in the sports section. It's really quite stunning. https://t.co/bJIDF44bKo

— Katie Halper (@kthalps) March 27, 2020

How Corporate Media 'Factchecked' Biden's Calls for Social Security Cuts Into Oblivion FAIR (UserFriendly)

Joe Biden's Embarrassing Media Tour Failure Path Forward (dougie)

Insiders tell how Sanders lost the black vote–and the nomination slipped away Washington Post (UserFriendly)
Standing Rock Sioux Tribe Prevails as Federal Judge Strikes Down DAPL Permits Earthjustice (martha r)
N.S. judge agrees with Mi'kmaq band, requires further talks on Alton Gas project CTV News. Martha r: "From earlier, still germane. a good week for indigenous fossil fuel action."
Guillotine Watch
'My Friends Can't Get Their Nails Done,' Fox News Host Laments While Acknowledging 'People Are Dying' From COVID-19 Rolling Stone (resilc)
Antidote du jour. Pat H:
Here is a pic of my Maine Coon Cat located about an hour West of Lambert in Sebec Maine. It was one of her first days outside of the house after a pretty cold spring. Still lots of snow up here. Plenty of social isolation here if you want it!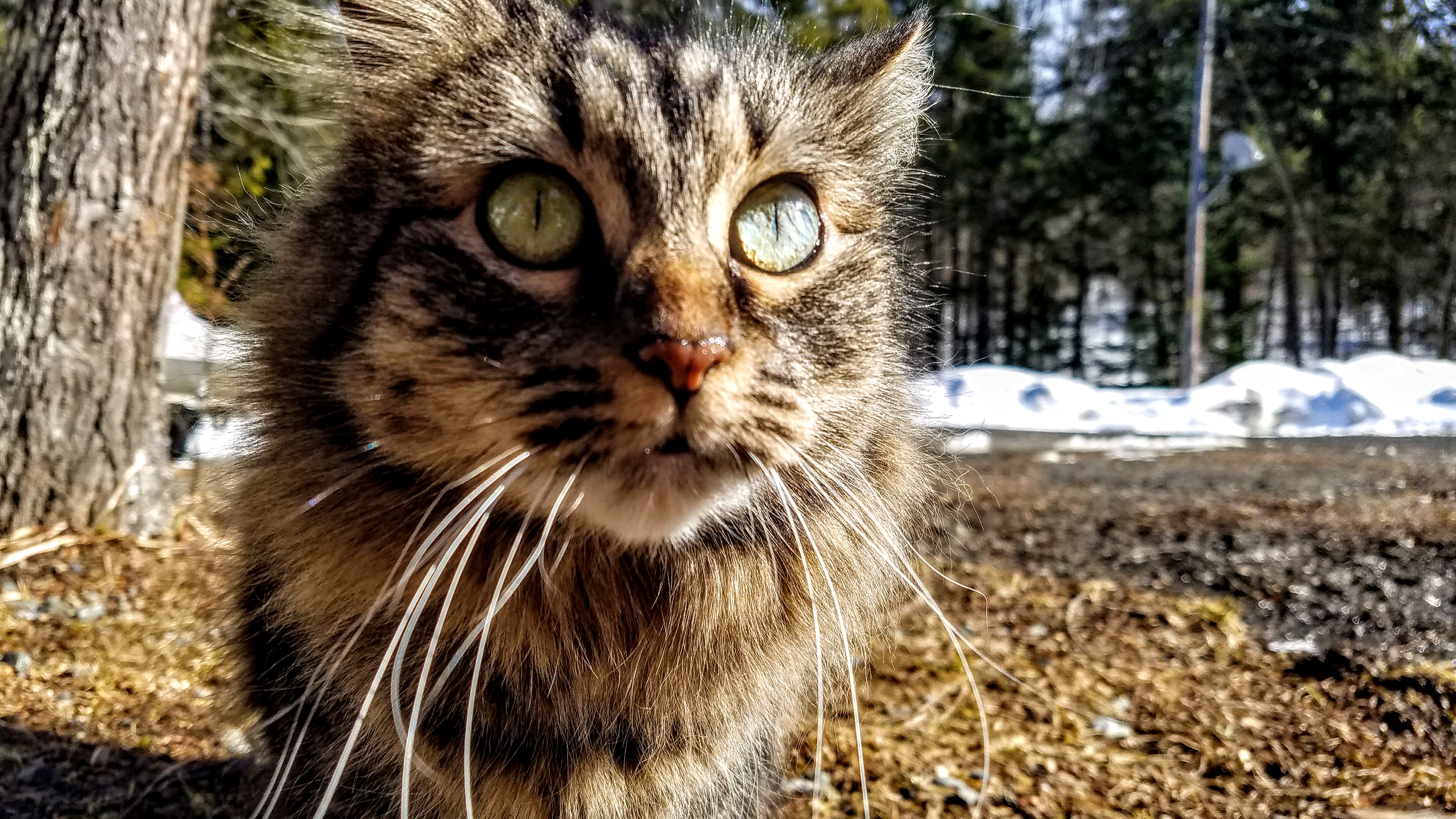 And a bonus video (Chuck L):
And another:
Brilliant https://t.co/yGCRYz0eBM

— Alasdair Smith (@AlasdairMSmith) March 28, 2020