Today is Super Tuesday. Vote! Reports of turnout also welcome.
Earth may have been a 'water world' 3bn years ago, scientists find Guardian (The Rev Kev)
Age of Invention: Where Be Dragons? Age of Invention
Walter Bagehot, the Literary Banker National Review
Boris Johnson is all for unconventional families – unless they're poor, of course Independent (The Rev Kev)
'It's a disgrace': Grenfell disaster inquiry suspended within minutes after outbursts from public RT (The Rev Kev)
Class Warfare
Syraqistan
Quick update on the Turkey vs Syria, Russia and Iran The Saker The Rev Kev
Analysis Elections Results: Israel Said Yes to Netanyahu's Message: Everything Is Allowed Haaretz
India
Big Brother IS Watching You Watch
FCC issues wrist-slap fines to carriers that sold your phone-location data Ars Technica
Julian Assange
Julian Assange's father: My greatest worry is he will die in jail Al Jazeera

The Armoured Glass Box is an Instrument of Torture Craig Murray
#COVID-19
Coronavirus latest: World is in 'uncharted territory' DW

World pharma supplier India restricts export of some ingredients, drugs Reuters

Easily overlooked issues regarding COVID-19 Our Finite World

The neuroinvasive potential of SARS-CoV2 may be at least partially responsible for the respiratory failure of COVID-19 patients Journal of Medical Virology (AJC) Abstract: The neuroinvasive potential of SARS‐CoV2 may be at least partially responsible for the respiratory failure of COVID‐19 patients

The first economic modelling of coronavirus scenarios is grim for Australia, the world The Conversation (David L)

Coronavirus appears to have spread undetected in the US for six weeks, study Salon (david l)

Coronavirus & Systems Fragility American Conservative (unsupervized)

The Pope 'undergoes coronavirus test after suffering illness, but tests negative' Daily Mail

'Why Are We Being Charged?' Surprise Bills From Coronavirus Testing Spark Calls for Government to Cover All Costs Common Dreams

BREAKING: I am announcing a new directive requiring NY health insurers to waive cost sharing associated with testing for #coronavirus, including emergency room, urgent care and office visits.

We can't let cost be a barrier to access to COVID-19 testing for any New Yorker.

— Andrew Cuomo (@NYGovCuomo) 3 March 2020

NYC ER doctor: I have to 'plead to test people' for coronavirus YouTube (The Rev Kev) Moi: Frightening. A shambles. A national disgrace. Watch to the end.

T-rex Costume Funny Prank Wuhan Coronavirus Outbreak just doing daily chores  YouTube (JN) Moi : Where can I get one?

Canceled Games and Empty Stadiums: Will the Coronavirus Spread to Sports? WSJ

WHO handwashing technique. Notice the attention to between the fingers, back of fingers, and nails:
2020
MSNBC's Chris Matthews Announces Retirement on Air, Apologizes for Past Inappropriate Comments The Wrap (Quaterback)
Waste Watch
Canadian grocers have a smart approach to food waste TreeHugger  I wonder what readers think of this. I don't have a smartphone, so I don't use apps. But I know I'm in the minority on this score. This app isn't a waste panacea, but it seems to me it reduces food waste.

HOW SOUTH KOREA IS COMPOSTING ITS WAY TO SUSTAINABILITY New Yorker
Antidote du Jour. TH: Anna's Hummigbird, Ventura, California: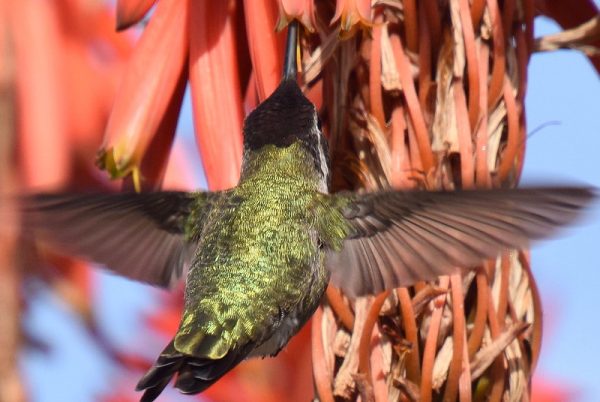 See yesterday's Links and Antidote du Jour here.