Ferocious Raptor Discovered In New Mexico Was A Speedy Hunter Gizmodo (Kevin W)
Comet Atlas could be the brightest comet in decades The Next Web (Alan T)
Tree rings could pin down Thera volcano eruption date PhysOrg (Chuck L)
First Antarctic heatwave recorded at Casey research station antarctica.gov.au (Kevin W)
Amateur team builds ultra-efficient electric car in a barn Yale Climate Connections
Huge ecosystems could collapse in less than 50 years The Conversation
Are Thousands Of Game Farms In The U.S. Spawning A Generation Of Disease-Carrying Zombie Deer? Animal Wellness
Blood test detects wide range of cancers, available to at risk individuals in clinical study MedicalXpress (Chuck L)
Sometimes the most powerful act of resistance is to do nothing aeon
#COVID-19
Pigeons probably think we're extinct

— Saritaaa (@bxsarrr) March 29, 2020
When you're using #TheLockdown to get organazized and but your cat has other ideas pic.twitter.com/hAALKm8NV3

— Happy Cat (@HappyCatCentral) March 31, 2020
I've not been out for a few days but apparently goats are in charge now that seems finepic.twitter.com/XafgKrA7PG

— end of daves ❄️ ? ? (@davemacladd) March 31, 2020
Inga is 85. Karsten is 89.

She lives in Denmark. He lives in Germany.

They're in love.

When coronavirus closed their border, they didn't let it stop them. They still meet everyday like this for lunch.

This is what real love looks like!

❤️ ❤️ pic.twitter.com/kF4CUm5oPe

— Goodable (@Goodable) March 30, 2020
4 tips for staying connected during coronavirus, from migrants who live far from family The Conversation
Authors, Publishers Condemn the 'National Emergency Library' As 'Piracy' NPR
Van Gogh painting stolen in raid from museum closed due to coronavirus Yahoo (Brian C)
Yuval Noah Harari: the world after coronavirus Financial Times (David L). Unintentionally making the case for dumbphones or burner smart phones.
Health/Science

FDA Issues Limited Emergency Use For Two Drugs Used To Treat Malaria CNN. This is bizarre and comes off like a Trump-pressured PR stunt. Any MD can prescribe these meds as an "off-label" use. Even worse, this authorization does not contain a requirement to submit data to the FDA. It does allow for the release of supplies from stockpiles to hospitals and does provide for a fact sheet to be distributed. However…..

There's scant evidence so far for chloroquine as a COVID-19 drug — but there's already a shortage MarketWatch
UK/Europe

Coronavirus: Leeds woman put message in window to ask cat's name BBC (Clive)

Protective equipment being diverted from care homes to hospitals, say bosses Guardian (Kevin W)

Coronavirus: Homeless people 'scared and hungry' on streets despite promise to house them over weekend

'People on the streets are struggling because the normal sources of food have gone,' says Crisis
https://t.co/0S6DmZAt6e

— Michael (@therightarticle) March 31, 2020

Don't be fooled by Johnson's new letter. The UK government has, for two months, systematically flouted World Health Organisation advice on how to deal with this pandemic.

Full video: https://t.co/5JghTsEOHM

Full transcript: https://t.co/bpaC22G04V pic.twitter.com/kkckvEMn4d

— Rupert Read ? (@GreenRupertRead) March 30, 2020

Sweden says no to quarantine – is this the most reckless or the most proportionate Covid-19 response in the West? RT (Kevin W)

On @nytimes homepage now: Over 12,000 medical workers in Spain are infected with #Covid19. Facing a grave shortage in protective gear, these "health care kamikazes" show us how they make gowns & shields from trash bags & O.R. supplies. By @tiefenthaeler https://t.co/yMWjrUc4QH

— Malachy Browne (@malachybrowne) March 30, 2020

Kick Hungary out of the EU. https://t.co/z71dtUvtWw

— Susan Rice (@AmbassadorRice) March 30, 2020

The fiscal consequences of the pandemic Bruegel

From Politico's European newsletter:

TOO MUCH, EVEN FOR THE DUTCH? Politicians and economists in the Netherlands, meanwhile, have accused Prime Minster Mark Rutte's government of going too far in rejecting corona bonds to help countries hit hardest by the coronavirus, and by calling for the EU to probe why those states don't have the financial buffers to cope better with the economic shock, write Hans von der Burchard and Eline Schaart.

HOW DO WE GET DOWN FROM HERE? The most pressing question in European politics now, as it so often is when a policy debate gets this emotional, is how the combatants will manage to climb back down from their perches among the tree tops. The dispute over the right economic answer to a downturn of an unknown size and course — one dip, or two, for example? — will continue for a while, certainly beyond the end of next week, when finance ministers are due to file their aforementioned homework.
India

Coronavirus: India's 'super-spreader' may have infected 15,000 people Gulf News

Coronavirus: How Dubai, Saudi returnees slipped under radar, leading to spike in cases Times of India (J-LS)
Latin America

This is the time to waive sanctions on Venezuela Financial Times. Editorial. As a cross-post suggested a while back…

Bolsonaro threatens to sack health minister over coronavirus criticism Guardiann (UserFriendly)
US

Every hotel in Vegas is completely empty right now. https://t.co/Tar4kjuSkl

— Krystal Ball (@krystalball) March 30, 2020

My neighbor didn't show up for work. His boss called the cops to do a "welfare check." They shot and killed him.

It's 2020. Everything is canceled except for police terror.

— Nick Estes (@nick_w_estes) March 31, 2020

New York's Empire State Building was lit up like an ambulance siren on Monday night in tribute to medical workers fighting coronavirus.

The Empire State Realty Trust said the lights symbolized "America's heartbeat and a siren of red and white". https://t.co/sK9NGk0fgE pic.twitter.com/SuZa16b8EG

— CNN (@CNN) March 31, 2020
Shortages

Trump administration in talks with India to avoid U.S. drug supply shortage NBC. Ahem, pretty much all the active ingredients come from China.

Illinois governor says feds sent wrong type of protective medical masks CNN (furzy)
Political Responses

It's so much easier for an airline exec to apply for $32 billion in bailout money than for a random poor person to apply for food stamps. (ht @amandalfischer) https://t.co/DcifMRMKoW pic.twitter.com/MZgDXYBce5

— Matt Stoller (@matthewstoller) March 31, 2020

America's Diseased Politics New Republic (resilc)
Economy/Finance
Guillotine Watch

David Geffen Assures Us He's Isolating on His $590 Million Yacht TMZ (Brian C)
Serfs Revolt

Amazon Worker Who Led Strike Over Virus Says Company Fired Him Bloomberg (martha r)

Whole Foods workers to stage national 'mass sick-out' strike over coronavirus concerns NJ.com

Because we normally only tip people we deal with directly and make eye contact with, we end up not tipping people doing no-contact deliveries. pic.twitter.com/5CX82KivNd

— Felix Salmon (@felixsalmon) March 30, 2020

While @BernieSanders fights for us in the Senate, his foot soldiers (me) are supporting striking tenant organizers in the ground with groceries. #Rentstrike #teamwork pic.twitter.com/y70hcrIQYE

— Moumita?Bernie for President (@disruptionary) March 30, 2020

FAQ: What to Do on April 1 Housing Justice For All
Syraqistan
Saudi Arabia's Dwindling Influence American Conservative

US Repositions Troops in Iraq, Preparing for Fight Against Iran Antiwar.com
Trump Transition
Trump Administration, In Biggest Environmental Rollback, To Announce Auto Pollution Rules New York Times
2020
Reality Has Endorsed Bernie Sanders New Yorker (martha r)

Bernie Sanders won't leave the presidential race and some Democrats have a problem with that. Washington Post. UserFriendly: "These people are so stupid. They treat voters like brain dead zombies."

Tom Perez Put Corporate Lobbyists in Charge of the DNC's Budget Sludge (UserFriendly)

Now this is powerful!

(though whoever wrote those notes for him should probably use better (and bigger) penmanship)pic.twitter.com/GpX20vb7zp

— Glenn Greenwald (@ggreenwald) March 30, 2020
Boulder County Wants Insurance Companies To Ditch Their Fossil Fuel Investments Colorado Public Radio
CalPERS allocates $375 million to emerging manager real estate fund Pensions & Investments (Kevin W)
Antidote du jour. Leroy: "Macaws on balcony, Caracas":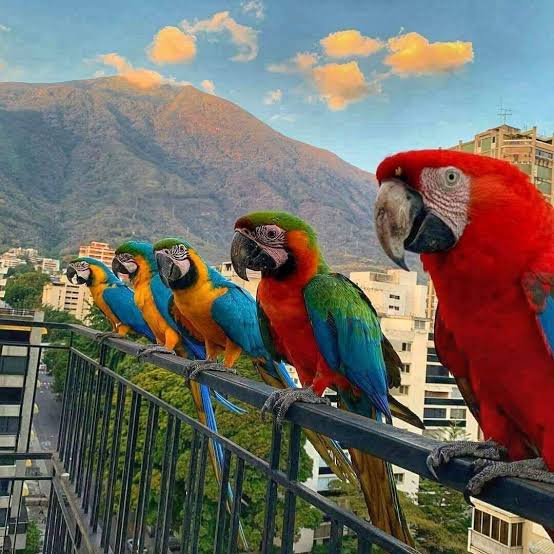 See yesterday's Links and Antidote du Jour here