It looks like a bloodbath is coming Monday for Europe and the US based on overnight trading in Asia. Coronavirus is showing that financial instruments can't trump the real world.
Mr. Market has finally digested that the world isn't prepared for coronavirus and the US is particularly poorly set up to cope, thanks to our fragmented public health system and overpriced, privatized and less than comprehensive health care. That bad situation is made worse by the CDC being short on resources and hamstrung further by the Trump Administration's PR imperatives.
At a minimum, the market rout may force the Administration to go into overdrive on real world responses, but I doubt it has the capacity. For starters, Pence is badly cast as a crisis manager. But as we'll discuss briefly, the US has such hollowed out capacity on the medical front that a better response would have needed to start weeks ago to have much hope of blunting outcomes.
The US' best hope is that hotter weather will slow the infection rate, but that's not coming soon enough to rescue the Eastern corridor or the West Coast from San Francisco Bay north from serious propagation till at least mid May (and San Francisco doesn't get all that hot except when the weather gets freaky).
Market Freakout
As of 3:00 AM EDT:
Safe-haven bonds continue to rise to unprecedented prices, sinking the long bond yield and with it, all Treasuries, below 1%. From the Financial Times:
The 10-year US Treasury yield dived by more than a quarter of a percentage point to a record low of 0.4949 per cent. The 30-year US Treasury yield dropped below 1 per cent, taking the entire US yield curve below that level for the first time. Investors now face the prospect of the 10-year yield — which stood at 1.5 per cent just 18 days ago — soon joining government bonds in Europe and Japan in negative territory.
S&P futures trading was halted because its 5% plunge hit limit-down circuit breakers. Bloomberg reports traders are "flying blind" thanks to the most important equity futures contract not being off line.
Dow futures were also ugly. From CNBC:
Futures on the Dow Jones Industrial Average plunged 1,198 points, implying an opening loss of 1,246.78 points at Monday's open. The S&P 500 futures and Nasdaq-100 futures also indicated significant losses at Monday's open.
This cheery chart comes from the Wall Street Journal: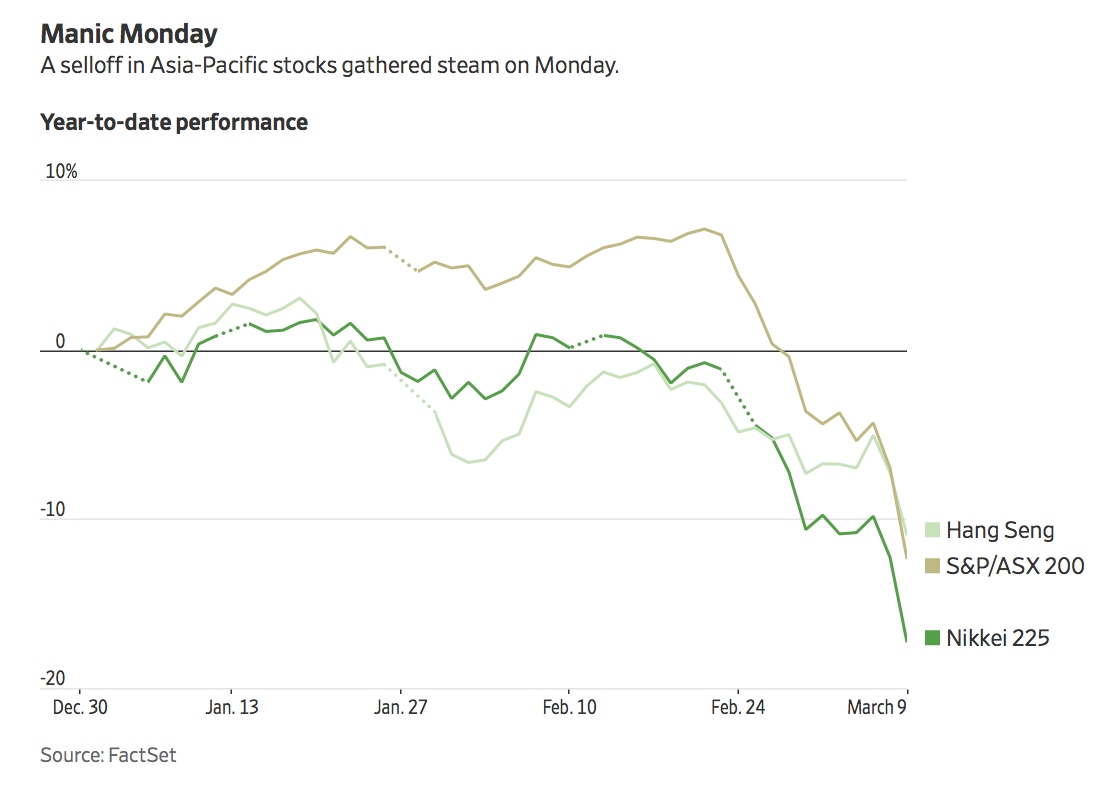 The headlines in the pink paper blamed the market rout on oil prices plunging by as much as 30% due to the Saudis cutting benchmark prices for April in a price war with Russia after a production-cutting deal collapsed. Some experts contend that the S&P can't recover with oil prices cratering, but the bond market rout and other market action (and reactions in the FT's comment section). However, it was coronavirus which whacked and is expected to continue to diminish demand for oil, leading to the arm-wrestling between Riyadh and Moscow. So coronavirus is the ultimate cause of the upheaval, even though the oil breakdown is a major accelerant. From the Financial Times:
"If you ever wondered what would happen if someone lobbed a hand grenade into a bloodbath, now you know. It's not pretty," said Gavekal Research analyst Tom Holland.
A big investor concern is such a rapid fall in oil prices, if sustained, will quickly lead to downgrades and bankruptcies. From the Wall Street Journal:
Oil plunged more than 25%, 10-year Treasury yields dipped below 0.5%, stocks dropped, and currencies swung as the prospect of an energy glut ratcheted up turmoil across markets world-wide.

Investors are responding to Saudi Arabia's decision over the weekend to cut most of its oil prices and boost output, despite existing threats to demand from the coronavirus epidemic. The move escalates a clash with another major oil producer, Russia.

"The fear today is about a global recession," said Thomas Hayes, chairman of Great Hill Capital, a hedge fund-management firm based in New York. He said lower oil prices make it more likely some companies would default on their debts.
A Bloomberg story described how the prospect of low oil prices weighs directly on stocks
While the energy sector is now the third smallest in the S&P 500, a change from a decade ago when the industry made up 11% of the benchmark, tumbling oil prices is yet another risk for traders to contemplate.

"If WTI falls into the low $30s and stays there, it's going to cause lay-offs in the oil patch and stresses in the high yield market — like it did when oil fell dramatically in 2015," said Matt Maley, an equity strategist at Miller Tabak & Co.
As of the latest report, Brent oil prices have come back a bit off their bottom, down a mere 29%, while West Texas Intermediate is continuing to reel, with prices down by nearly 32% at $28.16 a barrel.
Needless to say, the Saudi logic is puzzling. Riyadh tried this move once before. Its "market share strategy" in 2016 was intended to cripple US shale gas players and other high cost producers like Iran and Russia. But it's hard to depict that gambit as having been very successful.
Regardless, other markets are behaving in more or less predictable crisis fashion. Again from the Journal: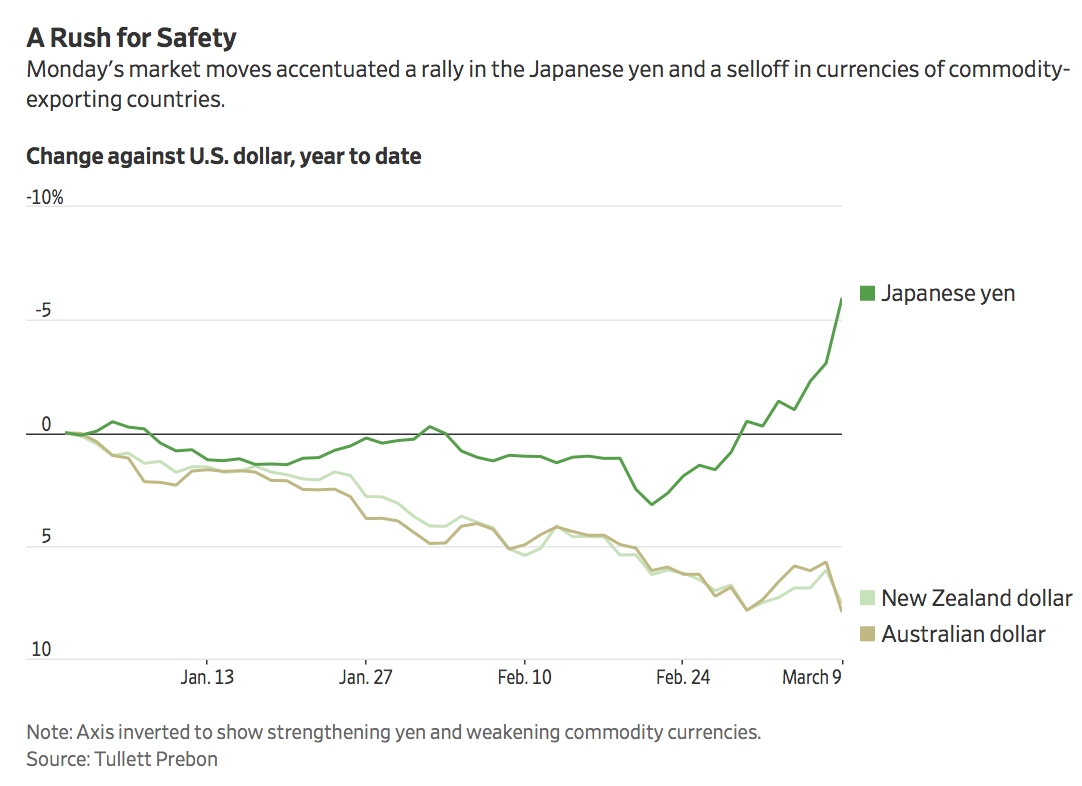 However, today, the dollar softened by 0.8% against other major currencies while the euro strengthened by nearly 2% against the dollar. Oil producing nations' currencies took a dive. From the Financial Times:
The Canadian dollar dropped 1.7 per cent against the greenback while Norway's krone fell as much as 4.7 per cent to its lowest level against the US currency since 1985. Russia's rouble dropped 4.5 per cent against the dollar.

The Australian dollar experienced a "flash crash", plunging almost 5 per cent against the US dollar in just 20 minutes to briefly touch its lowest level since the global financial crisis in 2008. Traders blamed algorithmic trading platforms affecting market liquidity.
Gold had a wild ride, rising 1.8% to top $1700 an ounce before falling 1%. It was at roughly $1663 in Singapore at 1 PM local time.
Some analysts are anticipating another emergency Fed interest rate cut. And bizarrely, there's even talk of the Fed going into negative interest rate territory, when the central bank had made clear it believes they are ineffective and perhaps even counterproductive. As vlade said by e-mail, "Basically, it can cut to just-above-zero, but then it's up to the government… which is going to be fun."
Real World Situation Ugly
The US is still in Keystone Kops mode. We don't have remotely enough coronavirus tests being done. We have no idea when we will have enough test kits ready. No one is even talking about how to implement a system like the drive by tests in South Korea which is not only efficient but even more important, greatly reduces risks to patients and doctors versus having to show up in a waiting room.
We have lots of ad hoc measures, like conferences cancelled, businesses ordering travel bans, some schools halting classes (most recently Columbia University).
But too many people are operating on a business as usual basis, including Congress. An estimated 2/3 of its members attended the AIPAC conference, where two a participants tested positive for coronavirus (oddly, the press has taken little note). An attendee at CPAC, a large conference for conservatives, also tested positive for coronavirus, but only two Congresscritters are self-quaranting.
Readers Monty and Leroy R posted a link to an account from a surgeon in Bergamo on how a hospital in one of the badly-hit areas is holding up. I strongly urge reading it in full (Leroy also linked to the original in Italian). Key sections:
I myself looked with some amazement at the reorganization of the entire hospital in the previous week…
I still remember my night shift a week ago spent without any rest, waiting for a call from the microbiology department. I was waiting for the results of a swab taken from the first suspect case in our hospital…

Well, the situation is now nothing short of dramatic…The war has literally exploded and battles are uninterrupted day and night. One after the other, these unfortunate people come to the emergency room. They have far from the complications of a flu. Let's stop saying it's a bad flu. In my two years working in Bergamo, I have learned that the people here do not come to the emergency room for no reason. They did well this time too. They followed all the recommendations given: a week or ten days at home with a fever without going out to prevent contagion, but now they can't take it anymore. They don't breathe enough, they need oxygen….

Now, however, that need for beds in all its drama has arrived. One after another, the departments that had been emptied are filling up at an impressive rate. The display boards with the names of the sicks, of different colors depending on the department they belong to, are now all red and instead of the surgical procedure, there is the diagnosis, which is always the same: bilateral interstitial pneumonia…

I can also assure you that when you see young people who end up intubated in the ICU, pronated or worse, in ECMO (a machine for the worst cases, which extracts the blood, re-oxygenates it and returns it to the body, waiting for the lungs to hopefully heal), all this confidence for your young age goes away… And there are no more surgeons, urologists, orthopedists, we are only doctors who suddenly become part of a single team to face this tsunami that has overwhelmed us.

The cases multiply, up to a rate of 15-20 hospitalizations a day all for the same reason. The results of the swabs now come one after the other: positive, positive, positive. Suddenly the emergency room is collapsing. Emergency provisions are issued: help is needed in the emergency room. A quick meeting to learn how the to use to emergency room EHR and a few minutes later I'm already downstairs, next to the warriors on the war front. The screen of the PC with the chief complaint is always the same: fever and respiratory difficulty, fever and cough, respiratory insufficiency etc … Exams, radiology always with the same sentence: bilateral interstitial pneumonia. All needs to be hospitalized. Some already needs to be intubated, and goes to the ICU. For others, however, it is late. ICU is full, and when ICUs are full, more are created. Each ventilator is like gold: those in the operating rooms that have now suspended their non-urgent activity are used and the OR become a an ICU that did not exist before. I found it amazing, or at least I can speak for Humanitas Gavazzeni (where I work), how it was possible to put in place in such a short time a deployment and a reorganization of resources so finely designed to prepare for a disaster of this magnitude….Nurses with tears in their eyes because we are unable to save everyone and the vital signs of several patients at the same time reveal an already marked destiny. There are no more shifts, schedules.
Ambrose Evans-Pritchard has another fine piece on the coronavirus outbreak. He flags that the UK is very poorly situated to handle it, with only 1/6 the ICU beds per capita of South Korea. As an aside, the US has 10x as many per capital as the UK…but read the Bergamo piece again. The entire hospital has been turned into a coronavirus ward. Lord only knows what happens to accident victims….are some hospitals in each region being set aside for regular emergency care?
Here is AEP's take on Italy and the implications:
Data from China suggest a death rate of 15pc for infected cases over the age of 80. It is 8pc for those in their seventies, and 3.6pc in their sixties (or 5.4pc for men). No elected government in any Western democracy will survive if it lets such carnage unfold….

Unfortunately, the early figures from Italy seem to be tracking Hubei's epidemiology with a horrible consistency. The death rate for all ages is near 5pc. While there may be large numbers of undetected infections – distorting ratios – Italy has tested widely, much more than Germany or France.

For whatever reason, the Italian system seems unable to save them. The death rate is six times the reported rate in Korea, even adjusting for age structures. Is it because the Italian strain has mutated into a more lethal form (we don't yet have the sequence data) or because Europeans are genetically more vulnerable?

Is it because Italy's nitrogen dioxide pollution is the worst in Europe (the UK is bad too), leading to chronic lung inflammation? Is it the chaotic administration that led to a catalogue of errors in the hotspot of Codogno?… If you think Britain's NHS has been starved of funds, spare a thought for Italy, Portugal, Spain, or Greece….

The US is about to face its grim reckoning. It has the best health care in the rich world – and the worst. Pandemics exploit the worst.
Let's tease out AEP's line of thought. The US is sorely wanting in operational capacity despite being able to provide top flight care for certain types of ailments.
US hospitals are now overwhelmingly run by MBAs. It's difficult to conceive of them being able to execute the sort of rapid reordering of space and duties described in Bergamo. It's not simply that the top brass is too removed from the practice of medicine to have the right reflexes. Unless ordered to do so, they will also be loath to devote enough resources to tackling the disease. When a crisis hits, they won't be allowed to charge (in their minds) for coronavirus services. They'll want to preserve as much hospital capacity for "normal" full ticket services as possible. They might rationalize that by arguing that they don't want to risk more of their staff's health than necessary.
But even worse, remember that most hospitals no longer control much their staffing. They've outsourced specialist practices like emergency room doctors….and those have been bought up by private equity. If you think private equity won't exploit this crisis for their gain, I have a bridge I'd like to sell you.
One possible silver lining to this probable tragedy is if the US medical system performs as badly as it appears likely to is that it might finally end the delusion that there's a lot (aside from individual doctors and nurses) in the current system worth saving. The broad public needs to make sure that their crisis does not go to waste.