By Lambert Strether of Corrente.
Patient readers, another household debacle caused me to get a late start. Worse, the echoes are still reverberating. So I've put out a skeletal version with an item in every bucket, and I will update on a rolling basis. Sorry! –lambert UPDATE All done!
#COVID19
At reader request, I've added this daily chart: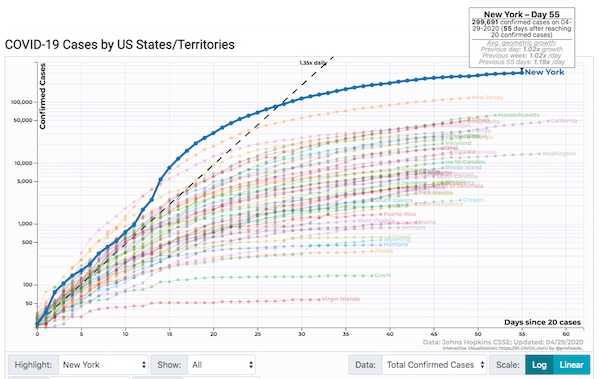 The data is the John Hopkins CSSE data. Here is the site. I have changed to a logarithmic scale for US States and territories.
New York's geometric growth is back up to 1.02 from 1.0. This is getting tedious. Upstate spread?
* * *
See Vice, "How to Read the Coronavirus Graphs":
Quantities that grow exponentially, when depicted on a linear scale, look like curves that bend sharply upward, with the curve getting constantly steeper. On a log scale, exponentially growing values can be depicted with straight diagonal lines.

That's the beauty of plotting things on log scales. Plots are meant to make things easy to understand, and we humans are much more adept at understanding linear, straight-line behavior. Log plots enable us to grasp exponential behavior by transferring the complexity of constantly steepening curves into the simplicity of an exponentially increasing scale.

On a log scale, we want to constantly be making the line more and more horizontal. The general concept of "flattening" is still a good one, but it's never going to curve down. And so what we should be looking, and hoping for is a trend toward horizontal.
Politics
"But what is government itself, but the greatest of all reflections on human nature?" –James Madison, Federalist 51
"They had one weapon left and both knew it: treachery." –Frank Herbert, Dune
"They had learned nothing, and forgotten nothing." –Charles Maurice de Talleyrand-Périgord
* * *
2020
Amash (R)(1): "2 competing theories about how Justin Amash changes the 2020 race" [Chris Cillizza, CNN]. "his likely candidacy has set off a furious debate within the political world that centers on this question: Does Amash's candidacy make it more or less likely that President Donald Trump can win a second term in November? There's no simple answer — partly because of Amash's current status as man without a political country (he left the GOP and became an independent after saying Trump should be impeached) and partly due to the difficulties of calculating just how high Trump's electoral ceiling actually is."

UPDATE Biden (D)(1): "Is Voting for Biden the Lesser Evil?" (podcast) [Paul Jay, theAnalysis.news]. • Very good to see Paul Jay back in action.

Biden (D)(2): "Republicans Ridicule Democrats For Caring As Little About Sexual Assault As They Do" [The Onion]. "'The silence of liberals on these allegations speaks volumes to how they apparently treat sexual assault as lightly and inconsequentially as we as a party always have—man oh man, it's really astounding,' said Rep. Matt Gaetz (R-FL)."

UPDATE Biden (D)(3): "Tara Reade allegations rattle Biden's VP search" [Politico]. "'Believe the woman' didn't mean believe all women, all the time. But this is an era of slogans and we're paying the price for that,' said an adviser to one of the women under consideration, noting Reade's story changed over the time." • How foolish people were to believe that liberal Democrats actually believed their slogans. More: "'The #MeToo movement was an over-correction to decades of ignoring women and not believing them. And what we're seeing now is a result of that over-correction,' the adviser said. 'It's not ideal. It's not what we want to be talking about.'" • Who's the unnamed "advisor"? Weinstein lawyer and top Biden campaign operative Anita Dunn?

UPDATE Biden (D)(4): "WaPo editorial board calls for Biden to address Tara Reade allegations" [The Hill]. "The Washington Post editorial board on Wednesday called on former Vice President Joe Biden, the presumptive Democratic presidential nominee, to address allegations of a 1993 sexual assault from former aide Tara Reade and release documents relating to his Senate career. In the editorial, the board says there are 'no clear conclusions' regarding the accuracy of Reade's account but notes that the 1,875 boxes and 415 gigabytes of Senatorial records, which were donated to the University of Delaware in 2012, could confirm whether Reade filed a complaint over the alleged incident. Examining the documents, the editorial board states, would not necessarily indicate belief or disbelief in Reade's claims but rather 'a desire for the public to know all that's able to be known, which ought to be in everyone's interest.'"

UPDATE Biden (D)(5): "The Way Liberals Smear Tara Reade Is Everything Rape Survivors Fear" [Caitlin Johnstone, Medium]. "I have never been in the 'always believe all women' camp; it's a narrative that's too easy to manipulate once you get enough people believing it. But at this point there are basically only two possibilities: either (A) Tara Reade was going around lying to her closest confidants in the 1990s with the very long-term goal of one day thwarting Biden's third presidential bid decades later, or (B) a powerful man sexually assaulted a woman. One of these, in my opinion, is a lot more probable than the other." • Well worth a read.

UPDATE Biden (D)(6): "Why Won't TV News Book Tara Reade?" [New York Times]. "There's still no clear explanation, however, for why Ms. Reade hasn't been on mainstream TV. Representatives for CNN and MSNBC declined to explain why they haven't booked a woman who is, whether you believe her or not, one of the few newsmakers right now who could cut through the pandemic." • Because, as I keep saying, they're political players at the tactical level. Exactly like all the "feminist" NGOs.

UPDATE Biden (D)(7): Lol, Kevin Drum wrote an article on Reade that Mother Jones promptly took down:

Ah, some people in this thread realized that even though the article was gone, https://t.co/SDDlxAoLuF had the actual main blog archived with the article on it, so it's still available – https://t.co/kbcFpQQTVE

— #Doomberg ⌬ (@delmoi) April 29, 2020

Disturbance in the farce…

UPDATE Biden (D)(8): I'm don't even have to go dig out the clips on Blasey Ford and Kavanaugh:

Speaker Pelosi: "I have complete respect for the whole #MeToo movement…there's also due process…Joe Biden is Joe Biden…There was never any record…I am so proud, the happiest day for me this week was to support Joe Biden for president of the United States." pic.twitter.com/CFfUMZTeYs

— CSPAN (@cspan) April 30, 2020

I really don't like to deploy ageist tropes, but Biden, Pelosi, and the rest of the Democrat leadership would not be out of place wearing big furry hats on the reviewing stand at the Kremlin. Now that was a gerontocracy:

If I was more clever, I'd replace the faces, and have a meme!

UPDATE Cuomo (D)(1): "Guy Who Tweeted at Trump Landed $69 Million Ventilator Deal With New York, Never Sent Any" [Gizmodo]. "Appearing in the president's Twitter mentions has, incredibly, finally paid off for somebody: a random Silicon Valley-based electrical engineer named Yaron Oren-Pines who scored a $69.1 million contract with the state of New York after he tweeted at Trump, 'We can supply ICU Ventilators, invasive and noninvasive. Have someone call me URGENT.'… The deal was the New York Department of Health's single biggest contractual payment under an emergency order by Governor Andrew Cuomo removing bureaucratic barriers in the state government's procurement pipeline. That included competitive bidding and suspension of normal safeguards that would occur before the state actually transferred money." • It's nice to see both parties working together.

Sanders (D)(1): "Biden reaches deal to let Sanders keep hundreds of delegates" [Associated Press]. "Democratic candidates win convention delegates based on their share of the vote in the party's primaries and caucuses. Nearly two-thirds of delegates are won based on results in individual congressional districts, and they stay with the candidates all the way to the convention. It's the other third of delegates — won based on statewide results — that are at issue. To keep these delegates, candidates must still be running for president when the people who will serve as convention delegates are selected, usually at state party conventions, according to the party's delegate selection rules. The delegate agreement says Sanders would get to keep a little more than 300 delegates that, under party rules, he sacrificed when he suspended his campaign. Officially, they would remain Biden's delegates, but Sanders' supporters would get to fill those seats. Both the Biden and Sanders campaigns will have the authority to approve or reject the people who want to fill those delegate slots." • I'm a little dubious about this whole concept of "rules," since there are so many other cases where they are bent, revised, mysteriously ignored, etc.

UPDATE Trump (R)(1): "Trump erupts at campaign team as his poll numbers slide" [Associated Trump]. ""I am not f—-ing losing to Joe Biden," he repeated in a series of heated conference calls with his top campaign officials, according to five people with knowledge of the conversations. They spoke on condition of anonymity because they were not authorized to speak publicly about private discussions…. The message to the president was sobering: Trump was trailing the former Democratic vice president in many key battleground states, he was told, and would have lost the Electoral College if the election had been held earlier this month.Trump aides encouraged the president to stay out of medical issues and direct his focus toward more familiar and politically important ground: the economy." • And in a couple of days we have "Project Warp Speed," whatever that is. Nobody can pivot like Trump.

UPDATE Trump (R)(2): "Republican official worries voters aren't giving GOP senators sufficient credit for pandemic aid" [Washington Post]. "Republican senators running for reelection face a 'problem' because they are getting insufficient credit from voters for recent coronavirus pandemic aid packages, a top Republican Senate campaign official said on a private conference call Wednesday. Kevin McLaughlin, executive director of the National Republican Senatorial Committee, added that he sees 'some positive signs on the political front' and remains 'cautiously optimistic,' but he suggested the GOP will face a difficult landscape if the country does not reopen."

* * *
Realignment and Legitimacy
"Meet the Lobbyists, Developers, and Insiders On Bowser's ReOpen DC Committees" ["Loose Lips," Washington City Paper]. "LL needs to take a shower, and it's not because he's been wearing the same pair of sweats for the past week. He's just feeling a little slimy after reading through the list of individuals who will join the advisory group that will help Mayor Muriel Bowser and her administration figure out when and how to reopen the District after the coronavirus pandemic. As others have pointed out, Bowser's advisory committee, broken up into sectors such as restaurants, education, public safety, health, and real estate, include many of the usual suspects who hang around the District government—the "highfalutin mucky mucks," as Rev. Graylan Hagler calls them." • Another "empowered council"?

"Op-Ed: Yes, the government can restrict your liberty to protect public health" [Los Angeles Times]. "There have been very few Supreme Court cases involving the government's power to deal with the spread of communicable diseases. The most relevant decision for today was issued in Jacobson vs. Massachusetts in 1905. In that case, the Supreme Court upheld the constitutionality of a state law requiring compulsory vaccinations against smallpox. The court declared, 'Upon the principle of self-defense, of paramount necessity, a community has the right to protect itself against an epidemic of disease which threatens the safety of its members.' The court explicitly rejected the claim that "liberty" under the Constitution includes the right of individuals to make decisions about their own health in instances where those decisions could endanger others. But the court also made clear that restrictions imposed by the government to control communicable diseases must have a 'real or substantial relation' to protecting public health. Under this standard, there is no doubt that quarantine, 'shelter in place, and closure requirements are constitutional as a way of stopping the spread of COVID-19, even though they restrict freedom."

UPDATE Ugly:

Multiple armed gunmen storm Michigan's State House, State police are protecting @GovWhitmer and blocking the gunmen from gaining access to the house floor.

This is America in the age of Trump. pic.twitter.com/tLWR2bvjtR

— Rob Gill (@vote4robgill) April 30, 2020

Gotta look for the hard-bodies, though. Those would be real mercs.
Stats Watch
At reader request, I added some business stats back in. Please give Econintersect click-throughs; they're a good, old-school blog that covers more than stats. If anybody knows of other aggregators, please contact me at the email address below.
Purchasing Managers Index: "April 2020 Chicago Purchasing Managers Barometer Drops Deeper In Contraction" [Econintersect]. "The Fed manufacturing surveys were in contraction this month because of the coronavirus impacts."
Honey for the Bears: "May 2020 Economic Forecast Now In Coronavirus Contraction" [Econintersect]. "You do not have to be an economist to understand the U.S. is in a recession. The question now is how fast will the economy recover – and it is too early to make any realistic forecast as too little is still know on how this pandemic will subside. This is a black swan economic event." • Is it, though?
* * *
Retail: "Macy's to Reopen Dozens of Stores, Sets Timeline for Full Return" [Bloomberg]. "Macy's Inc. plans to reopen dozens of its U.S. stores on Monday as the first wave of retailers prepares to get back to business after a mass shutdown of American shopping. The department store chain will resume operations at 68 locations in states that have loosened lockdown measures put in place during the coronavirus pandemic, Macy's confirmed on Thursday. The retailer has more than 750 stores across the U.S. that have all been closed since mid-March, though e-commerce remained open."
Mr. Market: "Bad Data Is a Given for Wall Street Gaming Out Lockdown Exit" [Bloomberg]. "All that matters is how fast consumption and investment can be revived." • Yep! Dulce et decorum est pro lucrum mori.
* * *
Today's Fear & Greed Index: 46 Neutral (previous close: 46 Neutral) [CNN]. One week ago: 40 (Fear). (0 is Extreme Fear; 100 is Extreme Greed). Last updated Apr 30 at 1:39pm. Holy cow! Back to neutral?
The Biosphere
"Cultivating fungal research" [Science]. "Fungi cover epithelial surfaces of the human body, engaging in many mutualistic interactions with the host and other microbiota such as the more prevalent bacteria. These interactions are shaped by multiple factors, including host physiology and immunity, as well as nutrient competition. The beneficial effects of fungal colonization for hosts include resistance to pathogens and tuning of the immune system. Although health benefits continue to be explored, recent studies have revealed expanded roles of fungi in human disease, including inflammatory disorders and specific cancers. The global burden of fungal infections is also expanding, with increased numbers of at-risk patients and increased resistance to limited antifungal drugs. More fungal research is needed to overcome these unmet needs…. Recent studies have begun to explore how fungi are multifaceted in their potential to lead to beneficial as well as pathogenic outcomes for the host. Commensalism in the context of human fungi is exemplified by colonization resistance against pathogens. An example of a beneficial effect is the dominant human skin–associated Malassezia, which have adapted to their niche by making use of skin lipids as a nutrient, and then secreting antimicrobial products that deter bacterial pathogens…. Given the complexity of host-microbial interactions, any alteration in the host or microbiota can result in infections."
Health Care
Plus ça change….
The pressure was even higher than from merchants. The principal "Echevin" (equivalent in our day of the mayor ) was one of the main investors in this expedition for levant tissues and other products. Explaining the conflict of interest in this situation. Never blamed for this.

— Yann Frey (@YannFrey) April 26, 2020
"A Potential COVID Treatment — If You Can Afford It" [David Sirota, Too Much Information]. "Amid a pharma lobbying blitz (detailed below), the question now is whether the government will do anything to make sure taxpayers are not fleeced on the price of a medicine that we the taxpayers funded. That's right, as TMI reported almost two weeks ago, remdesivir isn't some pure private-sector story from a corporation that deserves to make huge profits off a free-market innovation — on the contrary, the medicine was developed, in part, with public investments and publicly funded universities. The Clinton administration in 1996 repealed a federal rule requiring drug companies to offer taxpayer-funded medicines to consumers at a fair and reasonable price. You should re-read that piece, because you can bet this issue of pandemic profiteering will become more and more significant in the coming weeks." • Ka-ching.
UPDATE "What we know—and still need to learn—about coronavirus and nicotine" [AEI]. "In response to intriguing data from French scientists showing that smokers are strongly underrepresented among patients with COVID-19 symptoms, French citizens have started to apply nicotine patches to their upper arms. The practice has become so widespread that it created a run on supplies, prompting the government to limit people to one month's supply of patches and require that they be purchased at pharmacies rather than online. Last March, Konstantinos Farsalinos, a physician-researcher at the University of West Attica, was one of the first to observe that smokers were under-represented in Chinese patients with COVID. Farsalinos' team examined 13 Chinese studies that comprised 5,960 patients hospitalized with COVID-19 and found that the prevalence of current smoking among them was "unexpectedly low" at an average of 6.5 percent, or one-quarter the population smoking prevalence of 26.6 percent. Data from France are similar." • Go long nicotine patches….
UPDATE "How To Make A Face Mask With Nose Wire" [HuffPo]. "Many DIY tutorials advise inserting pipe cleaners into face masks because their soft, velvety casing is comfortable on the bridge of the nose. Once the wire is affixed to the face mask, one simple pinch on the bridge of your nose can adjust your mask to the contours of your face, providing a closer fit and solving all of the aforementioned problems. If you've already learned how to sew a DIY face mask, making one with a wire isn't much more extra work ― most patterns can accommodate the addition of a pipe cleaner or craft wire at the bridge of the nose. If you'd like some specific DIY tutorials for face masks with wire nose pieces, we've got three below." •
UPDATE "A National Medical Response to Crisis — The Legacy of World War II" [New England Journal of Medcine]. "In 75 years, it will be intriguing to reflect on the lingering effects of Covid-19 and our response to it. Certainly, it seems already to have normalized telehealth in previously unimaginable ways. We hope that it will also lead to the development of a more equitable infrastructure for health care delivery. History has proven that as the threat of a war or pandemic fades, interest and resource investment also decline. Yet for all their common horror, these events also have analogous potential to catalyze and reconfigure development in medicine and public health. Such moments of shared crisis merit reflection as we consider our collective medical and social priorities and interventions moving forward." • Worth reading for all the things done in the past that we do not seem to have the operational capability to do today. Absent an "empowered council" to handle "the state of exception," of course.
Games
"Virtual rate cut forces Nintendo gamers into riskier assets" [Financial Times]. "Savers at the Bank of Nook [in Animal Crossing] are being driven to speculate on turnips and tarantulas, as the most popular video game of the coronavirus era mimics global central bankers by making steep cuts in interest rates….. The total interest available on any amount of savings has now been capped at 9,999 bells — the in-game currency that can be bought online at a rate of about $1 per 1.9m bells….. The abrupt policy shift, imposed by an obligatory software update on April 23, provoked fury that a once-solid stream of income had been reduced to a trickle with the stroke of a raccoon banker's pen…. It did not take long, however, for players to spot that they could defraud the game's bank by depositing large sums in saving accounts and then 'time travelling' into the future by tweaking the console's internal clock. The bank duly pays decades of compounded interest, making rapid bell millionaires. People familiar with the situation said the Bank of Nook rate cut was an attempt to curb that practice. Nintendo has made no official comment on the matter." • Lol, a phishing equilibrium.
Guillotine Watch
"Hilarie Burton lets her gray hair grow out in solidarity with front-line workers" [Page Six]. "'For all of our frontline and essential workers who are too busy to fuss with things like hair color, I grow mine out in solidarity with you,' Burton continued. 'When I see it, I'm reminded of all you're doing to keep us safe. I'm reminded that you deserve to be taken care of.'" • " reminded"…
Class Warfare
"Coronavirus Has Caused More Than 150 Strikes. This Map Is Tracking Them All" [Vice]. Map developed by Mike Elk of Payday Report. "'But the strikes are ongoing, and probably more numerous than the strike map indicates, since so much of the country is now a 'news desert' meaning not covered by local reporters who would do things like write about strikes even if it wasn't big national news being discussed by the president. It's for good reason that Payday Report's tagline is 'Covering labor in news deserts.'"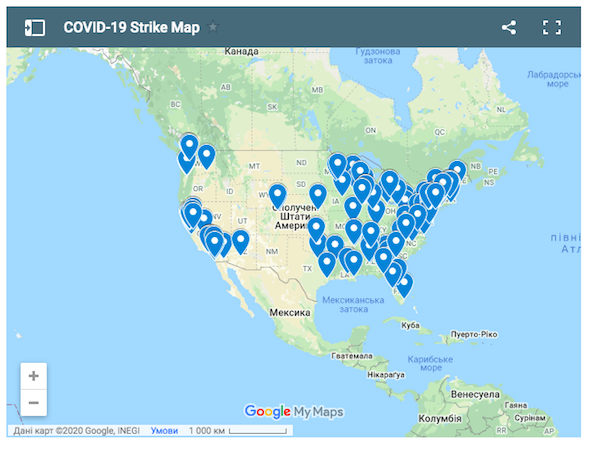 Click on the pin that represents a strike, get the strike details.
News of the Wired
""Who's Laughing Now, A**holes?" A Letter from Henry David Thoreau to Literature Faculties at Cushy Liberal Arts Schools" [McSweeney's Internet Tendency]. "A few months ago, you were talking smack about my year in a cabin. Now you're trapped in your condo in Yonkers or the backside of Amherst or wherever, and you'd trade it in a heartbeat for 150 square feet and a whole forest full of owls and frogs and shit." • McSweeney's is formulaic. But it's a good formula.
* * *
Readers, feel free to contact me at lambert [UNDERSCORE] strether [DOT] corrente [AT] yahoo [DOT] com, with (a) links, and even better (b) sources I should curate regularly, (c) how to send me a check if you are allergic to PayPal, and (d) to find out how to send me images of plants. Vegetables are fine! Fungi and coral are deemed to be honorary plants! If you want your handle to appear as a credit, please place it at the start of your mail in parentheses: (thus). Otherwise, I will anonymize by using your initials. See the previous Water Cooler (with plant)
here
. Today's plant (TH):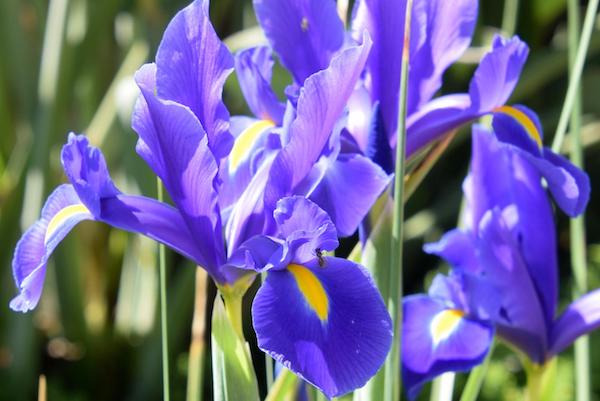 TH writes: "I over exposed this one a bit and sort of like it that way. But then, Iris is one of my favorites, if not THE favorite, and I'd probably like it at any exposure." I am always saying this or that flower is my favorite, but iris is really my favorite.
* * *
Readers
: Water Cooler is a standalone entity
not
covered by the annual NC fundraiser. So if you see a link you especially like, or an item you wouldn't see anywhere else, please do not hesitate to express your appreciation in tangible form. Remember, a tip jar is for tipping!
Regular positive feedback both makes me feel good and lets me know I'm on the right track with coverage
. When I get no donations for five or ten days I get worried. More tangibly, a constant trickle of donations helps me with expenses, and I factor in that trickle when setting fundraising goals:
Here is the screen that will appear, which I have helpfully annotated.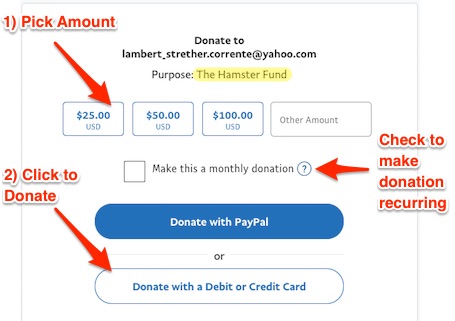 If you hate PayPal, you can email me at lambert [UNDERSCORE] strether [DOT] corrente [AT] yahoo [DOT] com, and I will give you directions on how to send a check. Thank you!