By Lambert Strether of Corrente.
#COVID19
At reader request, I've added this daily chart. The data is the John Hopkins CSSE data. Here is the site.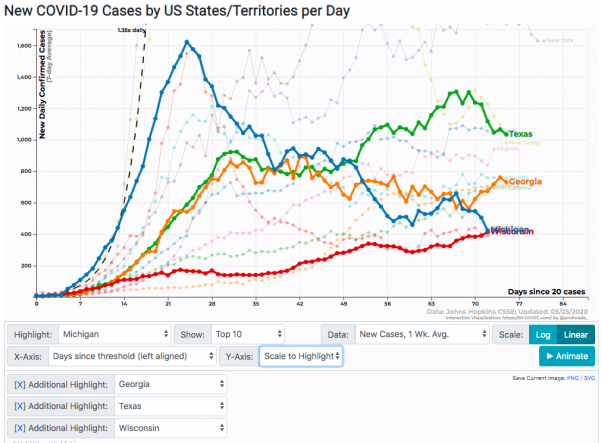 The vertical scale is expanded so New York's enormous curve is cut out, but the differences between other states that otherwise are all jammed together at the bottom of the chart are now visible: Michigan, Wisonsin, Georgia, and Texas.
"The Coronavirus Is Deadliest Where Democrats Live" [New York Times]. As I have been saying for some time [lambert preens]. "The devastation, in other words, has been disproportionately felt in blue America, which helps explain why people on opposing sides of a partisan divide that has intensified in the past two decades are thinking about the virus differently. It is not just that Democrats and Republicans disagree on how to reopen businesses, schools and the country as a whole. Beyond perception, beyond ideology, there are starkly different realities for red and blue America right now. Democrats are far more likely to live in counties where the virus has ravaged the community, while Republicans are more likely to live in counties that have been relatively unscathed by the illness, though they are paying an economic price." • An economic price they do not want to pay. Good reporting from the Times.
UPDATE "The U.S. economy vs. the Virus, Round 2" [Politico]. "If the people crowding the Ocean City, Md., boardwalk this weekend or packing into pools in Missouri turn out not to be virus super spreaders in the next two weeks (the outer edge of the incubation period for Covid-19), we could be in store for a recovery summer. If the weekend turns out to be a catastrophe, undoing the progress of the past three months, we'll see more cities with surging case counts and overflowing hospitals and tortured public debates about what needs to happen next." • Neither pools nor the boardwalk are indoors, where infection is most likely. Of course, the beachgoers and parties might well head to bat caves in the form of bars and restaurants after catching their rays. So, again, we have an enormous natural experiment (with an enormous amount of Coastal schadenfreude riding on the outcome, if nothing else.)
Politics
"But what is government itself, but the greatest of all reflections on human nature?" –James Madison, Federalist 51
"They had one weapon left and both knew it: treachery." –Frank Herbert, Dune
"They had learned nothing, and forgotten nothing." –Charles Maurice de Talleyrand-Périgord
* * *
2020
Biden (D)(1): "Biden aims to move left without abandoning centrist roots" [Associated Press]. "Recent interviews and campaign events reveal the nuances Biden hopes can attract support in both directions. 'I think health care is a right, not a privilege,' he said on CNBC, espousing an article of faith for the left. But, he added, 'I do not support Medicare for All' single-payer insurance." • "Biden aims to square circle without adding any corners."

Biden (D)(2): "Who's on Your Biden Dream Team?" [New York Times]. Dropdown-ism:

I don't see a dropdown for the color of the Oval Office drapes, though.

Biden (D)(3):

Biden is Jim Webb all over again. A lazy candidate who won't campaign, can't raise $ and is morally abhorrent to a large part of his base and is going to win anyway.

— Alice Marshall (@PrestoVivace) May 25, 2020

For "morally abhorrent," see item #5 here. Interestingly, from the same article, Webb, in his campaign against George Allen, was the beneficiary of the first viral YouTube moral panic: "The Macaca Moment," in 2006, where a Webb staffer video tracking Allen caught him using a coarse racial slur. One does wonder if the urge to avoid a similar debacle is why the Biden campaign is keeping him wrapped up in tissue paper and carefully hidden away. Then again, there already plenty of Biden videos out there, so what difference would one more make? Except Biden has just emerged:

Joe Biden, the presumptive Democratic presidential nominee, emerged from more than two months seclusion Monday, wearing a black face mask during a visit to lay a wreath on the day the United States honors its war dead pic.twitter.com/k9OGz7r6vp

— AFP news agency (@AFP) May 25, 2020

The sunglasses! I wonder when we'll see him again?

UPDATE Biden (D)(4): "Rahm Emanuel won't talk about his ongoing conversations with Joe Biden, but his pundit appearances offer hints" [Chicago Tribune (Geo). "Rahm Emanuel is having regular conversations with presumptive Democratic presidential nominee Joe Biden and his top advisers about economic policy, the selection of a running mate and the political machinations of taking on President Donald Trump…. Among Emanuel's ideas: Democrats should stop looking timid on reopening the country amid the coronavirus pandemic and offer a bold plan to rebuild the nation's infrastructure. While millions of Americans are stuck on unemployment, the government should pay for them to be trained for future jobs in coding and cybersecurity. And it's time Democrats push for a New Deal 2.0 with guarantees on retirement security, health care and college education…. The GI Bill and Social Security offered as part of former President Franklin D. Roosevelt's New Deal in the 1940s should be the 'North Star,' Emanuel said." • Oh! Learn to code! And as any coder knows, one should never install a *.0 version of anything, because it hasn't been user-tested and so will be buggy, and a major version change, as from 1.* to 2.*, isn't necessarily better. Look at the last few upgrades of MacOS. Block that metaphor!

UPDATE Biden (D)(5): "Joe Biden has a plan for that" [Matt Yglesias, Vox]. A summary of Biden's policy proposals; the union stuff is good, but won't pass; making Section 8 an entitlement like Medicaid seems good (but I'm not a housing expert). Yglesias in any case is selling as hard as he can. He concludes: "Biden is proposing big enough changes on a wide enough range of topics that if he's backed by a supportive Congress, he'll achieve an And if he fails to achieve his ideas, the cause is much more likely to be lack of congressional support than insufficient ambition." • I'm not sure "an even more substantive policy legacy," even hedged as it is, means what Yglesias thinks it means. The election is really about returning the Obama Alumni Association to power. They butchered the last crisis. Have the learned anything?

Cuomo (D)(1): "How Andrew Cuomo Screwed Democrats for Almost a Decade" [The Cuomo Files]. "Today I am not going to dwell on Cuomo's actually disastrous response to the pandemic or his desire to gut the funding of public schools. Rather, I am writing this piece for Democrats who have recently fallen in love with Cuomo, who view him as a strong progressive bulwark against Trump. This piece is for those who've contributed money to Democratic candidates, volunteered for Democratic candidates, and voted in Democratic primaries. This is for those who dream of Democrats retaking the Senate, protecting the House, and ending Trump's presidency. Here's the crux of it all: for nearly decade, Andrew Cuomo directly helped Republicans hold power in New York State. For those who follow New York politics closely, what I am about to write isn't terribly surprising or new. But there are many people who have busy lives and can't possibly know the intricacies and oddities of 2010s New York. For them, I hope this is all useful." • So you're saying Cuomo is perfect?

Sanders (D)(1): With friends like these (note the source):

For Biden to Unite the Party, He Needs Warren as His Running Mate https://t.co/4CKJaQ9Eih

— Fred (@WaywardWinifred) May 25, 2020

"Progressives" signal-boosting Warren reinforced her in her spoiler role. Yet the signal-boosting continues!

Trump (R)(1): "Trump's Tax Cuts Get An 'F' For Enabling The Globalist Elite" [The American Conservative]. "Instead of reining in the 'globalist elites' he so vociferously ran against or those corporations 'who have no loyalty to America,' his one legislative achievement has been to award them a massive tax cut. Through it, he has maintained their favorite mix of low revenue intake and high deficits which gives Republicans a pretext to 'starve the beast' and induce fiscal anorexia. The president has granted them as well their ideal labor market through an ingenious formula: double down on mostly symbolic raids (as opposed to systemic solutions like Mandatory E-Verify) and ramp up the rhetoric about 'shithole countries' to distract the media, but keep the supply of cheap, exploitable low-skill labor (legal and illegal) intact for the business lobby. Trump ran as a populist firebrand—a fusion of Huey Long and Ross Perot—and while he never abandoned that style, he has governed for the most part as a milquetoast free market Republican in perfect tandem with Paul Ryan and Mitch McConnell, one whose solution to everything is more tax cuts and deregulation: a kind of turbo-charged "high-energy Jeb.'" • Ouch. (To be fair to Trump, he immediately axed TPP. TAC, like the left, should take the win on this.)

Trump (R)(2): "What the Polls Can't Tell Us" [Amy Walter, Cook Political Report]. From the Kaiser Foundation tracking poll: "The crucial group of 'swing voters,' who are not yet certain about their presidential vote in November, are also negative in their assessments of President Trump's presidency. Six in 10 swing voters (59%) disapprove of the president's overall job performance, and similar shares disapprove of his handling of coronavirus (61%) and health care (58%). Swing voters remain positive in their assessments of his handling of the economy (59% approve)." Walter comments: "So, which of these things— the way he has dealt with individual issues like health care, COVID or the economy or the way he has conducted himself as president — will be the most important for swing voters in November? The challenge in answering that question is that we really have no idea which one of these things is going to be dominating our attention this fall." • Trump — like Napoleon's favored generals — is lucky. One can picture a scenario where a V-shaped recession plus solid results on a vaccine from "Operation Warp Speed" put Trump on the road to a narrow win in November. 161 days is a long time in politics!

* * *

"The general election scenario that Democrats are dreading" [Politico]. "Instead of forecasting a prolonged Depression-level economic catastrophe, [Jason] Furman laid out a detailed case for why the months preceding the November election could offer Trump the chance to brag — truthfully — about the most explosive monthly employment numbers and gross domestic product growth ever. Since the Zoom call, Furman has been making the same case to anyone who will listen, especially the close-knit network of Democratic wonks who have traversed the Clinton and Obama administrations together, including top members of the Biden campaign…. Furman's argument is not that different from the one made by White House economic advisers and Trump, who have predicted an explosive third quarter, and senior adviser Jared Kushner, who said in late April that "the hope is that by July the country's really rocking again." White House officials were thrilled to hear that some of their views have been endorsed by prominent Democrats." • So, a V-shaped recession? Something we should all be praying for, if we're all in this together…. .
Realignment and Legitimacy
UPDATE "Changing Southwest may bring Democrats a milestone win" [Ronald Brownstein, CNN]. "Democrats today are strongly positioned to oust Republican Sens. Martha McSally in Arizona and Cory Gardner in Colorado and hold their own open seat in New Mexico. If the party wins those three races, as most analysts today agree they are favored but not assured to do, it will control all eight Senate seats from Arizona, Colorado, New Mexico and Nevada for the first time since 1941, according to Senate records…. The Democrats' potential clean sweep of those Southwestern US Senate seats marks another advance in a tectonic remaking of the electoral battlefield. Even as Democrats struggle to maintain their position in slow-growing, predominantly white and heavily blue-collar battlegrounds across the Rust Belt, they are growing more competitive in the fast-growing, diverse and increasingly white-collar new swing states across the Sun Belt." • Like "slow-growing" was some sort of accident….

UPDATE "Democrats are fueling a corporate counter-revolution against progressives" [David Sirota, Guardian]. "Democrats in Washington are not just passively failing to mount a strong opposition to Donald Trump – they are actively helping Republicans try to fortify the obstacles to long-term progressive change well after this emergency subsides. This corporate counter-revolution is easiest to see in Democrats' enthusiastic support for Republicans' legislative response to the coronavirus crisis. Democrats' entire 2018 electoral campaign told America that the opposition party needed to win back Congress in order to block Trump's regressive agenda. And yet, when the Republicans proposed a bill to let Trump's appointees dole out government cash to their corporate allies with no strings attached, this same opposition party mustered not a single recorded vote against the package. Not one. Thanks to that, Trump appointees and the Federal Reserve can now hand out $4tn to politically connected corporations as they lay waste to our economy and steamroll progressive reforms. Private equity firms and fossil fuel companies get new tax breaks as they buy elections and try to lock in permanent climate change."
Stats Watch
At reader request, I added some business stats back in. Please give Econintersect click-throughs; they're a good, old-school blog that covers more than stats. If anybody knows of other aggregators, please contact me at the email address below.
Leading Indicators: "May 2020 Chemical Activity Barometer Again Declines And Consistent With A Recession" [Econintersect]. "The Chemical Activity Barometer (CAB), a leading economic indicator created by the American Chemistry Council (ACC), fell 5.4 percent in May on a three-month moving average (3MMA) basis following a 5.4 percent decline in April. On a year-over-year (Y/Y) basis, the barometer fell 12.4 percent in May."
Manufacturing: "May 2020 Texas Manufacturing Improves But Remains Deep In Contraction" [Econintersect]. "Important subindices new orders improved (remains deep in contraction) and unfilled orders also improved (remains deep in contraction). This should be considered a better report relative to last month. No question that industrial production is contracting this month."
Consumer Confidence: "May 2020 Conference Board Consumer Confidence Stabilizes" [Econintersect]. "The latest Conference Board Consumer Confidence Index's headline number held steady, following March's and April's record decline…. A quote from the Conference Board: "Consumers remain concerned about their financial prospects"…. Consumer confidence had been on a multi-year upswing, the upswing paused in 2019 – but the coronavirus killed the upswing."
Housing: "April 2020 Headline New Home Sales Exceed Expectations" [Econintersect]. "This month the backward revisions were down. Because of weather and other factors, the rolling averages are the way to view this series. The rolling averages declined. Sales did not crash this month demonstrating the resilience of the new home market."
Housing: "S and P CoreLogic Case-Shiller 20 City Home Price Index March 2020 Year-over-Year Growth Not Effected By Coronavirus" [Econintersect]. "All home price indices are continuing to show home price growth is accelerating year-over-year. It is interesting that the coronavirus had little effect on home prices." • "Interesting."
* * *
Shipping: "The traditional battle lines over state subsidies in shipping are shifting under the coronavirus-driven economic downturn. Some of the world's biggest shipping companies are turning to government support to ride out the big drop in global trade…. with executives saying some operators won't make it unless vessel owners are bailed out" [Wall Street Journal]. "French container line CMA CGM SA is joining those seeking state backing with a $1.12 billion syndicated loan from three banks which is 70% guaranteed by the French government. It's an example of how the crisis is scrambling the usual shipping world debates over state support that has often flowed toward Asian carriers. Germany is already moving to bolster other critical transportation operations."
Supply Chain: "General Motors Co.'s ambitious plans to ramp up production of its high-profit pickup trucks is bumping up against supply-chain reality. The auto maker is facing a shortage of parts from Mexico because of separate timelines for reopening U.S. and Mexican plants. … [T]he disconnect underscores the challenges the auto industry faces in restarting after a two-month shutdown under the pandemic. Mexico has been slower than the U.S. to reopen factories, with operations rebooting only gradually, and the slow flow of parts along with scant information has frustrated American importers" [Wall Street Journal]. "GM has delayed plans to roughly double output at its main U.S. pickup-truck factories because of the parts backup. Detroit auto makers derive much of their profit from those vehicles, and resuming the production is especially important to GM since its inventories were depleted by a labor walkout last fall." • Hmm. Swing state issues?
Mr. Market: "Dow soars 650 points on recovery hopes and vaccine news" [MarketWatch]. "The Dow Jones Industrial Average climbed 664 points, or 2.7%, to 25,130, while the S&P 500 index rose 59 points, or 2%, to 3,015, while the Nasdaq Composite gained 110 points, or 1.2%, to 9,434."
Fodder for the Bulls: "From truck shipments to travel bookings, there are early signs that the U.S. economy is slowly creeping back to life. Projections still show the economy contracting 6% to 7% this year, but …. it appears conditions in some corners aren't getting worse for the first time since the pandemic forced widespread U.S. business closures in March and that some business might even be improving" [Wall Street Journal]. "The signs are particularly crucial in transportation sectors since operations from freight loads on trucks to passengers traveling through airports were hit hard as pandemic lockdowns roiled demand. Recent measures show trucking demand is edging upward and intermodal rail volumes even rose sequentially for the first time in eight weeks. Gregory Daco of Oxford Economics says data suggest the U.S. economy is "past the trough" but cautions that gains are coming "from extremely depressed levels."
* * *
Today's Fear & Greed Index: 51 Neutral (previous close: 50 Neutral;) [CNN]. One week ago: 48 (Neutral). (0 is Extreme Fear; 100 is Extreme Greed). Last updated May 26 at 1:10pm.
The Biosphere
"Managing soil borne pathogens" [John Kempf]. "For soil-borne pathogens, there is no correlation between the presence of the organism in the soil and the expression of the disease in the crop. Infections severe enough to produce crop loss are correlated with the absence of suppressive organisms more than the presence of the pathogen." • Hmm. Readers?
She's not the only one:
The month of May brings a lot of change to our northern hemisphere. Two photos taken 25 days apart! Wow! pic.twitter.com/yq9V4T8lml

— Leah Stokes (@leahstokes) May 26, 2020
Nice greenhouse. (I decided a greenhouse was more serious than I wanted to be.)
Health Care
"New Research Shows Electroceutical Fabric Eradicates Coronavirus Infectivity On Contact" [Forbes]. "Last month, a team of researchers determined a hybrid combination of one layer of cotton and two layers of chiffon is the most effective fabric for a face mask. They noted the high-efficiency of the combination is likely due to the combined effect of mechanical and electrostatic filtration of infective particles. The new study from IU further explores the potential of electrostatic forces to act against Covid-19….. Knowing viruses rely on electrostatic forces to assemble and attach to cells, the researchers suspected the electroceutical fabric could be used to destabilize the coronavirus as well… Their subsequent analysis revealed that just one minute of contact to the electroceutical fabric led to significant reduction in the electrokinetic property of the viral particles." • Pretty neat! *(If true, of course.)
"You're Getting Used to Masks. Will You Wear a Face Shield?" [New York Times]. ""The nice thing about face shields is that they can be resterilized and cleaned by the user, so they're reusable indefinitely until some component breaks or cracks," Dr. Yu [of Brigham and Women's Hospita said]. A simple alcohol wipe or rinse with soap and hot water is all it takes for the shields to be contaminant-free again…. Dr. Perencevich believes that face shields should be the preferred personal protective equipment of everyone for the same reason health care workers use them. They protect the entire face, including the eyes, and prevent people from touching their faces or inadvertently exposing themselves to the coronavirus. Face shields may be easier to wear than masks, he said, comparing them with wearing glasses or a hat. They wrap around a small portion of a person's forehead rather than covering more than half their face with material that can create the urge to itch." • Shields might also be easier to breathe with; I don't really like my masks for that reason. However, I wish it were possible to invent a way to protect the shield edges, so droplets don't come around them. Perhaps tiny fans. Or something charged. Still, as with the link above, it's fascinating and hopeful to see all the "innovation" being done on something more than apps designed to screw the last nickel out of precarious gig workers.
Black Injustice Tipping Point
"Video shows officer kneeling on neck of black man who died" [Associated Press]. "A black man [George Floyd] who died in police custody in Minneapolis was seen on a bystander's video pleading that he could not breathe as a white officer knelt on his neck during the arrest and kept his knee there for several minutes after the man stopped moving. The death Monday night after a struggle with officers was under investigation by the FBI and state law enforcement authorities." • This keeps happening. Klobuchar statement:
My statement on the officer-involved death in Minneapolis: pic.twitter.com/HUoGfXEj7R

— Amy Klobuchar (@amyklobuchar) May 26, 2020
Groves of Academe
"University Leaders Are Failing" [Chronicle of Higher Education]. "My university, Johns Hopkins, recently announced a series of exceptional measures in the face of a coronavirus-related fiscal crisis. Suddenly anticipating losses of over $350 million in the next 15 months, the university imposed a hiring freeze, canceled all raises, and warned about impending furloughs and layoffs. Most extraordinarily of all, it suspended contributions to its employees' retirement accounts. 'Many of our peers are grappling with similar challenges,' wrote our president, Ronald Daniels…. How does a university with a $6-billion endowment and $10 billion in assets suddenly find itself in a solvency crisis? How is one of the country's top research universities reduced, just a month after moving classes online, to freezing its employees' retirement accounts?… Meanwhile, what plans did the university's senior leadership have for a financial crisis? — even though all that pandemic planning took place within the halls of Johns Hopkins itself. The last financial crisis happened just 12 years ago. Did the university's leadership believe another would never come? Then there are the losses in federal grant money and foreign tuition revenues. Did anyone think to prepare in the event these were disrupted? The university set virtually nothing aside in anticipation of these or any other risks. Instead, the leadership began recklessly expensive building projects, including the purchase of a $372.5-million building in Washington, D.C., — a white elephant that had already brought a large foundation to the brink of collapse." • The first thing we do, let's kill all the college administrators. Starting from the top down.
Guillotine Watch
"What About the Rotten Culture of the Rich?" [Chris Arnade, American Compass]. "Why isn't it considered bad behavior to sit in front of a wall of screens filled with flashing numbers making bets on those numbers? Would it attract the cultural scolds if the people making those bets where drinking tall boys in brown bags, rather than sipping bespoke lattes? Why isn't it considered bad behavior to find a mid sized company, load it up with debt, strip it of its valuable assets, and send jobs overseas to the country with the lowest labor cost and least environmental regulations. All to make yourself rich, while leaving an economic hole in a Michigan town, or a New York town. A hole that sucks out hope, and eventually fills with despair and drugs…. The lesson is that cleverness trumps hard work. That a disregard for the rules trumps playing it straight. That you are a fool to put your head down every day, play by the rules, and focus on a job that values your community and your family. Why toil away at growing food, or building roads, or building bridges, when you can get rich quick by sitting in front of a wall of computers betting on flashing numbers? Why diligently work your way up the corporate ladder when you can smooth talk enough people into lending you enough money to take over the corporation, fire the board, leverage it up with debt, and then dismantle it while pocketing a few billion…. .I hope if we do talk about our broken culture, we talk about the destructive individualism of elites that has led to a selfishness that cares more about profits than the national or community good." • Sounds like they're not studying the Impressionists on Wall Street either….
"Elon Musk Is the Hero America Deserves" (interview) [Bloomberg]. From Musk's biographer: "The only reason NASA entertained the idea of putting astronauts in a rocket built entirely by a private company is that SpaceX has proven itself a remarkably dependable, relatively low-price, competently managed operation. Over the past decade, it's launched about 100 rockets, landed many of them safely back on Earth, and come to dominate the industry, while being valued at close to $40 billion. It took the effort of many clever, hardworking people to pull this off, but it's Elon Musk in all his audacious, volatile glory that made such a thing possible in the first place." • With most of the engineering already done at government expense…
News of the Wired
So I guess we can kiss Game of Thrones goodbye, then?
Santa Fe, N.M. (AP) — George R.R. Martin, the famed author of the "Game of Thrones" fantasy series, has joined a group to buy the historic Santa Fe Southern Railroad.

— Mike Nizza (@mikenizza) May 26, 2020
Who wants to be writing, when they can can be playing with life-size toy trains?
* * *
Readers, feel free to contact me at lambert [UNDERSCORE] strether [DOT] corrente [AT] yahoo [DOT] com, with (a) links, and even better (b) sources I should curate regularly, (c) how to send me a check if you are allergic to PayPal, and (d) to find out how to send me images of plants. Vegetables are fine! Fungi and coral are deemed to be honorary plants! If you want your handle to appear as a credit, please place it at the start of your mail in parentheses: (thus). Otherwise, I will anonymize by using your initials. See the previous Water Cooler (with plant)
here
. Today's plant (skookum red):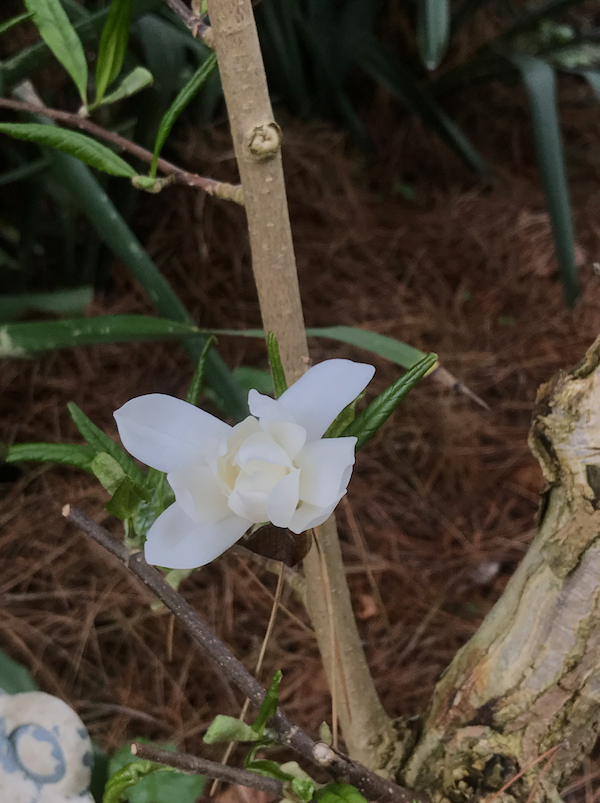 skookum red writes: This is the first early bloom of my Star Magnolia growing next to my driveway. I must always park carefully so I don't mangle the Magnolia when I open the driver's side door. This is my reward for my carefulness."
* * *
Readers: Water Cooler is a standalone entity not covered by the annual NC fundraiser. So if you see a link you especially like, or an item you wouldn't see anywhere else, please do not hesitate to express your appreciation in tangible form. Remember, a tip jar is for tipping! Regular positive feedback both makes me feel good and lets me know I'm on the right track with coverage. When I get no donations for five or ten days I get worried. More tangibly, a constant trickle of donations helps me with expenses, and I factor in that trickle when setting fundraising goals:
Here is the screen that will appear, which I have helpfully annotated.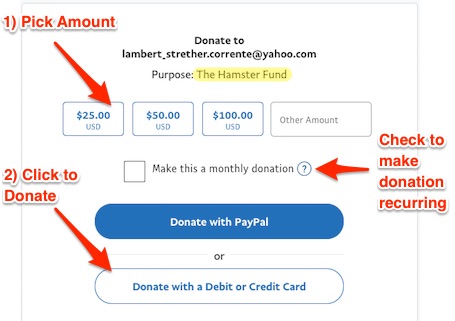 If you hate PayPal, you can email me at lambert [UNDERSCORE] strether [DOT] corrente [AT] yahoo [DOT] com, and I will give you directions on how to send a check. Thank you!