By Lambert Strether of Corrente.
#COVID19
At reader request, I've added this daily chart: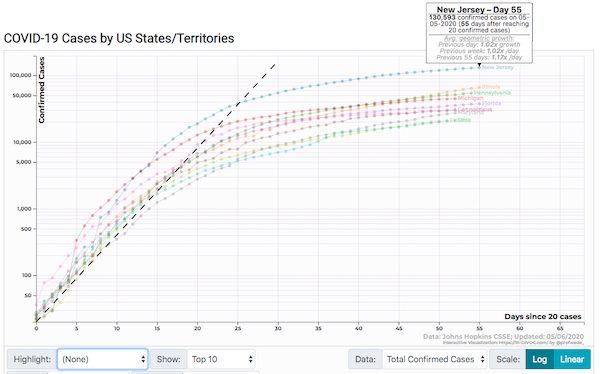 The data is the John Hopkins CSSE data. Here is the site. I have changed to a logarithmic scale for US States and territories.
New York continues flirting with a geometric rate of 1.0, so here are the top ten (worst) states. Seeing some swing states there.
* * *
See Vice, "How to Read the Coronavirus Graphs":
Quantities that grow exponentially, when depicted on a linear scale, look like curves that bend sharply upward, with the curve getting constantly steeper. On a log scale, exponentially growing values can be depicted with straight diagonal lines.

That's the beauty of plotting things on log scales. Plots are meant to make things easy to understand, and we humans are much more adept at understanding linear, straight-line behavior. Log plots enable us to grasp exponential behavior by transferring the complexity of constantly steepening curves into the simplicity of an exponentially increasing scale.

On a log scale, we want to constantly be making the line more and more horizontal. The general concept of "flattening" is still a good one, but it's never going to curve down. And so what we should be looking, and hoping for is a trend toward horizontal.
Politics
"But what is government itself, but the greatest of all reflections on human nature?" –James Madison, Federalist 51
"They had one weapon left and both knew it: treachery." –Frank Herbert, Dune
"They had learned nothing, and forgotten nothing." –Charles Maurice de Talleyrand-Périgord
* * *
2020
Biden (D)(1): "It Would Be Completely Absurd to Force Biden Out of the Race" [New York Magazine]. "All the writers now urging this were fervent Biden opponents during the primary. None of them seem to have considered that the overwhelming majority of Democrats who voted for him might be upset over denying the nominee they picked over something he may or may not have done in 1993. Indeed, none of them seem even remotely troubled at the prospect of the party elite functionally disenfranchising its own electorate. The point at which their argument gets around to the question of replacing the hated Biden is where the mechanics of their proposal break down completely. Replacing Kavanaugh was straightforward. He was selected by a single person. Biden was nominated by a lengthy, almost absurdly complex, and essentially democratic process." • Nonsense. What we learned from the 2020 primaries is that of Obama gave his blessing to Strom Thurmond's corpse, Democrat loyalists would fall right in line. Removing the hyperbole, if Obama wants to get rid of Biden, two weeks of bad news cycles would let him swap in Cuomo (say) and the two of them would be hailed for saving the Republic.

Biden (D)(2): "The Agony of Joe Biden" [Back-Country Populist]. "Like 2016, the Democrats are completely failing to read the room. The Democratic Party- the historic defender of rural, far-flung corners of the country and the longtime champion of the working class- has become a country club dominated by wealthy, white progressives. And while Democrats continue to perform among the lowest earners, it is more affluent, credentialed, and urban than ever before. After all, beginning in 2012, the wealthiest 4% of Americans have overwhelmingly voted Democratic. The richest 15% of House districts today are represented by Democrats and as Hillary Clinton infamously observed, those counties that voted for her in 2016 account for 64% of the nation's GDP. Trump and his Republican insurgents, on the other hand, are transforming the GOP into the party of America's working-class by capitalizing on the growing unhappiness and anger bubbling up in America's middle class." • So far as I can tell, the Bidne campaign won't be relying on door-knocking (unlike the Sanders campaign and, amazingly enough, the Trump campaign), relying instead on "Five Minutes of Hate" from loyalists to drive turnout (it worked in 2018) and their control of the high ground in the media (and the intelligence community). Old school.

Biden (D)(3): "Amid Pandemic, Billionaire Donors Swarm To Biden, As Trump's Support Falters" [Forbes]. "As the coronavirus pandemic took hold of America, a record number of billionaires backed Joe Biden, putting him ahead of Donald Trump in terms of support from America's wealthiest. Thirty-two billionaires and their spouses backed Biden in March versus 14 who gave to President Trump that same month. Altogether 94 billionaires have now donated to Biden versus 90 who have given to Trump since he started fundraising in 2017. Biden has the momentum. The former vice president received contributions from 27 billionaires or their spouses for the first time in March; contributions from 13 of them came after Trump declared the coronavirus pandemic a national emergency on March 13, 2020, according to the Federal Election Commission filings. (Contributions to super PACs were not included in this analysis.)" • With handy map:

Sanders (D)(1): "The Majority of Americans Aren't Scared Off by Policies Like Medicare for All" [Jacobin]. "This analysis assumes that most voters have an ideology — an organized structure of political ideas — that runs counter to Bernie's socialism. In this telling, the "centrists" or "moderates" in the Democratic Party won. In fact, the struggle within the party is not between the center and the Left but between high-income older voters, who are more active in the primaries, and low-income young voters. In fixating on ideology, the media has obscured class disparities and refused to acknowledge the electoral strength of the systematically disadvantaged — including, in an era haunted by climate change, the young." • The old is dying and the new is struggling to be born…

Warren (D)(1):

Remember when Warren demanded Bloomberg to #ReleaseTheNDAs so the women can speak about Bloomberg sexually assaulting them?

Hates #MeToo but loves #RapeCulture.

I guess that's how you get the VP slot. https://t.co/3nuCzMmz16

— Sema (@_SemaHernandez_) May 5, 2020

* * *
Obama Legacy
"Michelle Obama Is Mad at 'Our Folks,' Not Trump Voters: 'That's My Trauma'" [The Daily Beast]. "'It takes some energy to go high, and we were exhausted from it. Because when you are the first black anything…' [Michelle Obama] said, referencing anecdotes from her Becoming book. 'So the day I left the White House and I write about how painful it was to sit on that [inauguration] stage. . It was almost like a slap in the face.' 'I understand the people who voted for Trump,' she continued. 'The people who didn't vote at all, the young people, the women, that's when you think, man, people think this is a game. It wasn't just in this election. Every midterm. . After all that work, they just couldn't be bothered to vote at all. That's my trauma." • Pull up your pants, n****. And have a slice of my pound cake.
Realignment and Legitimacy
"Relaxing Household Liquidity Constraints through Social Security" [Sylvain Catherine, Max Miller, Natasha Sarin SSRN (JS)]. "We show that giving workers early access to just 1% of their future Social Security benefits allows most households to maintain their current consumption for at least two months. Unlike other approaches (like early access to retirement accounts, stimulus relief checks, and expanded unemployment insurance), access to Social Security serves the needs of workers made vulnerable by the crisis, but does not increase the overall liabilities of the federal government or have distortionary effects on the labor market." • Totally like heating your house by throwing the furniture into the fireplace. Natasha Sarin is on the power track for young liberal Democrat economists at The Hamilton Project. I wonder if she'll climb a few more rungs up the ladder in a Biden administration?

The lanyard class:

Remember when Warren demanded Bloomberg to #ReleaseTheNDAs so the women can speak about Bloomberg sexually assaulting them?

Hates #MeToo but loves #RapeCulture.

I guess that's how you get the VP slot. https://t.co/3nuCzMmz16

— Sema (@_SemaHernandez_) May 5, 2020
Stats Watch
At reader request, I added some business stats back in. Please give Econintersect click-throughs; they're a good, old-school blog that covers more than stats. If anybody knows of other aggregators, please contact me at the email address below.
Employment: "April 2020 ADP Employment Declines 20,236,000" [Econintersect]. "The total number of job losses for the month of April alone was more than double the total jobs lost during the Great Recession…. Last month's employment gain was cut. This month the coronavirus had a major impact on jobs. ADP employment has not been a good predictor of BLS non-farm private job growth."
* * *
Big Ag: "Coronavirus infects more than 1,600 workers at four Iowa meatpacking plants" [Des Moines Register]. "More than 1,600 workers at four Iowa meatpacking plants have been infected with the coronavirus, state health officials reported Tuesday. The worst-hit factory is the Tyson pork processing plant in Perry, where 730 workers tested positive for the virus, the Iowa Department of Public Health reported. That means that 58% of the workers who were tested at the plant had the virus, Deputy Public Health Department Director Sarah Reisetter said at the state's daily news conference about the pandemic. The plant in Waterloo had 444 workers test positive, which was 17% of those tested. The one in Columbus Junction has 221 workers test positive, which was 26% of those tested. At the Iowa Premium Beef plant in Tama, 258 workers tested positive, which was 39% of those tested, she said."
Shipping: "Trucking companies are parking their fleet-expansion plans with unprecedented speed. Orders for heavy-duty trucks plunged last month to the lowest level on record" [Wall Street Journal]. "Transport research group FTR says it was the lowest order level it has seen in tracking that goes back to 1996, even exceeding the pullback during the 2008-2009 financial crisis. The decline is part of a broad slowdown in the transportation equipment market as companies cope with the deep economic downturn along with the safety of their own workers."
Shipping: "A dramatic squeeze in airfreight capacity is pushing companies around the world to choose between sky-high shipping costs and exceptionally long delivery timelines. Postal services and even perishables exporters in Australia are among those turning to slower ocean transport services" [Wall Street Journal]. "The withdrawal of thousands of passenger flights left overall global airfreight capacity down 25% from a year ago, even after freighter operations accelerated to make up for lost passenger-plane space. That has sent air-cargo prices rocketing higher."
Apparel: "Vietnam may become the largest exporter of clothing to the US" [Textile Focus]. "As soon as the COVID-19 subsidies are issued, Vietnam may become the largest exporter of clothing to the US. After the first two months of 2020 have analyzed the trend in clothing trade and anticipating the remainder of the year. Vietnam exported $2.38 billion worth of clothing in January-February 2020 to the US, which marked an rise of 3.50 per cent. It constitutes 18.80% of overall imports of clothes from the United States. Vietnam's share in the US apparel market was 16.17 per cent in the corresponding period of 2019 and this indicates the share has significantly surged in 2020. On the other hand, China, the largest apparel exporter to the US, shipped apparels worth $2.69 billion with a drastic fall of 40.66 per cent."
Apparel: "Business relationships in global apparel supply chains are unraveling. High-stakes disputes between manufacturers and their customers have exploded across the garment industry… as payments are delayed and retailers cancel orders while they cope with closed stores and plunging sales" [Wall Street Journal]. "Factories in Asia that have paid raw-material, labor and other costs say they have been left holding huge consignments of clothing or seen them disappear into distribution channels without payment. Many say they have little recourse as apparel contracts have shifted to give importers more flexibility. That is in part because many retailers have moved away from use of letters of credit, a once-common backstop guaranteeing payment through banks, and instead rely on an open-account system that is light on enforcement. The shift has been tough on apparel factories that often pay for labor and material costs out of pocket or with debt." • Hmm. "[M]oved away from use of letters of credit" is a little light on agency.. Do we have any readers with insight on how this happened?
Pandemic: "Perspectives from Main Street: The Impact of COVID-19 on Communities and the Entities Serving Them" (PDF) [Federal Reserve Bank of Atlanta]. "This report offers findings of a survey designed to collect information on the effects of COVID-19 on communities and the entities serving them." n=3899 nonprofit organizations, financial institutions, government agencies and other community organizations. More: "Over one-third of respondents (35%) indicated it will take more than 12 months for their communities to return to the conditions prior to the disruption from COVID-19. … A quarter of respondents (25%) indicated their entity could operate for less than three months in the current environment before exhibiting financial distress." • So, May, June, July…
Today's Fear & Greed Index: 42 Fear (previous close: 43 Fear) [CNN]. One week ago: 46 (Neutral). (0 is Extreme Fear; 100 is Extreme Greed). Last updated May 6 at 12:38pm.
The Biosphere
"Making commodity chemicals requires fossil fuels. New devices could do it with renewables" [Nature]. "As windmills and solar panels multiply, the supply of renewable electricity sometimes exceeds demand. Chemists would like to put the excess to work making commodity chemicals, such as the raw materials for fertilizer and plastics, which are now produced with heat, pressure, and copious fossil fuels. The electrochemical cells that can harness renewable electricity to make these compounds have been too slow to be practical. Now, two groups report redesigning the cells to achieve a dramatic speedup—perhaps enough to put green industrial chemistry within reach…. One research group uses carbon dioxide (CO2) as its starting material to make ethanol, a fuel, and ethylene, a starting point for plastics; the other turns nitrogen (N2) into ammonia (NH3), a key component in fertilizer. Both owe their progress to advances in the catalyst-coated electrodes that drive chemical reactions between gases and liquids."
Health Care
"Spike mutation pipeline reveals the emergence of a more transmissible form of SARS-CoV-2" (preprint) [bioRxiv (Phacops)]. "We have developed an analysis pipeline to facilitate real-time mutation tracking in SARS-CoV-2, focusing initially on the Spike (S) protein because it mediates infection of human cells and is the target of most vaccine strategies and antibody-based therapeutics. … The mutation Spike D614G is of urgent concern; it began spreading in Europe in early February, and when introduced to new regions it rapidly becomes the dominant form. Also, we present evidence of recombination between locally circulating strains, indicative of multiple strain infections. These finding have important implications for SARS-CoV-2 transmission, pathogenesis and immune interventions." • And vaccines. A comment the paper and on media coverage (the Los Angeles Times):
Spike D614G may well have functional importance. It may even increase transmissibility. But we won't know until this is tested experimentally. There's no basis for the breathless OMG #SARSCoV2 HAS MUTATED TO BE MORE TRANSMISSIBLE WE'RE ALL GONNA DIE tone in the LA Times piece.

— Dr. Angela Rasmussen (@angie_rasmussen) May 5, 2020
The whole thread is worth reading.
"Humoral immune response and prolonged PCR positivity in a cohort of 1343 SARS-CoV 2 patients in the New York City region" (preprint) [medRxiv]. "Here we show that the vast majority of confirmed COVID19 patients seroconvert, 26 . We also report that in a large proportion of 27 individuals, viral genome can be detected via PCR in the upper respiratory tract for weeks post 28 symptom resolution, but it is unclear if this signal represents infectious virus." •
"Feds Quietly Seek to Remove Leading Cause of Vaccine Injuries From Federal Payout Program" [NBC]. "A division of the Department of Health and Human Services is proposing to remove the leading cause of vaccine injuries from the federal program that compensates victims…. It's called SIRVA, short for shoulder injury related to vaccine administration. It's happened to thousands of people across the country who went in for a simple vaccine, just like millions do each year. But the location of the shot on their arm or the angle at which it was given caused the life-changing injury."
"Cardiovascular Disease, Drug Therapy, and Mortality in Covid-19" [NEJM]. "Our study confirmed previous observations suggesting that underlying cardiovascular disease is associated with an increased risk of in-hospital death among patients hospitalized with Covid-19. Our results did not confirm previous concerns regarding a potential harmful association of ACE inhibitors or ARBs with in-hospital death in this clinical context."
Class Warfare
There's a lesson here for all of us:
The way Japanese bees deal with murder hornets is just brutal but satisfying. pic.twitter.com/8zjUloVzPY

— Brandon Morse (@TheBrandonMorse) May 5, 2020
Acela Corridor:
At least 1,204,475 cases of coronavirus have been recorded in the US, including 71,078 deaths, according to Johns Hopkins University's tally of cases. https://t.co/taW5eumTtR

CNN is taking a wider look at US coronavirus cases here: https://t.co/ethKMGStGG pic.twitter.com/IChGlVDzVW

— CNN (@CNN) May 6, 2020
But not forever!
"Our Broken Unemployment System Is a National Scandal" [Vice]. "[I]f unprecedented unemployment is a five-alarm national emergency, then our backlogged unemployment insurance system should be treated as a true national scandal—an unnecessary and wholly avoidable extra crisis at the worst possible time… But to wave off what's happening as an expected consequence of an unprecedented situation papers over the fact that our dilapidated unemployment insurance system was deliberately designed to keep certain people from accessing benefits, long before coronavirus came around…. Our country's social programs have long been built around an ethos of framing people either as 'deserving' or 'undeserving' of benefits [or, as we say today, "essential" (and not essential]. It's a racist trope furthered by Ronald Reagan's welfare queen myth and the Bill Clinton era of welfare reform… This ethos can be seen throughout an unemployment insurance system that, like most of our welfare state, is built to prioritize rooting out "fraud" rather than get benefits quickly to the people who need them." • This is worth reading in full. I don't know what the heck's happened to Vice, that it's suddenly worth reading.
"There Is Only One Way Out of the COVID-19 Economic Crisis" [Daniel Carpenter and Darrick Hamilton, Slate]. "The current recession is steep and severe, and even under optimistic scenarios, millions of the jobs now lost are not coming back. Meanwhile, any successful test-fueled rush to "reopen" the country and get back to the America of January 2020 will only return us to a world in which, despite low official unemployment rates, four in 10 Americans reported that they could not readily meet an emergency $400 expense, millions were reliant upon gig work without benefits, our infrastructure crumbled, and our government was caught flat-footed in the face of a public health crisis. Such a rush will also likely lead to mass death on a scale beyond what we've already seen and is most likely simply impossible to succeed in returning us to the old normal. January 2020 is not a status quo to which we can or should try blindly to return. Instead, like President Franklin Roosevelt did in the 1940s, we call for a federal job guarantee that would create millions of jobs, end involuntary unemployment, and build out necessary and resilient public infrastructure. Unlike the stimulus ideas that have dominated Washington to date, a direct government hiring initiative would address inequality; build robust capacity in public health, conservation, education, and infrastructure; and provide not just stable jobs, but government capacity to meet the current pandemic and economic crisis as well as the next one." • Which is why we should elect Joe Biden.
News of the Wired
"When It's Hard to Take a Deep Breath" [Current Affairs]. "The incessant torrent of urgent and conflicting information is enough to make you hyperventilate, even if you've never had a single symptom of asthma (or any other respiratory illness, for that matter). It doesn't matter how savvy of a news consumer you are. You can 'listen to the experts' like the CDC or WHO all you want, but what they say on Monday is often quite different from what they say on Friday…. How is anyone supposed to breathe in conditions like these?"
* * *
Readers, feel free to contact me at lambert [UNDERSCORE] strether [DOT] corrente [AT] yahoo [DOT] com, with (a) links, and even better (b) sources I should curate regularly, (c) how to send me a check if you are allergic to PayPal, and (d) to find out how to send me images of plants. Vegetables are fine! Fungi and coral are deemed to be honorary plants! If you want your handle to appear as a credit, please place it at the start of your mail in parentheses: (thus). Otherwise, I will anonymize by using your initials. See the previous Water Cooler (with plant)
here
. Today's plant (CR):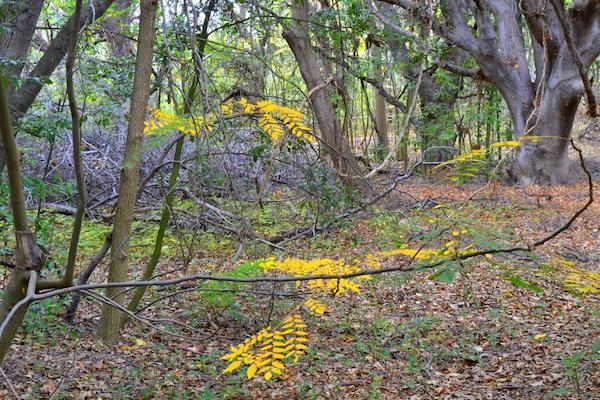 TH writes: "I took this one because I liked the gold leaves." I like the layers of color. This is what it feels like to stand in the woods and decide whether to move forward or not.
* * *
Readers
: Water Cooler is a standalone entity
not
covered by the annual NC fundraiser. So if you see a link you especially like, or an item you wouldn't see anywhere else, please do not hesitate to express your appreciation in tangible form. Remember, a tip jar is for tipping!
Regular positive feedback both makes me feel good and lets me know I'm on the right track with coverage
. When I get no donations for five or ten days I get worried. More tangibly, a constant trickle of donations helps me with expenses, and I factor in that trickle when setting fundraising goals:
Here is the screen that will appear, which I have helpfully annotated.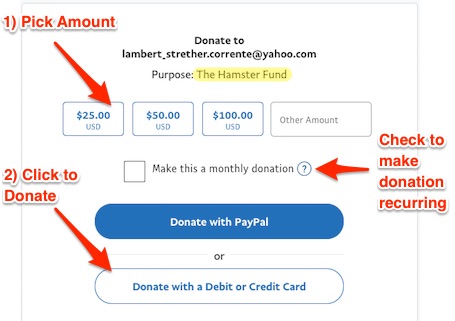 If you hate PayPal, you can email me at lambert [UNDERSCORE] strether [DOT] corrente [AT] yahoo [DOT] com, and I will give you directions on how to send a check. Thank you!