By Steve Horn, a former Research Fellow and writer for DeSmog and a freelance investigative journalist based in San Diego, CA. He currently works as a climate reporter and producer for The Real News Network. Originally published at DeSmogBlog
On April 15, Judge Brian Morris nullified water-crossing permits in Montana that were granted for the Keystone XL, a major setback for the long-embattled tar sands oil pipeline. The ruling came just days after Keystone XL owner TC Energy, formerly known as TransCanada, obtained billions of dollars in subsidies from the Alberta government as global oil prices plummeted.
The oil and gas industry has taken notice. Seemingly just a ruling on Keystone XL — the subject of opposition by the climate movement for the past decade — the ruling could have far broader implications for the future of building water-crossing pipelines and utility lines.
In his decision, Judge Morris cited a potential violation of the Endangered Species Act when he ordered the U.S. Army Corps of Engineers to do a deeper analysis of potential impacts to protected species. Morris required the Corps to demonstrate whether or not it could construct the pipeline without harming endangered species, such as the Pallid Sturgeon or the American burying beetle. Instead, the Army Corps "failed to consider relevant expert analysis and failed to articulate a rational connection between the facts it found and the choice it made," Morris ruled, when the Corps gave Keystone XL the initial green light.
The original July 2019 complaint in that case — filed by Northern Plains Resource Council, Bold Alliance, Sierra Club, Natural Resources Defense Council, and Center for Biological Diversity — also argued that the Army Corps had violated the National Environmental Policy Act (NEPA) in using an obscure regulatory lever to fast-track the review process.
Known as Nationwide Permit 12, the permit only requires a short environmental analysis compared to the more robust environmental impact statement required under NEPA for other major infrastructure projects. But Morris also wrote that the decision applied not just to Keystone XL, but to all major federal projects aiming to utilize Nationwide Permit 12, calling for it to be "vacated pending completion of the consultation process and compliance with all environmental statutes and regulations."
Just two days after this decision, Army Corps regulatory program Chief Jennifer Moyer wrote in an email obtained by the Associated Press that the agency should suspend the program indefinitely "out of an abundance of caution" until the issue is resolved legally.
The Trump administration has already requested a procedural halt on implementing Morris' decision until its potential appeal weaves its way through the legal system.
"The Court has eliminated Nationwide Permit 12 for use by any utility line project anywhere in the country, which has extraordinary and immediate implications for numerous projects," the U.S. Department of Justice attorneys wrote on behalf of the Army Corps.
The American Petroleum Institute (API), the lobbying and advocacy voice of the oil and gas industry, has also filed an affidavit in favor of putting a procedural halt to Morris' ruling.
"The ability to provide reliable energy is even more important now during this sensitive and challenging time brought on by COVID-19," Robin Rorick, Vice President of Midstream and Industry Operations for API, wrote in the affidavit. "The Court's Order could threaten API's members' ability to continue numerous energy and infrastructure projects, affecting the health of numerous companies and job security in an already-strained economy."
API also joined North America's Building Trades Unions and Interstate Natural Gas Association of America in denouncing the ruling along similar lines.
'Single and Complete'
Nationwide Permit 12 historically was used for small "single and complete" projects crossing water parcels half an acre in size or smaller.
But in the aftermath of protests and civil disobedience actions taken against Keystone XL, the Obama administration began using that permitting process to split pipelines into hundreds or thousands of half-acre pieces. The process was a way around the more robust and democratic National Environmental Policy Act (NEPA) regulatory process, which involves both a public commenting and public hearing phase. Nationwide Permit 12 was also used to push through the Dakota Access pipeline, as well as the southern leg of the Keystone XL, both greenlighted by President Barack Obama.
During the Obama era, environmental groups decried this as a form of "segmentation" and a way out of complying with NEPA, which they routinely challeneged in court with some success—though not enough to undo the legal lever. The bedrock environmental law is now under further attack by President Donald Trump, with the administration trying to remove climate change contribution as a factor analyzed under the law for major projects and aiming to narrow the scope of and time it takes to complete these environmental impact reviews.
Since March 2017, the Trump administration has utilized Nationwide Permit 12 over 37,000 times, the AP reported. As it stands today, the Army Corps' decision to halt use of the Nationwide Permit 12 fast-track tool has put 360 permit applications on hold.
External corporate attorneys, too, have taken notice and expressed their own concerns about the ruling.
"The decision puts in limbo thousands of infrastructure projects nationwide that rely on [Nationwide Permit] 12 for the construction, maintenance, or repair of utility lines and poses particularly acute problems for the oil and gas industry, which relies on the permit to facilitate projects ranging from large interstate pipelines to smaller gathering lines at exploration and production sites," wrote attorneys from Brownstein Hyatt Farber Schreck, a firm with close ties to the Trump administration, in one such reaction to the ruling.
Brownstein Hyatt Farber Schreck's fossil fuel industry lobbying clients include the American Petroleum Institute, American Public Power Association, Freeport LNG Talos Energy, Jordan Cove LNG WPX Energy, and the New Mexico Oil and Gas Association.
Another firm heavily involved in fossil fuel industry litigation and lobbying, Steptoe & Johnson, also weighed in on the ruling and wrote that it could have the impact of "extending permitting time frames for these types of projects" going forward. The firm's fossil fuel industry lobbying clients include American Gas Association, Gas Technology Institute, and Peabody Energy.
Permian Highway Pipeline in Texas
The legal precedent set in the Keystone XL case is already playing out in federal courts.
On April 30, the Sierra Club filed a lawsuit in the U.S. District Court for the Western District of Texas against the Army Corps of Engineers over another controversial pipeline. The complaint says the Army Corps did not comply with NEPA in issuing a Nationwide Permit 12 to the 428-mile Permian Highway gas pipeline. It also argues the agency is not currently in compliance with the order in the Keystone XL case because it has continued to allow pipeline construction under the contested Nationwide Permit 12 program.
"It is outrageous that the Corps approved this project without public notice or opportunity to comment on their permits," Rebecca McCreary, a Sierra Club attorney, said of the Permian Highway pipeline in a press release.  "Nationwide Permit 12 allows for no public hearings or participation by the local communities before the Corps permits construction to start, nor is there public notice or comment on the U.S. Fish and Wildlife Service permits allowing harm to the endangered species along the route. The Corps should stop this project immediately."
Owned by Kinder Morgan, Permian Highway is a pipeline slated to carry gas obtained via hydraulic fracturing ("fracking") in Texas' Permian Basin east across the state. Kinder Morgan told DeSmog it was aware of the lawsuit, but declined to comment on it and the broader Nationwide Permit 12 issue.
Permian Highway has already seen issues with spills into water systems, with one late March incident spilling 36,000 gallons of drilling slurry — including a carcinogenic additive — into groundwater.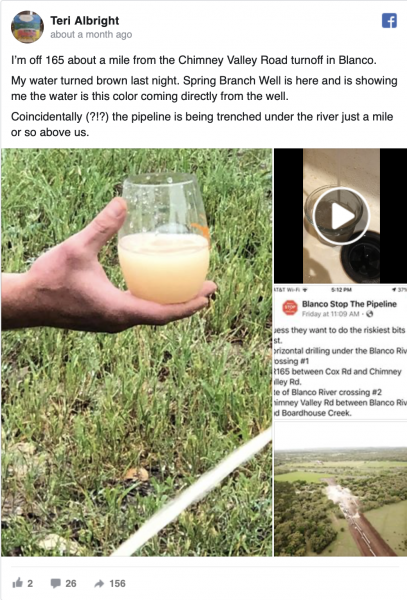 Responding, the Hays County Commissioners Court voted on April 22 to rescind road permits given by the Texas county to allow Kinder Morgan to drill underneath county roads as it builds the pipeline. And Kinder Morgan, too, has suspended construction on this portion of the pipeline as it "determines the best path forward" in the aftermath of the spill, the company told Houston Chronicle.
The City of Austin, City of San Marcos, Hays County, Travis County, and others also filed their own Endangered Species Act lawsuit in February, arguing that the pipeline could threaten protected Golden Cheeked Warblers, two salamander species, and their habitats.
Keystone XL Decision Looms
In the Keystone XL case in Montana, Morris recently denied the Army Corps a procedural stay in the case. TC Energy, for its part, wants the decision struck down as it applies both to its own pipeline and for the permitting program at large.
"If TC Energy does not receive authorization from the Army Corps by early July, its construction plans will be significantly impacted," Gary Salsman, a TC Energy vice president for the Keystone XL project, wrote in his April 29 affidavit. "Currently, TCEnergy is evaluating potential options that would be available to it in that circumstance, each of which have significant adverse consequences."
Those "potential options," Salsman wrote, include a potential construction delay across Montana, South Dakota, and Nebraska; a change in construction plans this year to avoid the waters it is currently slated to cross that are impacted by the vacating of Nationwide Permit 12; or ending construction all together. He added that if construction does not begin in 2020, it could cost the company $750 million to $1.3 billion.
Morris could make a decision on how broadly his Nationwide Permit 12 decision applies as soon as May 8. Regardless of the outcome, Morris' next move will likely face an appeal from either side.