By Lambert Strether of Corrente.
Patient readers, as usual I collected too much political material over the weekend. I'll beef up that section in a bit. –lambert UPDATE All done!
#COVID19
At reader request, I've added this daily chart. The data is the John Hopkins CSSE data. Here is the site. Here are the major regions of the United States since pandemic start (linear scale):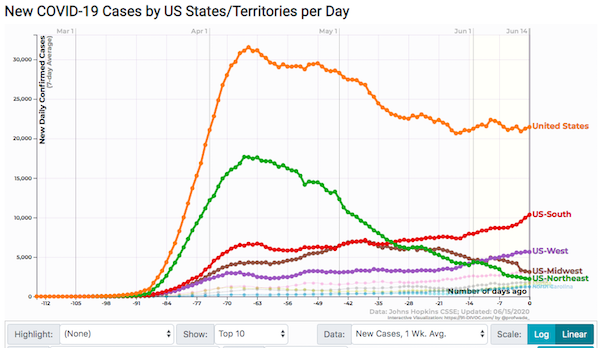 Again, the Northeast has little cause to preen, despite Cuomo claiming to have "crushed" the virus. But the steady increase in the South and West — especially when California did so well in the early days — has to be concerning. At least we can cross off the idea that the summer heat will kill it. So there's that.
Politics
"But what is government itself, but the greatest of all reflections on human nature?" –James Madison, Federalist 51
"They had one weapon left and both knew it: treachery." –Frank Herbert, Dune
"They had learned nothing, and forgotten nothing." –Charles Maurice de Talleyrand-Périgord
Since we're getting closer to the election, maybe it's time to start looking at the electoral map, updated June 8 and unchanged today: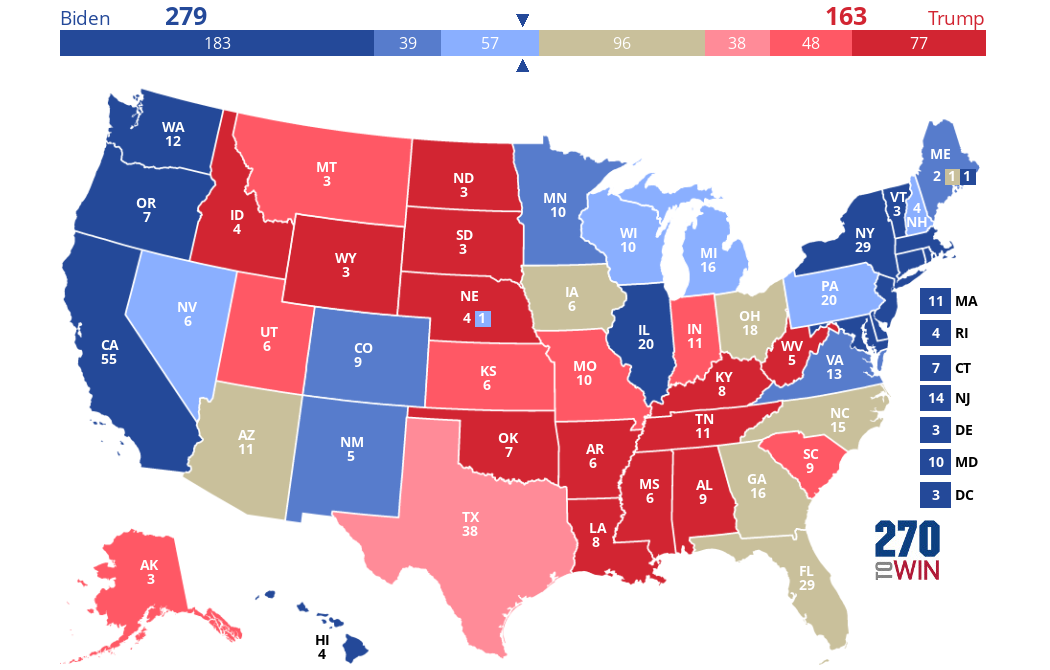 Click the map to create your own at
270toWin.com
So, taking the consensus as a given, 270 (total) – 204 (Trump's) = 66. Trump must win 66 from the states in play: AZ (11), FL (29), MI (16), NC (15), PA (20), and WI (10) plus 1 to win not tie = 102. 102 – 66 = 36. So if Trump wins FL, MI, NC, and PA (29 + 16 + 15 + 20 = 80), he wins. That's a heavy lift. I think I've got the math right this time!
* * *
2020
Biden (D)(1): "Exclusive: U.S. Democratic Party irked by council's 'insurgent' climate plan – sources" [Reuters]. "The Democratic National Committee's council on climate change irked party leadership when it published policy recommendations this month that ventured beyond presidential candidate Joe Biden's plan, according to three people familiar with the matter…. Members of the DNC Environment and Climate Crisis Council, formed last year, published proposals for the party's four-year platform on June 4 in a press release, calling for up to $16 trillion in spending to shift the U.S. economy away from fossil fuels while banning hydraulic fracturing and oil and gas exports. The council's proposals far exceed Biden's current climate plan, which bans new oil and gas permits on public lands and dedicates $1.7 trillion to accelerate the transition to renewable energy, but allows continued fracking and exports in the meantime." • I don't know how to get my head around the fact that $1.7 trillion comes from Biden, and $16 trillion from the DNC (!). Although I suppose that means that $32 trillion is the right amount….

Biden (D)(2): "'Who are we?' Joe Biden seizes the moment as nation's attitude shifts on race" [Guardian]. "As public attitudes shift quickly on race, Biden appears emboldened by the changed political landscape, embracing a far more ambitious reform agenda than he entered the race for president. By contrast, Trump, with his hostility to the protesters and resistance to their demands for reform, has found himself on the wrong side of the American public at a particularly perilous moment for his presidency and his re-election prospects. A Washington Post-Schar School poll found that 61% of Americans disapprove of the way Trump handled the protests while just 35% approve. When asked what type of president they preferred at this moment of racial strife, half said they would prefer a leader who can "address the nation's racial divisions", compared with 37% who said they would prefer a leader who can 'restore security by enforcing the law.'" • The mind reels. Because–

Biden (D)(3): "Amid protests, Harris emerges as top contender for Biden's V.P. slot" [Reuters]. "A Democratic strategist with relationships in Biden's circle was even more blunt, saying recent events all but required Biden to pick a black woman – and that Harris is the most practical choice. 'It's going to be Harris. It was always going to be Harris. It was going to be Harris even when Joe Biden didn't think it was going to be Harris,' said the strategist, speaking on condition of anonymity. 'At some point, he was trying to convince himself black people like him so much that he could pick someone like Amy Klobuchar.'" • Of course, Harris's law enforcement background — albeit not for the rich — should play well with the Karens of this world. Most of whom are not out protesting….

UPDATE Biden (D)(4): "Why the electoral map is even better for Joe Biden than it looks" [Chris Cilizza, CNN]. "But the current electoral breakdown also don't capture the whole picture — which is that Biden simply has many more plausible paths to the magic number of 270 electoral votes than Trump…. The electoral map is a fungible thing. And the election isn't for another 144 days. But looking at the states today, it's clear that Biden has a LOT more ways to get to his goal than does Trump."

UPDATE Biden (D)(5): "Joe Biden campaign swearing his economic advisers to secrecy" [New York Post]. "The presidential hopeful relies on the counsel of a small group of liberal economists and others with ties to the Obama White House and Hillary Clinton's 2016 campaign, according to the New York Times. The paper reports that the Biden campaign recently formed an economic policy committee that will include more than 100 left-leaning economists and researchers. Advisers on the committee were sent a three-page document last month, according to the Times, which outlined strict rules to ensure complete silence. Rules include not circulating emails from the committee, not referring to 'the candidate or to the campaign' in documents and not disclosing 'the names of others who are involved in the committee to nonmembers.' While the committee will have a broader range of policy views than the former vice president's core group of advisers, the secrecy around the panel raises a myriad of questions. It is not known which advisers have the most sway over the presidential candidate, nor is it known which policy proposals are gaining traction among the team." • Whatever a group with 100 members might be, it's not a committee.

Sanders (D)(1): "Back in the Senate, Sanders weighs how to wield his outside-Washington power" [WaPo]. "He is already the ranking minority-party member on the Budget Committee. If Biden wins and Democrats reclaim the Senate majority, Sanders would become chairman and instantly a point person on the most ambitious agenda items for the new administration, likely to rely on fast-track procedures the panel is allowed to use to overcome 60-vote hurdles on most legislation…. 'It is painful to me, painful to me, not to be out around my own state, around the country, engaging people. I love to do town meetings, I love, love, love to do town meetings,' Sanders reiterated, fondly recalling those iconic rallies with 25,000 supporters cheering. 'Do I miss that? I surely do. I absolutely do.'… Until health officials say it's safe to resume traditional politic, Sanders will have to rely on his telephone."

UPDATE Trump (R)(1): "'We're thinking landslide': Beyond D.C., GOP officials see Trump on glide path to reelection" [Politico]. "Interviews with more than 50 state, district and county Republican Party chairs depict a version of the electoral landscape that is no worse for Trump than six months ago — and possibly even slightly better. According to this view, the coronavirus is on its way out and the economy is coming back. Polls are unreliable, Joe Biden is too frail to last, and the media still doesn't get it. 'The more bad things happen in the country, it just solidifies support for Trump,' said Phillip Stephens, GOP chairman in Robeson County, N.C., one of several rural counties in that swing state that shifted from supporting Barack Obama in 2012 to Trump in 2016. 'We're calling him 'Teflon Trump.' Nothing's going to stick, because if anything, it's getting more exciting than it was in 2016.' This year, Stephens said, 'We're thinking landslide.' Five months before the election, many state and county Republican Party chairs predict a close election. Yet from the Eastern seaboard to the West Coast and the battlegrounds in between, there is an overriding belief that, just as Trump defied political gravity four years ago, there's no reason he won't do it again."

UPDATE Trump (R)(2): "Protests in Trump country test his hold in rural white areas" [Associated Press]. "The protest movement over black injustice has quickly spread deep into predominantly white, small-town America, notably throughout parts of the country that delivered the presidency for Donald Trump. Across Michigan, Ohio, Pennsylvania and Wisconsin, more than 200 such demonstrations have taken place, many in cities with fewer than 20,000 residents, according to local media, organizers, participants and the online tracking tool CrowdCount…. "If President Trump cannot hold onto white, working-class voters in rural, small-town Michigan, Pennsylvania, Wisconsin and Ohio, I don't know how he wins the election," said Terry Madonna, director of the Center for Public Affairs at Franklin & Marshall College, in Lancaster, Pennsylvania. 'Can you rule out he won't have that same level of enthusiasm? No, you can't.'" • Beyond the horse race, this is a good sign for the health of the country generally.

UPDATE Trump (R)(4): "Trump campaign manager says 300,000 tickets registered for upcoming rally" [The Hill]. "Brad Parscale, President Trump's campaign manager, said 300,000 tickets have been registered for the campaign's upcoming rally in Tulsa, Okla." • Big if true.

UPDATE Trump (R)(3): "Revealed: The Family Member Who Turned on Trump" [The Daily Beast]. "Donald Trump's niece, his deceased brother's daughter, is set to publish a tell-all book this summer that will detail "harrowing and salacious" stories about the president, according to people with knowledge of the project…. The bad blood between President Trump and his niece dates back 20 years to the fight over Fred Trump Sr.'s will and the actions he took to cut off financial and medical support for her brother's ill child. Now that feud is about to spill out into the public eye during a critical election year, with the president struggling to shore up his plummeting popularity."

UPDATE Trump (R)(4): "Former Defense Secretary Gates: 'At least' Trump 'hasn't started any new wars'" [The Hill]. • Correct, actually.

* * *

"Wins by young progressives start reshaping establishment" [The Hill]. "'The millennial generation is historically liberal. There's never been a generation, particularly of white voters, that has been as consistently Democratic,' said Sean McElwee, who heads Data for Progress. 'More and more, the typical always-shows-up voter is more progressive. They are , having kids and are not becoming conservative but instead are voting progressively in Democratic primaries.'"
Realignment and Legitimacy
"Opinion analysis: Federal employment discrimination law protects gay and transgender employees" [SCOTUSblog] (opinion). "Today the Supreme Court, by a vote of 6-3, ruled that even if Congress may not have had discrimination based on sexual orientation or transgender status in mind when it enacted the landmark law over a half century ago, Title VII's ban on discrimination protects gay, lesbian and transgender employees. Because fewer than half of the 50 states currently ban employment discrimination based on gender identity or sexual orientation, today's decision is a major victory for LGBT employees…. Justice Neil Gorsuch framed the question before the court as a straightforward one: 'Today,' he wrote, 'we must decide whether an employer can fire someone simply for being homosexual or transgender.' The answer to that question, he continued, 'is clear.' When an employer fires an employee 'for being homosexual or transgender,' that employer "fires that person for traits or actions it would not have questioned in members of a different sex. Sex plays a necessary and undisguisable role in the decision, exactly what Title VII forbids.'" • Gorsuch?! No doubt they're softening us all up for something terrible, but this is an unexpectedly good ruling. Life's little ironies:

A reminder that the word "sex" was inserted into Title VII by a segregationist Democrat to try and kill the Civil Rights Act. One of the great self-owns of American legislative history. https://t.co/aK1mPl36P0 pic.twitter.com/FAlb6Xxdc5

— Adam Serwer? (@AdamSerwer) June 15, 2020

UPDATE "The End of Black Politics" [New Yorks Times]. "The black insurgency of the 1960s and the Voting Rights Act laid the basis for the pivot to black electoral politics in the 1970s. There were fewer than 1,500 black elected officials, so entering political office was part of the broader political struggle to achieve equality…. The Congressional Black Caucus was formed in that era…. As the black movement wound down, the nation went into recession, and black legislators became more entrenched in their positions. With seniority, repeated election cycles and without a robust movement as a source of accountability and direction, black elected officials began to govern like typical politicians. Staying in office became a priority, and as black legislators, they often had fewer resources. That meant more fund-raising from entities that may have been at odds with their constituencies….. In 1994, the Congressional Black Caucus played a key role in the passage of the notorious crime bill, which is widely viewed as pivotal in the turn toward mass incarceration…. In doing so, they had the support of African-American mayors in Denver, Cleveland, Detroit, Atlanta and other major cities…. This was not just a case of selling out. As more blacks entered the middle class, political demands shifted. Black elected officials were more in tune with the needs of their middle-class constituencies, black and white, than they were with the needs of the black working class. And their middle-class constituencies were more often concerned about a rise in property taxes than in ensuring access to a local Head Start. Perhaps the uprising in Baltimore in April 2015 marked a symbolic end to this phase of black politics. Black people held many of the city's top leadership roles, and the nation's first black president and attorney general were a mere 40 miles away. And yet that concentration of black political power was not enough to stop the death of Freddie Gray, who died after being detained by the Baltimore police."

UPDATE Good framing:

When I look at the multiracial movement in the streets, I see a Third Reconstruction. This kind of fusion coalition is the only force that has ever pushed America toward a more perfect union. And it's trying to breathe life into this democracy now.

— Rev. Dr. William J. Barber II (@RevDrBarber) June 13, 2020

* * *

UPDATE "Activists cite tabulation flaw in mail-in ballots in Georgia" [Associated Press]. "Faulty software or poorly calibrated vote-tabulation scanners used to count mailed-in ballots in this week's chaotic Georgia primary may have prevented thousands of votes from being counted, election officials and voting integrity activists say. The issue was identified in at least four counties, DeKalb, Morgan, Clarke and Cherokee, according to officials who discovered them, including activists who have sued the state for alleged election mismanagement. 'The fact that it is in multiple counties tells me that it's probably systemic,' said Richard DeMillo, a Georgia Tech computer scientist who has testified for the plaintiffs, because identical scanners and software were used to count all absentee ballots across the state. DeMillo said the only way to know for sure is through audits…. In Morgan County, Republican-dominated and just southeast of Atlanta, panelists discovered at least 20 votes on scanned ballot images that the program had not recorded, said Jeanne Dufort, a Democrat on the panel. She said it appeared ." • Worse and worse.

UPDATE "How COVID-19 wreaked havoc on Georgia, Chatham County elections process" [Savannah Morning News]. "Voter Shameka Jackson said the voting machine didn't accept her choices. She checked the printout and had to re-do her ballot when it showed many offices left blank where Jackson had chosen a candidate." • Note that the printout is not the ballot; the ballot is the (not human-readable) QR code that is scanned.

UPDATE "How Electronic Voting in Georgia Resulted in a Disenfranchising Debacle" [The New Yorker]. "If you want to understand why the state had to extend voting hours in twenty counties, and why some voters were still in line after midnight, you need only look at the math: in a precinct with a single B.M.D., only one person can vote at a time; in a precinct with five B.M.D.s, five people can vote simultaneously. (This assumes that those machines and the electronic poll books are functional. If the e-poll books don't work, the B.M.D.s can't work.) Contrast that system with the traditional one, in which people vote using a pen and a paper ballot on a table topped with cardboard privacy dividers. In that system, if there are twenty dividers, twenty people can vote at a time, and the cost of increasing the number exponentially is negligible. (In that system, B.M.D.s can be reserved for people with disabilities.)" • It's almost as if BMDs were designed to discourage voting…

UPDATE "Election Data Sits in a Database: County Election Office Is Denied Access" [Westside Gazette]. In Broward County, Florida: "The Supervisor of Election, as defined by Florida statutes, is the custodian of all election documents and records, from voter registration to candidate filings and election results. So, you can imagine my surprise when a senior election office official acknowledged that while they maintain custody of the Microsoft SQL Server database where all votes are recorded, no one in the office can log into the database or query its data. According to the senior official, Election Systems & Software, the company who owns the election management system software the county uses, refuses to give them a user account. The company says it is a preventative measure to reduce the risk of record tampering, whether intentionally or accidentally. ES&S also issued a mob-like warning: if the election office accesses the database through a backdoor, or other means, the company will automatically revoke all results pending certification and terminate the contract immediately."
Stats Watch
At reader request, I added some business stats back in. Please give Econintersect click-throughs; they're a good, old-school blog that covers more than stats. If anybody knows of other aggregators, please contact me at the email address below.
Manufacturing: "June 2020 Empire State Manufacturing Index Significantly Improves" [Econintersect].
Key elements significantly improved – it seems the recession is over. Note that survey responses were collected between June 2 and June 9." • That was fast. Note that a continuing feature of the last recovery was the persistant divergence between surveys like this and data.
* * *
Commodities: "The Great Cheese Emergency" [Modern Farmer]. "Mountains of specialty cheese have been piling up in warehouses in recent months, as restaurants shuttered and other traditional markets closed down across America. Like many other areas of the food industry, artisanal cheese has not been immune to the pandemic's disruptions. But cheese associations say artisanal cheese producers have been hit especially hard, as they tend to be local family-run businesses—without the support of larger corporate entities—that depend on restaurants. A recent survey of almost 1,000 artisanal cheese sellers and producers, conducted by the American Cheese Society (ACS), found that nearly 70 percent were negatively impacted in some way by COVID-19. Almost 60 percent said their overall sales decreased." • The pandemic as a catalyst, both of our worse tendencies (as here) and our best (strikes, protests).
Commodities: "Q&A: Inside the high-stakes world of clandestine crude shipping" (interview) [American Shipper]. "TankerTrackers.com is the antithesis of scalability – a small team of amateur sleuths, more Hardy Boys and Nancy Drew than HAL 9000, more likely to be hunched in the dark trying to identify a single ship's telltale features on an ultra-magnified satellite image than crunching numbers. TankerTrackers.com co-founder Samir Madani began following ship movements as a hobby. He was also one of the co-creators of the twitter community #OOTT, the Organization of Oil Trading Tweeters. The hobby transformed into a fully incorporated commercial enterprise in 2018, with Madani going full time, together with co-founders Lisa Ward and Breki Tomasson. The timing was impeccable. In the two years since, U.S. sanctions have increasingly targeted crude tankers, the tanker industry has become a major focus of stock investors, and oil has become an ever-more-important fulcrum of geopolitics and the global economy." • Fascinating stuff!
* * *
Today's Fear & Greed Index: 50 Neutral (previous close: 53 Neutral;) [CNN]. One week ago: 67 (Greed). (0 is Extreme Fear; 100 is Extreme Greed). Last updated Jun 15 at 11:58am.
Rapture Index: Closes unchanged [Rapture Ready]. Record High, October 10, 2016: 189. Current: 184. Remember that bringing on the rapture is a good thing. I feel apocalyptic. Why don't these guys?
Health Care
"A modelling framework to assess the likely effectiveness of facemasks in combination with 'lock-down' in managing the COVID-19 pandemic" [Proceedings of the Royal Society A]. From the abstract: "Our intention is to provide a simple modelling framework to examine the dynamics of COVID-19 epidemics when facemasks are worn by the public, with or without imposed 'lock-down' periods. Our results are illustrated for a number of plausible values for parameter ranges describing epidemiological processes and mechanistic properties of facemasks, in the absence of current measurements for these values. We show that, when facemasks are used by the public all the time (not just from when symptoms first appear), the effective reproduction number, Re, can be decreased below 1, leading to the mitigation of epidemic spread. Under certain conditions, when lock-down periods are implemented in combination with 100% facemask use, there is vastly less disease spread, secondary and tertiary waves are flattened and the epidemic is brought under control. The effect occurs even when it is assumed that facemasks are only 50% effective at capturing exhaled virus inoculum with an equal or lower efficiency on inhalation. Facemask use by the public has been suggested to be ineffective because wearers may touch their faces more often, thus increasing the probability of contracting COVID-19. For completeness, our models show that facemask adoption provides population-level benefits, even in circumstances where wearers are placed at increased risk. At the time of writing, facemask use by the public has not been recommended in many countries, but a recommendation for wearing face-coverings has just been announced for Scotland. Even if facemask use began after the start of the first lock-down period, our results show that benefits could still accrue by reducing the risk of the occurrence of further COVID-19 waves." • This is really a review of the literature, but its a very good review of the literature.
"FDA withdraws emergency use authorization for hydroxychloroquine" [The Hill]. "The agency said recent clinical trial failures mean chloroquine and hydroxychloroquine may not be effective to treat COVID-19, and that their potential benefits do not outweigh the risks."
"Ground-Zero Empiricism" [In The Moment]. "At moments of extreme scientific uncertainty, observation, usually treated as the poor relation of experiment and statistics in science, comes into its own. Suggestive single cases, striking anomalies, partial patterns, correlations as yet too faint to withstand statistical scrutiny, what works and what doesn't: every clinical sense, not just sight, sharpens in the search for clues. Eventually, some of those clues will guide experiment and statistics: what to test, what to count. The numbers will converge; causes will be revealed; uncertainty will sink to tolerable levels. But for now, we are back in the seventeenth century, the age of ground-zero empiricism, and observing as if our lives depended on it."
"Young Blood and Old Blood" [Derek Lowe, Science]. "This new preprint details the readouts of such clocks after treatment of two-year-old rats (and their various tissues) with a proprietary 'plasma preparation' from a company called Nugenics Research (update: corrected spelling of the name). I don't think that's going to make publication of this paper in a journal any easier, because that preparation is resolutely not described in any detail at all in the paper, from what I can see. This is no indictment of the paper or its results, but it does make them rather difficult to reproduce, doesn't it?" • Ouch. But anyhow: 'the effects of the plasma preparation on both the methylation signatures and on more traditional readouts of physiological function seem to be pretty dramatic, after two rounds of treatment in elderly rats. By the DNA methylation clock, the ages of the blood, heart, and liver tissue were basically halved (there was much less effect on the hypothalamus, interestingly). Markers of inflammation and oxidative stress went down significantly in the treated animals, and many other blood parameters changed for the better as well (HDL, creatinine, and more). The animals performed better in physical and cognitive tests (grip strength, maze test) with numbers approaching that of the young animals themselves. The authors say that this work 'supports the notion that aging can be systemically controlled, at least in part through the circulatory system with plasma as the medium." • For a price, of course. (Somewhere in my travels I ran across this animal studies aphorism: "Monkeys exagerrate, but mice lie. So perhaps that applies to this study.)
Black Injustice Tipping Point
"How N.W.A's 'Fuck tha Police' Became the 'Perfect Protest Song'" [Rolling Stone]. "'Racism is just the symptom, but the fight is economic,' the [rapper] D.O.C. says. 'Black people have been marginalized and kept away from the economics of this country. I think people are starting to understand that and are trying to figure out how we can change that and allow everybody to join in this game of capitalism. That more than anything else is going to solidify people of color to really care about peace in their own neighborhoods, policing their own streets, not unlike the Black Panther party were doing back in the Sixties. [The Black Panthers] weren't going to allow rogue police to come into their neighborhood and do the stuff these guys are doing to George Floyd, Ahmaud Arbery or Breonna Taylor. You couldn't have done that in the Panthers' neighborhood. They weren't going to allow it.'"
"Barbra Streisand Gives Disney Stock To George Floyd's Daughter Gianna" [HuffPo]. "Gianna Floyd expressed gratitude to Streisand over the weekend for gifting her shares in Walt Disney Co. The gallery of Instagram photos shows Gianna holding a letter and certificate she received from the "I Am A Woman In Love" singer, plus two of Streisand's record albums, 'My Name Is Barbra' and 'Color Me Barbra.' Thank You @barbrastreisand for my package, I am now a Disney Stockholder thanks to you,' Gianna wrote."
"The Myth of the Kindly General Lee" [Adam Serwer, The Atlantic]. "During his invasion of Pennsylvania, Lee's Army of Northern Virginia enslaved free black Americans and brought them back to the South as property. [Historian Elizabeth Brown] Pryor writes that 'evidence links virtually every infantry and cavalry unit in Lee's army' to the abduction of free black Americans, 'with the activity under the supervision of senior officers.'" • As I have mentioned, I'm experiencing a good deal of schadenfreude in following Lee's defeat in Gettysburg, through failures of generalship on multiple levels. From The Smithsonian: "Once, Dwight Eisenhower, who admired Lee's generalship, took Field Marshal Montgomery to visit the Gettysburg battlefield. They looked at the site of Pickett's charge and were baffled. Eisenhower said, 'The man [Lee] must have got so mad that he wanted to hit that guy [Meade] with a brick.'"
Police State Watch
"A Long Polycentric Journey" [Elinor Ostrom, Annual Review of Political Science (via)]. Ostrum's early work focused on policing (!). "In the fall of 1970, I worked with an outstanding group of black students to conduct a study in two poor, independent black communities that we matched to three similar communities being served by the Chicago Police Department. At the time of our study, the two small communities had just a few police officers. Their wages were low and their official cars were frequently out of service because their budgets were so limited. The Chicago Police Department had a force of >12,500 men who were paid relatively high wages. We estimated that expenditures for police service in the three Chicago neighborhoods were 14 times the amounts spent on policing in the small communities (E. Ostrom & Whitaker 1974). But (E. Ostrom & Whitaker 1974). The findings from these initial studies were consistent with the political economy theory." • More on Elinor Ostrum at NC.
Cop solidarity. Thread:
Want to know why it's so hard for #cops to be 'good apples'…

It was 2007 and I was assisting a call with an officer I'd never met before. He was from another team working overtime. Right in front of me he broke a kids nose with a punch. The septum was clearly deviated and

— ???? ??????? (@mobinfiltrator) June 12, 2020
We often forget that the phrase "bad apples" comes from the proverb "one bad apple spoils the barrel." Although the phrase may have morphed…
What are the rationales for policing today, a thread:
1/ Something that should probably be part of the policing discussion now unfolding in front of us is that so many of the causes of the collapse in crime over the last 30 years in the developed world likely had nothing to do with police, and won't be coming back if police are gone

— Peter T Charles ?️?? (@p_t_charles) June 12, 2020
Our Famously Free Press
"Inside one reporter's experience from Ferguson to Floyd" [CNN]. "Covering this hate and these losses could destroy my faith in humanity. Both Garner and Floyd were stopped for alleged non-violent crimes — selling untaxed cigarettes and allegedly using a counterfeit $20 bill. And yet both died violent deaths. Covering these are hard but I just try my damnedest to get to the truth. I won't always get it right, of course not. I will always be a work in progress and perfection in journalism does not exist. And I still have my faith in humanity. I don't know why something has broken loose and made America and the world respond. Perhaps it is so many people seeing what I saw, the unbearable long minutes of suffering George Floyd had under the knee of a police officer. Perhaps it's been heightened by the isolation we have undergone as individuals facing the coronavirus. I have many questions, for myself, for the audience, for America. I hope to be there when the answers come."
Games
Makes me wonder what other art forms video game art has influenced. Thread:
One of my many influences. Katsuya Terada's art for video games. pic.twitter.com/czR3xqNk25

— Amber Blade Jones (@eyecager) June 13, 2020
Class Warfare
"Almost One in Four Adult Workers is Vulnerable to Severe Illness from COVID-19" [KFF]. "Among non-elderly adult workers, at-risk workers are older on average than non-elderly workers who are not at risk (average age of 45 versus 40), reflecting the fact that risk status chronic conditions or poor health increases with age. One-half of at-risk non-elderly adult workers are women, which is higher than the percentage (46%) of non-elderly adult workers who are not at risk. Large shares of at-risk workers — 86% of non-elderly adult at risk workers and 61% of age 65 and older at-risk workers — work full-time (at least 35 hours per week). They have substantial connection to work and may face economic difficulties remaining absent from their jobs even if safety is a question. The average annual earnings of non-elderly adult at-risk workers was $48,400 in 2018, somewhat lower than the average annual earnings for non-elderly adults workers who were not at risk ($51,900). …. The importance of at-risk workers' earnings to themselves and to their families may put added pressure on them to continue to work or return to work even if their safety may be compromised. Not surprisingly, among both non-elderly at-risk workers and workers age 65 and older who live alone, earnings on average account for a very large share of their total annual incomes: 94% among non-elderly at-risk workers and 72% among older at-risk workers in 2018." • Yes, that's how wage labor works.
"Spiraling anti-Marxism in the DSA" [Class Unity]. "The cancelled event, jointly organized by the Philadelphia DSA political education committee and the Lower Manhattan DSA political education working group, was to have been held on May 30th and was titled 'Covid-19 and the dangers of disparity ideology.' The main attraction was the presence of Adolph Reed, a professor emeritus of political science at the University of Pennsylvania and a longtime socialist and labor activist going back many decades, including as a Bernie campaign surrogate in both 2016 and 2020 and as one of the founders of the Labor Party in the 1990s. Reed has recently written several articles on the same theme as the cancelled event. Both the Facebook and Action Network pages for the event have been taken down, but the event had drawn several hundred interested people. It goes without saying that the DSA has a desperate need for a culture of internal discussion and debate, and that the event would have been useful for the many curious attendees, the Philly and NYC chapters, and the entire organization. So what happened?… Anti-Marxist elements, principally within New York City DSA, engaged in a coordinated campaign to portray the event as racially insensitive and ultimately to force its cancellation. This campaign took place both publicly on social media and behind the scenes as NYCDSA chapter leadership maneuvered to undercut and sabotage the event. …. If DSA liberals can cancel a scholar of Reed's stature with baseless allegations amplified over social media, whom can't they cancel?… Early in the morning on what was to be the day of the event, the Afrosocialist Caucus issued a statement titled 'Response to the Philly DSA, NYC Lower Manhattan branch and Adolph Reed,' in which they demanded the cancellation of the event and its replacement by ''" • How on earth does Adolph Reed get cancelled? As for "intersectional socialism," it's a little-noticed fact that Chirlane McCray, one-time member of the Wellesley-adjacent Combahee River Collective — ground zero of intersectionality as a political concept — is now Mayor Bill Dlasio's wife. Which is a little too on-the-nose, isn't it? I recommend a reading of Reeds "the Trouble with Uplift," which must have made a good many aspirational "voices" very, very angry.
News of the Wired
"The mysterious origins of an uncrackable video game" [BBC]. "'[V]ideo game archaeologists' are unearthing long forgotten pieces of software and pulling them apart. Inside they are finding clues to how the early days of video gaming came about, but also secrets that can help modern programmers with some of the problems they are facing today…. Maze-navigating games were very common back in the late 1970s and early 1980s…. Although the blocky, two dimensional mazes from entombed might look simple by the standards of today's computer graphics, in 1982 you couldn't just design a set of mazes, store them in the game and later display them on-screen – there wasn't enough memory on the game cartridges for something like that. In many cases, mazes were generated "procedurally" – in other words, the game created them randomly on the fly, so players never actually traversed the same maze twice…. [I]n Entombed, an Atari 2600] the fundamental logic that determines the next square is locked in a table of possible values written into the game's code. Depending on the values of the five-square tile, the table tells the game to deposit either wall, no wall or a random choice between the two…. It seems straightforward, but the thing is, . Aycock and Copplestone have tried retro-engineering the table. They looked for patterns in the values to try and reveal how it was designed, but this was to no avail. Whatever the programmer did, it was a stroke of mild genius." • Now do protein folding!
"Not the Cat's Meow? The Impact of Posing with Cats on Female Perceptions of Male Dateability" [Animals]. "Women responded to an online survey and rated photos of men alone and men holding cats on measures of masculinity and personality. Men holding cats were viewed as less masculine; more neurotic, agreeable, and open; and less dateable. These results varied slightly depending whether the women self-identified as a 'dog person' or a 'cat person.' This study suggests that a closer look at the effects of different companion species on perceived masculinity and dateability is warranted." • Well, I'm closed, disagreeable, not neurotic at all, and I like cats. So there.
* * *
Readers, feel free to contact me at lambert [UNDERSCORE] strether [DOT] corrente [AT] yahoo [DOT] com, with (a) links, and even better (b) sources I should curate regularly, (c) how to send me a check if you are allergic to PayPal, and (d) to find out how to send me images of plants. Vegetables are fine! Fungi and coral are deemed to be honorary plants! If you want your handle to appear as a credit, please place it at the start of your mail in parentheses: (thus). Otherwise, I will anonymize by using your initials. See the previous Water Cooler (with plant) here. Today's plant (TH):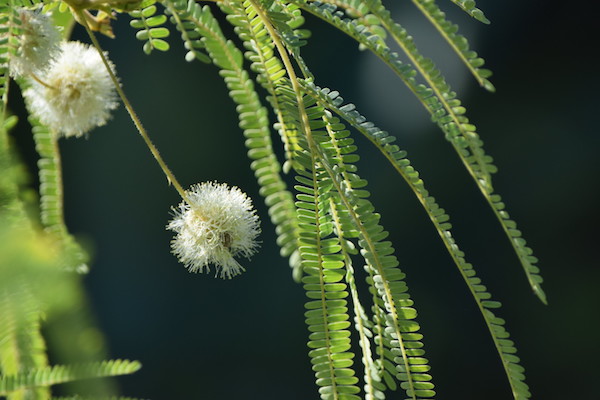 TH writes: "Isn't it pretty the way the sun caught caught the blooms on this Desert Fern Tree?" It is!
* * *
Readers: Water Cooler is a standalone entity not covered by the annual NC fundraiser. So if you see a link you especially like, or an item you wouldn't see anywhere else, please do not hesitate to express your appreciation in tangible form. Remember, a tip jar is for tipping! Regular positive feedback both makes me feel good and lets me know I'm on the right track with coverage. When I get no donations for five or ten days I get worried. More tangibly, a constant trickle of donations helps me with expenses, and I factor in that trickle when setting fundraising goals:
Here is the screen that will appear, which I have helpfully annotated.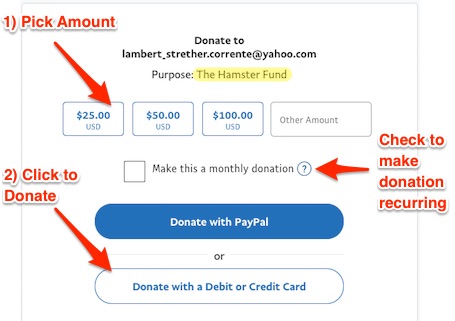 If you hate PayPal, you can email me at lambert [UNDERSCORE] strether [DOT] corrente [AT] yahoo [DOT] com, and I will give you directions on how to send a check. Thank you!