By Lambert Strether of Corrente.
Gentle readers, I seem to be asking for more patience than usual. Today, my idiotic iOS mailer decided not to mail my links out to my Mac, and dumped then in the Outbox, without telling me, as it will do, a brutally bad UI/UX experience. So completing today's Water Cooler will require me to go through that inventory, which by now should be arriving; naturally I discovered the debacle at the last minute. What is it, phases of the moon? –lambert UPDATE All done!
#COVID19
At reader request, I've added this daily chart. The data is the John Hopkins CSSE data. Here is the site. Here are the South: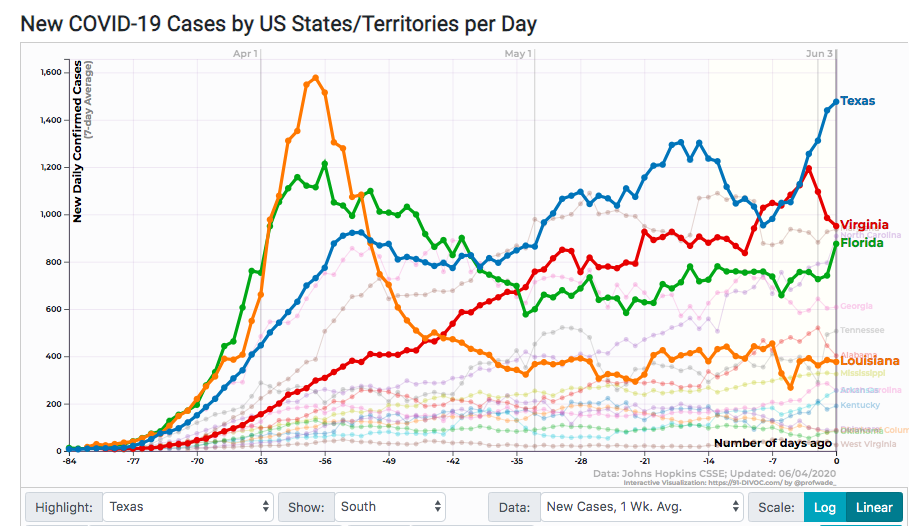 Linear. Good for Louisiana for bringing down the peak, but I don't see how anybody could look at this and say we've beaten the virus. (I suppose if you think COVID-19 is like the flu, that's OK, but it isn't.)
As I keep saying, the pandemic is not under control:
Morgan Stanley's update today to its Covid model sees a an R of ~ 1.01 and epidemic doubling time ~ 61 days, reflecting a U.S. epidemic that continues to slowly expand. They cite states including AR, AZ, NC, WA, AZ, UT, TX; where new cases and/or hospitalizations are rising again pic.twitter.com/YvdyBWLTgF

— Scott Gottlieb, MD (@ScottGottliebMD) June 4, 2020
Politics
"But what is government itself, but the greatest of all reflections on human nature?" –James Madison, Federalist 51
"They had one weapon left and both knew it: treachery." –Frank Herbert, Dune
"They had learned nothing, and forgotten nothing." –Charles Maurice de Talleyrand-Périgord
Since we're getting closer to the election, maybe it's time to start looking at the electoral map, unchanged from yesterday: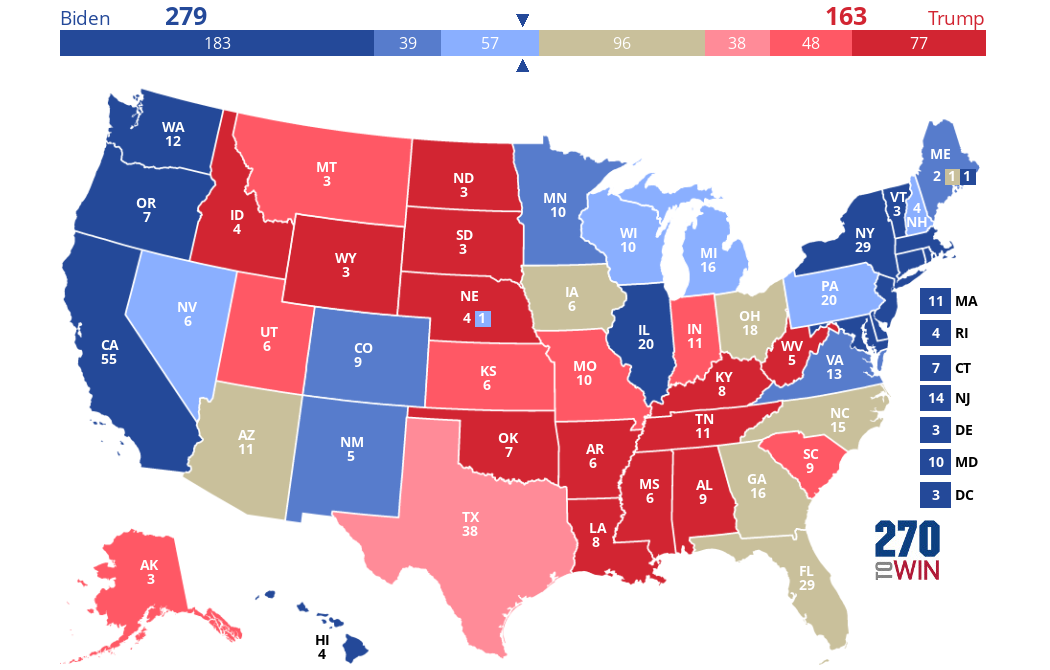 Click the map to create your own at
270toWin.com
So, taking the consensus as a given, 270 (total) – 204 (Trump's) = 66. Trump must win 66 from the states in play: AZ (11), FL (29), MI (16), NC (15), PA (20), and WI (10) plus 1 to win not tie = 102. 102 – 66 = 36. So if Trump wins FL, MI, NC, and PA (29 + 16 + 15 + 20 = 80), he wins. That's a heavy lift. I think I've got the math right this time!
* * *
2020
Biden (D)(1): "Trump and Biden clash as George Floyd's killing jolts 2020 race" [CNN]. "The presumptive Democratic nominee has reacted to the changed dynamic of a campaign previously kept in hibernation by lockdowns, warning that citizens cannot 'let our rage consume us.' Energizing a campaign initially based on the uninspiring prospect of an old order restoration, Biden Tuesday presented himself as an avatar of racial justice and national healing…. He will need to informally corral voices of tolerance and turn his campaign into a cohesive national movement for change. That means encouraging peaceful protests and emerging as the leader of Americans like those who quietly gathered on the Lincoln Memorial on Tuesday and went home before a 7 p.m. curfew. He must open his tent to those attracted by former Republican President George W. Bush's moving and above partisan politics [lol] call on Tuesday for 'America to examine our tragic failures.'" • First, restoration. Now, a "movement for change." Scratch out cat, and write in dog…..

Biden (D)(2): "Biden Has Changed—For the Better" [Franklin Foer, The Atlantic]. "The challenge for the Biden candidacy is to bridge an alliance with a resurgent left. Biden, a creature of the Senate, has to convince young people rushing to the barricades that he's worth a trip to the polls. And the challenge for the left is to accept that Biden is its greatest chance of achieving its long-held dreams. What he's demonstrated over the past week is a willingness to play the role of tribune, to let the moment carry him to a new place." • Foer leaves out the Republicans, to whom Biden also seeks to appeal. This pudding has no theme….

Obama (D)(1): "President Obama Discusses Policing And Protests In Town Hall: Change Will 'Require Everyone's Participation'" [Elle].

[OBAMA] I want to speak directly to the young men and women of color in this country, who…have witnessed too much violence and too much death and too often some of that violence has come from folks who were supposed to be serving and protecting you. I want you to know that you matter, I know you know that your lives matter, that your dreams matter. When I go home and I look at the faces of my daughters Sasha and Malia, and I look at my nephews and nieces, I see limitless potential that deserves to flourish and thrive. You should be able to learn and make mistakes and live a life of joy without having to worry about what's going to happen when you walk to the store or go for a jog or [are] driving down the street or looking at some birds in a park. And so I hope that you also feel hopeful even as you may feel angry because you have the power to make things better and you have helped to make the entire country feel as if this is something that's got to change."

What a bunch of hooey malarkey. Biden yesterday and Obama today are straight out of The West Wing, where it's always about the speech (besides caving to Republicans at every opportunity (and virtue signaling (and sexism))). Sasha and Malia are gonna do just fine. Their Dad owns a Big House in Oak Bluffs Martha's Vineyard.

Sanders (D)(1): "Staffers lash out in Bernie world meltdown" [Politico]. Shit-stirring from Politico. Losing is always ugly, and people who lose are often anxious to share the ugliness with others. I don't think the issues with the Sanders campaign were tactical — and hence, no single operative can be blamed — but strategic. Sanders theory of change did not work. Why?

Trump (R)(1): "Trump's Words Are Not Meaningless Ramblings" [Jane Chong, The Atlantic]. "Because law enforcement begins with the simple act of legal interpretation, presidential speech is presidential action. This is not how Americans usually think about what the president is doing when he speaks. Under the government's three-branch structure, interpretation of the law is a function usually attributed to the courts. That's because when it comes to defining the law's parameters in the context of a specific dispute, the courts get the last word. As tensions explode across the country, however, America is getting an indelible reminder that, as the authority charged with overseeing the execution of the law, the president gets the first word…. The natural inclination is to draw a distinction between the president's speech and the president's actions—to separate the chaff from the wheat, the empty pronouncement from the concrete government response…. That the president is wrong about the law, however, doesn't render his speech empty of legal import….. [M]achinery aside, many of Trump's statements are self-executing. Therein lies their power. Never mind what the courts say tomorrow; he speaks the law as it is understood and applied today…. On the contrary, the nation is witnessing, firsthand, the immense might the president wields by way of his most ill-defined, hard-to-measure power: presidential speech." • I can't help but think back to Watergate, when there was a plethora of figures able to successfully take issue with Nixon's pronouncements. I was younger then, but it seems evident to me that there is nobody with the stature of, say, Sam Ervin (or Eliott Richardson) today.

* * *

"Poll: Trump and Biden neck and neck in six crucial swing states" [The Hill]. "President Trump and presumptive Democratic presidential nominee Joe Biden are neck and neck in battleground states won by Trump in 2016, according to a new Change Research poll. Forty-eight percent of likely Florida voters said they supported the former vice president, while 45 percent said the same about Trump, according to results from the left-leaning polling group. In Arizona, Trump led by 1 point, with 45 percent support. Biden led in North Carolina with 46 percent support, and Trump trailed by just 1 point. Meanwhile, in Michigan, only 2 points separated the men, with Biden holding 48 percent support and Trump holding 46 percent support. Trump held his biggest lead in the poll in Pennsylvania, leading by 4 points at 50 percent support. The two men tied at 45 percent support in Wisconsin. The same survey showed Biden with a national lead of 48 percent support to Trump's 41 percent." • So, in the electoral map above, I speculated on FL (Trump -1), MI (-1), NC (-1), and PA (+4)." • So Trump is within easy striking distance in the midst of a pandemic, a depression, and an uprising. Not to seem overly prescriptive, but perhaps if the Democrats had spent three years rebranding as a party that stood for something, anything, instead of going down the RussiaGate rabbit hole, they'd be in better shape?

"Young Kentucky Voters Have Doubts About McConnell's Top Democratic Challenger, Amy McGrath" [Vogue]. "Kentucky teens who spoke to Teen Vogue say that they believe McGrath has pivoted rightward, and they think the national Democratic Party has centered her campaign at the expense of more progressive candidates. Even young adults who described themselves as moderate or centrist Democrats expressed frustration… Will Powers, 19, agreed that he had no idea what McGrath stood for, but rattled off some of the things she opposes, including Medicare for All and tuition-free college. 'It's hard to understand McGrath as a candidate beyond what she isn't in favor of,' he said… Charles Booker, who was elected to the Kentucky State House of Representatives in 2018, and is running on supporting the Green New Deal and Medicare for All… the Democratic Senatorial Campaign Committee (DSCC) endorsed McGrath in February. On the ground, young voters say, it often feels like a primary isn't happening at all." • I heard Booker on the Trillbillies (!), and I like him. I don't know how Teen Vogue became one of my goto sources for political coverage, but here we are. I just hope Condé Nast doesn't go belly-up and take Teen Vogue with it.

"A day after he enters District 12 race, Chris Hedges drops out" [Planet Princeton]. "Chirs Hedges, the Green Party candidate who announced on Wednesday that he would challenge Democratic U.S. Rep. Bonnie Watson Coleman in the 12th District race this year, said on Twitter Thursday that he was dropping out already. Hedges, a Princeton resident, said he was informed Thursday that according to FCC rules, he can't run for federal office and have a national TV show. 'I entered the race to bring up issues I care about, but this is not worth losing an important media platform,' Hedges wrote. 'I entered the race to challenge the corruption of the Democratic Party, especially the Democratic Party machine in New Jersey, one of the worst in the nation,' he wrote. 'It was never about winning, but raising public awareness and building popular opposition to the ruling political elites that will not be successful in the limited span of one election cycle, but must begin to take root.'" • Seems a little careless not to have consulted with an election lawyer or other subject matter expert before announcing.
2016 Post Mortem
"Appeals court mulls making Hillary Clinton testify on emails" [Politico]. "Of the three judges, [Obama appointee Robert Wilkins] sounded weariest of the Clinton email saga and most eager to bring it to a close. When Cotca said whether Clinton was intending to avoid FOIA was 'a critical question in this case that has to be answered,' Wilkins interrupted. 'I don't understand why that's a question that has to be answered,' he declared. 'The question is whether there's been an adequate search. What difference does it make what the intent was or what her reasons were for using a private server?'" • One for the judges, I guess!
Realignment and Legitimacy
"He Took in Protesters Facing Arrest in DC. Then the Washington Post Reported That He Was Late Paying Rent." [The Washingtonian]. "The stories about Dubey had focused on his selfless act—"I know in my heart of hearts that you would open the door, too," he told Washingtonian Tuesday morning—and the experiences of the demonstrators who stayed with him, many of whom said they'd been tear-gassed or pepper-sprayed. That is, until Tuesday evening, when the Washington Post published an article that included comments from Dubey's landlord, who says Dubey is late paying rent on the Swann Street house." • Gotcha! More: "Dubey, CEO of Percynal Health Innovations, says he's fine. "I'm a 1099 independent contractor," he explains, and because of coronavirus, business has dropped off." • The Post merely characterized Dubey as a "a 44-year-old health-care entrepreneur." • What WaPo omits entirely, and the Washingtonian airbrushes, is that Percynal Health Innovations is a contractor for AHIP (the horrid lobbying organization for the health insurance industry, responsible for whatever number of excess deaths there are without #MedicareForAll). So, rent payments in the midst of a pandemic and a depression are a gotcha moment, an occasion for scandal and pearl-clutching, but working for a death-dealing lobbyist organization is A-OK. Your political class at work! (None of this takes away from Dubey's courageous and moral act, even it it did take place in an immoral system.)

"CIA veterans who monitored crackdowns abroad see troubling parallels in Trump's handling of protests" [WaPo]. "The scenes have been disturbingly familiar to CIA analysts accustomed to monitoring scenes of societal unraveling abroad — the massing of protesters, the ensuing crackdowns and the awkwardly staged displays of strength by a leader determined to project authority. In interviews and posts on social media in recent days, current and former U.S. intelligence officials have expressed dismay at the similarity between events at home and the signs of decline or democratic regression they were trained to detect in other nations." • Life's little ironies. I would say that our descent to Third World political forms began, at the very latest, in December 2016.

"The Memo: Nation nears a breaking point" [The Hill]. "A Monmouth University poll released Tuesday found that an astonishing 74 percent of respondents believe the nation to be on the wrong track." • "'I've reached the breaking point,' he snapped." But for what reason?

"The American story, splintered, and those vying to tell it" [Associated Press]. "It was, in fact, a clash between storylines — the fundamentally different visions the North and South had for the country — that precipitated the Civil War." • Oh.

Speaking of the narrative:

Tear gassing the soccer moms seems like a bad move for a regime intent on staying in power.

— eataTREE (@TheREALeataTREE) June 4, 2020

Well, one never knows….

* * *

"Voting problems in D.C., Maryland lead to calls for top officials to resign" [WaPo]. "The primary elections held Tuesday in Maryland and the District were a test of a mostly vote-by-mail election, a prospect that much of the country could face in the high-stakes November general election if the coronavirus pandemic continues to disrupt in-person gatherings. On Wednesday, local leaders declared that the two jurisdictions failed that test…. [In Maryland,] ." • I don't have a good feeling about the 2020 election being regarded as legitimate, unless Biden achieves a Reagan v. Mondale-level result, a margin so great that no amount of chicanery could plausibly be said to explain it.

"About 1 in 10 ballots went undelivered to Baltimore City voters during 7th Congressional District special election" [Baltimore Sun]. "Nearly 1 in 10 ballots could not be delivered to Baltimore City voters during the special election in April, raising concerns for the June 2 primary, which is also being conducted by mail…. The figures are being calculated as state election officials take stock of the lessons learned from Maryland's first election held primarily by mail."

"Seattle tries out mobile voting" [ComputerWorld]. "About 1.2 million Seattle area voters will be able to use their smartphone, laptop or a computer at their local library to vote in a current election this year. This will be the first time online voting is available to all eligible registered voters of a district, according to a foundation behind the initiative. The King Conservation District in Washington State is the third region in the U.S. to partner with the nonprofit Tusk Philanthropies on a national effort to expand mobile voting, and Washington is the fifth state to pilot mobile voting in general…. Jeremy Epstein, vice chairman of the Association for Computing Machinery's U.S. Technology Policy Committee, said Seattle's 'experiment is very ill-advised,' and voters who use it are hoping that the software correctly records their vote, though 'there's no way to ensure that's the case.' 'They're hoping the software doesn't disclose their vote to anyone else; there's no way to ensure that's the case either,' Epsein said via email. 'They're hoping that the servers don't get hacked, which could change their votes — yet again, no way to ensure that's the case. There's been no independent security assessment of the system — just the vendor's assertions that their system is secure. And what we know from 20-plus years of web applications is that there is always a way to break in, and it's usually not hard.' Adding to an innate insecurity of online and mobile voting systems is that compromises often aren't discovered for months after they happen, long after the election results are finalized and it's too late to do anything." • A pilot project? Kinda like piloting the Hindeberg… Then again, a lousy app helped torpedo Sanders in Iowa, so it's clear that there are advantages to this approach. And–

"Election officials mark successful mobile voting pilot in Seattle area; security experts still skeptical" [GeekWorld]. "The first U.S. election to make mobile voting available to all eligible voters went off without a hitch — at least according to the organizers of the pilot." • Which is what they would say. More: "Voters participating in the mobile voting pilot entered their names and birthdays to verify their identities and pull up their Democracy Live online ballots. They cast their votes using a smartphone or other internet-connected device and then signed electronically." • ZOMG. Now they're just trolling us.
Stats Watch
At reader request, I added some business stats back in. Please give Econintersect click-throughs; they're a good, old-school blog that covers more than stats. If anybody knows of other aggregators, please contact me at the email address below.
Employment Situation: "30 May 2020 Initial Unemployment Claims 1,877,000 This Week" [Econintersect]. "The more important (because of the volatility in the weekly reported claims and seasonality errors in adjusting the data) 4 week moving average moved from 2,608,750 (reported last week as 2,608,000) to 2,284,000… The COVID-19 virus continues to impact the number of initial claims and insured unemployment. This report now includes information on claimants filing Pandemic Unemployment Assistance and Pandemic Emergency Unemployment Compensation claims."
Employment Situation: "May 2020 Job Cuts Nearly 400,000 – Second Highest On Record" [Econintersect]. "Job cuts announced by U.S.-based employers totaled 397,016 in May, down 40.8% from April's total of 671,129, the highest monthly total on record. Despite the drop, last month's total is the second-highest monthly total on record since we began tracking job cut announcements in January 1993. The COVID-19 pandemic caused 209,147 cuts in May, followed by 119,018 job cuts due to market conditions, and 50,172 announced cuts due to demand downturn."
Trade: "April 2020 Trade Significantly Declined Due to Coronavirus" [Econintersect]. "This was a full month of coronavirus impact – and it significantly impacted trade…. Headlines said Imports of goods were down month-over-month – import goods growth has positive implications historically to the economy. Econintersect analysis shows unadjusted goods (not including services) growth decelerated 14.3 % month-over-month (unadjusted data) – down 20.9 % year-over-year (down 16.7 % year-over-year inflation-adjusted). The rate of growth 3-month trend declined. Headlines said Exports of goods were down month-over-month, and Econintersect analysis shows unadjusted goods export growth decelerated (not including services) 19.9 % month-over-month – down 29 % year-over-year (down 25.5 % year-over-year inflation-adjusted). The 3-month rate of growth trend declined.""
* * *
Honey for the Bears: "Opinion: Key Economic Indicators Are Weirdly Inverted. It's a Warning Sign" [MarketWatch (rd)]. "The inversion came in the form of figures showing Americans' collective income rising by double-digits, even as tens of millions of people lost jobs, incomes, and businesses. It's a statistical oddity caused by Congress' massive infusion of cash into the economy…. Personal income rose 10.5% for March, according to the latest Bureau of Economic Analysis figures, while consumption fell by 13.6%, leading to a massive increase in the savings rate for households…. Households saved a third of their income in April as their spending on restaurants and travel dropped, along with spending on health care as people stayed away from doctor's offices and hospitals…. [T]he only thing holding the economy back from the abyss are government payments that some policymakers are reluctant to renew. Without new legislation, the expanded benefits are scheduled to run out by the end of July."
Fodder for the Bulls: "Restaurant bookings data show U.S. economy is starting to revive after Covid closures" [CNBC]. "Though statistics provided by online reservation platform OpenTable for May 26 show that the number of seated diners at its participating restaurants nationwide is down an eye-popping 85% compared to this time last year, that is still far better than the 100% slide observed as recently as earlier this month and throughout April." • But can restaurants make a profit at that level? I'm dubious, especially as social distancing requirements shrink the number of seats. Via alert reader rd, compare Germany.
* * *
Today's Fear & Greed Index: 61 Greed (previous close: 61 Greed;) [CNN]. One week ago: 50 (Neutral). (0 is Extreme Fear; 100 is Extreme Greed). Last updated Jun 4 at 12:23pm
The Biosphere
State of emergency in Norilsk after 20,000 tons of diesel leaks into Arctic river system" [The Siberian Times (periol)]. "A state of emergency was introduced in Norilsk, Russia's nickel capital, after almost 20,000 tons of diesel burst out of a reserve fuel tank at the TPP-3 industrial site. … The exact reason of the leak is yet to be established, but a statement from Norilsk Nickel company, which operates the site suggests it could have been caused – worryingly – by collapsing permafrost. 'Due to sudden subsidence of supports which served for more than 30 years without problems, the diesel fuel storage tank was damaged, resulting in a fuel leak', said a statement from Norilsk Nickel, the world's largest producer of palladium and Russia's leading nickel mining and smelting company."
Health Care
"Surgisphere: governments and WHO changed Covid-19 policy based on suspect data from tiny US company" [Guardian]. Apparently, the Science story I ran yesterday on Surgisphere was triggered by Guardian reporting. The deck: "Surgisphere, whose employees appear to include a sci-fi writer and adult content model, provided database behind Lancet and New England Journal of Medicine hydroxychloroquine studies." Oh. More: "Two of the world's leading medical journals – the Lancet and the New England Journal of Medicine – published studies based on Surgisphere data. The studies were co-authored by the firm's chief executive, Sapan Desai. Late on Tuesday, after being approached by the Guardian, the Lancet released an 'expression of concern' about its published study. The New England Journal of Medicine has also issued a similar notice…. It is not clear from the methodology in the studies that used Surgisphere data, or from the Surgisphere website itself, how the company was able to put in place data-sharing agreements from so many hospitals worldwide, including those with limited technology, and to reconcile different languages and coding systems, all while staying within the regulatory, data-protection and ethical rules of each country." • So who was funding Desai? Also, the Lancet article based on Desai's proprietary database was peer-reviewed. What went wrong there?
"The coronavirus seems to be sparing populations at high altitudes" [MSN (Wukchumni)]. "When tourists from Mexico, China, and Britain became the first COVID-19 fatalities in Cusco, Peru, it seemed as if the onetime capital of the Inca Empire might be headed for a significant outbreak. Nestled in a picturesque Andean valley, the high-altitude city of 420,000 residents, the gateway to the cloud forest citadel of Machu Picchu, receives more than 3 million international visitors per year — many from pandemic hot spots, including the United States, Italy, and Spain. Yet since those three deaths, between March 23 and April 3, at the start of Peru's national lockdown, there has not been another COVID-19 fatality in the entire Cusco region, even as the disease has claimed more than 4,000 lives nationally…. In one peer-reviewed study, published in the journal Respiratory Physiology & Neurobiology, researchers from Australia, Bolivia, Canada, and Switzerland looking at epidemiological data from Bolivia, Ecuador, and Tibet found populations living above 3,000 meters (9,842 feet) reported significantly lower levels of confirmed infections than their lowland counterparts." • Interesting.
"The Software That's Powering All the Coronavirus Dashboards" [Bloomberg]. "Various state and local governments have launched similar GIS implementations. There are dashboards from the University of Virginia; New Jersey; Florida; Los Angeles County; Travis County, Texas; San Diego County; Fairfax County, Va.; the Canadian province of British Columbia; and the United Kingdom. All of these are built using the same software, ArcGIS, developed by California-based software company Esri. The privately owned company was founded in 1969 and sits unassumingly in that tier of comfortable, decades-old tech companies built on products that have survived radical technological changes. No matter what year it is, people always need to crunch numbers and make maps. In 2014, Esri took in $1.1 billion in revenue, and as of 2016, it had cornered more than half the market for GIS software, counting more than 350,000 clients, according to Forbes."
"Open (Your Wallet) Wide: Dentists Charge Extra For Infection Control" [KHN]. "Swish Dental is just one of a growing number of dental practices nationwide that in the past month have begun charging patients an infection control fee between $10 and $20. Swish and others say they need the extra money to cover the cost of masks, face shields, gowns and air purifiers to help keep their offices free of the coronavirus. The price of equipment has risen dramatically because of unprecedented demand from health workers." • If only there were some way to give medical practices more market power….
Black Injustice Tipping Point
Running out of supplies? As with PPE during the pandemic, so with materiel during a series of riots/protests/rebellions?
right now the state is

– having to use expired tear gas cannisters from the early 2000s (as they're running out of supplies)

– having to pull prison riot control teams out to police protests

keep fighting, keep rioting. we might have a chance to see serious change

— ?lauracouç? (@anarchomastia) June 3, 2020
"White House Forced to Retract Claim Viral Videos Prove Antifa Is Plotting Violence" [The Intercept]. "The White House engaged in an extraordinary act of rumor-mongering on Wednesday, releasing a compilation of viral video clips posted on social media recently by people who believed, wrongly, that the piles of bricks they came across had been planted there by anti-fascist activists, known as Antifa, to inspire violence at protests. 'Antifa and professional anarchists are invading our communities, staging bricks and weapons to instigate violence,' the White House caption for the video claimed. 'These are acts of domestic terror.' Within minutes, journalists discovered that most of the clips included in the video posted online by the White House had already been investigated and debunked. A short time later, without explanation or apology, the White House deleted the video from its official Twitter and Facebook feeds — but only after it had been viewed more than a million times." • Momentarily contexualizing:
As the CEO of Antifa, I apologize that we have dropped the ball on applications. The truth is we spent way too much on skateboards and ran out of money. George Soros says he's going to write me that check any day now, so things should be running smoothly from now on.

— Cops are Terrorists (@ZacharySGrigley) June 4, 2020
Back to the link: Surely this rumor-mongering is not more "extraordinary" than Iraq WMDs — or RussiaGate, for that matter. Trump has a powerful reality distortion field that does not work only on his supporters.
Take that, essentialism:
J. Alexander Kueng, one of the cops who killed George Floyd, is black. pic.twitter.com/FmvuHt16dh

— Margaret Kimberley (@freedomrideblog) June 4, 2020
News you can use:
advice on the matter of rubber bullet injuries from an actual eye surgeon:

If you are planning on joining the protests, 1) thank you and 2) please PLEASE buy a cheap pair of shatterproof glasses from a hardware store. $2 upfront can prevent a severe, life-altering injury. pic.twitter.com/iXsalJn7h1

— food truck drove away with my debit card (@fart) June 2, 2020
C'est la lutte finale…
A lot of people seem to think that flooding the Dallas Police Department's 'snitch' app targeting Black Lives Matter protests with fancams is the first time K-pop Twitter went political but it's far from it. (3/14) https://t.co/YSmoORL02i

— Hyunsu Yim 임현수 (@hyunsuinseoul) June 4, 2020
Police State Watch
Do we know of a city were the Mayor is not afraid of the cops?
Morgan Stanley's update today to its Covid model sees a an R of ~ 1.01 and epidemic doubling time ~ 61 days, reflecting a U.S. epidemic that continues to slowly expand. They cite states including AR, AZ, NC, WA, AZ, UT, TX; where new cases and/or hospitalizations are rising again pic.twitter.com/YvdyBWLTgF

— Scott Gottlieb, MD (@ScottGottliebMD) June 4, 2020
Although this from Minneapolis–
"Minneapolis council member: Conversations underway to disband police" [Denver 7]. "A member of the Minneapolis City Council revealed this week that he and several other council members are working on finding out what it would take to disband the Minneapolis Police Department. The announcement from Councilmember Steve Fletcher comes a week after George Floyd died while in police custody in Minneapolis…. 'The department is ungovernable,' Fletcher said. 'Chief (Medaria) Arradondo is a leader that we've all had very high hopes in and that I imagined could play a role in envisioning the next version of public safety. But he has clearly not been able to make the culture change happen that we were hoping for and investing in.' What it would take to disband the department is unclear. But what is clear is that the department is already seeing a reduced role in the protection of the city. On Wednesday, the Minneapolis Park Board voted to terminate its relationship with the department, and the Minneapolis Police will no longer be involved in guarding events on park property." • Disband, as opposed to defund. Then again–
What I would add to this piece is, most everyone in the lower income communities I speak to wants a different policing, but very very few want less police, and nobody wants no police. https://t.co/zZGEOKf6ty

— Chris Arnade ? (@Chris_arnade) June 4, 2020
"Border Patrol Gloating on Twitter about Being Deployed to Clamp Down on Protesters" [Southern Border Communities Coalition]. "As communities across the country take to the streets to protest unjust policing practices, police brutality and the murder of George Floyd, Border Patrol agents are being deployed nationwide to clamp down on protesters. The Border Patrol has long had aspirations on becoming a national police force, and with these deployments, they are a step closer to making those aspirations a reality. It started last week when the Border Patrol flew a predator drone over protesters in Minneapolis, while days later a bystander captured these terrifying images of border agents marching down Pennsylvania Avenue in Washington, D.C., en route to White House…. CBP's jurisdiction is within the 100-mile zone, a region around the perimeter of the country in which border agents assert the power to board public transportation or set up interior checkpoints and stop, interrogate and search children on their way to school, parents on their way to work, and families going to doctor's appointments or the grocery store — all done without a warrant or reasonable suspicion. Many of the cities fall within that jurisdiction, including Washington DC, but some, like Minneapolis, MN and Atlanta, GA do not." • Ugly. I don't think we need or want a national police force.
Straight from The West Wing:
.@Deray unveiled a data-backed 8 point plan for police that, if adopted, could decrease violence against citizens by 72%. Read all about #8cantwait here: https://t.co/uRh3kj56e4 pic.twitter.com/gGEmHLMMAS

— GQ Magazine (@GQMagazine) June 3, 2020
"Require warning before shooting" does seem to show the limits of the reformist imagination… And why the spurious precision of 72%? Why not 73? Or 75? Or 70?
Our Famously Free Press
Who would have thought:
.@BostonGlobe reported incident I witnessed, relying solely on police statements w/o independent verification. They lied. They even lied about number of vehicles!

We've seen evidence of police lying across country – trusting their word as fact here is journalistic malpractice pic.twitter.com/sUZO2STODb

— Natalie Shure (@nataliesurely) June 1, 2020
If only there were some sort of funding available:
The Atlantic says "undoing of in-person events" caused loss in revenue that necessitated mass layoffs.

Those events were lucrative payola festivals where Big Pharma, Silicon Valley, the defense industry and Beltway bandits paid for access to big time journos & "influencers" pic.twitter.com/PNL7o9RbBf

— Max Blumenthal (@MaxBlumenthal) May 22, 2020
The owner of the Atlantic is good-thinker squillionaire Laurene Powell Jobs.
Class Warfare
"Opinion: Lower-income Americans threw the economy a lifeline during the pandemic" [MarketWatch]. "With data from millions of daily financial transactions, including debit and credit cards, as well as ACH payments and prepaid debit cards, we can glean some interesting insights into spending behavior, one of which is the comparison between low-income and middle-income-and-above Americans over the past two months. As more and more local and statewide lockdowns went into effect at the tail end of March, middle- and upper-income consumers went into a bunker mentality and reduced their spending by as much as 15% compared with the same period a year earlier….. Fortunately, spending by low-income consumers held steady during this period, taking only a moderate dip of 5% before rebounding. Why? Simply put, they don't have a lot of discretionary income to begin with, so there isn't much room to cut back on spending. If you need food, you need food. If you need your phone, you pay your phone bill. Put another way: Non-discretionary spending is non-negotiable. Hunkering down and cutting discretionary spending is the territory of middle-income-and-above consumers, not low-income consumers…. As the data clearly indicates, 19 of the 20 top merchants are 'staples' or 'non-discretionary.'" • Yes, our "work or starve" social contract has unexpected advantages!
News of the Wired
The karmic wheel:
There's going to be a huge push to Return To Normal after the past week and the normal is that this all keeps happening forever.

— SUN|DESTROYER|2020 (@bombsfall) June 3, 2020
* * *
Readers, feel free to contact me at lambert [UNDERSCORE] strether [DOT] corrente [AT] yahoo [DOT] com, with (a) links, and even better (b) sources I should curate regularly, (c) how to send me a check if you are allergic to PayPal, and (d) to find out how to send me images of plants. Vegetables are fine! Fungi and coral are deemed to be honorary plants! If you want your handle to appear as a credit, please place it at the start of your mail in parentheses: (thus). Otherwise, I will anonymize by using your initials. See the previous Water Cooler (with plant)
here
. Today's plant (TH):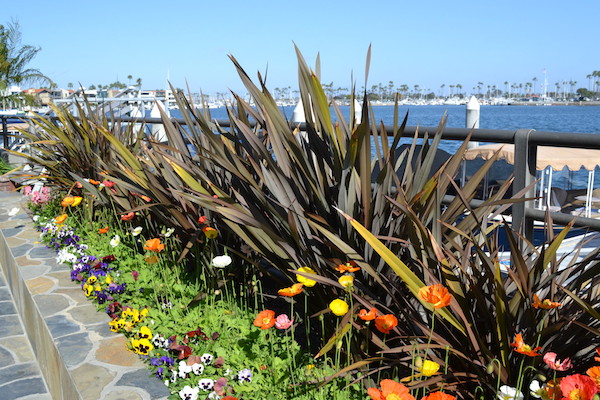 TH writes: "The garden along Los Alamitos Bay in Long Beach that includes bright cheery pansies and Iceland poppies."
* * *
Readers: Water Cooler is a standalone entity not covered by the annual NC fundraiser. So if you see a link you especially like, or an item you wouldn't see anywhere else, please do not hesitate to express your appreciation in tangible form. Remember, a tip jar is for tipping! Regular positive feedback both makes me feel good and lets me know I'm on the right track with coverage. When I get no donations for five or ten days I get worried. More tangibly, a constant trickle of donations helps me with expenses, and I factor in that trickle when setting fundraising goals:
Here is the screen that will appear, which I have helpfully annotated.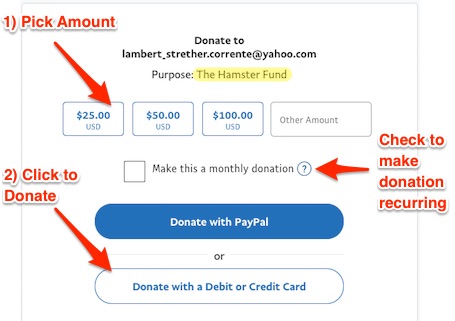 If you hate PayPal, you can email me at lambert [UNDERSCORE] strether [DOT] corrente [AT] yahoo [DOT] com, and I will give you directions on how to send a check. Thank you!