Earth's carbon dioxide levels hit record high, despite coronavirus-related emissions drop WaPo
Russian fuel spill declared federal emergency Intellinews. Exxon Valdez territory.
Ripe as a Roadkill Raccoon Chris Jones, IIHR Research Engineer (Late Introvert). Good stuff on Iowa hydrology.
Wall Street Doubts Fed's $600 Billion Lending Plan Can Succeed Bloomberg
What next for the Fed as signs of recovery emerge? FT
American Jobs Are Returning But An Ugly Summer Still Looms Bloomberg
#COVID19
The science:

How long does the coronavirus last inside the body? National Geographic

Sexual Health in the SARS-CoV-2 Era Annals of Internal Medicine

* * *

The data:

The Tiny Data Firm at the Center of the Hydroxychloroquine Storm Bloomberg.

New U.S. Data Rules Aim at Clearing Up Jumbled Virus Picture Bloomberg

* * *

Vaccines:

The quest for a vaccine could restore faith in big pharma The Economist

Fake Science: XMRV, COVID-19, and the Toxic Legacy of Dr. Judy Mikovits (preprint) AIDS Research and Human Retroviruses (AL).

'It's psychologically easier': how anti-vaxxers capitalised on coronavirus fears to spread misinformation Guardian (Re Silc).

* * *

Spread:

Is The Coronavirus Crisis Over? HuffPo

Confirmed coronavirus cases are rising faster than ever CNN

More than half of England's coronavirus-related deaths will be people from care homes Guardian. "Care homes," "darkness visible," "community policing…." In retrospect, the ice floes would have been better. On the bright side, the fiscal situation of the UK's retirement system must have improved.

How one British town managed to swerve coronavirus outbreak with simple system The Mirror

How the Protests Have Changed the Pandemic The New Yorker. Protests and spreading, a thread:

I want to go on record with obvious point: large gatherings of people facilitate spread of contagious disease. The *reason* for the gathering (whether street protests for a cause I support, or GOP convention, or a sporting event) is not material to the spread of the virus. 1/

— Nicholas A. Christakis (@NAChristakis) June 5, 2020

Compare the Flu Pandemic of 1918 and COVID-19 With Caution Smithsonian

* * *

Masks:

Tokyo university startup develops coronavirus-catching fabric Nikkei Asian Review

* * *

Political response:

This little-known program has played a central role in the U.S. government's coronavirus response CBS

Chutzpah:

We did the impossible.

On Monday NYC will open phase one.

We didn't just flatten the curve — we crushed it. #NYTough

— Andrew Cuomo (@NYGovCuomo) June 6, 2020
China?
How Has the Coronavirus Crisis Affected Xi's Power: A Preliminary Assessment China Leadership Monitor (PlutoniumKun).

Hong Kong's tycoons catch the privatisation bug as they pick up assets at rock-bottom prices amid stock market's slump South China Morning Post

Why now:

People dance to keep fit, to express themselves, to entertain and to stretch spirit. But for Chinese farmer Peng Xiaoying, it is a way to help her husband conquer depression pic.twitter.com/3KUd73CF3S

— China Xinhua News (@XHNews) June 6, 2020

Indonesia coronavirus cases surge to nearly 1000 in a single day Sydney Morning Herald
Even US$3 billion not enough to settle 1MDB case with Goldman, says finance minister Straits Times
India
India's strategic illusions, delusion and hallucinations Asia Times
South Korea
South Korean boyband BTS donates $1 million to Black Lives Matter Reuters
UK/EU
La UE da la espalda a Trump y busca una revisión de relaciones con EE UU El Pais (Ignacio). Google translation: "The EU turns its back on Trump and seeks a review of relations with the United States."

£108m PPE contract was given to small pest control company The Times
New Cold War
Decoding Russia's Official Nuclear Deterrence Paper Carnegie Moscow Center

Russia: The Identitarian Bogey Man of American Politics Gordon Hahn. A dyspeptic canter through identity politics.
Trump Transition
Trump Rule Would Exclude Climate Change in Infrastructure Planning NYT
2020
Black Injustice Tipping Point
Mayor Bowser's budget increases police funding, but:

This Marvin Joseph photo of Black Lives Matter written on 16th Street by the White House, running atop tomorrow's @washingtonpost front page, is really something pic.twitter.com/r7H8qoPV5D

— Mark Berman (@markberman) June 6, 2020

'Am I going to get shot?' kids ask, as brands try to explain racism and violence to children Reuters (re Šilc). The idea that "brands" have agency seems perilously close to the Bearded One's concept of commodity fetishism.
Police State Watch
#MartinGugino, the 75 year old man knocked to the ground by police in Buffalo, is a longtime peace activist and volunteer at the Catholic Worker, a movement dedicated to justice and peace, founded by Servant of God Dorothy Day, who also took to the streets to advocate for justice pic.twitter.com/9SxDS0705Y

— James Martin, SJ (@JamesMartinSJ) June 6, 2020
Black Injustice Tipping Point
UPRISING: Black 'Misleaders' Seek to End Protest Margaret Kimberley, Consortium News

Removal Public Displays of the Confederate Battle Flag Marines

How to Do Reparations Right David Brooks, NYT. "There's a wrong way to spend that money: trying to find the descendants of slaves and sending them a check. That would launch a politically ruinous argument over who qualifies for the money, and at the end of the day people might be left with a $1,000 check that would produce no lasting change." Adolph Reed, February 2016: "We are in one of those rare moments in American history—like the 1880s and 1890s and the Great Depression—when common circumstances of economic and social insecurity have strengthened the potential for building broad solidarity across race, gender, and other identities around shared concerns of daily life. These are concerns that only the minority of comfortable and well-off can dismiss in favor of monuments and apologies and a politics of psychobabble, concerns like access to quality health care, the right to a decent and dignified livelihood, affordable housing, quality education for all. They can be pursued effectively only by struggling to unite a wide section of the American population that is denied those essential social benefits or lives in fear of losing them. Isn't it interesting that at such a moment the corporate-dominated, opinion-shaping media discover and project a demand for racially defined reparations that cuts precisely against building such solidarity?"

The Day I Met James Baldwin at Harvard Anne C. Bailey
Our Famously Free Press
Pittsburgh Post-Gazette removes protest and police brutality stories from website following protests from union members Pittsburgh City Paper. Looks like management "touched the type."
Sports Desk
Why it matters that Roger Goodell didn't say Colin Kaepernick's name EPSN

U.S. college towns on edge as coronavirus threatens football season Reuters
L'Affaire Joffrey Epstein
Judge in Jeffrey Epstein grand jury case has ties to those with a stake in outcome Miami Herald
Realignment and Legitimacy
Trump is incapable of wielding power The Week. But read all the way to the end.

There Can Be No Change. Heisenberg Report (re Šilc). Interesting!
Class Warfare
Atlanta Protests Reveal Divides in Bastion of Black Success Bloomberg

Jim Cramer: The pandemic led to 'one of the greatest wealth transfers in history' CNBC

Delivery workers navigate a pandemic, protests and curfews to make ends meet CNN

'Don't Forget the White Women!': Members Say Racism Ran Rampant at NOW Daily Beast

Come on, man:

$JPM CEO Jamie Dimon kneeling with staff during his first public appearance in 3 months at a @Chase branch in Mt. Kisco pic.twitter.com/ycI0ZJrhUY

— Thornton McEnery (@ThorntonMcEnery) June 5, 2020
To buy wholesale milk for its food boxes, USDA is paying well above retail prices The Counter
Americans turn to home-farming as they fear for their food supply Guardian
Why Sleep Deprivation Kills Quanta
Newton, the Man John Maynard Keynes, MacTutor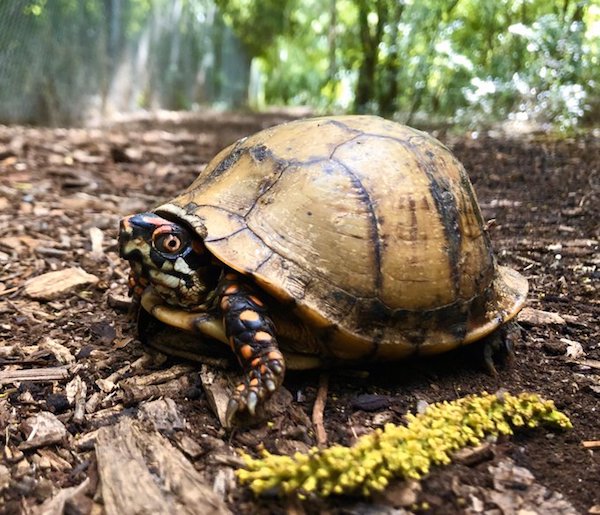 Antidote du jour (via):
See yesterday's Links and Antidote du Jour here.