By Lambert Strether of Corrente.
Readers, Happy Bastille Day! –lambert
#COVID19
At reader request, I've added this daily chart. The data is the Johns Hopkins CSSE data. Here is the site. Our five problem states, with New York for comparison: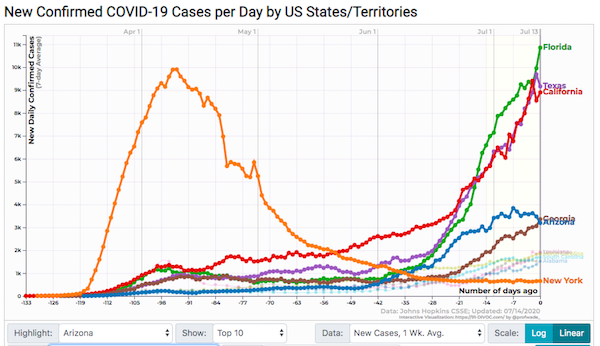 I'll just keep doing this one until I see a peak followed by a decline. Congratulations, FL, you passed NY. Looks like CA's big drop was an artifact; now TX is having one. (Seems like the "first wave" is geographically and chronologically distributed. It will be interesting to see if and when New York starts going up again.)
World cases, United States vs. Southeast Asia. On a log scale, because 50 vs. 50,000 doesn't fit on the y-axis of a linear scale: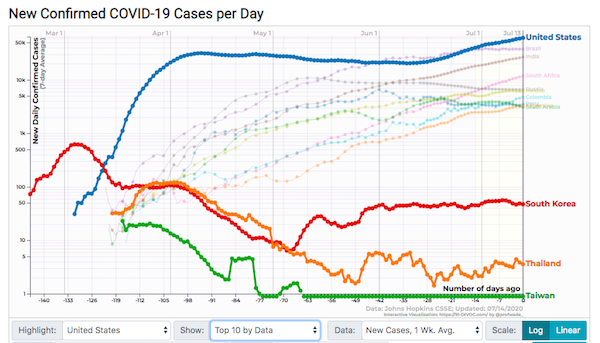 (I left out Vietnam because it doesn't display well, but right now it's confirmed case count is one (1).
"Mujeres dañan mercancía en tienda al negarse a usar mascarillas" [Noticentro]. Google translation:
Three women caused damage to merchandise from the Zara clothing store in Mall of San Juan yesterday, Friday, after they were told that they had to wear a mask to be in the establishment, police reported.

According to the authorities, agents from the Hato Rey Este precinct of the Police investigated the complaint for damages and vandalism at 6:20 in the afternoon.

The complainant reported that the three women, who are tourists, arrived at the store and were told that they had to put on the mask. After that, the women allegedly caused property and merchandise damage, valued at approximately $2,000.

The Police continue the investigation of this complaint.
Direct action brings satisfaction….
"Orange County education leaders want schools to reopen without masks or social distancing" [Los Angeles Times]. "Orange County education leaders voted 4 to 1 Monday evening to approve recommendations for reopening schools in the fall that do not include the mandatory use of masks for students or increased social distancing in classrooms amid a surge in coronavirus cases…. "Among the many compelling expert arguments for reopening our schools, a number of us were also struck by something different, something we might call advice for adults," [the Board of Education White Paper] states. ', which is what many families are feeling with the mixed messages and confusion surrounding reopening of schools in the COVID-19 era.'" • Modeling courage: "'Forward, the Light Brigade!' Was there a man dismayed?" Children are fomites, so maybe masking won't help; I haven't done the research on this. Most virtue signaling from liberals, though pernicious, doesn't have immediately lethal consequences. Not, apparently, virtue signaling on the right!
"Told to wear a mask at Kansas City area BBQ restaurant, man in MAGA hat flashes a gun" [Kansas City Star]. "'I asked him if he could wear a mask, since it's what Gov. Kelly told us to do,' said [Arlo Kinsey], 18, who was working shifts at the barbecue joint this summer before heading off to college. He had dealt with a handful of customers who refused to wear masks inside the restaurant despite the statewide mandate — but none like this, he said. The man said he had an exemption to the mask order: He then lifted up his shirt, revealing a gun in a holster on his hip. 'It was definitely a threat,' Kinsey said. 'I was looking at the gun thinking he was going to shoot me.' 'My first thought was, I work in customer service and this is really what's going to happen? All we're asking is that you wear a mask for a couple of minutes. We could have taken your order outside if you didn't want to. But you go into an air conditioned area without a mask on, and if I tell you to wear one, you're going to shoot me? Wow. I make $8.50 an hour, plus tips — for this?'" • Totally "model[ing] courage and persistence in the face of uncertainty and fear." Kinsey, I mean.
"Family gathering infects 41 people with the coronavirus, NC health official says" [Charlotte Observer]. "According to one recent case study by the county health department, a single family gathering was responsible for at least 40 of those cases. More than two dozen people were reportedly in attendance. 'Folks did not wear masks or observe physical distancing at this gathering, and 14 people who attended subsequently tested positive for COVID-19,' [County Public Health Director Jennifer McCracken] said. The family members went about their daily lives before they started showing symptoms — which can appear anywhere from two to 14 days after exposure, according to the U.S. Centers for Disease Control and Prevention. That included going to work and "taking a beach trip with other families," according to the release." • Handy diagram: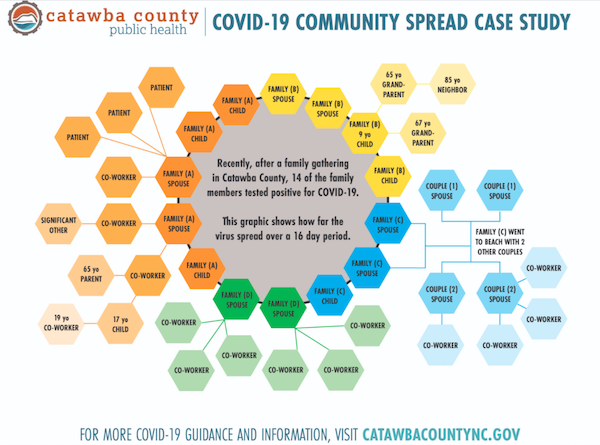 Good for Catawba county doing the contract tracing. That said, an outbreak of 41 would be (as the chart above shows) cause for national concern in Taiwan, South Korea, Thailand, or Vietnam.
"43 new coronavirus cases have been linked to one large house party in Michigan" [CNN]. "Forty-three new coronavirus cases have been linked to a large house party from early July in Washtenaw County, Michigan, according to health officials. Most of the new cases are young people between the ages of 15 and 25, the Washtenaw County Health Department said…. With a recent surge in cases, more parties have been identified as the source of Covid-19 clusters. Cases, sometimes fatal, have been linked to gatherings in Mississippi, Alabama, Florida, Missouri, California, Texas and New Jersey." • Look out, college towns!
"California, Florida and Texas, home to nearly 100 million, are getting swamped by the virus" [New York Times]. "Leaders in the country's three most populous states acknowledged on Monday that the outbreaks they have been battling for months were on the rise and may require a return of stricter lockdown measures. California, Florida and Texas have reported a total of at least 892,000 cases since the start of the pandemic, according to a New York Times database. On Monday alone there were at least 30,000 new cases recorded across the three states, 18 percent of the world's daily total…. In Texas, a top medical adviser to Gov. Greg Abbott said the state may need to roll back its reopening plans and reinstitute an economic lockdown if cases keep rising. The adviser, Dr. Mark McClellan, is a physician and an economist at Duke University who is a former commissioner of the Food and Drug Administration. He said in an interview that a lockdown in Texas was a "real possibility" that Mr. Abbott may be forced to impose in the next few weeks. ', before having to go to a more extreme step,' Dr. McClellan said. • You have no time! The pandemic is an exponential process! (If Taleb read McClellan's comment, he's probably tearing his hair out.)
Politics
"But what is government itself, but the greatest of all reflections on human nature?" –James Madison, Federalist 51
"They had one weapon left and both knew it: treachery." –Frank Herbert, Dune
"They had learned nothing, and forgotten nothing." –Charles Maurice de Talleyrand-Périgord
The electoral map. As of July 14: July 14: Indiana, Montana, South Carolina move from Safe to Likely Republican. On July 7, the undecided votes were 86. Now they are 56. This puts Biden at 278, i.e. over 270.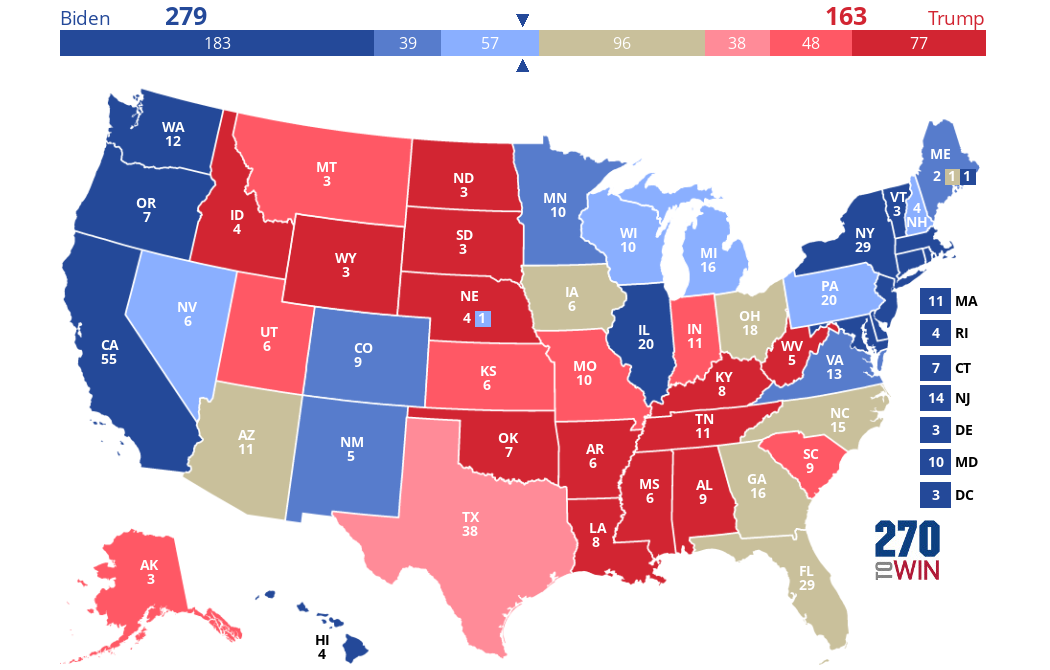 Click the map to create your own at
270toWin.com
So, taking the consensus as a given, 270 (total) – 204 (Trump's) = 66. Trump must win 66 from the states in play: AZ (11), FL (29), MI (16), NC (15), PA (20), and WI (10) plus 1 to win not tie = 102. 102 – 66 = 36. So if Trump wins FL, MI, NC, and PA (29 + 16 + 15 + 20 = 80), he wins. That's a heavy lift. I think I've got the math right this time!
2020
Patient readers who were also Sanders canvassers, thank you for your responses. I am mulling them. I may end up doing a survey, hopefully not too onerous. –lambert

Sanders (D)(1): "Ex-Sanders aide says Biden unity task forces need to go farther" [The Hill]. Briahna Joy Gray on Hill.TV's "Rising': "The whole theory behind the Bernie campaign was that it recognized the crises that we live in now, we lived in before the [coronavirus] pandemic, and it was targeted to address those things. And ironically now that corona is happening, what we needed was not the middle ground between Bernie Sanders and Joe Biden but something that was even more responsive than what Bernie Sanders had already put on the table." Yep. More: "Gray cited the task forces' marijuana policy and refusal to address qualified immunity, the legal standard protecting police officers from litigation over their use of force, to bolster her claims that the proposals did not go far enough. 'It seems really empty and somewhat performative for Joe Biden to be claiming that he respects his so-called base…to be so overwhelmingly dismissive and cavalier about what would really be a political no-brainer,' she said of legalizing marijuana, noting the disproportionate impact drug arrests have on communities of color. 'It's really kind of thumbing your nose at the whole process to not seriously take those things into consideration.'"

Sanders (D)(2): "We Can Want to Stop Trump and Still Require Biden to Earn Our Votes [Op-Ed]" [ColorLines]. "Lest you believe I am being unfair, I want to remind you that previous calls for Biden to heed the demands of Black voters have been, thus far, dismissed. On May 14, seven notable Black women graciously reminded Biden of the debt he and the Democratic party owe to Black voters, and Black women voters, in particular. After all, it was a landslide victory in South Carolina among Black voters that propelled him forward. Not even a week later, Biden had arguably the greatest (worst) faux pas of the campaign. In response to a line of questioning about his record and his platform for Black people, a frustrated (and all too comfortable) Biden retorted, 'If you have a problem figuring out whether you're for me or Trump, then you ain't Black.'" • Why don't we just make Clyburn Vice President?

Trump (R)(1): "House Democrat warns about 'inaccurate' polls: Trump voters 'fundamentally undercounted'" [The Hill]. "Surveys often count people they determine are 'likely voters,' but Slotkin learned that a person who tells a pollster that they don't have plans to vote but may ultimately do so ' were fundamentally undercounted.' 'I believe that same thing is happening right now,' Slotkin said." • One CIA Democrat's view….

* * *

Remember when Trump didn't accept the 2016 results, even though Democrats did? Oh, wait…. Anyhow:

The @IndivisibleTeam is planning to take action if Trump refuses to accept election results.

Pledge to help, donate, spread the word:https://t.co/6bXWWlGbSA

— Democratic Party of Washington County, Oregon (@WashCoDems) July 11, 2020

As I keep saying, if the election results are disputed — say because of "Russian meddling" or "hacking" (Democrats) or vote-by-mail issues (Republicans) or a collossal screw-up with electronic voting machines (neither party establisment talks about this, interestingly) — then where does the country go for resolution? I think the intelligence community, including DHS, and that's very concerning to me, because it gives a highly undemocratic yet politicized entity control over the democratic process. Could make Bush v. Gore (or Hayes v. Tilden) look like a walk in the park. (Hard to see the Electoral College taking any action on its own; do they have the power to call witnesses?)
Realignment and Legitimacy
"Expert warns the US is approaching 'one of the most unstable times in the history of our country'" [CNN]. "With rising Covid-19 cases and hospitalizations sending many states backward in their reopening plans, one health expert warns that if the US continues on its current path it will reach 'one of the most unstable times in the history of our country.' 'We will have hospitals overwhelmed and not only in terms of ICU beds and hospitals — and that's bad — but exhausted hospital staff and hospital staff that's getting ill themselves,' Dr. Peter Hotez, the dean of tropical medicine at Baylor College of Medicine, told CNN Friday night. 'So, we won't have enough manpower, human power, to manage all of this.'" • Oddly, Hotez doesn' describe the instability in any way. People shooting their way into ERs?

* * *

"Final Recommendations To Board of Registration & Elections Respectfully Submitted By, Chairman Pitts Elections Task Force"" (PDF) [Fulton County, Georgia]. • Obviously a debacle from top to bottom. Picking out something simple:

2.2 Tactical

Have a clear understanding of the power capabilities at each facility. Ensure that WiFi is working at each location, have back up servers and generators on site in case of equipment failure.

2.2.2 Conduct a dry run of the power grids at every polling location at least 24 hours before the election begins and again on the day of election. This includes checking all outlets within the facility.

2.2.3 Have a clear understanding of the power requirement for the 2 and 4 unit cabinets.

Have enough plugs for the electronic voting machines ffs….

"Here are the reasons your mail-in ballot might not be counted in New Jersey" [Shore News]. "The May 2020 mail-in ballot election saw a 10% rate of rejection for ballots, meaning in New Jersey, every vote no longer counts. Some common errors include forgetting signatures, improperly marked ballots and accidental overvoting, if a voter for two candidates in the same election. Overvoting is not possible during in-person voting on voting machines, because the machines do not allow for two votes in one race. At least 100,000 ballots remain to be counted statewide, including provisional ballots and mail-in ballots that were received after Tuesday of last week. Still, there's another possibility that your ballot may not be counted. If you mailed your ballot on Election Day, many county election boards did not process or receive ballots on Friday and many were returned as undeliverable to the post office. Those returned ballots have until tomorrow night to be returned to the election board offices in order to be eligible to be counted."
Stats Watch
At reader request, I added some business stats back in. Please give Econintersect click-throughs; they're a good, old-school blog that covers more than stats. If anybody knows of other aggregators, please contact me at the email address below.
Housing: "April 2020 Loan Performance: Early-Stage Mortgage Delinquencies Exceed Great Recession Levels in April" [Econintersect]. "Loan Performance Insights Report for April 2020 shows on a national level, 6.1% of mortgages were in some stage of delinquency (30 days or more past due, including those in foreclosure). This represents a 2.5-percentage point increase in the overall delinquency rate compared to March 2020, when it was 3.6%… The CARES Act provided forbearance for borrowers with federally backed mortgage loans who were economically impacted by the pandemic. Borrowers in a forbearance program who have missed a mortgage payment are included in the CoreLogic delinquency statistics, even if the loan servicer has not reported the loan as delinquent to credit repositories…. The resurgence of COVID-19 infections across the country has created economic uncertainty and leaves those who are unemployed concerned with their ability to make monthly mortgage payments," said Dr. Frank Nothaft, chief economist at CoreLogic. The latest forecast from the CoreLogic Home Price Index predicts prices declining in all states through May 2021, erasing some home equity and increasing foreclosure risk.'"
Consumer Expectations: "Continued Gradual Improvement in Consumer Expectations In June 2020" [Econintersect]. "The Federal Reserve Bank of New York's Center for Microeconomic Data released the June 2020 Survey of Consumer Expectations, which shows continued gradual declines in pessimism about household financial conditions. While consumers overall remain less optimistic about earnings growth, income growth, and job finding expectations compared to the pre-COVID-19 environment, some indicators showed considerable improvements in June."
Consumer Confidence: "Economy Getting Worse, Americans Say" [Econintersect]. "In a June online poll from YouGov, nearly 60 percent of U.S. adults who responded said they felt the economy was continuing to get worse. Just under 18 percent said the economy was getting better, while 23 percent said they were either unsure or it was staying the same. This survey parallels with many other recent surveys showing Americans' confidence in the economy at record lows. In an Ipsos survey, 50 percent of Americans surveyed said the economy won't recover quickly whether businesses reopen soon or not. In an index from the University of Michigan, consumer confidence in the country is rising from its record trough but is still very low – even as businesses across the country reopen. As the U.S. attempts to reopen its economy, Americans are still feeling a general uneasiness surrounding the possibility of a second wave as they see other countries having to re-implement lockdowns after reopening."
Small Business Confidence: "June 2020 Small Business Optimism Improves in Anticipation of Better Economic Outlook" [Econintersect]. "The Small Business Optimism Index increased 6.2 points in June to 100.6 with eight of the 10 components improving and two declining. Owners anticipate improving sales as the economy continues to re-open with sales expectations rebounding to a net 13% after April's lowest reading in survey history (a net negative 42%). Small business owners continue to be optimistic about future business conditions and indicate they expect the recession to be short-lived."
* * *
UPDATE Housing: "This Recession Is a Bigger Housing Crisis Than 2008" [Eric Levitz, New York Magazine]. "In times of crisis, the unaffordability of American housing is exacerbated by our "just in time" socioeconomic model: Steady GDP growth is the duct tape holding together this jerry-rigged social order in which low-income Americans have little to no emergency savings, many basic welfare benefits are contingent on employment, and the threadbare safety is patchy by design. This top-heavy, gold-plated jalopy of a political economy can pass as road safe in fair weather; try to ride it through a once-in-a-century epidemiological storm and it starts to break apart. Between 2006 and 2014, about 10 million Americans lost their homes to the foreclosure crisis. Today, upwards of 20 million U.S. renters are poised to be evicted between now and September, according to Emily Benfer, the chair of the American Bar Association's Task Force Committee on Eviction. At present, the impending flood of evictions is partially dammed by a federal moratorium that covers one-fourth of all renters, the $600 federal unemployment insurance bonus, and the recent dispersion of $1,200 coronavirus relief checks. But even with these protections, a great many renters are being washed out of their homes while millions more accrue onerous debts. Roughly one-third of U.S. households have not made their full housing payments for July."
UPDATE Pandemic:
The economy is the pandemic. You beat the outbreak, and grow. Or you don't beat it, and contract.

Small biz revenue recovered in FL and AZ thru June—then fell.
Driving in LA County recovered thru June—then fell.
Time away from home in TX recovered thru June—then fell. pic.twitter.com/PX9DwbunMl

— Derek Thompson (@DKThomp) July 14, 2020
UPDATE Mr. Market: ""Wild Ride to Nowhere": APPL, MSFT, AMZN, GOOG, FB Soar to New High. Rest of Stock Market is a Dud, Has Been for Years" [Wolf Street]. "The 'Giant 5' – Apple, Microsoft, Amazon, Alphabet, and Facebook – had another good day on Friday…. [T]he Giant 5 Index, which was at $5.78 trillion on June 8, has since surged by 14%, to $6.6 trillion…. To see how the rest of the market is performing without these five stocks, I have created the 'Wilshire 5000 minus the Giant 5 Index.' This shows what's left of the entire stock market of 3,415 stocks, after removing these five giants. The 'Wilshire 5000 minus the Giant 5 Index' closed at $25,836 trillion today, still down 10.9% from the peak on February 19. Over the same period, the Giant 5 have soared 18.7%!… A miserable savings account would have outperformed the overall stock market without the Giant 5, and would have done so without all the horrendous volatility of the two sell-offs. Just five stocks whose market values have soared beyond imaginable magnitude pulled out the entire market. And that's a scary thought – that this entire market has become totally dependent on just five giant stocks with an immense concentration of power that have now come under regulatory security. And just as these stocks pulled up the entire market, they can pull down the entire market by their sheer weight." • Hoo boy.
* * *
Today's Fear & Greed Index: 56 Neutral (previous close: 54 Neutral) [CNN]. One week ago: 48 (Neutral). (0 is Extreme Fear; 100 is Extreme Greed). Last updated Jul 14 at 12:48pm. Whoa, back to Neutral!
Health Care
The headline turned me off, because it seems directed to symbol manipulators, but this is really excellent:
"It's Time to Tell a New Story About Coronavirus—Our Lives Depend on It" [The Nation]. "It's time for a new story, one that more accurately captures the reality of how contagions unfold and why. In this story, pandemics would be cast as both a biological reality and a social phenomenon shaped by human agency. And the coronavirus, if cast as any kind of monster at all, would be a Frankenstein's monster: a creature of our own making. We, after all, created the world in which SARS-Cov-2 evolved, one in which our industry has swallowed up so much of the planet that microbes from wild animals easily slip into livestock and humans. We created the society of overcrowded prisons and nursing homes staffed by underpaid employees who must work in multiple facilities to make ends meet; in which employers force their workers to labor on meatpacking lines even if they're sick; in which asylum seekers are crammed into detention centers; and in which people living in hard-hit cities like Detroit lack access to clean water with which to wash their hands. A narrative that elevates these realities would compel us to consider a much wider range of policy responses to counter the threat of pandemics." • "Narrative," dread word. "Paradigm" is a better word, used earlier in the article.
* * *
"Medical Vulnerability of Young Adults to Severe COVID-19 IllnessdData From the National Health Interview Survey" [Journal of Adolescent Health]. Implications: "Close to one third of young adults are medically vulnerable to severe COVID-19 illness. Smoking is the strongest risk factor for young adults with one in 10 participating in past 30-day smoking." • The methodology doesn't look real strong. But those parties!
"Cloth masks can protect the wearer" [fast.ai (Tricia Greenhalgh)]. "Unfortunately, many public health bodies still incorrectly claim that there is no evidence that DIY masks are useful at protecting the wearer [WHO, Dr. Fauci, take a bow!]. There's actually plenty of evidence they can. Effective protection for the wearer of a mask depends on three critical things: 1) Material: does the mask filter particles of the appropriate sizes? 2) Fit: do particles squeeze in through the gaps of your mask? 3)Sanitation: can you clean and re-use the mask?" • The whole piece is worth a read, but mask-makers may find these results on material very useful:
Here is the best current practical research on creating a mask that PROTECTS YOU (not just those around you). It can be done, without tools, for very little money.

This is, to my knowledge, the first time that this has been compiled in one place.https://t.co/MGwaXSV9mI

— Jeremy Howard (@jeremyphoward) July 13, 2020
"Factors Associated with Cloth Face Covering Use Among Adults During the COVID-19 Pandemic — United States, April and May 2020" [Morbidity and Mortality Weekly Report]. Discussion: "Days after announcing a new behavioral recommendation on April 3, adults in the United States quickly adopted the practice of using cloth face coverings, and a higher prevalence of use was reported 1 month later, in May 2020. From April to May, the prevalence of reported use of cloth face coverings was higher in all sociodemographic groups in the population, especially among non-Hispanic white persons, persons aged ≥65 years, and persons residing in the Midwest, suggesting widespread acceptance of this recommendation. The increase in cloth face covering use continued to be reported as more persons began leaving their homes and going out in public more frequently from April to May… These findings show higher prevalence estimates of the use of cloth face coverings in May 2020 compared with April among all sociodemographic groups. Research among persons who report not wearing a cloth face covering while in public is needed to understand potential barriers and to shape services or messages that would facilitate and encourage adoption of this recommendation. Among constructs known to influence behavior (e.g., attitude, behavioral intention, personal agency, perceived norms, and outcome expectations), there was strong agreement (>74%) among those who wore cloth face coverings. Based on behavioral associations, messages should be targeted to reach populations not wearing cloth face coverings to promote a positive attitude toward cloth face covering use, encourage social networks to be supportive of cloth face covering use, describe positive health outcomes expected from wearing a cloth face covering, and help persons feel confident in their ability to obtain and wear cloth face coverings consistently and correctly." • Better late than never, I suppose.
"Face masks should be the norm until we find a vaccine, says STEPHEN POLLARD" [Express]. "The issue is clear. If we do not get the economy moving again, a health disaster will turn into an economic cataclysm. To avoid that, we need people out and about. But since many people won't go out until they feel safe, they need reassurance. That means making facemasks the norm….. That highlights the often forgotten point of a mask – that it's not so much about protecting whoever is wearing one as it is protecting others from the mask wearer. You may not have a clue you are infectious – you may be asymptomatic. If you're wearing a mask, the rest of us are safer."
"An airborne virus is a threat worth taking seriously" [Financial Times]. "The current uncertainty over airborne spread mirrors the international debate about masks. An anxious pro-mask consensus was building for months before the WHO's advice formally changed in June to support face coverings. Strong evidence always trumps weak, but, in an extraordinary situation, weak evidence — especially when it converges from multiple disciplines — is arguably better than none. The final answer on airborne coronavirus transmission might well be blowing in the wind." • The Precautionary Principle…
Police State Watch
"Baltimore Police sergeant arrested, accused of extortion and kidnapping contractor while on duty, county police say" [Baltimore Sun]. "A Baltimore Police Department homicide unit sergeant was ordered held without bail Friday after allegedly extorting, kidnapping and threatening to arrest a home contractor whose work he was unhappy with and whom he drove to a bank to withdraw money for a refund. Three other homicide unit detectives were present at one point during the confrontation, and the department said a preliminary review indicates all were on duty at the time. 'You are going to give me my money back, and I'm going to give you freedom,' Sgt. James Lloyd told the contractor, according to charging documents." • So The Wire was a documentary?
Humanity's Best Friend
"Time to Tell America's Dogs This Arrangement Won't Last Forever" [Bloomberg]. "America's pets are luxuriating in dreamy, continual proximity to their owners. Well, not all. 'Cats are annoyed,' says William Berloni, who trains animals for the stage (Annie, Legally Blonde) and screen (Billions). 'Mine are like, Why are you in the bedroom? What are you doing here?' But dogs are in paradise, certain—or as certain as we can be about what dogs think—that this newfound dynamic will last forever. 'They assume it's a new lifestyle,' Berloni says. 'They're thinking, Finally our owners know that we want to be with them 24/7.' But there's a problem: Dogs are becoming 'overly bonded,' which means they're intensely reliant on our presence to stay calm. Dogs signal this when they can no longer self-soothe and panic after an owner leaves a room or, God forbid, the house. It has to be addressed now—long before your dog is left home, solo, for long stretches when you return to the office—to avoid doggie meltdowns."
Black Injustice Tipping Point
Best photo bomb ever:
FIRE! FIRE! GENTRIFIER!!! ? https://t.co/mQxgGxiIkQ

— People for Bernie (@People4Bernie) July 11, 2020
Guillotine Watch
UPDATE Learned nothing, forgotten nothing:
Happy Bastille Day https://t.co/qCCIKlRJwx

— Adam Weinstein (@AdamWeinstein) July 14, 2020
UPDATE "Apple's Cook, IBM's Rometty, Ivanka Trump Tout Job Training" [Bloomberg]. "Apple Inc. Chief Executive Tim Cook and IBM Corp. Chairman Ginni Rometty launched the "Find Something New" campaign with the White House on Tuesday, encouraging Americans to retrain or seek new job opportunities and employers to loosen degree requirements in favor of skills-based hiring…. Ivanka Trump, a senior aide to and a daughter of President Donald Trump, joined Cook and Rometty in a virtual roundtable event Tuesday. Ivanka Trump co-chairs the White House's American Workforce Policy Advisory Board and has spearheaded its 'Pledge to America's Workers' program, ." • Oy.
Class Warfare
"The Urban Archipelago" [The Editors of The Stranger, The Stranger]. From 2004, when the red/blue trope was invented: "It's time to state something that we've felt for a long time but have been too polite to say out loud: Liberals, progressives, and Democrats do not live in a country that stretches from the Atlantic to the Pacific, from Canada to Mexico. We live on a chain of islands. We are citizens of the Urban Archipelago, the United Cities of America. We live on islands of sanity, liberalism, and compassion–New York City, Chicago, Philadelphia, Seattle, St. Louis, Minneapolis, San Francisco, and on and on. And we live on islands in red states too–a fact obscured by that state-by-state map…. For Democrats, it's the cities, stupid–not the rural areas, not the prickly, hateful 'heartland,' but the sane, sensible cities–including the cities trapped in the heartland. Pandering to rural voters is a waste of time… We can secede emotionally, however, by turning our backs on the heartland. We can focus on our issues, our urban issues, and promote our shared urban values. We can create a new identity politics*, one that transcends class, race, sexual orientation, and religion, one that unites people living in cities with each other and with other urbanites in other cities…. To red-state voters, to the rural voters, residents of small, dying towns, and soulless sprawling exburbs, we say this: Fuck off." • Looks like it's working! Good job on the falling life expectancy project! NOTE * Interesting early usage. 2004!
"Amazon Tells Staff Hand-Washing Time Won't Be Held Against Them" [Bloomberg]. "In a message Amazon sent recently to employees and posted in bathrooms at the Staten Island facility, the e-commerce giant said workers wouldn't be disciplined for falling short of quotas based on how many tasks they complete each hour. Time spent on safety measures like handwashing also won't be counted against them under Amazon's "Time Off Task" policy, which limits the number of unproductive minutes allowed in their day."
News of the Wired
UPDATE "Nothing gives champagne its fizz like a humble radish" [Agence France Presse]. "Forget Beluga caviar, foie gras, smoked salmon or ortolan, the tiny bird that French gourmets put a napkin over their heads to eat so they can savour every last second of their unique aroma. No, the food that goes best with the finest champagne is the humble radish…. Didier Depond, the head of the venerable Delamotte champagne house, is so convinced of the validity of Puisais' science he has become an evangelist for the root vegetable. 'They have all the virtues. They cost nothing and they don't make you fat,' Depond added as he led an online champagne tasting, one of many which have flourished since the coronavirus."
Honoring Bastille Day by honoring French, and the French:
Cant. Stop. Laughing. https://t.co/nQhrRMZWaj

— Carlos (@iknography) July 14, 2020
* * *
Readers, feel free to contact me at lambert [UNDERSCORE] strether [DOT] corrente [AT] yahoo [DOT] com, with (a) links, and even better (b) sources I should curate regularly, (c) how to send me a check if you are allergic to PayPal, and (d) to find out how to send me images of plants. Vegetables are fine! Fungi and coral are deemed to be honorary plants! If you want your handle to appear as a credit, please place it at the start of your mail in parentheses: (thus). Otherwise, I will anonymize by using your initials. See the previous Water Cooler (with plant) here. Today's plan (JN):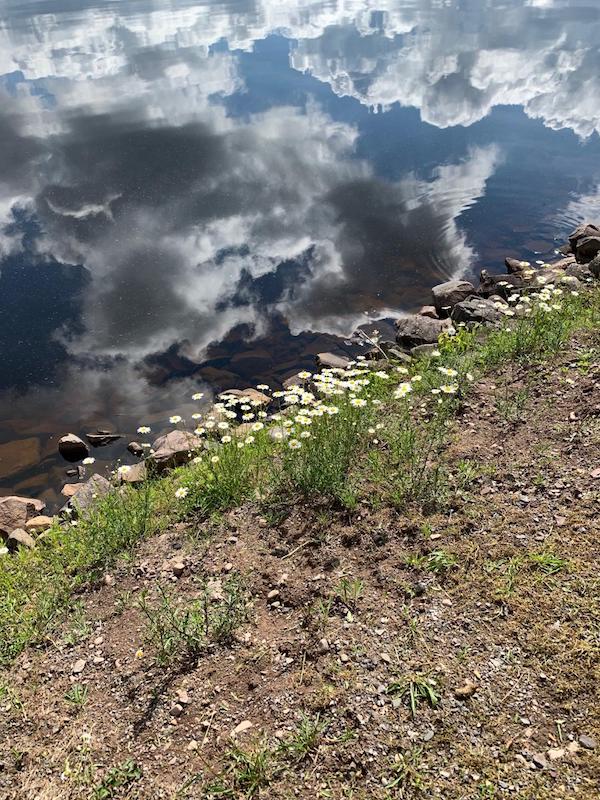 JN only sent the photo, and I can't think of anything clever to say, so I'll just admire the loveliness.
* * *
Readers: Water Cooler is a standalone entity not covered by the annual NC fundraiser. So if you see a link you especially like, or an item you wouldn't see anywhere else, please do not hesitate to express your appreciation in tangible form. Remember, a tip jar is for tipping! Regular positive feedback both makes me feel good and lets me know I'm on the right track with coverage. When I get no donations for five or ten days I get worried. More tangibly, a constant trickle of donations helps me with expenses, and I factor in that trickle when setting fundraising goals:
Here is the screen that will appear, which I have helpfully annotated.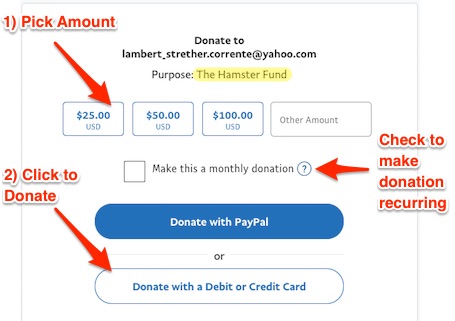 If you hate PayPal, you can email me at lambert [UNDERSCORE] strether [DOT] corrente [AT] yahoo [DOT] com, and I will give you directions on how to send a check. Thank you!