By Lambert Strether of Corrente.
#COVID19
At reader request, I've added this daily chart. The data is the Johns Hopkins CSSE data. Here is the site. Our five problem states (Florida, Texas, California, Georgia, and Arizona), with New York for comparison: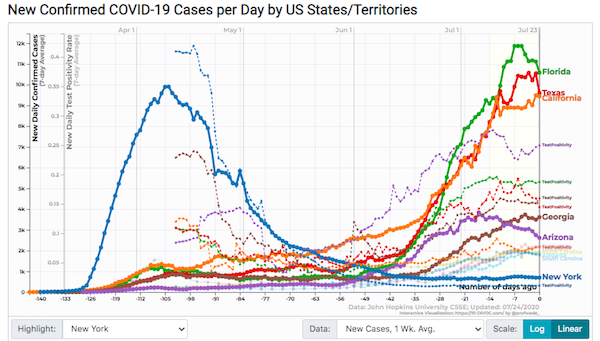 Another few days of this and I'll have to call a peak (though not, I think, without another deep dive into the data-gathering).
This includes new cases and positivtity (because deaths scrunch together at the bottom of the chart and I don't trust that data anyhow; excess deaths would be nice). In terms of undercounting as measured by positivity (higher is bad), the order from worst to best would be AZ, FL, TX, GA, CA, and CA, at 7.42%, is still too high by WHO standards (they want 5%).
Here are some smaller states in the South and West, with Arizona (from the chart above) for comparsion, because New York scrunches the chart together: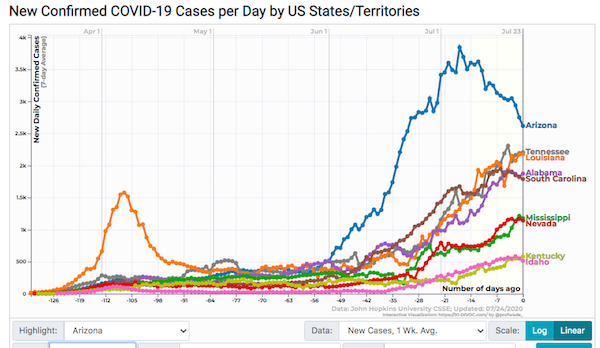 Idaho and Kentucky are really disappointing, because they had good initial responses.
For grins, here is the world: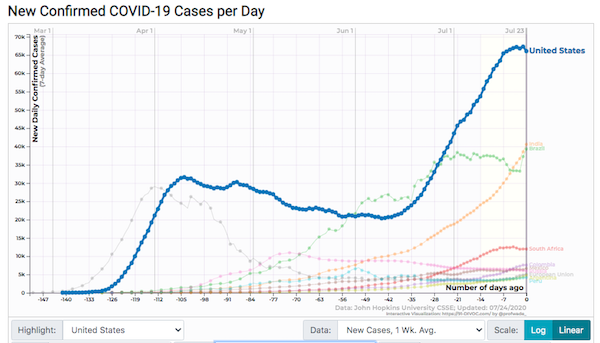 I don't see how we can run the sort of empire we run without passports for long, I really don't. The rest of the world is right to protect their populations, and so but if we cannot "crush" the virus, what then?
CA: "What's behind the skyrocketing virus cases in Kern" [Bakersfield.com (PI)]. "Clinica Sierra Vista, which operates healthcare clinics for the uninsured, has seen major increases in cases at its south Bakersfield and Lamont centers, said spokesman Tim Calahan. In Lamont, the positive rate to date is 40 percent and in south Bakersfield it's 29 percent. 'It's three-pronged,' Calahan explained. Those areas are largely Hispanics, a population that has been contracting the virus at higher levels statewide and nationally. People in those areas tend to be essential workers so "they never stopped working during the pandemic." And they tend to live in multigenerational housing with grandparents, children and grandchildren living in the same home.• PI comments:
The case count in Kern County in California has almost doubled in the last six days, went from 6600 to 12300 today. Here's a good local summary of the situation, and the cascade of failures, from mundane to systemic, that led to this current mess. At the end it gets to what I think is the main driver of

the sustained numbers in California – poverty and essential workers.
When I asked the other day "is the spread really because of Covid refuseniks?" this is the sort of thing I had in mind. Because if there is an irreducible minimum reservoir of the virus due to "essential workers" brought into close proximity by the nature of their workplaces, then the problem is… well, the wage relation.
FL: "Mounting virus cases spark concern in Florida nursing homes" [Associated Press]. "In the past three weeks, cases have gone from about 2,000 to some 4,800 at Florida nursing homes. Roughly 2,550 long-term care residents and staff have died overall, accounting for about 45% of all virus deaths in Florida…. Florida is paying for COVID-19 tests for all nursing home staff once every two weeks until September and it's unclear if it will be extended. Larger facilities say testing of staff and residents — at $75 to $125 per kit — can run them up to $300,000 per month. And testing is of only limited benefit if the turnaround in obtaining results does not improve beyond the current seven to 10 days… But without test data, experts say it will be nearly impossible to squelch the spread."
GA: "Georgia's governor and Atlanta's mayor ordered to mediate coronavirus mask fight" [Reuters]. "A Georgia judge on Thursday ordered the governor and Atlanta's mayor to enter mediation over the governor's lawsuit aimed at stopping the city from enforcing its requirement that people wear masks in public during the coronavirus pandemic. Fulton Superior Court Judge Jane Barwick ordered Governor Brian Kemp and Mayor Keisha Lance Bottoms to attend mediation with another judge and try to resolve the dispute before an emergency hearing scheduled in the case for Tuesday. Earlier this month, Kemp, a Republican, barred local leaders from requiring people to wear masks. Even so, several Georgia cities, including Democratic-led Atlanta, Savannah and Athens, defied the governor's order and kept local mandates in place in an effort to slow the spread of the virus. Bottoms told reporters that she and Kemp spoke by phone on the matter. 'We are both in agreement that masks saves lives,' she said. 'Hopefully we can move past this.'"
TX: "COVID-19 patients will be 'sent home to die' if deemed too sick, Texas county says" [Star-Telegram]. "Starr County once went about three weeks without a COVID-19 case at the beginning of the pandemic. It banned large gatherings, tested hundreds of residents a day, issued stay-at-home orders and required face masks — many of the same mandates now commonplace across the U.S. The poor and mostly Latino county on the Mexico border was containing COVID-19…. But after Gov. Greg Abbott issued orders for the reopening of the state, overriding local control and decision-making, COVID-19 cases surged…. Now Starr County is at a dangerous 'tipping point,' reporting an alarming number of new cases each day, data show. Starr County Memorial Hospital — the county's only hospital — is overflowing with COVID-19 patients…. 'For all of those patients that most certainly do not have any hope of improving, they are going to be better taken care of within their own family in the love of their own home rather than thousands of miles away dying alone in a hospital room,' [Jose Vasquez, the county health authority] said." • If that doesn't spread the virus, that is what I would want. Although things should never have reached this point.
Politics
"But what is government itself, but the greatest of all reflections on human nature?" –James Madison, Federalist 51
"They had one weapon left and both knew it: treachery." –Frank Herbert, Dune
"They had learned nothing, and forgotten nothing." –Charles Maurice de Talleyrand-Périgord
The electoral map. July 17: Georgia, Ohio, ME-2 move from Leans Republican to Toss-up. Continued yikes. On July 7, the tossup were 86. Only July 17, they were 56. Now they are 91. This puts Biden at 278, i.e. over 270.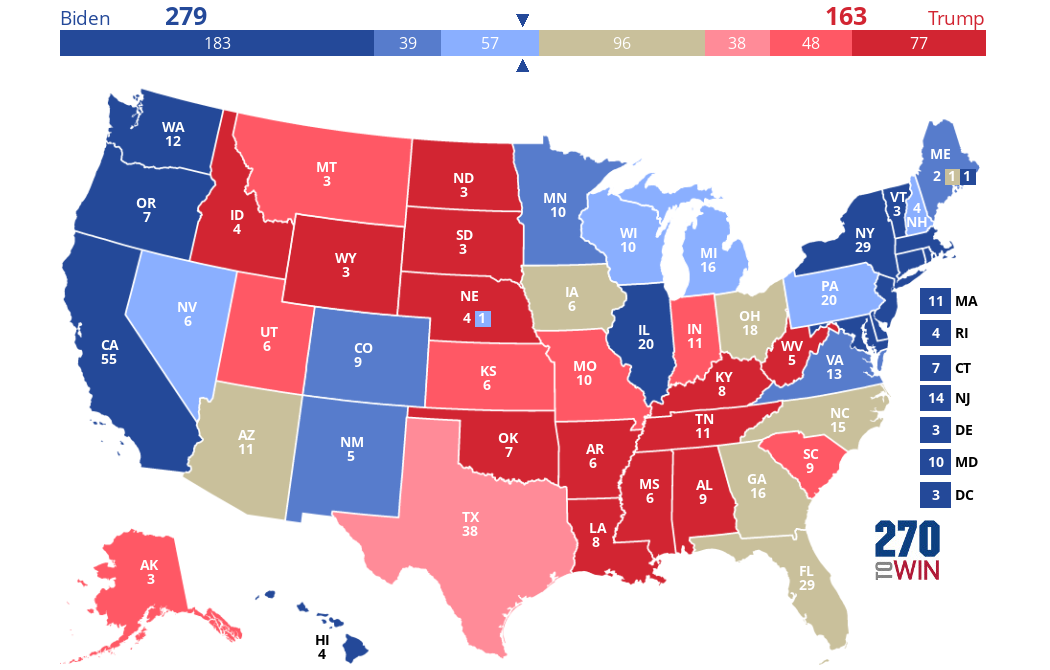 Click the map to create your own at
270toWin.com
So, taking the consensus as a given, 270 (total) – 204 (Trump's) = 66. Trump must win 66 from the states in play: AZ (11), FL (29), MI (16), NC (15), PA (20), and WI (10) plus 1 to win not tie = 102. 102 – 66 = 36. So if Trump wins FL, MI, NC, and PA (29 + 16 + 15 + 20 = 80), he wins. That's a heavy lift. I think I've got the math right this time!
UPDATE FL: "Latest poll of Florida: Joe Biden 50%, Donald Trump 44%" [Florida Politics]. "If the presidential election were held today, 50% of Florida voters would pick Biden and 44% would vote for Donald Trump, according to fresh numbers from St. Pete Polls. Another 2% of voters plan to vote for a third-party candidate while 3% remain undecided. The poll was conducted for Florida Politics and AARP Florida on July 13 and 14. Pollsters report a margin of error of 1.8%. Biden's 6% lead falls comfortably outside the margin of error. More notable than the gap between the candidates, this marks the first poll from the firm that finds the Democrat enjoying support from more than half of respondents. The low number of undecided voters in the race portends poor news for the President regarding the outcome of the election in his adopted home state." • Hmm. The AARP?
2020
Biden (R)(1):

Every day I hear from folks who tell me how important health care is to their families — well, it's deeply personal for President @BarackObama and me, too. I'll fight to protect and build on Obamacare and make sure everyone gets the care they need.

Watch our conversation: pic.twitter.com/ZyrBmLrjCJ

— Joe Biden (@JoeBiden) July 23, 2020

"Folks," "fight for," and of course milking his son's death (first line in the video). It's all here. [Damn, where's that bucket…]

Sanders (D)(1):

Join our day of action on Saturday! Let's continue the political revolution and expand our movement by electing strong candidates across the country. https://t.co/jHVF8KavyW

— Bernie Sanders (@BernieSanders) July 22, 2020

Trump (R)(1): "How Iowa Went from Trump Country to 2020 Battleground" [The New Yorker]. "The dual economic and public-health crises brought on by covid-19 have softened Trump's support nationwide. But the speed with which voters have tilted toward Biden in Iowa has come as a surprise. Would it be a close race in the state had the pandemic not hit? The answer is complicated. "covid is certainly playing a role here," Andrew Green, a political-science professor at Central College, in Pella, Iowa, who wrote a book about Trump's 2016 victory, said. "But I don't think we can discount the role that the trade war was playing." During the past few years, as Trump levied tariffs on Chinese goods, China responded with tariffs and purchasing halts on Iowa's major agricultural products: corn, soy, and pork. The Trump Administration responded by offering billions of dollars in compensatory aid to farmers in Iowa and other states, and many Iowa farmers have professed continued loyalty to the President. But the economic pain was still widespread, and it has spilled over into other industries, including farm-equipment manufacturing."

Trump (R)(2): "Trump's Big-Donor Gifts Plunge 61% as He Sits Out Virtual Events" [Bloomberg]. "Trump's receipts from high-dollar donors plunged 61% in the second quarter, to just $27 million, as he declined to appear on a livestream. Biden's big-donor committee took in more than three times as much — $86.4 million — after launching in late April. He attended almost all of the events virtually, talks to donors and invites reporters to listen in. Trump Victory, which raises money in chunks of a maximum $580,600, took in $64 million in the first quarter. But once social-distancing and lockdown orders spread across the country, Trump held just a few in-person events that gave donors face time with the president." • Yikes.

UPDATE Trump (R)(3): "The GOP Coalition Is Getting More Working-Class. Its Agenda Isn't." [Eric Levitz, New York Magazine]. "Donald Trump's erosion of support in recent months has been driven by the defections of white voters in general, and college-educated ones in particular. A variety of recent polls have found Biden leading Trump among the latter by roughly 30 percentage points. Although the president's standing among non-college-educated whites has declined significantly in recent weeks, he still boasts a roughly 20-point lead with that demographic in the most recent surveys. Counterintuitively, the president's grip on a sizable minority of nonwhite voters has scarcely loosened: In recent polls from CNN, Monmouth University, and the New York Times, Trump's share of the African-American and Hispanic voting blocs remains about where it was in 2018 exit polls — which was itself a bit higher than his share in 2016." • I wonder if a vaccine would cause those college-educated whites to "come home" (even against the blandishments of the Lincoln Project). Speaking of which–

UPDATE Trump (R)(4):

Epstein. Maxwell. Trump. pic.twitter.com/UVr8bmCIoh

— The Lincoln Project (@ProjectLincoln) July 24, 2020

* * *

The War Party:

Just read a draft of the Democratic Party platform statement on Korea. Looks like it was drafted by the Heritage Foundation. Not a word about supporting South Korea's peace initiative, just more of the same confrontational approach that kicked off the crisis in the first place.

— 'I just want you to know I can see thru your mask' (@TimothyS) July 22, 2020

Maybe it was. After all, ObamaCare was [rimshot].

UPDATE "Almost 100 Days Out, Democrats Are Favored to Take Back the Senate" [Cook Political Report]. "Democratic candidates have the fundraising momentum, with challengers crushing virtually every incumbent in a competitive race in the second quarter reports released last week. Party committees and the major outside PACs for each side are also spending heavily, with the most overall invested in North Carolina, a race some Republicans are feeling more pessimistic about…. By looking at the numbers, the battleground becomes clear — Arizona is falling down the list for the GOP to defend, and Colorado is threatening to. If the election were today, Arizona, Colorado and North Carolina stand as the most vulnerable, closely followed by Maine. That leaves what Republicans see as the tipping point states of Montana, Iowa and Georgia. But they have other states they have to watch and worry about, including Kansas, Texas, and even Alaska and South Carolina. Michigan remains the only other GOP offensive opportunity that remains on our map."
Obama Legacy
UPDATE From the sitdown "conversation" Biden and Obama had (more above):

.@BarackObama reflects on the ACA—and what was left unfinished.

"It's like a starter house—it's the first house you get," Obama says. "It's not the end of the process, it's the beginning."@JoeBiden compares it to Social Security when it first passed:https://t.co/Ec2kk4LQ4B

— Kara Voght (@karavoght) July 23, 2020

Millions of youth, making the rent, or maybe not: "F*uck yeah, ObamaCare's like a starter house! You can't afford it!"
Realignment and Legitimacy
"The Great Reset Is Already Underway" [Driftglass]. "By sheer force of their vastly overrepresented presence in the mainstream media, Never Trumpers like Bill Kristol have almost finished resetting 2016 as the new Year Zero of modern political history. Once that reset is finalized, everything that happened before Year Zero will effectively be off-limits. Everything that happened after that is a damn shame. And no one but Donald Trump (and the Extreme Left) are to blame for any of the havoc and tragedy you see all around you. Of course if you live a normal life and do normal things you might not have realized yet that a small gang of well-connected Republicans are putting the finishing touches on a new, revised edition of Modern American History which is already being incorporated into the HR regulations and style books of most of the mainstream press." • When Biden says that Trump is the first racist President, he's participating in the Great Reset.

"Pathways for the Post-COVID New Old World" [Zero Anthropology]. "We have to question whether strategic pre-positioning to shape the "post-COVID normal," might end up even unconsciously shaping the authorities' responses to the crisis right now, effectively tilting the scales one way or another and inevitably reducing the life chances of some…. we can already see the outline of three basic contending paths, three large camps jostling one another. They can be categorized as follows: (1) Restorationist–Denialist; (2) Liberal Reformist; and, (3) Revolutionary–Transformationist. If the contours of these camps seem predictable, it is because they are built on foundations that preexisted the pandemic. However, since there are tendencies for people to not follow some analyst's neat categories, we will find the three camps bleeding into each other, producing at least seven distinct positions, some of which are particular to events of this crisis." • I won't go into the details of the schematic, but I think the article is worth a read.

"Ex-cardinal Theodore McCarrick ran sex ring for clerics at New Jersey beach home, lawsuit alleges" [USA Today]. "A lawsuit filed Tuesday night accuses former Cardinal Theodore McCarrick of taking his pick of boys to abuse sexually and assigning others to adult clerics at a New Jersey beach home that's been central to previous allegations against the former prelate. Two years ago, Newark Archbishop Joseph Tobin acknowledged that claims against McCarrick had been settled years before. Tobin said he learned of the settlements in 2018 shortly before media reports first revealed them. After allegations of child sex abuse surfaced, McCarrick was placed on a list of credibly accused clerics last year." • Here, no yarn diagrams at all, but a two thousand year-old institution gone terribly, terribly wrong.

* * *

"How Wisconsin's 23,000 rejected absentee ballots could spell trouble for the November election" [Wisconsin Watch]. "For months, President Donald Trump has alleged without evidence that any expansion of mail-in voting in the 2020 election will lead to "tremendous" fraud and a "rigged" election. But an APM Reports analysis of voter data from Wisconsin's April primary shows a far more measurable and consequential effect of mail-in voting — rejected ballots. Slightly more than 23,000 ballots were thrown out, mostly because those voters or their witnesses missed at least one line on a form. While there is no way of knowing who those voters will choose in November, the figure is nearly equivalent to Trump's 2016 margin of victory in Wisconsin of 22,748 votes. And with voter turnout expected to double from April to more than 3 million in November, a proportionate volume of ballot rejections could be the difference in who wins the swing state — and possibly the presidency." • Again, lots of Democrat yammering about how Trump may not accept the 2020 results (as indeed they did not in 2016). But not the tiniest squeak about what should be done to make results acceptable to any dull normal.
Stats Watch
At reader request, I added some business stats back in. Please give Econintersect click-throughs; they're a good, old-school blog that covers more than stats. If anybody knows of other aggregators, please contact me at the email address below.
Leading Indicators: "17 July 2020 ECRI's WLI Improvement Continues But Remains In Contraction" [Econintersect]. "ECRI's WLI Growth Index which forecasts economic growth six months forward improved but remains in contraction."
Rail: "Rail Week Ending 18 June 2020 – Improvement Continues But Still Deep In Contraction" [Econintersect]. "Week 29 of 2020 shows same week total rail traffic (from same week one year ago) contracted according to the Association of American Railroads (AAR) traffic data. Total rail traffic has been mostly in contraction for over one year – and now is recovering from a coronavirus pandemic…. Intermodal and carloads are under Great Recession values. Container exports from China are now recovering, container exports from the U.S. declined, and remains deep in contraction."
Home Sales: "June 2020 Headline New Home Sales Remain Strong" [Econintersect]. "This month the backward revisions were up. Because of weather and other factors, the rolling averages are the way to view this series. The rolling averages improved. Sales again remained strong this month demonstrating the resilience of the new home market."
* * *
Tech: Craig Murry wasn't the only one:
I seem to have been cancelled by @Google. If you search for my blog and blog posts, you don't find it. Is this happening to any other conservatives?

— Rod Dreher (@roddreher) July 21, 2020
Looks like Google was crapping around with its political rankings. Crudely.
Tech: Well, this looks awful:
i just want the URLs posted to facebook 'pages' to load thumbnail correctly is literally the only feature i care about (after a nice several months it is now broken again)

really tho this shld encourage us all, even us little fish, we can all design much better than the big boys https://t.co/Oy7RDWQACi

— Continuity Of Posting – Incident Copypasta Systems (@HongPong) July 23, 2020
Manufacturing: "FAA issues emergency directive on 2,000 Boeing 737 NG, Classic planes" [Reuters]. "The Federal Aviation Administration (FAA) on Friday issued an emergency airworthiness directive for 2,000 U.S.-registered Boeing 737 NG and Classic aircraft that have been in storage, warning they could have corrosion that could lead to a dual-engine failure. The directive covers planes not operated for seven or more consecutive days. The FAA issued the directive after inspectors found compromised air check valves when bringing aircraft out of storage…. The directive covering the 737 NG (600 to 900 series) and 737 Classic (737-300 to 737-500 series) was prompted by four recent reports of single-engine shutdowns caused by engine bleed air 5th stage check valves stuck in the open position. The FAA said the directive is to address corrosion of the engine bleed air 5th stage check valves for both engines. The agency said that could result in compressor stalls and dual-engine power loss without the ability to restart." • Can't just leave the car in the garage, I guess. You've got to fire it up every so often.
* * *
Today's Fear & Greed Index: 66 Greed (previous close: 68 Greed) [CNN]. One week ago: 63 (Neutral). (0 is Extreme Fear; 100 is Extreme Greed). Last updated Jul 24 at 11:32am. Firmly in greed territory.
Health Care
"NIH director on speed of vaccine development: 'I have never seen anything come together this way'" [CBS]. DFr. Frances Collins: "I've been at NIH for 27 years. I have never seen anything come together this way, as we have tried to do and are now doing, for the development of vaccines. And the government, by providing additional resources, has also made it possible now to plan manufacturing of vaccine doses even before you know if the vaccine is going to work… By the spring, I would think most Americans would have the chance for a vaccination. I hope, by the way, that most Americans will see this as something they want to do. I'm a little worried about some resistance to this. It's also emerging in some of the polls."
"Controlling the virus takes 'an all-of-government approach,' WHO says" [ABC]. "'We do see signs of hope. In some countries they have been able to control the virus. This virus is controllable,' [Dr. Maria VanKerkhove, the World Health Organization's lead expert on COVID-19] told 'Good Morning America' Friday. 'Even countries that are really overwhelmed right now can turn things around.'" • Unfortunately, federalism is designed to prevent an 'all-of-government' approach. And that's before we get to the two-party system. And health care for profit. I could go on.
"All they had to do was the right thing" [Jeb Lund, Welcome to Hellworld]. The Lund story starts after an intro. Search on "Waking up". It's about Florida, or set there. This caught my eye:
I know there's supposedly a culture war out there. There's a truck in my neighborhood with a Q sticker, and another with a Three-Percenter sticker, and there are more than a few neighbors of the "easily victimized white dude who owns a $50,000 truck he rarely takes off the pavement and who becomes physically belligerent when you correct him" variety, but there's a reason why you really only see "war" shit on YouTube. Few Americans are hostile to general safety protocols, and even fewer act out against them. I live where hate groups and old fashioned unaffiliated redneck trash drive in from the county to make a show of rebel flags, rolling coal and honking to intimidate protests, but people line up six feet apart at Home Depot, wear masks at Publix and get takeout at the pizza place outside without insisting on barging in. Most wars don't need one side of them to be this manufactured.
"Few." Enough?
Sports Desk
Opening Day:
the crack of the bat. the scent of a verdant field. The excitement of the crowd. These are the things that piss base ball fans off the most

— wint (@dril) June 19, 2018
Black Injustice Tipping Point
"Tom Cotton bill would eliminate funds for teaching New York Times's 1619 Project in schools" [Washington Examiner]. "The legislation would mandate the federal departments of Agriculture, Education, and Health and Human Services to "prorate" federal education funds to school districts that decide to include The 1619 Project in their curriculum. Schools that taught the program also would lose out on 'federal professional-development grants.' Some school districts are moving to incorporate The 1619 Project into their history programs, despite the accuracy of this series of articles being called into question by some historians. However, Cotton's bill would be dead on arrival in the Democratic House — if it passed the Republican Senate, which also appears unlikely." • "Some historians." Worth re-upping this savage takedown–
"The New York Times's 1619 Project: A racialist falsification of American and world history" [World Socialist Web Site]. This caught my eye:
The Times' executive editor, Dean Baquet, was explicit in this regard, telling staffers in a taped meeting in August that the narrative upon which the paper was focused would change from "being a story about whether the Trump campaign had colluded with Russia and obstruction of justice to being a more head-on story about the president's character." As a result, reporters will be directed to "write more deeply about the country, race, and other divisions."
From RussiaGate to the 1619 Project. Quite a pivot! Sort of amazing that historians like James McPherson (as well as Clayborne Carson, Richard Carwardine, Gordon Wood, Dolores Janiewski, Victoria Bynum, and James Oakes) can't get a hearing anywhere else in our liberal meduia, but here we are.
Class Warfare
""Essential" Means Underpaid and Unprotected" [Andy Slavitt, Medium]. "If someone tells you that you're "essential," you're going to want to run the other way. Because 'essential' now means underpaid, unappreciated, sacrificial, and there to serve everyone else/ In the future, definitions in the dictionary are going to need to include what 'essential worker; came to mean during the Covid-19 crisis. You were essential, but your health, your income, your life, your safety net, and your well being turns out are 'not as essential.'" • Since Slavitt is a lobbyist for the health insurance industry who opposes #MedicareForAll, it makes my skin crawl to quote him. But he's right.
News of the Wired
"You advocate a ________ approach to calendar reform" [Things of Interest]. • An enormous and funny checklist of reasons why your approach is bad: "( ) they tried that in France once and it didn't take."
"The internet went crazy over cake, but going mainstream can end a trend" [NBC]. "For the past two weeks, the internet has been saturated with videos of seemingly hyperrealistic everyday objects — a Croc shoe, a pickle, a bulldog — that trick the eye to reveal a cake beneath. Just as quickly as these surrealistic cakes became ubiquitous came the detractors begging the phenomenon to end. In other words: A viral meme has now grown stale, reaching the end of its popularity. 'There's a bunch of different life cycles that memes can have. Some memes will just explode and die off within like a week,' says Don Caldwell, the editor-in-chief of meme database Know Your Meme. 'Some memes will stick around for 10 years, and it's really bizarre to see all the different ways it can happen.' It's not uncommon for a meme to see a resurgence months, or even years, down the line after it's lost popularity…. Maybe when people refer to quarantine in years to come, they'll be reminded of this meme as a symbol of the surrealism of the moment. Ceci n'est pas un pipe." • And never a Marie Antoinette reference, so far as I can tell. Odd.
"What Is an Individual? Biology Seeks Clues in Information Theory" [Quanta]. "When it comes to defining biological individuals, we tend to rely on what we can observe and measure. Cells are bounded by membranes, animals by their skin; we can sequence DNA and demarcate genes in those sequences. Above all, our definitions privilege the organism and the characteristics associated with it: an entity that's physically separated from its environment, that has DNA and can replicate, that is subject to natural selection… At the core of that working definition was the idea that an individual should not be considered in spatial terms but in temporal ones: as something that persists stably but dynamically through time. 'It's a different way of thinking about individuals,' said [Melanie Mitchell, a computer scientist at the Santa Fe Institute], who was not involved in the work. 'As kind of a verb, instead of a noun.'…. To them, an individual was an aggregate that 'preserved a measure of temporal integrity,' propagating a close-to-maximal amount of information forward in time. Their formalism, which they published in Theory in Biosciences in March, is based on three axioms. One is that individuality can exist at any level of biological organization, from the subcellular to the social. A second is that individuality can be nested — one individual can exist inside another. The most novel (and perhaps most counterintuitive) axiom, though, is that individuality exists on a continuum, and entities can have quantifiable degrees of it…. Based on these gradients of information flow, the Santa Fe team distinguishes three types of individuality. The first is the organismal individual, an entity that is shaped by environmental factors but is strongly self-organizing…. The second type of individuality is the colonial form, which involves a more complicated relationship between internal and external factors. Individuals in this category might include an ant colony or a spiderweb… The third type is driven almost entirely by the environment." • I suppose if the American dream is all about freedom for the individual, we should know what an individual is. (Sorry for the length; Quanta is almost impossible to extract!)
* * *
Readers, feel free to contact me at lambert [UNDERSCORE] strether [DOT] corrente [AT] yahoo [DOT] com, with (a) links, and even better (b) sources I should curate regularly, (c) how to send me a check if you are allergic to PayPal, and (d) to find out how to send me images of plants. Vegetables are fine! Fungi and coral are deemed to be honorary plants! If you want your handle to appear as a credit, please place it at the start of your mail in parentheses: (thus). Otherwise, I will anonymize by using your initials. See the previous Water Cooler (with plant) here. Today's plant (Stanley Dundee):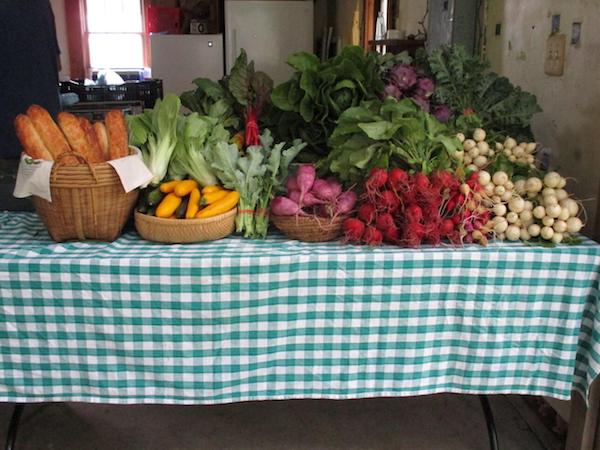 Stanley Dundee writes: "The farm stand is the 2nd week of our little Catskill farm startup." The kind of startup I can get behind! No silicon involved, except maybe in the soil.
* * *
Readers: Water Cooler is a standalone entity not covered by the annual NC fundraiser. So if you see a link you especially like, or an item you wouldn't see anywhere else, please do not hesitate to express your appreciation in tangible form. Remember, a tip jar is for tipping! Regular positive feedback both makes me feel good and lets me know I'm on the right track with coverage. When I get no donations for five or ten days I get worried. More tangibly, a constant trickle of donations helps me with expenses, and I factor in that trickle when setting fundraising goals:
Here is the screen that will appear, which I have helpfully annotated.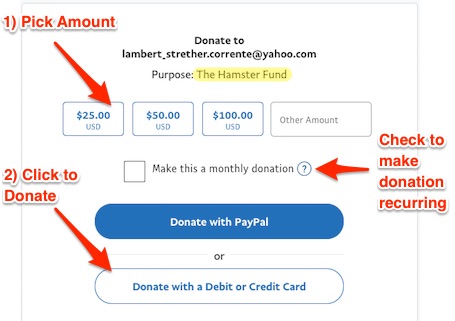 If you hate PayPal, you can email me at lambert [UNDERSCORE] strether [DOT] corrente [AT] yahoo [DOT] com, and I will give you directions on how to send a check. Thank you!