By Lambert Strether of Corrente.
#COVID19
At reader request, I've added this daily chart from 91-DIVOC. The data is the Johns Hopkins CSSE data. Here is the site. Here are the four United States regions, plus US data. Today
Today, I thought I'd look at the Midwest: Illinois, Indiana, Iowa, Kansas, Michigan, Minnesota, Missouri, Nebraska, North Dakota, Ohio, South Dakota, and Wisconsin: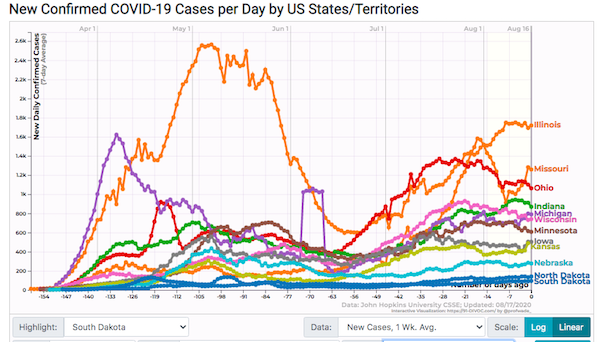 "Navajo Nation turns the corner on coronavirus" [ABC]. "The Navajo community suffered one of the highest COVID-19 infection rates per capita in the country just three months ago but with the implementation of strict public health measures such as curfews and mandatory mask-wearing, Navajo Nation has curbed the spread of coronavirus…. In addition to having 57 weekend curfews, tribal governments are working to improve access to water for many residents by allocating funds from the CARES Act into the community to get needed infrastructure."
CA: "California under counted COVID-19 cases after certificate expired" [SC Magazine]. "Beginning July 31, an expired certificate kept California's centralized reporting system from receiving data from Quest, one of the labs doing COVID-19 testing in the state. That incident followed a glitch caused by a temporary patch applied after a server outage in the centralized system…. California Governor Gavin Newsom said in a press conference that California was relying on 'databases that were never made for the world we live in' and pledged to address what he called 'foundational data issues.'"
GA: "Coronavirus spread in Georgia is 'widespread and expanding,' says report on leaked WH warning" [NBC]. "The number of coronavirus cases in Georgia shot up to nearly 235,200 on Saturday, making it the fifth-highest after California, Florida, Texas and New York…. Against this backdrop, the state reopened many of its schools for in-person learning. In Cherokee County, where students returned to school last week, there are now at least 110 confirmed coronavirus cases, resulting in over 1,600 students and staff in quarantine… Georgia reported its youngest coronavirus fatality, a 7-year-old boy, as schools were reopening last week. On Saturday, a 15-year-old became the second-youngest person reported to have died from COVID-19 in the state. Both boys had no underlying health conditions, according to the state Department of Public Health."
IA: "How an Iowa summer resort region became a Covid-19 hot spot" [Vox]. See the image in the header: Always the [family blogging] beaches — complete with prurient telephoto of scantily clad youth — when it's the bars, the rooms, the parties, the after-parties and closed, crowded, close-contact spaces that are the problem. The same dynamic happened with resorts earlier in the crisis. Good round-up, though.
TN: "Schools can stay open until coronavirus positivity rate hits 25%, Shelby County health department says" [Chalkbeat]. "While Shelby County's guidelines mean that coronavirus infection rates would have to get a lot worse before the health department urges school buildings shut, the majority of students in the county won't be returning to campuses just yet. That's because Shelby County Schools is scheduled to begin online Aug. 31 and remain virtual until further notice. The district has not yet indicated what coronavirus case numbers would signal a safe return to school buildings or what would prompt recurring closures. Some local charter schools, private schools, and suburban districts have already begun in-person learning or are planning to do so later this month."
TX: "COVID's true toll in Texas is higher than reported, data shows" [Houston Chronicle]. "Since the start of the COVID-19 pandemic in Texas, the state's death toll from all causes has soared by thousands above historical averages — a sobering spike that experts say reveals the true toll of the disease. Between the beginning of the local pandemic and the end of July, 95,000 deaths were reported in Texas, according to U.S. Centers for Disease Control data. Based on historical mortality records and predictive modeling, government epidemiologists would have expected to see about 82,500 deaths during that time. The CDC attributed more than 7,100 deaths to COVID-19, but that leaves roughly 5,500 more than expected and with no identified tie to the pandemic. The CDC's chief of mortality, Dr. Bob Anderson, said these "excess deaths" are likely from a range of pandemic-related problems, including misclassifications because doctors did not initially understand the many ways that COVID-19 affects the circulatory system and results in a stroke or a heart attack." • This is the number I would like to track nationally; I wish 91-DIVOC had it, but of course there's no standard way of collecting this data either.
And a wrap up of stories, probably skimming the surface, internationally: Canada (Toronto, strip club, 550 exposures), Ireland (spike, "deeply concerning"), Hong Kong (new cases, 45), and Italy (youth). And in the states: Georgia (Cherokee HS, 500 exposures), Indiana (Notre Dame, "spike"), North Carolina (UNC, Sigma Nu, "clusters"). And college generally:
College students just completely ignoring any and all social distancing and public health recs. WE ARE SCREWED. This college thing is not gonna end well. #COVID19 https://t.co/oRewMxXarc

— Eric Feigl-Ding (@DrEricDing) August 17, 2020
Of course, it's not like we give them a lot to live for…
Politics
"But what is government itself, but the greatest of all reflections on human nature?" –James Madison, Federalist 51
"They had one weapon left and both knew it: treachery." –Frank Herbert, Dune
"They had learned nothing, and forgotten nothing." –Charles Maurice de Talleyrand-Périgord
The electoral map. July 17: Georgia, Ohio, ME-2 move from Leans Republican to Toss-up. Continued yikes. On July 7, the tossup were 86. Only July 17, they were 56. Now they are 91. This puts Biden at 278, i.e. over 270. August 10: Still no changes.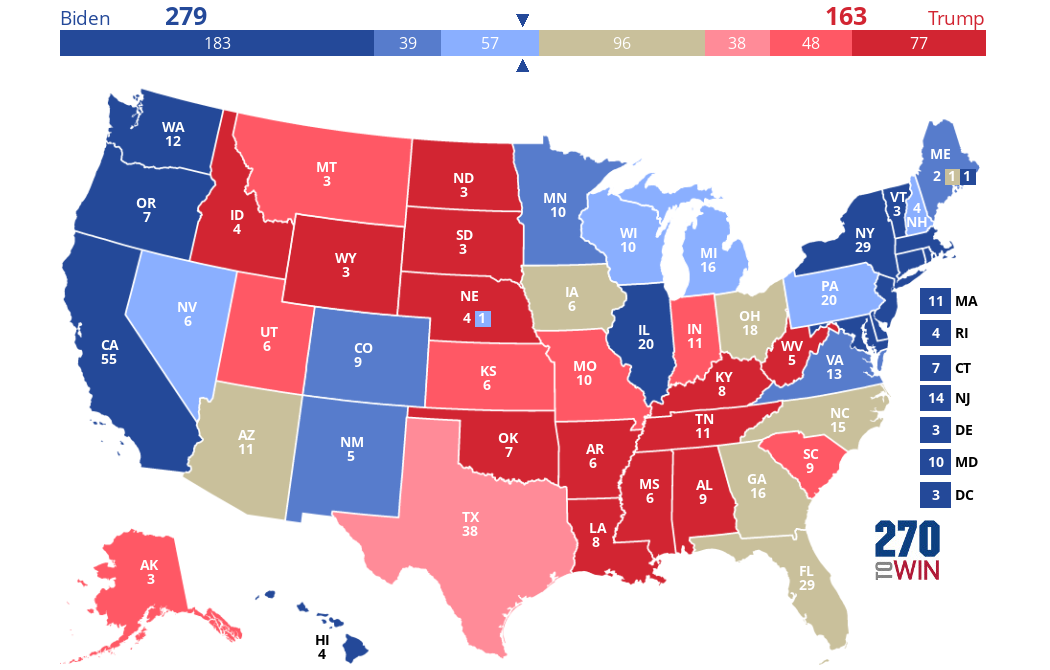 Click the map to create your own at
270toWin.com
So, taking the consensus as a given, 270 (total) – 204 (Trump's) = 66. Trump must win 66 from the states in play: AZ (11), FL (29), MI (16), NC (15), PA (20), and WI (10) plus 1 to win not tie = 102. 102 – 66 = 36. So if Trump wins FL, MI, NC, and PA (29 + 16 + 15 + 20 = 80), he wins. That's a heavy lift. I think I've got the math right this time!
2020
Biden (D)(1): "Barack Obama reportedly said: 'Don't underestimate Joe's ability to f… things up'" [The Telegraph]. "In his book Ben Rhodes, Mr Obama's former deputy national security adviser, wrote that 'in the Situation Room, Biden could be something of an unguided missile.'" • The headline is better than the original Political headline, but the Rhodes quote is new. I seem to recall that most of the books from Obama Alumni Association members have similar quotes.

Biden (D)(2): "Wall Street's Big Money Is Betting On Biden And Democrats In 2020" [NPR]. "For the first time in a decade, deep-pocketed donors from the halls of finance are giving more money to Democrats than Republicans, according to the Center for Responsive Politics, a research group that tracks money in politics." • Correct me if I'm wrong, but I don't think Wall Street backed FDR. At all.

UPDATE Biden (D)(3): "This is the future Joe Biden wants" [Vox]. "Johns Hopkins political science professor Daniel Schlozman, who has studied the ways labor unions and other social movements influenced Roosevelt's presidency, describes Biden as, like FDR, someone "notably aware of the influence of various organized groups and the strength and intensity of their preferences rather than someone with very deeply held views of his own on most policy questions." • Those "other social movements" included sitdown strikes, the CIO and an actual, functioning Communist Party (which did a lot of work combatting segregation in the South). In other words, if "the left" wants to get Biden's attention, that's how militant they'll have to be. That's why I liked Sara Nelson's suggestion of a general strike on Election day. More: "What Biden would do, [advisor Ben] Harris explained, is in the Senate to pass his agenda with bipartisan support. 'I've spent a lot of time in the vice president's office when he was vice president. I sat there when he called Democratic members, and I sat there when he called Republican members,' Harris recalled. 'That's what happens when you spend so many decades in the Senate is you build these friendships and you build these relationships and you build this credibility.'" • In The People, No, Thomas Frank describes Biden's strategy as follows:

[In Hofstadter's view] when reform came from the bottom up, in other words, it was moralistic, demagogic, irrational, bigoted, and futile. When reform was made by practical, business-minded professionals — meaning lobbyists and experts who were comfortable with the company of lobbyists and experts from other groups — prosperity was the result.

(We call these people "the adults in the room," and they gather round "the table.") In other words, "fundamentally nothing would change."

UPDATE Biden (D)(4): "Biden eyes inroads with evangelical voters" [The Hill]. "Team Biden doesn't think it can win over all evangelicals or even a majority, but it does think it can slice off some of them from Trump's coalition by emphasizing the former vice president's personal faith and values. At the Democratic National Convention, Biden's campaign will hold an interfaith service on Aug. 16, and a Believers for Biden watch party ahead of the candidate's acceptance speech is set for Aug. 20, according to a Biden adviser." • I think this falls under the heading of "measuring the drapes."

Trump (R)(1): "Why Trump Should Accept His Nomination At Gettysburg" [The American Conservative]. "It would be a 'stunt' in some sense, and certain members of the media will be sure to pillory the president for it. There is a performative element to all politics—especially good politics. But it would not be merely a stunt: what happened at Gettysburg—what makes the place so sacred—is not devoid of politics, nor even of political implications for the present day. There is a right way to go about a battlefield acceptance speech, one that honors the memory of the men who died there and looks at our world honestly through their eyes. He should go to Gettysburg not in spite of its sacredness but because of it. A Gettysburg performance is almost certain to be deeper, more dramatic, more persuasive than any speech in any stadium, precisely because, in connecting our present to our past, it could elevate our temporal politics to the seriousness rightly due them."

* * *

"CNN Poll: Biden and Trump matchup tightens as enthusiasm hits new high" [CNN]. "Overall, 50% of registered voters back the Biden-Harris ticket, while 46% say they support Trump and Pence, right at the poll's margin of error of plus or minus 4 percentage points." • Only one poll!

"Wasserman Schultz accused of assaulting minor during early voting" [The Floridian]. "Attorney Jen Perelman tweeted out that her volunteer, Martina Velasquez, 16, was 'physically shoved' and 'verbally accosted' by Rep. Wasserman Schultz for questioning her 'record on the environment while passing out campaign literature." • DWS could not be reached for comment.
Democratic National Convention
"The Official 2020 Democratic National Convention Drinking Game" [Matt Taibbi]. "Turn on your TV to CNN or MSNBC right now. The odds aren't bad – I'd put them at 7-2 – that the word 'historic' is in the chryon. You will hear this word five thousand times, at minimum, per day of convention coverage. Out of respect for human life, you'll therefore be asked to drink to 'history' or 'historic' only when uttered by actual convention speakers. I hope readers understand, without it being included on the list, that any mention of 'Malarkey' is an automatic drink."

"Here's What To Expect At The 2020 Democratic National Convention" [HuffPo]. "The main events will be aired from 9 p.m. to 11 p.m. ET on each of the four nights, although there will also be daytime events starting at 9 a.m. … "The message we aim to deliver is simple," DNC program executive Stephanie Cutter said in a statement. 'Joe Biden is the steady, compassionate and experienced leader America needs right now to bring us together and steer our nation out of Trump's crises and constant chaos and build a better future for all.'" • I ge en i ge en nu ge en nu ge en us sa tur ra lu ra…

"A Viewers' Guide to the Democratic National Convention: Monday" [Bloomberg]. "All major broadcast networks will air an hour of convention coverage each night from 10 to 11 p.m. EST and cable news channels will showcase the full two-hour programs. No cable? No problem. The events will be livestreamed by the DNC at DemConvention.com, and YouTube, Facebook, Twitter, Twitch, Amazon Prime Video, Microsoft Bing, Apple TV, Amazon Fire TV and Roku TV."

"Eyes turn to Ocasio-Cortez as she seeks to boost Biden" [The Hill]. • In a video that lasts all of one minute? As usual, the DNC is completely in touch with the electorate:

From the new CBS poll of Democrats: Which of these people would you like to hear speak at the DNC?@AOC
Yes: 63%
No: 37%

Bill Clinton
Yes: 56%
No: 44%

John Kasich
Yes: 38%
No: 62%https://t.co/pFgFVGTwIT

— Dave Weigel (@daveweigel) August 16, 2020

"Why John Kasich, Lifelong Republican, Is Helping Launch Joe Biden's Democratic Party" [Buzzfeed]. Kasich: "I listen to people all the time make these statements, and because AOC gets outsized publicity doesn't mean she represents the Democratic Party. She's just a part, just some member of it." • Off to a good start!

UPDATE "Bernie Sanders on How He'll Rally Progressives Tonight" [The Nation]. Sanders: "What we have got to be talking about, Roosevelt said in 1944, is that economic rights are human rights, and that means you are entitled, as an American, to decent housing, to decent health care, to a decent job, to a decent retirement. Economic rights are human rights, and you're not going to be a really free person unless we guarantee those rights. That was an extraordinarily profound statement! What I tried to do in the 2020 campaign is talk about Roosevelt's 1944 speech and how we make it relevant to the year 2020." • It would be nice if Biden believed that. More Sanders: "My view is that after we elect Biden, what we're going to do is everything that we possibly can to move his administration in a progressive direction. Biden has told me, and I would not say it if he hadn't made the same statement publicly, that he intends to be FDR. That's a noble ambition, and our job is to hold him to that goal. I think millions of people are prepared to do that." • "[T]he most progressive president since" is doing a lot of work, there.

UPDATE "I Asked Bernie Sanders if It Was All Over. 'No,' He Groaned." [Elizabeth Bruenig, New York Times]. "The first prong, Mr. Sanders explained, is to focus on electing Mr. Biden — because the alternative is Mr. Trump, whose regime could, in Mr. Sanders' view, endanger the progressive cause in ways far more damaging than one led by moderate Democrats. 'This is a guy who believes in voter suppression,' he said of Mr. Trump. 'We are fighting for American democracy — for whether we have free elections in this country, or whether you will have an antidemocratic pathological liar running this country. On this issue, there can be not one doubt.'… 'Now, the day after Biden is elected, we have got to mobilize and organize all over this country to make sure that Biden becomes as progressive a president as is possible, that Democrats control the Senate and the House, and that we can put sufficient pressure on Nancy Pelosi and Chuck Schumer to carry out a progressive agenda.'" • I understand the logic, but I'm not sure where the pressure comes from; see my comment on Biden-as-FDR above.
Health Care
"Dems Begin Signaling A Post-Election Surrender On Health Care" [David Sirota, Too Much Information]. "The Partnership for America's Health Care Future (PAHCF) — a front group created by health insurance, pharmaceutical and hospital lobbying groups to oppose 'Medicare for All' — announced on Friday that it is launching a new national ad campaign to persuade Democrats to abandon their plans to create a public health insurance plan. The group said it will run ads during the Democratic National Convention (DNC) this week. PAHCF is led by a former Hillary Clinton aide and run out of the offices of a D.C. lobbying firm led by former top Democratic congressional aides…. Within 24 hours of the launch of the industry's new ads, however, anonymous Democratic congressional sources were telling The Hill that Democrats likely won't bother with the public option fight next year if Biden wins the election…. To justify the preemptive retreat, Democratic congressional aides told the newspaper that the party's moderate crop of 2020 Senate challenger candidates could make it harder to pass a public option." • And who selected those challengers? Little elves?
Obama Legacy
"It's Not Symbolism; It's Our Vanity" [Irami Osei-Frimpong, Medium]. "Obama's election and Harris's selection are expressions that your race, gender, or religion shouldn't stop you from doing what you want to do, regardless of whether or how you change anything about the objective world, even if the job is literally securing justice in the objective world…. This is why nobody is going to hold them accountable for their objective record. It's because what Obama ran on and Harris is running on, in a deep way, is the freedom from being accountable to objective records…. [Obama's] job wasn't the change the objective conditions of the world; his job to validate the subjective aspirations of the many through validating the subjective aspirations of himself. It was the ultimate vanity run, pitched to a people who wanted to legitimize their own lives of vanity, which is why I'm not surprised that it led to the election of a reality star President successor." • Interesting framing. Well worth a read.

"Barack and the beach house: Longtime friend 'builds Obama's multi-million dollar Hawaii ocean villa using loopholes to bypass coastal protection laws' on site made famous by TV show Magnum PI" [Daily Mail]. "[A loophole] allowed the sellers of the property to obtain an easement on the seawall for a one-time payment of $61,400 before it was sold in 2015, according to ProPublica… The developers of the property are now reportedly pursuing an expansion of the seawall – angering community members who point out that the existing beach along the property has nearly disappeared, and who view Obama as a proponent of environmental sustainability." • For a community organizer, Obama certainly does have a knack for offending the locals….
2016 Post Mortem
"Hillary Clinton says she's 'ready' to serve in a Biden administration: Former Secretary of State and defeated 2016 candidate hints at a return to D.C. and 'wants to help fix the US'" [Daily Mail]. Clinton: "I'm ready to help in any way I can because I think this will be a moment where every American – I don't care what party you are, I don't care what age, race, gender, I don't care – every American should want to fix our country." • I am sure some ways Clinton can help will be suggested.
RussiaGate
""Gosh Almighty": Democrats Call to End Durham Investigation Despite Proven Criminal Conduct" [Jonathan Turley]. "With news of the criminal plea by Clinesmith, one might expect the media and our members of Congress to demand the same vigorous investigation from Durham as they did from Mueller. The collusion allegations that were noted to launch the Russia investigation were after all ultimately rejected. Durham is by contrast investigating the bias and misconduct. So we have a collusion investigation that was shown to be based on false or unreliable information. It was launched and maintained by officials who were accused by an inspector general of misconduct, false statements, or procedural errors. Today we have the actual criminal guilty plea. However, many voices in Washington continue to insist that there are no reasons for Durham to continue digging. As Biden says, 'Gosh almighty.'"
Realignment and Legitimacy
"Anti-Despair Economics" [City Journal]. "Trump's deregulatory agenda has disproportionately benefited families with below-average incomes. Strangely, Case and Deaton seem not to recognize that the current president not only agrees that socialism is not the solution but is also implementing a policy agenda that resembles recommendations they make in their book." • I don't have much sympathy for the author's ideology, but I think the fact of the article is itself interesting, and it's worth reading for that reason. I mean, if the Democrats don't want the working class in their base, why shouldn't the Republicans make their play for it?

"TRUTH Always Wins: Dispatches from the Information War" (PDF) [Sarah Hartman-Caverly (RC)]. From the abstract: "The composition features three interwoven strands presenting three levels of analysis: an interpretive ethnography of the conspiracy, a critical discourse analysis and critique of contemporary news media, and a confessional tale reflecting on the allure of conspiracies, intellectual taboos, cognitive biases, epistemic choice-making, intellectual humility, and the elusiveness of truth." An excerpt: "Participants in the QAnon Storm conspiracy community engage with a broad range of information sources, using sophisticated techniques to synthesize and communicate their findings. In any given thread one can find links to stories from multiple establishment newspapers of record, clips from broadcast and cable news, SEC filings and public records of financial transactions, government re- ports, statutes and regulations, patents, academic papers, live hearings, interviews and expert witness testimonies, indictments and other court filings, sacred texts and esoterica—just to name a few. Pursuant to the themes of the conspiracy, anons collaboratively maintain a deep time line of political intrigue, compile lists of newsworthy resignations in the public and private sectors, follow law enforcement actions to thwart human trafficking, track the purchase and sale of stock by executives at major corporations, and count sealed federal indictments. Diggers take deep dives into the public record to report back biographical and historical findings of note, some draw network maps and time lines of associations between entities and events of interest, anons with coding skills develop post aggregators and searchable dashboards,15 and those with talent in digital artistry design imag- es and iconography for memes. Claims posted without supporting information are flagged as opinions or met with demands for 'sauce,' wordplay for source." • From the perspective of library science.
Stats Watch
At reader request, I added some business stats back in. Please give Econintersect click-throughs; they're a good, old-school blog that covers more than stats. If anybody knows of other aggregators, please contact me at the email address below.
* * *
Retail: "Ganni and Levi's Release Rental Denim Collection" [Teen Vogue]. "The 'low-impact, ' collection is intended to be 'a love letter to great denim' and spotlights how 'sharing denim that gets better over time' could be an option. 'Ganni was the perfect partner to bring this upcycled rental collection to life. Our mutual love for denim and desire to creatively reconstruct vintage 501's was an incredible jumping off point,' Karyn Hillman, chief product officer at Levi's said about the joint venture." • Rental jeans. Gad.
Shipping: "The Hidden World of the LCL Consolidation Market – Part II" [Maritime Executive]. "The challenge for any consolidator in building any new LCL trade lane between two port pairs is getting a baseload volume or anchor customer. A baseload volume or anchor customer is shipment volume that a forwarder or consolidator can rely on through thick and thin, rain or shine to arrive at the container freight station for loading on a daily or weekly basis. The easiest way to do this is to focus on clients that can offer stable, regular volumes on a certain port pair and to get them committed on long term contracts at below market rates. Once such volume has been secured, the service can now begin as a regular business, albeit an unprofitable lane. The next phase is to get other clients to join on this regular baseload at margins that push the consolidation box into profitability. For most port-pairs, it's a huge challenge getting regular volumes from one port to another if either port is not a transhipment hub. The easiest way is to route their cargo via such hubs instead. The growth to a mature LCL service is to provide a direct connection bypassing the hub altogether."
Shipping: "Cheap delivery options for U.S. shippers during the holidays are drying up. The U.S. Postal Service plans to add surcharges for commercial packages starting in October… joining the private carriers in taking action to offset the increased expenses from the pandemic's impact and a projected peak-season surge in volume from online shoppers" [Wall Street Journal]. "It's the first time the USPS has implemented surcharges over the holidays, leaving sellers with a dilemma over whether to pass the increases on consumers and risk crimping an important revenue source amid the broader retail-sector upheaval."
Tech: "Instagram faces lawsuit over illegal harvesting of biometric data" [Fortune]. "In the new lawsuit, filed Monday in state court in Redwood City, California, the company is accused of collecting, storing and profiting from the biometric data of more than 100 million Instagram users, without their knowledge or consent. 'This suit is baseless,' Stephanie Otway, a Facebook company spokesperson, said in an emailed statement. 'Instagram doesn't use face recognition technology.'"
Instagram faces lawsuit over illegal harvesting of biometric data Fortune. What, not TikTok?
Tech: "A college kid's fake, AI-generated blog fooled tens of thousands. This is how he made it." [Technology Review]. "At the start of the week, Liam Porr had only heard of GPT-3. By the end, the college student had used the AI model to produce an entirely fake blog under a fake name. It was meant as a fun experiment. But then one of his posts reached the number-one spot on Hacker News. Few people noticed that his blog was completely AI-generated. Some even hit "Subscribe.".. GPT-3 is OpenAI's latest and largest language AI model, which the San Francisco–based research lab began drip-feeding out in mid-July. In February of last year… Porr says he wanted to prove that GPT-3 could be passed off as a human writer. Indeed, despite the algorithm's somewhat weird writing pattern and occasional errors, only three or four of the dozens of people who commented on his top post on Hacker News raised suspicions that it might have been generated by an algorithm. All those comments were immediately downvoted by other community members." • Kill it with fire.
Supply Chain: "Piecing together a pandemic-era supply chain has become largely guesswork for retailers. Home Depot Inc. says the usual measures it uses to forecast sales are out the window… leaving the home improvement giant whipsawed by rapid changes in consumer buying patterns that are often running strongly against the company's assumptions" [Wall Street Journal]. "Home Depot has been a winner in the retail-sector upheaval. Americans stuck at home have turned to home improvement projects and used their government stimulus checks to fund the work, highlighting how the pandemic has boosted parts of the retail landscape while it has battered other parts. But even the winners have had to abandon pre-pandemic business models, dropping systems that had been refined over years to forecast demand or track consumer trends. And uncertainty abounds for the survivors, along with the higher costs that have come with the turn toward e-commerce."
* * *
Today's Fear & Greed Index: 70 Greed (previous close: 72 Greed) [CNN]. One week ago: 74 (Greed). (0 is Extreme Fear; 100 is Extreme Greed). Last updated Aug 17 at 11:27am.
Rapture Index: Closes even on Earthquakes, Beast Government [Rapture Ready]. Record High, October 10, 2016: 189. Current: 182. (Remember that bringing on the rapture is a good thing.)
The Biosphere
"Millions of Beetles Are Wiping Out Forests All Across the World" [Bloomberg]. "A plague of tiny mountain pine beetles, no bigger than a grain of rice, has already destroyed 15 years of log supplies in British Columbia, enough trees to build 9 million single-family homes, and are chewing through forests in Alberta and the Pacific Northwest. Now, an outbreak of spruce beetles is threatening to devour even more trees in North America just as similar pests are decimating supplies in parts of Europe, creating a glut of dead and dying logs. The bugs are thriving as climate change warms winters that would normally keep them at bay, destroying a swath of the world's timber supplies."
"Arecibo Observatory damaged by broken lashing cable" [EarthSky]. "One of the auxiliary cables that helps support the receiver platform in place above the famous Arecibo Observatory in Puerto Rico broke on Monday, August 10, 2020, causing a 100-foot-long (30-meter-long) gash on the southeast side of the 1,000-foot (305-meter) reflector dish. According to the University of Central Florida (UFC), which manages the National Science Foundation facility, the three-inch cable also damaged about six to eight panels in the Gregorian Dome, an antenna receiver on the platform. It is not yet clear what caused the cable to break…. The new damage to Arecibo, caused by the heavy cable, happened while repairs from Hurricane Maria (2017) were still ongoing… Among many contributions to science, the facility helps in the analysis of Near-Earth Objects, playing an important role in defending our planet from asteroid strikes."
"The Great Truffle Discovery" [Modern Farmer]. "[Dan Luoma's] serendipitous discovery back in 1981 was brought back to Oregon State University where his mentor James Trappe and other fungi experts were unable to identify the truffle. It sat in the school's collection for decades, but with the help of new DNA sequencing technology and a team of mycologists who analyzed the truffle over the past 12 years, Luoma's truffle was recently identified as a new species—Tuber luomae."
Health Care
"What if 'Herd Immunity' Is Closer Than Scientists Thought?" [New York Times]. Key sentence: " The new models offer food for thought, he and other experts said, but should not be used to set policy."
"Distribution strategies for possible Covid-19 vaccines in the U.S. are starting to take shape. Government officials say they will tap McKesson Corp. as the main distributor of vaccines nationwide should the shots prove to work safely… as they try to take advantage of the existing infrastructure of one of the world's largest drug wholesalers and the biggest vaccine middleman in the U.S." [Wall Street Journal]. "The federal government has struck deals with vaccine makers to secure hundreds of millions of doses, in addition to taking steps to guarantee supplies of vials and syringes. The collaboration with McKesson is the first major step toward determining how the shots would be distributed from manufacturing plants and where Americans will need to go to receive them. Officials clearly aren't anxious to build an entirely new supply chain: McKesson already distributes up to 150 million doses of all vaccines annually." • Not insane.
Games
"Shitty Waterfall In Dumbass Game Doesn't Even Have Stupid Cave Behind It" [The Hard Times]. "MODESTO, Calif. — Local gamer Ryan Aguirre discovered that, against all odds, the goddamn waterfall his character spotted from across the map in a video game did not, in fact, have a fucking cave behind it, according to close sources."
News of the Wired
"This Case Gives Your Phone Robotic Legs So It Can Crawl to a Wireless Charging Pad" [Gizmodo]. • And when you see one, you know there are more…
Abandoned North Dakota:
A blog documenting North Dakota's ghost towns and abandoned places. Wonderful.https://t.co/mEkx6IKIU2 pic.twitter.com/uOR4JWxXB7

— Irène DB (@UrbanFoxxxx) August 16, 2020
And in the same genre, abandoned America:
Trolley and streetcar graveyardhttps://t.co/wpssAnQk5Z pic.twitter.com/hYC2elGjZh

— Abandoned America (@abandonedameric) August 15, 2020
I wouldn't call these photos "ruin porn," because the photos are beautiful, and true.
* * *
Readers, feel free to contact me at lambert [UNDERSCORE] strether [DOT] corrente [AT] yahoo [DOT] com, with (a) links, and even better (b) sources I should curate regularly, (c) how to send me a check if you are allergic to PayPal, and (d) to find out how to send me images of plants. Vegetables are fine! Fungi and coral are deemed to be honorary plants! If you want your handle to appear as a credit, please place it at the start of your mail in parentheses: (thus). Otherwise, I will anonymize by using your initials. See the previous Water Cooler (with plant) here. Today's plant (JK):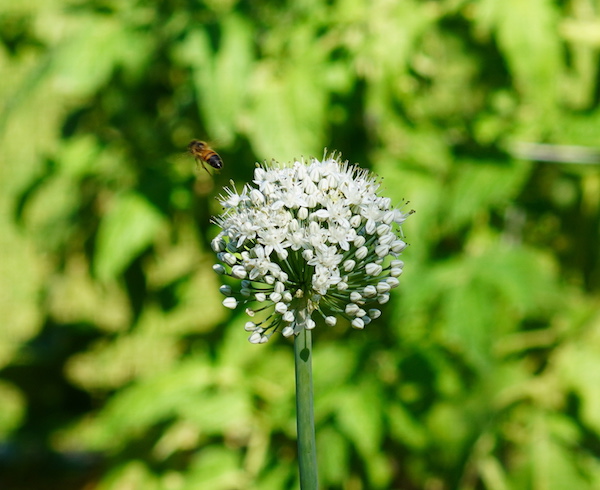 JK writes: "Caught a bee by the green onion bloom with the tomato bed blurred in the background."
* * *
Readers: Water Cooler is a standalone entity not covered by the annual NC fundraiser. So if you see a link you especially like, or an item you wouldn't see anywhere else, please do not hesitate to express your appreciation in tangible form. Remember, a tip jar is for tipping! Regular positive feedback both makes me feel good and lets me know I'm on the right track with coverage. When I get no donations for five or ten days I get worried. More tangibly, a constant trickle of donations helps me with expenses, and I factor in that trickle when setting fundraising goals:
Here is the screen that will appear, which I have helpfully annotated.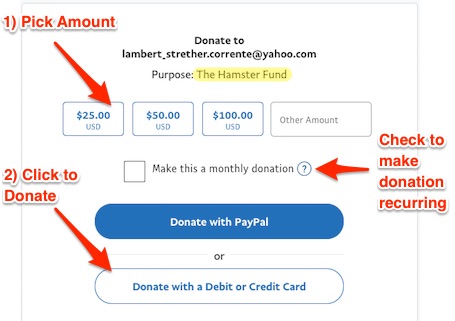 If you hate PayPal, you can email me at lambert [UNDERSCORE] strether [DOT] corrente [AT] yahoo [DOT] com, and I will give you directions on how to send a check. Thank you!