By Lambert Strether of Corrente.
#COVID19
At reader request, I've added this daily chart from 91-DIVOC. The data is the Johns Hopkins CSSE data. Here is the site.
Here again is the Midwest: Illinois, Indiana, Iowa, Kansas, Michigan, Minnesota, Missouri, Nebraska, North Dakota, Ohio, South Dakota, and Wisconsin: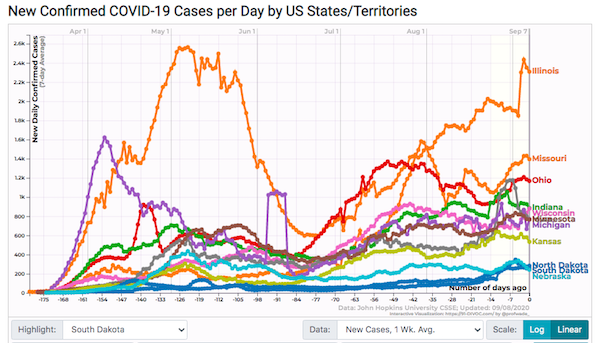 Here is positivity: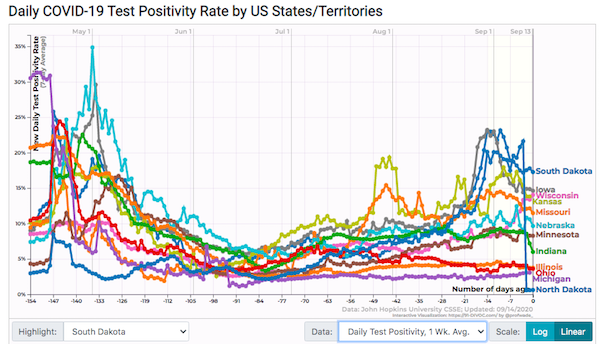 North Dakota falling off a cliff over the weekend has to be data issue.
Here are the United States regions: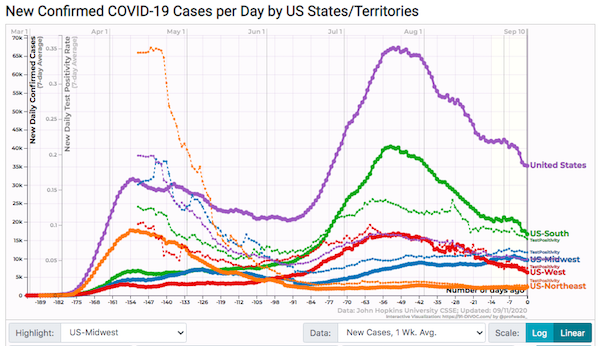 I don't like those little upticks for the South, the Midwest, and the United States as a whole. Maybe we didn't dodge a bullet on school reopenings after all.
Politics
"But what is government itself, but the greatest of all reflections on human nature?" –James Madison, Federalist 51
"They had one weapon left and both knew it: treachery." –Frank Herbert, Dune
"They had learned nothing, and forgotten nothing." –Charles Maurice de Talleyrand-Périgord
The electoral map. July 17: Georgia, Ohio, ME-2 move from Leans Republican to Toss-up. Continued yikes. On July 7, the tossup were 86. Only July 17, they were 56. Now they are 91. This puts Biden at 278, i.e. over 270. August 18: Still no changes. August 31: Indiana moves from Likely to Safe Republican. September 9: No changes. Despite the sturm and drang, and the polls, the consensus on the electoral college remains the same: Biden ahead, Trump within striking distance.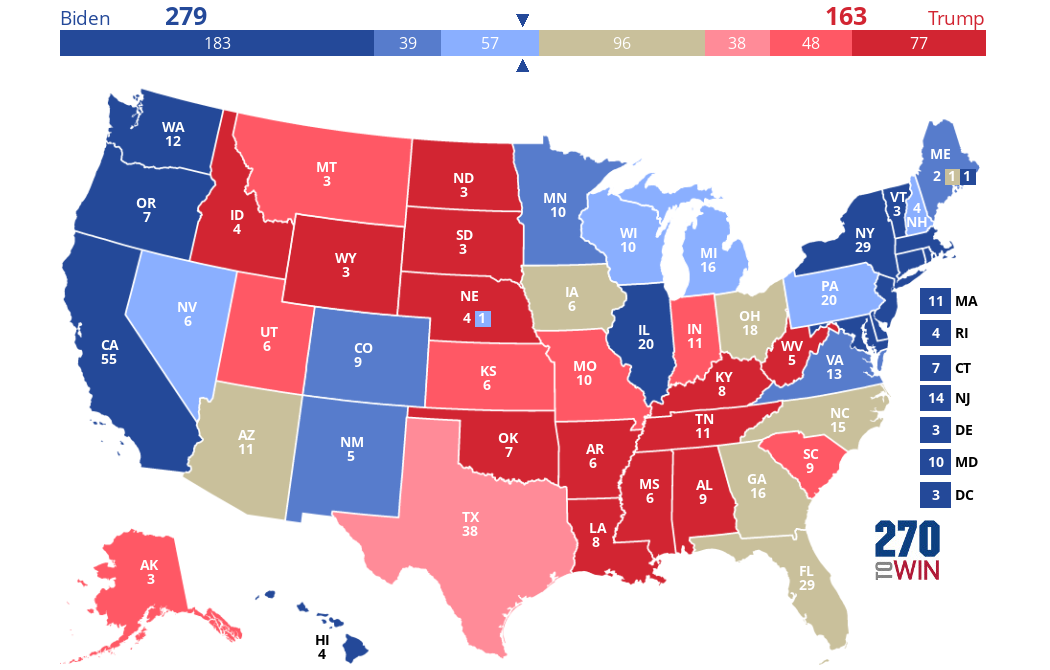 Click the map to create your own at
270toWin.com
So, taking the consensus as a given, 270 (total) – 204 (Trump's) = 66. Trump must win 66 from the states in play: AZ (11), FL (29), MI (16), NC (15), PA (20), and WI (10) plus 1 to win not tie = 102. 102 – 66 = 36. So if Trump wins FL, MI, NC, and PA (29 + 16 + 15 + 20 = 80), he wins. That's a heavy lift. I think I've got the math right this time!
Time to restore the election countdown:
Here, however, is an early voting calendar. Maybe we'll have a whole series of October surprises, since election day is gradually being devalued as an event.
* * *
2020
Biden (D)(1): "Is This the Secret to Selling Joe Biden?" [The Atlantic]. "[Horst Ben] Wessel [, who runs the youth-focused super PAC Wessel NextGen America] thought back to the image of Katniss—a heroic underdog trying to defeat evil. He thought about how Millennials have been kicked in the butt by 9/11, Hurricane Katrina, the Iraq War, the Great Recession, and the pandemic and the current economic collapse… He came up with what NextGen now calls 'the Democratic Avengers,' after the Marvel movie featuring an ensemble of superheroes. The idea is that by voting for Biden, you're voting not just for him; you're voting for all of the Democrats—many of them cool and hip!—that Biden will have in his orbit. Biden might borrow policies from Warren, for example, or have Sanders as an adviser. 'If he is elected, it won't just be Joe Biden,' this message reads. 'Biden has pledged to build an administration filled with progressive leaders, experts, and activists from inside and outside of politics.' This idea went over really well, according to Wessel and Baumann. In the focus groups, one white Millennial said 'the saving grace of this (potential) presidency would be his crew. If he actually chooses true progressives and activists, I will be surprised but happy to admit I misjudged him.'" • Well, sure. That's why Obama stood Biden up; to implement Sanders' policies. Nothing to do with war, or austerity, or crackdowns on protest. Biden is, after all, a liberal Democrat.

Biden (D)(2): "Biden's transition team, wary of Trump and Covid-19, sets massive fundraising goal" [Politico]. "Joe Biden's transition team has expanded its fundraising goal far beyond what Hillary Clinton raised in 2016, anticipating that, should they prevail in November, the Trump administration could actively work against their efforts and that the coronavirus pandemic will make a presidential changeover more difficult than ever. The Biden transition team is aiming to raise at least $7 million by Election Day and build a staff of at least 350 people by Inauguration Day, according to a person familiar with the transition's planning… Several people involved in raising money for Biden's transition said the pitch to potential donors leans on fears that President Donald Trump will not ease the handover process if he loses." • Erskine Bowles is "offering advice and context as a veteran of past administrations." But which avenger is he? Nick Fury?

Sanders (D)(1): "Bernie Sanders believes Biden at 'serious risk' of losing to Trump and urges him to campaign with AOC, report claims" [Independent]. "But it is rare for such a prominent party figure to repeatedly voice private criticisms of the party's nominee and acknowledge them publicly, especially in the campaign's final stretch. Sanders's decision to do so suggests the ongoing frustration among liberals, who urgently want Biden to defeat President Donald Trump but are upset that he has taken a relatively centrist path." • I dunno. I've gotta hand it to the Biden campaign. Remember how Biden kept cruising in the polls in the primaries while not doing anything? If your goal is an Obama Restorations in which "fundamentally, nothing will change," than doing what Sanders wants is the last thing you want to do. "Dance with the one that brung ya." I'm picturing Sanders squeaking as a book descends, here….

Trump (R)(1): Hmm:

NEW: The Trump campaign is canceling TV ad schedules that been booked for this week (9/15-9/21) in multiple states including IA, OH and NV

— Medium Buying (@MediumBuying) September 14, 2020

Trump (R)(2): "As he fends off more revelations, Trump is running short of time and targets" [CNN]. "With support hovering around 43% nationally, Trump needs a chunk of new supporters to overcome Democratic nominee Joe Biden's lead. He has just more than seven weeks to lure them. And he faces a significant obstacle that he didn't in 2016: a smaller pool of available prospects…. Outsized attention to Trump's base, most conspicuously the maskless true-believers who pack his rallies despite the coronavirus pandemic, obscures the reality that they number too few to give him a second term. Though Trump eked out an electoral victory four years ago with 46.1% of the popular vote, he cannot repeat that feat with 43%." • This is a good article on the arithmetic (though unfortunately focused on the national level when it's swing states that matter)." • The first debate is September 29. With early voting, that's late.

* * *

"The association of voter turnout with county-level coronavirus disease 2019 occurrence early in the pandemic" [Science Direct]. "Our results differ by state. For Michigan, to a lesser extent for Missouri and not at all for Mississippi, they suggest that counties with a larger voter turnout had higher COVID-19 risks over an approximate 1- to 2-week period beginning a few days after the voting… In summary, we reiterate concerns noted in an open letter from multiple public health officials to the U.S. Senate and House of Representatives [34] that going to the polls in an election can be associated with increased risk of SARS-CoV-2 transmission. Although our study of the March 10 primary elections had limitations, the results are consistent with the concern that higher in-person voter turnout may have led to increases in local risk of infection in at least one state. Depending on the situation as the next vote nears, voters may wish to consider taking advantage of absentee ballots or other available voting options."

"Poverty continues to prevent many ex-felons from voting" [Facing South]. "Florida's controversial pay-to-vote law — which disenfranchises an estimated 770,000 people — is being challenged in the federal courts in Jones v. DeSantis. The case was brought by a coalition of voters who say the law unconstitutionally discriminates on the basis of wealth and violates the 24th Amendment. In May, a federal district court agreed with the plaintiffs. But Florida appealed the decision to the 11th Circuit Court of Appeals, which is now considering the case. The court is expected to reach a decision before Oct. 5, Florida's voter registration deadline."
Realignment and Legitimacy
McNab has been following the militias for years:

While there's been a lot of chatter this year about civil war, I don't really see that in the foreseeable future. I think that vigilantism and small cell terrorism are going to pose a bigger problem. https://t.co/u6I9Rg4pk9

— JJ MacNab (@jjmacnab) September 12, 2020

"America in Crisis: A Closer Look at a Deeply Polarized Nation" [Bloomberg]. handy map:

That two-dimensional color key is really interesting as a data display technique.

* * *
Stats Watch
At reader request, I added some business stats back in. Please give Econintersect click-throughs; they're a good, old-school blog that covers more than stats. If anybody knows of other aggregators, please contact me at the email address below.
There are no statistics of note today.
* * *
Marketing: "Meet Mufasa And Hypeman: Influencers Born In A Pandemic, Now Working For The Weekend" [Forbes]. "In 2019 alone, 380 new influencer marketing-focused agencies and platforms were developed, valuing the influencer economy at $9.7B for 2020. Whether or not this market is rattled by shrinking budgets, the number one reported challenge in this business remains "finding influencers.'" • The embedded Mufasa videos are really fun!
Shipping: "Amazon Air expands at unprecedented pace, report says" [American Shipper]. "Since May, Amazon (NASDAQ: AMZN) has added a dozen aircraft to its fleet, increased daily flight activity by more than 30%, continued to decentralize operations with the addition of new hubs and significantly changed service patterns in the Northeast and Florida, the analysis of flight-tracking platforms and fleet registration data showed. 'By the end of 2021, Amazon Air could cross the 200-flights-a-day threshold, making it about twice the size it was in early 2020. With only a modest increase in fleet utilization, this will require about 74 to 75 airplanes, which the airline is on track to achieve,' the report from DePaul's Chaddick Institute for Metropolitan Development concluded. The increased operational tempo appears directly tied to the rapid growth in online shopping during the coronavirus pandemic."
Shipping: "Container shipping lines are increasingly trying to align their operations with the big shifts underway in retail supply chains. The head of French container ship operator CMA CGM says e-commerce is a growing driver of the company's strategic moves, including its investment and restructuring of the Ceva logistics business. Rodolphe Saadé [says] that customers including Amazon and Walmart 'are looking for one entity for all their shipment needs' as they try to feed their global supply chains into time-sensitive domestic distribution networks" [Wall Street Journal]. "CMA CGM and rival Maersk Line are both pushing into warehousing, freight forwarding and other components of inland distribution even as the maritime sector sees fresh evidence of the impact of digital commerce." • "One enitity"….
Shipping: "Fidelity warns of supply chain risks due to stranded seafarers" [Financial Times]. "Fidelity International, the $566bn asset manager, has called on companies and governments to urgently address an unfolding crisis in global supply chains as hundreds of thousands of ship workers remain stranded at sea because of the pandemic…. Jenn-Hui Tan, global head of stewardship and sustainable investing at Fidelity, said an estimated 90 per cent of world trade relies on shipping, providing a vital service for businesses and consumers. He said seafarers should be classified as essential workers and allowed to disembark…. According to the International Transport Workers' Federation (ITF), there are about 300,000 seafarers trapped aboard vessels, while a similar number are facing financial ruin as many have not been able to return to work…. [Mr. Tan] said there was a big logistical challenge to repatriate seafarers because of the reduction in international flights in response to the pandemic. There was also an economic cost, as ships altered routes in order to allow workers to leave."
Tech: "ByteDance not to sell TikTok's U.S. operations to Microsoft or Oracle: Sources" [CGTN]. "CGTN Digital has learned from sources that ByteDance will also not sell TikTok's U.S. operations to Oracle. ByteDance has declined to comment on this matter by press time. U.S. President Donald Trump set a deadline last month for TikTok to be sold to a U.S. company by September 15 or face a ban, citing national security reasons. ." • Oops.
Mr. Market: "Dow claws back 28,000 perch as stocks rebound from last week's selloff, amid vaccine hopes, deal-making" [MarketWatch]. "U.S. stocks rose Monday, kicking off the week amid fresh hope for a coronavirus vaccine and a flurry of potential corporate mash ups announced over the weekend, including reports that Oracle may be forging a partnership with TikTok, the popular China-owned social media platform…. Equities on Wall Street took on a buoyant tone at the start of the week as investors drew optimism from progress reported on the corobavirus front, after market turbulence last week led the Nasdaq Composite to post its steepest weekly decline since the height of the pandemic-driven selloff in March."
* * *
Today's Fear & Greed Index: 60 Greed (previous close: 58 Greed) [CNN]. One week ago: 60 (Greed). (0 is Extreme Fear; 100 is Extreme Greed). Last updated Sep 14 at 12:07pm.
Rapture Index: Closes up one on Floods. "China has had a series of massive floods." [Rapture Ready]. Record High, October 10, 2016: 189. Current: 182. (Remember that bringing on the rapture is a good thing.)
The Biosphere
"Distributed Effects of Climate Policy: A Machine Learning Approach" (PDF) [MIT Center for Energy and Environmental Policy Research (dk)]. "Our focus is on the net increase or decrease of annual household expenses under 12 different policy scenarios, which included both carbon pricing schemes and regulatory standards. We find . Carbon pricing, when accompanied with a dividend, is progressive for urban, rural, and suburban households, with the average low-income household receiving a larger dividend check than they spend in carbon taxes. However, . We show that this can be mitigated through adjusting the dividend slightly (<8% increase or decrease). Increasing the progressive structure of a policy benefits rural households more on average, but increases the overall heterogeneity of impacts within each income group. . We encourage policy makers to assess and control for unwanted transfers between households."
"When Bush and Cheney doubled down on fossil fuels: A fateful choice for the climate" [Brookings Institution]. "Fifteen years ago this spring, the United States took a determinative turn when President George W. Bush, in his second week in office, created the National Energy Policy Development Group (NEPDG). The group was tasked with coming up with a solution on what to do about the U.S.'s heavy dependence on oil from the unstable Middle East. The NEPDG never reconsidered U.S. or global dependence on petroleum. Instead, seeing a future of relentlessly increasing global demand for fossil fuels, the White House believed global oil production would have to increase dramatically by 2025 for the U.S. and the world to remain economically stable. Looking back, one could argue that this 'oil escalation' strategy failed on all counts, exacerbating instability in the Middle East and setting the U.S. and the world back a decade and a half in the fight against climate change." • From 2016, still germane.
Health Care
"Transmission Dynamics of COVID-19 Outbreaks Associated with Child Care Facilities — Salt Lake City, Utah, April–July 2020" [Morbidity and Mortality Weekly Report]. "Twelve children acquired COVID-19 in child care facilities. Transmission was documented from these children to at least 12 (26%) of 46 nonfacility contacts (confirmed or probable cases). One parent was hospitalized. Transmission was observed from two of three children with confirmed, asymptomatic COVID-19." • Children are fomites…
"Working from home could be keeping Covid-19 at bay – for proof, look at London" [Guardian]. "Why is the capital now doing better at containing the disease while places including Blackburn, Bolton, Bradford, Bury, Manchester, Oldham, Preston and Rochdale have faced greater restrictions and local lockdowns?…. From London the story is becoming clear: its centre has more white-collar jobs and longer commutes than outer areas, which are characterised by people working in public services such as education or health, or in various blue-collar professions. Many London jobs can be done remotely, which remains a much more appealing prospect than squeezing on to a rush hour train. Londoners may be tightly packed, but many aren't mixing for work. The percentage of jobs in London in financial and insurance activities is almost double that of England as a whole, as is the percentage working in information and communication." • Virtue rewarded!
"What do Google searches tell us about our mental health?" [ABC]. "A comparison of Google searches between healthy volunteers and patients with Schizophrenia Spectrum Disorders — or SSD, psychiatric conditions characterized by symptoms of psychosis — looked at 32,733 time-stamped searches, analyzing search activity timing, frequency and content. Researchers then developed machine learning algorithms that use search activity data to identify individuals with SSD and to predict psychotic relapse…. The study identified several important patterns. People with SSD searched less frequently and used fewer words in searches. During a relapse, people with SSD were more likely to use words related to hearing, perception and anger, and were less likely to use words related to health." • Apparently, Facebook activity can be used to predict psychotic episodes MR SUBLIMINAL Yeah, because it causes them!
Water
"Crystal Lagoons are all the rage. But do they hold water financially?" [WFAA]. "Crystal Lagoons, the large, aquatic amenities being incorporated into master-planned communities across Texas and the U.S., are surfing a wave of popularity… The first Crystal Lagoon in North Texas opened to the residents of Windsong Ranch in Prosper last month. The 10-million-gallon, clear-blue lagoon spans five acres in the 2,030-acre master-planned community and is surrounded by 2,600-tons of sand. You can see that lagoon by clicking here. The company called Crystal Lagoons, with U.S. headquarters in Dallas and Miami, has more than 110 lagoons in different stages of development or negotiation underway across the nation, including 30 in Texas, according to Lisa Moore, regional director of Crystal Lagoons." • Crystal lagoons are, apparently, "amenities." More: "To us in the United States and in Texas, the Crystal Lagoon is a new thing. They've really been building them around the world for about 20 years. It was late coming here (the U.S.) because of regulatory problems. They had some issues with what was it? Was it a swimming pool? Well, if it's a swimming pool, you have to add chlorine and do all these things. It took a while to convince the government that it didn't require chlorine, that the technology is such that it keeps the water safe and clean without using a lot of chemicals." • So, a regulatory arbitrage play, too?
Book Nook
Social determinants of fiction, a thread:
1. I've been reading some Raymond Chandler lately & it clarified something that is maybe obvious to everyone else but had never occurred to me: that pervasive police corruption was a necessary precondition for creation of hard-boiled detective novel as a genre.

— Jeet Heer (@HeerJeet) September 13, 2020
9/11
Real or surreal?
The anniversary of the worst (but also best) comic strip ever. pic.twitter.com/YAyDhUf45s

— Elizabeth Sandifer (@ElSandifer) September 11, 2020
Groves of Academe
"Trading Social Science For Social Intimidation" [The American Conservative]. • Most of this piece is a reactionary screed. Nevertheless, the replication crisis is real. So how about credentials based on "irreproducible results"? (Caveating immediately that branches of the humanities — English, history, macroeconomics — aren't sciences, and their results cannot be reproduced.)
Class Warfare
"Covid Is Turning Us All Into Hipsteaders" [Bloomberg]. "The poll of 2,200 U.S. residents in late June showed that a third of Americans grew herbs and vegetables and did their own sewing and clothing repairs. Equally significant, 60% of Americans expect in a fully reopened economy to do more for themselves, instead of paying for services… The number of people who want to spend more time raising chickens after the pandemic is 4%, the same as web design. Beekeeping came in at 2%, equaling 3D printing…. Meanwhile at Etsy, which has seen its stock jump about 150% this year after record sales gains, searches for DIY kits have almost quadrupled … While it's hard to measure the economic impact of hipsteading, it does intersect several giant markets. Globally, there's $600 billion in home improvement, $576 billion in gardening, $526 billion of handicrafts, $59 billion in kitchenware and $16 billion in organic poultry and meat sales…. Tractor Supply said a shift in spending from travel, entertainment and dining into homesteading, land maintenance and backyard living has helped boost its sales by 35% last quarter—the most in nearly two decades." • I'm having a hard time throwing tractor sakes and Etsy into the same bucket. I'd suggest that what makes hipsteading hip is that you don't have to do it. I got into permaculture in 2010 because with the economy, and my personal economy, as they were, I wanted to guarantee that I had food. I didn't do it to be hip.
"Hanging by a Strand" [The Baffler]. "The coronavirus pandemic has widened an existing rift between [Nancy] Bass Wyden and the workers she employs, one centered on the future of the Strand itself. Even as floor managers and supervisors are having to pick up extra work to cover for missing union workers, union members say that Bass Wyden has cleared her business almost entirely of the layer of upper management that once stood between her and the union. 'She used the pandemic to, basically, clean house of management,' Bill Magee, a laid-off Strand worker who'd been employed at the store since 2013, told me. 'Nancy is running things in a way that she hasn't before. There used to be people to push back.' . … "The Bass family always hated the union," [Melissa Graves, a shop steward] explained. (Strand workers unionized in 1976.) But tensions have really been building since Fred Bass, who inherited the business from his father, died in 2018, leaving behind a $25 million estate. 'Fred at least had open animosity with us, and we had animosity with him. With Nancy, we're dealing with a senator's wife, so it's a lot more complicated,' Graves continued. Bass Wyden is married to Senator Ron Wyden of Oregon, who, as it happens, is pushing for more transparency when it comes to loans distributed under the Paycheck Protection Program—one of which the Strand received." • I wonder if Nancy likes ice cream?
News of the Wired
"TikTok users try to fight traditional beauty standards by showing off their bellies" [NBC]. "Teens have reported that TikTok has warped their perceptions of their bodies. However, more recently, users like Brooklynne have started movements to normalize all body types and shapes to dispel harmful beauty standards. Women and girls joyfully showing off their relaxed, unaltered stomachs has become a sweeping trend on the platform in recent weeks. Experts said the trend could help young people re-evaluate beauty standards and adjust expectations of what their bodies should look like."
"A challenging and memorable bike ride around Chicago's exact city limits" [Chicago Reader]. The conclusion: "But suddenly the sky darkens, and the wind does a 180. By the time I reach Promontory Point, I'm fighting a headwind and downpour, rolling into the jaws of a thunderstorm. Weirdly, the setting sun remains visible to my left, and then a rainbow materializes over Lake Michigan. Luckily, the storm soon dissipates, and my spin back to Montrose is uneventful. But I can't imagine a more fitting grand finale to my epic circuit around Chicago than that bizarro sunset-thunder-rainbow." • A fun project, and a reminder of what an emormous and wildly varied country the United States really is.
Dad.
Fen diagram pic.twitter.com/QoJgNXWhcS

— David M Barnett (@davidmbarnett) September 14, 2020
* * *
Readers, feel free to contact me at lambert [UNDERSCORE] strether [DOT] corrente [AT] yahoo [DOT] com, with (a) links, and even better (b) sources I should curate regularly, (c) how to send me a check if you are allergic to PayPal, and (d) to find out how to send me images of plants. Vegetables are fine! Fungi and coral are deemed to be honorary plants! If you want your handle to appear as a credit, please place it at the start of your mail in parentheses: (thus). Otherwise, I will anonymize by using your initials. See the previous Water Cooler (with plant) here. Today's plant (PS):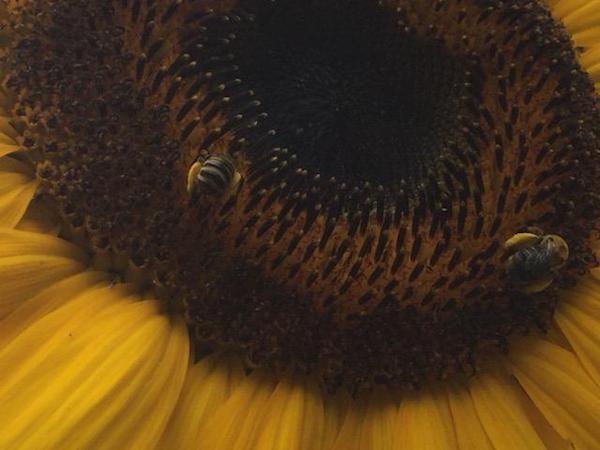 PS writes: "Lots of bees on them today, coated in yellow. Also a goldfinch but couldn't get a picture." Happy, productive bees!
* * *
Readers: Water Cooler is a standalone entity not covered by the annual NC fundraiser. So if you see a link you especially like, or an item you wouldn't see anywhere else, please do not hesitate to express your appreciation in tangible form. Remember, a tip jar is for tipping! Regular positive feedback both makes me feel good and lets me know I'm on the right track with coverage. When I get no donations for five or ten days I get worried. More tangibly, a constant trickle of donations helps me with expenses, and I factor in that trickle when setting fundraising goals:
Here is the screen that will appear, which I have helpfully annotated.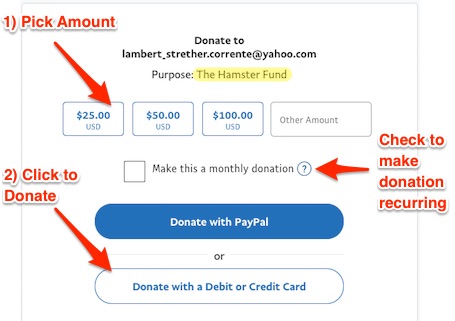 If you hate PayPal, you can email me at lambert [UNDERSCORE] strether [DOT] corrente [AT] yahoo [DOT] com, and I will give you directions on how to send a check. Thank you!