Starlings in the Scottish skies Reuters (Re Silc). A murmuration.
Rescued endangered Loa water frogs have 200 offspring BBC
How The Bankruptcy Code Protects Lenders And Harms Student Debtors — And What One Lawyer Is Doing About It Above the Law
Digital Money Across Borders: Macro-Financial Implications International Monetary Fund
Got any signal up here? Nokia to build mobile network on the moon Reuters
#COVID19
* * *

* * *
China?
Xi Jinping says China 'determined to defeat invaders' in Korean war anniversary speech South China Morning Post

OpenStack at 10 years old: A failure on its own terms, a success in its own niche The Register. Read all the way to the end.
Electric-Car Mania Turns Asian Battery Makers Into Power Brokers Bloomberg
India
India buzzes with fake news of 'civil war' in Pakistan BBC

Doctors in Delhi see jump in breathing issues amid COVID-19, pollution Reuters

Why Telangana's move to formalise land records could leave small farmers vulnerable The Scroll
Nigeria Sars protest: Prison break and gunshots heard as unrest continues BBC (Re Silc).
UK/EU
Grenfell boss binned crucial inquiry notes Morning Star

UK COVID-19 salary scheme fraud may hit $5 billion, watchdog says Reuters
Chance for Chile to forge new path in vote to scrap Pinochet-era constitution Guardian
Argentina: A Second Falklands Brewing? Global Risk Insights
New Cold War
The 'Caspian Sea Monster' rises from the grave CNN
The Debate
The BidenCare mess:

was it just me, or did Biden describe his public option during the debate as kind of a backstop to medicaid for those who fall through that program's (wide-in-some-states) cracks? in Biden's plan would the public option be available to all who want it, or just ppl of low means?

— Steve Randy Waldman (@interfluidity) October 23, 2020

"Fall through the cracks, according to Joe Biden. See the transcript:

What I'm going to do is pass Obamacare with a public option, and become Bidencare. The public option is an option that says that if you in fact do not have the wherewithal, if you qualify for Medicaid and you do not have the wherewithal in your state to get Medicaid, you automatically are enrolled, providing competition for insurance companies. That's what's going to happen.

"Available to all who want it," according to the Biden campaign:

Call it Bidencare. pic.twitter.com/Ng3Fvk4fpY

— Joe Biden (@JoeBiden) October 23, 2020

I assume the Democrats will go with what Biden actually said (and not "Joe's Plan") because that's mean-tested, and doubles down on the "because markets" paradigm that would already have driven down costs under ObamaCare, were it true. In fact, costs increased, while gaps in coverage remained. Fortunately, it will only take another two or three Presidential cycles before the political class admits that the public option was a scam all along. You can do the math on the deaths; over time, they're social murder on a pandemic scale.

* * *

"Who loses and who wins; who's in, who's out…" —King Lear

This is about what I would have expected. Trump lost all 5 of his general election debates (2 against Biden and 3 against Clinton) per CNN polling. This was actually the second-closest margin out of those (he lost the final debate in 2016 by 13 points). https://t.co/0GdVORINS7

— Nate Silver (@NateSilver538) October 23, 2020

Trumpian "Hope and Change," oh well:

If they wanted to, Dems could destroy Trump on his — successful — 2016 con. Trump was going to drain the swamp and help the working class. He's done the opposite. Biden could hammer him on that if he wanted to.

— Aaron Maté (@aaronjmate) October 23, 2020

The heel didn't turn into a face:

My big post-debate takes:
1. That was bleak as hell
2. Trump did not look like he felt great about that when it was over, Biden had something of the winner's spring in his step.

— Branko Marcetic (@BMarchetich) October 23, 2020

Oh? Name them:

I'd be surprised if tonight's debate changed the minds of 3 people.

— Robert Reich (@RBReich) October 23, 2020
Trump Transition
Forget Antitrust Laws. To Limit Tech, Some Say a New Regulator Is Needed. NYT. Zephyr Teachout comments:

This needs translating.

The named experts pushing a special tech regulator instead of antitrust enforcement are:

1. Furman, infamous neoliberal Walmart booster.
2. Morton, a paid consultant to Amazon and Apple.
2. Kimmelman of PK (funded by big tech)https://t.co/CTMaJdB7QR

— Zephyr Teachout (@ZephyrTeachout) October 22, 2020

Mitch McConnell, 78, DENIES he has any health problems amid speculation over why his hands are badly bruised and covered in band-aids Daily Mail. VIvid photos, as is usual with the Mail.

The WTO Couldn't Change China, so Robert Lighthizer Found Another Way WSJ
Barrett Confirmation
'It's a Very Determined Power Play to Pack Our Court' FAIR. To which the Democrat answer was a boycott? Were they wearing Kente cloth, too?

Court Packing? It's Already Happening at the State Level Governing
2020
A BFD: Biden Finally Rejects The GOP's Austerity Talking Points David Sirota, The Daily Poster vs. Fact check: Biden suggests Trump could deplete Social Security by 2023. Needs context NBC. So did he really?

Man arrested in Kannapolis with van full of guns and explosives, researched killing Joe Biden WBTV. The dude's Mom suggested he jump bail.
Health Care
President Trump is benefiting from single-payer, single-provider health care. We all should STAT
Assange
House resolutions clearing leakers Snowden and Assange gain third co-sponsor in sole Libertarian Washington Times

'The Guardian's silence has let the UK trample on Assange's rights in effective darkness' Jonathan Cook
Our Famously Free Press
People Need to Reclaim the Internet Craig Murray. But:

That's a major issue too. The fact that only a few American outlets even asked for credentials to cover the Assange case was awful. It's all related: they're constantly narrowing the parameters of permissible information flow. https://t.co/USLoG5LM1A

— Matt Taibbi (@mtaibbi) October 21, 2020

What I Learned in Twitter Purgatory The Atlantic. From September, still german:

I have been evicted from Facebook. No explanation. No appeal. I have downloaded "my information" and see nothing that explains it.

We are governed now in private, by entities that make their own rules and are answerable to no process. Disaster is inevitable. We are living it. pic.twitter.com/JBTFH2devl

— Bret Weinstein (@BretWeinstein) October 22, 2020

Former Google CEO Calls Social Networks 'Amplifiers for Idiots' Bloomberg
Boeing
Airbus set to boost production of world's most popular passenger jet FT. Well, I guess Boeing can always go into the repair business.
Class Warfare
No Matter Who Wins, The War Machine Wins Caitlin Johnstone
Antidote du Jour (via AM):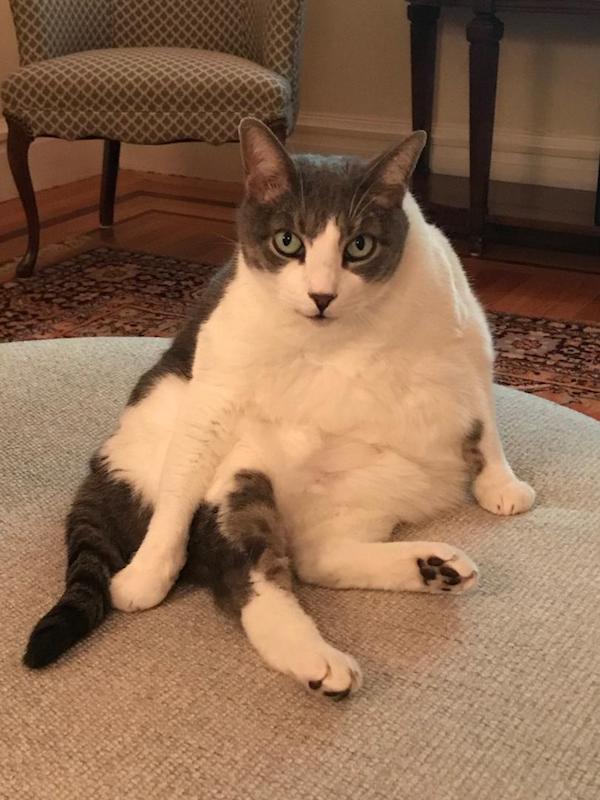 AM writes: "I think the fact that I took this picture makes me a bad cat parent but I couldn't resist."
See yesterday's Links and Antidote du Jour here.