By Lambert Strether of Corrente.
Stormy petrels seem right just about now.
#COVID19
At reader request, I've added this daily chart from 91-DIVOC. The data is the Johns Hopkins CSSE data. Here is the site.
I feel I'm engaging in a macabre form of tape-watching, because I don't think the peak is coming in the next days, or even weeks. Is the virus gathering itself for another leap?
I finally cajoled the 91-DIVOC UI into giving me hospitalization, positivity, fatalities, and above all vaccination, besides case count nationally and in the Big States. I'll mess around more with them during the week to improve them. I think the new UI will allow me to integrate more data series legibly, especially vaccination.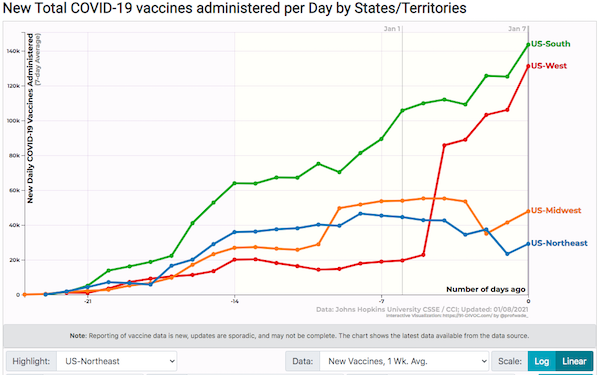 Improvement. I imagine Cuomo is holding back the Northeast.
Case count by United States region: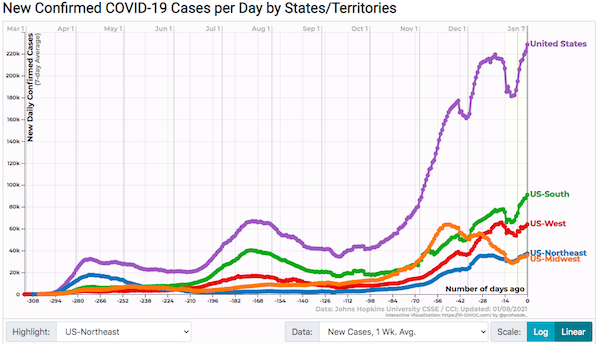 Oof.
Big states (New York, Florida, Texas, California):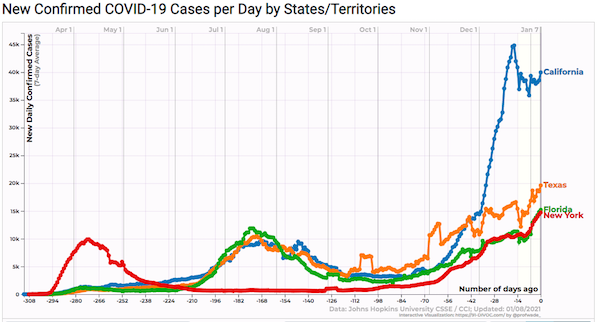 Oh, California!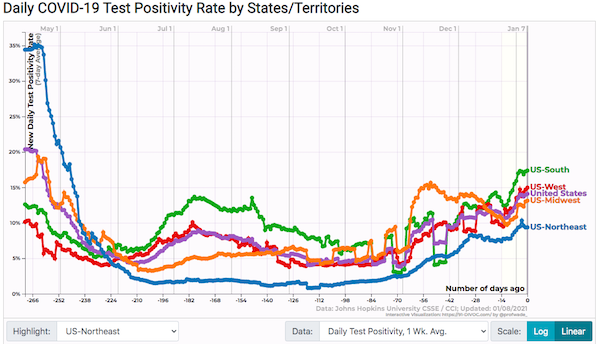 Nowhere near 3%, anywhere.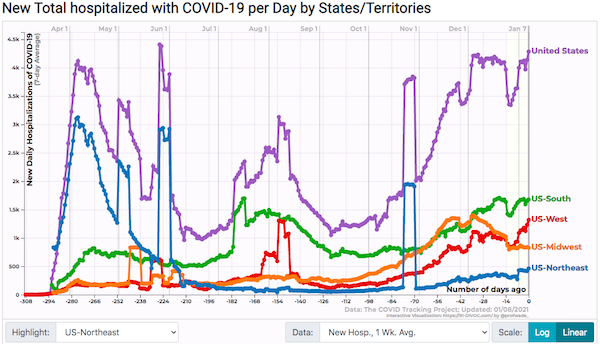 Hospitalization is discretionary; they may also be reducing their admissions rate — relative to cases we cannot see in this data! — to preserve future capacity; or because hospitals have figured out how to send people home. –>
Case fatality rate (plus deaths):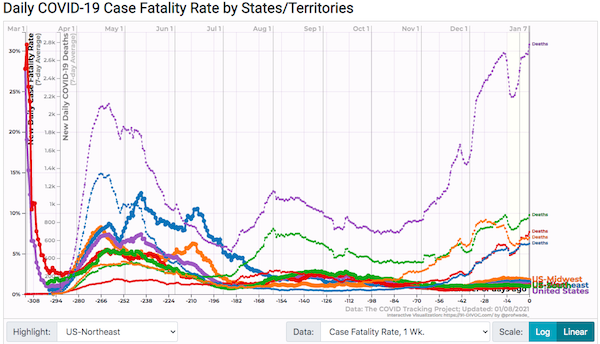 Fatality rate looking a little better, though still not as good as two months ago.
NY: "N.Y. Front-Line Workers to Lose Place in Line If Skip Shot" [Bloomberg]. "New York has administered only 430,000 of the 900,000 doses it has received, leaving more than half of the Covid shots unused on the day the state reported the most daily coronavirus cases since the start of the pandemic… Officials around the state have asked Cuomo for freedom to expand eligibility for who can receive the virus because they say the strict rules are unnecessarily delaying the vaccine rollout. In New York City, health officials have thousands of shots available "without arms to give injections to," Mitchell Katz, chief executive officer of NYC Health and Hospitals, said in a separate Thursday briefing." • I hate this "arms" trope that's all over everything. We're vaccinating people, not injecting arms!
Politics
"But what is government itself, but the greatest of all reflections on human nature?" –James Madison, Federalist 51
"They had one weapon left and both knew it: treachery." –Frank Herbert, Dune
"They had learned nothing, and forgotten nothing." –Charles Maurice de Talleyrand-Périgord
Capitol Seizure
"The Enablers of Insurrection Should Be Ostracized" [Jeet Heer, The Nation]. "What these Trump staffers fear is in fact what progressives should aim for: a world where having Trump on your résumé makes you unemployable." • Come on, man. Iraq War instigator David Frum is now editor of the Atlantic. Bush himself gave Michelle candy. All the torturers and war criminals got jobs, and in the fullness of time, many of them became Heroes Of The Resistance™. And before we go on about interfering with a Constitutional process, Bush destroyed the Fourth Amendment with his program of warrantless surveillance. I'm seeing — mostly from the NGOs and the media — an enormous amount of what on a lesser issue would be called liberal fingerwagging, but in the Capitol seizure has transformed itself into a lust for vengeance ("Impeach, then Humiliate"), and an almost tribal desire to impose ritual separation on the unclean, the contaminated, the taboo. As here. I'm seeing very little thought being given to what actions can be taken to make sure this never happens again. Ostracism was invented to deal with individuals, not classes of people, let alone slightly under half the population, which is what Heer's project will turn into. I don't say I have a solution; I don't. But on all sides I see people doubling down on their priors, and I look for little good to come of that.

Taibbi on The Rising:

Taibbi on Q supporters: "They had to go through a period of disenchantment that lasted decades before they got to this place. And I think people don't understand that." Again, I'm not sure what the solution is, other than to begin by eliminating social media entirely.

"Platforms Must Pay for Their Role in the Insurrection" [Wired]. "[I]nternet platforms—Facebook, Instagram, YouTube, and Twitter, in particular—have played a fomenting and facilitating role that no one should overlook. In their relentless pursuit of engagement and profits, these platforms created algorithms that amplify hate speech, disinformation, and conspiracy theories. This harmful content is particularly engaging and serves as the lubricant for businesses as profitable as they are influential. These platforms also enforce their terms of service in ways that favor extreme speech and behavior, predominantly right-wing extremism."

UPDATE "The Start Of Something That Is Very Difficult To Turn Back" [Walker Bragman, The Daily Poster]. Interesting historical parallels, but this: "But that's also because Trump truly doesn't care about anyone. He doesn't care if you die. He just doesn't care." • Holy Lord, who does?

* * *

So who were the rioters?

"Texas woman flew on private jet to Washington, DC, to 'storm the Capitol'" [NY Post]. "A real estate broker from Frisco, Texas, flew on a private jet to Washington, DC, along with friends to "storm the Capitol" on Wednesday. Jenna Ryan, who is also a radio host, flew from US Trinity Aviation in Denton, Texas, all they way to the nation's Capitol — where she had 'one of the best days of my life.'… The morning of the riots, Ryan livestreamed the walk to Capitol Hill, saying, ' [(!!)] … We flew here for freedom. They want to steal the election, they want to steal everything.'" • Not American gentry, I would say, but gentry-adjacent.

A second anecdote:

They were upper-middle class adventurists wearing overpriced tacticool gear. "Average folks from rural areas" don't have the money to burn on a plane ticket and a hotel in DC. The left has no reach with these people because they're insurance agents and car dealership owners. https://t.co/WJEe5uL8k4

— gato fumador ❼ (@KweenInYeIIow) January 8, 2021

Also gentry-adjacent.

A third anecdote:

i wanted to find out what kind of guy drove this weird cartoon penis trailer to the trump rally so now i'm on his wife's facebook watching a video of him berating the woman who empties his trash. he's a small business owner & his wife works for jp morgan chase ? pic.twitter.com/drhZhMwv0C

— molly conger (@socialistdogmom) January 8, 2021

Also gentry-adjacent.

"Some clarifications on class and Trump's shock troops" [Carl Beijer]. "On one hand, we need to distinguish workers — who, under capitalism, are all ultimately subject to increasing economic precarity — from the bourgeoisie, which is not…. On one hand, we need to distinguish workers — who, under capitalism, are all ultimately subject to increasing economic precarity — from the bourgeoisie, which is not. This is a class distinction, defined by different relationships to capital and the means of production. On the other hand, however, we also need to be able to distinguish among workers who, at any given moment, may be experiencing very different material conditions despite their identical class position. This is the only way you can avoid the common liberal equivocation between workers and the immiserated poor. 3) Once we make these distinctions, and bearing in mind that demographic generalizations are always dangerous, I think we can speak clearly about who these protesters were. Were most of them the bourgeoisie? Obviously not, simply because very few people are actually the bourgeoisie. Were they the poor then? This doesn't seem very likely, either. The poor in the US are overwhelmingly disengaged from politics; they aren't spending the insane amount of time consuming boutique right-wing infotainment that these protesters clearly consume; and they aren't taking several days off of work for a field trip to Washington DC, a city where few poor right-wing people actually live. makes it clear that these are the same people who always show up for this kind of protest in DC: well-off Republican contractors and apparatchiks from the nearby suburbs, and the sort of activists who have the time and disposable income to visit the Capitol. The overlap with Trump's hardcore base of beautiful boaters is obvious, and the endless succession of protesters who have since been identified as lawyers, doctors, and small business owners don't exactly contest this." • My difficulty here is that I have glanced at the crowd, and the majority of them don't look like either DC suburbanites or American gentry to me. I remember once, during the Tahrir Square occupation, hearing the figure that Muslim Brotherhood comprised at most 25% of the occupation. So I got a big crowd shot, and counted the beards: 25%. I'll try to do something like that for this event. I think Beijer's structure is good — though it doesn't include people like the dude with the horns — but I'm not sure that his data is. And are there that many beard-os from the Beltway burbs? Plus, I just Googled the cheapest plane far from — random shot — Sioux Falls South Dakota to Washington-ReaganNational: $200. Doable, especially if you have a place to crash.

"Jan. 6 Was 9 Weeks — And 4 Years — in the Making" [Politico]. "The core of the Tea Party was senior citizens in lawn chairs waving miniature flags and handing out literature; the only people in costumes wore ruffled shirts and tri-corner hats. The core of the MAGA movement is edgier, more aggressive and less friendly; its adherents would rather cosplay the Sons of Anarchy than the Sons of Liberty. There is one thing that connects these movements: Both were born out of deception. Republican leaders convinced the grassroots of 2009 and 2010 that they could freeze government spending and reform entitlement programs and repeal Obamacare. Trump convinced the grassroots of 2015 and 2016 that he, too, could repeal Obamacare, while also making Mexico pay for a border wall and overhauling the nation's infrastructure. The key difference is that the Tea Party slowly faded into obscurity as voters realized these promises politicians made were a scam, whereas the MAGA movement has only grown more intensely committed with each new con dangled in front of them."
Election Legitimacy
"Sidney Powell Sued by Dominion for $1.3 Billion Over Vote-Fraud Claims" [Bloomberg]. • And so we're going to end up with ballot marking devices percieved as legitimate [pounds head on desk].
Transition to Biden
"Biden DHS pick discloses corporate clients" [Politico]. "Alejandro Mayorkas, President-elect Joe Biden's pick for Homeland Security secretary, has made more than $3.3 million over the past two years as a corporate lawyer representing and advising companies such as Airbnb, Northrop Grumman, T-Mobile and Uber, according to a newly filed disclosure…. The most problematic might be Intuit, the tax preparation company behind TurboTax. More than a dozen lawmakers — including Sens. Elizabeth Warren (D-Mass.), Cory Booker (D-N.J.), Richard Blumenthal (D-Conn.), Ed Markey (D-Mass.) and Bernie Sanders (I-Vt.) — urged the Federal Trade Commission in 2019 to investigate whether efforts by Intuit and other tax prep companies to conceal their free tax filing options from the public, which were exposed by a ProPublica investigation, constituted 'unfair and deceptive practices or unfair methods of competition.'"

Now that we know who controls the House and the Senate (and presumably the committees):

"Let me just be very clear as the incoming chairman of the Senate Budget Committee: Remember what happened in 2010. Democrats got wiped out. They had the power, but they did not deliver for the American people. We must have an aggressive agenda." @BernieSanders #ChairmanSanders pic.twitter.com/QOB7rWwPrS

— People for Bernie (@People4Bernie) January 8, 2021
Realignment and Legitimacy
UPDATE Maybe we could give people badges, or something:

do blue state libs have some kind of disease that make them dream up Byzantine rules for every conceivable situation or what https://t.co/cMGkjErQdl pic.twitter.com/apPArim4Cr

— ryan cooper (@ryanlcooper) January 7, 2021

Seriously, given a shortage, priorities have to be set. But once this structure is in place, it's going to be re-used. It's rather like a caste system, isn't it? (Of course, there's no reason to include the rich as a category, since they will have had their concierges handle the matter.)
Stats Watch
At reader request, I added some business stats back in. Please give Econintersect click-throughs; they're a good, old-school blog that covers more than stats. If anybody knows of other aggregators, please contact me at the email address below.
Employment Situation: "December 2020 BLS Jobs Situation – Employment Declines" [Econintersect]. "The headline seasonally adjusted BLS job growth declined and was well below expectations, with the unemployment rate unchanged at 6.7%… Employment recovery from the coronavirus has now stalled…. The rate of further recovery will be dependant on the coronavirus effects."
Rail: "Rail Week Ending 02 January 2021 – Rail Down 7.2% For The Year" [Econintersect]. "Total rail traffic has two components – carloads and intermodal (containers or trailers on rail cars). Container exports from China have recovered, container exports from the U.S. remain deep in contraction. This week again intermodal continued in expansion year-over-year and continues on a strengthening trendline. Carloads 4 week rolling average is in expansion when compared to the 4 week rolling average one year ago but the economic intuitive sectors remain in contraction. But overall because of the strength of intermodal, rail is growing year-over-year."
* * *
Private Equity: "Pack of private equity bidders circle £400m KPMG restructuring arm" [Sky News]. "Last autumn, KPMG became the second member of the big four – after Deloitte – to signal plans to sell its restructuring wing amid growing pressure on auditors over their management of conflicts of interest."
The Bezzle: "Apple's Self-Driving Electric Car Is at Least Half a Decade Away" [Bloomberg]. "Apple Inc. will take at least half a decade to launch an autonomous, electric vehicle because development work is still at an early stage, according to people with knowledge of the efforts…. The goal is to let a user to input their destination and be driven there with little or no other engagement, according to the people familiar with the project." • In other words, Level 5 autonomy. Again, I don't think robot cars can ever work unless they operate in a closed environment, like a retirement community, or a completely rebuilt road system.
The Bezzle: "Hyundai Motor says it's in early talks with Apple to develop a car, sends shares soaring 19%" [CNBC]. "The statement followed a local report from the Korea Economic Daily that said Apple suggested the tie-up and Hyundai Motor was reviewing the terms. The report said both electric vehicle production as well as battery development were included in the proposal, and that the car could potentially be released in 2027." • So presumably, Apple won't be redefining "car" to mean flying car.
Tech: "Amazon's Purchase of Wondery Is a Big Bet on Podcast Advertising" [Bloomberg]. "More than 100 million people in the U.S. listened to podcasts each month in 2020… The investment follows Sirius XM Holdings Inc., Spotify Technology SA, and a string of others spending hundreds of millions of dollars to buy podcasting companies… Amazon is well-positioned to translate Wondery's audience into advertising revenue, something the industry is still figuring out. "Podcasts have huge audiences, but they're still the most undermonetized media around," says Dave Zohrob, chief executive officer of Chartable, a podcast analytics firm." • We like them undermonetized. Jeff, Jeff, before you destroy podcasting as we know it, and impoverish all the small operators in your usual winner-take-all fashion, could you please let Rich and Tracy finish The Civil War Podcast? They probably only have two or three years to go….
Tech: "How Tinder became the app that defines online dating" [Financial Times]. "Success is down to Tinder's relatively simple set-up. The company says that it dropped its Elo score, an unnerving system that rated user attractiveness based on how many people liked their profile and then showed them equally popular users. But it still matches on proximity and encourages users to swipe yes or no based on appearance rather than pretending to care about a date's hobbies or interests. The result is that shares in Match now trade at 70 times expected earnings, according to Refinitiv data. To warrant that high it must continue to add paying subscribers when life returns to normal. Tinder, which accounts for more than half of [parent company] Match's 11m subscribers, has an offering that should do the trick: a subscription level that allows users to see who likes them. This lure has helped Tinder convert free users to subscribers without spending large sums on marketing."
Tech: "What happens when a Chrome extension with 2m+ users changes hands, raises red flags, doesn't document updates? Let's find out" [The Register]. If you're using The Great Suspender add-on, don't. Final paragraph: "The Register asked Google whether it plans to implement any measures to help make it easier for people to understand who maintains Chrome extensions and to understand code changes that have been made. We've not heard back." • Shocker.
Mr. Market: "Capitol chaos and a record market rally: Traders on the disconnect between Washington and Wall Street" [CNBC]. "Nancy Tengler, chief investment officer at Laffer Tengler Investments, credits the cool nature of the markets in looking past the unrest. 'The stock market is not a proxy on society; it's a proxy for future economic growth, and so while we can certainly feel the sadness and sorrow of this event, the market doesn't have feelings. It's looking forward to future earnings,' Tengler told CNBC's 'Trading Nation' on Thursday. Additional stimulus should also keep money flowing into the market, she said. 'If you look at the lagged effects of stimulus, we are still benefiting from the March/April stimulus that we received last year, and so we expect that the $900 billion that was just passed is not even in the market yet,' said Tengler." • Mr. Market doesn't have feelings? What about fear and greed?
* * *
Today's Fear & Greed Index: 69 Greed (previous close: 66 Greed) [CNN]. One week ago: 51 (Neutral). (0 is Extreme Fear; 100 is Extreme Greed). Last updated Jan 8 at 11:51am. The Capitol seizure didn't rock Mr. Market's World at all.
Health Care
"High-content screening of Thai medicinal plants reveals Boesenbergia rotunda extract and its component Panduratin A as anti-SARS-CoV-2 agents" [Scientific Reports] (this is Nature, i.e. peer-reviewed). "Among 122 Thai natural products, we found that Boesenbergia rotunda extract and its phytochemical compound, panduratin A, exhibited the potent anti-SARS-CoV-2 activity…. Our study demonstrated, for the first time, that panduratin A exerts the inhibitory effect against SARS-CoV-2 infection at both pre-entry and post-infection phases….. Since B. rotunda is a culinary herb generally grown in China and Southeast Asia, its extract and the purified panduratin A may serve as the promising candidates for therapeutic purposes with economic advantage during COVID-19 situation." • In vitro, but still interesting.
"Could new COVID variants undermine vaccines? Labs scramble to find out" [Nature]. "'By next week we'll have much more information,' says Vineet Menachery, a virologist at the University of Texas Medical Branch in Galveston, whose team is gearing up to study the variants." •
"Genomic Evidence of In-Flight Transmission of SARS-CoV-2 Despite Predeparture Testing" [Emerging Infectious Diseases, CDC]. Really good article with a seating map. From the Abstract: "Among 86 passengers on a flight from Dubai, United Arab Emirates, that arrived in New Zealand on September 29, test results were positive for 7 persons in MIQ. These passengers originated from 5 different countries before a layover in Dubai; 5 had negative predeparture SARS-CoV-2 test results. To assess possible points of infection, we analyzed information about their journeys, disease progression, and virus genomic data. All 7 SARS-CoV-2 genomes were genetically identical, except for a single mutation in 1 sample. Despite predeparture testing, multiple instances of in-flight SARS-CoV-2 transmission are likely." • A twitter thread on this is really interesting:
2/An alternative exposure event, such as in the Dubai Airport before takeoff, can't be definitely ruled out but a much more likely scenario is transmission in flight given the 7 were sitting in close proximity on the flight. The virus spread despite 5 of them reporting mask use. pic.twitter.com/Yr63wNOiSU

— Dr. Ali Nouri (@AliNouriPhD) January 6, 2021
The index cases are (most likely) A and B.
The 420
"Marijuana stocks could see more than 50% boost, says top analyst" [Yahoo News]. "One top cannabis analyst believes the rally in marijuana stocks is just beginning, with a more than 50% pop ahead due to the increased likelihood of marijuana reform on the horizon with Democrats taking control of the Senate. Cowen Managing Director Vivien Azer explained her thinking in an interview with Yahoo Finance Live Thursday, noting that reform could open the door to many U.S. multi-state operators finally being able to access traditional banking and begin trading on major U.S. exchanges just as their Canadian peers have." • I dunno. What does Joe Manchin think?
Police State Watch
"The Police's Tepid Response To The Capitol Breach Wasn't An Aberration" [FiveThirtyEight]. "Between May 1 and November 28, 2020, authorities were more than twice as likely to attempt to break up and disperse a left-wing protest than a right-wing one. And in those situations when law enforcement chose to intervene, they were more likely to use force — 34 percent of the time with right-wing protests compared with 51 percent of the time for the left. Given when this data was collected, it predominantly reflects a difference in how police respond to Black Lives Matter, compared with how they respond to anti-mask demonstrations, pro-Trump extremists, QAnon rallies, and militia groups." • This is very good, worth reading in full.
Class Warfare
"In Wake Of Prop 22, Albertsons Shifting In-House Delivery Jobs To Gig Work" [HuffPo]. "One of the largest grocery chains in the U.S. has decided to end much of its in-house delivery service, outsourcing the work to third-party companies like DoorDash that rely on independent contractors to drop off food to customers on the cheap. Unions representing workers at Albertsons say the chain's decision will end up degrading good delivery jobs by putting the work on a "gig" model. Independent contractors tend to bear many of the costs of employment, providing their own vehicles and covering wear and tear, while forgoing traditional work benefits like health coverage and a retirement fund….. While Albertsons did not cite the new California law known as Proposition 22 for the decision, several major California markets will be impacted by the policy change. Prop 22 makes it easier for companies like DoorDash to classify their drivers as independent contractors." • The entire California liberal Democrat establishment, including President-in-Waiting Kamala Harris, fought Prop 22 tooth-and-nail, but… Oh, who am I kidding?
"The Intergenerational Transmission of Employers" [ISA Institute of Labor Economics]. From 2010, still germane. The Abstract: "We find that about 40% of a cohort of young Canadian men has been employed with an employer for whom their father also worked; and six to nine percent have the same employer in adulthood. The intergenerational transmission of employers is positively related to paternal earnings, particularly at the very top of the earnings distribution, and to the presence of self-employment income and the number of employers with which the father has had direct contact. It has an important influence in determining nonlinear patterns in the intergenerational elasticity of earnings."
"Labor market trends and unemployment insurance generosity during the pandemic" [Elsevier]. The Abstract: "We test whether changes in unemployment insurance (UI) benefit generosity under the CARES Act in the US are associated with differential employment outcomes under the distinct conditions of the pandemic. While we observe a negative association between UI generosity and employment, we show that the relative employment gap arises before the Act was instituted, decreases in magnitude when the augmented benefits were in place, and does not change when the benefits expansion expires."
News of the Wired
"Wait — Kim Owns the Land and Kanye Owns the House?" [Curbed]. "'People in the public eye like Kim and Kanye want to have their property or assets so if they're ever held liable for something, those assets are really hard to reach,' [real-estate lawyer Eric J. Proos] says." • But who's not a public figure these days? You'd think the legal arrangements Kim and Kanye made could be democratized. Maybe Elon should be teahing his robot how to write legal boilerplate, instead of taking money away from starving artists.
"Why everyone is talking about an image generator released by an Elon Musk-backed A.I. lab" [CNBC]. • Kill it with fire, whether it works or not.
"How Boston Dynamics Taught Its Robots to Dance" (interview) [IEEE Spectrum]. Aaron Saunders, Boston Dynamics' VP of Engineering: "We definitely learned not to underestimate how flexible and strong dancers are—when you take elite athletes and you try to do what they do but with a robot, it's a hard problem. It's humbling. Fundamentally, I don't think that Atlas has the range of motion or power that these athletes do, although we continue developing our robots towards that, because we believe that in order to broadly deploy these kinds of robots commercially, and eventually in a home, we think they need to have this level of performance." • Kill this with fire, too. ki
"'Human remains' find turned out to be a potato: UK police" [Agence France Presse]. • More good news in 2021!
* * *
Readers, feel free to contact me at lambert [UNDERSCORE] strether [DOT] corrente [AT] yahoo [DOT] com, with (a) links, and even better (b) sources I should curate regularly, (c) how to send me a check if you are allergic to PayPal, and (d) to find out how to send me images of plants. Vegetables are fine! Fungi and coral are deemed to be honorary plants! If you want your handle to appear as a credit, please place it at the start of your mail in parentheses: (thus). Otherwise, I will anonymize by using your initials. See the previous Water Cooler (with plant) here. Today's plant: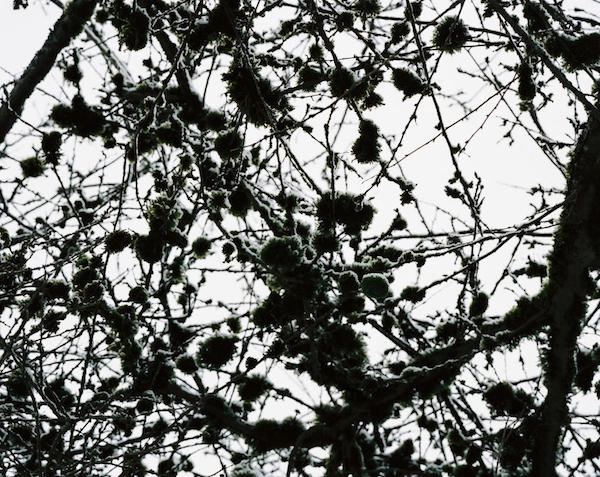 IM writes: "If you need something wintry and abstract in your repertoire. Frost on moss on a cherry tree. If you squint you can make out the green…it is a bit in the spirit of Jean Paul Riopelle." During my time in Montréal, I was happy to discover in the Museum of Contemporary Art that Quebec had a very strong abstract expressionist school, of which Riopelle was a member.
* * *
Readers: Water Cooler is a standalone entity not covered by the recently concluded and — thank you! — successful annual NC fundraiser. So if you see a link you especially like, or an item you wouldn't see anywhere else, please do not hesitate to express your appreciation in tangible form. Remember, a tip jar is for tipping! Regular positive feedback both makes me feel good and lets me know I'm on the right track with coverage. When I get no donations for five or ten days I get worried. More tangibly, a constant trickle of donations helps me with expenses, and I factor in that trickle when setting fundraising goals:
Here is the screen that will appear, which I have helpfully annotated.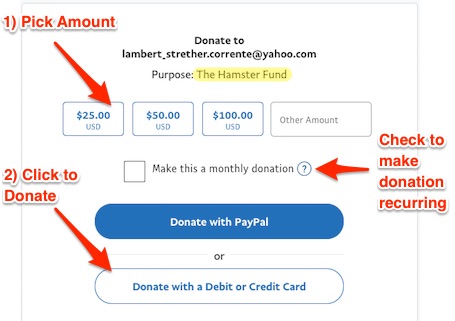 If you hate PayPal, you can email me at lambert [UNDERSCORE] strether [DOT] corrente [AT] yahoo [DOT] com, and I will give you directions on how to send a check. Thank you!