By Lambert Strether of Corrente.
Patient readers, as you can see, the Politics section is all about the Capitol seizure. I did, in fact, get started on time, but there's a ton of material to wade through, and I need to write a short comment with my own views. So please check back in an hour or so for more. –lambert UPDATE Unfortunately, my own short comment will have to wait 'til tomorrow. There's too much interesting material.
Bird Song of the Day
#COVID19
At reader request, I've added this daily chart from 91-DIVOC. The data is the Johns Hopkins CSSE data. Here is the site.
I feel I'm engaging in a macabre form of tape-watching, because I don't think the peak is coming in the next days, or even weeks. Is the virus gathering itself for another leap?
I finally cajoled the 91-DIVOC UI into giving me hospitalization, positivity, fatalities, and above all vaccination, besides case count nationally and in the Big States. I'll mess around more with them during the week to improve them. I think the new UI will allow me to integrate more data series legibly, especially vaccination.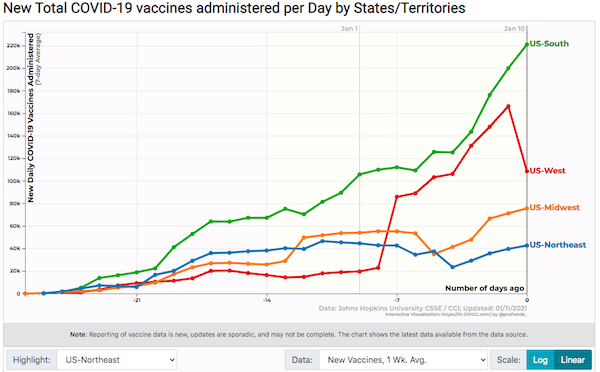 The South is the national champion for vaccination, so far. But eesh, what's with the West? Using the linear scale, California's bad performance overwhelms everything: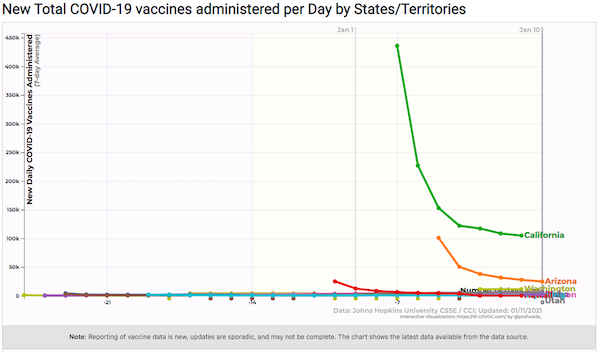 Using the log scale, we see can separate the states out. Arizona is on the downtrend too, and none of the Westnern states are accelerating as they ought: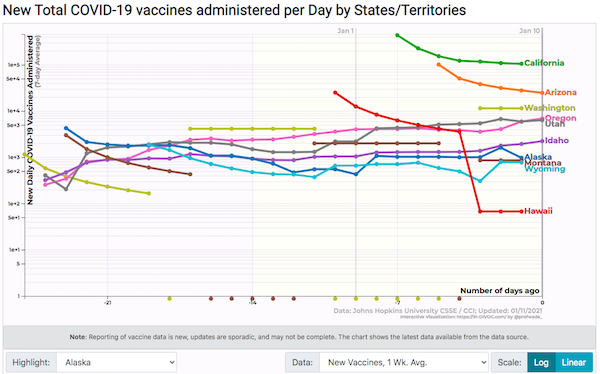 (Nevada data is not available to 91-DIVOC, for some reason.) So we're not looking only at a reporting issue in California.
Case count by United States region: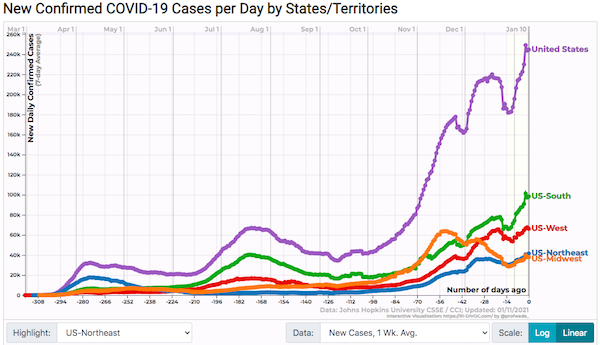 Oof.
Big states (New York, Florida, Texas, California):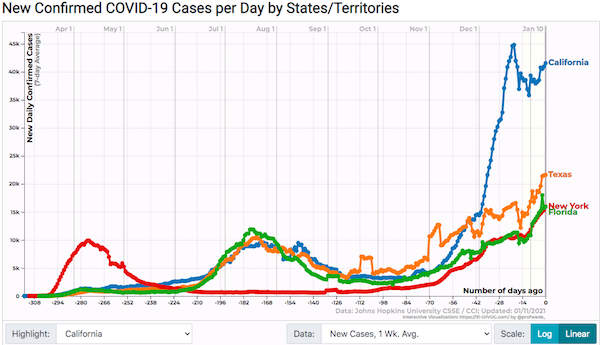 Oh, California!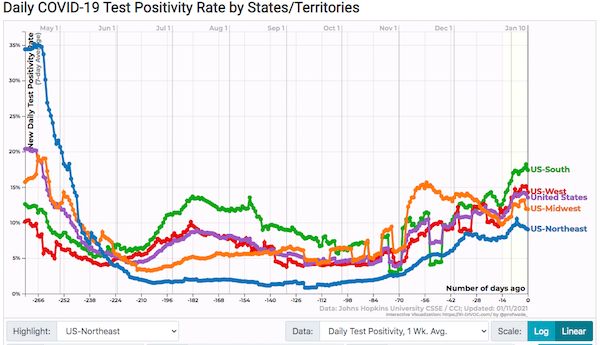 Nowhere near 3%, anywhere.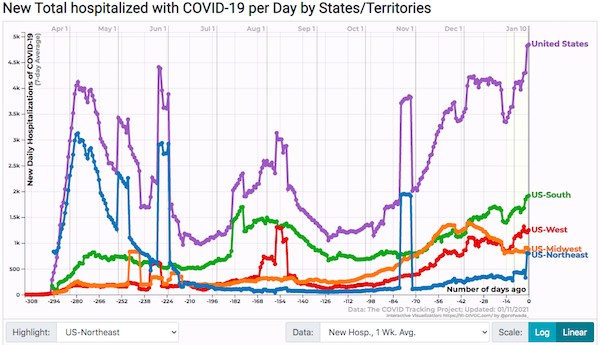 Big jump in Northeast hospitalization, but perhaps its reporting. Hospitalization is discretionary; they may also be reducing their admissions rate — relative to cases we cannot see in this data! — to preserve future capacity; or because hospitals have figured out how to send people home. –>
Case fatality rate (plus deaths):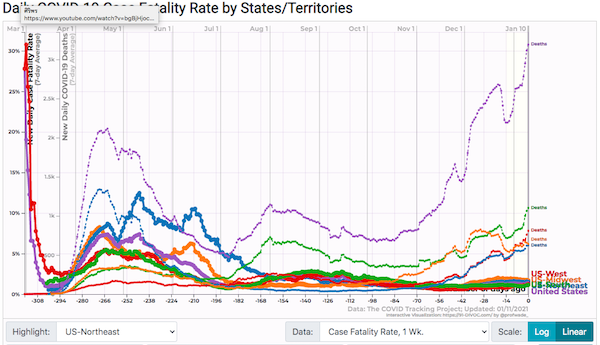 Fatality rate looking a little better, though still not as good as two months ago.
Politics
"But what is government itself, but the greatest of all reflections on human nature?" –James Madison, Federalist 51
"They had one weapon left and both knew it: treachery." –Frank Herbert, Dune
"They had learned nothing, and forgotten nothing." –Charles Maurice de Talleyrand-Périgord
Capitol Seizure
Patient readers, I'm going to skip all the rest of domestic politics and the hot takes, and see if I can get a handle on the rioters and those others who were present at the Capitol Hill seizure. I said I'd look at some photos, and I did, but they weren't very useful. Here is an atypical photo:

Most of the photos are shot tight for drama, and there aren't many wide angle or aerial shots (the latter being almost impossible because D.C. is basically a no-fly zone). The above photo is atypical, because it shows the edges of the crowd, so you can get a sense of its size. Most uses of this photo crop the sides or the bottom, where you can see the crowd thin out (for example). Crowd size is difficult or impossible to estimate in any case. From Project Syndicate:

I can't readily give you a good estimate of the size of that crowd beyond the the certainty that no matter what anybody is claiming, it will be much larger than the actual crowd…. [P]eople are bad at making appropriate estimates of the size of crowds. It's actually a difficult thing to do. Once you get more than a few hundred people, it just looks very big. All you can do is pull big numbers out of the air. Then there are all sorts of political reasons the sizes of crowds get either inflated or deflated…. I'm perfectly prepared to believe there were several thousand people there, even 10,000 maybe. But when you start pushing that up to 100,000 and so on, that's not going to be true.

I also couldn't get a sense of the class and cultural markers in the capital crowd; perhaps weekend and leisure-wear homogenize everybody. Here are several eye-witness accounts.

"Madness on Capitol Hill" [Andrew McCormick, The Nation]. "It was just south of Thomas Circle that DC became Trump country. Outside a luxury hotel, a white woman in a bejeweled Trump hat and yoga pants inquired of a Black hotel employee where she might catch a cab. 'I don't think you're going to have any luck with that right now, ma'am," she was told…. "I'm ready for a daiquiri!" a woman in Trump gear who looked to be in her 40s said. A pack of girlfriends cheered in agreement. Outside a liquor store, MAGA-clad protesters formed an orderly line. Inside, shoppers struggled to manage both their flags and selected libations. "Gosh, if we kill a fifth of bourbon tonight," said a man in a Thin Blue Line baseball cap, "it's gonna be a rough ride home tomorrow."… It was more than an hour still before police would attempt to disperse protesters at the Capitol, but already Pennsylvania Avenue was a sea of Trump supporters trudging away. Some chanted, tiredly, "USA-USA." They jeered at police in SUVs: "Fucking traitors!" And they posed for photos with Lady MAGA USA, a makeup-caked drag artist in a white ballgown and blond wig, the very image of a Southern debutante. It smelled like cigarettes." • Capitol Hill was over a mile from the rally site. Evidently, the ralliers self-sorted into two camps. The daiquri drinkers who went back to their hotels, and the rest, who marched on the Capitol. Funders vs. rioters?

"CNN's Elle Reeve: 'Donald Trump plus the Internet brings extremism to the masses'" [CNN]. "Some of the people who stormed the Capitol on Wednesday, stalked its majestic halls, and delayed the certification of Joe Biden's victory were pro-Trump internet personalities, and others were their fans.

Rioters livestreamed their crimes, took selfies to commemorate the occasion, and chatted about their experiences later on social media services…. 'I don't think there are enough words in English to describe the way emotion works in a mob like that,' she said. 'It's like an electrical current. It's joy, but it's menacing. And there's also this forward momentum that's just unstoppable.' 'Because this was an older crowd,' she [Reeve, I am guessing, is mid-30s] added, 'it was even all the more jarring. I mean, I think even on a basic level, you know, like what you learn as a kid, like respect your elders, it is shocking to see people who could be your parents scrambling over walls, acting crazy, acting immorally.' And it seemed like almost everyone was recording almost everything. 'Everyone is making media at all times,' she said. 'It's crazy. It's like 'Were you there if you didn't livestream it?' And they're all hoping for that viral moment that will give them more clout on social media.'" • Immorally?

A thread from a historian:

1) This insurrection wasn't just redneck white supremacists and QAnon kooks. The people participating in, espousing, or cheering the violence cut across the different factions of the Republican Party and those factions were working in unison. 2/22

— Terry Bouton (@TerryBoutonHist) January 10, 2021

And:

The most alarming part to me was the matter-of-fact, causal ways that people from all walks of life were talking about violence and even the execution of "traitors" in private conversations, like this was something normal that happened every day. 21/22

— Terry Bouton (@TerryBoutonHist) January 10, 2021

(But see here.)

"Off-duty police, firefighters under investigation in connection with U.S. Capitol riot" [Reuters]. "As investigators seek to identify rioters who stormed the U.S. Capitol, police departments in Virginia and Washington state have placed officers on leave as authorities examine whether they took part in unlawful acts while off-duty…. Fire departments in Florida and New York City have also said they reported to federal authorities allegations that some of their members may have been present when the mob broke into the Capitol as Congress met to certify the results of the Nov. 3 presidential election."

Business Insider has a list of the arrests (so far). Here are the states those arrested are from:

AL (1)
AR (1)
AZ (3)
CA (4)
CO (1)
CT (2)
DC (2)
FL (5)
GA (1)
HI (1)
IL (3)
MA (1)
MD (8)
MI (6)
MS (2)
NC (7)
NH (1)
NY (2)
OR (3)
PA (13)
TN (1)
TX (2)
VA (3)
WI (1)
WV (1)
WY (1)

And here are the states ranked by arrests, good job PA:

(13) PA
(8) MD
(7) NC
(6) MI
(5) FL
(4) CA
(3) VA
(3) OR
(3) IL
(3) AZ
(2) TX
(2) NY
(2) MS
(2) DC
(2) CT
(1) WY
(1) WV
(1) WI
(1) TN
(1) NH
(1) MA
(1) HI
(1) GA
(1) CO
(1) AR
(1) AL

I would bet VA suburbs are over-represented in the daiquiri crowd, and under-represented in the paddy wagon crowd.

Finally, one reaction to deplatforming:

MAGA/Q is going full Putnam, folks. No more bowling alone! pic.twitter.com/T11wOKOx8S

— zeynep tufekci (@zeynep) January 9, 2021

Like fish in the water…

And here are some of the individuals involved:

"A Simple Thing Biden Can Do to Reset America" [Matt Stoller, BIG]. "[Ashli Babbitt] died from a gunshot wound as she tried to climb into the Speaker's lobby…. According to the New York Times, Babbitt was a 35 year-old woman from California who spent 14 years serving in the U.S. Air Force, deploying to both Iraq and Afghanistan…. After her time at war, Babbitt had a modest propensity for violence, threatening a rival love interest by rear ending her with a car in 2016. She married, and bought a small business with her husband, a pool supply company called Fowlers Pool Service and Supply. There she ran into commercial problems common to small businesses these days. The pool business isn't a good one, dominated as it is by monopoly pool supply distributor Pool Corp…. Fowlers Pool Service and Supply predictably ran into trouble. So Babbitt took out what was known as a "merchant cash advance" from a company called EBF Partners, which she calculated charged her an interest rate of 169%. She quickly defaulted, and was embroiled in a lawsuit…. And then she got more into politics through social media, and then into QAnon…"

"Turned in by his ex-wife: Retired Air Force Lt. Col pictured with zip ties in Senate chamber is slapped with federal charges after his ex phoned the FBI – as Nashville bartender, 30, who attended Capitol riot with his mom is also arrested" [Daily Mail]. "Eric Munchel, a Nashville bartender, 30, has been named as the man pictured in the Senate press gallery with a bundle of flex-cuffs, heavy duty restraints used by law enforcement in mass arrests on Wednesday. He attended the riot with his mom. He told The Times of London: 'We wanted to show that we're willing to rise up, band together and fight if necessary. Same as our forefathers, who established this country in 1776. It was a kind of flexing of muscles.' In a detailed breakdown of his clothing The Sparrow Project say his 'expensive camouflage and tactical larp-flare' helped identify Munchel." • Handy chart:

So Gibson got it right in Zero History. Horrid public relations squillionaire Hubertus Bigend:

Back to the Air Force guy in the Daily Mail headline–

"An Air Force Combat Veteran Breached the Senate" [The New Yorker]. "Brock's family members and his friend said that his service in the Air Force was central to his identity. Several of Brock's e-mail addresses and social-media accounts featured his call sign and military nickname, Torch. One family member said that Brock derived 'this weird sense of power' from his time as a military pilot, along with a Manichean world view. 'He used to tell me that I only saw the world in shades of gray, and that the world was black and white,' the other family member said…. [Bill Leake, who flew with Brock in the Air Force for a decade] said that he believed the same intense commitment that had made Brock an effective fighter pilot had led him to this week's events in the Capitol. 'Torch got all in on Trump,' Leake said. 'He went all in on the alternative-news-source world. He actually believes liberals and Democrats are a threat to the country. You can see how the logical conclusion to that is, We've gotta take over.'"

"Officer resigns as Army investigates her involvement in Washington rally that led to U.S. Capitol riot" [CBS]. "A psychological operations officer who the Army is investigating for leading a group of people from North Carolina to the rally in Washington that led up to the deadly riot in the U.S. Capitol had already resigned her commission… A psychological operations officer who the Army is investigating for leading a group of people from North Carolina to the rally in Washington that led up to the deadly riot in the U.S. Capitol had already resigned her commission…. Rainey said she led 100 members of Moore County Citizens for Freedom, which describes itself online as a nonpartisan network promoting conservative values, from North Carolina to Washington to "stand against election fraud" and support Trump. She said the group attended the rally but she didn't know of anyone who entered the Capitol and that they were headed back to their buses hours before an emergency curfew took effect." • From the Google, a charter bus can run from $1000 to $1700 a day. That's a bake sale-level funding requirement.


* * *

On Q. The examples in the Tweet, and the responses to the Tweet are all well worth reading:

I know I sound like a broken record, and I promise I'll stop harping on for the rest of the day, but every @TwitterSafety employee should be forced to read this PDF of real tweets from real people. https://t.co/nVKEShpSv2 pic.twitter.com/RZxehzSAyp

— grace spelman: totally exonerated, no wrongdoing (@GraceSpelman) January 10, 2021

I can't find the Tweet now, but if you are living in the same house with an elderly relative who uses YouTube make sure you turn the algorithm off. I can't be more precise because I don't have a YouTube Account. I really do think we need to at the least break up the platforms, and perhaps turn them into public utilities as well, so the profit motive does not enter. Regardless, the dopamine loop as a UI/UX practice should be outlawed.

* * *

Some commentary:

"The Washington, D.C., siege has Western roots and consequences" [High Country News]. "It's not hard to trace the links between Malheur and Washington; familiar insignia, instigators and ideologies fueled both anti-government actions. Extremist leaders and movement regulars from the Western U.S., including former Washington State Rep. Matt Shea, who supported the efforts from afar in Spokane, and recent U.S. Senate candidate Jo Rae Perkins, R-Ore., who joined the crowd that laid siege to the Capitol, helped fuel the melee. Backing their message, if not their tactics, was a bevy of Western legislators, who lent the movement legitimacy by supporting Trump's baseless election-fraud claims." • The FBI actually had informants inside the Malheur compound. I would expect the same to be true of the Capitol Hill seizure. What's up with that?

Sadly, my own essay will have to wait 'til tomorrow.
Stats Watch
At reader request, I added some business stats back in. Please give Econintersect click-throughs; they're a good, old-school blog that covers more than stats. If anybody knows of other aggregators, please contact me at the email address below.
There are no official statistics today.
* * *
Retail: "Covid vaccinations offer CVS, Walgreens and Rite Aid a chance to showcase how drugstores have changed" [CNBC]. "CVS Health, Walgreens and Rite Aid are getting ready to administer Covid vaccinations in the months ahead, and this effort will give the three largest drugstore chains a chance to show off the work that's been underway to revamp their businesses and respond to huge changes in consumer behavior. The three drugstores have long been places where Americans stock up on shampoo, refill prescriptions and browse the aisles for a cold or flu remedy. During the pandemic, however, many of the driving forces behind drugstore trips faded. More purchases were made online. Fewer people have needed to buy over-the-counter cold and flu medications, as they wear face masks and social distance. Some have skipped doctor's appointments, leading to fewer new prescriptions to fill. For the companies, Covid vaccines offer an opportunity to reach new customers. CVS and Walgreens are administering shots at nursing homes and other long-term care facilities and plan to finish the first round by Jan. 25. All three chains plan to offer the shots at their stores, when they're available, which could boost vaccine-related revenue and drive foot traffic that leads to other purchases. These trips will be a chance for the companies to prove to shoppers they're still relevant, while investors will be looking to gauge their growth potential."
Retail: "The Pandemic Made WD-40 Bigger Than Macy's" [Bloomberg]. "Sales climbed 26% compared to the year-earlier period amid increased demand for cleaning products, bike gear and what CEO Garry Ridge termed "isolation renovation" during the pandemic…. It's a microcosm of a bigger economic trend during the pandemic: Anything that makes the homes we're all spending so much time in these days feel less like prisons is hot, while anything involving interactions with other human beings or discretionary spending is not. At times, this phenomenon has made for some curious winners, such as pool-equipment distributor Pool Corp. and language-software maker Rosetta Stone Inc."
Tech: Interesting thread on how AWS achieved scalability:
I was at Amzn in 2000 when the internet bubble popped. Capital markets dried up & we were burning $1B/yr. Our biggest expense was datacenter -> expensive Sun servers. We spent a year ripping out Sun & replacing with HP/Linux, which formed the foundation for AWS. The backstory:

— Dan Rose (@DanRose999) January 8, 2021
Manufacturing: "Ford, Other Auto Makers Cut Output, Idle Workers on Chip Shortage" [Wall Street Journal]. "A chip shortage that has disrupted vehicle production in other parts of the globe is reaching U.S. shores, stifling output for major car companies and dimming prospects for a smooth recovery from the pandemic. Ford Motor Co. is planning to idle a Louisville, Ky., factory for a week starting Monday, because of parts shortages stemming from limited supplies of semiconductors now vital to everything from display screens to transmissions. The move will lead to the temporary layoffs of about 3,900 workers at the plant, which builds two popular SUVs, the Ford Escape and Lincoln Corsair."
* * *
Today's Fear & Greed Index: 64 Greed (previous close: 71 Greed) [CNN]. One week ago: 52 (Neutral). (0 is Extreme Fear; 100 is Extreme Greed). Last updated Jan 11 at 11:47am.
Rapture Index: Closes unchanged [Rapture Ready]. Record High, October 10, 2016: 189. Current: 184. (Remember that bringing on the rapture is a good thing, so high is better.) You'd think there were Beast Government implications from the Capitol seizure; apparently not.
Health Care
"The Behavioral Foundations of Default Effects: Theory and Evidence from Medicare Part D" [NBER]. "We leverage two unique natural experiments to show that, in public drug insurance for the low-income elderly in the U.S., defaults have large and persistent effects on plan enrollment and beneficiary drug utilization. We estimate that when a beneficiary's default is exogenously changed from one year to the next, 96% of beneficiaries follow that default." • What are these "plans" of which you speak? Why do they have "defaults"?
Anecdotes of wasted vaccines, a thread:
Just spoke with a close colleague, thought I'd share his story

Have changed minor details to protect him

He's an ER Doc, working in a hot spot

Few days ago, early evening, vaccine team showed up with a bunch of extra doses of Moderna vaccine

Thread

— Ashish K. Jha, MD, MPH (@ashishkjha) January 11, 2021
Water
"Can ocean health lead to wealth? Our latest House on Fire podcast tackles blue finance" [World Economic Forum]. "The ocean is estimated to generate an annual value of $1.5 trillion per year, making it the world's seventh largest economy." • The ocean is not an "economy," ffs.
"Mekong Levels Reportedly Plummet Due to Chinese Dam Activity" [The Diplomat]. "Water levels on the Mekong River have fallen due to the filling of a Chinese dam on the upper reaches of the river in Yunnan province, according to locals and river monitors. The fall was reported on January 4, when locals in the Thai port town of Chiang Saen, close to the Golden Triangle confluence with Laos and Myanmar, started sharing photos on social media showing a sudden and unexpected drop in the water level along the river. The drop was quickly confirmed by the recently-launched Mekong Dam Monitor, which employs remote sensing and data from satellites to track water levels along mainland Southeast Asia's great river."
The 420
"Maine marijuana shops report brisk business despite pandemic" [ABC]. • "Despite"?!
"Marijuana Is Replacing Alcohol For Nearly Half Of Cannabis Consumers During The Pandemic" [Forbes]. "Parents are turning to cannabis at higher rates than those without children, according to the results of the survey. More than half of the respondents (52%) who have ever used cannabis and have kids under the age of 18 said that they had started or increased their consumption of marijuana since the pandemic, while 33% of those without children under 18 said the same. More than half of parents who have ever consumed cannabis (57%) reported that their use of marijuana replaced or reduced alcohol consumption."
Class Warfare
"Newsom Defends California Business Climate, Status of the Rich" [NBC Los Angeles]. "Gov. Gavin Newsom forcefully pushed back Friday on criticisms that California is becoming unfriendly for business, pointing to 'all the new billionaires' created by initial public offerings and noting that its richest people are 'doing pretty damn well.'" • Newsome is reading the room. The room is the back room at The French Laundry, and that is the room the Democrats are in.
News of the Wired
Had an interesting discussion recently on kitsch vs. schlock. Sadly, I do not have the time to research the distinctions. But I know them when I see them. This, however, is definitly kitsch (as was all of Kinkade's work):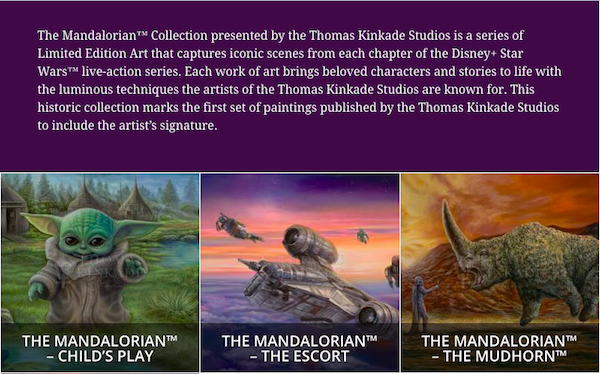 "St. Benedict's Rule for Monasteries" [Benedict of Nursia, Project Gutenberg]. "CHAPTER 34: Whether All Should Receive in Equal Measure What Is Necessary. Let us follow the Scripture, 'Distribution was made to each according as anyone had need.' By this we do not mean that there should be respecting of persons (which God forbid), but consideration for infirmities. He who needs less should thank God and not be discontented; but he who needs more should be humbled by the thought of his infirmity rather than feeling important on account of the kindness shown him. Thus all the members will be at peace. Above all, let not the evil of murmuring appear for any reason whatsoever in the least word or sign. If anyone is caught at it, let him be placed under very severe discipline."
"The 432-year-old manual on social distancing" [BBC]. "Italy was an early pioneer of isolating people suspected of having the plague – and on a truly massive scale. The first plague hospital, or lazaretto, was set up in Venice in 1423 – and soon they had separate facilities for active patients versus those who were recovering or who had come into contact with someone who was infected…. For most of that time, [Alghero] wasn't in full lockdown, but people were expected to self-isolate for 40 days if a member of their household was suspected of having the plague, and taken to hospital. This is where the word 'quarantine' comes from – 'quaranta giorni' means '40 days' in Italian."
"Slow The Cars" [The American Conservative]. "To make our cities financially strong and successful, we need to reclaim the lost art of building great streets, and we must empower our transportation professionals to build high-performance roadways. There is a serious difference between those two pursuits….. Streets: The function of a street is to serve as a platform for building wealth. On a street, we're attempting to grow the complex ecosystem of businesses and homes that produces community wealth. In these environments, people (outside of their automobiles) are the indicator species of success. Successful streets are environments where humans and human interaction flourish… Roads: In contrast, the function of a road is to connect productive places to one another. You can think of a road as a refinement of the railroad—a road on rails—where people board in one place, depart in another and there is a high speed connection between the two." • It's frustrating to me that TAC is the only political venue I know of that consistently ruminates on the built environment.
"experimental p2p community chat platform" [cabal]. "No servers are needed to join a cabal, or to start your own. Everything is stored and runs locally. A cabal can never go down or be taken away." • Why would anybody want that?
Sid and Fern's staffer does some sketching in the off-hours:
Animal People With Weapons pic.twitter.com/fNsPwTRXJw

— Demon Cafe Horrorchestra (@bombsfall) January 7, 2021
* * *
Readers, feel free to contact me at lambert [UNDERSCORE] strether [DOT] corrente [AT] yahoo [DOT] com, with (a) links, and even better (b) sources I should curate regularly, (c) how to send me a check if you are allergic to PayPal, and (d) to find out how to send me images of plants. Vegetables are fine! Fungi and coral are deemed to be honorary plants! If you want your handle to appear as a credit, please place it at the start of your mail in parentheses: (thus). Otherwise, I will anonymize by using your initials. See the previous Water Cooler (with plant) here. Today's plant (IM):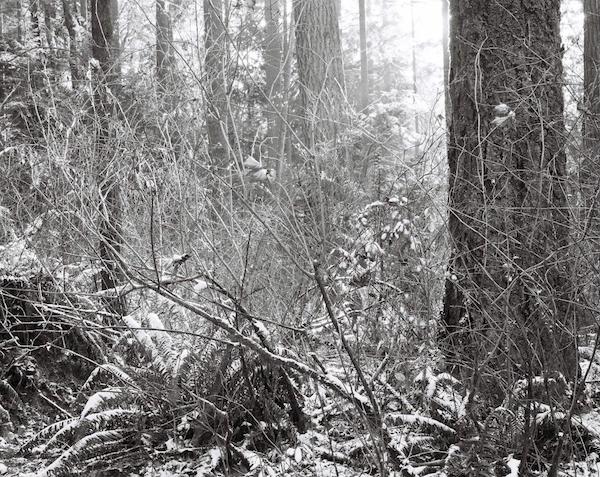 IM writes: "A forest shot from UBC endowment lands. It does snow on the West Coast!"
* * *
Readers: Water Cooler is a standalone entity not covered by the recently concluded and — thank you! — successful annual NC fundraiser. So if you see a link you especially like, or an item you wouldn't see anywhere else, please do not hesitate to express your appreciation in tangible form. Remember, a tip jar is for tipping! Regular positive feedback both makes me feel good and lets me know I'm on the right track with coverage. When I get no donations for five or ten days I get worried. More tangibly, a constant trickle of donations helps me with expenses, and I factor in that trickle when setting fundraising goals:
Here is the screen that will appear, which I have helpfully annotated.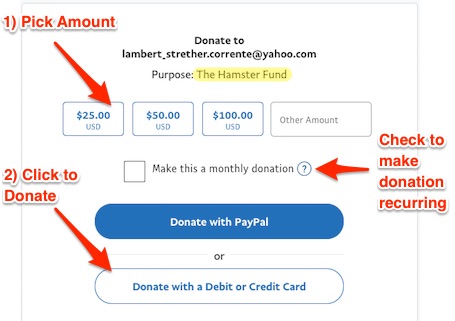 If you hate PayPal, you can email me at lambert [UNDERSCORE] strether [DOT] corrente [AT] yahoo [DOT] com, and I will give you directions on how to send a check. Thank you!