By Lambert Strether of Corrente.
Bird Song of the Day
Somehow, I never expected flamingoes to honk like geese.
#COVID19
At reader request, I've added this daily chart from 91-DIVOC. The data is the Johns Hopkins CSSE data. Here is the site.
Lambert here: If these declines continue through the end of the week, I'm gonna have to conclude we're looking at a genuine fall in the numbers — not the current narrative, I might add — and that we are not looking at a reporting effect from the long weekend. We are also not seeing an explosion from travel over the holidays, now well in the rear-view mirror. We might get a spike in ten days or so, if people were partying on MLK day, but with luck it will be small. Of course, there are those worrisome variants, so a mood of sunny optimism is not warranted. I feel I'm engaging in a macabre form of tape-watching…. (A reader asked the source of the data: Johns Hopkins CSSE. DIVOC-91 does allow other data sets to be used, like Our World in Data and The Atlantic, and where they provide visualizations similar to those below, a cursory comparison shows that the shape of the curves is the same.)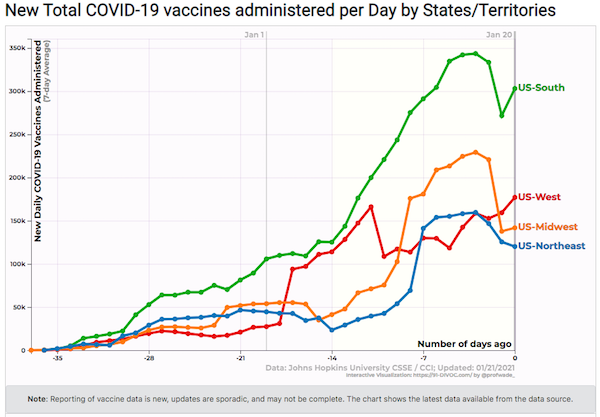 The South stumbles. Supply problems?
At reader request, vaccination in the South (as the US Census defines the region: AL, AR, DE, DC, FL, GA, KY, LA, MD, MS, NC, OK, SC, TN, TX, VA, and WV):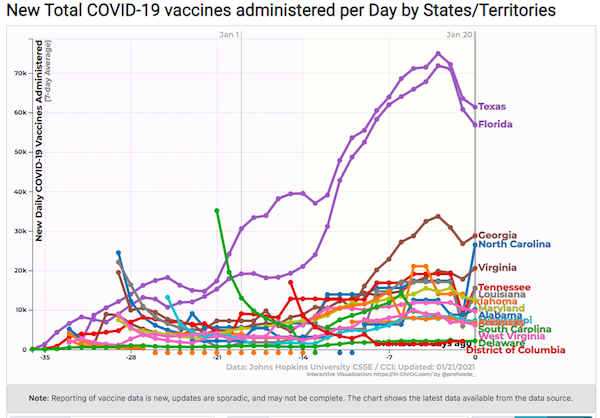 (I don't have the option of adjusting for population. It's interesting the way the curves bunch, with FL and TX tracking each other. Perhaps a planning process? Clout?)
Case count by United States region: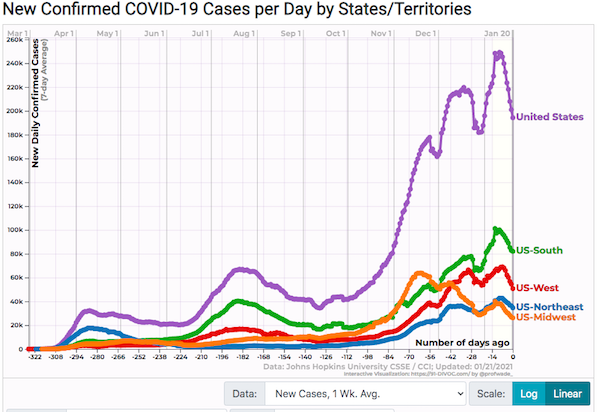 Big states (New York, Florida, Texas, California):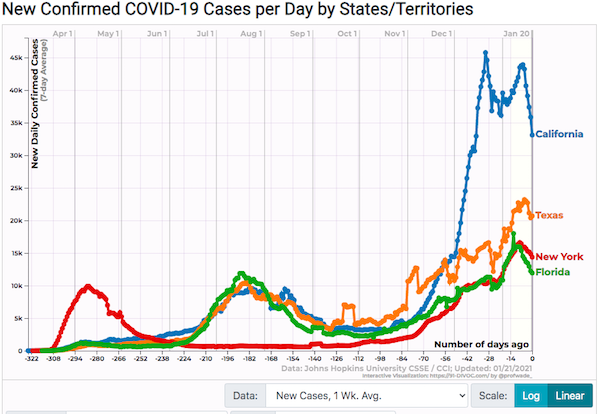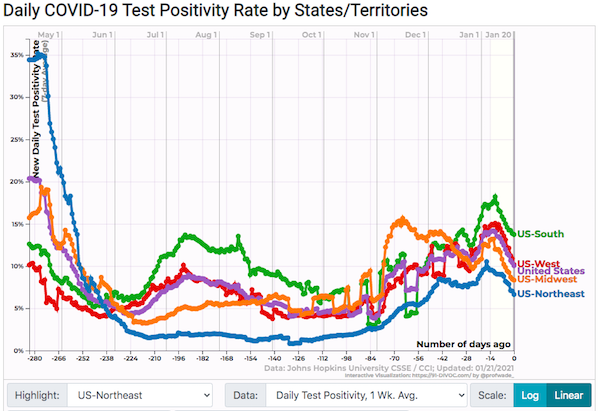 Nowhere near 3%, anywhere.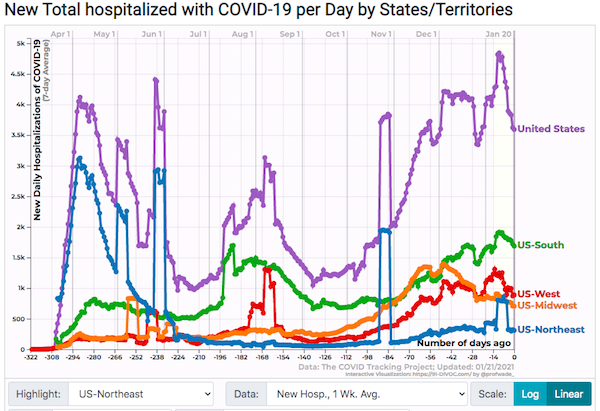 Hospitalization is discretionary; they may also be reducing their admissions rate — relative to cases we cannot see in this data! — to preserve future capacity; or because hospitals have figured out how to send people home.
Case fatality rate (plus deaths):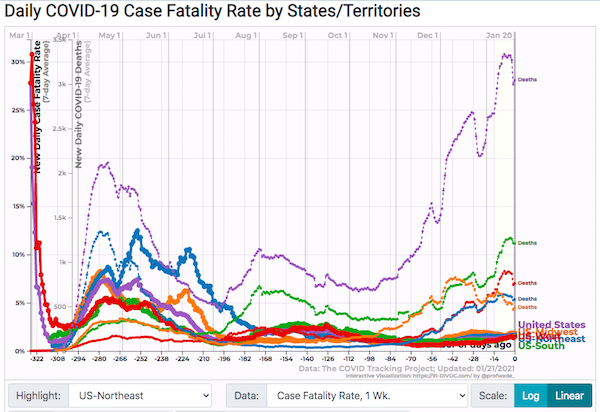 Politics
"But what is government itself, but the greatest of all reflections on human nature?" –James Madison, Federalist 51
"They had one weapon left and both knew it: treachery." –Frank Herbert, Dune
"They had learned nothing, and forgotten nothing." –Charles Maurice de Talleyrand-Périgord
Inaugural
"Bernie Sanders Inauguration Day Bobblehead Unveiled" [National Bobblehead Hall of Fame]. "he bobblehead commemorates today's viral moment when Vermont Senator Bernie Sanders was pictured watching the Inauguration ceremony to swear in Joe Biden as the nation's 46th President. The bobblehead features Sanders with his face mask, mittens and winter coat sitting in a folding chair on the white podium base." • Thrown over the transom to Yves:

A new product in a single news cycle! I'm not sure what to make of this. The bitter and cynical part of me thinks that people are having fun and being nice because Sanders is a spent force. The more hopeful side of me thinks that he still has a part to play, because of the evident joy people took in making the memes:

— Vanessa Lamers, MESc, MPH (@vlamers) January 21, 2021

There are times when Twitter really is carefee and fun, and — at least this morning when I collected these — the Sanders-and-his-mitte memage was one of those times. (Hilariously, the Reuter Twitter "event", supposedly about "fashion," featured Sanders' mittens in the header photograph. Does this guy know how to steal the show, or what?)

"Amanda Gorman's nods to 'Hamilton' won a 'Brava' from Lin-Manuel Miranda." [New York Times]. • Hamilton. Of course. (Have we put on a special Hamilton Covid relief performance for essential workers yet? No?)

Chaser, shot:

We really wish you well and love the old-timey Chinese fireworks, can we interest you in something ahh…a little more current?? https://t.co/vwbglYeVfa pic.twitter.com/sY2HxIBNL8

— Naomi Wu 机械妖姬 (@RealSexyCyborg) January 21, 2021

(Wu being a 3D-printing Internet celebrity.) "Shake our foes." Maybe I should have filed this under "Imperial Collapse Watch"?

"Biden's Huge Inaugural Donations Would be Banned Under Democrats' Ethics Bill" [Sludge]. "For companies seeking to curry favor with the new administration, the potential federal government contracts are immense. During the Trump administration, Biden inaugural donors Amazon and Microsoft were locked in a battle for a $10 billion, 10-year JEDI contract to be awarded by the Department of Defense, one that went to Microsoft in October 2019 only to be mired in legal challenges by Amazon and complaints by Oracle. Amazon argued in a December 2019 complaint that Trump personally nixed their bid out of animus toward founder Jeff Bezos, who is also owner of the Washington Post."
Capitol Seizure
All quiet on the West Wing front:

In all of New York and California, a single protester showed up at the state capital to protest. So terrifying. pic.twitter.com/cwiQRx2dqF

— Lee Fang (@lhfang) January 20, 2021
Transition to Biden
Shots fired:

Sen. Bernie Sanders says Senate should use 51-vote reconciliation threshold to pass $2,000 checks, $600 unemployment benefits, state and local funding, 12 weeks of paid leave, universal pre-K, tuition-free college, cancel student debt and $15 minimum wage.https://t.co/nHAwourqZ6

— Ryan Struyk (@ryanstruyk) January 21, 2021

Metaphorically, of course.

UPDATE Rahm Emmanuel's mini-me, Mayo Pete. A thread:

Pete Buttigieg testifies today on his nomination to run the Dept. of Transportation.

I spent almost a year covering Buttigieg. He refused to speak with me, so I'm going to thread some of the things senators could ask him about today.

— Jonathan Larsen (@jtlarsen) January 21, 2021

This slippery little scut is gonna be Harris's Vice Presidential candidate, I can just see it.
2020
"Bush to Clyburn: Without Biden endorsement, 'we would not be having this transfer of power'" [Politico]. • One big happy!
Democrats en deshabille
DNC up to its usual tricks. A thread:

I've been a bit underwater due to a death in my immediate family. But I first found out who was running for #DNCElections via twitter one week ago, Jan. 14. The election is today. https://t.co/457Shh2RTd

— RL Miller (@RL_Miller) January 21, 2021

There's a letter from reformers here. As Nomiki Konst pointed out at the laughingly named "Unity Reform Commission" in 2016: "Under the DNC Bylaws, the DNC budget is not public information; in fact, the meetings and votes of the DNC Budget and Finance Committee are specifically excluded from the DNC Charter section requiring open meetings." • Fundamentally, nothing will change.
Realignment and Legitimacy
I like the concept that the (so-called) "center" is extreme:

David Graeber on the Extreme 'Centre' pic.twitter.com/xdHsX7PKf8

— Double Down News (@DoubleDownNews) October 12, 2020

You can't say "jejunity" without saying "unity":

It is so surreal how half assed this unity thing is. No message behind it. No attempt to persuade you or even understand the nature of the "rift" itself. Just someone walking in on an apocalyptic disaster and saying "cmon man stop this" in a hoarse voice https://t.co/CvzmWhttgu

— Tarence Ray (@tarenceray) January 21, 2021

.@AOC working the bullhorn on the picket line for 1,400 striking Hunts grocery workers in the Bronx https://t.co/IdJ3UqHwfQ

— Mike Elk (@MikeElk) January 21, 2021

https://thebaffler.com/latest/consequences-for-thee-not-for-me-de-la-hoz
Stats Watch
At reader request, I added some business stats back in. Please give Econintersect click-throughs; they're a good, old-school blog that covers more than stats.
Employment Situation: "16 January 2021 Initial Unemployment Claims Rolling Average Again Worsens" [Econintersect]. "Market expectations for weekly initial unemployment claims (from Econoday) were 868 K to 990 K (consensus 890 K), and the Department of Labor reported 900,000 new claims. The more important (because of the volatility in the weekly reported claims and seasonality errors in adjusting the data) 4 week moving average moved from 824,500 (reported last week as 834,250) to 848,000."
Manufacturing: "January 2021 Philly Fed Manufacturing Survey Index Improves" [Econintersect]. "The Philly Fed Business Outlook Survey improved and remains in expansion…. Overall, this report was better than last month as key elements improved. This is a very noisy index which readers should be reminded of is sentiment-based. The Philly Fed historically is one of the more negative of all the Fed manufacturing surveys but has been more positive than the others recently."
Construction: "December 2020 Residential Building Growth Improves" [Econintersect]. "Headline residential building permits improved and construction completions also improved. The rolling averages improved for permits but worsened for construction completions…. We seem to be seeing and bad month, followed by a good month, and then another bad month. The backward revisions this month were small. It is always difficult to understand the trends as the backward revisions sometimes reverse trends month-to-month. The nature of this industry normally has large variations from month-to-month (mostly due to weather) so the rolling averages are the best way to view this series. The rolling averages say this sector is growing but rollercoastering."
* * *
Shipping: "Inside California's colossal container-ship traffic jam" [Freight Waves]. "The pileup of ships offshore in San Pedro Bay and congestion onshore at the terminals have reached epic proportions. And the situation could become even more maddening in the weeks ahead. … [Kip Louttit, executive director of the Marine Exchange of Southern California[ confirmed that ships have effectively filled all of the usable anchorages off Los Angeles and Long Beach. Ships have also taken six of the 10 contingency anchorages off Huntington, the next town south. If all the anchorages and contingency anchorages fill up, ships will be placed in so-called 'drift boxes' in deeper water. These are actually circles not boxes. Unlike ships at anchorages in shallower water, ships in drift boxes would not anchor, they'd drift. 'When you drift out of the circle, which has a radius of 2 miles, you start your engine and go back to the middle of the circle,' explained Louttit." • I left the part about drift boxes in because it's so cool.
Shipping: "FedEx Shipping Damage Creates Fractured Artworks" [Kottke.org]. Neat:
Since 2007, artist Walead Beshty has been cleverly using FedEx's shipping infrastructure to create a series of artworks. He constructs glass objects that fit exactly into FedEx's shipping boxes and then ships them to galleries and museums without any protection against damage. Any cracks or breaks in the glass became part of the work upon display at its destination. According this interview, part of what interested Beshty about doing this project related to the proprietary sizes of FedEx's boxes:

As for the corporate dimension, I was aware that . In other words, . When thinking about the work, its scale and so on, it made sense to adhere to that proprietary volume, because, as a modular, it had a real and preexisting significance in daily life, it was common, specific, and immediately familiar. That is, it had an iconic resonance that a more arbitrary form or shape wouldn't have.

FedEx's proprietary box dimensions are the most amazing form of hysteresis/friction I've ever heard of. I only wish that the genius of whoever thought that up had been put to better use.

Tech: "There's Still No Sign of Privacy Labels for Most Google iOS Apps" [MacRumors]. "As of December 8, Apple has been requiring developers submitting new apps and app updates to provide privacy label information that outlines the data that each app collects from users when it is installed. Many app developers, such as Facebook, have complied and now include the privacy labels alongside their apps, but there's one notable outlier — Google. Google has not updated its major apps like Gmail, Google Maps, Chrome, and YouTube since December 7 or before, and most Google apps have to date have not been updated with the Privacy Label feature…. On January 5, Google told TechCrunch that the data would be added to its iOS apps "this week or the next week," but both this week and the next week have come and gone with no update. It has now been well over a month since Google last updated its apps." • That's odd. Some agreement between ginormous monopolies, as with Google and Facebook? (Of course, I'm not crazy enough to use a Google app. But still.)

* * *

Today's Fear & Greed Index: 70 Greed (previous close: 65 Greed) [CNN]. One week ago: 67 (Greed). (0 is Extreme Fear; 100 is Extreme Greed). Last updated Jan 21 at 12:40pm

–>

Class Warfare

"10.42- The Stolypin Reforms" (podcast) [Revolutions]. • I should have reminded people that Mike Duncan's wonderful podcast is back. He's said he's going to stop with the Russian Revolution (having started way back in 1625 with the unfortunate Charles I of England). Since he started in 2013 (!!) I can understand the impulse, but I think it's a shame and a terrible mistake not to cover China's revolution, especially when we need to understand China so much. I wish somebody would talk some sense into him.

"Insane Clown Posse Says Story Comparing Juggalos To Trump Is 'Off The Mark'" [HuffPo]. "On Tuesday, Atlantic writer Graeme Wood published a piece titled 'What to Do With Trumpists' in which he invoked Juggalos ― the affectionate name for fans of ICP ― in his commentary about the Trump administration, which he referred to as "'he political equivalent of the Insane Clown Posse.'" • A thread on the Juggalos:

Juggalos are comrades! Whenever I see anti-ICP slander, it's invariably coming from snooty upper class dorks who don't understand the power and appeal of being a misfit among fellow misfits. A Juggalo took me to my junior prom, and we're still friends ♥️ https://t.co/SLqGcoceWX

— Kim Kelly (@GrimKim) January 20, 2021

Kim Kelly is the labor columnist for Teen Vogue, a sentence I could never have imagined myself writing.

"Left" vs. "Right":

— Alex Rubinstein (@RealAlexRubi) January 19, 2021

One might urge that all Alex has proved is that — unsurprisingly — fascists can adopt idpol; but I'm not going to urge that, because I don't want to go down the "what is fascism" rabbit-hole today..

News of the Wired

How to gain followers on Twitter, a thread:

Now did I ever tell you why I started this account, some six or so years ago?

Well it's not for the reasons you might think… pic.twitter.com/R8sQRIV9BI

— Pulp Librarian (@PulpLibrarian) January 20, 2021

(If that is what you want to do.) There are many, many tiny verticals like this on Twitter. That's one reason I like it, besides its timeliness; the Twitter is not entirely a cesspit.

The idiocy of rural life?

"We're all going to die, one way or another — whether in a palace or elsewhere."

This 80-year-old ice skater from Siberia knows a thing or two about how to live a contented life ⛸️ pic.twitter.com/acN4nF6Oea

— DW News (@dwnews) January 21, 2021

What a landscape! And she has a good woodpile, too. It's not easy being a peasant, though.

"Science and Culture: At the nexus of music and medicine, some see treatments for disease" [PNAS]. "When physician Babar Khan started studying delirium seven years ago, he set out to find a drug that could sooth the agitation, inattention, and hallucinations that characterize the disorder. Delirium is common in the intensive care units (ICUs) where Khan works, most recently as an ICU physician at Indiana University School of Medicine and a researcher at Regenstrief Institute, both in Indianapolis. Some 70–80% of ventilated patients in the ICU experience episodes of delirium that not only prolong their stay in hospital but can also lead to long-term cognitive decline. In the mid-2000s, Khan led two antipsychotic drug trials, neither of which worked for delirium…. He recently co-led a 2020 pilot trial using music to alleviate delirium in mechanically ventilated ICU patients. Encouragingly, he found that relaxing, slow-tempo classical music reduced patients' number of delirium days." • Interesting! For the delirious among us, then:

* * *

Readers, feel free to contact me at lambert [UNDERSCORE] strether [DOT] corrente [AT] yahoo [DOT] com, with (a) links, and even better (b) sources I should curate regularly, (c) how to send me a check if you are allergic to PayPal, and (d) to find out how to send me images of plants. Vegetables are fine! Fungi and coral are deemed to be honorary plants! If you want your handle to appear as a credit, please place it at the start of your mail in parentheses: (thus). Otherwise, I will anonymize by using your initials. See the previous Water Cooler (with plant) here. Today's plant (BS):

BS writes: "Buckwheat flowers with small native bee. Please help stop Republicans from privatizing VA Healthcare." I knew nothing about this Republican effort. Can readers provide more information? (I really like the depth of field in this photo; which is the second reason I'm running it, but for readers who don't know: 600px minimum width is the NC standard unless, I suppose, your cellphone is very old. Thank you!)

* * *

Readers: Water Cooler is a standalone entity not covered by the recently concluded and — thank you! — successful annual NC fundraiser. So if you see a link you especially like, or an item you wouldn't see anywhere else, please do not hesitate to express your appreciation in tangible form. Remember, a tip jar is for tipping! Regular positive feedback both makes me feel good and lets me know I'm on the right track with coverage. When I get no donations for five or ten days I get worried. More tangibly, a constant trickle of donations helps me with expenses, and I factor in that trickle when setting fundraising goals:

Here is the screen that will appear, which I have helpfully annotated.

If you hate PayPal, you can email me at lambert [UNDERSCORE] strether [DOT] corrente [AT] yahoo [DOT] com, and I will give you directions on how to send a check. Thank you!