By Lambert Strether of Corrente.
Bird Song of the Day
Another city bird (although unfortunately there are no recordings from the Tower of London).
#COVID19
At reader request, I've added these daily charts from 91-DIVOC. The data is the Johns Hopkins CSSE data. Here is the site.
I feel I'm engaging in a macabre form of tape-watching…. (A reader asked the source of the data: Johns Hopkins CSSE. DIVOC-91 does allow other data sets to be used, like Our World in Data and The Atlantic, and where they provide visualizations similar to those below, a cursory comparison shows that the shape of the curves is the same.)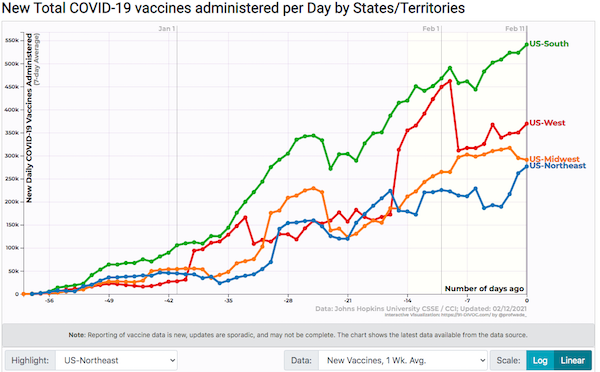 Case count by United States region: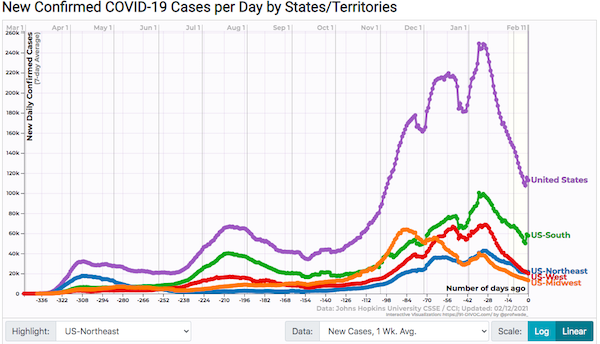 Ruh oh. Look at the South.
Big states (New York, Florida, Texas, California):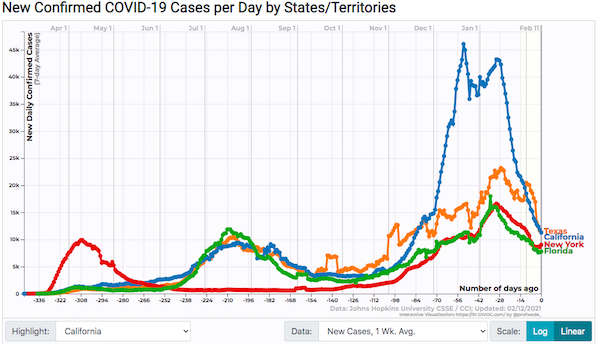 Looks like the South could be Florida. Too early for the Superspreader Bowl, so could be B117.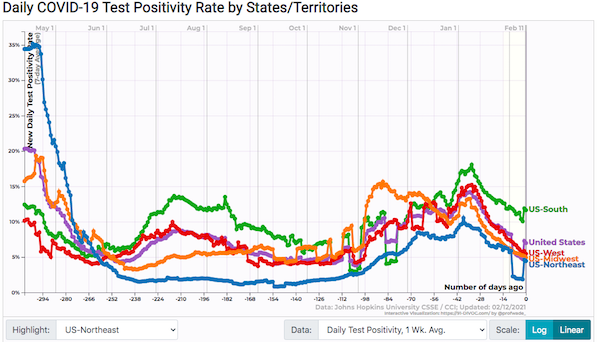 Ruh oh. South is up.
Nowhere near 3%, anywhere.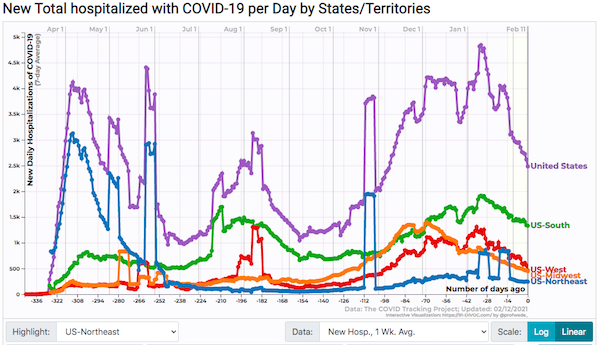 The South has flattened. Given that hospitalization is probably a more reliable indicator of trouble than case count, I certainly hope that's the not first sign of B117. Hospitalization is discretionary; they may also be reducing their admissions rate — relative to cases we cannot see in this data! — to preserve future capacity; or because hospitals have figured out how to send people home.
Case fatality rate (plus deaths):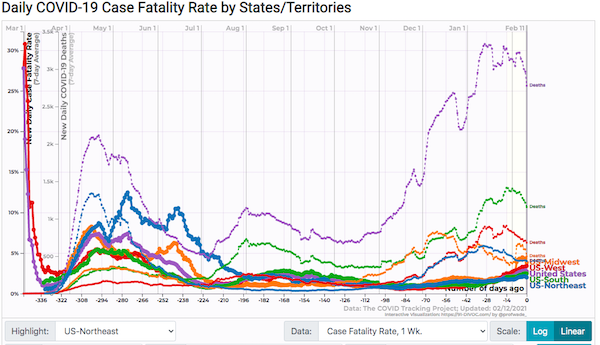 The case fatality rate has markedly increased, albeit slowly. I don't like that at all. Deaths do look they are going down at last. Maybe this time they won't head back up again. It would be about time.
Politics
"But what is government itself, but the greatest of all reflections on human nature?" –James Madison, Federalist 51
"They had one weapon left and both knew it: treachery." –Frank Herbert, Dune
"They had learned nothing, and forgotten nothing." –Charles Maurice de Talleyrand-Périgord
Impeachment
"A Vote to Acquit Trump Is a Vote for a Lie" [Peggy Noonan]. "Here is a human question. I don't understand why I haven't heard a single story of a member who supported the president in refusing Electoral College certification, who stood with him, and who, hearing what was happening in the first stages of the riot, went into the halls to speak with the rioters. Why did they not do that? They knew there was a rally and expected a march, presumably peaceful. Why didn't they go into the halls where the clamor was and tell the people, 'Friends, I share your beliefs and am arguing for them on the floor, but what you are doing is wrong and unlawful, and you must leave.' Instead they were spirited from the floor by the police and hid in their offices and other rooms. Why didn't they go out and speak to the crowds, their own people? Is it that they didn't actually understand their own people? Or, in barricading themselves in, were they showing they understood them all too well? Another human question. Watching all the videotape, seeing all the posing of the rioters and holding up phones and live-streaming the event—there was something about it all that made you wonder if something about this age of hypermedia has made people less human, less natural, more like actors who operate at a remove from themselves, even in a passionate moment of insurrection. They acted as if the Senate was a movie set, and they took videos because they're actors in a story called 'Storming the Capitol.'" • This is why I have such a soft spot for Nooners; these are two perceptions I haven't seen anywhere else. On the sentimental claptrap emotionalism: "Connected to this is the emotionalism of politics now. I'm not talking about the House managers this week, I'm talking about what is becoming our national style, or at least a public political style. I thought of this last week when Democratic representatives who wanted to share what 1/6 was like for them spoke on the floor. It was full of tears, full of personal information, full of feelings. People wept and got choked up. I don't mean it's insincere—it's all too sincere. They think their feelings are important and must be voiced." • Feelings aren't facts, as they say in AA. More: "But when institutions seem so frail I'm not sure it helps that leaders are frail. I watched and thought: It's like nothing bad has ever happened to them before. And I realized it's not ideal to be governed by people to whom nothing bad has ever happened." • "Nothing bad has ever happened" is not quite fair. That said, phoning loathesome donors for money four hours a day isn't "bad" in the same way that working in an Amazon warehouse or a slaughterhouse is. The first two being "essential"; the second, not. On the case made, I disagree with Nooners. "Insurrection" is a feelings word for which there is no warrant; unfortunately, that's what Democrats impeaced Trump for. And I rule out digital "evidence" with no provenance tout court; the Democrats had plenty of time to get statements from witnesses, as MSNBC (!) points out below. And yes, sincerity is not a value.

"Democrats need to subpoena Mike Pence, Elaine Chao and others to testify at Trump's trial" [MSNBC]. "While the rules of interviewing witnesses have yet to be agreed upon, the process doesn't have to drag out the proceedings. Each side could take one day total, eight hours each, to question these witnesses and any others. While a witness an hour or so is a pretty fast clip, it would also preclude any weird tangents or nongermane questioning…. The managers have done an admirable job planting the events of Jan. 6 firmly in the historical record. Now they need to go one step further. In historians' parlance, they need to incorporate on hand into the catalogue of abuses that they've already compiled against the former president." • I don't want to be cranky about this, but isn't incorporating "true primary source material from witnesses" the normal course of action for a trial? Even an impeachment trial?

""We Lost the Line": Trump Is on the Brink of Yet Another Senate Acquittal" [Susan Glasser, The New Yorker]. "The unprecedented second impeachment trial of Donald Trump is not yet over, though it soon will be, and the outcome is, once again, not much in doubt. A year ago, when Trump faced his first trial, Mitt Romney was the only Senate Republican to vote for his conviction. This time, despite the trial taking place at the actual scene of the crime, Romney was joined by only five other Republicans in voting to allow the trial to proceed. Whether or not those six ultimately vote to convict, the final number of Republicans is sure to be well below the two-thirds majority required for conviction. We lost the line. We lost the line, indeed." • Well, we don't know. But one thing is sure: The liberal Democrats will never, ever self-reflect on their loss. But wait! There's hope–

"POLITICO Playbook: Could McConnell surprise us all?" [Politico]. "McConnell's closest advisers admit they have no idea what he'll do. Senate Republicans close with him say they're genuinely in the dark — though they predict he will acquit. McConnell has said little, maintaining his poker face throughout the impeachment managers' presentations, just as he did during the last impeachment. One reporter said he's looked like a statue throughout the trial, hands folded in his lap and listening intently. McConnell's office declined to comment, but the will-he-or-won't-he parlor game goes on. Our best guess — it's nothing more than that — is that McConnell will vote to acquit, then issue a blistering rebuke of Trump." • Of the various factors McConnell might be considering — legacy, institutionalism, the Senate in 2020, and an outraged base putting up a challenger more serious than Amy McGrath [on this I am wrong]– I would guess the last two weigh the heaviest in McConnell's mind. We shall see.

"NRCC finance chair: Republicans who voted for Trump impeachment will not be penalized" [The Hill]. "Rep. Darin LaHood (R-Ill.), finance chair of the National Republican Congressional Committee (NRCC), on Thursday affirmed that the House lawmakers who voted to impeach former President Trump would still receive funding for their respective reelection campaigns. During a phone interview with Politico, LaHood said that gaining control of the House in 2022 was more important than punishing Republican lawmakers by depriving their campaigns of cash." • Seems like the ideal outcome for Republicans would be a majority of Republicans voting to convict, but not two-thirds. Best of both worlds!
Democrats en Deshabille
"New Allegations of Cover-Up by Cuomo Over Nursing Home Virus Toll" [New York Times]. "Gov. Andrew M. Cuomo and his top aides were facing new allegations on Friday that they covered up the scope of the death toll in the state's nursing homes from the coronavirus, after admissions that they withheld data in an effort to forestall potential investigations into state misconduct. The latest revelations came in the wake of private remarks by the governor's top aide, Melissa DeRosa, and a cascading series of reports and court orders that have nearly doubled the state's official toll of nursing home deaths in the last two weeks. The disclosures have left Mr. Cuomo, a third-term Democrat, scrambling to contain the political fallout, as lawmakers of both parties call for censure, including stripping the governor of his emergency powers during the pandemic, federal and state investigations and resignations of Ms. DeRosa and other top officials." • The Times "legitmizes" a story the Post broke. If we unfairly blame Cuomo for all the nursing home deaths, that's ~15,000 / 44992 total deaths = 33%, which is in Trump's league of 40% blame for all US deaths (the point being not to exonerate either Trump or Cuomo, but to urge that executive ability in our political class is severely, and systemically, stunted, across both parties).

Never, ever:
Biden Adminstration
""I Will Destroy You": Biden Aide Threatened a Politico Reporter Pursuing a Story on His Relationship" [Vanity Fair]. " In a sympathetic profile Monday, People revealed that White House Deputy Press Secretary TJ Ducklo is dating Axios political reporter Alexi McCammond, who covered the Joe Biden campaign. But behind the scenes, Ducklo had previously lashed out at Politico reporter Tara Palmeri, who was reporting the story, exhibiting behavior that led to tense meetings between the Washington news outlet's editors and senior White House officials…. During the off-the-record call, [White House Deputy Press Secretary TJ Ducklo] made derogatory and misogynistic comments, accusing [Politico reporter Tara Palmeri] of only reporting on his relationship—which, due to the ethics questions that factor into the relationship between a journalist and White House official, falls under the purview of her reporting beat—because she was 'jealous' that an unidentified man in the past had 'wanted to fuck' McCammond 'and not you.'" • Ducklo was suspended for a week (lucky dude; he wasn't a Times reporter). Isn't it a little early in the administration for this sort of story?

"Biden formally ends Trump's border emergency, but troops will stay" [Politico]. "For the troops on the ground, not much will change. Roughly 3,600 military personnel will continue providing support to the Department of Homeland Security and Customs and Border Protection in the form of surveillance, maintenance, logistics and transportation until September, Pentagon spokesperson Lt. Col. Chris Mitchell said." • So, good. Good enough?

"Meet President Biden's legislative affairs chief" [The Hill]. "The White House declined to make Terrell or any members of her team available for an interview for this story and did not respond to questions about Terrell's role in the early weeks of the administration. Legislative affairs directors are typically under-the-radar figures who play an outsized role in the administration, serving as a president's envoy to Capitol Hill…. Outside of D.C., Terrell did stints at Yahoo as a director of federal policy and strategy, at as the company's public policy director, and as deputy general counsel at ." • Oh.
2021
Well, so much for Yang:

As mayor of NYC – the world's financial capital – I would invest in making the city a hub for BTC and other cryptocurrencies.

— Andrew Yang???? (@AndrewYang) February 11, 2021
Realignment and Legitimacy
"After the ballots are counted: Conspiracies, political violence, and American exceptionalism" [American Enterprise Institute]. "There is bipartisan agreement that the American system of democracy is failing to address the concerns and needs of the public. Nearly seven in 10 (69 percent) Americans agree that American democracy serves the interests of only the wealthy and powerful. Seventy percent of Democrats and 66 percent of Republicans hold this view…. A majority (55 percent) of Republicans support the use of force as a way to arrest the decline of the traditional American way of life. Forty-three percent of Republicans express opposition to this idea. Significantly fewer independents (35 percent) and Democrats (22 percent) say the use of force is necessary to stop the disappearance of traditional American values and way of life. Although most Americans reject the use of violence to achieve political ends, there is still significant support for it among the public. Nearly three in 10 (29 percent) Americans completely or somewhat agree with the statement: 'If elected leaders will not protect America, the people must do it themselves even if it requires taking violent actions.' More than two-thirds (68 percent) of Americans disagree with this statement…. However, although a significant number of Americans—and Republicans in particular—express support for the idea that violent actions may be necessary, there is a notable lack of enthusiastic support for it. For instance, only 9 percent of Americans overall and only 13 percent of Republicans say they 'completely' agree in the necessity of taking violent actions if political leaders fail." • 22 percent of Democrats seems high. What's their theory of the case? Bolshevism?

"Prominent anti-Trump Republicans reject third party" [Reuters]. "Reuters exclusively reported on Wednesday that more than 120 Republicans – including former elected officials, along with former administrators under Trump and former presidents Ronald Reagan, George H.W. Bush and George W. Bush – met virtually on Feb. 5 to discuss forming a third party or a new center-right faction. Two of the most prominent anti-Trump Republicans in Congress – Representative Liz Cheney of Wyoming and Representative Adam Kinzinger of Illinois – rejected the idea of a breakaway party in statements to Reuters on Thursday. Other Republican critics of Trump expressed similar skepticism – arguing a third party would accomplish little beyond splitting the votes of conservatives and helping Democrats get elected. The resistance to a third party among some of Trump's toughest Republican critics underscores the extreme difficulty of such a political revolt. Such an effort would require walking away from the Republican Party's massive political infrastructure – staff, money, connections and data on donors and voters – that would take years if not decades to build from scratch." • I's not at all clear there's a base for such an effort:

Updated numbers (as of 2/8): So far in 2021, 0.6% of registered Republicans in AZ & PA have changed their party registration. For Democrats, it's 0.2%. In other words, 99.4% of Reps and 99.8% of Dems have stayed with their parties. A little deceleration in the past week or two. https://t.co/RVkMF4Emeo

— G. Elliott Morris (@gelliottmorris) February 11, 2021

Please, no:

Also I told you people if we didn't stop it at Latinx they were going to come after the rest of us, too pic.twitter.com/bIEJvvX4hN

— Zaid Jilani (@ZaidJilani) February 12, 2021

Remember that Hispanics do not accept the "Latinx" formulation, so whenever you hear it, you know you're hearing from someone who is unlikely to be from that community, but who is imposing their own categories upon it. (Stereotyping wildly, the irony is that the ____x types are also most likely to introduce themselves with their preferred pronouns.)

"EXCLUSIVE: Embattled QAnon congresswoman Marjorie Taylor Greene 'openly cheated' on her husband of 25 years with a polyamorous tantric sex guru and then moved on to another affair with the manager at her gym" [Daily Mail]. • What did we learn, Palmer?:

CIA Superior : Okay. So, the gym manager is dead.
CIA Officer : Yes, sir.
CIA Superior : The body is?
CIA Officer : Tha-that's gone, sir.
CIA Superior : Okay.
Stats Watch
At reader request, I added some business stats back in. Please give Econintersect click-throughs; they're a good, old-school blog that covers more than stats.
Consumer Sentiment: "Preliminary February 2021 Michigan Consumer Sentiment Continues To Fall" [Econintersect]. "The preliminary University of Michigan Consumer Sentiment for February came in at 76.2, down from January's 79.0, down from December's of 80.7, and down from November's 76.9"
Rail: "Rail Week Ending 06 February 2021 – Growth Rate Little Changed This Week" [Econintersect]. "Total rail traffic has two components – carloads and intermodal (containers or trailers on rail cars). Container exports from China have recovered, container exports from the U.S. remain deep in contraction. This week again intermodal continued in expansion year-over-year and continues on a strengthening trendline…. But overall because of the strength of intermodal, rail is growing year-over-year."
Leading Indicators: "05 February 2021 ECRI's WLI Growth Rate Continues To Improve" [Econintersect]. "ECRI's WLI Growth Index which forecasts economic growth six months forward improved and continues well into expansion. Please note that the coronavirus is a black swan event and the decline was immediate. In theory, this index is now indicating that in the second or third quarter of 2021 the economy should be in expansion year-over-year."
* * *
Retail: "'I thought buying things would make me feel better. It didn't': The rise of emotional spending" [Guardian]. "n the past fortnight, I have bought the following items online: a hideous cat tree that takes up most of my living room, a lavender pillow spray, two scarves, a pair of gloves, two candles, a sheet mask, a pair of fleece-lined jogging bottoms (so comfy!), a card-holder and an under-eye brightening cream. None of these purchases were essential. Many I haven't even taken out of the packaging, leaving them in a pile by the front door. Ten months into the pandemic, I know the rhythms of the courier networks better than I know my menstrual cycle. Royal Mail in the morning; DPD and Hermes in the afternoon. Amazon comes any time, including late at night. DPD couriers insist on taking a photo of you with the package, mortifyingly." • Amazon is smart enough to know that delivery is a dopamine loop, too.=
Tech: "All you need to know about Bluesky, the decentralized social network created by Twitter, which allows you to build your own media platform" [Business Insider]. "In a call with investors on Thursday, Dorsey said: 'I think the most important thing to focus on in terms of decentralizing social media is that it creates a much larger corpus of conversation.' Dorsey, who cofounded Twitter in 2006, said platforms that operate without central governance allows people to access a wider public conversation, more content and ranking algorithms that suit people's needs… The project presents a new model for social media platforms and offers an alternative to traditional, centralized platforms, such as Facebook, Instagram, and Twitter…. Bluesky will take inspiration from email, whereby users with different email addresses can reach out to each other, regardless of which email server they use. Instead of being controlled by the company in charge, the network will put the power into the hands of the user."
Tech: "Clubhouse, the invite-only audio app, explained" [Vox]. "The audio chat app Clubhouse is built for two types of people: the talkers and the listeners. Tesla founder Elon Musk is a talker. So is Facebook's Mark Zuckerberg. Robinhood's Vlad Tenev is a talker, as are many other influential Silicon Valley figures, like investors Ben Horowitz and Marc Andreessen, who have staked millions of dollars into Clubhouse's success. A regular user can be a talker too, although there's no promise anyone (besides a few friends) will show up and stick around. As a listener, though, the app offers a smorgasbord of chatrooms on virtually any topic you can think of: foreign language practice, wealth management, Instagram marketing tips, therapy, a 24/7 lo-fi music streaming service. Toggling between public rooms on the homepage is simple: A listener can quietly drop, already muted, into rows of audience members and tune into the unfolding conversation. The catch to Clubhouse is that it's invite-only, at least in its current beta-testing phase. People have to receive an invitation from an existing user to unlock access to the platform, which is only available for download through the iOS App Store. (Clubhouse's founders say they are working to scale the app for a general audience, including Android users, but their expansion timeline remains uncertain.)" • The last thing I want to do is listen to Musk or Zuckerberg.
Today's Fear & Greed Index: 60 Greed (previous close: 58 Greed) [CNN]. One week ago: 53 (Neutral). (0 is Extreme Fear; 100 is Extreme Greed). Last updated Feb 12 at 1:33pm.
Health Care
"Is It Time to Wear a Better Mask for COVID-19? We Asked the Experts" [Time]. "Price and Chu suggest applying static electricity to all of your cloth mask's layers—the cloth inner and outer, as well as the paper layer or filter—by putting on latex gloves, rubbing your hands together, and then rubbing each later before every time you put it on. This, he says, says can increase the mask's particle-filtering efficacy, and the effect lasts for several hours. 'Research that came out of work that we did with our colleagues at Stanford showed that static electricity can actually really improve the filtering capacity of masks,' says Chu."
Progress on aerosols in Quebec:
Then today, the CNESST did a 180 and made N95s mandatory for healthcare workers working with covid patients (hot zones), effective *tomorrow*https://t.co/BTAHrtBNJv

— Dr. Lisa Iannattone (@lisa_iannattone) February 10, 2021
"Tocilizumab in patients admitted to hospital with COVID-19 (RECOVERY): preliminary results of a randomised, controlled, open-label, platform trial:" (preprint) [medRxiv]. From the Abstract: "In hospitalised COVID-19 patients with hypoxia and systemic inflammation, tocilizumab improved survival and other clinical outcomes regardless of the level of respiratory support received and in addition to the use of systemic corticosteroids." n=4116. On the same study–
"Arthritis drug cuts deaths in hospitalized Covid-19 patients, major study shows" [STAT]. "Tocilizumab, a drug usually used to treat rheumatoid arthritis, reduced the rate for death in Covid-19 patients, according to a major clinical trial. The result, from a U.K.-based study called RECOVERY, upends the thinking about the drug, which is made by Roche and which had produced inconclusive results in earlier studies. The RECOVERY trial has yielded many of the most important clinical results of the pandemic, including the earlier result that the steroid dexamethasone also reduces the death rate in hospitalized patients, and that several other drugs researchers thought might help patients, including the malaria drug hydroxychloroquine, were not beneficial. Adding tocilizumab to dexamethasone prevented one death for every 25 patients treated. Researchers estimated that the combination of dexamethasone and tocilizumab reduces deaths overall in hospitalized patients by a third."
"Early initiation of prophylactic anticoagulation for prevention of coronavirus disease 2019 mortality in patients admitted to hospital in the United States: cohort study" [British Medical Journal]. From the Abstract: "Early initiation of prophylactic anticoagulation compared with no anticoagulation among patients admitted to hospital with covid-19 was associated with a decreased risk of 30 day mortality and no increased risk of serious bleeding events. These findings provide strong real world evidence to support guidelines recommending the use of prophylactic anticoagulation as initial treatment for patients with covid-19 on hospital admission." • I keep seeing report after report like this, and they are all encouraging. That said, I don't like the steady increase in the fatality rate in the United States. With all these new treatments, why is that happening?
Zeitgeist Watch
"Sorry, An*s Tanning Is Not Really a Thing" [Rolling Stone]. "There are a number of ways to go viral on Instagram. You can post a selfie with the cast of Friends. You can do yoga while breastfeeding a 4-year-old (preferably, not your own). Or you can have an elaborate gender reveal party that gives multiple people head injuries. But perhaps the most surefire way – the one totally unimpeachable, failproof method – is to post about the benefits of sunbathing your [glass bowl]. An aspiring influencer with the handle MetaphysicalMeagan proved this when she posted earlier this month about the benefits of the 'ancient Taoist practice' of 'perineal sunning.' …. The post contained virtually every element of instantaneous virality: pseudo-scientific, goofy wellness jargon, egregious cultural appropriation, and a photo of a lady with her clothes off." • I can't even. You'd think some of the Capitol self-takers would have thought of this. Perhaps it was too chilly.
Class Warfare
"The problems of authenticity under capitalism" [Global Inequality]. "Here I want to discuss another issue where we face a fundamental contradiction between the principles according to which hyper-capitalist societies are organized and what may be considered desirable outcomes. The topic is authenticity in arts, and to a lesser degree, in social sciences. When we deal with reproducible goods, the advantage of capitalism is that profit can be made only if somebody else's needs are satisfied. Thus two objectives, personal needs of a buyer and the profit goal of the producer, are aligned. But this is not the case in arts. The reason is that arts thrive on, or require, individualism, uniqueness and authenticity. When you try to guess public's preferences in shoes, and produce such shoes, this is good and useful. But when you try to guess public's preference in literature, films or paintings, it may, if you guess them correctly, make you rich, but from the point of view of artistic creation, it could very easily be fake and ephemeral. In arts, we are interested in an individual's view of the world, not in an individual's ability to ape public preferences or prejudices. I will illustrate it with some extreme examples. When we read Kafka's Diaries, we are sure that they represent his own true and unvarnished take on the world: he wrote them for himself, never thought they would be published, and explicitly asked that they be burned. The same is true, for example, with Marx's 1848 manuscripts which were saved largely by accident and were published more than a century after they were written. Whether one likes or not either is a matter of taste and interest. But there is no doubt that they are authentic works of these two people. But when we watch a film whose ending was tested on different audiences to produce the ending that most people would like to see, and pay for, there is—likewise—no doubt that the author's role in such an enterprise is diminished, and in some cases totally obliterated. The same is true for works of fiction."
"Women Who Work in Retail Are Having Very Different Experiences in COVID-19 Times" [Footwear News]. "[A]s more and more data is collected and analyzed, it's becoming increasingly clear that the health crisis has significantly amplified the divide between the haves and have nots — but the puts and takes are more complicated than meets eye. A report this week from ShopTalk offered new evidence that the pandemic has served up very divergent outcomes for women working in the retail industry — albeit in ways some may not have anticipated…. Two-thirds of Shoptalk's survey respondents said they are doing more to address the challenges they or their female colleagues experience in the workplace because of the global health crisis — including 36% who said they've made themselves a resource for other women in the workplace. That number, said the Shoptalk, jumps to 47% for women VP-level and higher. While the survey offers some upbeat news for women in retail — and Shoptalk's respondents are likely working in corporate roles which could slant some of the feedback — it's difficult to overlook the scores of women working at the store level who have been impacted by mass layoffs and furloughs since last March. Major retail employers, including JCPenney, Neiman Marcus and J.Crew, filed Chapter 11 last year, citing COVID-19 induced setbacks — and moved to drastically reduce their store fleets and lay-off associates. (Shoptalk describes its 8,000-plus convention attendees as individuals and companies reshaping how consumers discover, shop and buy.)"
News of the Wired
Normally, I give holidays a miss, but this one time, since Valentine's Day is Sunday, and this is Friday and the last Water Cooler of the week: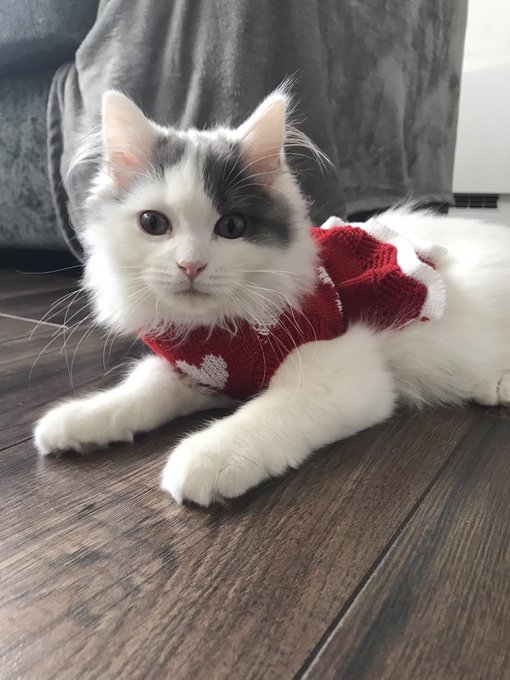 * * *
Readers, feel free to contact me at lambert [UNDERSCORE] strether [DOT] corrente [AT] yahoo [DOT] com, with (a) links, and even better (b) sources I should curate regularly, (c) how to send me a check if you are allergic to PayPal, and (d) to find out how to send me images of plants. Vegetables are fine! Fungi and coral are deemed to be honorary plants! If you want your handle to appear as a credit, please place it at the start of your mail in parentheses: (thus). Otherwise, I will anonymize by using your initials. See the previous Water Cooler (with plant) here. Today's plant (CK):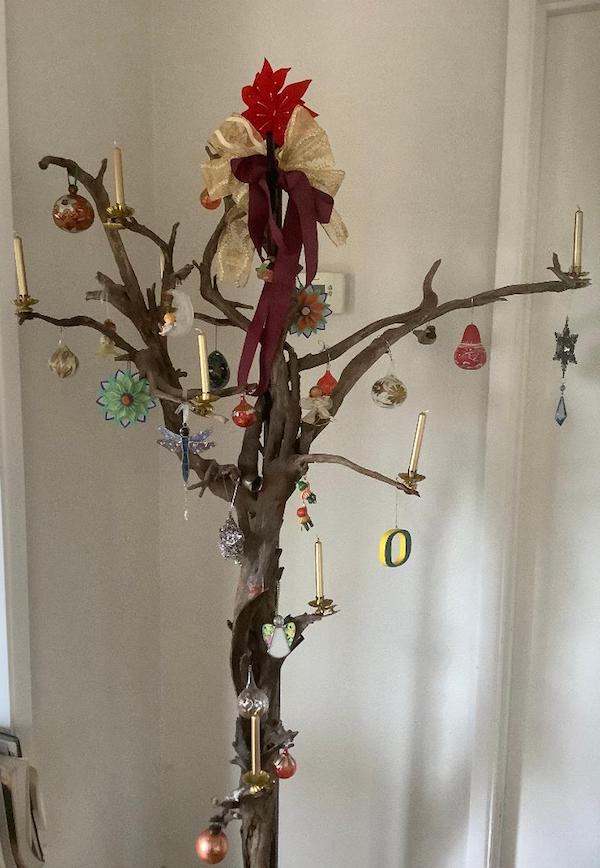 CK: "For the past five Christmases, this piece of driftwood, found in an Oregon creek, has been our tree. And, yes, we light the candles of an eve. The rest of the year it stands as an unadorned sculpture." Clever! I should have published this over the holidays, but here we are.
* * *
Readers: Water Cooler is a standalone entity not covered by the recently concluded and — thank you! — successful annual NC fundraiser. So if you see a link you especially like, or an item you wouldn't see anywhere else, please do not hesitate to express your appreciation in tangible form. Remember, a tip jar is for tipping! Regular positive feedback both makes me feel good and lets me know I'm on the right track with coverage. When I get no donations for five or ten days I get worried. More tangibly, a constant trickle of donations helps me with expenses, and I factor in that trickle when setting fundraising goals:
Here is the screen that will appear, which I have helpfully annotated.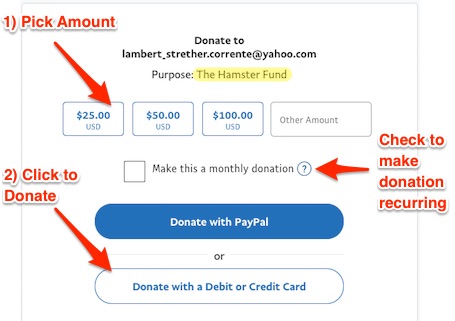 If you hate PayPal, you can email me at lambert [UNDERSCORE] strether [DOT] corrente [AT] yahoo [DOT] com, and I will give you directions on how to send a check. Thank you!