By Lambert Strether of Corrente.
Bird Song of the Day
#COVID19
At reader request, I've added this daily chart from 91-DIVOC. The data is the Johns Hopkins CSSE data. Here is the site.
I feel I'm engaging in a macabre form of tape-watching…. (A reader asked the source of the data: Johns Hopkins CSSE. DIVOC-91 does allow other data sets to be used, like Our World in Data and The Atlantic, and where they provide visualizations similar to those below, a cursory comparison shows that the shape of the curves is the same.)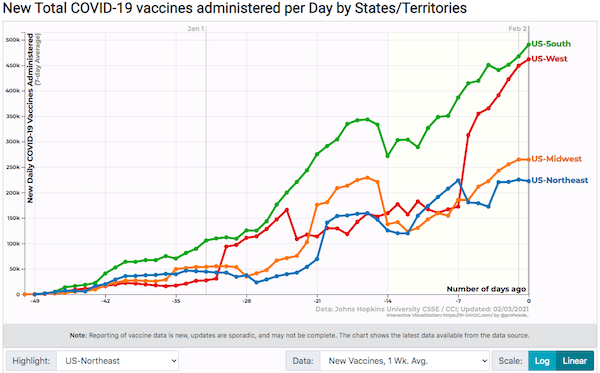 Step it up, Northeast! At some point, say by the third week in February*, we're going to need to see these curves going more vertical, or else we can conclude that the vaccination rate is basically a function of our extraordinarily [family-blogged] health care system, and "competence" and "leadership" operate only at the margin. Needless to say, I'd like to see the curves going more vertical. NOTE * "He's only been President ___ weeks, give him time."
Vaccination in the Northeast: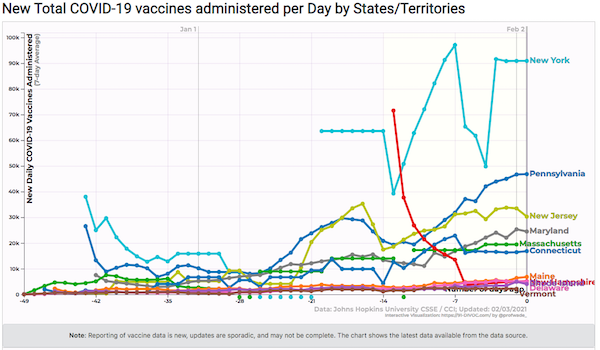 An ugly picture.
Case count by United States region: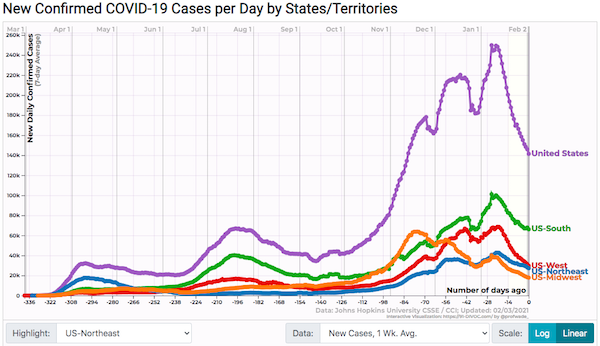 Big states (New York, Florida, Texas, California):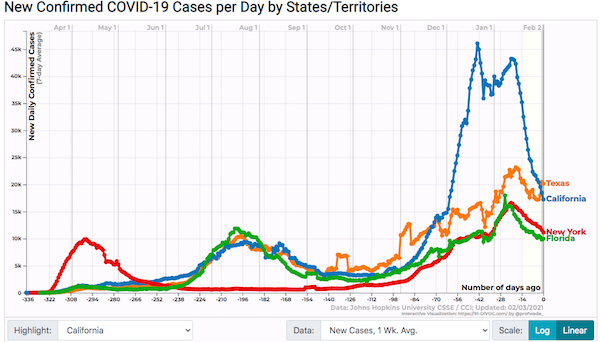 Texas on the upswing. I don't like that. A cloud no bigger than a man's hand? (1 Kings 18:44)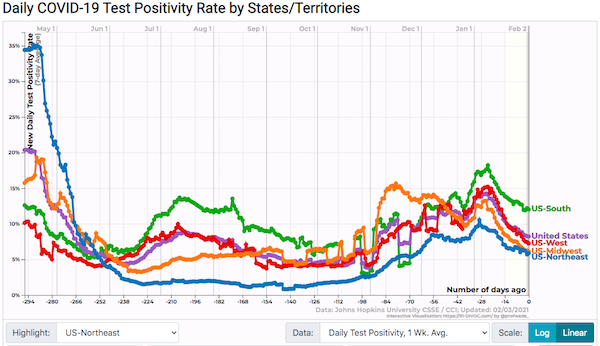 Nowhere near 3%, anywhere.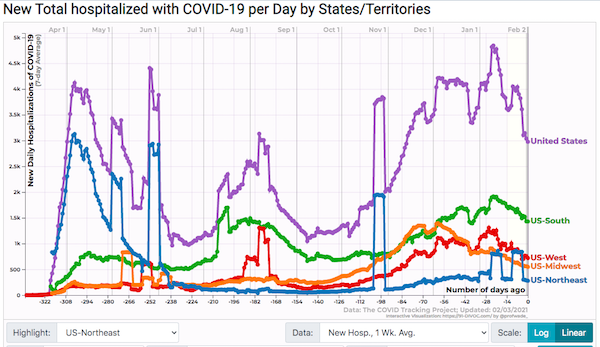 I wondered if New England would repeat its earlier, and unique, stairstep pattern; now it has. Hospitalization is discretionary; they may also be reducing their admissions rate — relative to cases we cannot see in this data! — to preserve future capacity; or because hospitals have figured out how to send people home.
Case fatality rate (plus deaths):\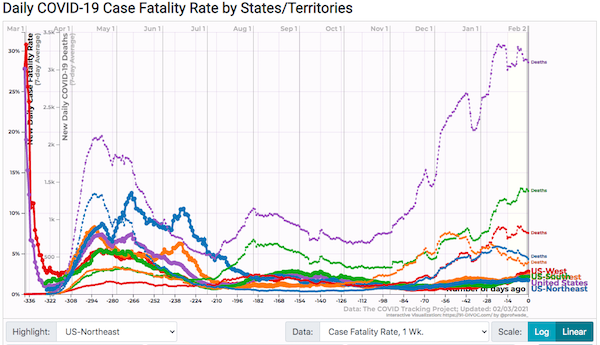 There's that slow rise in the fatality rate again. Nice to see a little drop in deaths, may it continue.
AZ: "COVID-19 cases and hospitalizations trending down" [KGUN (Arizona Slim)]. "Scientists say COVID-19 cases and hospitalizations are trending down in Arizona and in many parts of the country. The Pima County Health Department says hospitals are still straining under the pandemic, but ICU bed availability has improved into the double digits…. While the numbers are still too high, the rate of hospitalizations and cases started to trend down around Christmas. The cause is still unknown, but [University of Arizona Health Services Researcher Dr. Joe Gerald] says there are a number of possible factors. 'My leading contender is the closure of universities and schools, because culturally all 50 states close school for the holidays to be with our families." He says it is also possible that the population may have developed some partial herd immunity." • I dunno about the school vacation theory. Aren't we well into the Spring Semester already? Perhaps an alternative theory is the prevalance of online classes?
NY: "N.Y.C.'s Covid Metrics Are Dire. Cuomo Is Reopening Restaurants Anyway" [New York Times]. • This guy…. I don't know if there's been a study done on administrative effectiveness at the state level, but anecdotal evidence would suggest it's random with respect to Blue v. Red.
WV: "'We crushed it': How did West Virginia become a national leader in Covid vaccination?" [NBC]. "Since December, Ken Reed and his wife Tally, the owners of a small chain of pharmacies in the eastern part of this state, have been waking at dawn to travel to rural counties to vaccinate as many long-term care residents as possible. The Reeds say their familiarity with the people in counties like Jefferson, Berkeley, Morgan, and Pendleton makes all the difference in gaining their trust. 'These are your neighbors, your friends, your friend's parents, and you just treat them like you'd want to be treated,' Ken Reed said. West Virginia, a small and mostly rural state with a large elderly population, was tagged early on as a place likely to struggle with Covid-19 and any vaccine rollout. But the state is now being hailed as a vaccination success story, with 85 percent of its delivered doses already used, according to data from the Centers for Disease Control and Prevention, putting it second in the country behind North Dakota as of last week." • I'm really hoping this has nothing to do with the proven ability of pharmacies to distribute opioids. Sorry to rain on the parade….
Politics
"But what is government itself, but the greatest of all reflections on human nature?" –James Madison, Federalist 51
"They had one weapon left and both knew it: treachery." –Frank Herbert, Dune
"They had learned nothing, and forgotten nothing." –Charles Maurice de Talleyrand-Périgord
Capitol Seizure
"How Normal People Deployed Facial Recognition on Capitol Hill Protesters" [Vice]. "But earlier this month, a new use case for Pimeyes emerged: doxing suspected Capitol Hill rioters.Technologists have also deployed their own facial recognition and detection tools on videos and images of the Capitol Hill riots, but Pimeyes is easier to use. David Sebba, 31, of Florida, was one of at least seven Twitter users who posted about using Pimeyes to attempt to identify individuals illegally entering the US capitol. 'We've sat around for four years while no one was held accountable. The idea of getting some justice on insurrectionists isn't too bad,' he told me in a message." • Digital vigilantism will be totally OK as long as our side does it.
2024
I know it's too soon, but:

NEW: House Dems unveiled the message they plan to hammer throughout the 2022 cycle: The GOP is the party of QAnon

"They can do QAnon or they can do college-educated voters. They cannot do both" – DCCC Chair Sean Patrick Maloney

w/ @sarahnferris https://t.co/eL1morrXJc

— Ally Mutnick (@allymutnick) February 3, 2021

Are the Democrats trying to lose? (I did mention that the Capitol Seizure was a civil war between petty bourgeois factions? Taking "college educated" as the proxy).

file this under inconvenient truths pic.twitter.com/RW07vPQ50j

— David Parsons (@davidlparsons) February 3, 2021

Idea: Send people the working class money! (Actually, send everybody money, because universal benefits are nicer than nasty means-tested ones.)
Impeachment
"'Farcical' to not hold Senate impeachment trial for Trump: Biden" [ABC]. "President Joe Biden said in an interview published Wednesday that it would be 'farcical' if the Senate did not hold a trial for former President Donald Trump after the House voted last month to impeach him. 'He was impeached by the House, and it has to move forward, otherwise it would come off as farcical,' Biden said in the interview with People." • FIrst time as farce, second time as not farce?
Transition to Biden
UPDATE "Schumer and McConnell agree to organizing resolution for 50-50 Senate" [Politico]. "McConnell initially asked that Senate Democrats commit to protecting the legislative filibuster as part of the agreement, which Schumer rejected. McConnell dropped that demand after Sens. Joe Manchin (D-W.Va.) and Kyrsten Sinema (D-Ariz.) publicly reiterated that they did not support eliminating the 60-vote threshold. The new agreement is expected to resemble the 2001 power sharing agreement between former Senate leaders Trent Lott and Tom Daschle."

"Watchdogs concerned about some Biden appointees' opaque consulting work" [ABC]. "A number of senior officials joining the Biden administration have been working in consulting firms with opaque client lists, which ethics experts warn may undercut President Joe Biden's efforts to ensure Americans have faith in the independence of its leaders. In choosing his cabinet-level appointees and agency heads, Biden has demonstrated a preference for veterans of government service, many of whom are returning to control the levers of power after holding private-sector jobs as Washington consultants for corporate clients. . Instead, ethics experts say many have navigated the murky alleyways of corporate consulting and geopolitical risk management — work that can occur in secret, often protected by confidentiality agreements." • As usual with liberal Democrats, it's all about the indirection.

UPDATE That means-testing line is going to be hard to draw, but those on the bubble should just take one for the team:

With discussion of targeting, thought I should share that we included people <$75K in our @JAMANetworkOpen study because >20% who were earning $50-75K & lost work reported food insecurity at some point during the pandemic (figure in supplement) https://t.co/LpHhvpvA95 https://t.co/AH3pEdkxUQ pic.twitter.com/YexoaJZfFf

— Julia Raifman (@JuliaRaifman) February 3, 2021

Oh, and the income figures used for the means-testing would be from 2019, i.e., from before the pandemic. So the point clearly isn't "targeting," beause the target already moved, but the importance of means-testing as such. It's the principle of the thing. I mean, how do liberal Democrat Lady Bountifuls humiliate people if there's no means-testing? Think, people!

UPDATE "Biden sitting down for pre-Super Bowl CBS interview" [The Hill]. "President Biden will sit down for an interview with CBS News that will be broadcast just before the Super Bowl kicks off on the network Sunday night. The recorded interview is slated to run sometime in the 4 p.m. hour, Variety reported. The president will be interviewed by Norah O'Donnell, host of the 'CBS Evening News.' The network said it will release excerpts of the interview during Friday night's broadcast of 'CBS Evening News' and during 'Face the Nation' Sunday morning. CBS's pregame Super Bowl coverage is scheduled to begin before noon and kickoff between the Kansas City Chiefs and Tampa Bay Buccaneers is set for 6:30 p.m." • The headline seems a little deceptive. "Sit down for an interview" implies, to me, a live interview. Otherwise, there's no need to stress "sit down," because that's how most interviews take place. I mean, they're not going to be doing a West Wing-style walk-and-talk through the White House, are they?

UPDATE "There is no bipartisanship because Republicans don't want it" [Ryan Cooper, The Week]. "It is somewhat mysterious why bipartisanship became a sort of fetish object for some D.C. lifers. It probably has something to do with how it obscures responsibility — if you are some kind of lobbyist or part of the imperialist foreign policy "blob," bipartisanship can facilitate financial deregulation, or yet another pointless increase in the military budget, without it being clear who is to blame. A proper democratic system has clear lines of accountability, so it is obvious what the people's representatives are doing with their power. Bipartisan compromise is the exact opposite. At any rate, for whatever reason Biden felt the need to pander to this sentiment during the campaign by promising a return to bipartisan comity that was absolutely never going to happen. He duly gave Republicans their opening, and now that they rejected the offer it's on them. But perhaps now Democrats can try the novel strategy of trying to do a good job all by themselves, and allowing voters to judge them on their performance." • Well, I don't know when the bipartisanship fetish started, but I do know that Obama had the Preamble to the Democrat platform rewritten in 2009 to stress that a great nation deserved two great parties.
Democrats en Deshabille
"The GameStop Rally Exposed the Perils of 'Meme Populism'" [Eric Levitz, New York Magazine]. "In a social-media discourse that was demographically representative of the nation as a whole, it seems unlikely that the phrase 'working-class retail investors' would be spoken unironically. But on a platform that drastically underrepresents the supermajority of Americans who have less than $1,000 in savings, it was possible for some progressives to mistake the cause of recreational investors for that of the proletariat." • Skip the Levitz on finance and read Vlade here and here. But on the silliness of the putative left, Levitz is correct.
Obama Legacy
"3 Million People Were Deported Under Obama. What Will Biden Do About It?" [New York Times]. • Wait. You're telling me that [genuflects] Obama… sucked? Yes, that's what I said:

What was once the progressive critique of Obama in 2009 has now been internalized by the entire party, including Manchin. https://t.co/ppebPhg0Jy

— Jeet Heer (@HeerJeet) February 3, 2021

Exactly as with Iraq, everybody who was wrong is still in power (and rich), and everybody who was right is marginalized, unserious, and scratching.
Realignment and Legitimacy
You can see the unique selling proposition, right?

.@AOC bringing back her social media crash course for members of Congress. Here's what lawmakers took away from it at the 2019 session: https://t.co/daHysbxKIc

"The room was packed. Every seat was filled." https://t.co/GRb0PblPAH

— Cristiano Lima (@viaCristiano) February 3, 2021

Here it is: "I will show you how to develope a base and raise money without going through Pelosi or the DNC." As I keep saying, AOC is the most interesting politician around right now.
Stats Watch
At reader request, I added some business stats back in. Please give Econintersect click-throughs; they're a good, old-school blog that covers more than stats.
Employment Situation: "January 2020 ADP Employment Grew 174,000" [Econintersect]. "ADP reported non-farm private jobs growth of 174,000 which was above expectations. A quote from the ADP authors: 'Although job losses were previously concentrated among small and midsized businesses, we are now seeing signs of the prolonged impact of the pandemic on large companies as well.'"
Services: "United States ISM Non Manufacturing PMI" [Trading Economics]. "The ISM Services PMI for the US increased to 58.7 in January of 2021 from 57.7 in December, beating market forecasts of 56.8. The reading pointed to the strongest expansion in the services sector since February of 2019. New orders increased faster (61.8 vs 58.6) and employment rebounded (55.2 vs 48.7). On the other hand, production (59.9 vs 60.5) and supplier deliveries (57.8 vs 62.8) slowed and both inventories (49.2 vs 58.2) and new export orders (47 vs 57.3) came back to contraction."
* * *
Tech: "As Jeff Bezos steps aside, what comes next for Amazon?" [Financial Times]. "Amazon insisted that Mr Bezos, as executive chairman, would only be involved in what it described as "one-way door" decisions, from which there is no turning back. Brian Olsavsky, Amazon's chief financial officer, said these would include 'the more important decisions: things like acquisitions, things like strategies and going into grocery and other things.'" Commentary:
As Jim Crotty always used to emphasize, you can't understand Keynes' story about liquidity preference, or why finance is key constraint on investment, without the fact that major investment decisions are irreversible. https://t.co/qXsTpvhmWd pic.twitter.com/ioQuLkyRHn

— JW Mason (@JWMason1) February 3, 2021
The Bearded One conceptualized "fixed capital" for a reason….
Tech: "The Privacy Spat Between Facebook and Apple Is Just the Beginning" [Bloomberg]. "The recent flareup now centers on the wording of the pop-up prompting iPhone users to decide whether to allow tracking. Executives at Facebook worry that Apple will frame the choice in an alarmist way, effectively pushing users to reject tracking. Facebook Chief Financial Officer Dave Wehner told analysts that he expects "high opt-out rates" for Apple's prompt, and Facebook has said these changes will impact its business moving forward. It plans to front-run Apple's prompt with messaging of its own, framing advertising as a way to have a better experience on Facebook and support businesses that rely on targeted ads for sales. Whatever the outcome, the dispute points to further tension ahead.":
Concentration: "Pandemic lifestyle delivers earnings boon for Amazon, Google" [Agence France Presse]. "Pandemic-driven lifestyle changes that have put the internet at the center of seemingly everything proved a financial boon for Amazon and Google in the final three months of last year. Google-parent Alphabet and the Seattle-based e-commerce colossus reported large earnings Tuesday on thriving internet advertising and the booming market for online shopping.
* * *
Today's Fear & Greed Index: 58 Greed (previous close: 51 Neutral) [CNN]. One week ago: 36 (Fear). (0 is Extreme Fear; 100 is Extreme Greed). Last updated Feb 3 at 12:13pm
The Biosphere
"The Climate Change Lawsuits Against Big Oil" [Consortium News]. "Over a dozen federal cases have now been filed against oil companies, seeking damages for their role in causing climate change. With one exception, the cases have been brought by states or local governments that claim they and their citizens are suffering harm from climate change. …The high-stakes litigation involves issues ranging from whether the companies deceived the public about climate change to fine points of federal jurisdiction. The cases may fail at an early stage, proceed all the way through trial, or, like the earlier tobacco litigation, end up with some kind of global settlement. But beyond wins, losses, or settlements, the most consequential phase of these climate lawsuits may be discovery, where courts require the oil companies to turn over documents and other information relevant to the suits, with the possibility that these disclosures will reach the public."
Health Care
"The Second COVID-19 Shot Is a Rude Reawakening for Immune Cells" [The Atlantic]. "Side effects are a natural part of the vaccination process, as my colleague Sarah Zhang has written. Not everyone will experience them. But the two COVID-19 vaccines cleared for emergency use in the United States, made by Pfizer/BioNTech and Moderna, already have reputations for raising the hackles of the immune system: In both companies' clinical trials, at least a third of the volunteers ended up with symptoms such as headaches and fatigue; fevers like my husband's were less common. Dose No. 2 is more likely to pack a punch—in large part because the effects of the second shot build iteratively on the first. My husband, who's a neurologist at Yale New Haven Hospital, is one of many who had a worse experience with his second shot than his first. But much like any other learning process, in this one repetition is key. When hit with the second injection, the immune system recognizes the onslaught, and starts to take it even more seriously. The body's encore act, uncomfortable though it might be, is evidence that the immune system is solidifying its defenses against the virus. 'By the second vaccine, it's already amped up and ready to go,' Jasmine Marcelin, an infectious-disease physician at the University of Nebraska Medical Center, told me. Fortunately, side effects resolve quickly, whereas COVID-19 can bring on debilitating, months-long symptoms and has killed more than 2 million people."
"Vaccinating Children against Covid-19 — The Lessons of Measles" [NEJM]. "Since nearly a quarter of the U.S. population is under 18 years old — and the percentage is significantly higher in many other countries — effective herd immunity will require pediatric vaccination. Vaccinating children is likely to have benefits both direct (protecting children against rare severe pediatric cases of Covid-19 and postinfectious conditions such as multisystem inflammatory syndrome in children [MIS-C]) and indirect (protecting others by reducing spread).1 Those "indirect" benefits also reduce the family toll of parental illness, failing economies, and chronic stress. So we need to think creatively and empathically about what motivates parents to accept vaccination for their offspring. How do the conversation and the stakes change when children are not themselves at highest risk? What do we owe children and their families for helping to protect the rest of us? Robust safety data, including pediatric-focused studies and postlicensure monitoring for potential rare outcomes such as vaccine-associated MIS-C, are a bare minimum, as is ensuring just and equitable access to vaccination. Societal decision making that prioritizes children's needs, including keeping schools open and safe, would be another step in the right direction. Flexible sick-leave policies, widespread access to testing, and financial support for parents, teachers, and other caregivers would help protect families in this stressful time. We must minimize children's risk, maximize their chances of returning to school, and mitigate the pandemic's effects on their families."
"How Rich Hospitals Profit From Patients in Car Crashes" [New York Times]. "When Monica Smith was badly hurt in a car accident, she assumed Medicaid would cover the medical bills. Ms. Smith, 45, made sure to show her insurance card after an ambulance took her to Parkview Regional Medical Center in Fort Wayne, Ind. She spent three days in the hospital and weeks in a neck brace. But the hospital never sent her bills to Medicaid, which would have paid for the care in full, and the hospital refused requests to do so. Instead, it pursued an amount five times higher from Ms. Smith directly by placing a lien on her accident settlement. Parkview is among scores of wealthy hospitals that have quietly used century-old hospital lien laws to increase revenue, often at the expense of low-income people like Ms. Smith. By using liens — a claim on an asset, such as a home or a settlement payment, to make sure someone repays a debt — hospitals can collect on money that otherwise would have gone to the patient to compensate for pain and suffering. They can also ignore the steep discounts they are contractually required to offer to health insurers, and instead pursue their full charges." • Who says America has lost the ability to innovate? (Also, on "assume." Be a "smart shopper" and "assume" they'll screw you, unless and until proven otherwise. That is the world we live in!
"The Definitive Case for 'Medicare For All'" [Current Affairs]. "M4A simply gives the United States what these countries already have: a financing system that is proven to work. At the moment, health financing is a mess—a mixture of Medicare, Medicaid, employer-based private insurance plans, and plans purchased on the public exchanges. M4A would simplify the system, funding the whole system through progressive taxation rather than a mixture of taxes plus insurance premiums, copays, and deductibles. At the moment, Americans pay a fortune for healthcare, but a large amount of that money is wasted, siphoned off by the shareholders of private insurance companies or gobbled up by administrative costs. (El-Sayed and Johnson note that in an average year, health administration costs amount to $2500 per American, versus $550 in Canada.)" • That's a lot of rice bowls to smash…
Sports Desk
"Large Gatherings" [CDC]. "Attending large gatherings like the Super Bowl increases your risk of getting and spreading COVID-19. The safest way to watch the Super Bowl this year is at home with people you live with. If you choose to attend the Super Bowl or a large Super Bowl event, like a watch party this year, follow these steps to make yourself safer…" • Nothing explicit on airborne transmission; only by implication (masks, no chanting or cheering). What about ventilation? This borders on criminality.
Guillotine Watch
"The story behind 'Blue Check Homes': How an SF artist created a fake company that fooled thousands" [San Francisco Chronicle]. "On Friday, a viral Twitter thread announced the unexpected rollout of "Blue Check Homes" — a new service allowing Bay Area residents to apply to have a "Verified Badge crest" (read: blue check mark) installed on the facade of their homes to essentially identify themselves as an authentic public figure in real life…. Danielle Baskin, the SF-based artist behind the prank, had no idea the website she crafted to back up the fake service would receive 495 applicants, all hoping for a crest of their own….. Scrolling down the page, the qualifications to obtain one of these crests seem to grow increasingly absurd. You must be a homeowner who is also a "thought leader," for instance, or identify yourself as an athlete or member of a professional esports league who has been featured in gaming publications like Kotaku, Polygon or IGN. Are you a famous actor desiring to own one of these crests? Well, unless you have at least five production credits on your IMDB profile, too bad." • What is increasingly absurd about any of this? And the kicker: "Personally, I wanted to know how Baskin came up with all of these made-up credentials. But to my surprise, she pointed out these are all the same qualifications the actual Twitter app requires of its users requesting verified status. And that's kind of the point of the prank."
Class Warfare
Act I, Scene 1:
interviewer: you have a 3 year gap on your resume that just says "vengeance"

me:

interviewer:

me: you don't remember me do you?

— Conajam (@conajam) June 14, 2019
News of the Wired
"What Is Applied Category Theory?" (PDF) [Tai-Danae Bradley]. • Just leaving this here in case I ever want to find it again, but the mathematically inclined may want to delve in.
Rather like a medieval QR code:
The Cistercian monks invented a numbering system in the 13th century which meant that any number from 1 to 9999 could be written using a single symbol pic.twitter.com/VRuEx4dkPF

— UCL Department of Mathematics (@MathematicsUCL) February 2, 2021
Because of course:
updated video: pic.twitter.com/PN3LmCkZXI

— KarmatronDynamics (@Alita_Lore) February 2, 2021
Does have a little bit of an edge to it, though…
* * *
Readers, feel free to contact me at lambert [UNDERSCORE] strether [DOT] corrente [AT] yahoo [DOT] com, with (a) links, and even better (b) sources I should curate regularly, (c) how to send me a check if you are allergic to PayPal, and (d) to find out how to send me images of plants. Vegetables are fine! Fungi and coral are deemed to be honorary plants! If you want your handle to appear as a credit, please place it at the start of your mail in parentheses: (thus). Otherwise, I will anonymize by using your initials. See the previous Water Cooler (with plant) here. Today's plant (ED):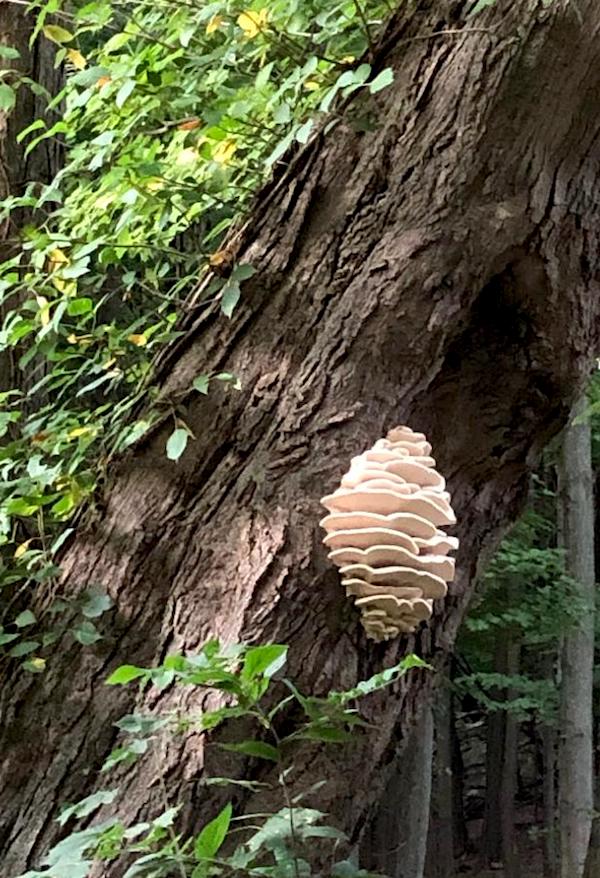 ED writes: "Seen in Stanford, NY this September. Thought of Water Cooler right away.
* * *
Readers: Water Cooler is a standalone entity not covered by the recently concluded and — thank you! — successful annual NC fundraiser. So if you see a link you especially like, or an item you wouldn't see anywhere else, please do not hesitate to express your appreciation in tangible form. Remember, a tip jar is for tipping! Regular positive feedback both makes me feel good and lets me know I'm on the right track with coverage. When I get no donations for five or ten days I get worried. More tangibly, a constant trickle of donations helps me with expenses, and I factor in that trickle when setting fundraising goals:
Here is the screen that will appear, which I have helpfully annotated.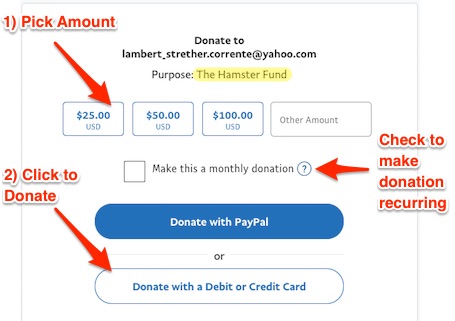 If you hate PayPal, you can email me at lambert [UNDERSCORE] strether [DOT] corrente [AT] yahoo [DOT] com, and I will give you directions on how to send a check. Thank you!