Yves here. Hubert Horan continues his chronicle of the deterioration of Uber's finances. And you can only blame so much on the pandemic.
By Hubert Horan, who has 40 years of experience in the management and regulation of transportation companies (primarily airlines). Horan has no financial links with any urban car service industry competitors, investors or regulators, or any firms that work on behalf of industry participants
Last Thursday, Uber announced a full year 2020 GAAP loss of $6.8 billion with a GAAP net margin of (-60%). As discussed in the context of the mid-year results presented in Part 23, [1] Covid-19 significantly reduced Uber revenues, just as the pandemic has devasted dozens of other urban services and transport businesses.
The huge ($4.7 billion, 43%) year-over-year decline in Uber's core car service revenue was partially offset by a 93% increase in delivery revenue, but the central story here remains unchanged. Uber's rides business never had any hope of earning sustainable profits, even without the virus. The delivery volumes added have substantially worse margins and have done nothing to create a path to future profitability.
2020 losses would have been much worse but for massive cost cutting. Uber abandoned its entire "Advanced Technology Group" (robotcars, flying cars, etc.). Uber's investments in new businesses had been the centerpiece of its long-term growth narrative but had no profit potential, Uber had to provide $400 million in funding to the startup that took it off its hands. [2] It also slashed expenditures not directly supporting its current car service and delivery operations. Research and Development spending was reduced by $2.6 billion (54%) and overall operating expense fell 30%.
Uber's cash position declined by $5.4 billion, but thanks to the IPO and the massive funding investors provided previously, its balance sheet still reports $5.6 billion cash on hand. There have been multiple reports that Uber was attempting to sell some of its 15% stake in Didi Chuxing, the Chinese ridesharing firm, in order to raise additional cash.[3]
The exhibit below illustrates Uber's losses over the last five years. The exhibit compares reported results with numbers adjusted to eliminate two major distortions in prior year results. These issues were documented in Part 22 of this series [4] and do not affect the newly published 2020 results.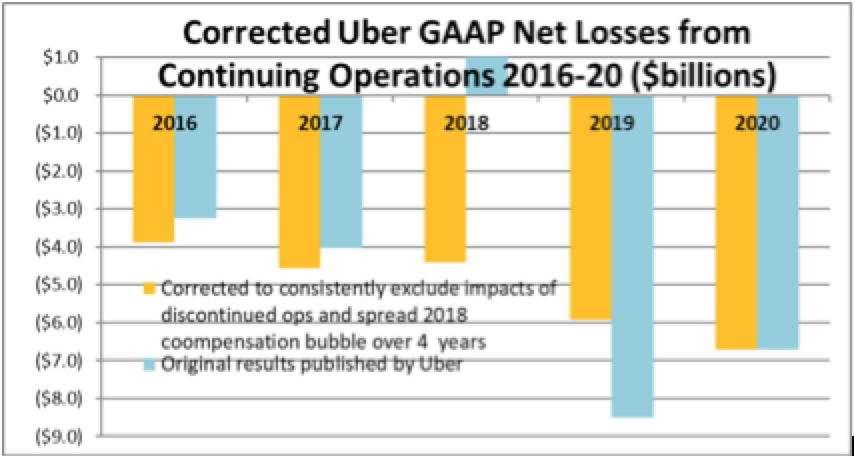 Uber did not magically produce profits in 2018 amidst years of multi-billion dollar losses. Immediately prior to its IPO, Uber claimed that unmarketable securities it had received in return for abandoning massively unprofitable foreign markets were worth $4.5 billion, and improperly claimed that this asserted value was actually operating profit from ongoing Uber operations. After adjusting for this misstatement Uber has lost over $25 billion in the last five years
In accordance with GAAP rules it recorded $4.7 billion in stock-based compensation expense at the moment it vested (in the 2ndquarter of 2019), although these expenses were for work done over multiple years. The issue here is not the absolute level of expense, but the timing. Spreading these expenses over four years reduces Uber's "official" 2019 loss from $8.5 billion to $5.9 billion while increasing prior losses.
While Uber's "official" numbers suggest that the pandemic allowed Uber to reduce losses by 21% and had no impact on profit margins, a better accounting of historical performance shows margin deteriorated from (42%) in 2019 to (60%) in 2020 while losses increased by nearly a billion dollars.
Press coverage highlighted the bottom line $6.7 billion loss but continued to mislead readers about the viability of the business. It is not surprising that reporters who did not understand Uber's major misstatements of 2018-19 results might misreport whether 2020 results were better or worse. It is less understandable why these stories not only emphasized volume metrics over profit measures but touted gross revenue (which includes the total cost of restaurant meals ordered and the total costs its drivers incur) over the actual revenue Uber earned. [5]
Stories highlighted the growth in food delivery ("food delivery has been a bright spot" [6]) without mentioning the cutthroat competitive conditions that produced sizeable negative margins or examining whether Uber has been able to improve its weak market share (37% after spending $2.6 billion to acquire Postmates [7]) or attempting to explain how Uber could eventually succeed in a delivery business where no one has ever produced sustainable profits.
Stories continued to push Uber's narratives about how it was "taking a page from Amazon's playbook" and that the growth of delivery meant "they're actually stronger coming out of the pandemic than they were going in." [8] None of the stories mentioned that Uber's elimination of all businesses other than rides and deliveries directly contradicted longstanding claims that these investments would allow them to become "The Amazon of Transportation" and drive many years of Amazon-like profitable expansion. Instead of highlighting that Uber had abandoned the strategy that had been the centerpiece of its IPO prospectus, one story said that Uber had simply "shed some of its more fanciful pursuits." [9]
As previous posts in this series have discussed, Uber projections use deliberately misleading metrics. Discussions of the overall company use a measure improperly called "EBITDA" which excludes lots of expenses other than interest, taxes, depreciation and amortization, such as the $4.7 billion in stock-based employee compensation. Discussions of rides, delivery and other business segments use an "Adjusted EBITDA" measure which excludes a wide range of other expenses including marketing incentives, Uber's IT infrastructure and all general corporate support functions.
One can determine the real meaning of these mislabeled metrics if one examines the footnotes in Uber's SEC filings, but Uber knows reporters for mainstream business publications will not do that. These reporters continue to tell readers that "Uber has said it expects to become profitable by that measure by year-end" since they do not understand the difference between "profitability" and "contribution after a large portion of actual operating expenses have been excluded." Nor do any of these reporters make any attempt to explain how Uber might achieve the billions in P&L improvements needed to achieve even these badly flawed "profit" targets.
Unsurprisingly for a company that has never made a profit in twelve years and cannot explain how it ever could become profitable in the future, Uber's stock value has increased nearly 90% in the last three months. Uber finally achieved its hoped for $90 billion IPO valuation last November and reached $112 billion after the news of its $6.7 billion 2020 loss was announced. The largest part of the stock runup occurred in November after Uber and other Silicon Valley companies dependent on extremely low "gig" labor costs successfully spent over $200 million to overturn California legislation and court decisions that granted employee rights to rideshare and delivery drivers. [10]
Press reports emphasized rational sounding (but highly implausible) explanations for the ongoing increase in Uber's value—e.g. it was a "virus recovery play", combining rides and delivery in a single company created huge value. None of the reports suggested that (as with companies like Gamestop) it was ludicrous to suggest that stock prices had any connection to marketplace reality, economic fundamentals or the efficient allocation of capital. No one in the business press suggested the possibility that $100 billion valuations could be manufactured out of thin air, or that the business press played a major role in promulgating the narratives used to manufacture those artificial valuations.
__________
[1] Can Uber Ever Deliver? Part Twenty-Three:Uber's Already Hopelessly Unprofitable Economics Take A Major Coronavirus Hit, Naked Capitalism, August 10, 2010.
[2] Amir Efrati, Infighting, 'Busywork,' Missed Warnings: How Uber Wasted $2.5 Billion on Self-Driving Cars, The Information, September 28, 2020; Dan Primack, Kia Kokalitcheva, Uber in talks to sell air taxi business to Joby, Axios, Dec 2, 2020; Sam Abuelsamid,Aurora Acquires Uber's Automated Driving Unit–And Uber's Cash, Forbes, Dec 7, 2020;  Cade Metz and Kate Conger, Uber, After Years of Trying, Is Handing Off Its Self-Driving Car Project, New York Times, Dec 7, 2020
[3] Pavel Alpeyev and Lizette Chapman, Uber to Seek Partial Sale of $6.3 Billion Didi Stake, Bloomberg, September 17, 2020. Uber had previously written down the value of its Didi stake from its originally claimed $8.2 billion value. A new report suggests Uber recently sold $207 million of Didi stock, but details have not been provided.
[4] These adjustments were documented in Can Uber Ever Deliver? Part Twenty-Two: Profits and Cash Flow Keep Deteriorating as Uber's GAAP Losses Hit $8.5 Billion, Naked Capitalism February 7, 2020.
[5] Preetika Rana, Uber's Food-Delivery Business, Cost Cuts Cushion Pandemic Hit, Wall Street Journal, Feb 10, 2021
[6]Kate Conger, Uber's Food Delivery Business Nearly Matches Ride-Sharing, New York Times Feb 10, 2021
[7] Mike Isaac and Erin Griffith, Uber to Buy Postmates for $2.65 Billion, New York Times, July 5, 2020
[8] Claire Miller, Forget Ride Hailing. Uber Wants To Be Your One-Stop Shop For Everything, NPR, Feb 10, 2021
[9] Lizette Chapman ,Brody Ford , and Emily Chang, Uber CEO Sees Ride-Hailing Rebounding Faster Than Other Transit, Bloomberg, February 11, 2011
[10] Preetika Rana and Christine Mai-Duc, Inside Uber and DoorDash's Push to Win the Most Expensive Ballot Race in California History, Wall Stret Journal, October 28, 2020