Yves here. Hubert continues his deep dive into why and how airlines are fighting the operational changes needed to get them on a sounder footing. And par for the course, airplanes are now falling apart in the sky! Well just some United and JAL Boeing 777s, but still….they symbolism is arresting.
By Hubert Horan, who has 40 years of experience in the management and regulation of transportation companies (primarily airlines). Horan currently has no financial links with any airlines or other industry participants
Readers who would like a comprehensive overview of the aviation issues discussed in this series over the last year should take a look at my new article, The Airline Industry after Covid-19: Value Extraction or Recovery? just published at American Affairs.
That article was commissioned after my September video interview with Izabella Kaminska of the Financial Times. [1]  Izabella asked whether there wasn't some glimmer of good news or hopeful future prospects. Wasn't there still some way to reduce the economic value that was being destroyed? Short answer was no, but the new article lays out a more complete explanation than can be provided in a blogcast or posts like this.
While the magnitude of the losses and cash drains is unprecedented, the bigger issue is that the obstacles to a restoring the most possible service and employment are overwhelming. The new article explains the origins of those obstacles, and how they became powerfully entrenched.
Ugly Full Year 2020 Financial Results Reported
The Big 4 airlines (American, Delta, United and Southwest, that account for 86% of the industry) had full year 2020 GAAP net losses of over $31 billion, and operating losses of over $33 billion. Smaller carriers such as Alaska, JetBlue and Hawaiian have reported additional losses of over $3 billion. The overall aviation ecosystem (including airports, regional feeder airlines, internet travel services and maintenance/ground handling suppliers) lost billions more.
Most of these losses occurred in the last three quarters when the Big 4 had an operating margin of negative 101% and reported burned over $33 billion in cash. Underlying economics are worse because these carriers report a portion of the CARES Act subsides as operating income. Excluding these gifts from taxpayers, the Big 4 had an April-December operating loss of $44 billion ($50 billion worse than the same period in 2019) and an operating margin of negative 141%.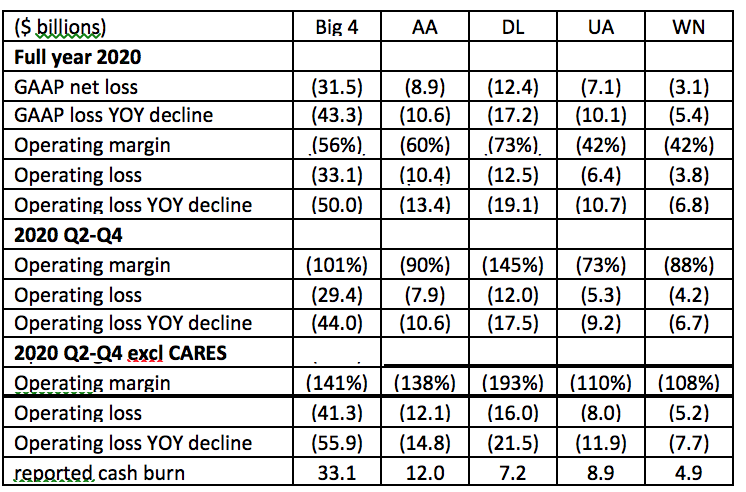 As the previous five parts of this series have emphasized, the central problem is the industry's inability to reduce operating expenses (full year 2020 down $50 billion versus full year 2019) anywhere remotely close to the decline in operating revenues (down $100 billion year-over-year). Nothing in the carriers' fourth quarter results indicated any meaningful progress towards closing the cost/revenue gap. Southwest's fourth quarter results said that revenue performance would need to double just to reach cash flow breakeven (not profitability), the exact same warning they had issued six months ago. [2Taxpayer Subsidies to Sustain Equity Values Reach $65 Billion, but Aren't Enough
Since the original $50 billion in subsidies provided last March by the CARES Act did nothing to improve the industry's terrible economics, the Big 4 carriers spent most of the summer and fall lobbying for additional funding. In December Congress provided an additional $15 billion.
As with half of the March subsides, this was packaged as "payroll support." 38,000 staff who had been laid off in October when the March subsides expired were rehired through March 2021 even though there was no work for any of them to do. While some of this money ended up in the pockets of United pilots, the claim that the central objective of these subsidies was unemployment reduction isn't credible. It requires believing that the same Congress that was fighting tooth and nail to prevent relief for other individuals from exceeding $600 were willing to pay $400,000 per person to keep a narrow set of airline employees employed for just four months.
As discussed previously in this series, the industry's primary objective throughout the pandemic has been to preserve the value of equity and the ownership/senior management status quo. Over 100% of the Legacy carriers' (AA/UA/DL) year end liquidity comes from the subsidies and funds raised from capital markets after the Congressional subsidies signaled that these airlines were Too Big To Fail.
Without these subsidies, these carriers would not have been able to sustain operations and equity-holders would have been wiped out. "Saving jobs" was a PR smokescreen. The Congressional subsidies were designed to ensure that existing shareholders received 100% of the gains from any post-pandemic equity appreciation, and that the taxpayers who made it possible got none.
But $65 billion is not enough to protect current airline owners if major cash drains continue throughout most (or all of) 2021, and the Big 4 have already started lobbying for a third round of subsidies while warning that major layoffs will resume when the second round subsidies expire at the end of March. The Legacy carriers have already mortgaged the vast majority of assets that could possibly serve as collateral and are unlikely to be able to raise significant new funding from capital markets until after a major revenue recovery is clearly underway. They are "zombie companies" unable to repay their financial obligations out of current earnings.[3]
No Light at End of the Tunnel
From the outset this series has pointed out that industry expectations for a rapid and complete return to pre-pandemic revenue levels had no basis in reality. Those narratives falsely assumed that the recovery of business and international demand that is critical to profitability would begin within a few months, and that once a recovery was underway, revenues would snap-back to their 2019 levels within 12-18 months. [4] When the first reports of vaccine effectiveness came out last fall, hopes for a rapid snap-back resurfaced, with the starting point repegged for the first or perhaps the second quarter of 2021.
Industry insiders are finally beginning to recognize the powerful linkage between border closures and the collapse of business travel. As one observer noted, "the countries that have been really good at suppressing the virus have done it by killing international aviation." [5] Thus the industry's recovery cannot begin until the spread of the virus had been so widely suppressed that businesses could start to reconsider travel bans and governments could end border closures without fears of triggering new case load spikes.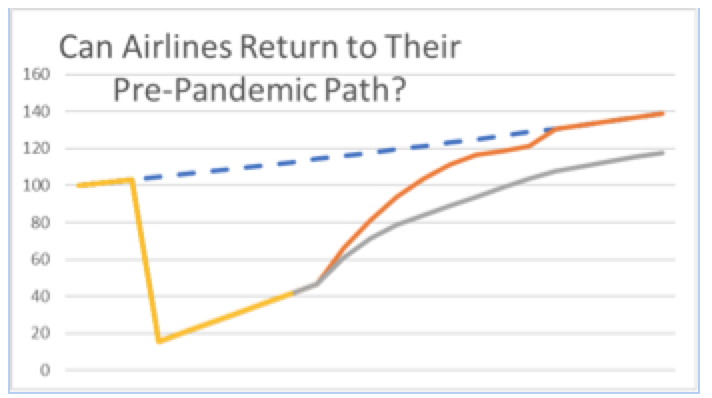 Myriad vaccine issues and the spread of virus mutations could push back the starting point of any recovery (and the end of the industry's ugly cash drains) into 2022. Aside from granting these four companies unlimited access to the US Treasury, there has been no public discussion as to how continuing drains might be funded, and how a major industry collapse could be avoided in any less-than-best-case virus suppression scenario.
Bankruptcy filings last summer could have easily stopped the hemorrhaging but it may now be too late for bankruptcy restructuring to work. Successful bankruptcy reorganizations require a significant amount of cash, but tens of billions in cash has already been burned and asset values have eroded waiting for a revenue rebound that wasn't going to happen. Past airline bankruptcies were painful but never had to deal with a cost/revenue gap remotely as large as what these airlines face today and  never involved lengthy delays while airlines hoped that their financial problems would magically disappear . [6]
There are also serious concerns about the second part of the recovery equation—the restoration of some degree of financial viability and stability after the recovery begins. For the first time industry insiders have begun openly acknowledging that demand won't quickly snap back to pre-pandemic levels, and business travel may remain seriously reduced for a very long time, if not permanently. [7] But there are numerous other factors, that could also depress post-pandemic demand. Even after a real revenue recovery starts, the industry will still be dealing with the worst demand, efficiency and liquidity levels it has ever faced.  Higher fares could significantly hurt the recovery as could external factors such as "long covid" and ongoing recurrences of smaller outbreaks. International travel could remain highly restricted for years until the virus has been eradicated globally.
Significant Risks of Post-Pandemic Predatory Value Extraction
In the 20thcentury, the airline industry not only survived multiple crises, but always emerged stronger. Unfortunately, both the general ability to drive ongoing efficiency improvements and the specific ability to use efficiency gains to accelerate crisis recovery have been lost. Industry productivity has been declining for 20 years, especially in domestic markets and for the legacy carriers. In the current crisis the industry has categorically ruled out any of the restructuring efforts used in the past to fix the problems that created crises and to liquidate the least competitive capacity.
Instead of responding to crises with efficiency-enhancing innovations, 21stcentury industry financial improvements have come from predatory value extraction, especially from exploiting the artificial market power over consumers, employees and suppliers made possible by extreme levels of industry concentration. [8] Innovation and competition is hard, mergers and price increases and lobbying to protect the ownership/management status quo are much easier. Returns to airline investors come from reducing the contribution of the industry to the overall economy.
Even though the industry recovery has yet to begin, it is important to understand why it will inevitably focus on further reductions in competition and other forms of increased predatory value extraction. As KLM CEO Pieter Elbers pointed out months ago, "every big crisis in the industry so far has led to further consolidation. After pure crisis management is behind us, somewhere in the middle of next year, there is going to be a stage when consolidation and further collaboration in the industry will take place." [9]
Efforts are already underway to merge Korean and Asiana, and a similar Japan Air Lines-All Nippon merger has been proposed. These would effectively eliminate meaningful competition in Korea and Japan, and significantly reduce it in many Asia-Pacific markets. Stock speculators have bid up the prices of the second-tier US airlines (Jetblue, Alaska, Hawaiian) in the expectation that the Big 4 will try to acquire them.
The industry will also pursue ways to reduce competition without formal mergers. Qantas and JAL have proposed "strengthening" their existing code alliance (e.g. increasing their ability to collude on capacity and pricing) even though they already have an 86% share of the Japan-Australia market; and a JAL-ANA merger would push this closer to 100%. [10] On the last day of the Trump Administration DOT Secretary Elaine Chao approved cooperation between American and JetBlue, the first ever application for airline collusion in domestic US markets. [11] Lufthansa, Air France and other large international carriers have demanded that longstanding airport slot "use-it-or-lose-it" rules be abandoned in order to block new competition at their hub airports.
The problem isn't that the industry might shrink. Given the incredible devastation of international airline demand, it may be that a major portion of 2019 capacity can never return, and that some previously viable airlines need to be liquidated. The problem is that the industry has come to believe that increased consolidation and collusion is the solution to any financial problem it might ever face. If industry revenue declines, the airlines refuse to consider reducing capacity across-the-board while maintaining competition and insist that the only possible option is to reduce the number of competitors.
Even if total capacity shrinks, governments could take a number of simple steps to preserve and protect competition and better balance the interest of airline investors and the interests of consumers, employees, suppliers and the overall economy. Airlines may insist that they cannot attract capital unless new mergers and price collusion are approved but demands to harm consumers in order to improve investor returns should be rejected out of hand.
Merger applicants should be required to demonstrate that they will not increase market power and to produce verifiable evidence of any cost synergy claims. Collusive international alliances and airport slot rules that had been justified by pre-pandemic levels of competition need to be suspended until independent analysis demonstrates they will not reduce competition under post-pandemic conditions. As an example, Delta's collusive alliance with Korean assumed healthy competition in the Korean market and the existence of multiple other competitive Asia-Pacific alliances (United-Asiana, United-ANA, American-JAL), and all of these alliances should be terminated if any of the mergers being discussed are implemented. Any proposals to allow carriers to coordinate schedules while demand remains severely depressed must have strict termination clauses tied to actual traffic recovery and must not be permitted in any cases where the colluding carriers would have a significant market position.
The underlying problem is that the major 21stcentury reductions in competition that halted productivity growth and crippled the industry's ability to respond to the current crisis all resulted from proactive government actions designed to help airline investors extract value from the rest of society. When coronavirus hits, Washington immediately responded with massive direct wealth transfers from taxpayers designed to protect existing airline equity holders. We have no evidence suggesting Washington will do anything to protect market competition or overall economic welfare, or take other steps to limit future fare increases, job losses or cuts to the service that cities and industries depend on.
_______________
[1] https://ftalphaville.ft.com/2020/09/10/1599758074000/Alphavid–The-airline-sector-is-in-denial-about-its-imminent-collapse/#comments  Direct YouTube link to the video (about 40 minutes): https://www.youtube.com/watch?v=Hzig-gnKWTI#action=share
[2] Kyle Arnold, "Southwest Airlines needs 'business to double in order to break even,' CEO says" Dallas Morning News, August 28, 2020
[3] Lisa Lee, America's Zombie Companies Have Racked Up $1.4 Trillion of Debt, Bloomberg, November 17, 2020
[4] Hubert Horan: The Airline Industry Collapse Part 3 – Recovery Expectations Were Always Dreadfully Wrong, Naked Capitalism, August 4, 2020
[5] Philip Georgiadis and Claire Bushey, Airline industry alarm as vaccine-led recovery hopes take a dive, Financial Times, February 15, 2020
[6] The requirements of a successful bankruptcy—based on the industry's long experience, and the major difficulties an airline bankruptcy would face after having already suffered a full year of coronavirus losses are discussed in pp. 50-52 and 55-57 of the American Affairs article.
[7] Kevin Michaels, "Why Business Travel Could Change Forever", Aviation Week and Space Technology, January 18, 2021; Doug Cameron and Eric Morath, "Covid-19's Blow to Business Travel Is Expected to Last for Years", Wall Street Journal, January 17, 2021
[8] The data demonstrating these productivity/efficiency trends are shown at pp. 46-49 of the American Affairs article.
[9] Helen Massy-Beresford, Airlines Likely To Need More Government Support, IATA CEO Says, Aviation Week, September 24, 2020
[10] CAPA Centre for Aviation, "COVID-19 crisis strengthens case for JAL-Qantas partnership", January 6, 2021.
[11] Leah Nylen and Stephanie Beasley, "Approval of American-JetBlue deal draws warnings of rising airfares", Politico, January 16, 2021