This Flower Is Really a Fungus in Disguise Scientific American
Texas sorry after mistakenly sending emergency alert for cursed Chucky doll Guardian (ChiGal).
Is this the end of the A68a iceberg? Enormous block of Antarctic ice that was once three and a half times bigger than LONDON suffers another major split Daily Mail
It's A Sh*t Show Out There The Brockovich Report. Yes, that Brockovich.
SEC Hunts for Fraud in Social-Media Posts Hyping GameStop Bloomberg
Robinhood Crisis Reveals Hidden Costs in Zero-Fee Trading Model Bloomberg. As Yves keeps pointing out, friction in trading is good.
Trading boom propels Deutsche Bank to first profit in 6 years FT
#COVID19
Efficacy and Safety of the mRNA-1273 SARS-CoV-2 Vaccine NEJM. Moderna. RCT, n=30,420. From the Abstract: "Moderate, transient reactogenicity after vaccination occurred more frequently in the mRNA-1273 group. Serious adverse events were rare, and the incidence was similar in the two groups. The mRNA-1273 vaccine showed 94.1% efficacy at preventing Covid-19 illness, including severe disease. Aside from transient local and systemic reactions, no safety concerns were identified."

Estimating the effectiveness of the Pfizer COVID-19 BNT162b2 vaccine after a single dose. A reanalysis of a study of 'real-world' vaccination outcomes from Israel (preprint) medRvix. Pfizer. From the Abstract, on methodology: "We used a pooled estimate of the daily incidence rate [in Israel] during days 1 to 12 as the counterfactual estimate of incidence without disease and estimated confidence intervals using Monte Carlo modelling. After initial injection case numbers increased to day 8 before declining to low levels by day 21. Estimated vaccine effectiveness was pretty much 0 at day 14 but then rose to about 90% at day 21 before levelling off. The cause of the initial surge in infection risk is unknown but may be related to people being less cautious about maintaining protective behaviours as soon as they have the injection. What our analysis shows is that a single dose of vaccine is highly protective, although it can take up to 21 days to achieve this. The early results coming from Israel support the UK policy of extending the gap between doses by showing that a single dose can give a high level of protection." This is above my paygrade. Can somebody knowledgeable from the readership comment? I would hate to think that motivated reasoning is being deployed on behalf of a national champion.

* * *

Coronavirus is in the air — there's too much focus on surfaces Nature. Something to take to your local school board…

Fluid dynamics and epidemiology: Seasonality and transmission dynamics Physics of Fluids (press release). From the Abstract: "We present the results for the number of cases and transmission rates for three cities, New York, Paris, and Rio de Janeiro. The results suggest that two pandemic outbreaks per year are inevitable because they are directly linked to what we call weather seasonality. The pandemic outbreaks are associated with changes in temperature, relative humidity, and wind speed independently of the particular season. We propose that epidemiological models must incorporate climate effects through the AIR index." Interesting. But what about indoor transmission?

* * *

Age groups that sustain resurging COVID-19 epidemics in the United States Science. "We estimate that as of October 2020, individuals aged 20-49 are the only age groups sustaining resurgent SARS-CoV-2 transmission with reproduction numbers well above one, and that at least 65 of 100 COVID-19 infections originate from individuals aged 20-49 in the US. Targeting interventions – including transmission-blocking vaccines – to adults aged 20-49 is an important consideration in halting resurgent epidemics and preventing COVID-19-attributable deaths." Surely "equity" is to be sought in bringing the pandemic to a halt as rapidly as possible? If Covid superspreaders were found to be drunken college bros, wouldn't the most equitable vaccination policy be to protect the extremely frail, then "jab" the drunken college bros?

Undocumented Restaurant Workers Should Be Prioritized for the Vaccine Food & Wine

* * *

Social Repercussions of Pandemics (PDF) IMF. "Epidemics may have social scarring effects, increasing the likelihood of social unrest. They may also have mitigating effect, suppressing unrest by dissuading social activities. Using a new monthly panel on social unrest in 130 countries, we find a positive cross- sectional relationship between social unrest and epidemics. But the relationship reverses in the short run, implying that the mitigating effect dominates in the short run. Recent trends in social unrest immediately before and after the COVID-19 outbreak are consistent with this historic evidence. It is reasonable to expect that, as the pandemic fades, unrest may reemerge in locations where it previously existed."

The Hidden Epidemic on Travel's Front Line NYT (Re Silc).

Life insurers screen for COVID-19 Axios

Ford receives a patent for a new, clear respirator mask that they expect to be just as effective as an N95 CNN
Don't Underestimate the Power of a Walk HBR
China?
US-China investment flows belie geopolitical tensions FT

U.S. State Department says U.S. "one-China" policy has not changed Reuters

Western alarm as Canada says Hong Kong enforcing single nationality Agence France Presse
Myanmar police file charges against Aung San Suu Kyi after coup Reuters
Myanmar's Labor Movement Is Central to the Fight Against Authoritarianism Jacobin
India
The real darkness on horizon is the turn Indian democracy is taking Indian Express

Climate crisis is foundation of Indian farmers' protests The Third Pole
Tech underclass: the harsh reality of Asia's digital commerce boom Nikkei Asian Review
UK/EU
Exclusive: Labour Reinstates Ex-Officials Suspended Over 'Leaks' Dossier HuffPo. And speaking of Labour:

Labour has told its community organising unit, introduced under Corbyn, that their contracts will not be renewed from May.

Another key moment in Keir Starmer's battle to transform the party and remove Corybnistas from HQ

And a lot of anger to have done it during the pandemic

— Gabriel Pogrund (@Gabriel_Pogrund) February 3, 2021

Perceptions and Reality New Left Review (part one). More on the smearing of Corbyn. Important because these tactics cross the Atlantic.

The City of London Is Now at the Mercy of Brexit's Tug of War Bloomberg

UK and EU to open probes into Nvidia's $40bn acquisition of Arm FT
Coronavirus vaccine: Russia moves a step ahead of China with clinical trial data release South China Morning Post
New Cold War
Why Russia-EU Relations Remain Stable Against All Odds Valdai Discussion Club
What AMLO Really Thinks About Biden Foreign Policy
Impeachment
Can The Senate Still Convict Trump? It's Complicated The American Conservative. A run-down of the precedents.
Biden Transition
Our Famously Free Press
No media critics from legacy outlets – none from @nytimes, @washingtonpost, @NPR, etc. – have said a word about the growing number of alternative media professionals who are being demonetized. Virtually every major outlet has bought video from @FordFischer, for instance. pic.twitter.com/gewc4nQU8p

— Matt Taibbi (@mtaibbi) February 3, 2021

People who spend more time condemning the human rights abuses of far-away countries where they have no influence, while ignoring the similar abuses of their own government, don't really care about human rights.

They only see it as a tool to weaponize against US adversaries.

— Glenn Greenwald (@ggreenwald) February 3, 2021

Blatant falsehood from @thetimes: "Bellingcat wisely refuses money from governments."

Bellingcat shadily takes money from NATO government-funded orgs and cutouts, including US (via NED), Dutch (via Postcode & PAX) & possibly UK's Open Information Partnership, among others. pic.twitter.com/7kO3rORfXC

— Aaron Maté (@aaronjmate) February 3, 2021
Intelligence Community
Former CIA Officer: Treat Domestic Extremism As An Insurgency NPR. "That means using counterinsurgency tactics — similar in some ways to those used in the wars in Afghanistan and Iraq." Which we won. Oh, wait….

DHS cyber agency rethinking its debunking of election falsehoods after right-wing backlash Politico
Big Brother Is Watching You Watch
Clearview AI's Facial Recognition App Called Illegal in Canada NYT
Health Care
Exclusive: Merck anti-baldness drug Propecia has long trail of suicide reports, records show Reuters

As the FDA clears a flood of AI tools, missing data raise troubling questions on safety and fairness STAT
Sports leaders seek to protect women's sports while accommodating transgender girls and women USA Today
Black Injustice Tipping Point
Battling White Supremacy in the Ring Scheerpost

He Wants to Save Classics From Whiteness. Can the Field Survive? NYT (DJG).
Prosecutors don't know Kyle Rittenhouse's whereabouts, seek arrest warrant WISN
Guillotine Watch
The Downside to Life in a Supertall Tower: Leaks, Creaks, Breaks NYT. Of the many schadenfreude-inducing factoids, this is perhaps the best:

Some residents also railed against surging fees at the building's private restaurant, overseen by the Michelin-star chef, Shaun Hergatt. When the building opened in late 2015, homeowners were required to spend $1,200 a year on the service; in 2021, that requirement jumps to $15,000, despite limited hours of operation because of the pandemic. And breakfast is no longer free.

And such small portions!
Class Warfare
59% of workers who would benefit from a $15 minimum wage are women—here's how it would affect the pay gap CNBC

CA Supreme Court denies lawsuit challenging Prop 22's constitutionality TechCrunch

Why Are Some Organic Farmers Turning to Reactionary Politics? The Farm Worker Bulletin
Remembering coal High Country News
California Elegy The Baffler
"A Punishing American Zeitgeist"​: An Interview with Nikhil Pal Singh The Drift. Well worth a read.
Antidote du jour (Alex Cox):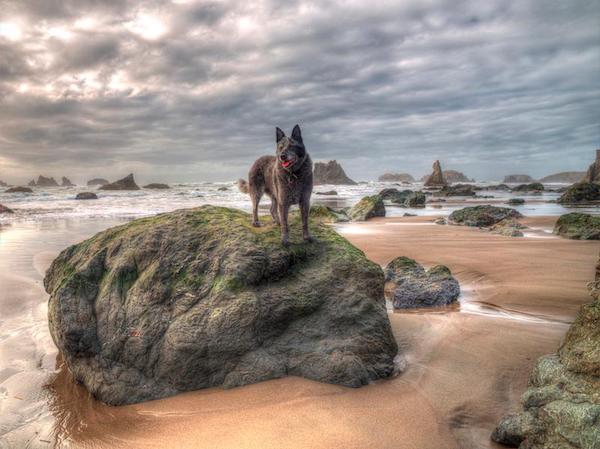 Alex writes: "My late dog, Pearl."
See yesterday's Links and Antidote du Jour here.