By Lambert Strether of Corrente.
Patient readers, this will be a short-ish Water Cooler. I've had a busy day of it so far, with more to come. Have a good weekend! –lambert
Bird Song of the Day
In the Big Alabama Bayou.
#COVID19
At reader request, I've added this daily chart from 91-DIVOC. The data is the Johns Hopkins CSSE data. Here is the site.
I feel I'm engaging in a macabre form of tape-watching.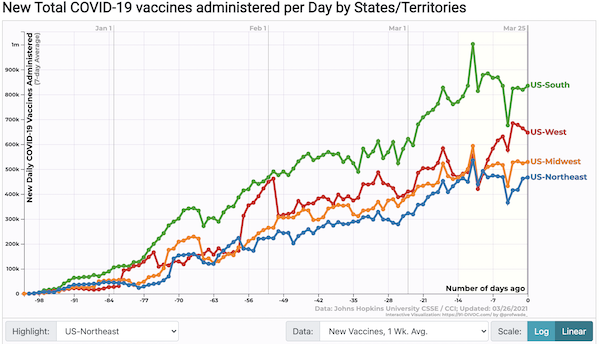 Early in February, I said a simple way to compare Biden's performance to Trump's on vaccination would be to compare the curves. If Biden accelerated vaccine administration, the rate of vaccination post-Inaugural would kink upward, as the policies of a more effective administration took hold. They have not. The fragmented, Federalized, and profit-driven lumbering monstrosity that we laughingly call our "health care" "system" has not responded to "energy in the executive," but has continued on its inertial path.
Case count by United States regions: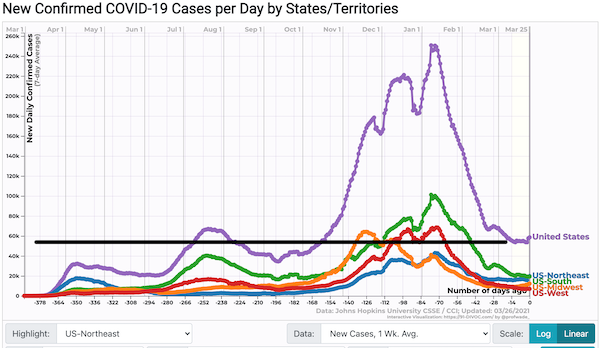 The ugly upward blip continues. • I helpfully added a black line to show how horrific the new normal we are all so triumphal about just now really is. The curve has definitely been flattening for the last three weeks, and in the last two days seems to have flattered entirely (remember I use one-week averages to smooth out data artifacts). That's not good, and when we look at the Northeast, it's flattened entirely. Since these are averaged weekly, there's some momentum in the train, too. So there's really no reason to break out the champers.
Big states (New York, Florida, Texas, California):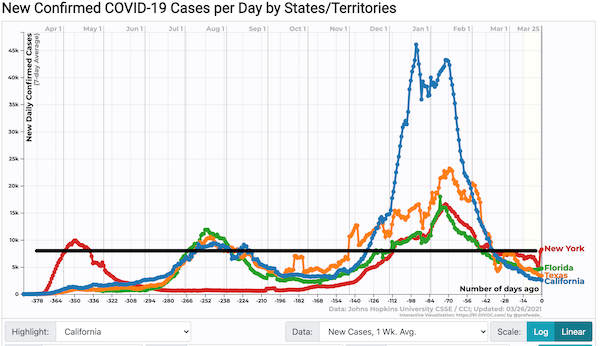 New York in the "lead," but with a jump after a recent drop. •  I've helpfully added a black line to show the new normal here, too. I'm also loathe to give Florida's DeSantis permission for a happy dance, but there's no question that in the enormous natural experiment that is our Federalized response to Covid, Florida didn't do badly, and its case curve looks pretty much like that corrupt crook Cuomo's, just with a later peak.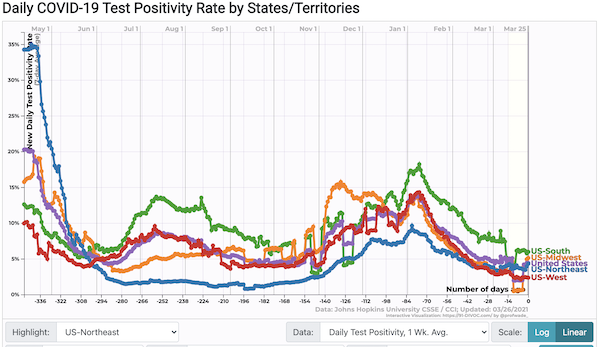 Big jump in the South and the Midwest.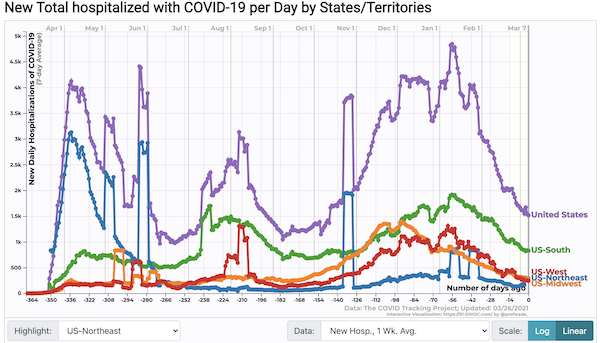 Hospitalization data is the best data we have, because hospital billing is a highly functional data acquisition system (ka-ching). That said, hospitalization is discretionary; they may also be reducing their admissions rate — relative to cases we cannot see in this data! — to preserve future capacity; or because hospitals have figured out how to send people home.
Case fatality rate (plus deaths):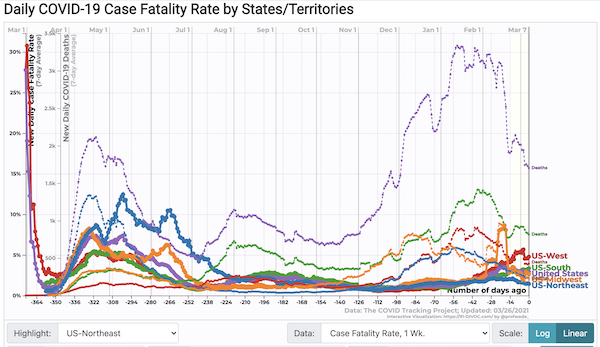 Good to see those deaths dropping. The fatality rate in the West is where it was last May.
* * *
Politics
"But what is government itself, but the greatest of all reflections on human nature?" –James Madison, Federalist 51
"They had one weapon left and both knew it: treachery." –Frank Herbert, Dune
"They had learned nothing, and forgotten nothing." –Charles Maurice de Talleyrand-Périgord
Capitol Seizure
"Feds: Oath Keeper coordinated with Proud Boys before riot" [Associated Press]. "The court filing — detailing messages from Kelly Meggs, described by authorities as the leader of the Florida chapter of the Oath Keepers — is the first time prosecutors have suggested that the members of the two far-right extremist groups were communicating with each other before coming to Washington…. We are gonna march with [the Proud Boys] for a while then fall back to the back of the crowd and turn off. Then we will have the proud boys get in front of them the cops will get between antifa and proud boys. We will come in behind antifa and beat the hell out of them,' Meggs wrote, according to the filing." • Antifa? Where? (If liberal Democrats would remove their gaze from their navals and look at Myanmar, they'd see what a real coup looks like, and what "resistance" with skin in the game looks like, too.)
Biden Administration
"Five takeaways from Biden's first presser" [The Hill]. "His appearance was composed and controlled as he fielded questions for about an hour on immigration, the filibuster, his future political plans and foreign policy. He notably was not asked about the coronavirus pandemic. 'Yes, my plan is to run for reelection, that's my expectation,' Biden said." • Poor Kamala. What a shame.

UPDATE "POLITICO Playbook: The most important sentence from Biden's presser" [Politico]. "'It's a matter of timing.' If there were a one-sentence takeaway from President JOE BIDEN'S first press conference, that may be it. Over and over in the East Room, the president made it clear Thursday that he's in control of the timing of his legislative priorities and that he would not allow events to overtake his plans. Guns, immigration, voting rights, filibuster reform — the big issues that have intervened recently and that dominated questioning by reporters — would have to wait. If Biden were an Italian grandmother, he would have been at the podium putting his hand up to the reporters and patiently repeating, 'Aspetta!' Wait. 'The other problems we're talking about, from immigration to guns and the other things you mentioned, are long-term problems,' he said. 'They've been around a long time. And what we're going to be able to do, God willing, is now begin one at a time to focus on those as well.' Translation: They are not going to be the focus of legislative action in the near term. Biden made it crystal clear that his plan — hatched months ago during the campaign — for a one-two punch of a Covid relief bill followed by an infrastructure bill will not be derailed by events." • Worth noting that neither Covid relief nor infrastruture — good for the country, of course — are of direct benefit to work-from-home symbol manipulators.

"Top Obama lawyer being vetted for antitrust post" [Politico]. "The Biden team is vetting Jonathan Sallet — a former top lawyer under the Obama administration and architect of net neutrality rules — for a top antitrust post, two sources familiar with the process told POLITICO…. Sallet would bring decades of experience in antitrust and technology issues. For the past two years, Sallet has worked for Colorado Attorney General Phil Weiser heading up the multistate antitrust investigation into Google's online search products. He was the principal author of the complaint that more than 30 states and territories filed in late December against Google — which takes aim at the search engine's conduct to make inroads into emerging technologies such as connected cars and home speakers — and served as the lead lawyer on the case until last month. Sallet's selection for DOJ antitrust chief or FTC chair would signal the Biden administration intends to continue its aggressive pursuit of Google, Facebook and other tech giants."

"Biden's Inner Circle Maintains Close Ties To Vaccine Makers, Disclosures Reveal" [The Intercept]. Linda Thomas-Greenfield, President Joe Biden's ambassador to the United Nations, will hear from a growing chorus of developing nations about the foundering efforts to distribute the coronavirus vaccine globally. The nations, many of which have not even begun vaccinating their populations, are demanding that the U.S. support proposals to temporarily waive certain patent and intellectual property rights so that generic coronavirus vaccines can be produced. The proposals have been fiercely opposed by American drugmakers, including Pfizer, a pharmaceutical giant that Thomas-Greenfield's former consulting firm has recently counted as a client. Thomas-Greenfield and her number two, Jeffrey DeLaurentis, previously worked for the Albright Stonebridge Group, or ASG, a consulting firm founded by former Secretary of State Madeleine Albright. The firm, which represents Pfizer, specializes in helping large corporations understand and influence international trade policy, including on intellectual property." • That's nice. Pfizer is the drug company that called the Biden campaign with the good word on their trials, the night before the press release went out. Hard to imagine why they would have done that, except not…

"First Lady Jill Biden postpones Alabama visit" [Al.com]. "The Office of the First Lady released a statement announcing the postponement on Thursday afternoon after tornadoes swept across the state, causing widespread destruction and killing five people. 'Due to the severe weather across the South and tragic loss of life in Alabama, the First Lady and Jennifer Garner are postponing their trip to Birmingham and Jasper,' the statement said. It did not announce a new date." • Too bad, since her trip might have given a reading on Biden and the organizing drive at the Amazon warehouse in nearby Bessemer.

UPDATE "Chuck Schumer Tells Labor Leaders Pro Act Gets a Floor Vote with 50 Co-Sponsors" [The Intercept]. • Which Schumer will not, himself, find.

UPDATE "Joe Manchin Carefully Backs Landmark Voting Rights Bill, But Wants GOP Support" [HuffPo]. Sen. Joe Manchin (D-W.Va.) signaled Thursday that he would support elements of fellow Democrats' top legislative priority: a package of voting rights, campaign finance, redistricting and ethics reforms. But first, he wants Republicans on board, too ― a heavy lift given hardline GOP opposition to the bill. He specifically endorsed six elements currently in the bill, which include five previously introduced pieces of legislation. They include mandating 15 days of early voting, including two weekends; the Native American Voting Rights Act, which would authorize additional resources to elections in Native American and Alaska Native communities; the Secure Elections Act and the Prevent Election Hacking Act, which would provide funds to states to bolster election security and protect election infrastructure from hacking attempts; the DISCLOSE Act, which would mandate the disclosure of currently undisclosed independent election spending; and the Honest Ads Act, which requires digital platforms to disclose political advertising. The DISCLOSE Act fell to a Republican filibuster by one vote in 2010." • Fortunately, nothing on hand-marked paper ballots, hand-counted in public. That's right out. And if this is what it took:

Notable nomination from President Biden this morning: pic.twitter.com/eD9Zmkxixz

— Phil Mattingly (@Phil_Mattingly) March 26, 2021

The Trillbillies have things to say about the Appalachian Regional Commission, an NGO of spectacular NGO-osity.
Democrats en Deshabille
"Newsom swats away Democratic challengers. Will his party live to regret it?" [Politico]. "It is all but certain that California will have its second gubernatorial recall ever, likely this fall, based on an official state signature tally released last week. The state's unique recall system lends itself to a delicate intraparty dance. California asks two questions: first, do you want to recall Newsom, and second, who should replace him if the recall is successful? The rules don't allow Newsom to appear on that replacement list of contenders who would take his job…. If Democrats play their cards wrong and Newsom is recalled without a leading Democrat on the ballot as an option, a high-name ID Republican could take the top job with a quarter of the vote in one of the nation's bluest states."

UPDATE "Scoop: AOC's private audience with Ron Klain" [Axios]. "White House Chief of Staff Ron Klain met quietly with Reps. Alexandria Ocasio-Cortez, Jamaal Bowman and other progressive lawmakers this week to discuss the filibuster, minimum wage and other issues, people familiar with the matter told Axios…. Last week, Klain met with the official leaders of the Congressional Progressive Caucus, including the chair, Rep. Pramila Jayapal (D-Wash.)…. The existence of a backchannel between the White House and the party's most prominent progressive could help the president in his next big legislative push: asking Congress to spend an additional $3 trillion on infrastructure and healthcare." • "Progressive," singular? Surely not. Leaving aside that "progressive" is a Bush-era Democrat rebranding of "liberal," for which Gingrich had poisoned the well.

"Cuomo's Approval Rating Stabilizes Amid Calls for Resignation" [Morning Consult]. "53% of New York voters approve of Andrew Cuomo, while 43% disapprove…. 75% of New York Democrats approve of the third-term governor…. Cuomo's standing with his state's Democratic voters has declined 12 points since the New York nursing home scandal came to light…. [T]he decline in perceptions of the third-term governor's job performance appears to have subsided despite the calls for his resignation or impeachment – at least for now."
Realignment and Legitimacy
"States can't sue to speed census finale, judge says, assuring gerrymander chaos" [The Fulcrum]. "States eager to start redrawing their congressional and legislative districts have no right to force the Census Bureau to make up for problems delaying detailed population numbers until the fall, a federal judge has decided. Ohio and Alabama have sued the federal government, demanding the required data for redistricting by the end of this month. Ohio's lawsuit was dismissed Wednesday by Judge Thomas Rose of Dayton, who said there was no way to compel census officials to do the impossible. The ruling amplifies a wave of fresh anxiety about one of the main stressors on a functional democracy: Partisan gerrymandering, or drawing maps for maximum advantage rather than for competitive elections in compact communities, looks to be more egregious than ever this decade — a consequence of confusion and compressed timetables thanks to delays spawned by both nature and politics. The first year of every previous modern decade began with the Census Bureau announcing how many House seats each state will have based on population gains or losses, followed soon thereafter with an ocean of granular data — how many people live in each neighborhood, by age, race and ethnicity — needed for drawing district lines. The reapportionment report has now been delayed to the end of April, with all the detailed population figures not following until the end of September. Many states have laws requiring maps to be finished by then. And in the last nationwide redistricting, about half the 435 congressional districts had been drawn by October 2011 — mainly in the states with deadlines to accommodate candidate filing deadlines by the end of the year and primaries early in the new year. ."

"Sweeping changes to Georgia elections signed into law" [Atlanta Journal-Constitution]. "Gov. Brian Kemp quickly signed a vast rewrite of Georgia's election rules into law Thursday, imposing voter ID requirements, limiting drop boxes and allowing state takeovers of local elections after last year's close presidential race." This is especially ugly: "The bill also will allow the State Election Board to take over county election boards that it deems need intervention. Skeptics say that will allow Republican officials to decide which ballots count in majority Democratic areas, such as Fulton County." • Republicans, as usual, come to play.

"The Successes And Shortcomings Of Larry Krasner'S Trailblazing First Term" [The Appeal]. "Three years ago, when Larry Krasner took office as the Philadelphia district attorney, he was something of a pioneer. He had promised to combat mass incarceration and undo the damage done by his punitive predecessors. And as his first term draws to a close, Krasner has delivered on several of his campaign promises: The number of people in jail in Philadelphia has fallen by nearly 30 percent. He has not sought the death penalty in a single case. He has prosecuted significantly fewer cases than his predecessors. He has reduced the use of cash bail and limited parole and probation terms. And he has reinvigorated his office's conviction integrity unit. Now Krasner finds himself in a high-stakes race for re-election. He is facing at least one other opponent, former homicide prosecutor Carlos Vega, in May for the Democratic nomination and will likely have a Republican challenger, criminal defense attorney Chuck Peruto, in the general election in November…. Krasner was one of the first progressive prosecutors to capture the national spotlight, and his re-election bid will be a test for a movement that has grown and accelerated rapidly in the years since."
Stats Watch
Consumer Sentiment: "The University of Michigan's consumer sentiment for the US was revised higher to a one-year high of 84.9 in March of 2021, up from a preliminary estimate of 83 and above market forecasts of 83.6. It was also the largest increase in consumer morale since May 2013… "The data clearly point toward robust increases in consumer spending." [Trading Economics].
Personal Income and Expenditures: "February 2021 Real Income And Expenditures Declined" [Econintersect]. "The note from the BEA says it all: 'The decrease in personal income in February was more than accounted for by a decrease in government social benefits to persons. Within government social benefits, 'other' social benefits, specifically the economic impact payments to households, decreased. The CRRSA Act authorized a round of direct economic impact payments that were mostly distributed in January (table 3)."
Rail: "Rail Week Ending 20 March 2021 – Improvement Continues" [Econintersect]. "Total rail traffic has been mostly in contraction for over one year – and now is slowly recovering from the coronavirus pandemic although economic intuitive sectors are not doing as well…. Shortly, we will see great rail growth as the data is being compared to the coronavirus lockdown period last year."
* * *
Shipping: "Suez Canal ship accident delays crude, products arbitrage flows: sources" [Hellenic Shipping News]. "Analysts, traders and shipping executives, who spoke to S&P Global Platts, described [the blockage] as an 'arbitrage killer' if the 400-meter long Ever Given, chartered by Taiwan's Evergreen Marine Corp., is not moved out at the earliest. The actual arbitrage exists only on paper as the canal lanes are blocked, they said…. Traders tracking the development highlight the cascading effect of the accident, because now there will be crowding at the load and discharge ports resulting in significant demurrage costs and also insurance claims. 'Going via Cape of Good Hope is not an option because it will take three weeks to reach Rotterdam, as this disruption is expected to clear in a few days,' a technical superintendent, who handles such tankers, said. Consequently, the tankers carrying gasoil and jet fuel to the West and naphtha from the Mediterranean to the East or going empty West for their next crude parcel, have no choice but to wait. Eventually, when the traffic gets cleared — which it will in a few days — they will be arriving behind schedule and create a congestion at the origin and destination ports, sources said."
Tech: "Social Media CEOs Can't Defend Their Business Model" [Wired]. The deck: "Everyone knows Facebook, Twitter, and YouTube make money by keeping users engaged. Why won't their executives admit it to Congress?" More: "Indeed, why would Zuckerberg, Pichai, and Dorsey be so evasive about whether they make more money from users spending more time on their platforms when it is so obviously the case? Perhaps because to admit it would be to admit that any legal reforms that don't target that business model will never solve the content problem. To that point, the most striking moment of the hearing may have been a comment from Anna Eshoo, a California Democrat. 'Mr. Zuckerberg, your algorithms use unseemly amounts of data to keep users on your platform, because that leads to more ad revenue,' she said. 'Now, businesses are in business to make money; we all understand that. But your model has a cost to society.' And so, Eshoo said, the time has come for Congress to do something about it. Along with Representative Jan Schakowsky, an Illinois Democrat, Eshoo said she plans to introduce "a bill that is going to ban this business model of surveillance advertising."
Tech: Ruby off the Rails: Code library yanked over license blunder, sparks chaos for half a million projects" [The Register]. "On Wednesday, Bastien Nocera, the maintainer of a software library called shared-mime-info, informed Daniel Mendler, maintainer of a Ruby library called mimemagic, which incorporates Nocera's code, that he was shipping mimemagic under an incompatible software license…. Mendler thanked Nocera for letting him know and promptly moved the latest version, 0.4.0, and version 0.3.6 under GPLv2, and withdrew prior versions from distribution on RubyGems.org, the package registry used by Ruby developers. He then archived the mimemagic GitHub repo, meaning it's no longer being actively developed. This had the unfortunate effect of breaking the popular web development framework Ruby on Rails, which includes mimemagic 0.3.5 as a dependency. It also affects 172 other packages, which between them touch 577,148 different software repositories." • The front fell off.
* * *
Today's Fear & Greed Index: 46 Neutral (previous close: 40 Fear) [CNN]. One week ago: 53 (Neutral). (0 is Extreme Fear; 100 is Extreme Greed). Last updated Mar 26 at 12:37pm. One year ago, just after the end of the Before Times: 22 (Extreme Fear).
The Biosphere
"Three decades after the Exxon Valdez oil spill, Alaska's coast faces an even bigger threat" [High Country News]. "Experts at the time said a comeback would take decades, but that the spectacular biological wealth of these waters would return if given the chance, without another oil spill to knock it down. What they didn't anticipate was a much larger, more diffuse threat. Changes brought by human emissions of carbon dioxide — warming and acidifying ocean waters — have proved as destructive as the spill, and they will not disperse, as the oil eventually did. In my 20s, I reported on the futile and ultimately destructive $2 billion beach cleanup demanded by an enraged public and paid for by Exxon, at that time the world's third-largest company. I watched scientists and volunteers gather dead wildlife, filling freezer trucks. Hundreds of thousands of seabirds died, whole flocks of them rolled up into windrows on remote beaches by the sticky, emulsified oil. Now that has happened again, this time without the oil, as long, stinking piles of dead seabirds wash ashore, apparently starved in anomalously warm Northern waters that no longer produce abundant fodder. But this time, on winter days at remote beaches, visitors are scarce and news coverage has been local and scant. The climate crisis is too large, too diffuse, and is hitting too many places at once — everywhere, really — to produce the outrage that exploded when lovely animals choked on Exxon's oil. "
"Permian Basin Methane Emissions Are Back at Pre-Pandemic Levels" [Bloomberg]. "One rather grim data point in the economic recovery from the pandemic: Methane emissions from America's largest oil field have rebounded. Pollution from the Permian Basin dropped 60% from March to April last year as oil producers shut in wells and cut back on new ones due to tumbling crude prices, according to the non-profit Environmental Defense Fund. But methane emissions are now back at pre-pandemic levels as drilling ramps up, EDF said, citing data from its Permian Methane Analysis Project."
"The Wreckage of the Last Energy Epoch: Abandoned Wells and Workers" [Current Affairs]. "Regulation of oil and gas activity in the United States is a fragmented and scattered thing. The oil and gas industry divides and conquers. It likes to push regulatory issues down to states where they can easily buy out whole state legislatures, rig local tax and zoning laws, drive down bonding requirements, and then underfund, understaff, and capture state agencies that regulate oil and gas activity. In total, oil and gas exploration and production takes place in 27 states on private, Tribal, state, and federal land and waters. After 150 years of oil and gas production in the United States, the industry's footprint is ubiquitous and inescapable. With the advent of fracking, the industrial invasion into residential and commercial spaces has only accelerated. Oil- and gas-controlled state legislatures allow pipeline companies to seize private land, and oil and gas operators encroach into residential areas. As Dr. Anthony Ingraffea, former industry insider and current fracking opponent puts it, 'oil and gas law in most states trumps zoning. It permits the oil and gas industries to establish its industry next to where we live. They are imposing on us the requirement to locate our homes, hospitals and schools inside their industrial space.'" • Thank heavens Maine doesn't have oil.
"Shale Patch Feeling the Cost Creep as Workers Return to Drilling" [Bloomberg]. "Though explorers have vowed restraint amid pressure to return cash to shareholders, shale basins are rumbling back to life as oil prices rebound after last year's pandemic-driven collapse in demand. The activity boost comes as oilfield service giants Schlumberger, Baker Hughes Co. and Halliburton Co. are pivoting toward greater growth abroad, leaving fewer contractors to drill and complete U.S. wells. 'The loss of suppliers and other services this past year will cause problems in being able to get work accomplished in a timely manner,' an unidentified survey respondent was quoted as saying in the report published Wednesday."
Health Care
"US Public Health Neglected: Flat Or Declining Spending Left States Ill Equipped To Respond To COVID-19" [Health Affairs]. "We present state spending trends in eight categories of public health activity from 2008 through 2018. We obtained data from the Census Bureau for all states except California and coded the data by public health category. Although overall national health expenditures grew by 4.3 percent in this period, state governmental public health spending saw no statistically significant growth between 2008 and 2018 except in injury prevention. Moreover, state spending levels on public health were not restored after cuts experienced during the Great Recession, leaving states ill equipped to respond to COVID-19 and other emerging health needs."
Our Famously Free Press
"The Death of Humor" [Matt Taibbi, TK News]. Judas, to Jesus: "So, are we still on for Friday?"
"12 prominent people opposed to vaccines are responsible for two-thirds of anti-vaccine content online: report" [The Hill]. "12 individuals or organizations are tied to up to 65 percent of anti-vaccine content circulating on major social media networking sites, according to an analysis of popular anti-vaccine content on Facebook and Twitter. 'Disinformation has become a direct threat to public health,' said Imran Ahmed, CEO of the Center for Countering Digital Hate (CCDH), which released the report in partnership with the Anti-Vax Watch, in a release. 'In the midst of a global pandemic, the Anti-Vaccine Industry has executed a targeted campaign to mislead Americans about the safety of the COVID-19 vaccines. Social media is enabling anti-vaxxers to recruit millions of Americans and indoctrinate them with fear and doubt. If Big Tech companies don't act now, the pandemic will be prolonged, and more lives will be lost.'" • CCDH is an NGO with offices in London and Washington, DC. They run deplatforming campaigns. Fascinatingly, Imran Ahmed, the Founding CEO, was a First Class Bangladeshi cricketer.
Groves of Academe
"Land-grab universities" [High Country News]. "The Morrill Act worked by turning land expropriated from tribal nations into seed money for higher education. In all, the act redistributed nearly 11 million acres — an area larger than Massachusetts and Connecticut combined. But with a footprint broken up into almost 80,000 parcels of land, scattered mostly across 24 Western states, its place in the violent history of North America's colonization has remained comfortably inaccessible. … Over the past two years, High Country News has located more than 99% of all Morrill Act acres, identified their original Indigenous inhabitants and caretakers, and researched the principal raised from their sale in the late 19th and early 20th centuries. We reconstructed approximately 10.7 million acres taken from nearly 250 tribes, bands and communities through over 160 violence-backed land cessions, a legal term for the giving up of territory. Our data shows how the Morrill Act turned Indigenous land into college endowments. It reveals two open secrets: First, according to the Morrill Act, all money made from land sales must be used in perpetuity, meaning those funds still remain on university ledgers to this day. And secondly, at least 12 states are still in possession of unsold Morrill acres as well as associated mineral rights, which continue to produce revenue for their designated institutions. The returns were stunning: To extinguish Indigenous title to land siphoned through the Morrill Act, the United States paid less than $400,000. But in truth, it often paid nothing at all."
Class Warfare
They never needed to go to college anyhow:
Huge decline (6.8%) in high school graduates attending college immediately after high school this past fall. Biggest declines among students from high-poverty, low-income and high-minority schools. https://t.co/0ZweuGTzZP pic.twitter.com/q2c5qQTfZO

— Catherine Rampell (@crampell) March 25, 2021
News of the Wired
"The Mathematical Pranksters behind Nicolas Bourbaki" [JSTOR Daily (nvl)]. "Like those before him, ["]Bourbaki["] insisted on setting mathematics in a 'formalized language' with crystal-clear deductions based on strict formal rules. When Bertrand Russell and Alfred North Whitehead applied this approach at the turn of the twentieth century, they famously filled over 700 pages with formal symbols before establishing the proposition usually abbreviated as 1+1=2. Bourbaki's formalism would dwarf even this, requiring some 4.5 trillion symbols just to define the number 1." • Plus interesting material on "Bourbaki's" milieu.
* * *
* * *
Readers, feel free to contact me at lambert [UNDERSCORE] strether [DOT] corrente [AT] yahoo [DOT] com, with (a) links, and even better (b) sources I should curate regularly, (c) how to send me a check if you are allergic to PayPal, and (d) to find out how to send me images of plants. Vegetables are fine! Fungi and coral are deemed to be honorary plants! If you want your handle to appear as a credit, please place it at the start of your mail in parentheses: (thus). Otherwise, I will anonymize by using your initials. See the previous Water Cooler (with plant)
here
. Today's plant (WB):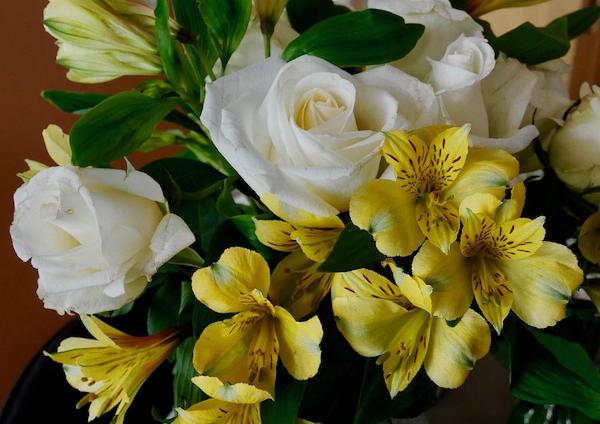 WB writes: "40th wedding anniversary bouquet." What a beautiful idea, although unhappily delayed by me, since the email date is February 9. If any other readers want to send in their wedding bouquets to mark an anniversary, please put the date in the subject line, and then I will, if I can, pull it out of the queue. (No cakes, or family photos, please. Plants!)
* * *
Readers
: Water Cooler is a standalone entity
not
covered by the recently concluded and — thank you! — successful annual NC fundraiser. So if you see a link you especially like, or an item you wouldn't see anywhere else, please do not hesitate to express your appreciation in tangible form. Remember, a tip jar is for tipping!
Regular positive feedback both makes me feel good and lets me know I'm on the right track with coverage
. When I get no donations for five or ten days I get worried. More tangibly, a constant trickle of donations helps me with expenses, and I factor in that trickle when setting fundraising goals:
Here is the screen that will appear, which I have helpfully annotated.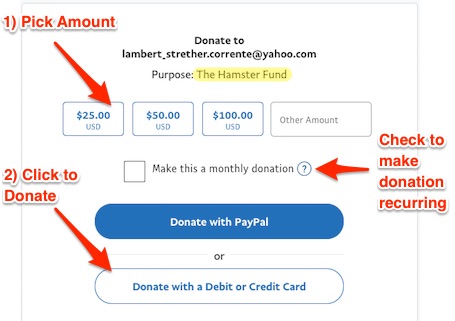 If you hate PayPal, you can email me at lambert [UNDERSCORE] strether [DOT] corrente [AT] yahoo [DOT] com, and I will give you directions on how to send a check. Thank you!