Yves here. As much as New York City fancies itself the center of the universe, it is less so as a result of the pandemic. That fact makes it a useful indicator of the damage done to central business districts all over the US, as well as heavily tourism-dependent cities. As readers know, I've been visiting NYC pretty regularly despite Covid to see my doctors (there's not much else to do there!) so I have some sense of the changes, even though I'm basically just going to a few regular destinations.
Business hotels are almost entirely closed and tourist hotels have cut way back on their services; mine, which is at a good address, no longer has a doorman and getting the front desk on the phone in the evening is dodgy. Restaurants, even successful and long established ones, keep folding. The streets are busier, and since I first moved to the city in the early 1980s, when the population was lower and the city was just coming out of its fiscal crisis, it doesn't look as weird to me as it ought to, particularly relative to how dead it was last summer. But Midtown remains at more like weekend activity levels on weekdays, and I shudder to think how dead Time Square must look compared to the old normal. And yes, there are many vacant storefronts, although that had started before Covid thanks to greedy landlords jacking up rents.
In other words, because New York City changes so much, and yet so much superficially stays the same, the adaptations aren't as disorienting as they ought to be. The city has an air of bravely trying to carry on, like the bizarre outdoor rooms attached to restaurants, as if they really are safer than eating inside. By contrast, on one trip, I was cheered to see people eating outside (admittedly with heaters but nevertheless all bundled up) on Central Park South in 40 degree weather.
I would expect other city centers to have suffered similar levels of damage, but for that to be less important to the total metro area than in the case of New York City.
By Greg David. Originally published at The City on March 14, 2021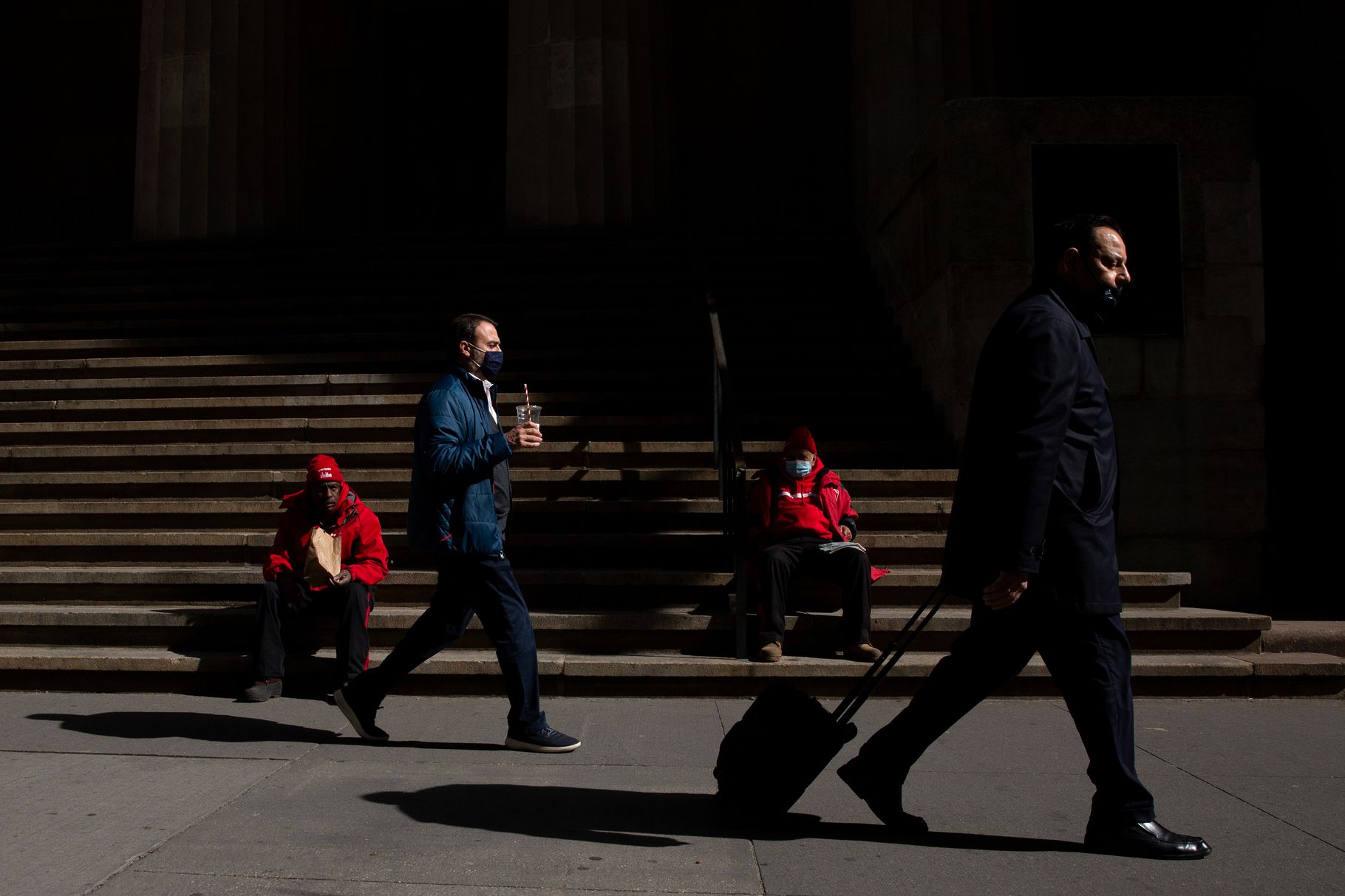 Tourism workers take a break on Wall Street, March 10, 2021. Ben Fractenberg/THE CITY
The statisticians closed the books Thursday on the jobs lost in New York City in 2020: 631,000, the largest one-year decline since reliable statistics began being compiled after World War II.
The damage has been so great that local experts on the city's economy see a difficult effort over several years to regain those positions, whose loss has brought pain to legions on top of a COVID-19 death toll that just passed 30,000, hitting the most vulnerable New Yorkers hardest.
The economic impact has also proved disparate, with sectors like tourism upended, even as Wall Street prospers. Predictions for the city's long-term and short-term prospects, meanwhile, are in flux as news of vaccination progress mixes with a host of unknowns.
Still, the passage of President Joe Biden's $1.9 trillion federal aid bill — dubbed the American Rescue Act — has other economists sharply raising their forecasts of how much the national economy will grow this year. Mayor Bill de Blasio and some local executives agree.
"This now supercharges our recovery," the mayor said Monday as passage of the bill seemed certain. "This is the thing we needed."
Historic Decline
There is no doubt about how the pandemic has devastated New York's economy.
The single-year plunge in employment, measured from December 2019 to December 2020, is more than the 620,000 jobs that disappeared in the city's "Great Recession" that lasted from 1969 to 1977 under mayors John Lindsay and Abe Beame.
The severe downturn following the 1987 stock market crash totaled 350,000 jobs lost. And jobs dipped by 227,000 in 2001-2003 after the dot.com bubble burst and 9/11. The city brushed off the Great Recession that followed the 2008 Financial Crisis with a relatively modest decline of 138,000 jobs.
Like the 1969-1977 crisis, one sector accounts for a significant portion of the losses. Then it was manufacturing, which shed 400,000 jobs. This time it is leisure and hospitality — which includes the food and lodging industries — that has seen 250,000 jobs disappear, a little more than half of those that existed at the beginning of 2020.
By total jobs lost, the other hard-hit areas include professional and business services (89,000), education and health services (69,800) and retail (67,100).
In percentage terms, leisure and hospitality is followed by manufacturing, transportation and retail.
The bottom line remains sobering: New York City jobs losses have been so great that an analysis by Moody's Analytics found it suffered the worst employment losses of the 82 metro areas it tracks. Suburban areas didn't do much better with Northern New Jersey ranked 74th, Westchester 73rd and Long Island 68th.
Many Jobs 'Gone for Good'
Some experts are worried about the city's near-term prospects, even as it appears that upcoming budgets out of City Hall and Albany will be balanced despite Gov. Andrew Cuomo's travails.
"The American Rescue Plan is certainly laudable in providing triage for a pandemic-battered economy that should get us past the lockdown phase," said James Parrott, a New School economist closely tracking local data. "The latest extension of unemployment benefits will run out in September but hundreds of thousands of jobs won't have come back by then and some portion will be gone for good. New York City's economy will still face a monumental task of repairing a labor market."
A March 1 update from the Independent Budget Office was headlined "A slow and fragile recovery" and projected that the city would not regain all the jobs lost by the end of 2025.
"Where will we be when the aid runs out, how long will it take to get arts and entertainment back and how fast will the leisure and hospitality sector rebound?" IBO Executive Director Ronnie Lowenstein asked in an interview with THE CITY earlier this month.
Another hurdle came into the spotlight again Thursday when the Partnership for New York City released its latest survey, which showed only 10% of workers have gone back to their offices. The percentage expected to return by September declined slightly to 45%.
Remote Chances for Return
Employers expect more than half of their workforce will continue to work remotely at least part of the time. If that happens, the ripple effect will make the recovery a long-term proposition.
"The labor market is characterized by permanent job loss, severe long-term unemployment and the need to retrain tens of thousands of workers for different occupations and industries," Parrott added.
However, the passage of the Biden aid package and the vaccine rollout has other economists turning much more optimistic about the national economy — a trend that could help New York.
Economists surveyed by The Wall Street Journal in the past week boosted their average forecast for this year's increase in Gross Domestic Product to 5.95% from 4.87% last month. Analysts with Goldman Sachs say the economy could grow 7.7%. Either would be the U.S. economy's best gain since 7.9% in 1983.
Broad economic trends have bolstered two crucial sectors in the city and could do so for more areas this year.
Wall Street last year is believed to have produced profits of $45.8 billion, the second highest ever and nearly double the previous year. A strong stock market, a wave of highly lucrative initial public offerings and low interest rates, which reduce borrowing costs, all have contributed to the good times for the industry.
While the city's economy is no longer as dependent on Wall Street as it once was, the sector still accounts for 20% of all private sector wages and 18% of all state tax collections, mostly because its average wage of $407,000 is by far the highest in the city. Wall Street's success is the primary reason state and city tax collections have proved far higher than expected.
Holiday Hopes Bloom
Meanwhile, the pandemic inspired shift to online has also bolstered the city's growing fast-growing tech sector, which too has thrived in the pandemic. Venture capital invested in New York companies last year almost matched the record of 2019.
"The pandemic has been a tailwind for tech if anything," said Ben Sun, a founder of Primary Venture Partners, which just raised $150 million to invest in New York startups. "We see so many great companies in New York where founders coming out that say this is a great time to start a company."
Some in the tourism industry even see reason to hope for a strong holiday season in New York. Matt Hurlburt, general manager of the Kimpton Muse in Times Square plans to reopen the hotel on March 24.
"I feel good about the end of the year being our best time period in 2021," he said. "I base that on expectations of the vaccine rollout, that case counts will be lower, that people have pent up savings and that people want to get out and start to get on the road again."


This story was originally published by THE CITY, an independent, nonprofit news organization dedicated to hard-hitting reporting that serves the people of New York.