Readers, we are still in the midst of Water Cooler's annual fundraiser. Our goal is 325 donors, and right now 210 of you have contributed. Thank you!
Remember, this is not like the NC fundraiser, which funds a year in advance. You are donating for work I have already done, which I hope you found informative and fun and useful, and which I hope to be able to continue to do. One donor commented:
You have done well during still another year of baroque confusion, obfuscation, and panic.
If you agree, dig deep! And now to the bird songs–
* * *
By Lambert Strether of Corrente.
Bird Song of the Day
From São Paulo, Brazil. Bird song of the night.
* * *
#COVID19
At reader request, I've added this daily chart from 91-DIVOC. The data is the Johns Hopkins CSSE data. Here is the site.
I feel I'm engaging in a macabre form of tape-watching.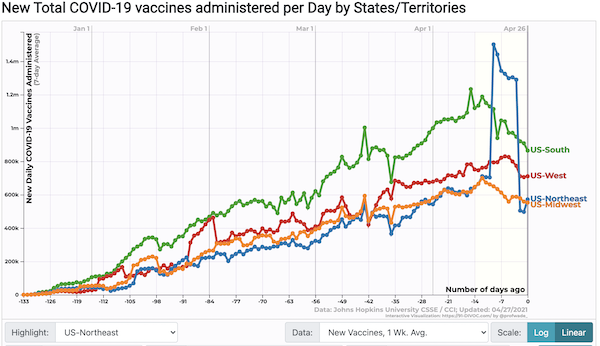 Not looking good at all. The Northeast jump was, in fact, an enormous reporting error, now rectified (though I still have not been able to find it mentioned anywhere. Readers?)
Vaccines for the truckers:
Have other truck drivers found issues getting a vaccine? https://t.co/yQGHZJC4N5

— Rachel Premack (@rrpre) April 26, 2021
Seems like not a lot of thought was put into getting people vaccinated who weren't able to make appointments easily, or who didn't know how to use an app, or who were rural. The chart above is low-hanging fruit.
Case count by United States regions: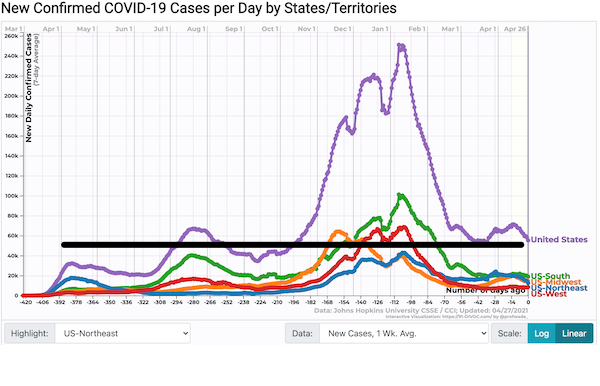 Continued good news. I'm not used to this at all. (Although I have drawn an anti-triumphalist black line to show how horrific the new normal is.
The Midwest in detail: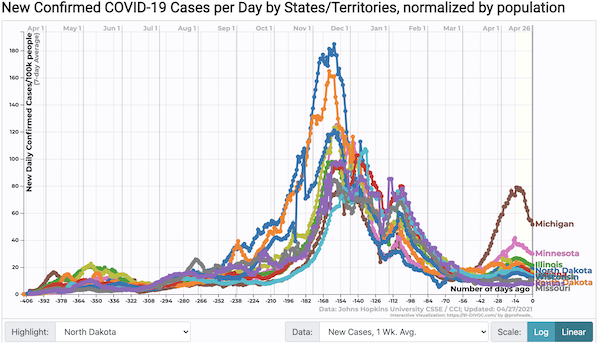 Continued good news. Michigan and Minnesota heading down, along with their neighbors (Could be that people actually do listen when Governors ask them do so stuff, but enough, and enough of them?)
Big states (New York, Florida, Texas, California):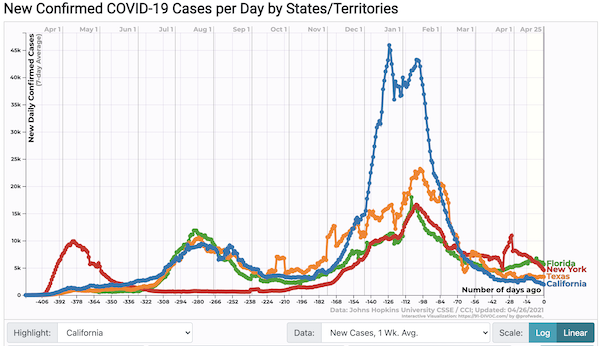 Florida, by a nose, now dropping. California also dropping.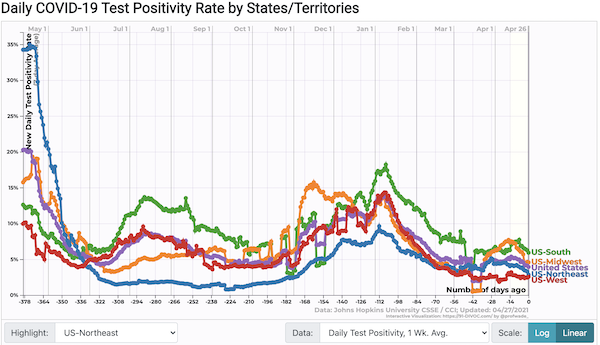 Down across the board.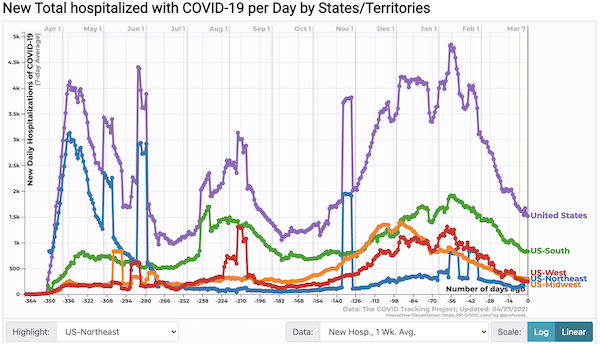 Still heading down.
Case fatality rate (plus deaths):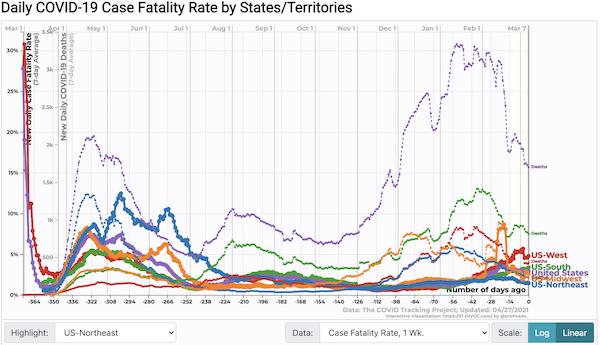 Good to see those deaths dropping. The fatality rate in the West is increasing again, for some reason as unknown as why it dropped.
* * *
Politics
"But what is government itself, but the greatest of all reflections on human nature?" –James Madison, Federalist 51
"They had one weapon left and both knew it: treachery." –Frank Herbert, Dune
"They had learned nothing, and forgotten nothing." –Charles Maurice de Talleyrand-Périgord
Biden Administration
"Live updates: Biden to speak to nation on coronavirus response following CDC's updated mask guidance" [WaPo]. "President Biden plans to speak to the nation about his administration's response to the pandemic following Tuesday's updated guidance from the Centers for Disease Control and Prevention that fully vaccinated Americans can go without masks outdoors except in crowded settings."

"Biden Aims for Trump Voters, Suburbs With Jobs-Plus-Kids Pitch" [Bloomberg]. "Joe Biden's massive infrastructure and family-support plans are a direct appeal to the discontented White voters who put Donald Trump in office and to independent suburban women, his advisers say, with the president staking a claim on economic issues ahead of the 2022 midterm elections. The so-called American Jobs Plan Biden released last month features spending on traditional infrastructure like highways and airports to better compete with China, a pitch his advisers think will resonate with Republican men and blue-collar workers. And the 'American Families Plan' he'll outline this week seeks to broadly increase the availability of child care and improve working conditions for people caring for children and seniors — a top priority for suburban women, pollsters say. Taken together, support from the two groups could form a potentially powerful bloc for Democrats ahead of the midterms, when the party of incumbent presidents typically loses seats in Congress. Republicans have long polled with voters as more trustworthy on economic stewardship, but Biden's bet is that his proposals — even accompanied by price tags in the trillions of dollars and tax increases to help pay for them — can peel away enough GOP support that Democrats can keep control of the House and Senate." • "Discontented White voters who put Donald Trump in office" isn't quite granular enough…
Democrats en Deshabille
""Wokeness is a problem and we all know it" (interview) [James Carville, Vox]. Carville: "Wokeness is a problem and everyone knows it. It's hard to talk to anybody today — and I talk to lots of people in the Democratic Party — who doesn't say this. But they don't want to say it out loud." [Why not?] Because they'll get clobbered or canceled. And look, part of the problem is that lots of Democrats will say that we have to listen to everybody and we have to include every perspective, or that we don't have to run a ruthless messaging campaign. Well, you kinda do. It really matters….. We won the White House against a world-historical buffoon. And we came within 42,000 votes of losing. We lost congressional seats. We didn't pick up state legislatures. So let's not have an argument about whether or not we're off-key in our messaging. We are. And we're off because there's too much jargon and there's too much esoterica and it turns people off." • I don't think much of Carville on policy. But he's a seasoned operative, the Luntz of the Democrats, if you will. And Luntz actually listens to voters, so he is worth listening to.

"Robert Johnson calls on firms to put voting rights energy into capital access for Black Americans" [CNBC].""'f you believe that voting rights is a primary need of the Black community, I would argue that access to capital is equal to or more so,' Johnson said. 'Voting rights without access to capital to build wealth is, in my opinion, an empty cup.'"
Republican Funhouse
"Republicans Emerge From Census With Upper Hand in Map-Drawing" [Bloomberg]. "Republicans' bid to retake the U.S. House next year got a lift from new Census figures that added congressional seats in a handful of states, including Texas, that Donald Trump won in November's election. With Democrats holding the House by a slim majority, the numbers released by the U.S. Census Bureau on Monday leave the GOP, for now, in a stronger position — especially since Republicans control the legislatures that will redraw congressional districts in states with the biggest population changes. Texas, a Republican bastion, was the big winner with two new congressional seats, while GOP-dominated Florida and Montana each gained one. The swing states of Colorado and North Carolina also gained one each along with Democratic Oregon. Because the size of the House is capped by law at 435 representatives, those new seats must come at the expense of seven states. That includes Democratic-dominated Illinois and New York, which each lost a seat, as did GOP-led West Virginia and Ohio. And the battlegrounds of Michigan and Pennsylvania each lost a seat, too. California will lose a representative for the first time since joining the Union in 1850 — but will retain the nation's largest congressional delegation with 52 members."
Realignment and Legitimacy
Stats Watch
Housing: "S and P CoreLogic Case-Shiller 20 City Home Price Index February 2021 Year-over-Year Growth Continued" [Econintersect]. "The non-seasonally adjusted S and P CoreLogic Case-Shiller home price index (20 cities) year-over-year rate of home price growth continues. The index authors stated, "February's results into historical context – The National Composite's 12.0% gain is the highest recorded since February 2006, exactly 15 years ago, and lies comfortably in the top decile of historical performance." All home price indices are now showing home price growth is continuing year-over-year. At this point, the pandemic has little affected home prices (or sales for that matter)."
* * *
Commodities: "Global Steel Boom Builds as Rampant Demand Overwhelms Supply" [Bloomberg]. "Steel prices are spiking from Asia to North America, and iron ore's relentless march toward a record is accelerating, as bets on a global economic recovery fuel frenzied demand. The world outside China is finally catching up with the Asian steel giant's already strong markets as a global rebound drives a powerful wave of buying that can't be matched by production. Sectors such manufacturing and construction are ramping up and governments have pledged to splurge on infrastructure as they map their post-pandemic path back to growth. Mills' order books are filling up as buyers look to lock in steel after a year of output curbs and idling of plants. On top of that, the biggest iron ore miners have been hampered by operational issues, tightening a market that hadn't fully recovered from a supply shock more than two years ago."
Manufacturing: "United States Richmond Fed Manufacturing Index" [Trading Economics]. The Manufacturing Activity Index in the US fifth district including the District of Columbia, Maryland, North Carolina, South Carolina, Virginia, and most of West Virginia was unchanged at 17 in April 2021, indicating continued growth, as all three component indexes remained positive: shipments (16 vs 22 in March); new orders (16 vs 10); and employment (19 vs 22). Survey responses indicated supply constraints, with the backlog of orders and vendor lead time indexes registering historic highs."
The Bezzle: "$100 million New Jersey deli company kills consulting deal with firm run by chairman's father" [CNBC]. This reads like the principals are trying to be protagonists in the next Breaking Bad. Here's a random paragraph (and the paragraphs in this story do seem to be randomly strung together, but maybe that's the material. "While Hometown International has had sales of only about $36,000 in the past two years combined at its Paulsboro deli, and E-Waste has no business to speak of, both companies could be attractive to private companies looking to become publicly traded entities in the United States through the use of a reverse merger or other means." • Can any reader who likes this sort of thing decode?
Tech: "Google Promised Its Contact Tracing App Was Completely Private—But It Wasn't" [The Markup]. "When Google and Apple introduced their COVID-19 contact tracing framework in April 2020, the companies aimed to reassure people worried about sharing private health information with major corporations. Google and Apple provided assurances that the data generated through the apps—people's movements, who they might have come in contact with, and whether they reported testing positive for COVID-19—would be anonymized and would never be shared with anyone other than public health agencies….. Since then, millions of people have downloaded contact tracing apps developed through Apple's and Google's framework: The U.K.'s National Health Services' app has at least 16 million users, while Canada's Digital Service COVID Alert app boasted more than six million downloads in January, and Virginia's Department of Health noted more than two million residents were using its COVIDWISE app. But The Markup has learned that . AppCensus was testing the system as part of a contract with the Department of Homeland Security. The company found no similar issues with the iPhone version of the framework. 'This fix is a one-line thing where you remove a line that logs sensitive information to the system log. It doesn't impact the program, it doesn't change how it works,' said Joel Reardon, co-founder and forensics lead of AppCensus. ''" • By Hanlon's Razos, this is stupidity not malice, but Googlers are awfully well-paid to be this stupid.
Manufacturing: "Europe Is Trying to Reclaim Its Lost Chipmaking Glory" [Bloomberg]. "But weaning Europe off chipmaking technology from the U.S. and Asia promises to be extremely difficult—particularly because it may need help from those same foreign entities to boost its own production…. It's a very different scene than a couple of decades ago, when Europe led the world in manufacturing semiconductors, thanks in large part to a strong consumer electronics industry with first-generation cellphones from Nokia, Ericsson and Siemens. But as those devices fell out of favor, the chip production industry also shifted abroad. In 1990, Europe accounted for about 44% of global semiconductor manufacturing. Now, it's closer to 10% and Taiwan, South Korea and Japan account for about 60% of production, according to a joint report by the Boston Consulting Group and the Semiconductor Industry Association. European chip designers including NXP Semiconductors NV and Infineon Technologies AG now outsource most production to giants like TSMC, and other foundries."
* * *
* * *
Today's Fear & Greed Index: 58 Greed (previous close: 61 Greed) [CNN]. One week ago: 57 (Greed). (0 is Extreme Fear; 100 is Extreme Greed). Last updated Apr 26 at 12:39pm.
Rapture Index: Closes unchanged [Rapture Ready]. Record High, October 10, 2016: 189. Current: 188 (Remember that bringing on the rapture is a good thing, so high is better.)
Health Care
"When You've Been Fully Vaccinated" [CDC]. New guidance: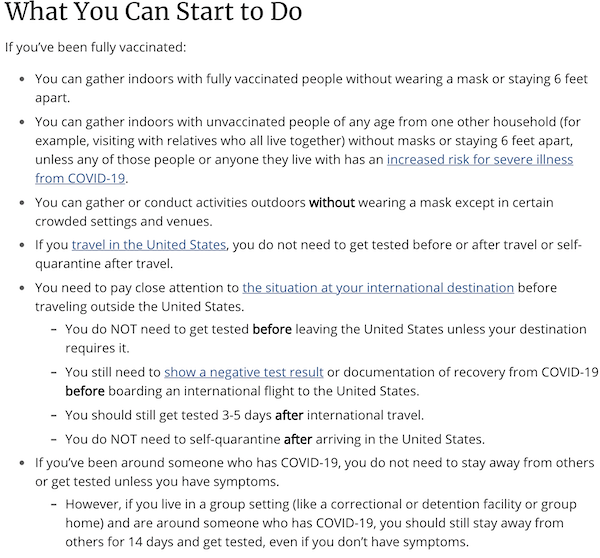 "We need to face the hard truths of hotel quarantine" [Sydney Morning Herald]. "Fool me once, airborne COVID-19, shame on you; fool me twice, shame on me…. We got here because some federal infection control experts who have the ear of power made bad calls early in 2020 saying airborne spread is insignificant, so PPE is not required when more than 1.5 metres away, and N95 masks are not necessary for most COVID-19 contact. This has proved to be the biggest own goal of the pandemic and means these boffins are to blame for many outbreaks, including the 4000 healthcare worker infections in Victoria in 2020, and resultant painful lockdowns. Backing down now means ending their careers in the limelight as expert advisers, so it is hard to shift that dogma even in the face of obvious reality. Australia-wide hotel problems and many super-spreader events all over the world have proven ventilation and airborne PPE will be central to our future success, as it has already been in places like Taiwan and Singapore. Victoria has now ignored the federal guidance and upgraded to quarantine 2.0 and we must follow that lead." • Meanwhile–
"A Hierarchical Framework for Assessing Transmission Causality of Respiratory Viruses" (preprint) [Jefferson, T.; Heneghan, C.; Spencer, E.; Brassey, J.; Pluddeman, A.; Onakpoya, I.; Evans, D.; Conly, J., Preprints.org]. From the Abstract: "We propose a hierarchical framework based on our experience of systematically reviewing and synthesizing 378 primary studies for an evidence-based update of the modes of transmission for SARS-CoV-2. These studies revealed significant methodological shortcomings with a lack of standardization in the design, conduct, testing and reporting of SARS-CoV-2 transmission. While this situation is in part excusable at the outset of a pandemic, evidence rules of proof for assessing the transmission of this virus are needed for this and future pandemics of viral respiratory pathogens. We review the history of causality assessment related to microbial etiologies with a focus on respiratory viruses and suggest a hierarchy of evidence to integrate clinical, epidemiologic, molecular and laboratory perspectives on transmission." • Conly is the dude who said you have to take the risk of acne into account when recommending N95 masks to HCWs to protect them against Covid. This diagram occasioned considerable mirth in the aerosol community:
Again, I'm excited to hear the IPAC folks tell us how we're going to stop using airborne precautions for varicella, measles and tuberculosis because they can't meet arbitrary and unethical standards established by a group of sulky men on the wrong side of an argument. https://t.co/1zxeuWzh9C

— David Fisman (@DFisman) April 27, 2021
If fomite and droplet transmission had the same evidence base that aerosol transmission does, you can get these WHO clowns would be trumpeting that evidence to the skies. They don't, so they write silly pieces like this. Gatekeepers gotta gatekeep. That wouldn't matter so much if, say, Google didn't regard WHO as authoritative: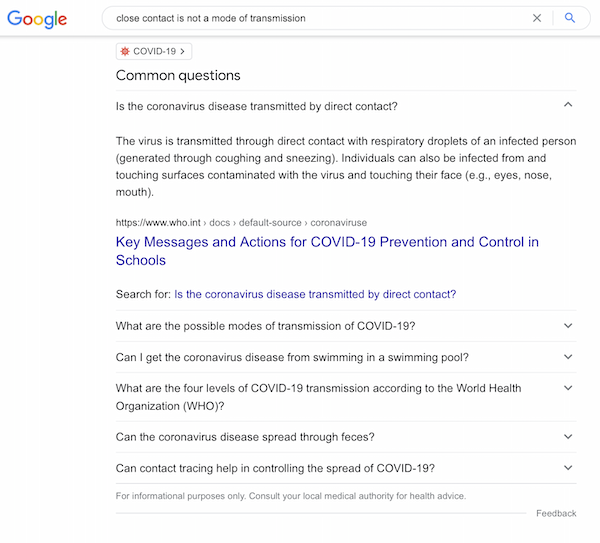 Wrong because Covid is mainly transmitted through aerosols, which includes breathing, not just coughing or sneezing. The droplet loons advocates at WHO are indeed conducting an "experimental inoculation" study all on their own, aren't they? And of course null results are important!
Water
"Waterways Are Drying Up in Key South American Crop-Shipping Hubs [Bloomberg]. "The South American drought that's helping push corn and soybean prices to multiyear highs isn't just threatening crops, but also the ability to haul them on waterways that are drying up. On the increasingly shallow rivers that flow through top producers Brazil, Argentina and Paraguay, barges are carrying less than their usual load. The situation is so desperate in Paraguay that the country is asking neighboring Brazil to release water from the giant Itaipu hydroelectric dam, after vessels have run aground and logjams are forming in river ports because barges can't move. In a key Argentine leg of the 4,900-kilometer (3,000-mile) Parana River, uncertainty over dredging work could make it even harder for farmers to ship their harvests. The region's waterway crisis highlights the growing impact of a warming climate on global agricultural supplies that's raising the specter of food inflation at a time of rampant demand led by China. The situation is bound to get worse because the dry season has just started. Argentina, the world's top exporter of soybean meal for livestock feed and soybean oil for cooking, ships about 80% of its crops through rivers. In landlocked Paraguay, the region's third-biggest soybean producer, roughly 80% of the country's trade moves through inland watercourses. 'This will be a difficult year for navigation,' said Esteban dos Santos, head of the Shipowners Association of Paraguay, where the world's third-largest river-barge fleet after the U.S. and China is moving on waters that are 3 meters (10 feet) lower than usual."
"In Jackson, Mississippi, You Can Go Into Debt Trying To Take A Shower" [Buzzfeed]. "In February, freezing temperatures knocked out power and water across the Southeast, leaving millions of people scrambling to stay warm and unable to access basic supplies for days. But in Jackson, most of the city's 160,000 residents, 82% of whom are Black, were without safe, reliable water for more than a month. It marked the latest chapter in years of issues with a brittle and decaying water system, and highlights the deep vulnerability of aging infrastructure — a problem from Flint, Michigan, to Sandbranch, Texas, and Newark, New Jersey — as extreme weather becomes more routine with climate change….. People working in shops and restaurants lost entire paychecks when their workplaces closed due to lack of water. Kids couldn't go to school or daycare, so parents had to shell out extra money for food and babysitters. They had to divert money away from rent or other bills to buy bottled water and cover the costs associated with being unable to bathe, do laundry, or cook in their own homes….The water is flowing again in Jackson. But for Robinson and others who are barely getting by, the empty taps left debt and new worries about the future. Years of neglect of the water system had already brought poor service and outrageous bills. In the face of a changing climate, the problems can only get worse, and so far, residents have had to pay the price." • Idea: Uber for Water.
Games
"Are You A Gaming Snob?" [Kotaku]. Alexandra: "The question's very open to interpretation, but in some sense, I'd say yes. I've developed certain preferred ways of approaching games, and I sometimes feel—I don't know, bothered, vaguely perturbed?—when I see folks making different choices. Judgy! Here's a good example. I find Bethesda RPGs largely mediocre, only saved by incredible modding communities. So when I hear someone played vanilla Fallout 3 on PlayStation 3 or something, that feeling springs up, and I wish they could've had what I consider a more fulfilling experience enhanced by mods, 60 fps, etc. Of course, for whatever reason, not everyone cares about such, which is why I try to hold this "snob" thing in check. Other examples that rankle: Jacked-up emulator graphical settings (it really pained me perpetrating the above screenshot), blithely playing games at incorrect aspect ratios, purposefully(!) playing games at incorrect aspect ratios because they like the stretching (!!) or hate black bars (!!!), skipping all text in story-driven games, enabling motion-smoothing on TVs…all pet peeves that give me little flashes of judginess. I may offer a suggestion if it seems it might be appreciated, but most often, I'll just keep it to myself. No one needs some nerd yuckin' their yums."
"Could Mario Kart teach us how to reduce world poverty and improve sustainability?" [ScienceDaily]. "In a recent paper, [Andrew Bell, a Boston University College of Arts & Sciences assistant professor of earth and environment] argues that the principles of Mario Kart — especially the parts of it that make it so addictive and fun for players — can serve as a helpful guide to create more equitable social and economic programs that would better serve farmers in low-resource, rural regions of the developing world. That's because, even when you're doing horribly in Mario Kart — flying off the side of Rainbow Road, for example — the game is designed to keep you in the race…. In his new paper, Bell argues that policies that directly provide assistance to farmers in the world's poorest developing regions could help reduce poverty overall, while increasing sustainable and environmentally friendly practices. Bell says the idea is a lot like the way that Mario Kart gives players falling behind in the race the best power-ups, designed to bump them towards the front of the pack and keep them in the race. Meanwhile, faster players in the front don't get these same boosts, and instead typically get weaker powers, such as banana peels to trip up a racer behind them or an ink splat to disrupt the other players' screens. This boosting principle is called 'rubber banding,' and it's what keeps the game fun and interesting, Bell says, since there is always a chance for you to get ahead. 'And that's exactly what we want to do in development,' he says. "And it is really, really difficult to do.'" • This is the very first example I've encountered of gaming tropes being applied in politics (or political economy) and I've been on the lookout for awhile. So, interesting!
Guillotine Watch
The horror, the horror:
interior (2/4) pic.twitter.com/dWNbblKR0h

— Guillotine-Worthy Zillow Listings (@Zillotine) April 27, 2021
A lot of skilled people were employed to create this elaborate monstrosity. Reminds me of something:
Class Warfare
"The Free Market is Dead: What Will Replace It?" [Chris Hughes, Time]. Time, of all places. "But corporate America's newfound support for more public investment is not a temporary phenomenon. We are witnessing the most profound realignment in American political economy in nearly forty years. President Ronald Reagan summed up the conventional wisdom that reigned from the mid-1970s onward in the United States: "Government is not the solution to our problem, government is the problem." Economists, policymakers, and everyday Americans alike generally accepted that markets, unfettered and free, are the best way to create economic growth…. That ideology began to crack after the Great Recession, and in the wake of the coronavirus pandemic, it has collapsed. The rise of ethno-nationalism on the right and democratic socialism on the left testify to the growing disillusionment with the conventional wisdom of how government and economics are supposed to work. It's not just the fringes questioning free market orthodoxy in a time of disease. Cross-partisan supermajorities of Americans want some of the biggest companies of America to be broken up, significantly higher minimum wages, a wealth tax on billionaires, and believe significantly more public investment is required to create economic growth. We have had regulations, public investment, and macroeconomic management to varying degrees throughout American history. What makes this moment different is that Americans across parties, class, and educational background are using a new framework to think about how we create prosperity." • It may be that the change feels more radical from inside the Beltway than out.
News of the Wired
Science:
Someone over at Mastodon was wondering if it was possible to transmit DSL over a banana. I did not have one at hand, but found an alternative.
I cut one of the two DSL copper strands, in half and pushed it into an apple.

Well, it works. With astonishing high data rates. pic.twitter.com/p0kY52b82M

— fiona (@vidister) September 11, 2020
* * *
Readers, feel free to contact me at lambert [UNDERSCORE] strether [DOT] corrente [AT] yahoo [DOT] com, with (a) links, and even better (b) sources I should curate regularly, (c) how to send me a check if you are allergic to PayPal, and (d) to find out how to send me images of plants. Vegetables are fine! Fungi and coral are deemed to be honorary plants! If you want your handle to appear as a credit, please place it at the start of your mail in parentheses: (thus). Otherwise, I will anonymize by using your initials. See the previous Water Cooler (with plant)
AK writes: "Magnolias bursting at Cincinnati's Theodore Berry Friendship Park." When you are walking, always make sure to look up?
* * *
Readers: Water Cooler is a standalone entity not covered by the recently concluded and — thank you! — successful annual NC fundraiser. So if you see a link you especially like, or an item you wouldn't see anywhere else, please do not hesitate to express your appreciation in tangible form. Remember, a tip jar is for tipping! Regular positive feedback both makes me feel good and lets me know I'm on the right track with coverage. When I get no donations for five or ten days I get worried. More tangibly, a constant trickle of donations helps me with expenses, and I factor in that trickle when setting fundraising goals:
Here is the screen that will appear, which I have helpfully annotated.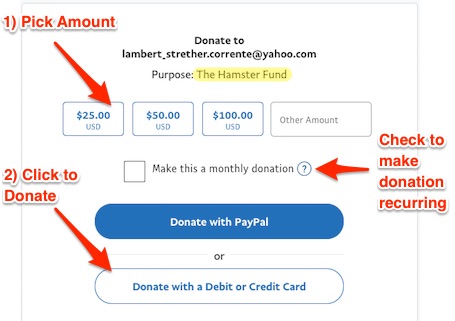 If you hate PayPal, you can email me at lambert [UNDERSCORE] strether [DOT] corrente [AT] yahoo [DOT] com, and I will give you directions on how to send a check. Thank you!