By Lambert Strether of Corrente.
Bird Song of the Day~
There is music in the background (from Myanmar). I don't know whether the crow is singing along or not!
* * *
#COVID19
At reader request, I've added this daily chart from 91-DIVOC. The data is the Johns Hopkins CSSE data. Here is the site.
I feel I'm engaging in a macabre form of tape-watching. All the charts are becoming dull — approaching nominal, if you accept the "new normal" of cases, for example.
Whoopsie. Odd how the curves fluctuate together for the last month or so; apparently social, political, regional, cultural distinctions don't show up in the aggregates. It's as if the issue has been nationalized.
Case count by United States regions:
\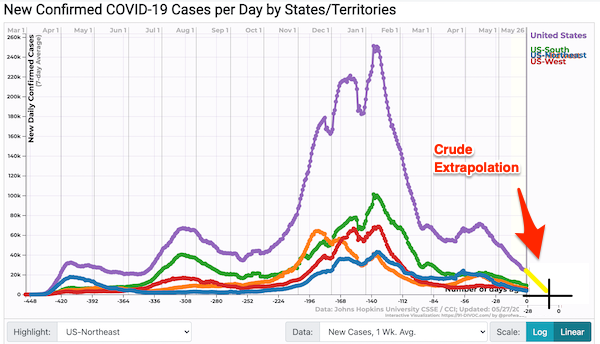 Continued good news. I added a crude extrapolation (in yellow). If things go on as they are, we should have zero cases in under 28 days. Of course, that won't happen. But the downward slope of the case count since mid-May has been pretty majestic.
Big states (New York, Florida, Texas, California):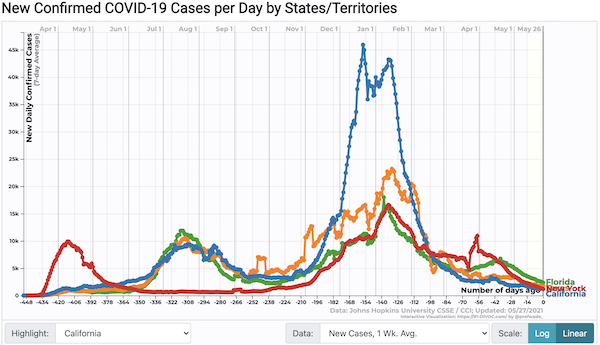 Continued good news.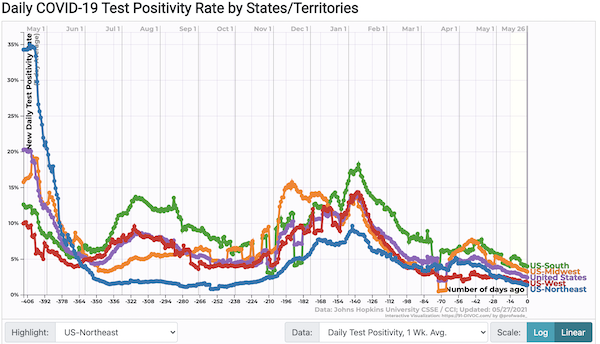 More good news.
DIVOC-91 no longer updates hospitalization and death so I went and found some substitutes; neither provide regional data.
Hospitalization (CDC):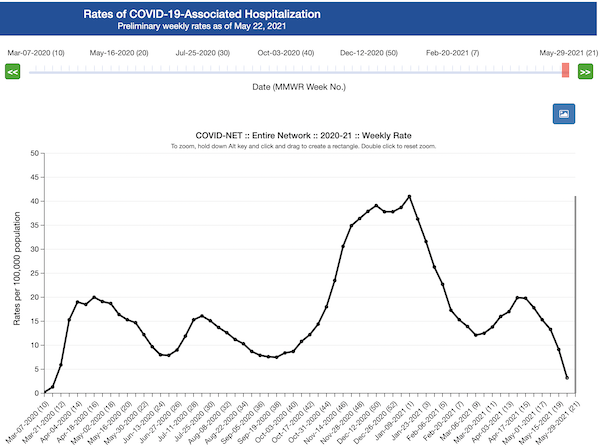 More good news.
Deaths (Our World in Data):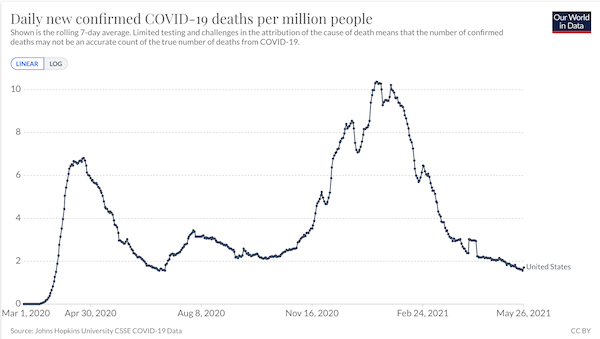 More good news.
Covid cases worldwide: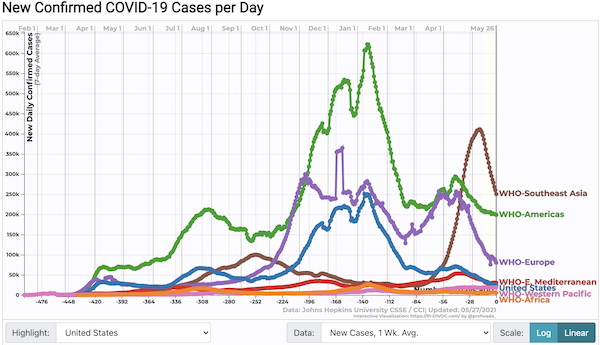 I think it makes more sense to look at all regions rather than individual countries (even if we know, for example, that WHO's Southeast Asia is mostly India by sheer weight of numbers, even though many individual countries are having issues). And why is Africa such an enormous outlier? Readers?
* * *
Politics
"But what is government itself, but the greatest of all reflections on human nature?" –James Madison, Federalist 51
"They had one weapon left and both knew it: treachery." –Frank Herbert, Dune
"They had learned nothing, and forgotten nothing." –Charles Maurice de Talleyrand-Périgord
Biden Administration
"Biden Administration Defends Huge Alaska Oil Drilling Project" [New York Times]. "The Biden administration is defending a huge Trump-era oil and gas project in the North Slope of Alaska designed to produce more than 100,000 barrels of oil a day for the next 30 years, despite President Biden's pledge to pivot the country away from fossil fuels…. The Biden administration is defending a huge Trump-era oil and gas project in the North Slope of Alaska designed to produce more than 100,000 barrels of oil a day for the next 30 years, despite President Biden's pledge to pivot the country away from fossil fuels…. On Wednesday, the administration filed a brief in U.S. District Court for Alaska, defending the Trump administration decision to greenlight the Willow project. xIn a statement, the Interior Department said that the Trump administration decision complied with the environmental rules in place at the time and that the plaintiffs did not challenge the approval 'within the time limitations associated with environmental review projects' for the National Petroleum Reserve." • I wish we could consign the phrase "the Trump Era" to the dustbin of history. If we factor out aesthetics, don't we see more continuities than differences? Exactly as with Bush and Obama?

UPDATE "Senate tests willingness to preserve filibuster with China, Jan. 6 commission votes" [NBC]. "The Senate has been mulling the future of the filibuster for months, but votes Thursday could finally push that discussion from the theoretical to the practical, and proponents of nuking the 60-vote threshold believe it could fuel their cause. Two major pieces of legislation before the Senate could be blocked this week by Republicans, the first time the filibuster has been invoked since Democrats took control of the Senate in January. The Senate has been working on the bipartisan U.S. Innovation and Competition Act, a bill to address competitiveness with China, for the past two weeks. But some late-stage opposition by Senate Minority Leader Mitch McConnell, R-Ky., could rally Republicans to block the bill. The Senate is scheduled to hold a series of votes Thursday on the China bill. Depending on the outcome, it could vote afterward on the Jan. 6 commission. The China legislation impasse comes as Democrats are also being stymied by Republicans on the creation of an independent commission to investigate the Jan. 6 attack on the Capitol, potentially setting up the first two filibusters of the current session. The confluence of the two issues comes at a critical time, when bipartisan negotiations are ongoing on a variety of issues, including infrastructure, policing reform, gun control and immigration. Senators and aides say the action on the Senate floor this week could determine if bipartisanship on those issues is possible."

UPDATE "Broad Coalition of Democrats Presses Biden to Expand Medicare" [New York Times]. "More than 150 House Democrats — including Representative Pramila Jayapal of Washington, the leader of the progressive wing in the House, and Representative Jared Golden of Maine, one of the chamber's most centrist Democrats — have teamed up on the effort, which is all but certain to draw Republican opposition but contains proposals that are popular with a wide segment of voters. Disappointed that Mr. Biden has yet to act on a campaign promise to expand Medicare benefits, members of the group, who together represent nearly 70 percent of House Democrats, have signed on to a letter that kicks off their pressure campaign. Organizers say it will include opinion pieces and press events. Representatives Conor Lamb of Pennsylvania and Joe Neguse of Colorado are also leading the push." • Amazing that the liberal Democrats managed to hold off #MedicareForAll in the midst of a pandemic. Stellar work by the leadership.

"Senate Republicans make new infrastructure offer as House Democrats urge Biden to dig in" [WaPo]. "As it haggles with the GOP, the White House also faced new political demands from lawmakers from its own party on Thursday. More than 200 House Democrats banded together to issue a new warning as part of the contentious debate over infrastructure spending: Include strong union and labor protections, or possibly risk losing some of their support. In their letter, House Democrats stressed that Congress must couple any new federal loans, grants or tax benefits to improve the country's infrastructure with a series of policy mandates to help workers. The companies that stand to profit from this potential influx of government aid must make it easy for employees to unionize, pay them prevailing wages, take action to prevent wage theft and train workers through apprenticeship programs for future positions, the lawmakers said. House Democrats also registered particular concern with the emerging clean-energy industry, which could see billions of dollars in tax benefits and other fresh federal investment under Biden's blueprint, known as the American Jobs Plan. In the lawmakers' estimation, the industry already suffers from some of the worst worker protections across the U.S. economy…." • That's not a bug. It's a feature. "… mwhich they hope to remedy as part of an infrastructure overhaul. 'Whether it is through grants, loans, state revolving loan funds, bonds, or tax incentives, the primary condition of receiving the taxpayers' money must be compliance with strong labor standards,' the Democrats wrote. Three top party lawmakers — reflecting the full political spectrum among Democratic ranks — organized the effort: Rep. Pramila Jayapal (D-Wash.), leader of the Progressive Caucus; Rep. Stephanie Murphy (D-Fla.), co-chair of the fiscally minded Blue Dog Coalition; and Rep. Susan Wild (D-Pa.), who chairs a key clean-energy task force with the moderate-leaning New Democrat Coalition." • As above, Biden has moved to the right of even moderate Democrats, and that's saying something. Does anybody other than like 300 people in the Beltway care about bipartisanship? All this crapping around is preventing money from getting into voter's hands before the mid-terms, ffs. The Democrats are acting like they've got all the time in the world, and they don't.

UPDATE "'Enough': Biden calls for action on guns in wake of San Jose shooting" [CNN]. • Oh, please. "Enough" is a favorite liberal Democrat trope, and it never goes anywhere, just like "This. Style. Of. Tweeting" and "This 👏 Style 👏 Of 👏 Tweeting" never go anywhere, either. It's all just finger-wagging.
Democrats en Deshabille
What is even going on:

With 4 weeks left in the race, the Morales campaign staff is forming a union and looking to enter negotiations over pay and workplace conditions. https://t.co/YI3xdGgwtI

— Ryan Grim (@ryangrim) May 27, 2021
Republican Funhouse
"Trump is starting to put together his own Contract with America. And he's teaming up with Newt." [Politico]. "With an eye toward winning back the House and Senate in the 2022 midterm elections, former President Donald Trump has begun crafting a policy agenda outlining a MAGA doctrine for the party. His template is the 1994 'Contract with America,' a legislative agenda released ahead of the midterm elections in the middle of President Bill Clinton's first term. And, as a cherry on top, he's teaming up with its main architect — Gingrich — to do it. In recent weeks, Trump sat down with the former House speaker as well as his former chief of staff Mark Meadows and Sen. Lindsey Graham (R-S.C.) at his private Mar-a-Lago club to begin crafting the document, according to a source familiar with the meeting. The group is still just beginning to hammer out the details of what a Trumpified Contract might look like. But it is likely to take an 'America-First' policy approach on everything from trade to immigration. The source described it as "a policy priority for 2022 and beyond."

UPDATE "GOP frets behind the scenes over potential Trump 2024 bid" [Politico]. "Trump is confiding in allies that he intends to run again in 2024 with one contingency: that he still has a good bill of health, according to two sources close to the former president…. he may face skepticism from surprising corners of the GOP, as some Republicans who supported him consistently during his presidency have mixed opinions about the possibility of a Trump 2024 campaign, according to interviews with 20 Republicans in both the House and Senate. 'President Trump did a lot of good. But he squandered a lot of his legacy after what happened after Nov. 3. And I think that's a shame,' said Sen. John Cornyn (R-Texas), who was the GOP whip for Trump's first two years in office. 'Running for president, you're under a lot of scrutiny. And all I can say is there's a lot to talk about.'… There's no shortage of possibilities who could carry a Trumpian mantle to the nomination in 2024: In the Senate, there are Floridians Marco Rubio and Rick Scott, Texan Ted Cruz, Missouri's Josh Hawley or South Carolina's Tim Scott. GOP governors from Ron DeSantis in Florida to Kristi Noem in South Dakota are also on everyone's radar. Then there's former Trump Secretary of State Mike Pompeo, former U.N. Ambassador Nikki Haley or even Trump's embattled House acolyte, Rep. Matt Gaetz of Florida. Of course, some conservatives argue that if 2024 candidates are going to just replicate his platform, why not go with the man himself? Rep. Jim Jordan (R-Ohio), one of Trump's fiercest allies, said: 'I'm for Trump, period. I don't care who else is running.' 'Why have a carbon copy?' said Rep. Brian Mast (R-Fla.). 'Why would we not support the original?'" • But who better to own the libs than Trump?
Realignment and Legitimacy
"How To Sabotage The Pro-Palestine Movement" [Caitlin Johnstone]. "The absolute worst thing you can do to shut down a populist protest movement is push back against it. Unless you're willing to alienate all your allies and lose the narrative war on the world stage by mowing down protesters with machine guns and throwing online dissidents into prison, opposing them will only create more resistance from them and give the protest movements more energy. … That's why the establishment didn't meet the Black Lives Matter protesters with opposition, but with "We hear you, we support you." If they'd said "Silence you filthy riff raff and obey the police!" as many of them doubtless wanted to, it would have only showed people that the system is indeed unjust and their protests must continue with greater force…. ." • And it works. Brilliant.

"Voter ID Restrictions Don't Suppress the Vote, Shows A New Harvard Study" [Zaid Jilani, Inquire]. "For years, as Republicans have installed voter ID requirements in state after state, Democrats have protested that these laws suppress the votes of low-income, minority, and young voters, all constituencies that they believe can help them win elections. The GOP has countered that it needs these laws in order to prevent widespread fraud that could corrupt the electoral process. But what if both sides are wrong? That's the conclusion of a new study that is forthcoming at Harvard's Quarterly Journal of Economics. Researchers Enrico Cantoni and Vincent Pons looked at various ID laws implemented between 2008 and 2016, finding that they had 'no significant negative effect on registration or turnout, overall or for any subgroup defined by age, gender, race, or party affiliation. These results hold through a large number of specifications and robustness checks.' Despite the Democrats' stated worries that these laws reduce minority turnout, the researchers found that 'given the complaints of selective disenfranchisement, strict ID requirements do not decrease the participation of ethnic minorities relative to whites.' What about partisan outcomes? The voter ID laws 'do not affect the relative vote share of Democratic and Republican candidates either.' Pons suggests that party mobilization may have offset any impact on voter participation by minorities — as these laws were passed, the likelihood of voter contact by campaigns actually went up…. But if you're a conservative who thinks that voter ID is essential to stopping fraud, don't get too excited. The researchers found that strict ID laws had no discernible impact on voter fraud." • Hilarity ensues… n
Stats Watch
Employment Situation: "22 May 2021 Initial Unemployment Claims Rolling Average Improvement Continues" [Econintersect]. "Market expectations for weekly initial unemployment claims (from Econoday) were 425 K to 475 K (consensus 450 K), and the Department of Labor reported 406,000 new claims. The more important (because of the volatility in the weekly reported claims and seasonality errors in adjusting the data) 4 week moving average moved from 504,750 (reported last week as 504,750) to 458,750."
Manufacturing: "United States Kansas Fed Manufacturing Index" [Trading Economics]. "The Kansas City Fed's Manufacturing Production Index dropped to 32 in May 2021, from the previous month's all-time high of 40, suggesting Tenth District manufacturing activity continued to expand at a strong pace. Output growth was driven higher by increased activity at durable goods plants, especially for primary and fabricated metals, machinery, furniture, and transportation equipment manufacturing. Also, new orders rose at a faster pace and expectations for future activity remained solid. ." • The magic of the marketplace!
Durable Goods: "Headline Durable Goods New Orders Slowed In April 2021" [Econintersect]. "The headlines say the durable goods new orders declined. Our analysis shows the rolling averages improved. The data this month was below expectations – and, the previous months were revised due to the annual data revision. In the adjusted data, the decline was due to defence capital goods."
GDP: "Second Estimate 1Q2021 GDP Growth Unchanged At 6.4%" [Econintersect]. "The second estimate of first-quarter 2021 Real Gross Domestic Product (GDP) remained at 6.4 % from the advance estimate's 6.4%…. I am not a fan of the quarter-over-quarter exaggerated method of measuring GDP – but year-over-year growth is now in positive territory as it is being compared to the beginning of the recession."
* * *
Retail: "As masks fall out of fashion, Etsy sellers ask themselves, 'now what?'" [CNN]. "Henriquez, 27, who lives in Lancaster, Pennsylvania, said orders to her Etsy store LittleLadyAHomemade for her handmade masks plunged more than 70% the day after the US Centers for Disease Control & Prevention announcement on May 13. The agency said that people fully vaccinated against Covid-19 do not need to wear masks or practice social distancing indoors or outdoors, except under certain circumstances. 'The market just dropped,' she said. 'I had a phenomenal last year in sales. Now what? Where do we go from here?'" • Really interesting article on the business of small-scale sewing manufacture.
Tech: "Raspberry Pi: After launching five devices in less than a year, here's what they're doing next" [ZDNet]. "For Raspberry Pi, the passage of time over the past year has been marked by the launches of a series of new products…. Demand for its tiny computers soared due to the overnight switch to home working. On top of that, after the launch of Raspberry Pi's High Quality Camera in April 2020, the company went on to launch the 8GB Raspberry Pi 4 one month later. This would be followed by the Compute Module 4, the Raspberry Pi 400, and most recently, the $4 Raspberry Pi Pico in January this year…. When you consider the impact COVID-19 has had on supply chains and production lines throughout the world, that the Raspberry Pi team found the energy and resources to deliver five new devices seems like a pretty remarkable accomplishment. And while 2021 will see a change in emphasis, Raspberry Pi has big plans for this year, too." And here is an amazing true fact: "As the coronavirus pandemic began to build around the world, one of the more foreboding signs that [Eben Upton, Raspberry Pi creator and co-founder], and his team were in for a difficult year came when they began finding face masks packed in with boxes of components sent by suppliers. 'We were actually getting sent masks by our Chinese suppliers as gifts,' says Upton. 'They were like, 'Hey, you guys are going to have a bit of trouble in the next few weeks, you'll need these."" • Here's the link to the camera, which has interchangeable lenses (!!), and interchangeable lenses, although sadly only an 8MB sensor. Looks like fun, though.
The Bezzle:
Uber notification: "Skip the public transport and arrive in style and comfort." pic.twitter.com/6z0pVypQEG

— Asher 🚶🏰🐌🌳🔰🧢 (@AsherDeMontreal) May 26, 2021
No smelly proles!
The Bezzle:
I'm actually happy about this. Now that the VC money is dwindling and uber is charging something like the true costs of on demand door to door transportation, public transportation is revealed to be the absolute bargain that it is.

— Bella Chu (@bellachu10) May 27, 2021
But Chu's theory true? Are the VCs really pulling out? And would they do so without completing, through Uber, the projects that benefit their class as a whole? That is, (a) destroying public transportation and (b) creating a new relation between workers and capital where workers have been less rights than before? (E.g., Proposition 22.)
Manufacturing: "Boeing to Pay $17 Million to Settle FAA Enforcement Cases" [Bloomberg]. Boeing Co. has agreed to pay at least $17 million to settle a pair of enforcement cases related to the installation of unapproved equipment on hundreds of 737 aircraft. The cases, which had been announced in 2019 and 2020, involve installing so-called Head-up Guidance Systems and devices on the wing that didn't comply with federal standards…. There were some signs of progress in April. Boeing delivered nine 787 Dreamliners, the highest monthly total for the carbon-fiber, wide-body aircraft in more than a year. The planemaker has about 100 of the planes in inventory after halting production for five months to inspect and repair small structural defects." • Well, as long as they don't start catching on fire again, I suppose….
* * *
Today's Fear & Greed Index: 37 Fear (previous close: 35 Fear) [CNN]. One week ago: 37 (Fear). (0 is Extreme Fear; 100 is Extreme Greed). Last updated May 27 at 12:07pm. Ritholtz:
I've never been especially impressed with the Fear & Greed Index as a useful indicator for equity tradershttps://t.co/ndfBijqXOi pic.twitter.com/r37dmIAH9q

— Barry Ritholtz (@ritholtz) May 27, 2021
And:
Agree. I've watched this for years but have never made decisions based solely on it. Basically translates to the 'buy the dip' mantra. No magic bullet.

— Nic Risser (@mr_nic_rizzo) May 27, 2021
I can't imagine anybody making decisions based "solely" on anything, but then I don't play the ponies. Regardless of what the Greed and Fear Index may mean, at least its consistent. It's not trying to sell you its book.
Health Care
"How Covaxin became a victim of vaccine triumphalism" [Mint]. "Poor transparency and mismanagement have plagued the development of the [Covaxin] vaccine– touted by the government as India's first fully indigenous Covid vaccine—since it commenced last May. The biggest example of this was Bharat Biotech's application for regulatory approval for Covaxin in December 2020, even though it had no efficacy data—evidence that the vaccine prevented disease. A month later, when participants at the biggest site of a Covaxin clinical trial, a hospital in Bhopal, complained of mistreatment, the firm dismissed the complaints as baseless. And now, even though Anvisa's observations have cast a shadow on the vaccine's quality, Bharat Biotech has done little to clear the air. At the same time, four months after the vaccine was approved by the DCGI for use in India, the firm is yet to publish its efficacy data…. Ironically, many believe that the hastened approval of Covaxin hurt the reputation of the Make-in-India campaign, instead of bolstering it…. The biggest tragedy, however, is that the hurried development could have triggered vaccine hesitancy among Indians during a once-in-a-century pandemic. And despite the problems with its development and manufacture, Covaxin has the intrinsic potential to be effective, says Satyajit Rath, an immunologist who retired as faculty of New Delhi's National Institute of Immunology. 'Covaxin is likely to provide reasonable protection against Covid, at least in the short run. But there is no doubt that this project was handled poorly.'"
I thought I was the only one who believed this:
I just realized if the Feb 2020 Woodward interview where Trump says "the virus goes through the air" had become public back then, people would've been called racist, misogynist trolls for saying aerosols were crucial. (Guess he heard it from President Xi trying to warn him/us?)😱 pic.twitter.com/Nlnaq0VZIa

— zeynep tufekci (@zeynep) May 27, 2021
Amplifying: If Trump had said, in February 2020, that "Covid is airborne, wear a mask," the liberal Democrats would have gone absolutely nuts and framed the issue as they did with hydrochloroquinine (debatable and worth a shot, with liberals openly rooting for it to fail) or the bleach debacle (fabricated). And they would have had the droplet goons at CDC and WHO on their side, and aerosol transmission would still be fringe, even today (and a suitable topic for SNL sketches and Andy Borowitz columns). So, for whatever reason, Trump ended up doing us all a favor. (Alternatively, Trump could also have called up WHO or CDC, who would have told him XI was lying.)
"Had COVID? You'll probably make antibodies for a lifetime" [Nature]. I linked to the original study for this; here is Nature's explication: "People who recover from mild COVID-19 have bone-marrow cells that can churn out antibodies for decades, though viral variants could dampen some of the protection they offer." But the final paragraph: "[T]he persistence of antibody production, whether elicited by vaccination or infection, does not ensure long-lasting immunity to COVID-19. The ability of some emerging SARS-CoV-2 variants to blunt the protective effects of antibodies means that additional immunizations may be needed to restore levels, says [Ali Ellebedy, a B-cell immunologist at Washington University in St. Louis, Missouri]. 'My presumption is we will need a booster.'"
The Biosphere
"The Most Colossal Planning Failure in Human History" [Richard Heisenberg, Post-Carbon Institute]. "A couple of days ago I happened to pick up an old book gathering dust on one of my office shelves—Palmer Putnam's Energy in the Future, published in 1953. Here was a time capsule of energy concerns from nearly a lifetime ago—and it got me to thinking along the lines of Howard Baker's famous question during the Watergate hearings: 'What did [w]e know, and when did [w]e know it?' That is, what did we know back then about the climate and energy conundrum that threatens to undermine civilization today?… n a section at the very end of the book, titled, "The Combustion of Fossil Fuels, the Climate and Sea Level," Putnam wrote, "Perhaps such a derangement of the CO2 cycle would lead to an increased CO2 content of the atmosphere great enough to affect the climate and cause a further rise of sea level. We do not know this. We ought to know it." Now we know, and it turns out that a lot more than just a hike in sea level is in the offing. But we still haven't done much to change the worrisome trend of soaring greenhouse gas emissions…. Here's the essence of our planning failure: we have built up civilization to a scale that can temporarily be supported by finite and polluting energy sources, and we have simply assumed that this scale of activity can continue to be supported by other energy sources that haven't yet been developed or substantially deployed. Further, we have incorporated limitless growth into the requirements for civilization's success and maintenance—despite the overwhelming likelihood that growth can occur for only a historically brief interval. Failing to plan is often the equivalent of planning to fail…. Without planning, this is what will most likely happen: we'll fail to produce enough renewable energy to power society at the level at which we want it to operate. So, we'll continue to get most of our energy from fossil fuels—until we can't, due to depletion. Then, as the economy crashes and the planet heats, the full impacts of our planning failure will finally hit home. It may already be too late to avert that scenario. But let's assume there is indeed enough time, and that we suddenly get serious about planning. What should we do?" • Obviously, we should build the rich escape capsules to Mars and bunkers in New Zealand. That's not planning? What's wrong with this guy?
"Wolves Get Credit for 24% Drop in Deer-Auto Collisions" [Insurance Journal]. "Ecologist Rolf Peterson remembers driving remote stretches of road in Michigan's Upper Peninsula and seeing areas strewn with deer carcasses. But that changed after gray wolves arrived in the region from Canada and Minnesota. 'When wolves moved in during the 1990s and 2000s, the deer-vehicle collisions went way down,' said the Michigan Tech researcher. Recently, another team of scientists has gathered data about road collisions and wolf movements in Wisconsin to quantify how the arrival wolves there affected the frequency of deer-auto collisions. They found it created what scientists call 'a landscape of fear.' In a pretty short period of time, once wolves colonize a county, deer vehicle collisions go down about 24%,' said Dominic Parker, a natural resources economist at the University of Wisconsin, Madison and co-author of their new study published Monday in the journal Proceedings of the National Academy of Sciences. Both thinning of the deer population by wolves and behavior changes in fearful deer are factors in the drop-off, Parker said." • A landscape of fear…. Game of Thrones, the book series, creates such a landscape very well, although the predators are human.
"Leverkusen" [Otherwise]. "Plastic objects can pull us into a vortex of time. Cheap to manufacture, these are mass-produced things often made to meet the most fleeting of human needs. And yet they endure far beyond those moments, quietly attesting, if you stop to pay heed, to the bygone presence of someone's hunger, thirst, or fancy. They represent, in this way, some of the most important fossils of our time, our civilization of consumers and the detritus they will leave for future denizens of this earth to ponder. Think too about the material from which these things are made, the hydrocarbon chains that owe their substance to the remains of living creatures from eons ago. The mystery only deepens. Peer long enough into the hard plastic shell of anything on a convenience store shelf, and you might find yourself in a dizzying whirlpool of time and change. That afternoon, what Pam had fished from the water of the Ionian Sea was a peculiar green fragment, shaped almost like a hook or lever. Two words were stamped onto the mottled surface of the plastic relic: the word "Bayer" in an artful cursive, and just below that, the name of an industrial town in western Germany, Leverkusen. It was a piece of an aspirin dispenser from the 1960s, manufactured half a century ago. Even more stunning was the fact that I had just come to Greece from Germany, from a visit to that town where Bayer was headquartered. I'd gone to Leverkusen on the invitation of a senior executive at Covestro AG, the plastics manufacturing division that Bayer had spun off as a separate company in 2015…." • This is an interesting essay, not really excerptable. Worth a read!
Class Warfare
The Alabama mineworker's strike:
10 local union leaders and @MineWorkers Intl President Cecil Roberts sat down in front of the barricade, and were arrested for refusing to leave. They were loaded into a paddy wagon and taken to the Tuscaloosa County jail as the sun began to set. pic.twitter.com/KT1FvE6EoU

— Kim Kelly (@GrimKim) May 26, 2021
(Kim Kelly is Teen Vogue's labor reporter.)
"A Recruiter Dishes on Why Restaurants Really Can't Find Enough Staff" [Washingtonian]. "To what degree are you seeing people leave the industry altogether? How widespread is that? Anecdotally, I would guess it's somewhere in the neighborhood of 10 to 20 percent. I think a lot of the cooks maybe went into construction or other industries that continued through the pandemic. And, you know, those industries pay $25, $30 an hour, and it's Monday through Friday, and if you work on the weekends, you get overtime. So it's going to be very difficult for the industry to bring those people back for $18, $20 line cook positions. Once we get back into the fall, things will maybe get a little bit better as schools reopen. Because childcare is an issue. I called this really great chef who we placed in the past for a really great job, and he said, 'Thank you so much, but my wife works full time, I'm homeschooling two kids, and our mother-in-law, who usually is our backup plan, is recuperating from chemotherapy. I just can't do it right now.' I had an ace pastry chef, she had a Masters degree, and decided to go and pursue that. I think a lot of people are reconsidering what they want to do and if they want to continue in the restaurant industry."
"Florida May Lose Some of Its Boomer Shine" [Bloomberg]. "From an economic developer's point of view, making a big bet on retirement communities 20 years ago made a lot of sense. The Baby Boomer generation was set to be the largest and wealthiest generation of retirees in human history. There are well-worn migration patterns from north to south filled with ways for retirees to spend their investment portfolios, pensions and Social Security incomes. Just as the technology industry found benefits from clustering in San Francisco, and the media industry from clustering in New York and Los Angeles, so the "retirement industry" concentrated in the warm and sunny states of Florida and Arizona. But retirement communities, by definition, are full of people who aren't working anymore, and so depend on the labor of others. They require construction workers to build homes, healthcare workers to take care of an older population, landscapers to maintain subdivisions and golf courses, and restaurant and other types of service workers to operate the amenities that make their communities desirable places to live. There's been no reason to think in the last couple of decades that we'd have a shortage of those types of workers, thanks to the loose labor markets following the recessions in 2001 and 2008, and to ample amounts of immigration in the 1990's and 2000's. Today it's a different story. And that's a problem for communities that have bet their futures on importing retirees. When we think about fast-growing metro areas in the U.S., we might picture Austin, Texas, or Boise, Idaho, which have been popular destinations for people leaving the West Coast in search of cheaper housing. But the two fastest-growing metro areas in the 2010's were actually Myrtle Beach, South Carolina, and the Villages — both places favored by retirees. The question now is how they're going to sustain their growth in an era where labor isn't so cheap, and where retirees aren't necessarily the groups of people best-positioned to win bidding wars for service workers."
"1 big thing: The state of the world, according to me" [Axios]. "I believe our country is in trouble. And it's not about a loss of morality or religion or liberals or conservatives or the current president or the last president. It's about a fundamental problem we have as a nation — a reckless imbalance of wealth. This is not a philosophical matter of doing what's "right." It's a practical matter of doing what's necessary to uphold and maintain a consumption-based economy…. We're living in a world now where the wealthy have so much money they literally don't know what to do with it…. Those who aren't asset holders haven't even benefited from the risk-asset inflation that's accompanied housing, medical and education price inflation for the past decade because wage inflation hasn't even come close…. A consumer economy simply can't function when the consumers are too poor to consume and the wealthy don't want to."
"Guilty Parties: Two entrepreneurs have built a business dredging up white women's shame" [New York Magazine]. "Begun in 2019 by Regina Jackson and Saira Rao, Race2Dinner gathers groups of eight white women at the home of a white host, where Jackson and Rao facilitate a discussion about race over dinner. When they first started out, they charged $2,500 per dinner, to be covered by the host or divided among her guests. 'That's peanuts,' Jackson told me when we spoke over Zoom. 'People pay more than that to go to a yoga conference.'" • I originally had this filed under "Black Injustice Tipping Point." But I moved it.
"Doing the Work at Work What are companies desperate for diversity consultants actually buying?" [New York Magazine]. "An explosion of fortune in 2020 is one of the few universal things in the amorphous industry of diversity consulting — a space as varied as its constellation of interrelated acronyms and ampersands implies. DEI and DE&I "diversity, equity, and inclusion" are more common than D&I, but many refer to the cause as I&D or DEIB (the B is for "belonging"). Portrayed by the right wing as a single-minded cult, DEI is in reality a loose federation of adherents, with a host of methodologies, competing for money and attention. DEI practitioners share a worldview — that workplaces can become more humane and just — but they are also rivals in a for-profit industry of their own making, with the same incentives of salespeople and marketers everywhere. Corporate America spends roughly $8 billion annually on diversity, according to a figure that gets passed around routinely — though that rough estimate was first cited in 2003, which means the true profitability of the market is uncharted. Certainly, after Floyd's murder, the business became astronomically larger than ever. But instead of an industry finally coming into focus, thanks to unprecedented funding and momentum, what composes DEI feels even more dizzyingly diffuse, and its true beneficiaries remain in question."
"Economics and the study of race" [Vox EU]. "This column reports evidence that race-related research in economic journals constitutes a far lower share than in comparable publications in sociology and political science. What's more, economists over-estimate the extent of race-related research done by the profession. Understanding why economists produce so little race-related research is essential if the discipline is going to be able to reform." • Of course, considering the damage economists have done to other areas of human endeavor, perhaps we should count ourselves lucky.
News of the Wired
"READING: Mark Silk: Did John Adams Out Thomas Jefferson and Sally Hemings?" [Brad DeLong, Grasping Reality]. "In letters to his sons Charles and John Quincy in January of 1794, Adams points to the relationship between the sage of Monticello and the beautiful young woman known around the plantation as "Dashing Sally." The references have escaped notice until now because Adams used a classical allusion whose significance historians and biographers have failed to appreciate. Adams' letters offer tangible evidence that at least one of the country's leading political families was aware of the Jefferson-Hemings relationship long before the scandal broke. The documents cast new light on the question of elite awareness of the relationship, on the nature of the press in the early republic, and on Adams himself." • Well worth a read, and plenty of contemporary parallels.
* * *
Readers, feel free to contact me at lambert [UNDERSCORE] strether [DOT] corrente [AT] yahoo [DOT] com, with (a) links, and even better (b) sources I should curate regularly, (c) how to send me a check if you are allergic to PayPal, and (d) to find out how to send me images of plants. Vegetables are fine! Fungi and coral are deemed to be honorary plants! If you want your handle to appear as a credit, please place it at the start of your mail in parentheses: (thus). Otherwise, I will anonymize by using your initials. See the previous Water Cooler (with plant) here. Today's plant (HR):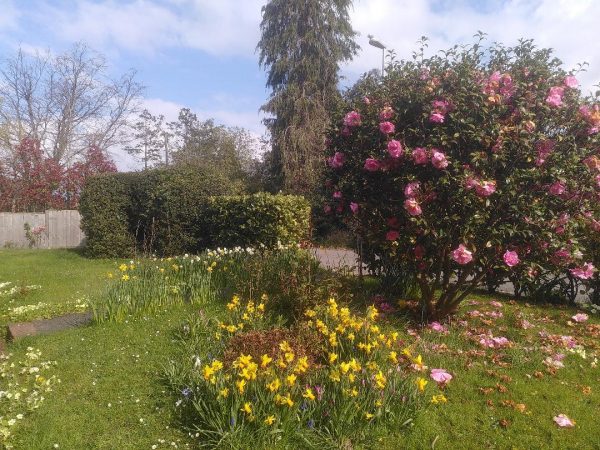 HR writes: "Your request for spring flowers has disappeared so I may have missed the moment but this is the current view out from my kitchen sink in Devon. I really should have tidied up the fallen camellias but et ego in Arcadia…."
* * *
Readers: Water Cooler is a standalone entity not covered by the recently concluded and — thank you! — successful annual NC fundraiser. So if you see a link you especially like, or an item you wouldn't see anywhere else, please do not hesitate to express your appreciation in tangible form. Remember, a tip jar is for tipping! Regular positive feedback both makes me feel good and lets me know I'm on the right track with coverage. When I get no donations for five or ten days I get worried. More tangibly, a constant trickle of donations helps me with expenses, and I factor in that trickle when setting fundraising goals:
Here is the screen that will appear, which I have helpfully annotated.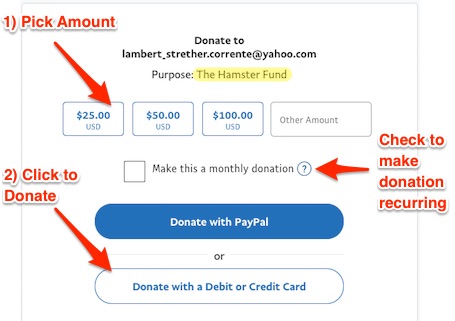 If you hate PayPal, you can email me at lambert [UNDERSCORE] strether [DOT] corrente [AT] yahoo [DOT] com, and I will give you directions on how to send a check. Thank you!