By Lambert Strether of Corrente.
Bird Song of the Day
The Gray-headed Social-Weaver also has a pretty song.
* * *
#COVID19
At reader request, I've added this daily chart from 91-DIVOC. The data is the Johns Hopkins CSSE data. Here is the site.
I feel I'm engaging in a macabre form of tape-watching.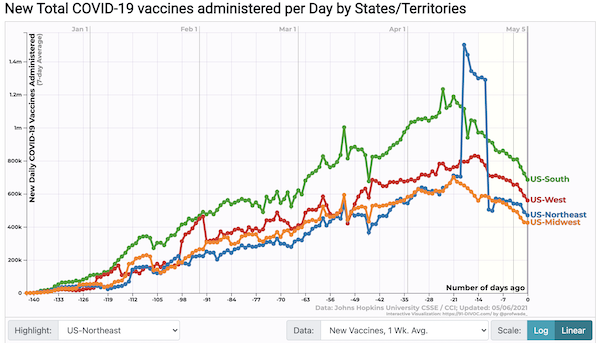 I suppose 362,726 + 201,441 + 277,326 + 153,646 = 995139 (daily numbers for the South, West, Northeast, and Midwest respectively) aren't too shabby, and when we're in diminishing returns territory daily numbers are expected to go down. It still worries me.
Case count by United States regions: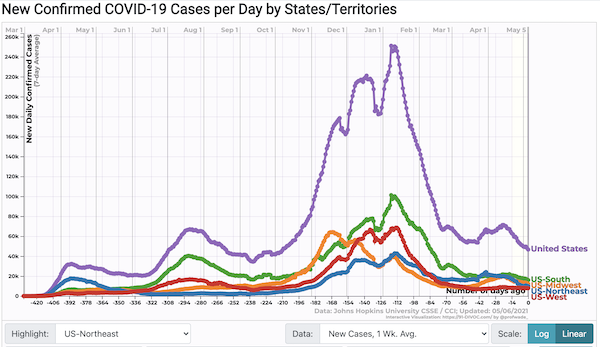 The Midwest in detail: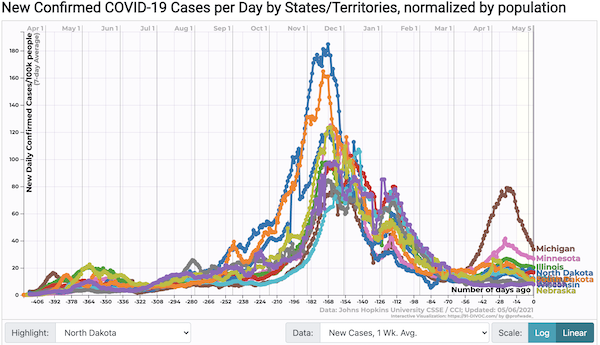 Continued good news.
MN: "Minnesota's COVID restrictions to end May 28, mask mandate July 1" [Star Tribune]. "A mask-wearing mandate for public indoor spaces will end no later than July 1 in Minnesota and COVID-19 restrictions on business capacities and gathering sizes will end by May 28 under a plan announced Thursday by Gov. Tim Walz. The first step on Friday will include an immediate expansion on the sizes of indoor and outdoor gatherings, and an end to early closing times for bars and restaurants, but all such limits will be eliminated by May 28 ahead of the Memorial Day weekend. The mask-wearing requirement could be lifted before July 1 if the state can increase the rate of Minnesotans who have received COVID-19 vaccine from 59% to 70%. 'As cases recede, more people get vaccinated every day, and vaccines are readily available to all who want it,' Walz said. 'We can now confidently and safely set out our path back to normal.' The change comes as other states such as New York phase out COVID-19 restrictions amid vaccination progress and signs of reduced pandemic activity. In Minnesota, the positivity rate of diagnostic testing has fallen from 7.4% on April 10 at the peak of the latest wave to 5.9%. COVID-19 hospitalizations in Minnesota dropped from 699 on April 14 to 565 on Wednesday." • I am still poking around for a nice hospitalization chart. I am guessing that at one time, 565 would have been considered a lot….
Big states (New York, Florida, Texas, California):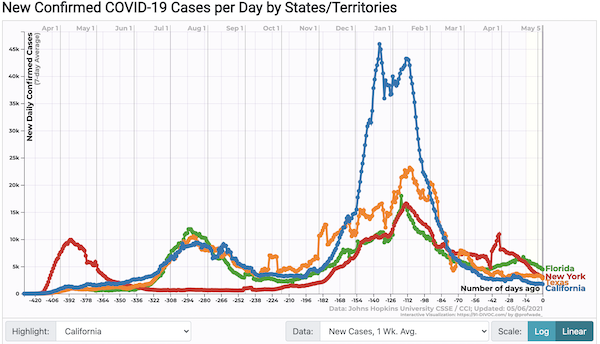 Continued good news.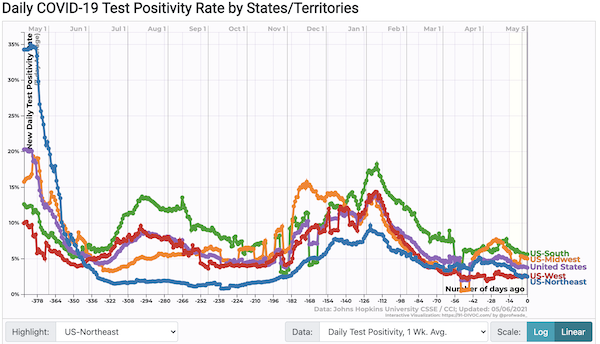 Down, except for the West, now flat.
* * *
Politics
"But what is government itself, but the greatest of all reflections on human nature?" –James Madison, Federalist 51
"They had one weapon left and both knew it: treachery." –Frank Herbert, Dune
"They had learned nothing, and forgotten nothing." –Charles Maurice de Talleyrand-Périgord
Biden Administration
"Here Comes the Covid-19 Community Corps and They Want You" [Bloomberg]. "local triumphs, replicated thousands of times a day, that the Biden Administration's Covid-19 Community Corps is going for. Organized in small teams that run the gamut from veterans and religious groups to progressive youth organizations and a Black LGBTQ group, the corps has been in the forefront of reaching the reluctant. The idea is that this wide demographic outreach will radiate, so that the friends and neighbors of the vaccinated follow suit… National Milk Producers Federation, one of more than 200 groups the Biden administration has amassed for the next and possibly hardest stage of the nationwide vaccination campaign…. The administration is backing up its ambitions with money. The White House said Tuesday the administration is making nearly $1.5 billion in funds from the coronavirus rescue package available for community organizations, rural health clinics, and state and local governments to increase vaccination and testing rates in underserved areas. With mass vaccination sites winding down, smaller pop-ups where people can walk in on their own schedule are taking their place. Pharmacies and other neighborhood clinics are also encouraged to accept walk-ins. The Biden administration has also recently set up a website, a call center and a text feature that can all link people to nearby shots. A major theme of this next phase is convenience, whether that means getting vaccinated at church, on a neighborhood basketball court or in the fields." • I thought "Corps" meant a bunch of fresh-faced college kids parachuted into Red States, but apparently the Corp is an agglomeration of NGOs. A lot of this sounds good, but I would like very much to know who those 200 groups are. I poked about the Community Corps Website, but I don't see a list. From the Campaign Background Document: "The Campaign also collaborates with corporations, foundations, and not-for-profits that share a common mission of preventing COVID-19 and protecting public health." Oh.

An administration that looks like America:

BIDEN's deputy national climate advisor ALI ZAIDI had quite a client roster at @Kirkland_Ellis:
➡️Mission Coal
➡️Murray Energy
➡️Callon Petroleum
➡️Bain Capital
➡️Barclays Capital
➡️Blackstone Group
➡️Goldman Sachs
➡️Carlyle Group
➡️Elliott Management https://t.co/6oT64RTrFy

— Kenneth P. Vogel (@kenvogel) May 6, 2021

If you think America is a nation of grifters, that is.

"Biden's bet" [The Ruffian]. "[In the SOTU, Biden also said], 'We're in competition with China and other countries to win the 21st century. We're at a great inflection point in history.' Competitiveness with China was a Trump theme (in some ways, as per Afghanistan, Biden is merely delivering on Trump's promises). Now, Biden puts this in a way that can be interpreted as straightforward economic competition, in the Trumpian sense. But he's actually hinting at a grander thought, which he expanded on beforehand in an informal conversation with journalists: 'I think they're going to write about this point in history… about whether or not democracy can function in the 21st century. Not a joke. Whether autocracy is the answer – these were my debates I'd have in the many times I met with Xi.' I love that 'not a joke', by the way. Biden speaks a little like Trump, at least in that he does not have the high-flown fluency of the hyper-educated and prefers colloquial expression. Unlike Trump, however, he's intellectually curious. In fact, his verbal and cognitive style is like a blend of the last two presidents: a big thinker who didn't go to Harvard." • Hmm. I could use an example of Biden's intellectual curiousity.
2020
"U.S. Justice Department worried about Arizona vote recount" [Politico]. "In a letter to GOP [Arizona] Senate President Karen Fann, the head of the Justice Department's Civil Rights Division said the Senate's farming out of 2.1 million ballots from the state's most populous county to a contractor may run afoul of federal law requiring ballots to remain in the control of elections officials for 22 months. And Principal Deputy Assistant Attorney General Pamela S. Karlan said that the Senate contractor's plans to directly contact voters could amount to illegal voter intimidation. 'Past experience with similar investigative efforts around the country has raised concerns that they can be directed at minority voters, which potentially can implicate the anti-intimidation prohibitions of the Voting Rights Act,' Karlan wrote. 'Such investigative efforts can have a significant intimidating effect on qualified voters that can deter them from seeking to vote in the future.' Karlan wants Fann to lay out how the Senate and its contractors will ensure federal laws are followed. She pointed to news reports showing lax security at the former basketball arena where the ballots are being recounted by hand."

"Extending Arizona ballot recount past May 14 is 'not feasible', state fair official says" [Arizona Republic]. "A state official said Wednesday it is "not feasible" to extend the Arizona Senate's lease on the Veterans Memorial Coliseum, where its contractors appear still early in the process of recounting all 2.1 million ballots that Maricopa County voters cast in last year's general election. Though tallying began April 23, the Senate's liaison estimated that only about 200,000 ballots were counted as of Wednesday and that the effort likely would extend beyond the May 14 end date of the Senate's lease on the facility. The Republican-controlled Senate faces a hard deadline, however. When the Senate moved in, the coliseum was already booked for Phoenix Union High School District graduation ceremonies scheduled for several days later in May. Ken Bennett, a former secretary of state acting as the Senate's liaison, has said the Senate's contractors could move the 2.1 million ballots off the coliseum floor but store the ballots on site and continue counting later… Experts who have run or overseen elections have questioned the accuracy of the ballot counting process, which differs significantly from the methods used for audits in Arizona. And several experts interviewed by The Arizona Republic were skeptical that Senate contractors could tally all 2.1 million ballots in just a few weeks."

And then….

John Brakey, an official helping oversee the audit of the 2020 Arizona election, says auditors are looking for bamboo fibers because of a baseless accusation that 40K ballots from Asia were smuggled here. #AzAuditPool pic.twitter.com/57UOBYIehg

— Dennis Welch (@dennis_welch) May 5, 2021

If the Arizona Republicans had the stones, they'd be suing Dominion for the source code for their proprietary software.
Democrats en Deshabille
""It's the Gift That Keeps On Giving": Gavin Newsom's Team Is Thrilled That Caitlyn Jenner Is Running for Governor" [Vanity Fair]. Because a lot of Democrat strategists say Jenner is Trumpy. "Newsom has also been savvy in trying to prevent a repeat of one key aspect of the 2003 recall: Davis was hurt by the candidacy of Lieutenant Governor Cruz Bustamante, a fellow Democrat. Newsom has so far sealed off any intraparty challenge, aggressively campaigning throughout the state with local officials and pushing for COVID relief money to be distributed far and wide. The state's other ambitious pols also remember that after the failed recall bid, Bustamante lost his only other bid for public office. Newsom is in strong political shape, at least for the recall, which is still unscheduled but is expected to happen this fall. Yet the state has serious problems that predate the pandemic and will likely outlive it." • Newsome, oddly, isn't working the populist angle:

Caitlyn Jenner to Hannity: "My friends are leaving California. My hangar, the guy right across, he was packing up his hangar and I said, where are you going? And he says, 'I'm moving to Sedona, Arizona, I can't take it anymore. I can't walk down the streets and see the homeless'" pic.twitter.com/Z1WbBBQXq7

— Aaron Rupar (@atrupar) May 6, 2021

"Ex-NY Assembly Speaker Sheldon Silver released from prison on furlough" [Syracuse.com (Bob)]. "Former New York Assembly Speaker Sheldon Silver has been released from a federal prison on furlough while he awaits potential placement to home confinement, a person familiar with the matter told The Associated Press…. A spokesperson for the U.S. attorney's office in Manhattan, which prosecuted Silver, said it sent an email to the Bureau of Prisons on Monday opposing his furlough. Lawyers who have represented Silver at trial and at the appeals court either said they no longer represent him or did not respond to email and voice messages…. Silver, a Manhattan Democrat, was once one of the three most powerful state officials in New York. He was the Assembly's leader for more than two decades before his abrupt ouster in 2015 after the corruption allegations emerged. He was ultimately convicted in a scheme that involved a type of illegal back-scratching that has long plagued Albany. He supported legislation that benefited real estate developers he knew. In return, they referred tax business to a law firm that employed Silver, which then paid him fees…. Silver, who was elected to the Assembly in 1977 and became speaker in 1994, has a projected release date from federal custody in 2026." • Odd about those lawyers, as Bob points out.

"Julia Louis-Dreyfus Confesses She Misses Selina Meyer as Much as You Do" [Variety]. "If reading, cooking and watching TV sound like typical COVID-lockdown activities, Louis-Dreyfus' year also included campaigning and fundraising for Biden, down-ballot Democrats and the Georgia U.S. Senate runoff that became 'a full-time part-time job,' she says.
Republican Funhouse
"Trump Spawned a New Group of Mega-Donors Who Now Hold Sway Over the GOP's Future" [ProPublica]. "ProPublica identified 29 people and couples who increased their political contributions at least tenfold since 2015, based on an analysis of Federal Election Commission records compiled by the Center for Responsive Politics. The donors in the table below gave at least $1 million to Trump and the GOP after previously having spent less than $1 million total. Most of the donations went to super PACs supporting Trump or to the Trump Victory joint fundraising vehicle that spread the money among his campaign and party committees…. several of the biggest new donors — banking scion Timothy Mellon and his wife, Patricia; Marvel Entertainment chairman Ike Perlmutter and his wife, Laura; and Dallas pipeline billionaire Kelcy Warren and his wife, Amy — now rank among such better-known, longer-running donors as Blackstone CEO Stephen Schwarzman, professional wrestling founders Linda and Vince McMahon, and casino mogul Steve Wynn. For some new donors, the sudden increase in their political contributions may have as much to do with newly acquired wealth as with the ascent of Trump and his grip on the Republican Party. But others inherited fortunes or made them long ago, yet never made a splash in campaign finance records until now. Several of the donors have not spoken publicly about their support for Trump or have not been extensively covered before. ProPublica requested interviews with everyone named in this article and included comments from those who responded." • With table of the 29 (sadly, not easy to excerpt or screenshot). These are, I think, the elephants in the room.

"Hawley says Cheney 'spiraling,' 'out-of-step' amid Trump backlash" [The Hill]. "Sen. Josh Hawley (R-Mo.) said Rep. Liz Cheney (R-Wyo.) is 'sort of spiraling' as House Republicans appear increasingly likely to oust her from their No. 3 leadership spot. Hawley, during an interview on 'The Megyn Kelly Show' podcast, sidestepped if Cheney should be removed from leadership, noting it was up to his House counterparts, but said that he thought Cheney was out of line with Republicans on not only former President Trump but also foreign policy. 'I don't know her personally, I think she's sort of spiraling if you look at the things that she's saying, the claims that she's making,' Hawley said. 'I think she's out-of-step with Republican voters. … I just think this is somebody who does not really represent Republicans,' Hawley added. Hawley's comments come after Cheney told the New York Post late last month that she viewed efforts to challenge the 2020 election results as "disqualifying" for some 2024 hopefuls. Cheney didn't mention Hawley by name." • I dunno. If there were a Stature Meter for Republicans — and this has nothing to do with ideology or even performance — I'd put Hawley nearer Santorum than, say…. Bob Dole, and that's something I didn't expect. If Hawley wants to be President, he's got to look like one.

"Florida gov signs GOP voting law critics call 'un-American'" [Associated Press]. "Gov. Ron DeSantis signed a major rewrite of Florida's elections law on Thursday, tightening rules around drop boxes and mail-in voting in the presidential battleground. Critics say the changes will make it harder for voters, particularly the elderly and people of color, to cast ballots. It's the latest victory in the nationwide push by Republicans to restrict access to the polls, which party leaders say is necessary to deter fraud. The campaign has been fueled by former President Donald Trump's false claim that his reelection was stolen from him, an assertion widely repeated across the GOP. Florida's Republican legislators passed this law — without a single Democratic vote — even though they acknowledged there were no signs of fraud in the state, which Trump won handily in November. DeSantis, widely viewed as a potential presidential candidate, clearly saw the political advantage in fighting for what his party describes as 'election integrity.' , with no other media outlets allowed." • At least DeSantis is feral!

"Republican fissures widen six months after Donald Trump's defeat" [Financial Times]. "Asked by reporters on Wednesday about efforts to oust Cheney, Biden responded: 'I don't understand the Republicans.'" • Burn!
Stats Watch
Employment Situation: "01 May 2021 Initial Unemployment Claims Rolling Average Improves" [Econintersect]. "Market expectations for weekly initial unemployment claims (from Econoday) were 522 K to 575 K (consensus 533 K), and the Department of Labor reported 498,000 new claims. The more important (because of the volatility in the weekly reported claims and seasonality errors in adjusting the data) 4 week moving average moved from 621,000 (reported last week as 611,750) to 560,000."
Employment Situation: "April 2021 Job Cuts Fall To Levels Not Seen Since June 2000" [Econintersect]. "Job cuts announced by U.S.-based employers fell 25% in April to 22,913 from the 30,603 announced in March. Last month's total is down 96.6% from last April, when employers announced 671,129 cuts, the highest monthly total on record…. April's total is the lowest monthly total since June 2000, when 17,241 cuts were recorded."
Productivity: "1Q2021 Preliminary Headline Productivity Improves" [Econintersect]. "A simple summary of the headlines for this release is that labor costs growth declined on a quarter-over-quarter basis whilst productivity improved…. The overall view this quarter is that nonfarm productivity is up 4.1 % from the same quarter one year ago while unit costs are up 1.6 %."
* * *
Commodities: "Battery metal rush pits miners against marine biologists" [Mining.com]. "The International Seabed Authority is preparing to pass regulations in July that could trigger a rush to extract metals needed to power the electric-vehicle revolution. Environmentalists say that would endanger fragile marine ecosystems and fear the ISA is too closely aligned with the emergent mining industry. The conflict exposes the complex trade-offs nations face to survive on a warming planet. 'It is a grand challenge of our time to reconcile humanity's opposing interests in acquiring ocean resources — food, minerals and energy — with protecting these habitats,' said Will Homoky, a biochemist at the U.K.'s University of Leeds, who's helped collect the environmental data being analyzed by miners and regulators."
Shipping: "ILA lawsuit throttles South Carolina container terminal traffic" [Freight Waves]. "A National Labor Relations Board (NLRB) administrative judge on Tuesday was to consider a charge brought by the South Carolina Ports Authority (SCPA) and the state of South Carolina in early January that the ILA, its Local 1422 and United States Maritime Alliance (USMX) were trying to force the use of union labor at the Leatherman Terminal…. On April 20, the ILA filed suit in New Jersey Superior Court against Hapag-Lloyd, which was the first shipping line to utilize the Leatherman Terminal after its opening earlier that month. On April 26, the ILA amended the suit to add Orient Overseas Container Line Ltd. (OOCL), which also used the terminal. The ILA is seeking a total of $300 million in damages for 'tortious interference with a contractual relationship, tortious interference with advantageous business advantage, breach of contract and civil conspiracy.' 'The Hapag-Lloyd and OOCL ships intentionally went to Leatherman Terminal even though they knew that workers who were not in the master contract bargaining unit would be hired to unload containers and to handle containers on the terminal,' the lawsuit states."
Tech: "SpaceX: Over 500,000 orders for Starlink satellite internet service received to date" [CNBC]. "Starlink is [SpaceX's] capital-intensive project to build an interconnected internet network with thousands of satellites — known in the space industry as a constellation — designed to deliver high-speed internet to consumers anywhere on the planet. It's also now the world's largest satellite constellation, with more than 1,500 Starlink satellites launched to orbit to date." • So long, night sky. OTOH, if I were Myanmarese, I might care about connectivity without going through the national ISPs more…
Tech: "Google is going to start automatically enrolling users in two-step verification" [ZD Net]. "Google will soon start pushing more Gmail users and Google Account holders to enable two-step verification — the extra layer of security that can protect people when their credentials have been phished or exposed through a data breach…. 'Soon we'll start automatically enrolling users in 2SV if their accounts are appropriately configured. (You can check the status of your account in our Security Checkup),' Mark Risher, director of product management in Google's Identity and User Security group, notes in a blogpost."
Tech: "The California Exception" [Pixel Envy]. • On chipping away at "dark patterns" through legislation: It's possible!
Intellectual Property: This is extremely bad. Read the whole thread (dk):
A YouTube piano instructor played a portion of Moonlight Sonata, only to be hit with a copyright claim. The portion of Moonlight Sonata she played is now called "Wicca Moonlight," & it is allegedly owned by a corporation. This is a disturbing new trend. 🧵 https://t.co/pLbXeNAcTK

— Laura Miers (@LauraMiers) May 2, 2021
Manufacturing: "Chip Shortage Forces Carmakers to Leave Out Some High-End Features" [Bloomberg]. "Nissan is leaving navigation systems out of thousands of vehicles that typically would have them because of the shortages. Ram no longer offers its 1500 pickups with a standard "intelligent" rearview mirror that monitors for blind spots. Renault has stopped offering an oversized digital screen behind the steering wheel on its Arkana SUV — also to save on chips…. The crisis is an historic test for the century-old auto industry just as it is trying to accelerate a shift toward smarter, electrich vehicles. For decades, carmakers moved steadily to include more and better advanced features; now, they're stripping some of them out — at least temporarily — to salvage their sales."
Mr. Market: "GameStop Can Thank WallStreetBets for Its S&P Credit Upgrade" [Bloomberg]. "The Reddit army's meme-packed campaign to boost GameStop Corp.'s stock price has now resulted in one of the most conventional victories on Wall Street: a credit-rating upgrade. Hype on Reddit's r/WallStreetBets forum drove the once-struggling videogame retailer's shares so high that the company was able to raise $551 million last week by selling equity. That allowed GameStop to wipe out all of its long-term debt. S&P Global Ratings responded Wednesday, lifting GameStop's credit rating one notch to B."
* * *
Today's Fear & Greed Index: 49 Neutral (previous close: 51 Neutral) [CNN]. One week ago: 66 (Greed). (0 is Extreme Fear; 100 is Extreme Greed). Last updated May 6 at 12:14pm.
Our Famously Free Press
"What is journalism? Chapter Four: When" [Columbia Journalism Review]. "To clock the ways journalism informs us, I asked six Americans to log their news consumption over the course of a day and, in doing so, to probe their habits and perceptions. In many cases, participants viewed outlets as representing opposing political "sides" that ought to be sampled in equal measure; they made an effort to find the center and avoid the "extremes." All shared a general sense that every news source is, to some degree, untrustworthy. And all believed—as most of us do—in their own power of critical thinking, arriving at six distinct conclusions." • Very interesting to see such heavy news consumption in the individual diaries.
Games
"Gaming in colour: uncovering video games' black pioneers" [Guardian]. "In the 1970s, in the fledgling days of the video games industry, an engineer named Gerald "Jerry" Lawson designed one of the earliest game consoles, the Channel F, and also led the team that invented the game cartridge, a defining innovation in how games were made and sold. His son, Andersen Lawson, recalls that he was often working on gaming projects in the garage of their family home in Santa Clara, California." • ZOMG the garage story….
"Apple's Tim Cook On Epic's Tim Sweeney: I Do Not Know This Man" [Kotaku]. "Another day, another collection of very funny and insightful documents being released as part of the Apple vs Epic lawsuit. For tonight we have a 2015 email from Epic's Tim Sweeney to Apple CEO Tim Cook, where one executive issues an impassioned plea for marketplace reform, and the other says, 'Who is this man?' The email, dated June 25, 2015—so well before Epic was flush with Fortnite billions—was sent directly to Cook by Sweeney, and reads: "Hi Tim, Y'all should think about separating iOS App Store curation from compliance review and app distribution…."
Under the Influence
"Kim Kardashian Must Return the Ancient Roman Statue That Lives in Her Home" [Jezebel]. • That's a damn shame.
Class Warfare
"Portrait of the United States as a Developing Country" [Boston Review]. "A central question for this new era of U.S. political economy is how exactly government can induce capital to work on behalf of public welfare. If capital is predisposed to liquidity, how do political agents steer it toward investment? In his prodigious new book Ages of American Capitalism: A History of the United States, economic historian Jonathan Levy illustrates the historical conditions under which just such direction has been possible, arguing that the long arcs of transformative development in U.S. history have never spontaneously arisen from the market. "What separates the ages of American capitalism . . . are not strictly economic variables but rather political initiatives," Levy writes. He shows how statesmen have always steered the course of U.S. capitalism, with stark implications for inequality, social mobility, ideas of citizenship, and popular views of the responsibilities of government and business."
"The Ever Given and the Monstrosity of Maritime Capitalism" [Boston Review]. "Container ships, by contrast, have seen a hot streak. Since the inception of containerization in the 1960s, shipping companies have raced to fill their vessels with larger volumes of cargo that can defray the costs of fuel and labor. Campling and Colás note that despite the common economic contention that the growth of the shipping sector arose in response to growing demand in international trade, the reality is the opposite: innovations in shipping made the movement of goods so cheap that it prompted new strategies of profit-making, in a process that scholars and supply chain managers have identified as the 'logistics revolution.' Containerization enabled manufacturers to perform what Campling and Colás call a 'geographical conjuring trick' at a time when industrial profit rates were beginning to fall."
News of the Wired
"Building an AI That Feels" [IEEE Spectrum]. "In the past year, have you found yourself under stress? Have you ever wished for help coping? Imagine if, throughout the pandemic, you'd had a virtual therapist powered by an artificial intelligence (AI) system, an entity that empathized with you and gradually got to know your moods and behaviors." • Yeah, Big Pharma would buy the data, and then the AI would act like its pusher!
"Catala: A Programming Language for the Law" [Cornell University]. "We introduce Catala, a new programming language that we specifically designed to allow a straightforward and systematic translation of statutory law into an executable implementation. Catala aims to bring together lawyers and programmers through a shared medium, which together they can understand, edit and evolve, bridging a gap that often results in dramatically incorrect implementations of the law. We have implemented a compiler for Catala, and have proven the correctness of its core compilation steps using the F* proof assistant. We evaluate Catala on several legal texts that are algorithms in disguise, notably section 121 of the US federal income tax and the byzantine French family benefits; in doing so, we uncover a bug in the official implementation. We observe as a consequence of the formalization process that using Catala enables rich interactions between lawyers and programmers, leading to a greater understanding of the original legislative intent, while producing a correct-by-construction executable specification reusable by the greater software ecosystem." • If you really want to have "code is law," this is how.
The complexities:
Guy who invented the clock: there will be 12 numbers on it

Friend: so the day will be divided into 12 segments?

Inventor: no, 24

Friend: so will the day start at 1

Inventor: the day will start at the 12, which is at night

Friend:

Inventor: the 6 means 30

— llama | twitch.tv/llamainatux (@LlamaInaTux) May 5, 2021
* * *
Readers, feel free to contact me at lambert [UNDERSCORE] strether [DOT] corrente [AT] yahoo [DOT] com, with (a) links, and even better (b) sources I should curate regularly, (c) how to send me a check if you are allergic to PayPal, and (d) to find out how to send me images of plants. Vegetables are fine! Fungi and coral are deemed to be honorary plants! If you want your handle to appear as a credit, please place it at the start of your mail in parentheses: (thus). Otherwise, I will anonymize by using your initials. See the previous Water Cooler (with plant) here. Today's plant (NM):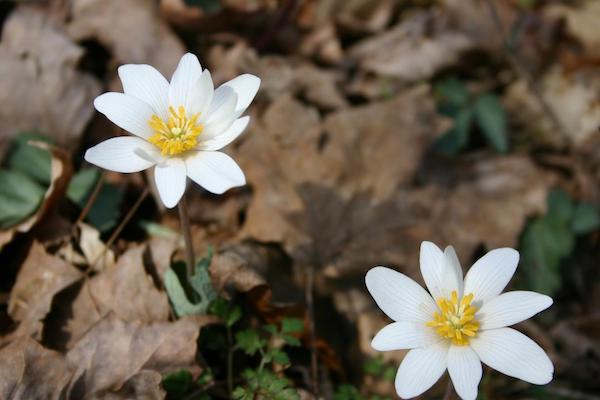 NM writes: "Bloodroot, native along the banks of small waterways; white petals and red root. For me always a sign of spring."
* * *
Readers: Water Cooler is a standalone entity not covered by the recently concluded and — thank you! — successful annual NC fundraiser. So if you see a link you especially like, or an item you wouldn't see anywhere else, please do not hesitate to express your appreciation in tangible form. Remember, a tip jar is for tipping! Regular positive feedback both makes me feel good and lets me know I'm on the right track with coverage. When I get no donations for five or ten days I get worried. More tangibly, a constant trickle of donations helps me with expenses, and I factor in that trickle when setting fundraising goals:
Here is the screen that will appear, which I have helpfully annotated.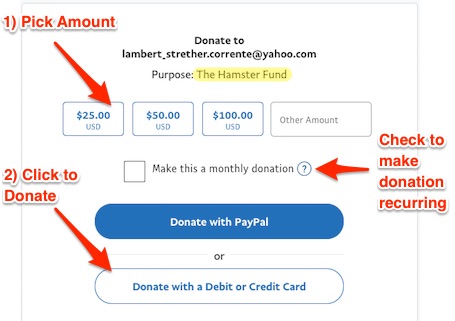 If you hate PayPal, you can email me at lambert [UNDERSCORE] strether [DOT] corrente [AT] yahoo [DOT] com, and I will give you directions on how to send a check. Thank you!