Yves here. Please welcome Lawrence Grossman, who with his wife is a CalPERS long-term care policy holder. Grossman, a financial analyst, describes the extreme underfunding of this zombie program. The rate increases that CalPERS is putting through, a 900% increase over the rates charged at the outset, are wildly disproportionate to the level of any other significant long-term care program. In other words, even by the standards of an industry that is in deep financial trouble, CalPERS' rate increases are such an outlier that it is hard to explain them solely as a result of the original underpricing. It is not unreasonable to suspect that mismanagement also contributed to this sorry outcome.
We strongly urge you to read this post in full and circulate it to California voters. Grossman sets forth the history of the CalPERS long-term care debacle and provides important new information on how incomprehensibly bad CalPERS performance has been. This financial disaster is further evidence of CalPERS incompetence and dishonesty. Yet the giant fund is pushing legislation to make secret loans, in AB 386, now making its way through the Assembly. CalPERS' abject failure with the long-term care program demonstrates it can't be trusted to manage new initiatives or do the right thing when they get into trouble.
We discussed this sorry situation in 2019 in CalPERS' Long-Term Care Policy Train Wreck – Is Bankruptcy the End Game?. The opening of that post:
It doesn't look like there will be a happy ending for the over 100,000 CalPERS long-term care policy holders who are represented in the class action lawsuit, Wedding v. CalPERS. That doesn't mean there's a good outcome for CalPERS either. However, things should work out for the plaintiffs' attorneys.

The bone of contention is that CalPERS approved an eye-popping 85% increase in premiums in 2013, hitting only the policies with the most generous payment features. The plaintiffs contend that these increases weren't permissible and are seeking substantial damages.

The case has been grinding through the California courts since 2013. Judge William Highberger, in his decision from a June 10 trial, explicitly called on the legislature and state government to bail out the long-term care scheme.

Needless to say, this is a highly unusual step for a judge to take in a contract dispute. At a minimum, it signals an expectation that CalPERS will lose and lose big.

But CalPERS losing would be of no benefit to the policyholders as a whole (there could be some reallocation among them). It's highly unlikely that the state will throw money at CalPERS. Unlike CalPERS' pensions, the state has no obligation. The long-term care insurance plan was set up to be self-funded. So in a worst-case scenario, and "worst-case" looks all too likely, the relevant plans will be insolvent.

If the case results in a significant money judgment against CalPERS, and the judge's body language is that that's a probable outcome, the only place the funds can come from is the long-term care plans themselves. As we'll discuss, that means that CalPERS would need to bankrupt the long-term care plan or take other measures to deal with their insolvency. Note that CalPERS has just put out a bid opportunity for an outside bankruptcy counsel.

But expect CalPERS to drag things out. Defaulting on this scale would be a huge embarrassment. CEO Marcie Frost and General Counsel Matt Jacobs will do everything they can to try to kick this mess over to successors. The most likely course is for CalPERS to appeal and put off a formal bankruptcy or alternative (a runoff plan?) as long as possible.
Back to the current post. In November 2020, CalPERS defied Judge Highberger by approving yet more impermissible rate increases. Highberger had determined that CalPERS does not have the authority to put through increases (beyond the very limited ones allowed contractually) on policies with inflation protection.
Grossman also describes how this entire program was misrepresented from the outset. CalPERS never disclosed that its long-term care program was not regulated by a state insurer, as all private plans are. That oversight would have resulted in CalPERS providing a reasonable level of financial backing for this scheme, either via reserves from premiums or purchases reinsurance.
A state regulator would require an insurance program this deeply underwater to be liquidated. That would be a less bad outcome than having members continue to pay administrative fees and now litigation costs and reduce the monies that could go to them.
Our questions to CalPERS were unanswered at press time.
By Lawrence Grossman, CalPERS Long-Term Care policy holder and Certified Financial Planner, Accredited Investment Fiduciary, Registered Investment Adviser, and MBA
CalPERS' long-term care insurance program is a zombie government entity. It is dead, as it is substantively insolvent, yet it persists to operate and destroy the lives of the living. CalPERS' refusal to officially recognize its massive failure, presumably resulting from a political and bureaucratic calculation of costs, has led to CalPERS' de facto extortion of the policyholders in order to balance the fund's books and avoid publicly stating the truth as long as possible.
If CalPERS' long-term care insurance program were a commercial insurance company, by now the courts and the Department of Insurance would have declared it bankrupt and placed it into receivership with the Department of Insurance. The Department of Insurance would have conducted a thorough examination of the insurance company's books and records to determine whether the company could have been rehabilitated. The Department of Insurance would have temporarily operated it in the best interest of policyholders and other creditors, leading to rehabilitation or liquidation. With liquidation, remaining assets of the program would have been distributed to creditors, who primarily are the policyholders. The Guarantee Associations would have paid claims they deemed appropriate but which CalPERS could not pay.
Some 100,000 elderly policyholders have suffered rate increases of 400%, increases that are most likely illegal according to rulings in a class action lawsuit by policyholders again CalPERS. Now CalPERS has announced additional rate increases of 90%. That will bring premiums up to 10 times the original amount.1
For many policyholders today, particularly those who cannot afford the rate increases or are unwilling to be extorted any longer, liquidation of CalPERS' long-term care insurance program would be a better option than what CalPERS is offering, as liquidation likely would entail cash being returned to policyholders. Liquidation, however, would be far short of justice. CalPERS bears responsibility for the economic and psychological pain and suffering that it caused some 100,000-175,000 current and past policyholders.
Legislation put on the books in Sacramento in 1995, the Public Employees' Long-Term Care Act, is the basis and rationale today for the latest round of unjustifiable rate hikes. That legislation created the CalPERS long-term care program, shielded it from oversight by the Department of Insurance, limited its financial resiliency, and effectively stated that neither CalPERS nor the State of California has any responsibility for the program they created in the event of financial failure. These massive financial risks were never communicated to policyholders. Now it is obvious that the program has failed and needs a rescue.
In order to stop a continuing injustice by CalPERS against 100,000 elderly senior citizens, CalPERS and the State of California now need to take responsibility for fixing the colossal failure that they created and implemented. The original legislation is not a straitjacket. CalPERS long-term care insurance policyholders should not be extorted to pay for the failure of CalPERS to operate a financially responsible government enterprise and to meet contractual agreements.
The Governor and the Legislature need to act immediately to halt the rate increase of 90%. The next step should be an impartial assessment of the LTC program to determine what happened and what way forward would be the best resolution for CalPERS' policyholders. This assessment process needs to be fully transparent, independent of CalPERS and involve unbiased third-party experts, such as from the Department of Insurance.
Background
In 1995, the California Legislature enacted the Public Employees' Long-Term Care Act, which authorized and directed CalPERS to set up a program to offer long-term-care insurance to California state employees, retirees and family members.
It appears that the policy genesis of the CalPERS' program was a State of California effort at that time to get citizens to buy long-term care insurance so that they would not need to turn to Medi-Cal, the state program that provides long-term care services to the poor. To address the state's Medi-Cal fiscal issues, the state heavily marketed the long-term care insurance program to CalPERS members, urging them to buy policies and for their family members to do so as well.2
By 2003, CalPERS's aggressive marketing campaign led to more than 175,000 people enrolling in its long-term care program.
But while the marketing went well, the long-term care program in financial terms did not.
CalPERS Reacts to Mispricing and Mismanagement with Illegal and Unparalleled Rate Increases
CalPERS began to raise rates improperly and aggressively. By 2013, premiums had risen almost 200% and yet the CalPERS program was still facing severe financial difficulty. A redesign of the program starting in 2013 overhauled the long-term care pricing, benefits structure and underwriting criteria. This resulted in premium increases of 85% in 2015-2016, bringing premiums to the current levels of about 500% of the initial premiums.
Those increases are the probable cause of the dramatic decline in the number of policyholders (in private long-term care plans, lapse rates are extremely low; in fact, over-estimating lapse rates is the original sin of this product and why long-term care insurers across the board are in financial hot water).
CalPERS long-term care program again is, or simply continues to be, financially unsustainable. According to staff, it requires another round of premium increases of 90%. CalPERS calculates a current financial deficit of about $2 billion, 30% of full funding, in light of their forecast actuarial assumptions about a range of parameters, such as future investment earnings, morbidity, lapse rates, mortality, plan expenses and claims. Based on their history, however, it is clear that CalPERS cannot reliably make such forecasts, in addition to being unable to professionally manage the program. There is no reason to believe that the current third redesign will work.
Today, at a moment of crisis for about 100,000 policyholders, it must be recognized that legal recourse can only do so much and does so very slowly. We have run out of time.
The average policyholder, who is today age 75, will die relatively soon. Actuarial calculations indicate that about 15% will die within 5 years and about 35% within 10 years. Many of those projected to die in these time frames will need their long-term care coverage but may not be able to afford the new premiums. Those who survive can expect premiums to double every six years, given CalPERS' track record.
Unprecedented Increases Point to Gross Mismanagement
To justify the rate increases, CalPERS asserts that there is nothing problematic with the program, other than the usual suspects of low interest rates and unexpected policyholder behavior, issues that all long-term care providers have faced. But that is, at best, a half-truth.
While all other long-term care providers have faced the same challenges, there is no evidence that any other insurer in the nation has responded with premium increases like CalPERS. For example, the Federal Long Term Care Insurance Program has raised rates as much as 150%. For commercial policies, premiums rose up to 75% for UNUM Group in some states, while in California premiums for Mutual of Omaha policy premiums rose 20%, Transamerica premiums rose 25%, and Thrivent premiums rose about 37%.
During the past two decades, roughly the timeframe of the policies subject to the lawsuit, inflation has risen 49% and the cost of long-term care services about 120%. The chart below shows actual policy rates and the initial policy rate along with inflation and long-term care trends.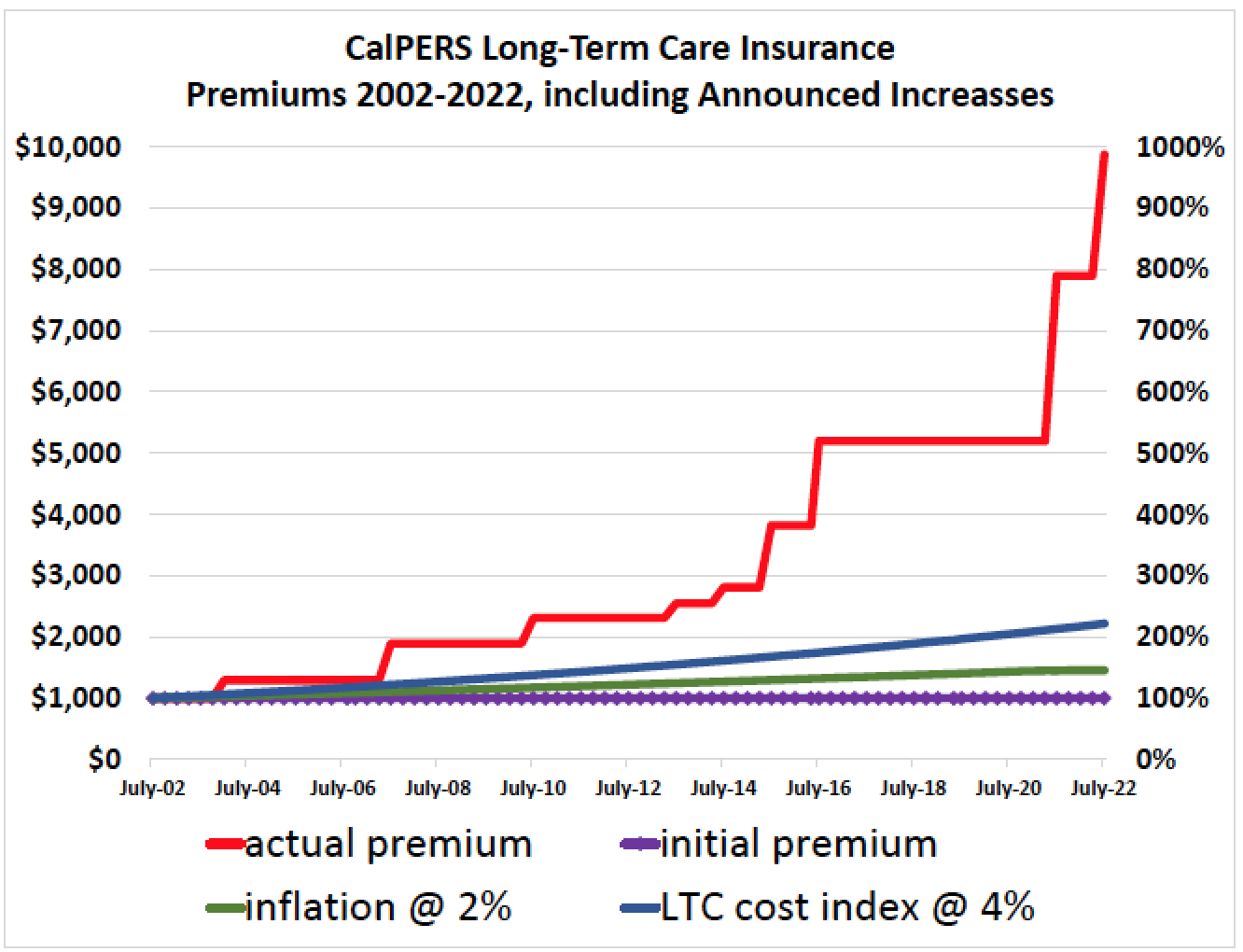 With the new scheduled rate increases, premiums in 2022 will be about 900% higher than initially for this group, meaning the new premiums for these elderlies will be 10 times as large as the original premium. For example, my policy, which is typical of this group, had a premium that was $996 per year in 2002 and is now $5,196; next year it will be $9,871. No policy holder planned or expected that. Few can afford it even if they were willing to pay.
It is impossible not to conclude that CalPERS has grossly mismanaged the long-term care insurance program and that it has raised premiums improperly, in light of Court rulings, to cover up its shortcomings. Certainly, CalPERS' explanations of the rate increases are unpersuasive. It appears that CalPERS does not even consider it important to explain its action fully.
CalPERS' Bad Faith Dealings With Its Policyholders and Defiance of the Court
In a decision issued July 2020 concluding the first phase of a class action lawsuit begun in 2013, for the second time in two years Judge Highberger of the Superior Court of California wrote clearly in support of plaintiffs' claims that CalPERS could not, as it repeatedly had, raise premiums on a group of long-term care insurance policies issued decades ago.
Setting aside comparative premiums and other economic indicators, the judicial ruling last November clearly stated that CalPERS' financial issues are irrelevant to the question of whether they have repeatedly violated policy contracts. Wrote Judge Highberger: "The Court cannot agree with CalPERS's argument that an objectively reasonable insured would expect the language in question to receive a tortured judicial interpretation simply to avoid the possibility of a large adverse money judgment" against CalPERS.
CalPERS argued that the policy contract placed no constraints on them regarding these premium increases, a view that the Court has now twice rejected.3
Yet just four months after the Court decision, on November 17, 2020 and without mention of the Court decision, CalPERS voted to raise rates again on those policies by another 90%. Moreover, CalPERS warned that "we cannot guarantee that premiums won't need to be raised again in the future".
The class action lawsuit ruling impacts roughly 100,000 elderly policyholders (117,000 based on latest data) who are now on average 75 years old and who have experienced, improperly in terms of the Court rulings, rate increases of about 400% on policies which CalPERS marketed as having a "guaranteed" level premium and/or premiums which were "designed not to increase".
In February of 2021, CalPERS began notifying long-term care insurance policyholders that it would be implementing the rate increases over the next two years and beginning in the second half of this year.
CalPERS is able to do that because the Court decisions that have been issued so far are only preliminary and leading to the eventual jury trial, possibly in 2021, but the decisions to date are not legally binding rulings that constrain CalPERS's behavior. However, the judge has strongly signaled where he expects this case to wind up. Jurors are if anything less likely to regard CalPERS past conduct and its continued intransigence favorably. CalPERS' aim does not appear to be to try to win the case or do the right thing, but keep beating the inmates until morale improves.
With that decision, CalPERS again has created a crisis for these 100,000 elderly policyholders and their families. The basic choices CalPERS is now offering policyholders are (1) accept a 90% premium increase, (2) "save" money by accepting "novel" options involving a reduction of benefits where the remaining benefits cost 90% more, or (3) terminate policies without receiving any benefit after paying premiums for decades. The options certainly look like extortion.
The best option for CalPERS itself is for policyholders to terminate; when policyholders do, premiums they have paid no longer need to be reserved by CalPERS for a possible liability, namely, future benefit claims by those now ex-policyholders. With termination, the long-term care plan'balance sheet improves due to the elimination of a liability.
In light of past and announced premium rate increases, CalPERS long-term care insurance program is on track to double premium rates every six years. For the average policyholder who is now 75, that means that their premium will be 20 times the original premium when they are in their early eighties and 40 times higher by age 90. While it sounds insane, to CalPERS it is just what is required to balance their not-for-profit books.
How does CalPERS reconcile representations in contracts and marketing materials that premiums are "guaranteed not to increase" and "designed not to increase" with premium increases of 400% and soon 900%? For some eight years now, CalPERS has fought a legal battle against its policyholders to defend that behavior, arguing in various ways that it is legally permitted. The legal contest has pitted CalPERS' legal team funded with CalPERS financial resources, against a number of class action lawyers working on contingency. How can a policyholder trust CalPERS?
CalPERS' Long-Term Care Vulture Capitalism: Marketing Misrepresentations Compounded by Staff Misrepresentations to the Board
At the November 2020 meeting, CalPERS Chief Health Director Donald Moulds told CalPERS Pension and Health Benefits Committee members "and the public that the CalPERS Long-Term Care Fund is entirely distinct from its other fund. None of the actions you are considering today affect either the CalPERS pension fund or its health fund… By design and by statute, any shortfalls must be met either through improved investment returns, through modifications of the benefit, or through premiums".
That statement was a surprise to many policyholders who purchased policies from CalPERS, not the CalPERS Long-Term Care Fund; the contracts are clear about that. The legal and substantive distinctions between CalPERS and "CalPERS Long-Term Care Fund" were not disclosed to policyholders before they purchased the insurance.
The ads touted an "established, respected, not-for-profit and self-funded program" which was "the most successful program of its kind". There was a failure to disclose a material fact; policyholders thought they had CalPERS, the largest public pension fund in the nation, as backer of their policies, which is how CalPERS advertised the insurance.4
If CalPERS had disclosed the true financial structure and mandate of CalPERS Long-Term Care Fund, which was set up not to protect policyholders but of the State of California and CalPERS, prospective buyers of the insurance would have realized their financial security was much more limited than advertised and would have been far less likely to buy the policies. But this elemental information about the financial strength of the program was not properly and fully disclosed.
The financial structure and strength of the CalPERS long-term care insurance program was not the only area where CalPERS failed to disclose incredibly important information to the policyholders.
It turns out that the CalPERS long-term care insurance program is not regulated by the California State Department of Insurance, the agency charged with protecting citizens by overseeing insurance company behavior and approving or rejecting proposed insurance premium increases.
CalPERS' long-term care insurance program is self-funded and therefore escapes Department of Insurance regulation. CalPERS does not have to ask the Department of Insurance to approve rate increases. CalPERS prominently advertised its self-funding and not-for-profit character, but only in positive terms, indicating that the self-funding and not-for-profit status meant that premiums would be lower. But CalPERS failed to admit that its self-funding and not-for-profit character also meant that it would evade Department of Insurance oversight of premium increases.
There is no evidence that the Department of Insurance has permitted rate increases of commercial long-term care insurance premium increases anywhere near 400%, let alone 900%. If CalPERS had disclosed the fact that their program was not overseen like other insurance companies, prospective policyholders would have been far less likely to purchase the insurance. They would have felt less secure about the program. Advertisements painted a different picture and quoted smiling policyholders saying "we want to make sure we are taken care of if anything should happen. The CalPERS long-term care program gives us that security". But information about the lack of normal security for policyholders provided by Department of Insurance regulation was not adequately, let alone fully, disclosed.
CalPERS also failed to disclose that its self-funding and not-for-profit character meant that the long-term care program does not qualify for assistance from the California Life and Health Insurance Guarantee Association or the California Insurance Guarantee Association, entities that help policyholders when their insurance carriers face dire financial conditions. CalPERS cannot turn to the Guarantee Associations for help.
Again, if CalPERS had disclosed the fact that their program was not backed by the Guarantee Associations like other insurance companies, prospective policyholders would have been far less likely to purchase the insurance. But that information was not properly and fully disclosed.
In sum, if CalPERS' long-term care program had disclosed honestly these material facts about itself then far fewer, possibly vastly fewer, policies would have been sold. The damage of these failures to disclose continues today.
Reading the transcript of the November 17, 2020 meeting of CalPERS Pension and Health Benefits Committee is truly dispiriting. No member mentioned the Court decisions stating that the rate increases being considered that day were likely illegal. No member opposed the decision, though there was one abstention. There was not one member of the committee that stood out by saying that the decision was obviously unethical. No member asked staff to explain how policyholders can afford to pay premiums 900% higher than what they contracted for. No member asked staff why the CalPERS program has performed so much worse than the federal program and commercial insurance policies. No one asked staff if terminating the program would be more equitable than bleeding policyholders dry. No one expressed remorse for the damage that has already been done by the earlier rate increases. There was really no substantive discussion. The Committee appeared to be a quiescent rubber stamp of CalPERS' staff recommendations.
The only serious concern that day of the CalPERS Pension and Health Benefits Committee was balancing the books of the long-term care fund. It looked more like the behavior of vulture capitalism than the proper behavior of a not-for-profit dedicated to care for its members.
While CalPERS' actions are indistinguishable from those of predatory financiers, it results from a different though equally confiscatory dynamic – the product of extremely poor program design and execution by staff, grave shortcomings in CalPERS political leadership, and failure by legislative and executive branches in Sacramento to oversee the execution of a program they set in motion. And the longer CalPERS tries to kick this can down the road, the more costly and embarrassing the eventual fund termination will be.
___
1 Remember that a 900% increase means the bill is 10X the original level. 900% increase + 100% original price = 1000% or 10X. A table later in the piece compares premium increases for CalPERS with other measures.
2 Yves notes: Even though this program has the hallmarks of having been conceived by the State for its own purposes, CalPERS was a willing participant. CalPERS insiders from that era confirm that CalPERS' board was enthusiastic about offering long-term care insurance.
3 CalPERS offered both "inflation protection" and "lifetime benefits" (as opposed to a fixed dollar total benefit) which CalPERS marketed aggressively and proved popular. The pricing dispute is over the inflation protected policies. From the Naked Capitalism post of July 2019:
CalPERS had very aggressive language in its marketing materials regarding the inflation protection, which allowed for benefits to increase at the rate of 5% a year. If you look at the ruling embedded at the end of the post, the final page shows an "Exhibit A" which shows premiums staying flat over the 15 year time frame displayed in the chart. The judge, over CalPERS objections, also gave "considerable weight" to the testimony of Sandra Smoley, the Secretary of the California Health and Welfare Agency who had been tasked to CalPERS to assist in the marketing of the long-term care policies as "Honorary Chairwoman". From his decision:

Ms. Smoley came away with the impression that persisted for 20 years that rates would not increase, and testified it was "very definitely" her understanding that "the plans with built in benefit increases will cost more on a monthly basis initially but you lock in a rate now that is designed to remain level over the life of the plan that won't rise simply with age."

This is particularly damaging to CalPERS. By virtue of being included in Judge Highberger's ruling, it is now a finding of fact.
4 A startup program could not accurately be described as "established" and "most successful of its kind."