Reader GM sent this nugget from the CDC: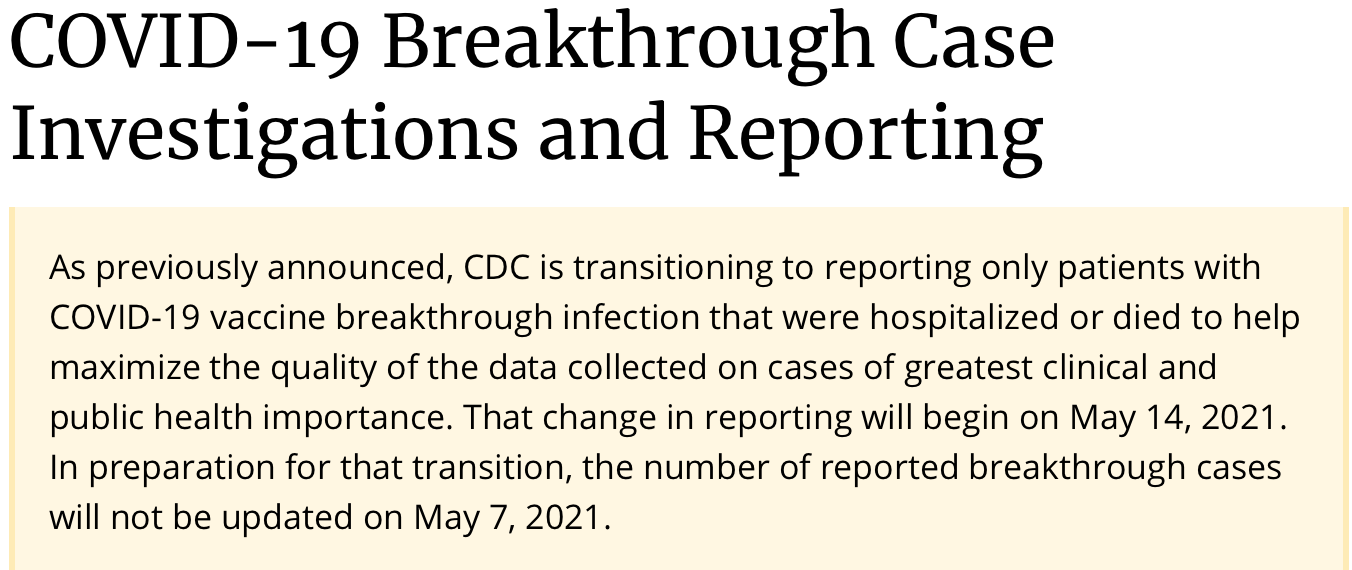 https://www.cdc.gov/vaccines/covid-19/health-departments/breakthrough-cases.html
To be more polite that I ought to be, this action make no sense from a scientific perspective. The CDC could provide updates on serious cases versus mild/asymptomatic cases among the fully and partly vaccinated. Or are we to believe the CDC is less good at data than the Bureau of Labor Statistics, which has no trouble publishing multiple unemployment indices?
And there do appear to be meaningful numbers of fully vaccinated people who are testing positive. When I mentioned this issue this evening, our aide, who also works part time in a local hospital, said an RN in her ward had just tested positive despite having had two shots and being >2 weeks past the second. I have more reports from MDs all over the country but was asked to hold back one more week on publishing anecdata to make sure this troubling trend looked to be sustained.
But as you can see, now thanks to the CDC, MDs will be left only with anecdata. Is that any way to practice public health? As one MD in the oil patch said, "The health department here treats us like enemy combatants, we are assumed to be on the wrong side of everything."
Reader GM elaborated as to why asymptomatic cases among the vaccinated matter. Remember that this vaccine was never expected to achieve the level of sterilizing immunity, where the immunity conferred by a vaccine is so complete that the pathogen can't get a foothold in a vaccinated individual. With a respiratory virus1 (or one with the airways as a major vector for infection), it's pretty much impossible to achieve that level of protection.
But that doesn't mean that sticking your head in the sand about breakthrough cases makes any sense. In fact, it is fully part of the US prioritizing profit over public health. The pretense of getting back to a semblance of normal, and relaxing Covid precautions, is more important than having a reality-based grip on health outcomes and what they imply.
As GM observed:
The real worries here are the following:

First, that the breakthrough cases are asymptomatic/mild now, but they will not be so mild later in the year, as antibodies wane.

Second and most important, from the perspective of the virus, this is not actually an OK state of affairs. Sure, it gets transmitted at some level, but its evolutionary "goal" is not just to survive, but to make as many copies of itself as possible. And the milder cases tend to have less of the virus (yes, there are completely asymptomatic superspreaders that generate a huge amount of virus in the URT, but in general, if it can get past the URT and cause real damage, that means a lot more copies of the virus, so the evolutionary pressure is there for it to evolve in that direction). So whatever can escape the antibodies generated by the vaccines and lead to more replication will be selected for, and that may well mean a much more contagious and virulent virus just from that. So far immune escape has evolved hand in hand with stronger affinity for the ACE2 receptor, which directly translates into higher contagiousness and also elevated virulence too. The likely mutations to come next identified in vitro (to be noted, in vitro evolution had already correctly identified the ones that characterize the current variants, so it has a good track record so far) also have exactly those characteristics.

But in vitro works has also identified ways for it to get deadlier through a different mechanism – shutting down innate immunity by inhibiting the interferon response is a key strategy that these viruses have evolved in their battle with bats' immune systems, and there is some evidence that this one is actually not all that good at it compared to, for example, the first SARS virus from 2003. And this might be a major reason why SARS-1 was much more lethal. Could vaccination select for a reversion back to that state, i.e. it goes in the direction of countering the immune system as whole by becoming better at overcoming the innate arm of it when the adaptive arm has been strengthened by vaccines, the evolutionary potential for which does appear to be there? I don't have an answer, but I sure hope that it does not.

The refusal to stop transmission runs the risk of breeding something much more contagious and deadly. And because it may well happen in stages, there is also the risk of it becoming gradually normalized, just as the current level of deaths was.
Don't say you weren't warned. At a bare minimum, I would stockpile masks, particularly the really good ones, now that they are being depicted as out of fashion.
____
1 Covid is looking more and more like a vascular disease.