Happy Bank Holiday!
The UK island waiting to be discovered BBC. One of the world's great short journeys is: ferry from Oban on the Scottish mainland to Mull, then across via road – I took a coach – before a final short hop to Iona, thus retracing the route of the ancient burial processions for Scottish kings.
Artist's Massive Macrame Fiber Artworks Echo Local Landscapes TreeHugger. A blast from my past: when I was a teenager during the '70s, I made many things using macrame techniques: belts, handbags.
The tactics the police are using to prevent bystander video MIT Technology Review.
Rome Colosseum: Italy unveils plan for new floor with gladiator's view BBC
An ambitious plan to tackle ransomware faces long odds Ars Technica
The Air Force's brand-new F-15EX fighter jet is about to have its first major exercise Business Insider
Tall Man Out Popula
The cannabis industry's next war: How strong should its weed be? Political
Green gold: Avocado farming on the rise in Africa Deutsche Welle
#COVID-19
Food pantries are increasingly providing an Instacart-style shopping experience The Counter

***

EXCLUSIVE Scientists say India government ignored warnings amid coronavirus surge Reuters

India's Covid-19 catastrophe reflects years of neglecting its health system Stat

The Big Question: Can India Find a Way Out of Its Covid Nightmare? Bloomberg

What India needs to get through its covid crisis MIT Technology Review

One way to pay for vaccinations for all in 18-45 group – a 1.6% tax on net worth of richest Indians Scroll

Covid: It will get worse before it gets better Hindustan Times

Donations, volunteer efforts: Diaspora comes forward to help India tackle the Covid second wave Scroll

Citizens Are Plugging India's Gaping, Governance Gaps In Covid Care Article 14

The ruthless politics of the Centre's vaccine strategy The Indian Express

Two weeks into the second wave in Delhi, patients continue to scramble for beds. Why? Scroll

COVID in India: 35 Questions for K. VijayRaghavan, V.K. Paul and Balram Bhargava The Wire Karan Thapar

***

Australia's India ban criticised as 'racist' rights breach BBC

Holidays abroad should be discouraged to stop Covid third wave, say MPs Guardian

Coronavirus: flights from Britain to Hong Kong set to resume this week for first time since Christmas cut-off SCMP

***

Next Generation of Covid-19 Vaccines Could Be Pill or Spray WSJ

Hong Kong plan to force Covid vaccines on foreign domestic workers sparks alarm Guardian

China's global plan to vaccinate its citizens faces production problems SCMP

Many police officers spurn coronavirus vaccines as departments hold off on mandates WaPo

Russian Attempts to Expand Sputnik Vaccine Set Off Discord in Europe NYT
"Botch-up": By August 2020, US, UK and EU with a combined population of 80 crore had placed orders for 850 million doses of COVID-19 vaccines. In contrast, India, with a population of "130 crore", placed its first orders for 16.5 million vaccines in January 2021. @ttindia pic.twitter.com/k9SoCRTRCQ

— churumuri (@churumuri) April 19, 2021

Sports Desk
Violent scenes as fans invade Manchester United stadium in protest at US owners BBC The match was cancelled, the first time ever in the Premiership.
Class Warfare
Rich People Are Fueling Climate Catastrophe — But Not Mostly Because of Their Consumption Jacobin

The Child Care Industry Was Collapsing. Mrs. Jackie Bet Everything on an Impossible Dream to Save It. Pro Publica

Billionaire Is Buying Up Small Colorado Town—and Locals Are Freaked Daily Beast

Today's must watch:

Thomas Frank describes Clintonism on Bill Maher: disastrous, catastrophic, world historical mistake. pic.twitter.com/nZLW1yRBdW

— Turncoat Don (@TurncoatD) May 1, 2021
2020
WHAT HAPPENED IN THE 2020 ELECTION? AN INTERACTIVE EXPLORATION OF THE OUTCOMES New Geography. James Galbraith et al.
From McConaughey to Jenner, 'Trump effect' propels Hollywood's political hopefuls The Hill
An Anti-Establishment Candidate In Alaska? American Conservative
Biden Administration
Manchin Comes Out Against Yet Another Proposal From the Democrats: DC Statehood TruthOut

Hillary Clinton grades Biden after 100 days in office CNN
Xinjiang shakedown: US anti-China lobby cashed in on 'forced labor' campaign that cost Uyghur workers their jobs Grayzone
Trump Transition
Our Famously Free Press
Unraveling the Protest Paradigm Columbia Journalism Review
It'd be one thing if this were some rare occurrence. The opposite is true. Over and over and over, these same big corporate outlets purport to have "independently confirmed" one another's stories that turn out to be totally false. Is that trustworthy?https://t.co/pUNdIpo8eo

— Glenn Greenwald (@ggreenwald) May 2, 2021
Imperial Collapse Watch
The really telling thing about this video os that it speaks to the CIA's assessment of who would be interested in working for them. Clearly, they think they have appeal to woke millenials – and they're probably right. https://t.co/1hGuVRuE7B

— Matt Taibbi (@mtaibbi) May 3, 2021
Syraqistan
Hillary Clinton warns Biden he should expect 'huge consequences' from his decision to withdraw troops from Afghanistan as Taliban steps up attacks as US hands over base Daily Mail
Waste Watch
State legislatures busy with plastics policy on shampoo bottles, chemical recycling and preemption Waste Dive

As mining waste leaches into B.C. waters, experts worry new rules will be too little, too late The Narwhal
India
How West Bengal Halted the BJP's Chariot The Wire

Cash transfers, votes from women and Muslims: 7 reasons why Mamata Banerjee crushed BJP in Bengal Scroll. And as I posted yesterday, the higher relative percentage of Muslim voters in WB and Kerala is one reason the BJP has never commanded a majority in either WB or Kerala.

Lessons for the BJP: One Nation, One Culture Will Not Work in an India Proud of its Diversity The Wire
Antidote du Jour. ChetG writes:
Hello everyone,

I regret that the attached photos aren't feline-related, but they represent the closest I've been to an osprey. Credit to the osprey! It flew directly toward me and so allowed a long sequence of photos, of which these three are my favorites.

There's a large pond between the Toftrees golf course and game land, and for a week or so in spring, one or more osprey come along to rest and dine before moving on. It is one of my favorite times of year.

Cheers,
–ChetG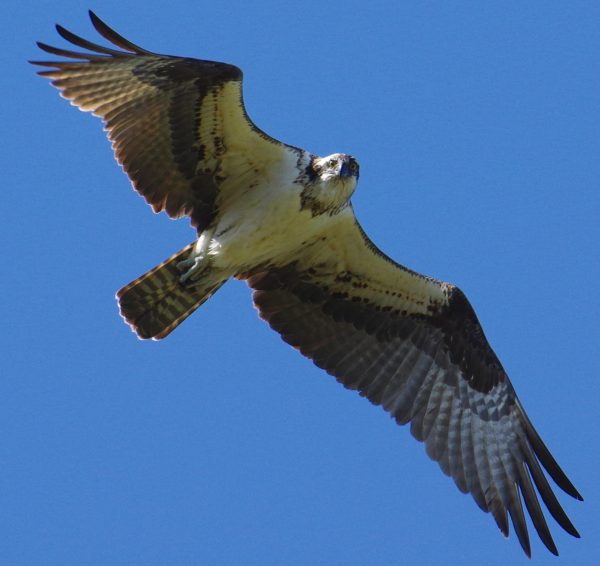 And a bonus video:
This little guy catches a huge fish then does the unexpected.??? pic.twitter.com/DxtggLGXEI

— Kevin W. (@Brink_Thinker) October 16, 2019

See yesterday's Links and Antidote du Jour here.