By Lambert Strether of Corrente.
Bird Song of the Day
There is a Red-tailed Ant-Thrush, in addition to the White-tailed Ant-Thrush~
* * *
#COVID19
At reader request, I've added this daily chart from 91-DIVOC. The data is the Johns Hopkins CSSE data. Here is the site.
I feel I'm engaging in a macabre form of tape-watching. I've been thinking of new charts to monitor to alert us to the next outbreak, assuming there is one, but for now, the data from the South means I'll stick to the status quo.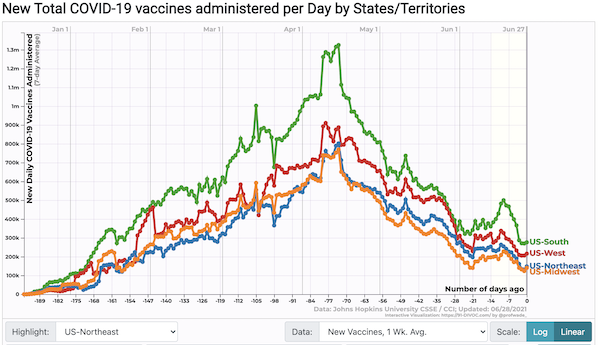 Now all rising together. Kamala did the trick? Hard to believe.
Vaccination rates wane in California. Did the state do enough to target those in doubt? Los Angeles Times
Yet Newsom rarely mentions that vaccinations have largely stagnated in Black and Latino neighborhoods hardest hit by the coronavirus, and in rural outposts where opposition to vaccines runs rampant. In these communities, deep distrust of government and the U.S. healthcare system has collided with California's high-stakes effort to finish inoculating its 34 million vaccine-eligible residents.

These are places where state health officials believe they can change a significant number of minds. But the Newsom administration is struggling to do so, public health experts say, hampered by its inconsistent and hastily developed public messaging and outreach campaign that relies too heavily on private advertising firms and companies such as Google and Blue Shield of California.
Surely that's "politically wired private advertising firms." Not in the story, which is good otherwise.
Case count by United States regions: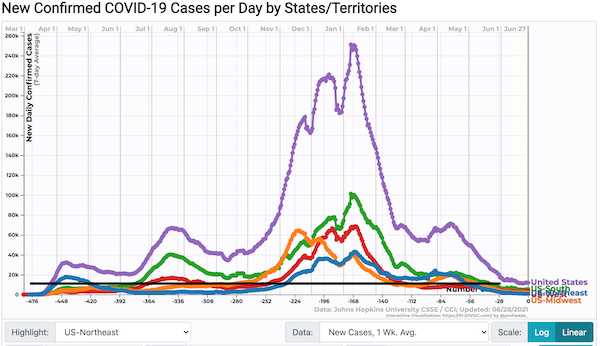 Decline now flattening. Delta? See World, below. (The increase in Delta would still swamped by the decrease in Alpha, etc. For awhile.)
Here are the case counts for the last four weeks in the South (as defined by the US Census: Alabama, Arkansas, Delaware, Florida, Georgia, Kentucky, Louisiana, Maryland, Mississippi, North Carolina, Oklahoma, South Carolina, Tennessee, Texas, Virginia, West Virginia, and the District of Columbia):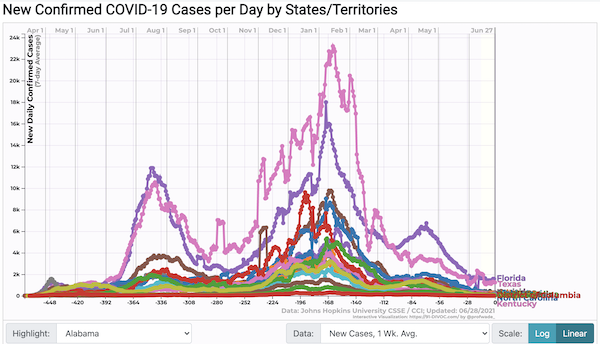 Texas and Florida, capital of Latin America, neck and neck.
Covid cases top ten (hat tip, alert reader Lou Anton):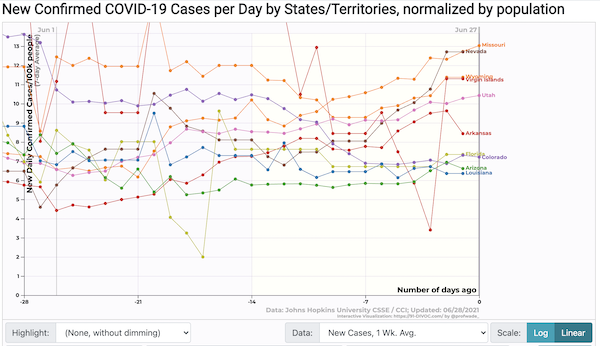 Tourist states disproportionately represented, IMNSHO. Readers? (I'm replacing the big states (NY, FL, TX, CA) with this one.)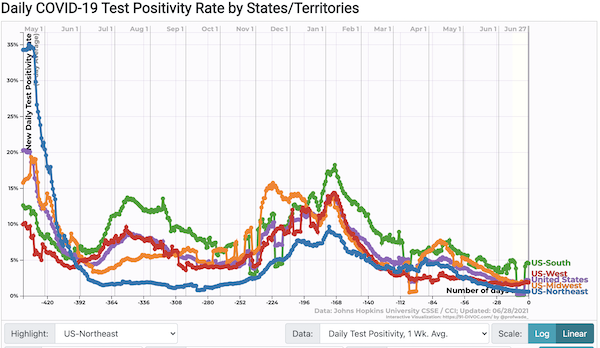 South bounces back.
Hospitalization (CDC):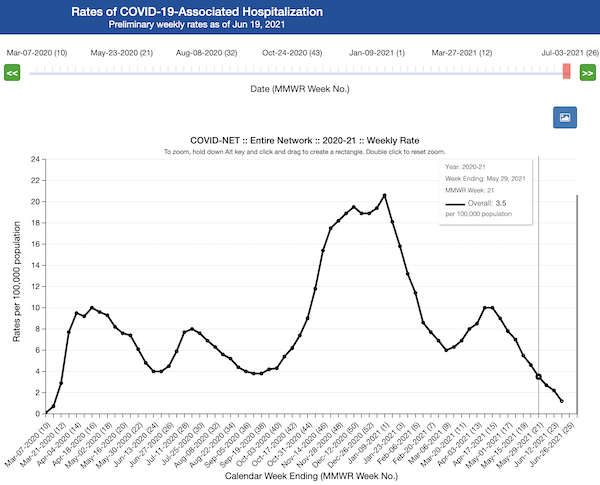 Continued good news.
Deaths (Our World in Data):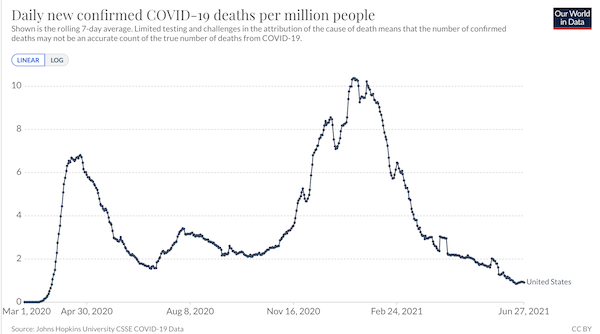 Continued good news.
Covid cases worldwide: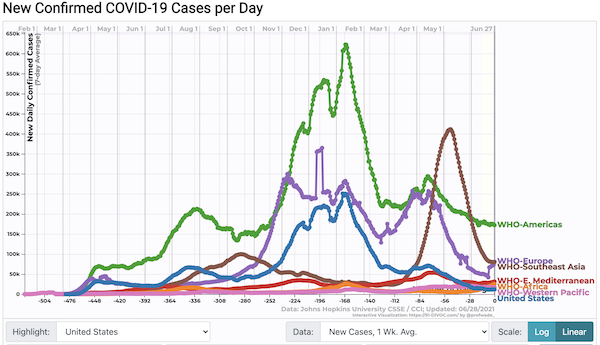 Big jump in Europe. Delta?
* * *
Politics
"But what is government itself, but the greatest of all reflections on human nature?" –James Madison, Federalist 51
"They had one weapon left and both knew it: treachery." –Frank Herbert, Dune
"They had learned nothing, and forgotten nothing." –Charles Maurice de Talleyrand-Périgord
Biden Administration
"Biden Honeymoon With Liberals Fades as Priorities Downplayed" [Bloomberg]. "But this month's negotiations with Republicans over a bipartisan infrastructure deal have begun to sour the nascent relationship between Biden's White House and the progressive community. Liberals view Biden and his team's dalliance with the GOP as a waste of time, a repeat of 2009 when unsuccessful attempts to woo Republicans to support the Affordable Care Act consumed critical legislative time…. On Saturday, Biden was even forced to walk back a pledge not to sign the bipartisan infrastructure deal without accompanying, Democratic-written legislation that would spend trillions more on progressive priorities, after Republicans threatened to abandon the agreement. His promise two days earlier had heartened liberals, but he said Saturday that he did not intend to imply a veto threat against the bipartisan deal. In his statement, he noted progressive opposition to the bipartisan bill. ;Some other Democrats have said they might oppose the infrastructure plan because it omits items they think are important: that is a mistake, in my view,' he said." • Dude, you thought they were important too! Once, anyhow.

UPDATE "'It's a daydream:' Questions emerge about financing plans for bipartisan infrastructure deal" [WaPo]. "Republican lawmakers have refused to raise taxes on corporations and the rich, which ruled out the White House's preferred proposals. The White House, meanwhile, refused to raise taxes on Americans earning less than $400,000 a year, which led them to rule out a gas tax that some of the lawmakers had pursued. The resulting compromise consists of a hodgepodge of measures that are unlikely to create actual revenue that pays for the spending plan, according to a half-dozen experts interviewed by The Washington Post. Instead, a number of the proposals take advantage of budget maneuvers to mostly satisfy budget scorekeepers. Policymakers involved in the deal acknowledged details are sparse for now because . The administration has not publicly outlined the expected revenue from any of the financing provisions, stressing savings from higher tax enforcement." • So we don't really have a bill, and if "pay for" were important (it isn't) we wouldn't have that either. "Report back to me when, uh, I don't know, when it makes sense."

UPDATE "Joe Biden's global virtue signalling campaign" [Unherd]. "The U.S. would be far better served if it abandoned its self-appointed role as a global values hall monitor and instead embraced a narrower, indeed humbler, conception of diplomacy. We might do well to recall the warning of the legendary scholar-diplomat George F. Kennan who once wrote that diplomats should avoid 'the histrionics of moralism' by which he meant 'the projection of attitudes, poses, and rhetoric that cause us to appear noble and altruistic in the mirror of our own vanity but lack substance when related to the realities of international life.'" • I'm sure American expats would feel well served as citizens were the State Department willing and able to get them vaccines, as China and France have done for their citizens. Pride flag? Not so much.

"Dear Kamala Harris: It's a Trap!" [New York Times]. "Ms. Harris, at this point, can't seem to win for trying. She is a historic yet inexperienced vice president who is taking on work that can easily backfire as so many people sit in judgment, with critics sniping (especially right-wing commentators) and allies spinning (like with official statements about 'success')." • So… It's not OK she's President-in-Waiting?
Democrats en Deshabille
This is the least hot vax summer ad I've ever seen, DNC, good job:
Republican Funhouse
"Attorney General Ken Paxton rules ERCOT not subject to Texas Public Information Act" [Dallas Morning News]. "Attorney General Ken Paxton finds in a ruling that the Public Information Act would not apply to the Electric Reliability Council of Texas, meaning documents, text messages, e-mails, and recorded phone calls about February's deadly storm will not be released. Following an onslaught of records requests related to the winter storm and the ensuing power grid crisis, ERCOT attempted to limit the amount of information it would have to release. In March, ERCOT claimed it was a public agency, and therefore immune from lawsuits. It also claimed the Public Information Act does not apply because it was not a public entity, which, under Texas law, is required to release records…. Texas' grid operator is defined as an "independent organization," certified by the Public Utility Commission of Texas."
Realignment and Legitimacy
UPDATE "Remembering Mike Gravel With the Kids Who Ran His Campaign" [New York Magazine]. Henry Williams: "The tough thing is that nobody was as ready or as brave as Mike in the end — we were the ones who weren't ready. He knew he had such a long life and he really was so fearless and open-eyed and unflinching, he wasn't at any point afraid. He was drifting in and out the last few weeks, but in the moments we got to speak with him, he was telling us, 'It might be the end for me physically, but not for the things I fought for, not for you, not for everyone else.'" • Henry Kissinger to the Hague!

From Karl Marx, The Eighteenth Brumaire of Louis Bonaparte. Reminds me of the Biden administration. With the French bits edited out:

The period that we have before us comprises the most motley mixture of crying contradictions: constitutionalists who conspire openly against the constitution; revolutionists who are confessedly constitutional; a National Assembly that wants to be omnipotent and always remains parliamentary;…. an executive power that finds its strength in its very weakness and its respectability in the contempt that it calls forth; … alliances whose first proviso is separation; struggles whose first law is indecision; wild, inane agitation in the name of tranquillity, most solemn preaching of tranquillity in the name of revolution – passions without truth, truths without passion; heroes without heroic deeds, history without events; development, whose sole driving force seems to be the calendar, wearying with constant repetition of the same tensions and relaxations; antagonisms that periodically seem to work themselves up to a climax only to lose their sharpness and fall away without being able to resolve themselves; pretentiously paraded exertions and philistine terror at the danger of the world's coming to an end, and at the same time the pettiest intrigues and court comedies played by the world redeemers;…. the official collective genius of France brought to naught by the artful stupidity of a single individual; the collective will of the nation, as often as it speaks through universal suffrage, seeking its appropriate expression through the inveterate enemies of the interests of the masses, until at length it finds it in the self-will of a filibuster. . Men and events appear as reverse Schlemihls, as shadows that have lost their bodies. The revolution itself paralyzes its own bearers and endows only its adversaries with passionate forcefulness.

Everything old is new again.

UPDATE "Boring news cycle deals blow to partisan media" [Axios]. "In the months since former President Donald Trump left office, media companies' readership numbers are plunging — and publishers that rely on partisan, ideological warfare have taken an especially big hit. Why it matters: Outlets most dependent on controversy to stir up resentments have struggled to find a foothold in the Biden era, according to an Axios analysis of publishers' readership and engagement trends.
Stats Watch
Housing: "United States House Price Index MoM Change" [Trading Economics]. "The average prices of single-family houses with mortgages guaranteed by Fannie Mae and Freddie Mac in the United States advanced 1.8 percent from a month earlier in April of 2021, following an upwardly revised 1.4 percent growth in March. It was the largest monthly gain since comparable records began in 1991 due to strong demand, bolstered by still-low mortgage rates, and too few homes for sale."
Housing: "United States S&P Case-Shiller Home Price Index" [Trading Economics]. "The S&P CoreLogic Case-Shiller 20-city home price index in the US rose 14.9 percent in April 2021, following a revised 13.4 percent growth in the previous month and beating market expectations of 14.5 percent. It was the largest annual price increase since December 2005, as demand for suburban homes remained strong in the wake of COVID-19 pandemic and low interest rates."
* * *
Commodities: "The commodity roller-coaster is hitting a downhill track but experts say the descent isn't steep enough to raise concerns. Many commodities have dropped at significant rates from their peak pandemic prices…. including double-digit drops in copper, corn and soybeans and a 54% slide in lumber futures. That would normally signal trouble in industrial markets" [Wall Street Journal].
"But lumber remains twice the typical price for this time of year while copper, row crop and swine prices are still around their highest levels in years. Shipping markets aren't showing any stress over the commodities downturn, with the Baltic Dry Index measuring prices for bulk ocean transport surging this month to near-record highs. That suggests , and that suppliers and buyers are still struggling to adjust.
Retail: "The economics of dollar stores" [The Hustle]. • This is an infographic, hence not quotable, but here is a key point: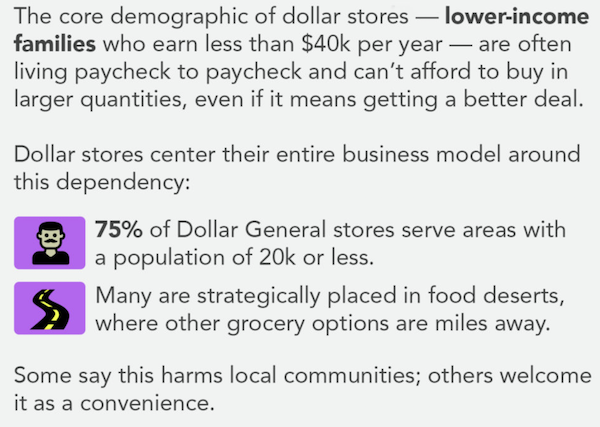 The Bezzle: "Amazon Demands One More Thing From Some Vendors: a Piece of Their Company" [Wall Street Journal]. "Suppliers that want to land Amazon.com Inc. as a client for their goods and services can find that its business comes with a catch: the right for Amazon to buy big stakes in their companies at potentially steep discounts to market value. The technology-and-retail giant has struck at least a dozen deals with publicly traded companies in which it gets rights, called warrants, to buy the vendors' stock in the future at what could be below-market prices, according to corporate filings and interviews with people involved with the deals. Amazon over the past decade also has done more than 75 such deals with privately held companies, according to a person familiar with the matter. In all, the tech titan's stakes and potential stakes amount to billions of dollars across companies that provide everything from call-center services to natural gas, and in some cases position Amazon among the top shareholders in those businesses. The offer another window into how Amazon uses its market heft to increase its wealth and clout." • Unusual arrangements"? What's unusual about them? From The Sopranos, "Bust Out":
DAVEY: You told me not to get in the game. Why'd you let me do it?

JEFF TONY: I knew you had this business, Davey. It's my nature. Frog and the scorpion, you know? Besides, if you would've won, I'd be crying the blues. Right?

DAVEY: What's the end?

TONY: The end? It's planned bankruptcy.

DAVEY: (SOBBING)

TONY: You're not the first guy to get busted out. This is how I make a living. It's my bread and butter.

When this is over, you're free to go.
UPDATE The Bezzle: "How Amazon Bullies, Manipulates, and Lies to Reporters" [Mother Jones]. "Almost all of the journalists told me they found that Amazon press relations was either the most or among the most clawing and deceptive corporate communications team that they had dealt with in their work. 'Amazon is the only company I've dealt with that has directly lied to me," said one tech writer, recalling instances when Amazon boasted of warehouse safety guidelines in ways that journalists who had spoken with rank-and-file employees had found not to be true. 'They'd often lie about things we had proof of,' said another reporter, citing times they had visual evidence contradicting the communications teams' claims. 'There will be videos of these big walkouts and they'll say only a few workers participated.'" • Just the kind of corporate culture I want to get off-planet and colonize Mars.
The Bezzle: "Check Out The Drama At This Hip Cookware Company, And Then Confront The Sucking Void At The Heart Of The Global Economy" [Defector]. "In brief: Great Jones is the creation of a pair of insanely rich former summer-camp best pals, Sierra Tishgart (who quickly emerges as the story's chief or at least most obvious villain) and Maddy Moelis, who shared the entrepreneurial vision "What if Le Creuset enameled cast-iron Dutch ovens were much worse but also cheaper?" and made it reality thanks to millions of dollars in family money…. Great Jones doesn't make cookware. It was founded by a digital media veteran and a business-school graduate. Great Jones doesn't make anything. None of its employees make tea towels or Dutch ovens or bakeware. Making cookware and kitchen goods was never even part of Great Jones's business. What Great Jones does is, it contracts some other, less glamorous company, one likely without a slick social-media presence, to make cookware and other products bearing Great Jones branding. In effect, it buys cheap consumer goods, and then sells them at a markup to people shopping for cookware that will make them feel like they are pals with Alison Roman..,. The absolute most generous true description you can apply to Great Jones is that it conducts arbitrage on cheap pastel-colored cookware with flimsy enamel cladding, made by other companies with less robust brands. But the truest thing you can say is that Great Jones, like so many other companies, is a skimming operation: It launders somebody else's actual manufacture through its own aggressive branding, and takes a cut of the proceeds." • Kinda like Boeing? (Defector is where all the Deadspin writers went after those goons at G/O Media told them to "stick to sports."
The Bezzle: "How Two Start-Ups Reaped Billions in Fees on Small Business Relief Loans" [New York Times]. "Though Congress approved billions in aid for small companies to help them keep paying their employees during the pandemic, there was a big problem: It wasn't reaching the tiniest and neediest businesses. Then two small companies came out of nowhere and, through an astute mix of technology and advertising — and the dogged pursuit of an opportunity that big banks missed — found a way to help those businesses. They also helped themselves. For their work, the companies stand to collect more than $3 billion in fees, according to a New York Times analysis — far more than any of the 5,200 participating lenders. One of the companies, Blueacorn, didn't exist before the pandemic. The other, Womply, founded a decade ago, sold marketing software. But this year, they became the breakout stars of the Paycheck Protection Program, the government's $800 billion relief effort for small businesses. Between them, the two companies processed a third of all P.P.P. loans made this year, the Times analysis found. Blueacorn and Womply aren't banks, so they couldn't actually lend any money. Rather, , charging into a gap between what big banks wouldn't do and what small banks couldn't do. First, they unleashed marketing blitzes encouraging freelancers, gig workers, sole proprietors and other small merchants to apply for loans through their websites. Next, they directed those applications to lenders. In return, they took a hefty cut of the fees that lenders made on each loan." • I'm sensing a pattern…
The Bezzle: "How Thieves Stole $40 Million of Copper by Spray-Painting Rocks in Turkey" [Bloomberg]. • It's an effing comic book. I qan't quote this either.
Supply Chain: "The latest big bottleneck for U.S. apparel importers is coming onshore, at customs checkpoints. Tougher Customs and Border Protection enforcement of import bans on products made from forced labor is tying up goods at ports…. raising complaints about new backups in supply chains that have been buffeted by disruptions and delays over the past year" [Wall Street Journal]. "The disputes follow multiple orders from Washington banning cotton and other products from China's Xinjiang region. Apparel retailers and other importers have been caught up in the sweep, and have to prove that their often multilayered supply chains are free from forced labor. In one case, Japanese clothing giant Uniqlo had a shipment of men's shirts held up, said the cotton hadn't come from China and was told to provide documents such as time cards and pay stubs of workers who picked the cotton used to make the shirts."
Supply Chain: "This Shipping Dashboard Shows Why You Should Christmas Shop Early" [Bloomberg]. "Throughout the pandemic, blame for global supply-chain disruptions has bounced from Covid-19 outbreaks to container shortages, from spendthrift Americans gorging on garden tools to a massive ship beaching itself across the Suez Canal in March. Those are still causing problems, but there's a new hiccup that threatens to prolong the pain, maybe even long enough to upset Christmas shopping: The key export hub of Yantian in the heart of China's factory belt was partially shut down in June to control virus cases, shrinking what little spare capacity existed in an industry that moves more than $4 trillion worth of goods across the global economy each year. 'The latest one is the worst in terms of the supply-constraint hits," says Steve Saxon, a McKinsey & Co. partner in Shenzhen, China. He reckons it could be a month before Yantian is fully operational again, with the fallout rippling to other ports.' That means container shipping rates could stay high and delivery times could get stretched out even more heading into the peak season for inventory rebuilding in August, when retailers like to stuff warehouses with year-end Christmas items."
* * *
Today's Fear & Greed Index: 43 Fear (previous close: 43 Fear) [CNN]. One week ago: 32 (Fear). (0 is Extreme Fear; 100 is Extreme Greed). Last updated Jun 29 at 1:06pm.
Health Care
"Confronting a legacy of scarcity: a plan for reinvesting in U.S. public health" [STAT]. "Decades of chronic underfunding and a failure to invest in the public health workforce, the physical infrastructure of state and local health departments, and critical data systems have left Americans vulnerable to calamities like Covid-19 and other pathogens that lie just around the corner. In the last two decades, funding for public health has been progressively chipped away." A handy chart: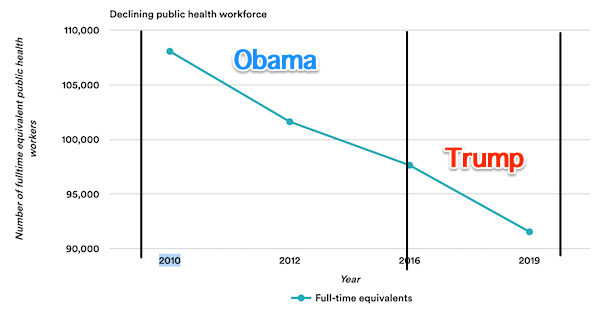 More: "This overall decrease in funding for public health is emblematic of an American willingness to pay more later than invest upfront — of the 18% of the federal budget spent on health care, only 3% goes towards prevention and mitigating disease…. Our plan for sustainable public health funding centers around a new, statutorily protected, mandatory funding stream that is shielded against bureaucratic attempts to shift funding away from public health initiatives." • Ah, the PMC dream: Placing their P above politics (bad, bad). Paradoxically, if they could sell their mandatory funding stream politically, they wouldn't need it in the first place. Unfortunately, the whole piece treats "public health" as a given. For the "medical freedom" crowd, it isn't.
"Biogen met with key FDA official, launched Project Onyx to gain Aduhelm approval – STAT" [Seeking Alpha]. "In a detailed expose, journalists at STAT [paywalled, sadly] have uncovered the methods Biogen used in gaining approval of Aduhelm (aducanumab) — a drug that was once shelved in 2019 — including an off-the-books meeting with a key FDA official. That official is Billy Dunn, director of the FDA Center for Drug Evaluation and Research ('CDER') Office of Neuroscience, which oversees Alzheimer's drugs. In May 2019, Alfred Sandrock, Jr., Biogen's head of R&D, sat down 'off the books' with Dunn at a neurology conference. He told Dunn there were indications aducanumab might slow down the progression of Alzheimer's, find a way to get the drug approved, STAT reported, citing a source who was privy to what was discussed at the meeting." • Odd grammatical construct. I would have written "whether he would be willing to help," given that there's no "then" clause.
"Why Uruguay lost control of COVID" [Nature]. "Uruguayan scientists say a mix of complacency — fuelled by the country's early success at controlling the virus — and the challenges posed by a particularly transmissible SARS-CoV-2 variant are to blame. 'We were a model in 2020,' says Rafael Radi, a biochemist at the University of the Republic in Montevideo. 'Unfortunately, things are not following the same path in 2021.' For all of last year, the 3.5-million-person country recorded only about 19,100 cases of COVID-19 and 180 deaths from the disease. But it has already reported more than 341,000 infections and 5,100 deaths this year… nOn several occasions in May and June, it recorded the world's highest number of COVID-19 deaths per capita…. In the past week, however, new infections and deaths have dropped, thanks to the country's swift vaccine roll-out, says Radi — giving hope that the country can rein in the virus once more." • Well worth a read for the detail.
"An ancient viral epidemic involving host coronavirus interacting genes more than 20,000 years ago in East Asia" [Cell]. "We identified a set of 42 CoV-VIPs [Covid Virus-Interacting Proteins[ exhibiting a coordinated adaptive response that likely emerged more than 20,000 years ago…. This pattern was unique to East Asian populations (as classified by the 1000 Genomes Project). We show that this selection pressure produced a strong response across the 42 CoV-VIP genes that gradually waned and resulted in the selected loci plateauing at intermediate frequencies. Further, we demonstrate that this adaptive response is likely the outcome of a viral epidemic, as attested by the clustering of putatively selected loci around variants that regulate tissues known to exhibit COVID-19-related pathologies, and the enrichment of variants associated with SARS-CoV-2 susceptibility and severity, as well as anti- and proviral functions, among the 42 CoV-VIP genes selected starting around 900 generations ago…. A particularly salient feature of the adaptive response observed for the 42 CoV-VIPs is that selection appears to be acting continuously over an ∼20,000 years period. The profile of selection in the host East Asian populations is consistent with a new viral pressure that ancestral populations had never experienced previously but that subsequently remained present for a very long period of time." • Oh, great.
The Biosphere
"Analysis: When do electric vehicles become cleaner than gasoline cars?" [Reuters]. "You glide silently out of the Tesla showroom in your sleek new electric Model 3, satisfied you're looking great and doing your bit for the planet. nBut keep going – you'll have to drive another 13,500 miles (21,725 km) before you're doing less harm to the environment than a gas-guzzling saloon. That's the result of a Reuters analysis of data from a model that calculates the lifetime emissions of vehicles, a hotly debated issue that's taking center stage as governments around the world push for greener transport to meet climate targets. The model was developed by the Argonne National Laboratory in Chicago and includes thousands of parameters from the type metals in an electric vehicle (EV) battery to the amount of aluminium or plastic in a car."
"Corn Belt farming boosts the global carbon cycle" [KBIA]. "Scientists have noticed a change in the atmosphere. Plants are taking in more carbon dioxide during the growing season and giving off more carbon in the fall and winter. Recent research shows the massive corn crop in the Corn Belt may be contributing to that deeper breath. It comes down to the Carbon Cycle. Over the winter when corn fields lay dormant, corn stalks and roots break down, sending CO2 into the air. Then in the summer when a new crop is growing, it takes up carbon from the atmosphere…. About 20 years ago, scientists realized the peaks and valleys of the carbon cycle are reaching higher – and lower – levels. In fact, the concentrations are up to 50 percent higher in the northern hemisphere. Most of the increase is due to a longer growing season brought on by a warming climate. But in a recent article in the journal Nature, Gray and his colleagues uncovered another human impact on the carbon cycle: farming. Gray says scientists overlooked farming before. It only covers 6 percent of the land in the area he studied. But he found it accounts for a quarter of the increase to the carbon cycle…. The fact that farming feeds the carbon cycle does not mean it's making climate change worse. But, when it comes to reversing climate change, Gray says growing wheat or corn does less to sequester carbon in the ground than growing a forest or grassland."
Water
"The Panama Canal is trying to do something about a worsening water problem disrupting operations at the key passageway for global trade. Canal officials say they face a creeping threat from climate change… including droughts so intense that ships sometimes reduce their cargo to keep from running aground, and giant storms that almost overwhelm its dams and locks" [Wall Street Journal]. "The biggest problem is a decline in rainwater needed to operate the 50-mile waterway, through which 4% of global trade passes. Canal authorities are working on a $2 billion plan to build infrastructure to manage and preserve freshwater reserves, one of the biggest projects so far around the world at maritime facilities facing environmental challenges. Authorities will choose from among 30 proposed solutions likely to include a combination of new dams and reservoirs, and seek bids in about two years, with completion targeted in 2028."
The 420
"Clarence Thomas says federal laws against marijuana may no longer be necessary" [NBC]. "Clarence Thomas, one of the Supreme Court's most conservative justices, said Monday that because of the hodgepodge of federal policies on marijuana, federal laws against its use or cultivation may no longer make sense. Thomas said the Supreme Court's ruling in 2005 upholding federal laws making marijuana possession illegal may now be out of date. 'Federal policies of the past 16 years have greatly undermined its reasoning,' he said. 'The federal government's current approach is a half-in, half-out regime that simultaneously tolerates and forbids local use of marijuana.'"
Our Famously Free Press
What.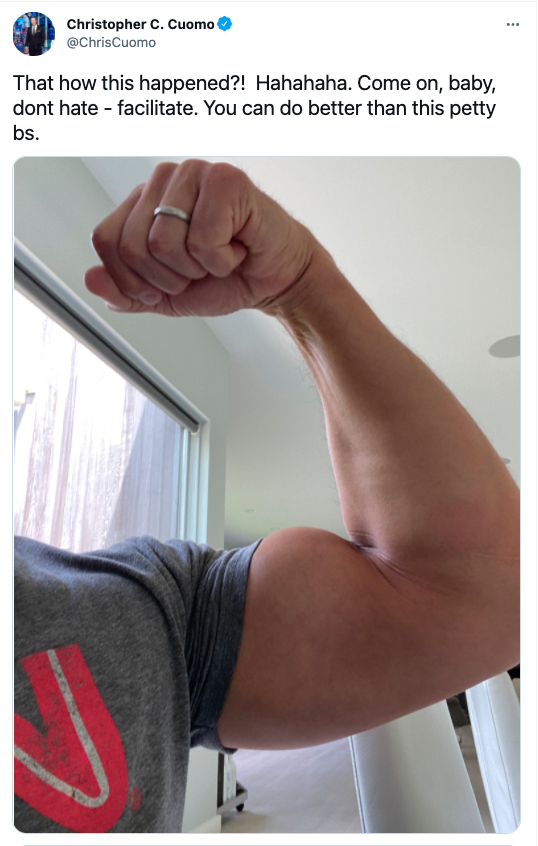 See here for the full exchange, which I must censor, since this is a family blog.
Naked Capitalism Cooking Community™
"'Were You in Veggie Nirvana?' An amateur vegan and a professional food critic on Eleven Madison Park's all-plant menu." [New York Magazine]. • There are a lot of worse ways to throw away extravagant amounts of money than fancy meals, to be sure. Nevertheless…. And what's with all the umami? Sounds like they've got a shaker of it in the kitchen, as with MSG….
Poetry Nook
I'm breaking my family blog rule for the moment, I am large, I contain multitudes:
partner bought some plums, can't wait for her to put these fuckers in the icebox

— sarah clark (they) (@petitobjetb) June 29, 2021
Class Warfare
"Amazon warehouses in Kent remain in operation, despite lack of climate control" [Seattle Times]. "At one warehouse in Amazon's complex in Kent, workers on Sunday were handed iced neck scarves and drinking water. The facility is normally cooled by giant rotating ceiling fans. This weekend, Amazon added "massive" fans on the floor, said a worker on duty at the facility Sunday…. Heat precautions were less evident at another of Amazon's Kent facilities, where interior temperatures neared 90 degrees by midday, a second worker estimated. Not every workstation had functioning fans, that worker said. And some departments were running "power hours," in which workers are asked to move as quickly as they can for an hour to boost productivity."
"Faced With Worker Shortage at Kansas Facility, Russell Stover Turns to Prison Labor" [Eoin Higgins, The Flashpoint]. "Candy maker Russell Stover has faced labor shortage issues at its facility in Iola, Kansas for years. In 2021, the company turned to prison workers to make up the difference. Today, 150 inmates from the Topeka Correctional Facility, a nearby women's prison, work at the store…. The Russell Stover program began in April after employee shortages cut production so far that lines were being shut down at the plant… The deductions left the inmate worker with $453.35, less than half what they earned in total for over 77 hours of work—about $5.89 an hour."
Like a "Green Book" for the working class:
We also need to be able to do more than pull up lists. When I get to a strange town, I ought to be able to pull up a map of union restaurants, union theatres, union grocery stores, etc..

— Dave Kamper 🌹 (@dskamper) June 29, 2021
"Beware of Brands That Love Queer People's Dollars More Than Queer People" [Eater]. • Nobody could have predicted…
News of the Wired
I stan for the USGS
It's #FreeMapMonday! Retweet and follow us for a chance to win the Geologic Map of the United States!#USGSStore (U.S. residents only) pic.twitter.com/M99Pg0hu8c

— USGS Store (@USGSstore) June 28, 2021
"The role of the arts and humanities in thinking about artificial intelligence (AI)" [Ada Lovelace Institute]. "This is important because AI, and digital technology generally, has become the latest focus of the historicist myth that social evolution is preordained, that our social world is determined by independent variables over which we, as individuals or societies, are able to exert little control. So we either go with the flow, or go under. As Aristotle put it: 'No one deliberates about things that are invariable, nor about things that it is impossible for him to do.'… The humanities are vital to combatting this historicist tendency, which is profoundly disempowering for individuals and democratic publics alike. They can do so by reminding us, for example, of other technological developments that arose the day before yesterday – such as the harnessing of nuclear power – and how their development and deployment were always contingent on human choices, and therefore hostage to systems of value and to power structures that could have been otherwise."
"George R.R. Martin says 'Game of Thrones' book series will end differently than TV show" [Good Morning America]. • Thank heavens. Now get on with it!
* * *
Readers, feel free to contact me at lambert [UNDERSCORE] strether [DOT] corrente [AT] yahoo [DOT] com, with (a) links, and even better (b) sources I should curate regularly, (c) how to send me a check if you are allergic to PayPal, and (d) to find out how to send me images of plants. Vegetables are fine! Fungi and coral are deemed to be honorary plants! If you want your handle to appear as a credit, please place it at the start of your mail in parentheses: (thus). Otherwise, I will anonymize by using your initials. See the previous Water Cooler (with plant) here. Today's plant (ChiGal):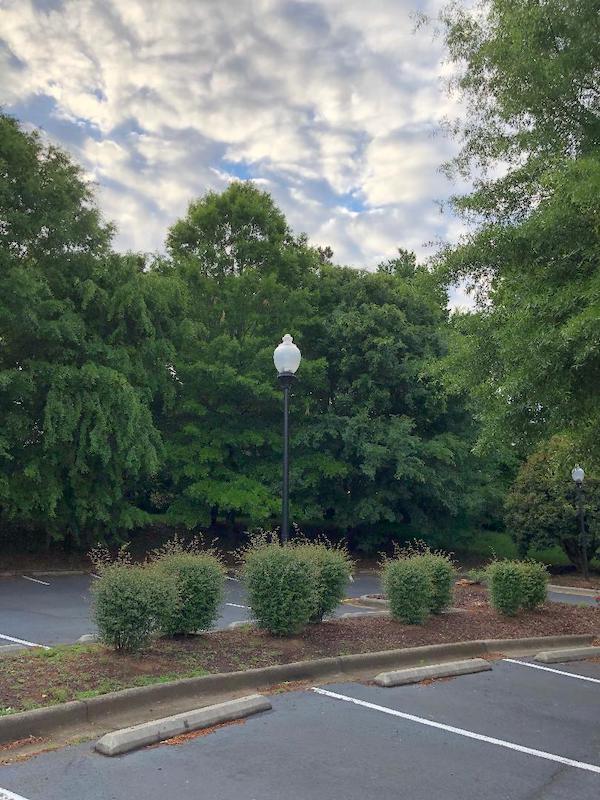 ChiGal writes: "Started seeing fully vaccinated patients in the office this week. As I left yesterday I noticed even the shrubbery has pandemic hair—I just say no to topiary myself but if it's gonna be there, time for a trim…" That's quite some sky…
* * *
Readers: Water Cooler is a standalone entity not covered by the recently concluded and — thank you! — successful annual NC fundraiser. So if you see a link you especially like, or an item you wouldn't see anywhere else, please do not hesitate to express your appreciation in tangible form. Remember, a tip jar is for tipping! Regular positive feedback both makes me feel good and lets me know I'm on the right track with coverage. When I get no donations for five or ten days I get worried. More tangibly, a constant trickle of donations helps me with expenses, and I factor in that trickle when setting fundraising goals:
Here is the screen that will appear, which I have helpfully annotated.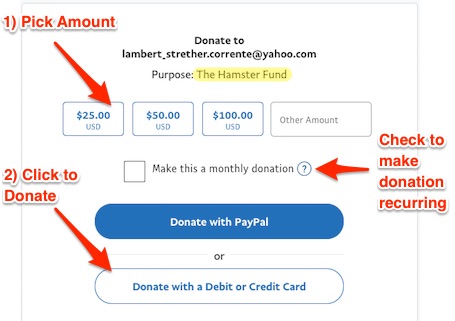 If you hate PayPal, you can email me at lambert [UNDERSCORE] strether [DOT] corrente [AT] yahoo [DOT] com, and I will give you directions on how to send a check. Thank you!2:00PM Water Cooler 6/8/2021