By Lambert Strether of Corrente
The nation's — some say the world's — premier public health agency continues to butcher its messaging on how Covid is transmitted. I read their Covid FAQ the other day (Updated May 25, 2021) and nearly stroked out. Here from the Covid FAQ landing page is the second item, "Spread." I have helpfully highlighted a few of the offending passages: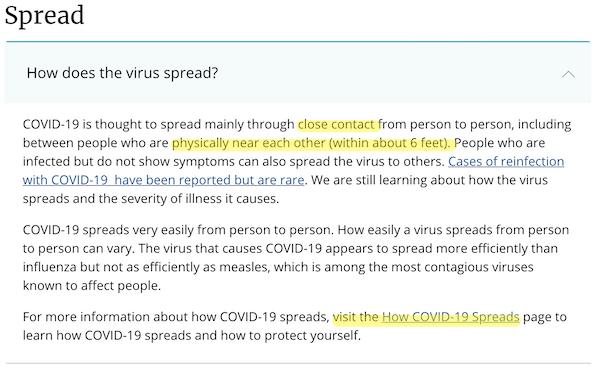 First and foremost, "close contact" should be expunged from Covid discourse entirely. Proximity is not transmission. A "close contact" model would permit infection by brainwaves, odor, visual cues, and so forth. CDC then compounds its initial error by repeating the 6-foot rule; readers know that Covid aerosols spread to fill a room, like cigarette smoke; social distancing is necessary but not sufficient. A busy school superintendent could read the FAQ and conclude that moving desks apart was sufficient to protect students; it isn't (and lives could be lost because of CDC's feckless and Romanov-like bureaucratic ineptitude).
To be fair to CDC, I visited the link highlighted above ("How Covid-19 Spreads"). Here it is: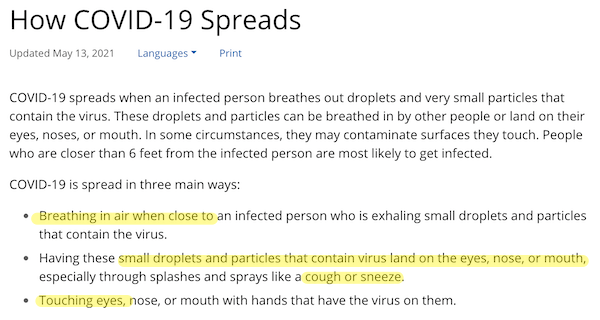 So, one level down, CDC is still reinforcing "close contact" with "breathing in air when close," and "coughing and sneezing." They also introduce fomite transmission, with "touching eyes." First, the risk of fomite transmission[1] is small ("Exaggerated risk of transmission of COVID-19 by fomites"). Second, mere breathing (aerosols) is also important, perhaps more than coughing and sneezing, so they at least deserve a mention ("COVID 19 can spread through breathing, talking, study estimates"). See generallly "Ten scientific reasons in support of airborne transmission of SARS-CoV-2" in the Lancet.
To continue to be fair, when I finally arrived at the CDC's section on ventilation, I found it to be pretty good:

(I continue to see CDC's "layered approach" as driven by institutional imperatives; everybody gets a slice of budgetary pie, even the fomite people.) They even get the idea that reducing concentration reduces the dose. Note, however, that this is true because aerosols fill indoor spaces, like cigarette smoke, which the "close contact" and "cough and sneeze" models do not support. Concentration affects all the people in a room regardless of "close contact." So we see that the means of transmission here in CDC's ventilation section completely contradicts the means of transmission presented earlier in the FAQ. In other words, CDC has no agreed upon means of transmission. How can we fight a pandemic if the world's premier public health agency can't get its story straight on how the germ that causes the pandemic is transmitted? Not well. Obviously. (Of course, if we simply vaccinate everybody, we don't have to worry about such details.)
As a palate cleanser, CDC does have a lot of well-thought-out suggestions on ventilation, even if the content of the "Spread" and "How Covid Spreads" sections mean that nobody will read them: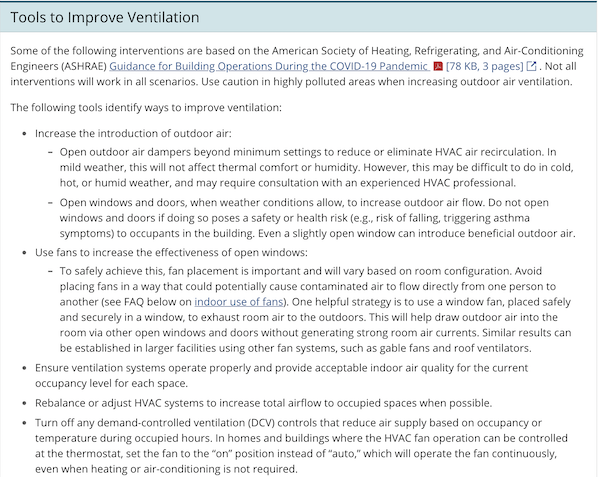 That final bullet point on "turn off any demand-controlled ventilation" sounds practical and helpful (though I defer to HVAC mavens in the readership.)
Now let's turn to the CDC"s data collection on breakthrough infections. The New York Times describes the policy decision on May 25:
Earlier this year, the agency was monitoring all cases. Through the end of April, when some 101 million Americans had been vaccinated, the C.D.C. had received 10,262 reports of breakthrough infections from 46 states and territories, a number that was very likely "a substantial undercount," according to a C.D.C. report issued on Tuesday.

Genomic sequencing could be done on only 555, or about 5 percent, of the reported breakthrough cases.
Contact tracing, apparently, was not even an option.
Over half of them involved so-called variants of concern, including the B.1.1.7 and B.1.351 variants.Some 995 people were known to have been hospitalized, and 160 had died, though not always because of Covid-19, the new study said. The median age of those who died was 82.

The agency will carry out vaccine effectiveness studies that include data on breakthrough cases, but only in limited populations, such as health care workers and essential workers, older adults, and residents at long-term care facilities, a spokeswoman said.
The essential point:
"The C.D.C. is a surveillance agency," [Ali Mokdad, an epidemiologist at the University of Washington who spent many years as a senior scientist at the C.D.C.] said. ""
That's a good question! Here is the CDC announcement:
As of May 1, 2021, CDC transitioned from monitoring all reported vaccine breakthrough cases to focus on identifying and investigating only hospitalized or fatal cases due to any cause. This shift will help maximize the quality of the data collected on cases of greatest clinical and public health importance.
(We have seen throughout this pandemic that the spotlight is fixed on hospitals. This is true whether we ignore essential workers who can't make it to the hospital in the first place, or on mask studies that apply hospital results to the general public, despite the fact that hospital ventilation systems change the air umpty million times a minute.) Like Mokdad, I'm unclear on why CDC would wish to blind itself in this "See No Evil" fashion. From The Atlantic:
If a variant were to consistently pop up among the vaccinated, researchers would need to understand why. A new version of the virus might be more efficient at infecting people, or have a new way of eluding the immune system. To tease out those possibilities, researchers need data, the more comprehensive, the better. "Asymptomatic, mild symptoms, hospitalized, passed away—all that information is important," says Ryan McNamara, a virologist at the University of North Carolina at Chapel Hill, where he and his colleagues are sequencing samples from breakthrough cases across the spectrum of severity. "If you're asking what variant is driving worse clinical outcomes, you need both ends of the data," he told me.

Many public-health laboratories at the state and local level have been diligently tracking breakthroughs of all kinds for months, and are unsure of whether to mirror the CDC's shifting priorities. "Previously, labs were sequencing all the breakthrough cases we could get our hands on," Kelly Wroblewski, the director of infectious disease at the Association of Public Health Laboratories (APHL), told me. "Now states are scrambling, trying to sort it out." Some states, such as Illinois and Tennessee, quickly followed the CDC's lead. Others are hesitant. For now, "we're not changing what we'll be sequencing," Myra Kunas, the director of Minnesota's state public-health laboratory, told me.
You can bet that any state with budget problems is going to follow CDC's lead in gathering less data. Further, CDC is gathering less data at just the wrong time:
In recent weeks, several college and professional sports organizations that had for months implemented routine testing for athletes and staffers announced that they were cutting back on screening for the immunized.

Programs like these might have otherwise revealed some breakthroughs. But hunting for these cases has other drawbacks. Earlier this month, the New York Yankees, a team that continued to regularly test its fully vaccinated personnel, recently reported nine positive tests—most connected to asymptomatic cases. Many experts framed the detection of mostly symptomless infections as proof that the shots were doing their job, but worried about rote reliance on testing as a security blanket, and wondered about the possibility of false positives. Vaccinated people are so unlikely to catch the virus that administering a bunch of tests wastes resources and increases the likelihood for errors, says Omai Garner, a clinical microbiologist at UCLA Health. Chasing constant reassurance about infections after vaccination could also send the wrong message, Saskia Popescu, an infection-prevention expert at George Mason University, told me. "If we're telling people they can be unmasked and we're still [frequently] testing them, what's the signal we're sending?"

This creates a strange bind for public-health officials who depend on the data that testing programs yield. As collective immunity around the nation builds, finding its weak spots is becoming harder. "We're running into this potential of losing our pipeline for studying variants in the population," Wroblewski, of APHL, told me.
So why the decision?
The CDC's revised guidelines on monitoring post-vaccination infections could, in some ways, be seen as pragmatic. More severe sickness is relatively straightforward to tabulate, and hospitalizations and deaths lend themselves to a more comprehensive census.
Much as the drunk looks under the lampost for their keys. But here, I think, is the kicker:
The agency's decision to shunt attention away from quieter breakthroughs —ones that have been effectively tamed by our suite of lifesaving shots—as a typical experience in the era of COVID-19 vaccines. Though the pandemic will eventually be declared over, SARS-CoV-2 is not exiting the human population anytime soon. Periodic liaisons with the virus will remain a part of everyday life; they might even remind our dormant immune cells to stay on guard.
The CDC is really sending two messages here: (1) The vaccines don't confer sterilizing immunity (i.e., you can still catch Covid even after you're vaccinated), and (2) Covid is now normalized. I mean, how do we know mild stays mild? As we see, CDC[2] is no longer in the surveillance business. As we saw in the first part of this post, CDC is not in the epidemiology business. CDC is not in the test kit development business (they butcher it). CDC is not in the software development business (they butcher that, too). What business is CDC in, exactly? The "See no evil" business?
NOTES
[1] Even though I am aware of no documented cases of fomite transmission, I still think cleaning surfaces in a non-obsessive manner is a good idea; after all, the aerosolized particles that bear the virus have to land somewhere. But if I were a school department strapped for cash, and had to choose been disinfectants and fans, I would choose fans, because aerosols are the primary means of transmission, not fans.
[2] To be fair to CDC, there are good people there, and some science is done. But institutionally? Charlie Foxtrot's in charge.