In the same way I'm bothered by the "best vaccine evah" cheerleading, so too am I by the pervasive back-slapping about how marvelous the US economy is. Given that real estate has a way bigger wealth effect than stocks, and real estate values are crazy right now, personal chicken-counting among the top 20% may have a lot to do with the giddy mood. Even my mother's house in Alabama has Zillow assigning a nutty number to it.
So I'm asking for reader input from their areas to help flesh out this picture. I'll throw out a few factoids.
The press is also reporting the difficulty restaurants and retailers are having in getting workers back as a sign of a hot labor market. But labor force participation is below pre-Covid levels and markedly below where it was before the financial crisis: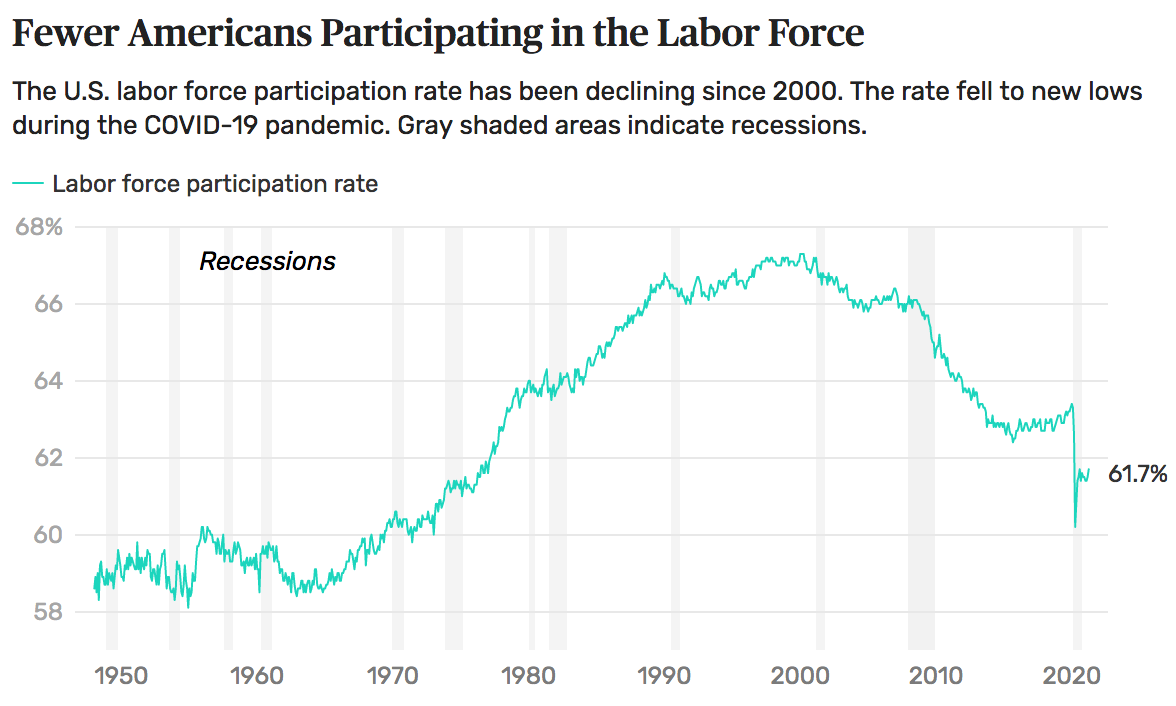 Other experts have argued that the apparent increase in wages is merely a return to the pre-Covid trend line. Economic Policy Institute yesterday debunked the illusion of a surge in the restaurant/hospitality sectors:
One of the most widely discussed data points from last month's jobs report was the rapid acceleration in wage growth for the leisure and hospitality (L&H) sector, particularly among production and nonsupervisory workers. This sector-specific wage acceleration (not seen in other sectors), combined with disappointing economywide job growth for the month, launched a huge debate about potential labor shortages. We wrote previously about why concerns over labor shortages were largely misplaced. Among other things, the rapid wage growth in L&H was accompanied by very fast sectoral job growth, so there was no evidence that any labor shortage was impinging on overall growth.

Further, this acceleration of wages in L&H might provide less evidence of even a sector-specific labor shortage than previously thought. When economists or other analysts express concerns about labor shortages, they generally mean a shortfall of potential employees that forces employers to gouge deeper into their profit margins to raise wages to attract workers. At some point this gouging will become unsustainable and so hiring will lag.

However, there is compelling evidence that the wage acceleration in L&H in recent months is not driven by employers raising base pay to attract workers, but instead by just an increase in tips stemming from restaurants filling back closer to pre-COVID capacity. Put another way, since December 2020, the rise in tip income, not an increase in base wages, can likely entirely explain the acceleration of wages for production and nonsupervisory workers in restaurants and bars. If this is the case, the wage acceleration will stop when restaurants get back to normal capacity.
Countering this cheery picture is business closures, expiring eviction moratoriums (and squeezed landlords), and businesses not back to their old revenue levels. Start with airlines, although they are assured bailouts, so they don't count. My chiropractors in NYC and down here have fewer patients seeing them. I am told DisneyWorld is operating at half capacity to reinforce the notion that they are safe (they won't even allow pictures of children on premises with masks accidentally off). My contacts at Lowes in California say sales are off: all that at-home nest primping is off for now as people are eager to get out and about. I see confirming data here: it was too easy to get a subcontractor to do a small job and he was willing to do it right away.
And some businesses are getting whacked by high commodity prices. A friend who has a very successful small and high-skill manufacturing business is crying over copper.
Down here, we have very few vacant store-fronts but freeway traffic is lower than pre-Covid. New York is admittedly a special case, and looks way better than it did last summer and fall, and I am told Brooklyn and Queens have taken much less in the way of an activity hit than Manhattan. However, there are lots of scars in the form of empty venues (which makes Covid look worse than it was; retail was getting hollowed out on Fifth Avenue and other 'hoods before that) and not busy enough sidewalks.
Enough nattering. How about you?