This Math Explains Why Cauliflowers Look Too Oddly Perfect Science Alert
Attention Investors: The President's Council on Competition Barry Ritholtz, The Big Picture. Important.
The lurking threat to solar power's growth MIT Technology Review
Greenland to halt all oil exploration as it 'takes climate change seriously' Euronews
Ford made a premium gas fragrance for EV owners who miss the smell of fossil fuels The Verge (Re Silc).
#COVID19
The first two posts are the basis of the Guardian Ivermectin story in Links yesterday. The third is the FLCCC's response:

Why Was a Major Study on Ivermectin for COVID-19 Just Retracted? Jack Lawrence, GRFTR

Some problems in the dataset of a large study of Ivermectin for the treatment of Covid-19 Nick Brown's Blog

Joint Statement of the FLCCC Alliance and British Ivermectin Recommendation Development Group on Retraction of Early Research on Ivermectin FLCCC Alliance. I don't think it's an answer to say that the results of a meta-study still hold if one of the papers is retracted. I would want to know how the retracted paper came to be included in the first place. Did nobody read the original studies? (This is not to put RCTs on a pedestal; far from it.)

* * *

Povidone iodine (Betadine) allergy and radiocontrast hypersensitivity (letter) American Academy of Allergy Asthma & Immunology. "Povidone iodine allergy is very rare but has been reported."

'Pandemic Is Not Over': Florida Republican Describes Harrowing COVID-19 Ordeal HuffPo. Report from the trenches:

From a local ID doctor in SoFlo. #floridacovid #CovidIsNotOver #GetVaccinated pic.twitter.com/DCLduXdqPJ

— Natalia Solenkova, MD PhD (@SolNataMD) July 15, 2021

Note the last line: "The vaccine, while 95% effective, is not 100% effective." Why the public health establishment cannot convey this simple, comprehensible, realistic message is beyond me. When Walensky burbles: "[T]he science demonstrates that ," people can see with their own eyes that what Walensky says is not true, because even if you assume that breakthrough cases are insignificant in percentage terms, this is an enormous country, and the absolute numbers can be quite large.
China?
Opinion: China's Worrying Economic Signs That Only the Government Has Noticed Caixin Global

Chinese regulators swoop on Didi offices to conduct security probe FT

The top general of the US military: the coup will not succeed after Trump loses the election, we are the ones holding the gun What China Reads. Nice headline.
Myanmar
As Covid-19 rages in Myanmar, army hoarding oxygen, doctors say Straits Times. Long lines:

Despite #Myanmar #military ordering to ban/restrict citizens from buying oxygen supplies, the desperation/urgent need continues to lead to long lines/large crowds in various parts of Myanmar waiting to buy oxygen for #Covid19 patients. Pics from #Mandalay #WhatsHappeningInMyanmar pic.twitter.com/8omAM1Hsw4

— May Wong (@MayWongCNA) July 17, 2021

Junta wants US to extradite UN rep for prosecution on treason Coconuts Yangon
Apparel-producing areas in Asia will be underwater by 2030 unless they relocate to higher ground, study warns South China Morning Post
Malaysia to stop using Sinovac vaccine after supply ends: minister Reuters
India
Struggle, Conflict and Small Joys: A Selection of Danish Siddiqui's Photographs The Wire
Syraqistan
Bennett: 'Vaccines on their own won't solve the problem' Times of Israel

Forensic Architecture's "Digital Violence: How NSO Group Enables State Terror" Tikun Olam
South Africa
Free Zuma campaign gives Ramaphosa 14 days to respond to demands IOL News

Fighting to stay alive in a broken country: No jobs, no food breed contempt for the law Daily Maverick
The Caribbean
Oops. pic.twitter.com/iQEMMZPdI9

— Ian Goodrum (@isgoodrum) July 16, 2021
UK/EU
The Crumbling Foundations of the Conservative Party Tribune. Big if true.

I will sweat blood to win voters' respect, says Sir Keir Starmer BBC
Biden Administration
Column: Biden takes aim at the multitude of ways that businesses can make your life miserable Michael Hiltzik, Los Angeles Times. From last week, still germane.

Biden's Spaghetti-at-the-Wall Vaccine Campaign The Atlantic

Federal judge finds DACA unlawful, blocks new applicants Politico. "'Given the nine-year history of failed legislation in Congress, it is an inescapable conclusion that DACA is not interstitial to any congressional action,' [U.S. District Court Judge Andrew Hane] wrote. 'Although Congress may someday enact such a DREAM Act, until it does, its continued failure to pass bills coextensive with the DACA population evinces a rejection of this policy.'"
2020 Post Mortem
AP: Few AZ voter fraud cases, discrediting Trump's claims AP

Hunter Biden's prosecutor rejected moves that would have revealed probe earlier Politico
RussiaGate
A blockbuster document purportedly from the Kremlin raises lots of questions — about itself Philip Bump, WaPo. "Purportedly" is a word that could have been used a lot more than it was. Mark Ames remarks:

Luke Harding & the Guardian quickly learning that the paranoid, low-quality Russiagate ecosystem that they thrived in during the Trump Era has served its purpose & is no longer needed. Now, the political-media complex that Biden leads has different needs, tonally & otherwise.

— Mark Ames (@MarkAmesExiled) July 16, 2021

Autre temps, autre grifts.

'The Steele Dossier Was a Case Study in How Reporters Get Manipulated' New York Magazine. From LeCarré, we do know that intelligence assets are in fact "manipulated" by their handlers. Nevertheless.
Assange
Julian Assange's Brother: #FreeAssange, Plus Airstrikes on Cuba and An Art Critic on Hunter Biden (podcast) Useful Idiots
Health Care
Criminalized Borders and US Health-Care Profits Public Books
The Biggest Differences Between Now & The Housing Bubble A Wealth of Common Sense
Going for brokers: Justice Department takes on one of the country's worst cartels Washington Examiner
Guillotine Watch
The rich and their real estate:

Open Space, Closed Gates Inquirer. The reporter summarizes:

Rich property buyers in a Philadelphia suburb qualified for an estimated $15M in tax breaks for donating land near their homes they bought for half that much. And they still get to use that land, exclusively.
Here's how it was done.https://t.co/DJP5GmE1TB pic.twitter.com/rCw2Zdo5kh

— Jacob Adelman (@jacobadelman) July 16, 2021
Class Warfare
At a Convention Like No Other, Teamster Challengers Turn a Corner Labor Notes

Listen to MSNBC Bosses Smoothly Trying to Bust Their Staffers' Union Discourse Blog. Wow, Rachel should do a show on this.
Deductivism — the original sin in mainstream economics Lars P. Syll
Historian Heather Cox Richardson: 'Now people see what's happening. Thank God!' FT
Antidote du jour (Bob):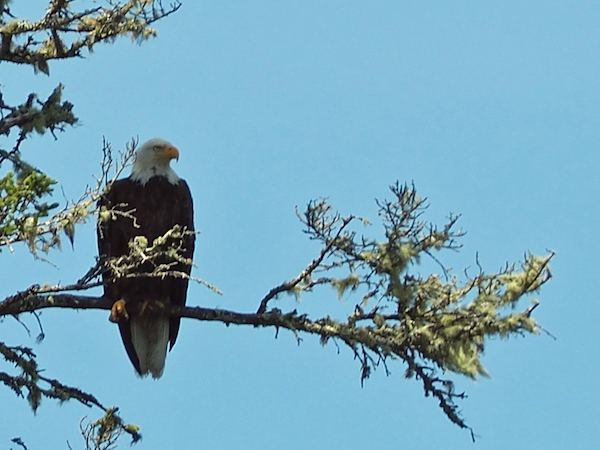 Bob writes: "My wife, Janet, pointed out this to Norbert [who took the picture]. One advantage being married to a hunter-gatherer is that if anything is happening on land, sea, or air, she sees it."
Bonus Antidote:
This video of a red-tailed hawk seemingly suspended in the air earned Bill Bryant the win for the Audubon Society 2021 Award in the video category [source: https://t.co/eaXlSEjHF0]. The hawk's head is perfectly still while its body stabilizes around it pic.twitter.com/mRl0xQzVvn

— Massimo (@Rainmaker1973) July 16, 2021
See yesterday's Links and Antidote du Jour here.