The Wall Street Journal has done a terrific job of reporting in a new article, 'Financially Hobbled for Life': The Elite Master's Degrees That Don't Pay Off. Even though it discusses a general phenomenon, that of too many students of modest means acquiring student-debt-funded graduate degrees where the prospects of the borrowers paying off their obligations is practically nil.
The Journal documents that Columbia is the outlier, both in the ratio of "untenable if you don't have rich parents paying for them" master's degrees, and the particularly dreadful cost/earnings ratio (proxied by the debt/income ratio) of two programs, drama/theater arts and film.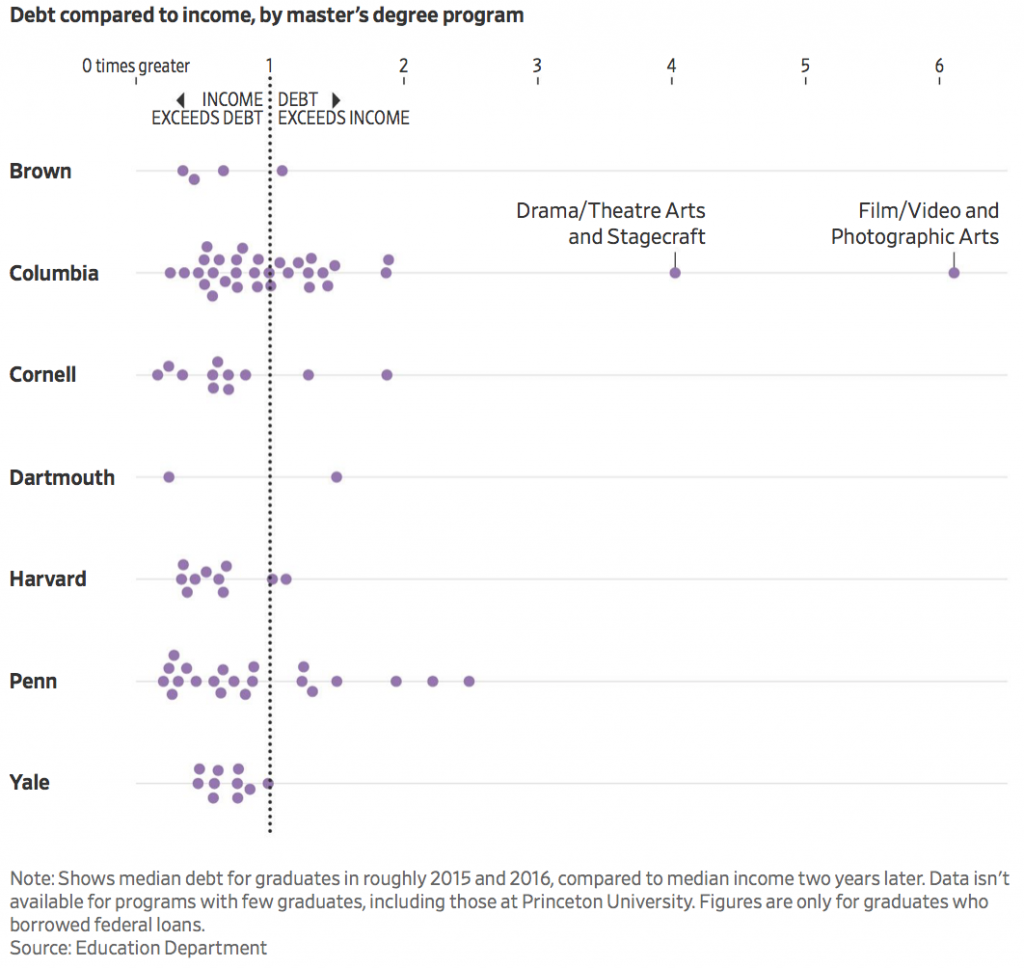 The strength of this piece is the number of damning vignettes, so my recap will fall well short of the full weight of the story. My favorite is the revelation that Columbia's answer to "Let them eat cake" is "Let them walk dogs":
One foreign student said he notified School of the Arts officials in 2016 that he may need to drop out of the film program because he could no longer afford tuition and living expenses….He received an email that August from an administrator.

"I was informed that you might be interested in additional on-campus work opportunities," said the message, viewed by the Journal. "We were contacted by the Office of President [Lee] Bollinger who hires students for dog caretaking."
President Bollinger said he didn't know that his Labs were being offered up as income opportunities, and offered that he paid only "pocket money" level remuneration. But the fact that an official steered a desperate student to a clearly meagerly-paid gig demonstrates how unwilling or unable Columbia was to offer meaningful help.
Now I am sure many of you are saying, "Theater and film graduate degrees? What did they expect?" First, these students, often from modest backgrounds, say they felt misled by Columbia. This situation reminds me of subprime lending. From 2005 to 2008, in just about every trip I took outside NYC, when I asked about the state of the economy, at least one cabbie would volunteer that he'd looked into buying a house, and the banker had pushed him to buy a much more expensive house than he'd been looking for, arguing that he could borrow enough to acquire it. To a person, these drivers said they knew it was reckless to take on as much debt as the banks wanted them to, and rejected the advice.
Here, even if these student borrowers had looked into typical pay levels for master's degree holders in their chosen fields, they likely believed that going to a top school would enable them to earn markedly more than the norm. Entertainment, like sports, is subject to power law dynamics. A very few at the extreme end of the distribution do fabulously well, and another tier lives nicely. But the dropoff is very steep.
Columbia's own website strongly implies that it has a Harvard-Business-School-like mafia of graduates who will help program participants in their careers. The opening paragraph:
Columbia University's MFA Theatre Program is collaborative, international, and interdisciplinary. It defines itself by its location in New York City. It thrives on the extensive network of Columbia alumni and faculty who work in prestigious theatres at every level, who direct and perform in award-winning productions, and who engage with our students far beyond the classroom.
The article suggests that graduates also believed the programs were over-sold. For instance:
Matt Black graduated from Columbia in 2015 with an MFA in film and $233,000 in federal loans. He signed up for an income-based repayment plan that in leaner years requires no remittance from him. With interest, his balance stands at $331,000.

Mr. Black, a 36-year-old writer and producer in Los Angeles, said he grew up in a lower middle-class family in Oklahoma. He earns $60,000 in a good year and less than half that in dry stretches. The faculty at Columbia was stellar, he said, but he blamed the school for his "calamitous financial situation."

"We were told by the establishment our whole lives this was the way to jump social classes," he said of an Ivy League education. Instead, he said he feels such goals as marriage, children and owning a home are out of reach.

During a car ride last year with three friends from the film program, Mr. Black said, they calculated they collectively owed $1.5 million in loans to the federal government. "Financially hobbled for life," he said. "That's the joke."
And before you insist that it's silly to major in theater, go back and look at the chart above. Yale has a drama school too. Yet you see that none of Yale's master's programs leave their students drowning in debt. I can't do an apples to apples comparison, but Yale is clearly more exclusive than Columbia, admitting only 5.4% of its applicants to the drama school versus a 21% acceptance rate for Columbia across its fine arts programs. At least when I was a kid, getting into the acting program at Yale was extremely difficult; only 12 were accepted.1 I recall going to a charity lunch and seeing Meryl Streep spend most of her lunch speech complaining that the then head of Yale's Drama School, Robert Brustein, would regularly single her out as the worst performer in the class. She was clearly still embittered about that.
Yale recognizes that having a particularly successful program may still not be enough to protect students from bad financial outcomes:
"There's a virtual army of young people, most of whom may be naive about the financial obligations they're undertaking," said James Bundy, dean at Yale University's drama school, which in June announced it would eliminate tuition. "I think there are some schools with debt loads that are indefensible."
And for those of you who still prefer a mercenary perspective, pray tell, how do you propose dealing with the problem of societally valuable jobs, like architects and veterinarians, where no financially rational person would ever go into those professions? With architecture, the disconnect between the cost of education and apprentice time has long been badly out of whack. I recall the parents of a good college friend who graduated from a top architecture program lament that their paying for her degree hadn't added to her earnings potential.
Back to Columbia. The school's defense it that it isn't as rich as Yale (apparently a $11 billion endowment is shabby) and is generous with financial aid to undergrads, who it regards as deserving, but not graduate students. The Journal article mentions that Columbia embarked on a big real estate development program in 2008 as a way to attract donors. Perhaps readers can confirm, but my understanding is that that scheme turned out to be a white elephant.
Needless to say, the Journal account has some eyeopeners:
Columbia's theater graduates who borrowed took on a median $135,000 in student loans, four times what they earned two years after graduation, the data show….

Around two-thirds of domestic students in the MFA film program take federal loans. The median debt for 2017 and 2018 graduates of Columbia's film program who borrowed fell 5% from two years earlier but still topped $171,000, according to the latest federal debt figures, which combine the MFA and Master of Arts degrees.

Grant Bromley, 28, accumulated $115,000 in federal loans while getting his Master of Arts in film and media studies at Columbia. He had hoped to advance into academia after graduating in 2018. Instead, he moved back home with his parents in Knoxville, Tenn., for a year, taking a job at the TJ Maxx where he had worked as a teenager. He now works at a TJ Maxx near Chattanooga.

He is working on his third feature film in his spare time and credited Columbia for giving him the chance to pursue his passion.

For now, Mr. Bromley earns around $16 an hour and can't afford to pay down his loan balance, which is $156,000, including undergraduate debt and interest. "It's a number so large that it doesn't necessarily feel real," he said.
The faculty wants a better deal for students:
Christian Parker, a Columbia theater department faculty member and former department chair, said he and colleagues talked constantly about student debt. "I've never been to an all-school faculty meeting where it wasn't brought up and where faculty were not advocating and agitating for this issue to remain at the front of the list of priorities for the dean's leadership," he said.
Before you point fingers at the teaching staff, the big cause of ever-escalating costs of higher education isn't lavishly paid instructors. It's adminisphere bloat (both body count and compensation levels) and over-investment in real estate to try to pull in donors (all those naming opportunities!)
And despite the faculty agitating on behalf students, the top brass is turning a deaf ear, led by "Let them walk dogs" Bollinger:
"There's always those 2 a.m. panic attacks where you're thinking, 'How the hell am I ever going to pay this off?' " said 29-year-old Zack Morrison, of New Jersey, who earned a Master of Fine Arts in film from Columbia in 2018 and praised the quality of the program. His graduate school loan balance now stands at nearly $300,000, including accrued interest. He has been earning between $30,000 and $50,000 a year from work as a Hollywood assistant and such side gigs as commercial video production and photography….

At least as far back as 2016, students said, they complained to top administrators about debt.

Mr. Morrison, who owes nearly $300,000, said he was invited to a fireside chat for graduate students at Mr. Bollinger's Manhattan townhouse that year.

Mr. Bollinger asked for a show of hands by those who felt prepared to pay off their student loans and to succeed in the workplace, Mr. Morrison recalled. The grad student didn't raise his hand, and Mr. Bollinger asked him why.

Mr. Morrison said the job market for aspiring screenwriters and directors looked bleak for someone with a six-figure debt load. He recalled Mr. Bollinger saying he understood the concern but that Columbia was a really good school.

"My immediate takeaway is that there's a huge disconnect between the administration's perception of the School of the Arts," Mr. Morrison wrote to a faculty member a few days after the meeting, "and what's actually happening for students."

Mr. Bollinger said he recalled asking a question like that, and "I'm very much aware of what the School of the Arts needs in terms of financial aid support."
Yes, Mr. Bollinger is aware of the need the same way a 400 lb. diabetic is aware of the need to lose a lot of weight. Nothing in this article suggests that Mr. Bollinger intends to do squat. Perhaps the harsh light of this Journal account will rouse him from his torpor.
____
1 I wrote a recommendation letter for a successful applicant. He later won an Emmy.