I am late to post on an important study by the National Low Income Housing Coalition, Out of Reach 2021, which is embedded at the end of this post. However, it appears to have gone under the radar when it first appeared last month; CNN was one of the few major US outlets to write up the damning report. The Guardian helped correct this lapse by posting on the report yesterday, which is how I cam across it. Among other things, it finds that a minimum wage worker can't afford a one-bedroom rental in any county in the US.
Needless to say, before gentrification, many US cities has housing alternatives for low wage workers or those who'd had a bad run of luck. They were called "flophouses" in the Depression and later "single room occupancy hotels" in New York City: a not large room with a bed, and communal toilets and showers. Now their options are things like couch surfing, living in their car (assuming they have one), being a roommate (often in an overcrowded unit), going to a shelter, sleeping on the street, or going into debt. And even seeming middle class workers can't make ends meet due to housing costs:
Ironically, the National Low Income Housing Coalition lists JP Morgan as its lone big supporter.
The linchpin to the analysis is that HUD sees 30% as a realistic maximum for what a full time worker should pay for rental housing. The National Low Income Housing Coalition using that to derive a National Housing Wage:
The 2021 National Housing Wage is $24.90 per hour for a modest two- bedroom rental home and $20.40 per hour for a modest one-bedroom rental home….

The federal minimum wage of $7.25 per hour falls well short of both the two-bedroom and one- bedroom National Housing Wages…Thirty states, the District of Columbia, and several dozen counties and municipalities now have minimum wages higher than the federal minimum wage, but even taking higher state and county minimum wages into account, the average minimum wage worker must work nearly 97 hours per week (more than 2 full- time jobs) to afford a two-bedroom rental home or 79 hours per week (almost 2 full-time jobs) to afford a one-bedroom rental home at the fair market rent. People who work 97 hours per week and need 8 hours per day of sleep have around
2 hours per day left over for everything else— commuting, cooking, cleaning, self-care, caring for children and family, and serving their community. Doing so is an impossibility for a single parent who needs a larger-than-one-bedroom apartment. Even for a one-bedroom rental, it is unreasonable to expect individuals to work 79 hours per week to afford their housing….

The struggle to afford rental housing is not confined to minimum-wage workers. The average renter's hourly wage of $18.78 is $6.12 less than the national two-bedroom Housing Wage and $1.62 less than the one-bedroom Housing Wage. As a result, the average renter must work 53 hours per week to afford a modest two- bedroom apartment. Many single parents or caregivers find it difficult to work those hours.
The report also contains a great deal of granular analysis, such as: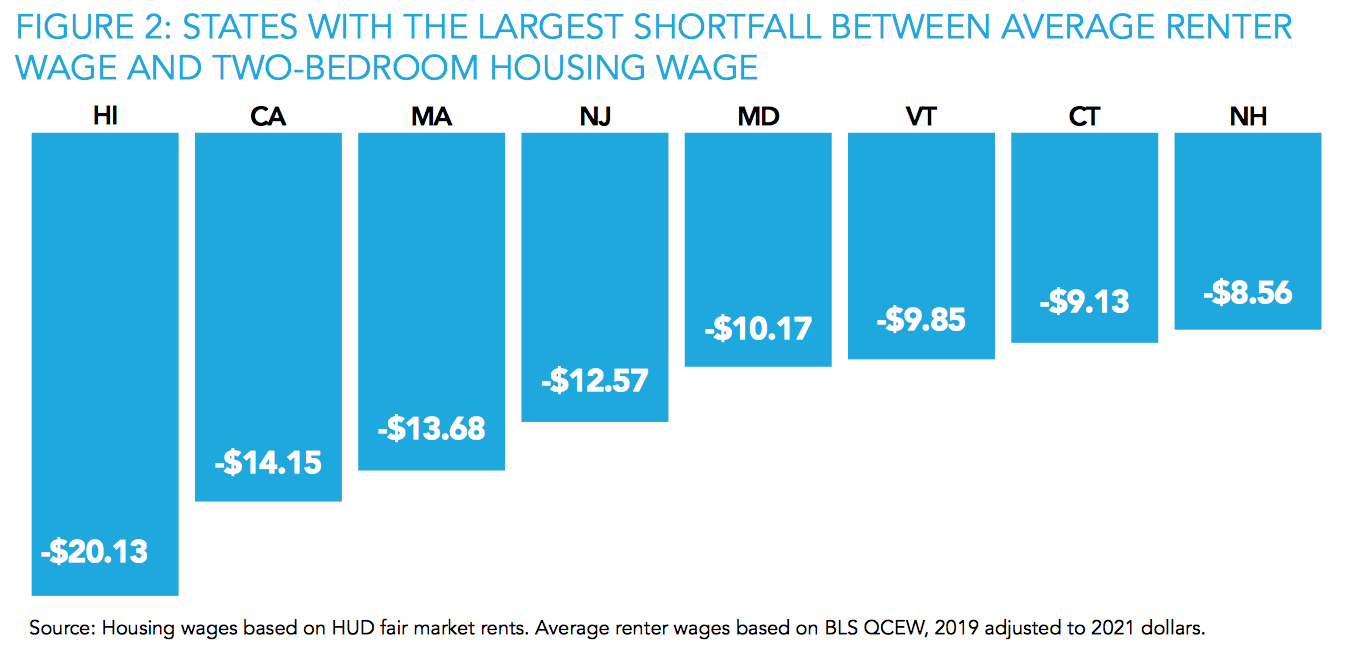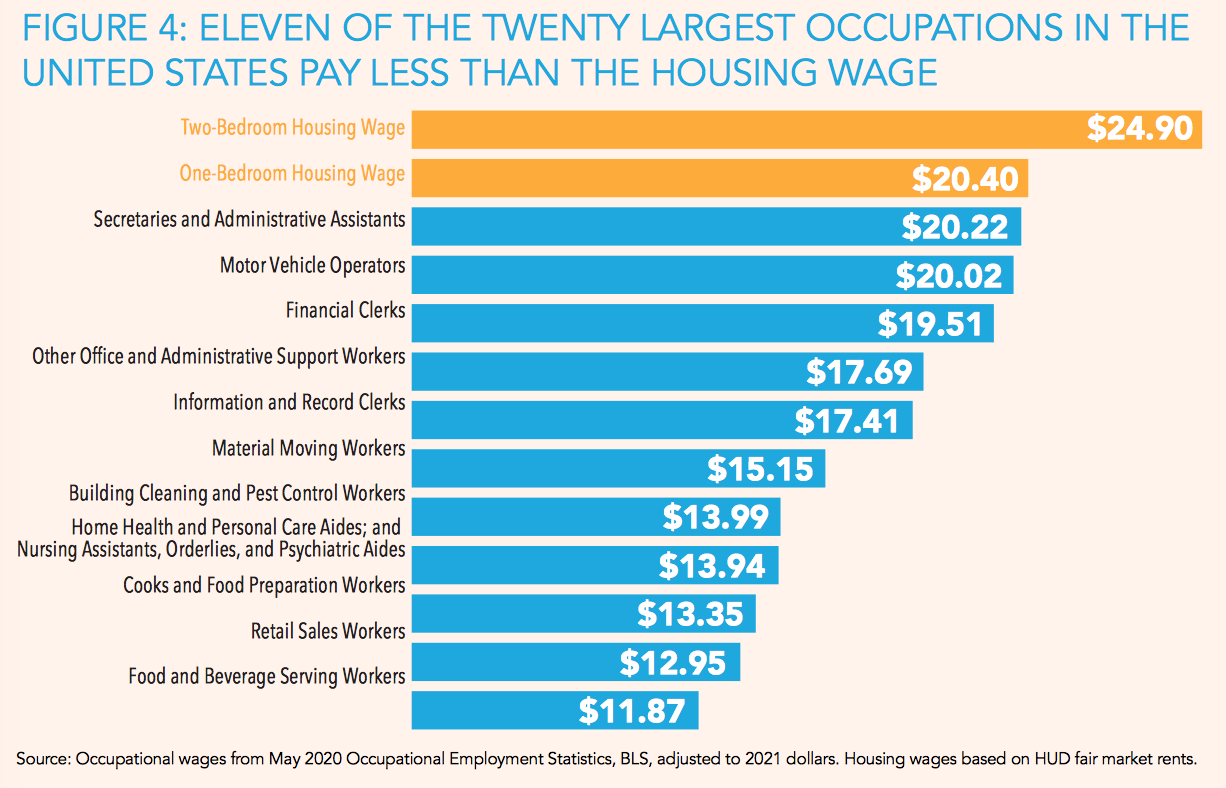 You can look at costs on a county by county and major metro area state by state. The Guardian developed charts of its own using that data: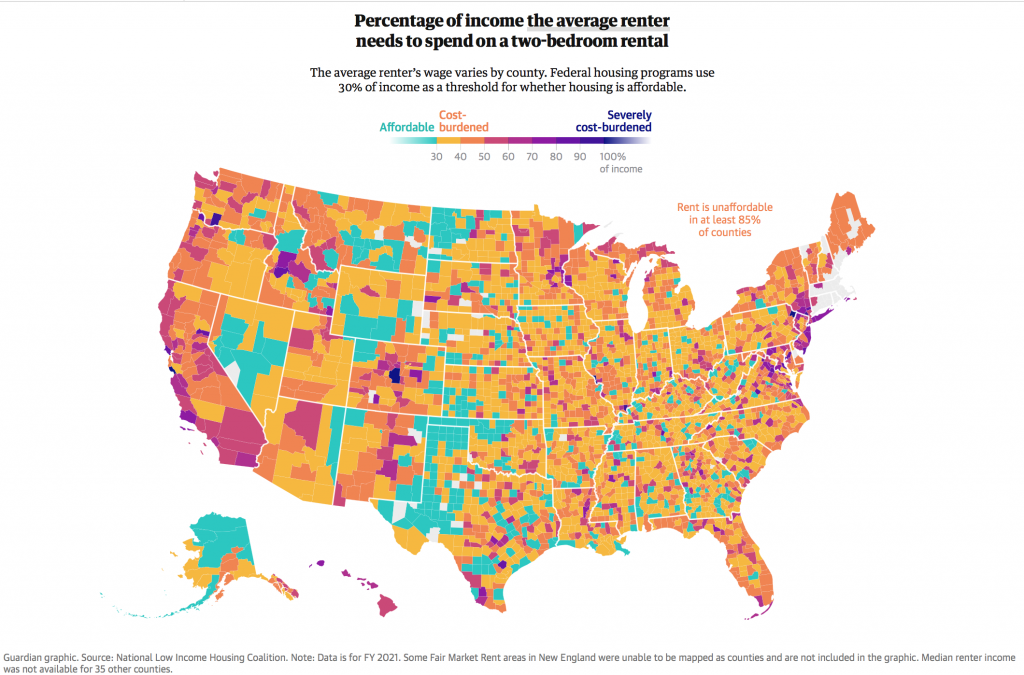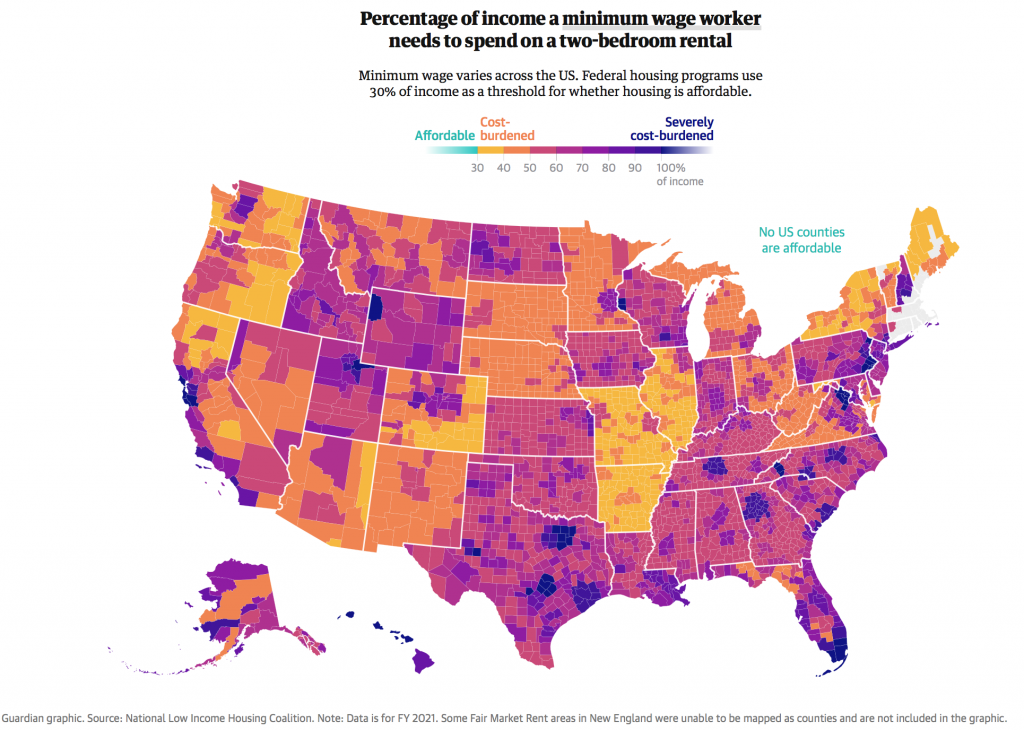 And Covid has made matters worse:
Prior to the pandemic there were only 37 affordable and available rental homes for every 100 renter households with extremely low incomes (NLIHC, 2021b), and every state and nearly every county in the U.S. lacked an adequate supply. As a result of this shortage, 85% of extremely low-income renters could not afford their rent, and 70% were spending more than half of their incomes on housing costs. Severely housing cost-burdened households have to sacri ce other basic necessities to pay the rent— to cut back on basic nutrition or forgo needed medical care, for instance. While many renters struggle to nd affordable housing, the affordable housing shortage is predominantly a problem for renters with extremely low incomes. Extremely low-income households account for only 25% of all renters, yet they account for 72% of all severely housing cost-burdened renter households.
The Guardian has an impressive and way to large to embed chart showing rent changes from February 2020 to July 2021. Despite the widespread schadenfreude over sky-high rents in San Francisco and New York City taking a beating, rents in most cities have gone up:
A handful of metropolitan areas remain below their pre-pandemic pace, mostly held back by the slower recovery for pricey rentals. San Francisco (-7%), New York (-7%), Boston (-3%) and Seattle (-1%) are not fully back to pre-pandemic prices.

But since February 2020, average prices in 82 of 101 of the top US metro areas increased more than 5%. Among the cities with the largest increases are Boise, Idaho, (+21%), Riverside, California, (+17%), and Phoenix, Arizona (+17%).
The report recommends a set of very sensible policies, the most important of which is constructing more affordable housing, along with providing incentives to keep older units in service rather than replace them with upper income properties, stronger tenant rights, and emergency rental assistance. But it's hard to see how we get from A to B, with too many on the high end of the food chain benefitting from keeping ordinary people desperate and therefore subservient.
00 Out of Reach rent