Paper wasp nests have a secret fluorescent glow Popular Science. Only after the second martini.
New company is trying to resurrect the woolly mammoth to combat climate change The Hill
Widespread lapses in climate risk reporting found in company accounts FT. "Sun Slated to Appear in East."
KNP Complex of fires grows, crosses Highway 198 in Sequoia NP Wildfire Today
Digital Currencies Pave Way for Deeply Negative Interest Rates WSJ
For the Most Pronounced CBDC Enthusiasm, Look to the Underbanked Morning Consult
Senators demand cryptocurrency regulation guidance from SEC Chair Gary Gensler CNBC
#COVID19
U.S. judge blocks N.Y. vaccine mandate for healthcare workers Reuters

An underrated way to boost global vaccine supply Matt Yglesias, Slow Boring. "We need western regulators to cooperate with Chinese producers." He's not wrong!

* * *

Effectiveness of the first component of Gam-COVID-Vac (Sputnik V) on reduction of SARS-CoV-2 confirmed infections, hospitalisations and mortality in patients aged 60-79: a retrospective cohort study in Argentina The Lancet. From the Abstract: "The results of this study carried out in real life settings indicate that the first component of Gam-COVID-Vac vaccine prevents 78·6% % of laboratory-confirmed SARS-CoV-2 infections, 87·6% of hospitalisations and 84·8% of deaths at 21–83 days after vaccination in a population from 60 to 79 years of age; this data is consistent with previous knowledge on the issue… Undoubtedly, the complete schedule of vaccination should be the standard of care since it confers maximum effectiveness. However, if the first dose has an acceptable performance in decreasing infections, hospitalisations and deaths due to COVID-19, delaying the second dose will allow vaccination of a higher proportion of the population in a panorama of vaccine scarcity."

Autoantibodies neutralizing type I IFNs are present in ~4% of uninfected individuals over 70 years old and account for ~20% of COVID-19 deaths Science. n= 3595. From the Discussion: "We report that at least 20% of patients over 80 years of age with life-threatening COVID-19 pneumonia carry circulating auto-Abs… These auto-Abs provide an explanation for the major increase in the risk of critical COVID-19 in the elderly. This increase with age is consistent with studies of various auto-Abs since the 1960s… Our findings have immediate clinical applications." Also in Science, in the vulgate: "Rogue antibodies involved in almost one-fifth of COVID deaths."

* * *

A conversation with Bill Gates on how public health has fared in the midst of the pandemic STAT

Covid-19 and the new merchants of doubt British Medical Journal

How Walgreens' sloppy Covid-19 test registration system exposed patient data Recode
China?
Myanmar
U.S. and China Reach Deal to Block Myanmar's Junta From U.N. Foreign Policy. That wasn't on my Bingo card!

Myanmar violence mounts after shadow government embraces 'war' FT

Myanmar's new "People's Defensive War" Asia Media Centre. A review of the bidding.
Laos Authorizes Cryptocurrency Trial Program The Laotian Times. For this, they're damming the Mekong?
Indonesian intelligence agency compromised in suspected Chinese hack The Record
India
India's COVID-19 vaccination drive: key challenges and resolutions The Lancet

India considers resuming vaccine exports soon, focus on Africa, says source Reuters

Indian Stocks Outpacing World by Most Since 2018 Emboldens Bulls Bloomberg
The Koreas
South Korea successfully tests submarine-launched ballistic missile: Blue House Channel News Asia
Syraqistan
Netanyahu corruption witness dies in Greece plane crash Deutsche Welle. Oh.

Larry Ellison, Netanyahu Trial Witness, Offers ex-PM Seat on Oracle's Board Haaretz

Iran is a MONTH away from having enough fuel for a nuclear weapon, International Atomic Energy Agency warns: Pressure grows on Biden to act Daily Mail
EXCLUSIVE WHO-backed vaccine hub for Africa to copy Moderna COVID-19 shot Reuters
What Tigray Portends: The Future of Peace And Security in Africa War on the Rocks
UK/EU
UK to offer Covid vaccines to 12-to-15-year olds as part of winter plan FT
The Caribbean
Venezuela's New Lettuce-Based Economy Is Good Enough for Now NYT

Charges against PM Henry, now banned from leaving Haiti, requested in Moïse murder Haitian Times
New Cold War
U.S. reassures allies over Nord Stream 2 but says it's a 'reality' Reuters

'The Leftward Turn Is Inevitable': In Lenin's Hometown, Russian Communists Strive for Soviet Revival Moscow Times
Biden Administration
Recall Election: Voters Resoundingly Defeat Recall Of Gov. Gavin Newsom San Francisco Chronicle. You can't beat something with nothing.
Democrats en Deshabille
Once Again, Everyone Is Talking about What AOC Is Wearing Vanity Fair
Trump Legacy
Gen. Milley feared Trump might launch nuclear attack, made secret calls to China, new book says USA Today. Commentary:

#BREAKING Formerly an island of stability in a troubled region, the oil-rich North American nation, strategically located on the Mexico-Canada border, has suffered election violence, deadly disease, natural disasters and ethnic killings, with millions displaced and going hungry.

— gathara (@gathara) September 15, 2021
Class Warfare
The Teamsters File for First Union Election at an Amazon Warehouse in Canada Vice

Five Recent Labor Struggles You Should Know About TESA. The media blackout on the Warrior Met strike has been a little too obvious.

The Great Divide: Education, Despair and Death Anne Case & Angus Deaton, NBER. From the Abstract: "Concurrently, all-cause mortality in the US is diverging by education—falling for the college-educated and rising for those without a degree—something not seen in other rich countries. We review the rising prevalence of pain, despair, and suicide among Americans without a BA. Pain and despair created a baseline demand for opioids, but the escalation of addiction came from pharma and its political enablers. We examine 'the politics of despair,' how less-educated people have abandoned and been abandoned by the Democratic Party. While healthier states once voted Republican in presidential elections, now the least-healthy states do. We review the evidence on whether or not deaths of despair have risen during the COVID pandemic. More broadly, excess mortality from COVID has not increased the ratio of all-cause mortality rates for those with and without a four-year degree, but has instead replicated the pre-existing mortality ratio."
What animals think of death Aeon (AL).
A Wrong Number, Whoadies, and Whispers in the Night The Bitter Southerner
Antidote du Jour (via):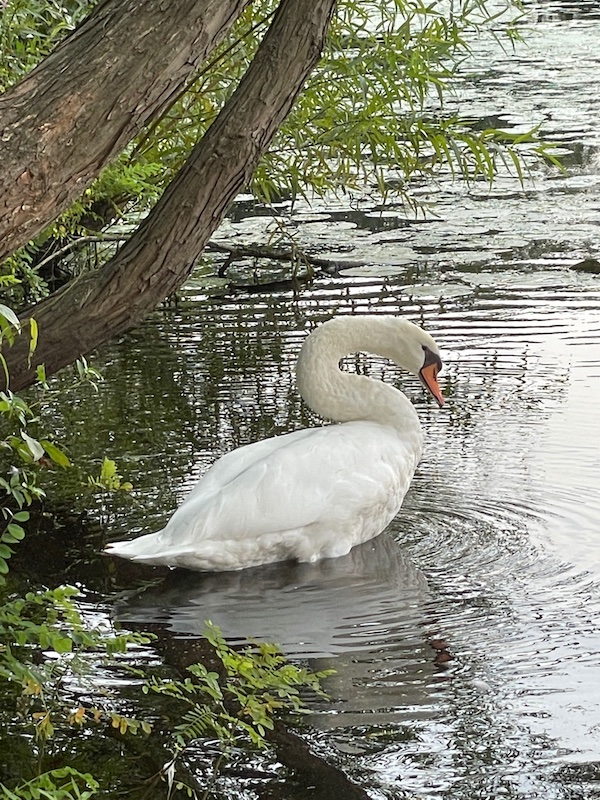 Bonus Antidote (Furzy Mouse):
Double Bonus Antidote:
Shrimp using water tension to make their way back to water pic.twitter.com/rUhN71CNDD

— Science Videos (@dailysciencevid) September 11, 2021
See yesterday's Links and Antidote du Jour  here.