Wildlife Photographer of the Year: 'Explosive sex' wins top prize BBC (Rev Kev).
Two Decades of Data Show That Earth Is 'Dimming' as The Planet Warms Up Science Alert (AL).
Stagflation Echo Chamber Heisenberg Report
Freight rates drop on popular shipping routes in sign that supply chains normalise soon Hellenic Shipping News
Global carbon capture projects surge 50% in 9 months -research Reuters
Why Climate Policy Has Failed Foreign Affairs
Gradually, Then Suddenly Barry Ritholtz, The Big Picture. I think Ritholtz is confusing incremental change with a teleology of progress.
Why Do Species Get a Thin Slice of π? Revisiting Lewontin's Paradox of Variation Vince Buffalo. Dense, but fascinating.
Nobel-prizewinning 'natural experiments' approach made economics more robust, say researchers Nature
#COVID19
I'm old enough to remember when the "crisis" for 2022 was going to be @POTUS' failure to open schools.

"96[%] of public schools have reopened for in-person instruction. And the first week in October saw the smallest number of school closures…."https://t.co/3Dv2laNFbB

— Ronald Klain (@WHCOS) October 12, 2021
US overtakes China as biggest bitcoin mining hub after Beijing ban FT
China?
Mongolia's missing millions: What happened to a decadelong mining boom Nikkei Asia
Myanmar
Myanmar coup: ex-president Win Myint testifies he refused to resign, would 'rather die' Associated Press. "[T]wo senior army officers entered his room and solicited his resignation as president on the grounds of ill health." Yeah, like he'd get whacked if he didn't. Sopranos-level crudity.

No easy exit for investors from post-military takeover Myanmar Nikkei Asia. Not even diplomacy:

So we've hit a point where rah-rah US statements about standing with Myanmar's people don't count for much.

As Myanmar's revolutionary govt recently put it: "The international community obviously cannot be relied upon to intercede on behalf of the democracy movement." (7/8)

— Patrick Winn (@pwinn5) October 11, 2021

Since the United States has form, we know it would butcher the job if it intervened in Myanmar, so this may be a blessing in disguise.
Syraqistan
Afghanistan: Taliban meet with EU, US representatives as G20 holds special summit Deutsche Welle

Beirut blast probe frozen again as judge issues arrest warrant Euronews

Why the Soviet Experience Was Not Useful to the United States in Afghanistan and Iraq Valdai Discussion Club
Crypto trading thrives in Nigeria despite official disapproval Channel News Asia
UK/EU
Roquefort makers feeling blue over nutritional scoring system that 'defies heritage' Euronews
Biden Administration
Big US businesses pledge to extend working hours to ease supply chain backlogs FT

Luria's plea to give Biden full authority to attack China is folly Responsible Statecraft. Luria is, of course, a Democrat.

DHS chief directs immigration authorities to halt workplace raids and shift their focus to 'unscrupulous' employers CNBC
Intelligence Community
Feds to release nontoxic particles, gases in NYC subway as part of terrorism study NY Daily News. Oh.

From Russian revolutionary to CIA agent in one generation Yasha Levine, Immigrants as a Weapon

Fear Itself Forever Wars
Police State Watch
Oh Great They're Putting Guns On Robodogs Now Caitlin Johnstone (Furzy Mouse). Furzy Mouse: "But of course!" Kill them with fire:

We got a rare peek at Boston Dynamics' office in Massachusetts, where the team showed off 2 of the robots they are working to commercialize: Spot and Stretch. 👀 https://t.co/nWZebaTC9l pic.twitter.com/1XQs0VBtgH

— CNBC (@CNBC) October 12, 2021

"Rare peek," my Sweet Aunt Fanny. It's a photo op, and they're not rare.
Health Care
Talk to Your Doctor. TALK to Your Doctor. Talk to Your DOCTOR. Gawker
Groves of Academe
U.S. youth crisis goes way beyond Instagram Will Bunch, Philadelphia Inquirer
Black Injustice Tipping Point
Boston police arrested a Black man having a stroke. After $1.3 million payout, it's unclear if anything's changed WBUR
AI Is No Match for the Quirks of Human Intelligence MIT Press Reader
A leaky robot Couchfish
Class Warfare
On Eve of Contract Negotiations, Harvard Custodians Rally Against Their Own Union Leadership Harvard Crimson

It's almost as if there's such a thing as class warfare:

Tens of thousands of workers across the US are fighting for higher wages and better conditions.

Health care workers. Film & TV workers. Kellogg's workers. John Deere workers. Seattle carpenters. Alabama miners.

This is a massive uprising of labor. Why won't the media cover it?

— Robert Reich (@RBReich) October 12, 2021

Working for companies owned by well-heeled private-equity firms can mean lower wages for employees NBC
NYC's Public Libraries Eliminate Late Fees Gothamist
Community fridges are not a pandemic fad. They've become entrenched in neighborhoods as a way to fight hunger. The Counter
Hurricane Ida in Louisiana: Caskets, vaults still displaced AP
The power of Dionysus—Effects of red wine on consciousness in a naturalistic setting PLOS One. n=102. " Red wine increased pleasure and arousal, decreased the awareness of time, slowed the subjective passage of time, increased the attentional focus on the present moment, decreased body awareness, slowed thought speed, turned imagination more vivid, and made the environment become more fascinating. Red wine increased insightfulness and originality of thoughts, increased sensations of oneness with the environment, spiritual feelings, all-encompassing love, and profound peace. All changes in consciousness occurred regardless of volunteers drinking alone, in dyad or in group. Men and women did not report different changes in consciousness. Older age correlated with greater increases in pleasure. Younger age correlated with greater increases in fascination with the environment of the wine bar. Drinking wine in a contemporaneous Western environment designed to enhance the pleasurableness of the wine drinking experience may trigger changes in consciousness commonly associated with mystical-type states."
Antidote du Jour (via):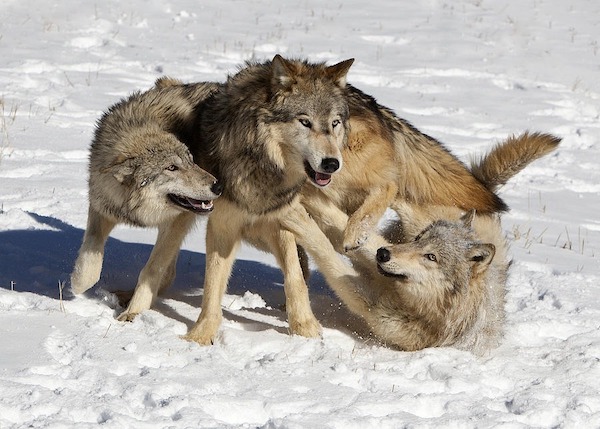 Bonus Antidote:
Huge leap! ? pic.twitter.com/437RH1HwcU

— Buitengebieden (@buitengebieden_) October 12, 2021
See yesterday's Links and Antidote du Jour here.