Many of you may think that money management is a tiresome subject, on the same plane as accounting except the practitioners generally wear better suits.
If you think that, you've just admitted to not understanding one of the big reasons why the rich keep getting richer. Specifically: asset managers are twice as likely to become billionaires as technologists. And during the period when economists were looking at what was causing the post-financial-crisis "secular stagnation," many papers, even one by the IMF, concluded that overdeveloped financial sectors were a major part of the problem. And the asset management industry was the biggest drain of resources.
A new paper by retired chairman of EnnisKnupp and a past editor of Financial Analysts Journa. Richard Ennis. gives a window into how these results come about. We've embedded it at the end of this post.
Ennis evaluated the performance of large US endowments over 47 years. The reason endowments matter is that they are considered to be the most best and the brightest among big investors. For instance, Harvard Business School finance professor Josh Lerner in a presentation to CalPERS depicted endowments as the investors to emulate and pointed to how they did much better than public pension funds in private equity as proof of endowments' superior acumen.
Ennis's analysis paints an extremely unflattering picture. One way to summarize it is that endowments' staff and their outside managers have added negative value, or in finance-speak, negative alpha. Note that Ennis' estimate is charitable since he does not add in the cost of the endowments' investment offices, which run to 0.50% to 0.75% of assets. And on top of that, all of their machinations, um, exercises in diversification, have achieved absolutely nothing. Their results are functionally the same as being fully invested in US equities. From his overview:
Endowments have underperformed by 2.5% per year over the 13 years ended June 30, 2021. I estimate that endowments' annual cost of investing is approximately 2.6% of asset value. Given the extreme diversification of the composite, which comprises more than 100 large endowment funds with an average of more than 100 investment managers each, there is every reason to believe that cost is the principal cause of endowments' poor performance. During the most recent 5–7 years, which I refer to as the Modern Era, endowments have exhibited an effective US equity exposure of 97% of asset value, with frictional cash accounting for 3%. The overwhelming exposure to the US equity market raises important strategic questions related to risk tolerance and diversification for trustees and fund managers.
He spells out his methodology later:
Exhibit 10 shows the results of regressing composite returns on those of a benchmark comprising 97% US equity and 3% investment-grade bonds for the six years ending June 30, 2021. The composite has a beta relative to the benchmark of 1.0 and an R2 of 0.998 (tracking error of 0.8%). Exhibit 10 also indicates an intercept (alpha) of -4.2%. In other words, the composite has fluctuated just like a total US stock market index fund (with 3% frictional cash) in terms of its fluctuations during the Modern Era, but has underperformed such a portfolio by 4.2% a year.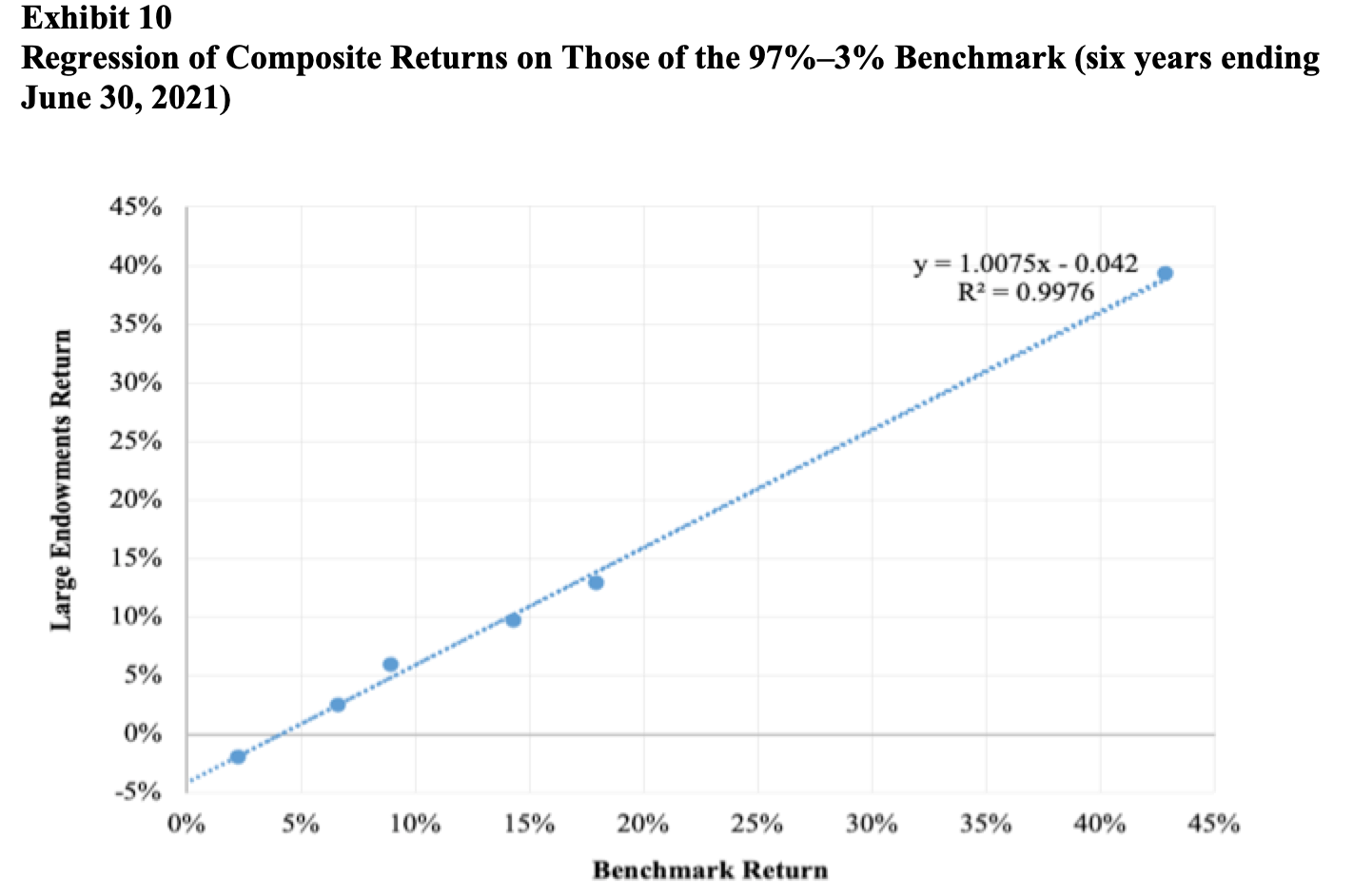 Note that Ennis had come to similar negative conclusions about endoments' results in an earlier paper studying the ten years ended June 30, 2018:

And what is even more surprising about endowments achieving mere equity market returns with a lot more brain damage is that they have very high commitments to private equity. Gee, wasn't private equity supposed to deliver performance that no other investment strategy could match? This table covers the 13 years ended June 30, 2021: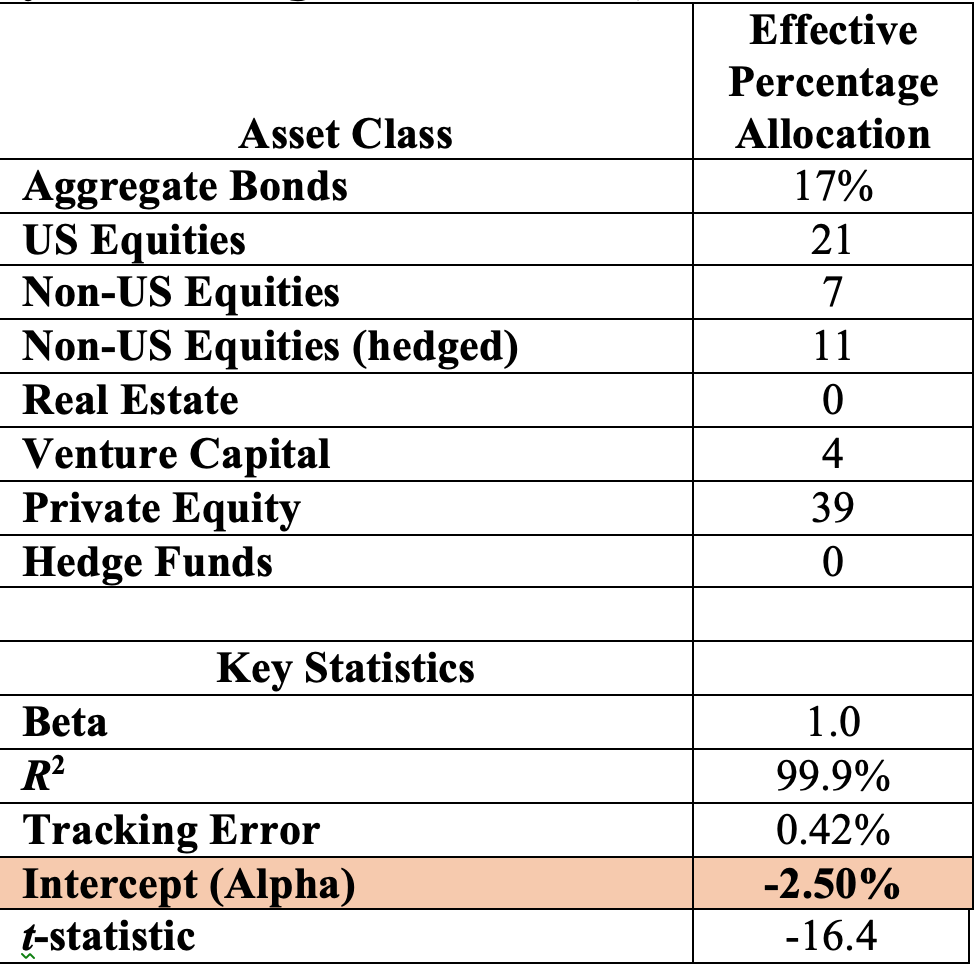 This outcome is old hat for those who follow Oxford Professor Ludovic Phalippou. As we wrote in 2018:
The premise that private equity delivers returns better than that of public stocks has fallen apart as more and more money has chased a not-comparably-expanding universe of deals. Private equity as a share of the global equity markets has more than doubled since the early 2000s. Despite private equity funds having record levels of "dry powder," meaning committed but unspent cash, more and more investors are throwing money at the strategy out of desperation to achieve higher returns.

We've also pointed out that fiduciaries like CalPERS have continued to be fanatically loyal to private equity even when its own metrics have said private equity isn't earning enough in the way of returns over the last ten years to justify its extra risks.

Recent work by Oxford professor Ludovic Phalippou, one on the few academics not beholden to the private equity, paints an even grimmer picture of how the private equity industry has performed since 2006. As described in the Financial Times, Phalippou ascertained, using what he describes as conservative (meaning private equity industry favoring) assumptions, that the private equity industry only matched the S&P 500 benchmark. This is particularly damning, since as we have described repeatedly in past posts, the use of the S&P 500 is flattering to private equity by virtue of its average company size being much larger than typical private equity portfolio company sizes, hence you'd expect a higher growth rate. And for newbies, do not forget that the rule of thumb is that private equity should outperform the relevant public equity benchmark by 300 basis points (3%)…

In fact, if you read Phalippou's blog post, which gives a more detailed description of his analysis, he did indeed bend over backwards to be fair, and arguably more than fair to private equity managers.
And Ennis came to similar conclusions in his study of results through 2018. As we recapped:
Educational endowments did even worse than public pension funds due to their higher commitment level to "alternative" investments like private equity and real estate. Ennis explains that these types of investments merely resulted in "overdiversification." Since 2009, they have become so highly correlated with stock and bond markets that they have not added value to investment portfolios.
We've said more than once that Buffett explained this al in his parable of the Gotrocks family, which owns all US corporations. All is well until some Helpers appear and persuade some family members to try to out-do their relatives…for fees, of course. They go through more and more iterations…first by trading and incurring transaction fees, then by hiring fund managers, then hiring consultants, then adding in "hyper helpers" from private equity and hedge funds that claim they can do better by virtue of being paid even more.
The result, per Buffett:
And that's where we are today: A record portion of the earnings that would go in their entirety to owners – if they all just stayed in their rocking chairs – is now going to a swelling army of Helpers. Particularly expensive is the recent pandemic of profit arrangements under which Helpers receive large portions of the winnings when they are smart or lucky, and leave family members with all of the losses – and large fixed fees to boot – when the Helpers are dumb or unlucky (or occasionally crooked). A sufficient number of arrangements like this – heads, the Helper takes much of the winnings; tails, the Gotrocks lose and pay dearly for the privilege of doing so – may make it more accurate to call the family the Hadrocks.
But of course, the mistake with fiduciaries like endowments and public pension funds is treating them as being in the business of trying to get the best results for their beneficiaries. If they were, they'd put the assets in a fairly small number of index funds and enjoy their simpler lives and higher returns. But money management is about liability avoidance, which means going through the motions of asset allocation, manager due diligence, selection, and ongoing review. And since more complexity justifies higher pay, this whole system is yet another self-licking ice cream cone.
00 Ennis The Modern Endowment Story