Maryland homeowner burned down house trying to fight snakes WTOP
'Metaverse' hype fuels booming digital property market Agence France Presse (Furzy Mouse).
The Internet's Casino Boats Stephen Diehl
John Rolle, the Bahamian Banking Pioneer Bloomberg
China's Yutu 2 rover spots cube-shaped 'mystery hut' on far side of the moon Space.com
Private space stations are coming. Will they be better than their predecessors? The Conversation
Climate
Why Are There So Many Kinds of Phytoplankton? Hakai Magazine
#COVID19
Many Omikron cases after Christmas lunch and concert (Google translation) TV2. Parallel to the Oslo omicron superspreader event, discussed here.

Epidemiological update: Omicron variant of concern (VOC) – data as of 5 December 2021 (12.00) European Centre for Disease Prevention and Control. "Cases have been reported by 17 countries… The majority of confirmed cases have a history of travel to countries in Africa…. [U]ndetected community transmission could be ongoing in [Belgium, Germany, and Spain]…. All cases for which there is available information on severity were either asymptomatic or mild. No deaths have been reported among these cases so far." Death lags, so yes, "so far."

COVID-19 Post-acute Sequelae Among Adults: 12 Month Mortality Risk Frontiers in Medicine. n=13,638, patients at the University of Florida Hospital system. From the Abstract:

"The 12-month adjusted all-cause mortality risk was significantly higher for patients with severe COVID-19 compared to both COVID-19 negative patients (HR 2.50; 95% CI 2.02, 3.09) and mild COVID-19 patients (HR 1.87; 95% CI 1.28, 2.74). The vast majority of deaths (79.5%) were for causes other than respiratory or cardiovascular conditions…. In a time when nearly all COVID-19 hospitalizations are preventable this study points to an important and under-investigated sequela of COVID-19 and the corresponding need for prevention."

An upper bound on one-to-one exposure to infectious human respiratory particles PNAS. From the Abstract:

We find, for a typical SARS-CoV-2 viral load and infectious dose, that social distancing alone, even at 3.0 m between two speaking individuals, leads to an upper bound of 90% for risk of infection after a few minutes. If only the susceptible wears a face mask with infectious speaking at a distance of 1.5 m, the upper bound drops very significantly; that is, with a surgical mask, the upper bound reaches 90% after 30 min, and, with an FFP2 mask, it remains at about 20% even after 1 h. When both wear a surgical mask, while the infectious is speaking, the very conservative upper bound remains below 30% after 1 h, but, when both wear a well-fitting FFP2 mask, it is 0.4%. We conclude that wearing appropriate masks in the community provides excellent protection for others and oneself, and makes social distancing less important.

Chart:

(FFP2 is a European mask standard equivalent to N95). "Adjusted" means "well-fitted to the face." And here is a very long thread for mask geeks:

😷 Can you turn your surgical mask into a well-fitting mask? YES with a « mask brace » & free template to make one (see elastic band hack in next tweet) https://t.co/mTBDhKs1Yd

— Orla Hegarty (@Orla_Hegarty) December 5, 2021

The impact of population-wide rapid antigen testing on SARS-CoV-2 prevalence in Slovakia Science. Concluding paragraph:

"The combination of nationwide restrictions and mass testing with quarantining of household contacts of test positives rapidly reduced the prevalence of infectious residents in Slovakia. Although it was impossible to disentangle the precise contribution of control measures and mass testing, the latter is likely to have had a substantial effect in curbing the pandemic in Slovakia and may provide a valuable tool in future containment of SARS-CoV-2 elsewhere."

Cruise ship with 10 positive COVID cases heads for New Orleans, health officials say Miami Herald (Furzy Mouse).
China?
2/2
of this article is the forced extension and partial restructuring of liabilities aimed at forestalling the recognition of large losses. We have seen this happen in every case of a large prospective default since at least May 2019 (Baoshang Bank)

— Michael Pettis (@michaelxpettis) December 4, 2021
Myanmar
Five dead after Myanmar security forces ram car into Yangon protest – media Reuters

Myanmar's top general Min Aung Hlaing is strangling a democracy. What will the west do about it? Guardian

Aung San Suu Kyi: Myanmar's deposed leader receives four-year jail sentence Sky News
Syraqistan
Iran walks back all prior concessions in nuclear talks, US official says Guardian

What AIPAC Is Telling Congress on Biden's Iran Negotiations Haaretz
UK/EU
ESA head says Europe needs to stop facilitating Elon Musk's ambitions in space Ars Technica

Seeing justice through a fog of anger Robin McAlpine. The Craig Murray case.
New Cold War
US intelligence-sharing convinces allies of Russian threat to Ukraine FT. And the deck: "Sceptical capitals including Berlin persuaded of the need to draw up threat of robust sanctions."

Ukraine could be 'next Afghanistan' for Russia if it invades, US senator warns Guardian. The mountains? The opium? Pakistan?

War in Ukraine? NATO expansion drives conflict with Russia (podcast) Aaron Maté, Pushback
Biden Administration
What an America Without Roe Would Look Like NYT. Handy map:

U.S. Military Has Acted Against Ransomware Groups, General Acknowledges NYT
Bob Dole, a man of war, power, zingers and denied ambition AP
Democrats en Deshabille
Voting rights advocates frustrated by 'same-old, same-old' meeting with White House Guardian

Saving Democracy Will Require Institutional and Civil Resistance at All Levels David Atkins, Washington Monthly (DCBlogger).
Supply Chain
The Supply-Chain Mess Daron Acemoglu, Project Syndicate

Empty containers at Southern California ports can reportedly be seen 'strewn throughout the region' from 80 miles away WSJ

Amazon is making its own containers and bypassing supply chain chaos with chartered ships and long-haul planes CNBC (Rev Kev).
L'Affaire Joffrey Epstein
At Ghislaine Maxwell sex trafficking trial, lurid photos from Epstein home barred by judge Miami Herald
Our Famously Free Press
Has anyone checked on Twitter? Is Twitter alright?

So glad @TwitterSafety is finally cleaning this place up. https://t.co/2z5h4HK1XQ

— Civil War Humor (@CivilWarHumor) December 5, 2021
Black Injustice Tipping Point
'This has been happening for a long time': Modern-day slavery uncovered in South Georgia Atlanta Journal-Constitution (Re Silc).
Imperial Collapse Watch
'Fools, drunks, and the United States of America' James Fallows, Breaking the News

The Bay Area Crime Wave The Discourse Lounge. A long thread, with images of a boarded up downtown San Francisco:

First – the thread. It has reached about 15 million impressions – driven primarily by critics and trolls.

Here are the stats just of the first tweet.

Linked here: https://t.co/JCKdbBGXzA pic.twitter.com/8aM15QnqZQ

— Michelle Tandler (@michelletandler) December 5, 2021

Worth a read, but note the brands.
Class Warfare
"Identity Politics and Culture Wars" Rhyd Wildermuth, From the Forests of Arduinna. Glenn Greenwald, Judith Butler, and Cornel West.
Kinematic self-replication in reconfigurable organisms PNAS. From the Abstract:
We find that synthetic multicellular assemblies can also replicate kinematically by moving and compressing dissociated cells in their environment into functional self-copies. This form of perpetuation, previously unseen in any organism, arises spontaneously over days rather than evolving over millennia. We also show how artificial intelligence methods can design assemblies that postpone loss of replicative ability and perform useful work as a side effect of replication.
What could go wrong? Here is a popularization.
Antidote du jour, bird (via):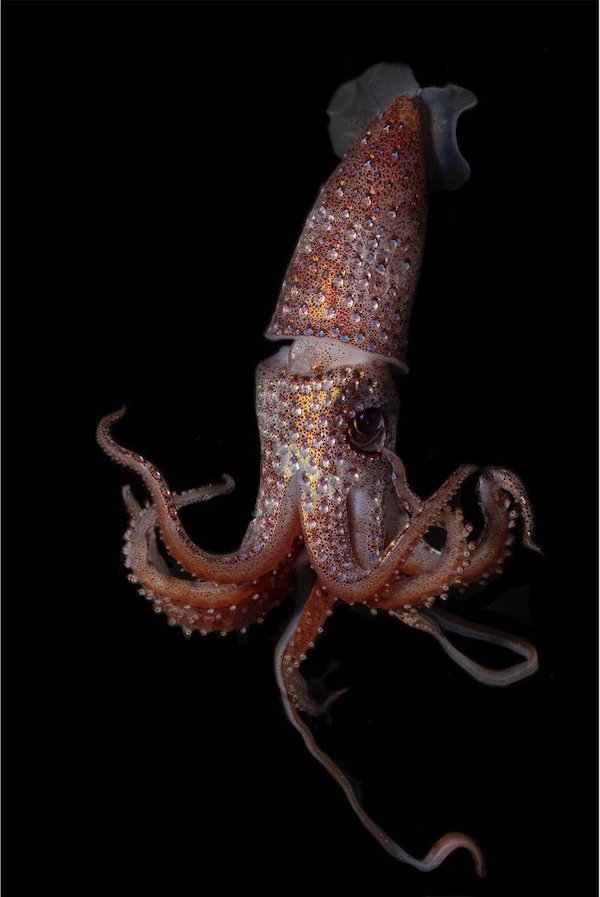 All squids are not vampires.
Bonus antidote:
In a world where you can be anything, be kind.. ? pic.twitter.com/mhzz4PeFQm

— Buitengebieden (@buitengebieden_) December 5, 2021
See yesterday's Links and Antidote du Jour here.