A brief update on the state of Omicron. We are still very much in informational fog. Again there is a disconcerting shortage of actual hard information, except for evidence that it is spreading rapidly in some areas, such as New York City, with its test positivity rate doubling in 72 hours.
The only sort of good news, as GM points out, is with Omicron cases rising so rapidly in New York and Florida, we'll have a much better picture of Omicron severity, as opposed to spread, pretty soon.
Forgive me for looking hard for the flaws in some of the optimistic takes on emerging information. While it's possible they will be largely correct, the bias is overwhelmingly towards positive interpretations. Yet at this stage, the precautionary principle argues strongly for looking for and preparing for the downside, and easing up only when solid favorable findings comes in.
One factoid that looks encouraging is that infections and hospitalizations in South Africa are starting to retreat.1 However, we don't yet know if this pattern will be sustained or if it translates to other countries.
Why is SA's death rate the same as it was 4-6 weeks ago? https://t.co/b0pyq2ybts pic.twitter.com/DFJHVdypIn

— Doug Henwood (@DougHenwood) December 17, 2021
Recall that when the UK had its July 19 Covid restrictions "Freedom Day," many including yours truly expected the obvious, that case counts would rise. Instead they fell. Was it due to summer? To widespread criticism of the Johnson move leading some to adopt subtle or overt protective measures, like going to stores at off hours, masking more, or even just being more vigilant about not getting close to others in public?
By early August, many US outlets were saying the UK had proved that Delta could be controlled. But then a new Delta wave began in October, with public health experts calling for new restrictions. Recall that a UK study in August had also found that the risk of hospitalization was twice as high with Delta as with Alpha, although that hasn't been reflected in official statistics due to rising vaccination rates.
Some Twitterati were also finding good news in a recap of how the participants in the Oslo Christmas party were faring. Recall most got Covid despite being vaccinated and by virtue of some having been confirmed as having Omicron, the authorities have assumed that the majority did. However, it is hard to conclude much except a high attack rate (70%) isn't so hot, by virtue of the fact that 3/4 are still sick:
https://www.fhi.no/en/news/2021/preliminary-findings-from-outbreak-investigation-after-christmas-party-in-o/
And even though the list of symptoms does not look so bad, fatigue can cover a multitude of sins. Long Covid victims often report regular bouts of absolutely debilitating, mono-level fatigue.
The country with the best population-wide testing is Denmark, and the information from there is much less cheery. One expert worked back from its Omicron cases and Omicron hospitalizations to estimating its severity, as in what proportion of cases wind up in the hospital.
I didn't initially understand how this model worked, but to work from cases to hospitalizations when you have a rapidly rising infection rate, you can solve for the how many cases end up in hospitalization by assuming what the average number of days from testing positive to winding up in a sickbed is.
Below is an early version of the model, with both Delta and Omicron plotted. Then there's a later version with new data of Omicron only.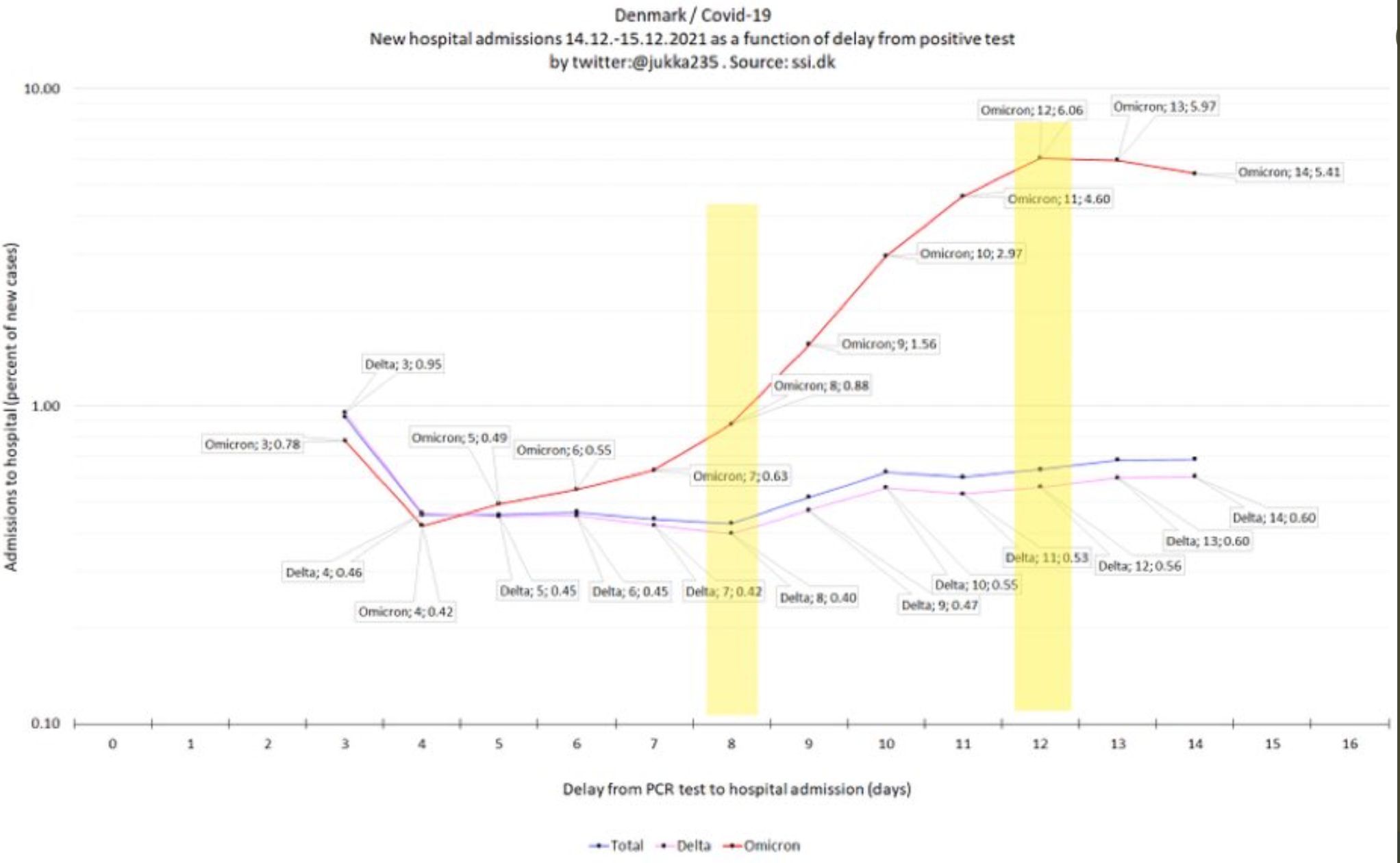 As GM explained:
They are taking the cases and the observed so far hospitalizations, then they are shift them by a given number of days and calculate the hospitalization percentage relative to cases. They don't have the information on the actual time between a PCR positive test and hospitalization — the authorities have that but they have not released such an analysis.

Because it is exploding so fast, the vast bulk of the cases are from the last few days, and because it takes time to actually worsen to the point where you need to be hospitalized, it is hard to judge how severe Omicron is.

This is a way to evaluate the parameter space.

Based on this analysis, there are three possibilities

1. If the time between PCR test and hospitalization is short — 4 days or so — then Omicron will be as bad as Delta has been in Denmark, i.e. 0.5% of cases are hospitalized. This is rather "mild" (there was a time when we were not testing enough and the CFR was 10% in a lot of places), but it is the result of the vaccines reducing severe outcomes for Delta. Thus it would imply that Omicron is inherently less virulent because we have a lot more immune escape in its case.

2. If the time between PCR test and hospitalization is 8-9 days, then Omicron is 1.5-2x worse than Delta and 1% of cases will be hospitalized. Again, this is in a vaccinated population. This could be largely accounted for by antigenic drift and residual protection from the vaccines

3. If the time is 11-12 days, then Omicron is both more severe inherently and it is destroying of the vaccines more than expected.

We have a real problem even in the first scenario just because of how fast it spreads, which means a lot of sick people in a very short period of time.

But option #3 is a complete catastrophe.

The usual time to hospitalization is 8 days, but that is from onset of symptoms.
To underscore GM's point, even in the most favorable "mild" scenario, hospitalization levels are similar to those of Delta. That is a train wreck given its speed of propagation…unless patients respond better to existing therapies, most important oxygen, and so average duration of hospitalization is much lower. Remember we have some bad news already on the treatment front, that Omicron indeed resists all monoclonal antibodies except for GlaxoSmithKline's sotrovimab which may be in short supply. So at the margin, some, perhaps many patients who could have been kept out of the hospital with monoclonal antibodies won't be.
An update of the model with more current information pushes the line upwards, which as I understand translates into more severity. For instance, in the first version, the 1% admissions to cases ratio equated to about 8.5days. In the version below, it's now 6 days. And remember 1% is about twice as bad as Delta: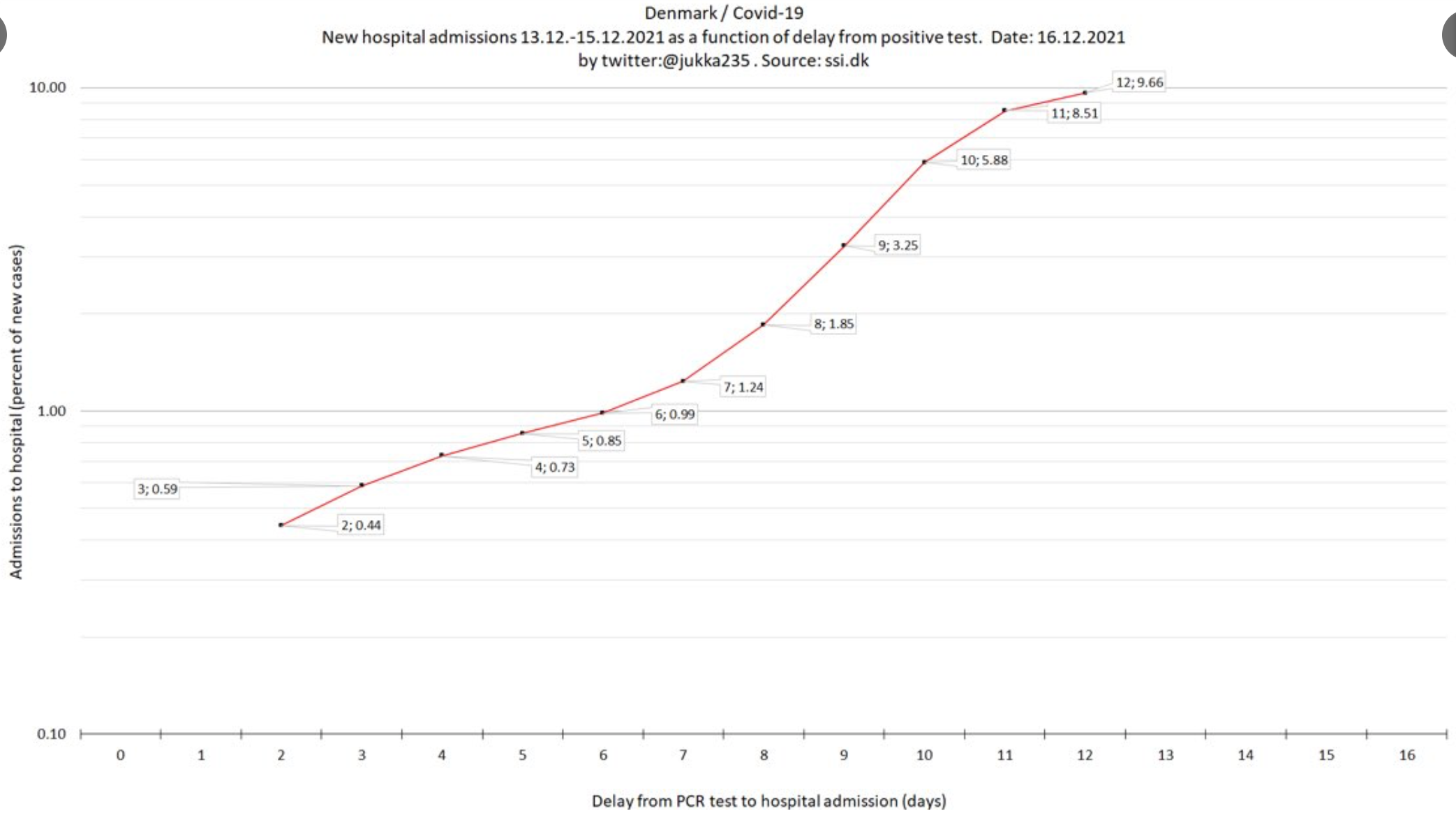 Now perhaps this picture will ameliorate as yet more information comes in. But this sure doesn't look so hot now. Oh, and recall that Denmark is over 90% vaccinated.
And this last sad sighting shows America literally fiddling, well guitaring, as Omicron burns. I am not exaggerating. It's 40 seconds of a mere 3 minute news clip starting at 2:08.
We'd do better if we were led by sheep. At least sheep, to my knowledge, do not run off cliffs all together like lemmings.
____
1 I must pre-debunk a new tweet with South Africa data: https://twitter.com/michaelzlin/status/1471749391585214465. This is yet another example of the desperation to work with available, as opposed to representative/conclusive data leading experts and commentators to ignore obvious bias.
The most recent data in that tweet is for the period Nov 7 to Dec 4. For Omicron, that represents effectively ~Nov 20 to Dec 4, or at most 14 days, and the number of Omicron cases would be heavily weighted towards later in that time frame. Recall were 77 confirmed Omicron cases as of Nov 26. You can assume there were actually 10x as many as of then, but also with a doubling time of three days. Recall also that the initial outbreak occurred on and near a campus, so the first cases would tend to skew towards the early 20s.
That isn't long enough to see deaths. I've looked quickly at some studies. For instance, a large scale study in Belgium for the less nasty wild type (v. Delta) found the median length between symptom onset and hospitalization range between 3 and 10.4 days, while the median length of stay for patients that recovered was between 5 days for the young to 15.7 for the elderly.
Consider also that for the famed Oslo party, which we mentioned above, about 3/4 of the positive cases are not done being sick. They are still symptomatic. The party was November 26.
The chart in the tweet appears to try to finesse this problem by presenting "cases with outcomes". But you can't have outcomes with patients who aren't done having symptoms! With early Covid variants, the pattern was for some patients to be not all that sick, typically 5 to 7 days, and then get worse and need more aggressive treatment, such as monoclonal antibodies or hospitalization. Recall famously that Boris Johnson kept working and then had to go to hospital.
So this chart looks to include only Omicron cases that recovered by December 4, which would effectively select for less severe cases. Again, it may well be that more data will fall in line with these happy findings, but we can't conclude that from this too-short window.