By Lambert Strether of Corrente.
Bird Song of the Day
More winter birds. "Songs and various calls from one of several male birds on open, fairly wet tundra. The songs were a mixture of perched and flight songs." I wonder if the dinosaurs had perched and flight songs (for those dinosaurs that flew).
* * *
Politics
"But what is government itself, but the greatest of all reflections on human nature?" –James Madison, Federalist 51
"They had learned nothing, and forgotten nothing." –Charles Maurice de Talleyrand-Périgord
"When the going gets weird, the weird turn pro." –Hunter Thompson
Biden Adminstration
"Biden administration announces additional purchase of 500,000 AstraZeneca Covid-19 treatment courses" [CNN]. Reading to the end: "Therapeutics aren't just being hampered by small supply. Some doctors are warning CNN they are also hampered by lack of testing to get test results in a timely enough fashion to actually administer doses in the proper window. Pfizer's Paxlovid treatment needs to be administered within five days of symptoms, and GlaxoSmithKline's Sotrovimab monoclonal antibody treatment needs to be administered within seven days. Additionally, some hospitals also say there is simply not enough hospital staff to administer enough monoclonal antibody infusions because of staffing shortages." • Since all of these measures are being rushed into action after the molasses-brained Biden administration dithered for a year, no wonder there are concerns.

"Biden administration announces major new initiatives to clean up the electric grid" [The Verge]. "The Department of Energy is rolling out a 'Building a Better Grid' initiative, which will put federal dollars to work after the recently passed bipartisan infrastructure law allocated $65 billion for grid improvements. Notably, there's $2.5 billion earmarked for new and improved transmission lines that will be crucial for zipping renewable energy from far-flung solar and wind farms to communities. Another $3 billion will go towards smart grid technologies that aim to make homes more energy efficient and reduce pressure on the grid while balancing the flow of intermittent sources of renewable energy like wind and solar. There's also more than $10 billion in grants to states, tribes, and utilities for efforts to harden the grid and help prevent power outages. As the grid ages and extreme weather events are worsened by climate change, blackouts have grown longer in the US, with the average American going more than eight hours without power in 2020 — twice as long as was typical when the federal government started keeping track in 2013. Things could get worse without efforts to rein in greenhouse gas emissions. The administration is also commissioning new national studies to inform its deployment of thousands of miles of additional transmission lines." • Does this seem like very much money?

"Massive unanswered questions remain as Navy begins process to defuel Red Hill" [Federal News Network]. "The Navy is dealing with multiple unanswered questions about the severity and long-term impacts of a spill at one of its largest strategic fuel centers in the Pacific that impacted drinking water in Hawaii, as multiple Defense Department and service components in charge of different aspects try to synchronize to deal with the issue… The 80 year-old, 250 million gallon storage facility sits just 100 feet above the island of Oahu's main aquifer, which provides 77% of the potable water in the area. In late November, jet fuel spilled at the location in what the Navy is calling an operator error…. Complicating matters even more is the Navy's mission. Red Hill is an important asset for the United States, especially as it pivots to counter China and Russia. To date, the Navy says it spent $250 million on the water crisis. If Red Hill were to defuel its tanks, Navy officials said they did not have predictors of what readiness impacts would be in the long term." • Interesting….

"Buttigieg vows to fight container-rate inflation" [American Shipper]. "[Buttigieg] was eager to talk about recent progress he sees in working through those backlogs. 'One of reasons why Christmas was not in fact canceled is that ports like LA and Long Beach moved record levels of goods, allowing an all-time record high in terms of retail sales this holiday season,' he said. 'Considering the pressures this country and these communities have been under, that is an extraordinary achievement.' Buttigieg pointed out that the port complex processed 14% more container volume in 2021 than the previous record, and that the nation's consumers received almost 99% of packages on time or with minimal delays. 'Not only is this about presents under the tree, but essential goods like medical goods needed in this moment of continued public health challenges. The other side of the coin is that as long as the pandemic persists, as long as we are making up for decades of past disinvestment, we are going to see impacts on shipping times and shipping costs.'" And: "'And that was with the funds that we had from last year,' Buttigieg said. 'I cannot wait to put to work the funds from that $17 billion being committed to ports thanks to the bipartisan infrastructure law,' also known as the Infrastructure Investment and Jobs Act, which was signed by President Joe Biden in November." • Translation: I am the man with the goodies. Do you want to bring any home?

"fauci-email: a json digest of Anthony Fauci's released emails" (PDF) [arXiv]. • This is super-technical and geeky and describes analyzing the mails. For example: "We now consider the email data as a hypergraph where each email is a hyperedge among the senders and recipients (excluding the CC entries) – excluding Fauci." Very like social relations as described by Bourdieu (if I have this right): Relations between relations (as opposed to the atomized rational actors beloved of mainstream macro. If I have this right! Well worth skimming if you're technical.
Democrats en Déshabillé
I have moved my standing remarks on the Democrat Party ("the Democrat Party is a rotting corpse that can't bury itself") to a separate, back-dated post, to which I will periodically add material, summarizing the addition here in a "live" Water Cooler. (Hopefully, some Bourdieu.) It turns out that defining the Democrat Party is, in fact, a hard problem. I do think the paragraph that follows is on point all the way back to 2016, if not before:

The Democrat Party is the political expression of the class power of PMC, their base (lucidly explained by Thomas Frank in Listen, Liberal!). ; if the Democrat Party did not exist, the PMC would have to invent it. . ("PMC" modulo "class expatriates," of course.) Second, all the working parts of the Party reinforce each other. Leave aside characterizing the relationships between elements of the Party (ka-ching, but not entirely) those elements comprise a network — a Flex Net? An iron octagon? — of funders, vendors, apparatchiks, electeds, NGOs, and miscellaneous mercenaries, with assets in the press and the intelligence community.

Note, of course, that the class power of the PMC both expresses and is limited by other classes; oligarchs and American gentry (see 'industrial model' of Ferguson, Jorgensen, and Jie) and the working class spring to mind. Suck up, kick down.

* * *

"Stacey Abrams and Voting-Rights Allies Spurn Biden's Atlanta Events" [Bloomberg]. "Stacey Abrams, the voting-rights activist and Georgia governor candidate, isn't joining President Joe Biden and Vice President Kamala Harris in Atlanta for a Tuesday speech and appearances devoted to legislation that would guarantee access to the polls. Abrams, who led get-out-the-vote efforts that swung the state to Biden and sent two Democrats to the U.S. Senate, has a scheduling conflict, according to spokesperson Seth Bringman. Biden had a 'warm conversation' with Abrams and they remain united on the issue, White House spokesperson Jen Psaki said. Many voting-rights organizers who worked closely with Abrams won't join the delegation, which includes most of the state's party leaders. Some issued an open letter, dismissing Tuesday's visit as 'an empty gesture, without concrete action.'… Fallon McClure, an organizing director for the Working Families Party, which was part of the grassroots network mobilized by Abrams last year, said the president owes it to the state not to come. 'Georgia showed up and saved the country,' McClure said. 'Promises were made and they haven't been kept. He doesn't need to be talking to us. He needs to be talking to the holdouts and getting these things passed.'" • Plus, Biden, Ossoff, and Warnock all owe me six hundred bucks.

"Chicago schools, teachers reach tentative deal to end classroom shutdown" [Politico]. "In dueling nighttime press conferences, both the mayor and Chicago Teachers Union officials held their ground even as both sides made accommodations that allow for remote learning on a school-by-school basis. The district also agreed to supply more KN95 masks for staff and students, something the union had been calling for…. "This mayor is unfit to lead our city. She's on a one-woman kamikaze mission to destroy our public schools," CTU vice president Stacy Davis Gates said in a separate Monday night press conference. 'This should have never gotten this far. We had to go on a remote action for face covering in the middle of a pandemic. We had to go on a remote action to get more testing in the middle of a pandemic. She fought us every step of the way.'" • Seventeen hours after the presser, Lightfoot came down with Covid: "Lightfoot wore a mask in public Monday but spoke that night at a podium without a face covering. Union officials held their own press conference virtually."

And we wonder why the Democrat bench is weak:

— Dan Price (@DanPriceSeattle) January 11, 2022

Sara Nelson is my dark horse candidate for President. Porter could be her Vice President….
2024
After trial balloons in the Times and the Wall Street Journal, she's ready for her close-up:

"Deconstructing the case for a 2024 Hillary Clinton bid" [Chris Cilizza, CNN]. On the Wall Street Journal trial balloon authors: "Before we go any further, it's worth noting that neither Schoen nor Stein have sterling credentials as Democrats. Schoen worked for former New York City mayor Michael Bloomberg while Stein endorsed none other than Donald Trump in the 2016 election against, wait for it, Hillary Clinton." More: " Here's the Schoen/Stein argument: 'If Democrats lose control of Congress in 2022, Mrs. Clinton can use the party's loss as a basis to run for president again, enabling her to claim the title of 'change candidate." Uh, what? Republicans winning the House (and maybe the Senate) will allow Clinton — who spent three-plus decades as a pillar of the Washington establishment — to position herself as the change candidate? How, exactly? There's absolutely no scenario I can imagine in which Clinton would be able to be the change candidate. Her background is simply too Washington (and politics) heavy. Plus, Schoen and Stein just got done arguing that Clinton has the right experience for the job. So, how could she run as the experience candidate and the change agent? I simply do not think that Republicans winning control of Congress in 2022 suddenly transforms Clinton into a change candidate along the lines of Barack Obama's 2008 campaign. (Worth noting again: Clinton lost that primary to Obama.)" • Well, a little self-contradiction never bothered Clinton.

"Hillary v Trump – the REMATCH: Two Democrat operatives say Clinton is the 'best option' to win in 2024 with Biden and Kamala's dire polls – paving the way for another showdown after 2016" [Daily Mail]. Continuing the extremely organic press campaign, one detail: "Also that month Clinton revealed the speech she would have given at her presidential inauguration, had she beaten Trump to become the first woman elected commander-in-chief. Clips of an emotional Clinton reading the speech were shown on NBC's Today Show as a promotion for her MasterClass video lecture." • So the MasterClass gig wasn't only a grift? She was testing the water? Dear Lord, is it possible that she's never given up? Persistence is one of Clinton's admirable characteristics, but only up to a point. A point long past. I wonder if a horrified Barack Obama will parachute another candidate in once again….

"Hillary Clinton 5.0?" [National Review]. "Schoen and Stein [Wall Street Journa[ conclude their piece by arguing that 'if Democrats want a fighting chance at winning the presidency in 2024, Mrs. Clinton is likely their best option.' If that is true, the Democratic party is in more trouble than we thought." • The Democrat Party has had a bench of .200 hitters for some time, as election 2020 showed. Harris? Buttigieg? Klobuchar? And Beto, perhaps the best of the farm team as long as he's not standing on something, hasn't made it to The Show. Or, more precisely, he was sent back to the minors for more seasoning.
Realignment and Legitimacy
"Hochul firm on returning to offices as union urges telecommuting" [Syracuse.com (Bob)]. "The governor reiterated during a Covid-19 briefing on Tuesday that while employers should continue to use their own discretion, the state workforce will not go back to widespread telecommuting because of the potential economic damage of keeping people at home, especially for the restaurant and hotel industries." • Bob comments: "Because markets." Speculating freely, it has occurred to me that a sufficient amount of "economic damage" would amount in practice to a general strike, albeit involuntary, and that the ruling class is determined to prevent that at all costs, in case the next general strike would be voluntary. There is quite enough labor agitation it is, thank you.

Can't anybody here play this game?

NEW >> @CDCDirector lays out encouraging new study on Omicron severity.

— 91% reduction in risk of death with Omicron compared to Delta

—74% reduction in risk of going to ICU

—53% reduction in risk of being hospitalized pic.twitter.com/WgdrNum0uy

— Ian Sams (@IanSams) January 12, 2022

Study, from medRxiv, is not peer-reviewed. Further, deaths lag cases, and death reports lag deaths. Surely it's extremely early to opine on the "reduction of the risk of death"? If the administration wishes to rebuild trust, this is not the way to go about it.

"'Rules need to be clear': Dems call for Covid strategy reset as cases spike" [Politico]. "The party's resurgent pandemic fears were at the forefront Tuesday as the White House's top health officials appeared on Capitol Hill for the first time since the Omicron variant became the dominant strain in the U.S. last month. At the hearing, Senate HELP Chair Patty Murray (D-Wash.) called the recent changes in CDC guidance 'confusing and frustrating' and criticized the administration for ongoing supply shortages and other headaches plaguing her home state and the nation. 'I'm frustrated we are still behind on issues as important to families as testing, and supporting schools,' she said. 'That's not to say we haven't made progress — it's just clear we haven't made enough.' Anthony Fauci, Biden's most visible health adviser, called it a 'very wily virus' at the same Senate hearing Tuesday, adding: 'We're doing the best we possibly can.'" • Begging the question of who "we" are and whether they can be replaced. I like the concept replacing 80% of existing elected in both parties. Anyhow, the rules are clear enough; we're looking at Rule #2.

"Biden health team weighs new mask distribution plan" [Politico]. "A senior administration official argued an effort to send N95 or KN95 masks to Americans would make little difference because 'half the country won't wear any mask.' 'It may be popular in certain corners of Twitter, but for masking to work as a public health tool, people need to actually wear them,' the official said. 'To prevent spread, the focus should be maximizing the number of people simply wearing a mask in the first place, not shifting the goal posts to urge everyone to go above and beyond to use high filtration masks to make it less likely they themselves will inhale particles.'" • As above; the mind reels.

So I guess when Biden said "I will end this," the referent was unclear? He was joking? The statement is inoperative?

Acting FDA Commissioner Janet Woodcock told a Senate committee, 'It's hard to process what's actually happening right now, which is, most people are going to get COVID' https://t.co/ISEsqRj03W pic.twitter.com/7a16STAkc9

— Reuters (@Reuters) January 11, 2022

* * *

"The Law of Unintended Political Consequences Strikes Again" [New York Times]. "Before Floyd's death, Candid found that philanthropies provided '$3.3 billion in racial equity funding' for the nine years from 2011 to 2019. Since then, Candid calculations revealed much higher totals for both 2020 and 2021: '50,887 grants valued at $12.7 billion' and '177 pledges valued at $11.6 billion.' Among the top funders, according to Candid's calculations, are the Ford Foundation, at $3 billion; Mackenzie Scott, at $2.9 billion; JPMorgan Chase & Co. Contributions Program, at $2.1 billion; W.K. Kellogg Foundation, $1.2 billion; Bill & Melinda Gates Foundation, $1.1 billion; Silicon Valley Community Foundation, $1 billion; Walton Family Foundation, $689 million; The William and Flora Hewlett Foundation, $438 million; and the Foundation to Promote Open Society, $350.5 million." • That's not chump change. Commentary:

I don't believe the people who posit a conscious conspiracy of the powerful to destroy any possibility of cross-racial alliance in pursuit of redistributionist aims; but you have to admit it sure looks like one

— Wesley Yang (@wesyang) January 12, 2022

Who knew, the Empire isn't all that popular:

Who benefits from 🇺🇸 being active in world affairs?

According to the latest @ChicagoCouncil survey, there is a clear class/wealth divide. Perhaps why calls to protect "the rules-based order" doesn't resonate with big segments of the American public? pic.twitter.com/hUYnbpmjTT

— Paul Poast (@ProfPaulPoast) January 12, 2022

Recall that in 2020, counties with casualtiews skewed toward Trump.
#COVID19
Case count by United States regions: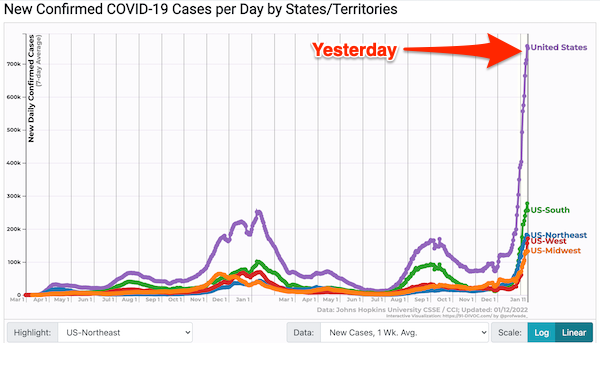 Small steps return. It would sure be nice if "rise like a rocket, and fall like a stick" applied, but we can't know that yet. To be fair, previous peaks — how small the early ones look now — have been roughly symmetrical on either side. But the scale of this peak, and the penetration into the population, is unprecendented.
It looks like there was a decrease in the South, so here is the South: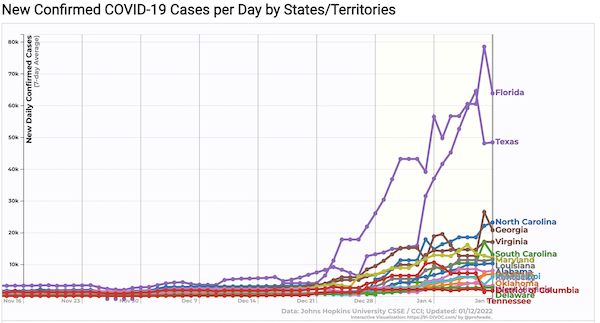 I thought the drop might be a data issue, since Tennessee went over to weekly reporting (see the CDC "rapid riser" report below).
The official narrative that "Covid is behind us," and that the pandemic will be "over by January" (Gottlieb), and "I know some people seem to not want to give up on the wonderful pandemic, but you know what? It's over" (Bill Maher) was completely exploded. What a surprise!
MWRA (Boston-area) wastewater detection: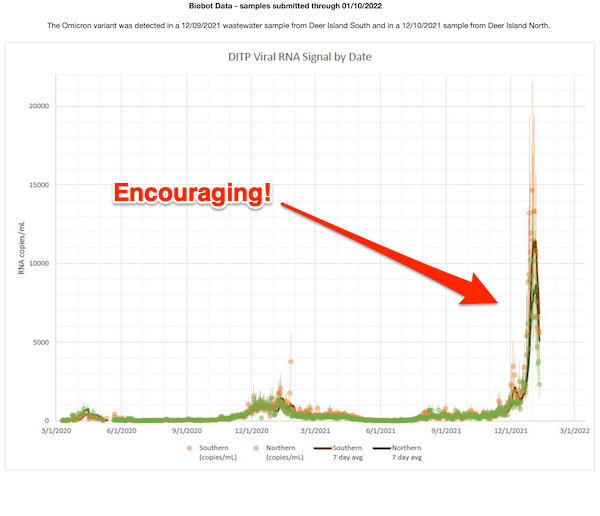 First good news in a long time!
The Massachusetts Water Resources Authority (MWRA) service area includes 43 municipalities in and around Boston, including not only multiple school systems but several large universities. Since Boston is so very education-heavy, then, I think it could be a good leading indicator for Covid spread in schools generally.
From CDC Community Profile Reports (PDFs), "Rapid Riser" counties: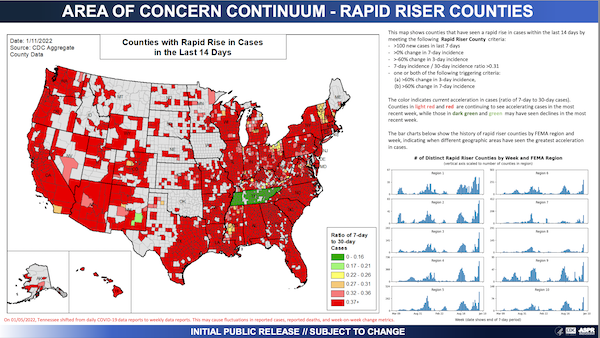 I see a few spots of improvement (San Diego, Vermont) but otherwise status quo. (Tennessee is green, as the note in red at the bottom says, because they went over to weekly reporting. Nice.)
The previous release: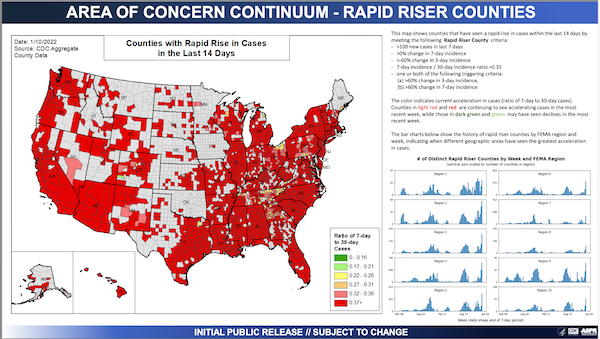 Hospitalization (CDC Community Profile):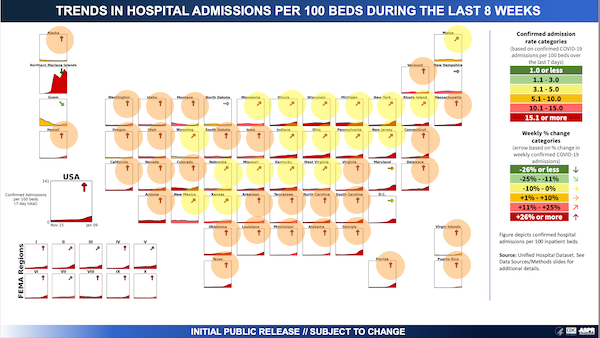 Still brutal. (Note trend, whether up or down, is marked by the arrow, at top. Admissions are presented in the graph, at the bottom. So it's possible to have an upward trend, but from a very low baseline.)
Death rate (Our World in Data):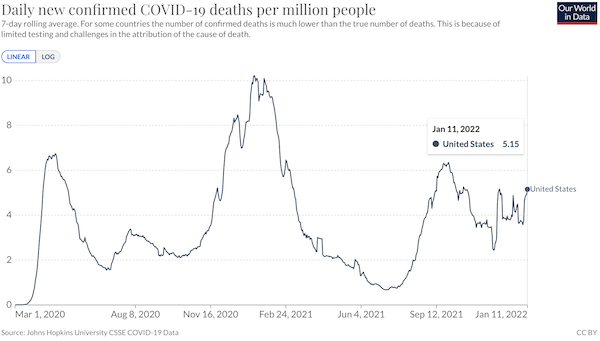 Total: 863,896 861,336.
Covid cases in top us travel destinations (Statista):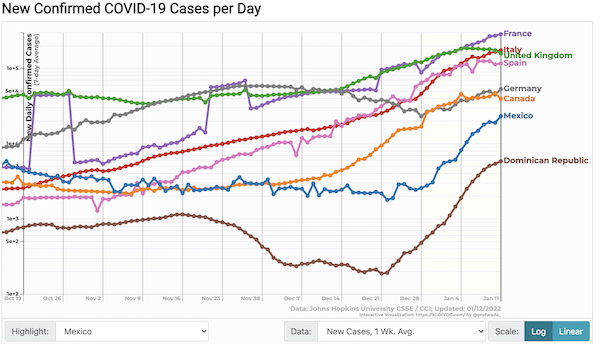 Might as well check out where we go, in case we bring something back (as from Italy to New York in 2020). This is a log scale. (Sorry for the kerfuffle at the left. No matter how I tinker, it doesn't go away. (The data is from 2019, and so subject to subsequent events, but this is the best I can find.)
The excess deaths charts will appear weekly, on Friday.
Stats Watch
Inflation: "United States Inflation Rate" [Trading Economics]. "The annual inflation rate in the US accelerated to 7% in the last month of 2021, a fresh high since June of 1982, in line with market expectations and compared to 6.8% in November. Energy was the biggest contributor to the gain but the rise was smaller than in November (29.3% vs 33.3%), with gasoline prices surging 49.6% vs 58.1%. Inflation accelerated however for shelter (4.1% vs 3.8%); food (6.3% vs 6.1%), namely food at home (6.5% vs 6.4%); new vehicles (11.8% vs 11.1%); used cars and trucks (37.3% vs 31.4%); apparel (5.8% vs 5%); and medical care services (2.5% vs 2.1%). Inflation spiked in 2021 due to pandemic-induced supply constraints, soaring energy costs, labour shortages, increasing demand and a low base effect from 2020. Inflationary pressures are likely to last well into the middle of 2022 and Fed Chair Powell recently pledged to do what's necessary to contain an inflation surge including increasing interest rates." • Not clear to me how raising interest rates solves "pandemic-induced supply constraints" — other than by tanking the economy, of course — but the Fed's gotta Fed.
* * *
Big Pharma: "How China Is Getting Drug Companies to Slash Prices" [Bloomberg]. "It has a two-pronged campaign. The first approach is to add top-of-the-line new treatments to its so-called National Reimbursement Drug List only if drugmakers agree to drop their prices…. [Second is] basically bulk buying of generic drugs, which can be made by low-cost manufacturers as well as the original developer, and medical supplies…. [Multinationals] are seeing some of their off-patent drugs being replaced by ultra-cheap domestic generics one by one, but they are also seeing many of their top-of-the-line therapies being launched in China faster and getting state medical insurance coverage sooner. Some see lower prices of their new drugs being offset by an explosion in demand."
The Bezzle: I follow some actual (living) artists on the Twitter:
The whole "you can buy this NFT, and also an image exists at this URL" way of handwaving ownership reminds me of a friend who one day grazed a bear while driving and then called into work saying "I just hit a bear and I'm not coming to work". No relation between these two facts.

— Empath Seinfeld (@bombsfall) January 11, 2022
The Bezzle: Seems a little frothy:
Which part of the bubble is this? pic.twitter.com/SIvVL7DEn9

— Girolamo Casio (@INArteCarloDoss) January 12, 2022
Readers, have you spotted anything similar?
Supply Chain: "The 'Mother of All' Supply Shocks Lurks in China's Covid Crackdowns" [Bloomberg]. "The world economy could be headed for the "mother of all" supply chain stumbles. That's the warning from HSBC economists who caution that if the highly infectious omicron variant which is already swamping much of the global economy spreads across Asia, especially China, then disruption to manufacturing will be inevitable. "Temporary, one would hope, but hugely disruptive all the same" in the next few months, they wrote in a research note this week. China is the world's biggest trading nation and its ability to keep its factories humming through the pandemic has been crucial for global supply chains. While the outbreak of omicron in China is small compared with its Western peers, authorities are taking no chances. In recent weeks scattered infections of both the delta and omicron variants have already triggered shutdowns to clothing factories and gas deliveries around one of China's biggest seaports in Ningbo, disruptions at computer chip manufacturers in the locked-down city of Xi'an, and a second city-wide lockdown in Henan province Tuesday."
* * *
Today's Fear & Greed Index: 63 Greed (previous close: 59 Greed) [CNN]. One week ago: 52 (Neutral). (0 is Extreme Fear; 100 is Extreme Greed). Last updated Jan 12 at 12:26pm.
The 420
"Cannabinoids Block Cellular Entry of SARS-CoV-2 and the Emerging Variants" [Journal of Natural Products]. Peer-reviewed, at NLM. The Abstract: "As a complement to vaccines, small-molecule therapeutic agents are needed to treat or prevent infections by severe acute respiratory syndrome coronavirus-2 (SARS-CoV-2) and its variants, which cause COVID-19. Affinity selection-mass spectrometry was used for the discovery of botanical ligands to the SARS-CoV-2 spike protein. Cannabinoid acids from hemp (Cannabis sativa) were found to be allosteric as well as orthosteric ligands with micromolar affinity for the spike protein. In follow-up virus neutralization assays, cannabigerolic acid and cannabidiolic acid prevented infection of human epithelial cells by a pseudovirus expressing the SARS-CoV-2 spike protein and prevented entry of live SARS-CoV-2 into cells. Importantly, cannabigerolic acid and cannabidiolic acid were equally effective against the SARS-CoV-2 alpha variant B.1.1.7 and the beta variant B.1.351. Orally bioavailable [no kidding!] and with a long history of safe human use [yep!], these cannabinoids, isolated or in hemp extracts, have the potential to prevent as well as treat infection by SARS-CoV-2." • In vitro. Commentary:
— Glitter gang (@gurglingglitter) January 11, 2022
'Tis a consummation devoutly to be wished!
"Inside Germany's Legal Weed Gold Rush" [Vice]. "Protected by barbed-wire fences and 24cm-thick concrete walls, Aphria RX's high security cannabis-growing facility is currently producing 1.1 tonnes of weed for medicinal use each year under a contract with Germany's Institute for Drugs and Medical Devices." • I always thought legalization would mean that people could grow marijuana in their back yards, and maybe set up seed exchanges. Silly me.
MMT
A project here for an economist with an anthropolitical bent:
Inuk word of the day: kenaujak – Money.

A modern word in Labrador, money was introduced by Moravian Church and Hudson Bay Company in the 1800's.
The real translation means "things with faces on them." Each coin and bill does have faces on them.
key – now – yuck

— angusandersen900 (@AndersenAngus) January 11, 2022
Why did the Moravians introduce money? To collect tithes?
Gunz
"Exclusive: Smart guns finally arriving in U.S., seeking to shake up firearms market:" [Reuters]. "Personalized smart guns, which can be fired only by verified users, may finally become available to U.S. consumers after two decades of questions about reliability and concerns they will usher in a new wave of government regulation…. LodeStar co-founder Gareth Glaser said he was inspired after hearing one too many stories about children shot while playing with an unattended gun. Smart guns could stop such tragedies by using technology to authenticate a user's identity and disable the gun should anyone else try to fire it. They could also reduce suicides, render lost or stolen guns useless, and offer safety for police officers and jail guards who fear gun grabs. But attempts to develop smart guns have stalled: Smith & Wesson (SWBI.O) got hit with a boycott, a German company's product was hacked, and a New Jersey law aimed at promoting smart guns has raised the wrath of defenders of the Second Amendment." • It's true I avoid products billed as "smart"….
Under the Influence
"Kim Kardashian and Floyd Mayweather sued by investors over alleged crypto scam" [CNBC]. "Kim Kardashian and Floyd Mayweather are being sued over allegations they misled investors when promoting a little-known cryptocurrency called EthereumMax to their millions of social media followers. Kardashian caused a stir last year when she made an Instagram post promoting the EthereumMax token. 'Are you guys into crypto????' Kardashian wrote. ' about the Ethereum Max token!" • Oh, right.
Zeitgeist Watch
"American Airlines Passenger Charges Cockpit, Breaks Flight Controls And Tries To Jump Out Window" [View from the Wing]. "American Airlines flight 488 from San Pedro Sula, Honduras to Miami is delayed 7 hours this evening after a passenger ran down the jetway and onto the aircraft, charged into the cockpit damaging flight controls, and tried to jump out the window…. It's not clear what the man wanted to accomplish, or what may have motivated him. It's also not clear what was to be gained by preventing him from jumping out the window – probably many delayed passengers would have been in favor! – though that might have delayed other aircraft as well."
Class Warfare
"Records of former labor leader and close Biden ally subpoenaed" [Politico]. "Though Schaitberger has long been accused of abusing union funds to underwrite his lavish spending, including expensive restaurant outings and chauffeured cars, he faced a long list of additional allegations in recent years. Among them, he and a former union general secretary-treasurer were accused of receiving excessive early retirement benefits while still working for the union, which resulted in over a million dollars of improper pension payments, according to a report from the union's then-general secretary-treasurer Edward A. Kelly, who is now the general president, reported earlier by the Wall Street Journal. The report also found that Schaitberger and the associate accrued millions of dollars in benefits under a non-tax-qualified retirement program— money that should have been reported to the Internal Revenue Service. The internal documents also reveal millions in financial misreporting and non-discretionary funds that were misused. The union suspended his pension benefits, but a committee later reinstated them, saying that the overpayments 'resulted from an error in plan administration.'" • Oh.
News of the Wired
"To avert a climate catastrophe, we have to save the world's big trees" [Miami Herald]. "Although we both advocate for planting trees, first and foremost, we want to make a clarion call to save big trees and mature forests. This distinction is critical. Yes, we absolutely need to plant more trees. Such efforts will benefit our grandchildren. But for today's generation and in the immediate wake of accelerating climate change, we need to conserve native, mature forests, whose trees are the senior citizens of the planet. An estimated 50% of our planet's land-based biodiversity lives in the treetops. It will take decades — more likely centuries — before koalas can survive in the canopies of newly planted gum seedlings or birds return to nest in their uppermost boughs. Big trees provide essential ecosystem services, both economic and cultural, even as we sleep: fresh water; climate control; medicines; timber; carbon storage; energy production; food; soil conservation; a genetic library for millions of species; and essential spiritual sanctuary for more than 2 billion people. Primary, or old-growth forests, are precious. They are the stalwart sentries that stand between life and life's extinction." • And yet, there it is: "Ecosystem services," the concept that will end up commodifying everything. It snuck in….
* * *
Contact information for plants: Readers, feel free to contact me at lambert [UNDERSCORE] strether [DOT] corrente [AT] yahoo [DOT] com, to (a) find out how to send me a check if you are allergic to PayPal and (b) to find out how to send me images of plants. Vegetables are fine! Fungi and coral are deemed to be honorary plants! If you want your handle to appear as a credit, please place it at the start of your mail in parentheses: (thus). Otherwise, I will anonymize by using your initials. See the previous Water Cooler (with plant) here. Today's plant (AM):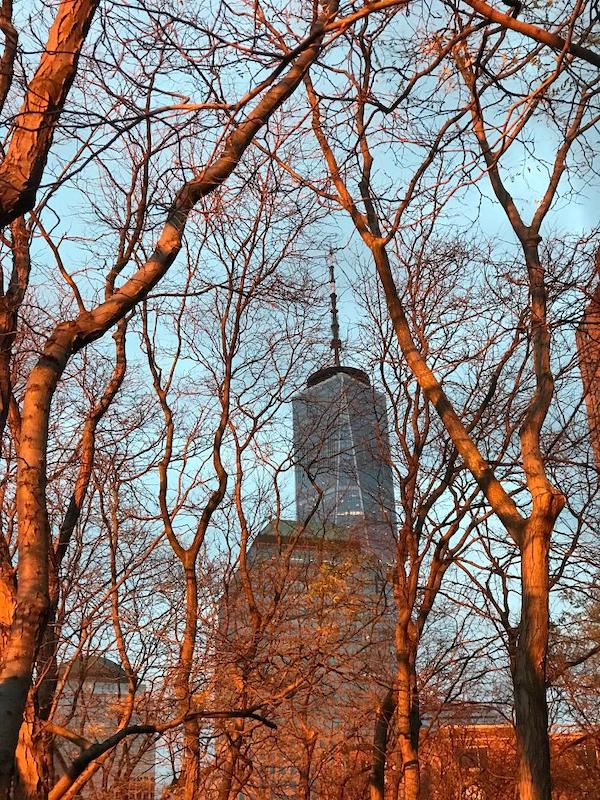 AM writes: "The day after Thanksgiving 2021 near WFC in NYC about 10 minutes before sunset. Sun highlights on bare trees with One World Trade in the background." This really does give the feeling of a snowless Manhattan winter on a day above freezing but wet. I can almost smell the leaves.
* * *
Readers: Water Cooler is a standalone entity not covered by the recently concluded and — thank you! — successful annual NC fundraiser. So if you see a link you especially like, or an item you wouldn't see anywhere else, please do not hesitate to express your appreciation in tangible form. Remember, a tip jar is for tipping! Regular positive feedback both makes me feel good and lets me know I'm on the right track with coverage. When I get no donations for five or ten days I get worried. More tangibly, a constant trickle of donations helps me with expenses, and I factor in that trickle when setting fundraising goals:
Here is the screen that will appear, which I have helpfully annotated.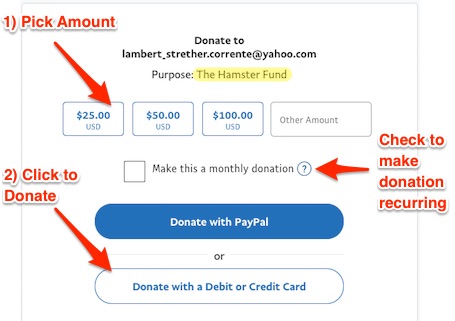 If you hate PayPal, you can email me at lambert [UNDERSCORE] strether [DOT] corrente [AT] yahoo [DOT] com, and I will give you directions on how to send a check. Thank you!