By Lambert Strether of Corrente
Bird Song of the Day
From the Notes: "These are the first vocalizations of the morning. He was apparently practicing LONG SONGS during this recording. I have never heard long songs from this species."
* * *
Politics
"But what is government itself, but the greatest of all reflections on human nature?" –James Madison, Federalist 51
"They had learned nothing, and forgotten nothing." –Charles Maurice de Talleyrand-Périgord
"When the going gets weird, the weird turn pro." –Hunter Thompson
Biden Adminstration
It seems like the State Department is infested with Ukrainian gusanos:

How do you know #Russia means war? They scream "Peace!" Now #Kremlin's propaganda machine is running at full speed to mask thousands of troops massing at #Ukraine's border. Look closer 👇#StandWithUkraine @StratcomCentre pic.twitter.com/Iigrp9SBrd

— U.S. Embassy Kyiv (@USEmbassyKyiv) January 28, 2022

The account is blue-checked, so seriously? This is diplomacy?

* * *

"Bidens welcome new family cat to the White House" [CNN]. • Oh, come on.

"How Are They Doing?" [Texas National Security Review]. "Beginning with a curious decision to hold an unpleasant meeting with America's most important strategic rival at the Hotel Captain Cook in Anchorage and continuing with the embarrassing self-own on AUKUS — a promising strategic play that could not have been presented to the world in a more hapless, self-defeating manner — the Biden team has done far worse than expected. The military withdrawal from Afghanistan — which, grand strategically, was the correct move, but was carried out in a disastrous fashion — has come to reflect an administration that overpromised competence and consultation but has often delivered too little of either. Both China and Russia are more aggressive, Iran appears closer to possessing nuclear weapons, global coordination to contain COVID-19 is still poor, and America's allies seem only slightly less suspicious of the current administration than they were of President Donald Trump and his advisers. More alarmingly, there appears to be no overarching conceptual model to make sense of and act in the world, no sense of priorities and necessary tradeoffs. Are democracy and human rights the organizing principle of America's foreign policy, or is it the return of great-power politics? Does the country have a trade policy? What is America's Europe policy? What should the United States focus on: transnational challenges, such as climate change and COVID-19, or geopolitical threats? And which geopolitical threats should take precedence — an aggressive Russia, an opportunistic Iran, a rising China, or a new, unforeseen adversary? In a world of limited means and unlimited challenges, good grand strategy requires both a theory of how the world works and ruthless prioritization. Attempting to do everything only guarantees you will do nothing well. Slogans, such as "a foreign policy for the middle class," offer little guidance about how the administration will make difficult, consequential choices about an uncertain future. That said, the historian in me worries this assessment is unfair to the Biden administration. Erratic foreign policy during the first year is the norm, not the exception, in American history."

"A few things are going Biden's way" [Yahoo News]. ". New polling of more than 10,000 workers by the Future Forum, a research consortium sponsored by Slack and other businesses, finds that workers feel substantially better off than they did a year ago. More than half of those respondents say they're now working in "hybrid" arrangements combining work in an office with work from home, and 68% say they prefer that type of setup. During the last year, Future Forum researchers have been rating survey participants on eight measures of their working experience, with improvements in every area. The biggest gains during the last 12 months have come in work-life balance, productivity, a sense of belonging at work and job-related stress. Overall satisfaction has also risen substantially. The survey included workers in six countries—the United States, Australia, France, Germany, Japan and the UK—with about half of those being American. Yet "U.S. workers are feeling the most positive about their working lives," according to the January report." And the key point: "The Future Forum research targeted white-collar 'knowledge workers,' such as those in tech, data and service firms." • The PMC is happy. Augurs well for Biden.

"How Airlines Can Solve Their 5G Problem" [Scientific American]. Interesting technically, but filed here for this buried nugget: "How long have experts in the U.S. been aware of [the 5G] issue? The CEOs of Airbus and Boeing—so this isn't even at the airlines level, this is at the manufacturer level—in December 2021 were so concerned that they sent a letter to Secretary of Transportation Pete Buttigieg stating that they had questions and they were seeking answers. They were looking for these mitigating controls to be agreed to, similar to what they had seen overseas. So I'm not sure if those concerns in that letter didn't get [fully] addressed, and that's why people like you and me are hearing from the airlines [now]." • Even if you grant that the Department of Transportation knew nothing at all about the 5G issue until the December letter, the earliest news stories I can find on Buttigieg taking action are from January, 2022. That seems slow.
Democrats en Déshabillé
I have moved my standing remarks on the Democrat Party ("the Democrat Party is a rotting corpse that can't bury itself") to a separate, back-dated post, to which I will periodically add material, summarizing the addition here in a "live" Water Cooler. (Hopefully, some Bourdieu.) It turns out that defining the Democrat Party is, in fact, a hard problem. I do think the paragraph that follows is on point all the way back to 2016, if not before:

The Democrat Party is the political expression of the class power of PMC, their base (lucidly explained by Thomas Frank in Listen, Liberal!). ; if the Democrat Party did not exist, the PMC would have to invent it. . ("PMC" modulo "class expatriates," of course.) Second, all the working parts of the Party reinforce each other. Leave aside characterizing the relationships between elements of the Party (ka-ching, but not entirely) those elements comprise a network — a Flex Net? An iron octagon? — of funders, vendors, apparatchiks, electeds, NGOs, and miscellaneous mercenaries, with assets in the press and the intelligence community.

Note, of course, that the class power of the PMC both expresses and is limited by other classes; oligarchs and American gentry (see 'industrial model' of Ferguson, Jorgensen, and Jie) and the working class spring to mind. Suck up, kick down.

And speaking of Manet:

Head of a Dog, 1876 https://t.co/ZL1aaZT1af #manet #edouardmanet pic.twitter.com/4JzwfDfJs6

— Edouard Manet (@artistmanet) January 28, 2022

Cute dogs aside, more from Bourdieu, Forms of Capital, pages 43-44:

What is at issue is what we might call a social technology. or a technique of action in the social world… [T]here are inventions in the social world, as elsewhere. Max Webt makes a point of the fact that the popular jury, with which we are so familiar that we don't even think about it, was a great invention in the history of law. It completely changed the structure of the judicial field.

Another example would be the sitdown strike. More:

We need to sell out the word "invention" to remind ourselves that this is not self-evident, that there are breaks… gaps, and changes. As an example, … the Salon des Refusés was a formidable historical invention that was extraordinarily difficult: .

And in this country, 900,000 deaths since 2020, and no social inventions in response at all, so far as I can see. It's like nothing ever happened ("live your life"). It's extraordinary. One can say a lot about our ruling class, but rule it does.
2022
* * *

"Democrats to devote resources to 7 more House lawmakers facing tough re-elections" [NBC News]. "The Democratic Congressional Campaign Committee, or DCCC, the campaign arm of House Democrats, increased the number of lawmakers it sees as prime GOP targets in November to 32.

The updated list comes as Democrats face an uphill battle to defend their majority in the House, where they cannot afford to lose more than four seats…. Almost twice as many Democrats as Republicans have said they are not seeking re-election this year. On top of that, a recent NBC News poll found that overwhelming majorities of Americans believe the country is headed in the wrong direction." • Here's the list: Tom O'Halleran (AZ-01), Josh Harder (CA-10), Katie Porter (CA-45), Mike Levin (CA-49), Jahana Hayes (CT-05), Cindy Axne (IA-03), Lauren Underwood (IL-14), Sharice Davids (KS-03), Jared Golden (ME-02), *Elissa Slotkin (MI-08), Haley Stevens (MI-11), Angie Craig (MN-02), Chris Pappas (NH-01), *Andy Kim (NJ-03), *Tom Malinowski (NJ-07), *Mikie Sherrill (NJ-11), Dina Titus (NV-01), Susie Lee (NV-03), Steven Horsford (NV-04), Antonio Delgado (NY-19), Kurt Schrader (OR-05), Susan Wild (PA-07), Matt Cartwright (PA-08), *Elaine Luria (VA-02), *Abigail Spanberger (VA-07), Kim Schrier (WA-08). I have helpfully added an asterisk to the "CIA Democrats" (here; here). 6 of 26, or 23%. Chalk one up for the spooks, America's least visible minority!

"Democrats stiff Biden as poll numbers hit low point" [Axios]. "Many Democrats in front-line districts have also stopped mentioning the president on their campaign accounts since Sept. 1, per data compiled by Quorum and reviewed by Axios. That was . Reps. Cindy Axne (D-Iowa), Sharice Davids (D-Kan.), Jared Golden (D-Maine), Jahana Hayes (D-Conn.) and *Mikie Sherrill (D-N.J.) were among the front-line members who haven't mentioned "Biden" or "@POTUS" on their campaign accounts since Sept. 1.

Reps. *Andy Kim (D-N.J.) and Antonio Delgado (D-N.Y.) have mentioned Biden's name but only in the context of urging him to act on specific issue matters. The only mention Rep. *Elissa Slotkin (D-Mich.) made of the president came through retweeting a CNN interview tweet that mentioned Biden." • (I have helpfully asterisked the CIA Democrats.) I've been saying that after the Afghanistan withdrawal it was open season on Biden. We can't have Presidents withdrawing from wars!

"Joe Manchin sank Biden's agenda. Democrats are lucky to have him." [Vox]. James Carville: "Just look at how Democrats organize and spend money. For Christ's sake, [South Carolina Democrat] Jaime Harrison raised over $100 million only to lose his Senate race to Lindsey Graham by 10 points. Amy McGrath runs for Senate in Kentucky and raises over $90 million only to get crushed by Mitch McConnell. They were always going to lose those races, but Democrats keep doing this stupid shit. They're too damn emotional. Democrats obsess over high-profile races they can't win because that's where all the attention is. We're addicted to hopeless causes. What about the secretary of state in Wisconsin? Or the attorney general race in Michigan? How much money are Democrats and progressives around the country sending to those candidates? I'm telling you, if Democrats are worried about voting rights and election integrity, then these are the sorts of races they should support and volunteer for, because this is where the action is and this is where things will be decided. You know who is paying attention to these races? The Republican Party. Last I checked, Republicans raised $33 million for secretary of state races around the country. The Democrats had until recently raised $1 million. I think it's now up to $4 million. That's the story, right there. That's the difference, right there. Bitching about a Democratic senator in West Virginia is missing the damn plot." • James Carville is… a liberal Democrat. That doesn't mean he doesn't know his nuts and bolts. (What he doesn't mention is that Charles Booker almost beat Amy McGrath in the primary, and for whatever reason, liberal Democrat donors weren't all "not a dry seat in the house" mode about him. One can only wonder why.)
2024
"Biden leading Trump, DeSantis by similar margins in new poll" [The Hill]. "President Biden is leading former President Trump and Florida Gov. Ron DeSantis (R) in two hypothetical, head-to-head match-ups for the 2024 presidential election, according to a new poll. The survey, conducted by Marquette Law School, found that 43 percent of adults nationwide would support Biden if the 2024 presidential election were held today, while 33 percent would vote for Trump in a one-on-one match-up. Sixteen percent said they would choose a different candidate, while 6 percent said they would not vote. In a hypothetical race against DeSantis, however, Biden polls slightly worse: 41 percent of adults nationwide said they would throw their support behind Biden, while 33 percent would support DeSantis. Eighteen percent of respondents said they would vote for a different candidate, and 8 percent said they would not cast a ballot." • Of course, it's silly to be worried about polling at this point; two years is a long time in politics. But it goes to show that Biden isn't completely vulnerable, either to the Republicans or to a rival within his own ranks. Deploying a second cliché (I've got a million of 'em), you can't beat something with nothing, and Biden is something. Harris and Buttigieg, on the other hand, are either nothing or less than nothing.

"Key Pa. Dems to miss Biden visit, cite scheduling conflicts" [Associated Press]. "President Joe Biden will appear in Pittsburgh on Friday as an opening step in a broader campaign to promote the White House's achievements in key states before the midterm elections. But two of the three leading Democrats on Pennsylvania's statewide ballot this spring who were invited to appear with Biden will not attend, their campaigns confirmed on the eve of the president's visit. Lt. Gov. John Fetterman, a leading Senate candidate, and state Attorney General Josh Shapiro, the likely Democratic nominee in the race for governor, will be absent because of scheduling conflicts, according to their spokespeople. Another top Senate candidate, Rep. Conor Lamb, a longtime Biden supporter based in Pittsburgh, will attend, his office confirmed. All three had been invited to participate in a photo line with the president. The high-profile absences come as Democrats in other states have begun taking modest steps to distance themselves from the first-term president, whose approval ratings have fallen sharply in recent months. And while Fetterman and Shapiro indicated that politics had no bearing on their schedules, their decisions to avoid Biden, particularly in his home state, could fuel further questions among anxious Democratic candidates elsewhere as they decide whether to embrace the struggling president." • Fetterman is so, so photogenic. I'd love to see him on stage with a suit like, say, DeSantis, although it's early days for that. The Democrat establishment hates Fetterman, naturally. But apparently the small donor model works for him? Can Pennsylvania readers speak up on Fetterman?
#COVID19
Case count by United States regions: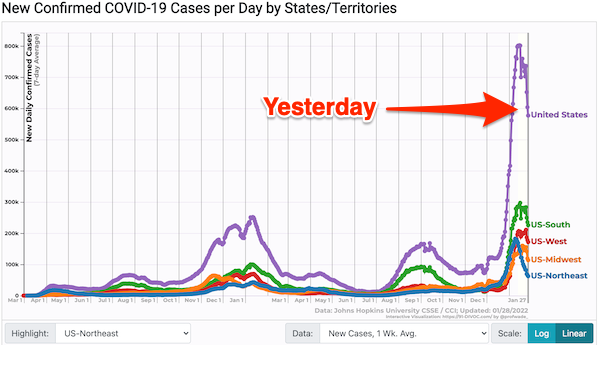 Peak behavior; I think we can expect more bounces on the way down, if we go by past behavior. If you look at the two previous peaks, you'll see we've had declines, followed by rises, followed by final declines. It looks like "rise like a rocket, and fall like a stick" applies; the slope of the downward curve is more or less the same as the upward curve. (Previous peaks — how small the early ones look now — have been roughly symmetrical on either side. But the scale of this peak, and the penetration into the population, is unprecedented.) I wonder if there will be plateau when B.2 takes hold. Since the Northeast has form, that is probably the region to watch for this behavior first.
The official narrative was "Covid is behind us," and that the pandemic will be "over by January" (Gottlieb), and "I know some people seem to not want to give up on the wonderful pandemic, but you know what? It's over" (Bill Maher) was completely exploded. What a surprise!
Holy cow:
Staggering COVID-19 infection numbers from Dartmouth, where at least 23% of the student body has tested positive this month and 41% have been infected in the last 3 months. Agree with @asosin's concern of onward transmission to more high-risk individuals.https://t.co/oASYHpkaVu

— Benjy Renton (@bhrenton) January 28, 2022
What's going on up there?
NOT UPDATED MWRA (Boston-area) wastewater detection: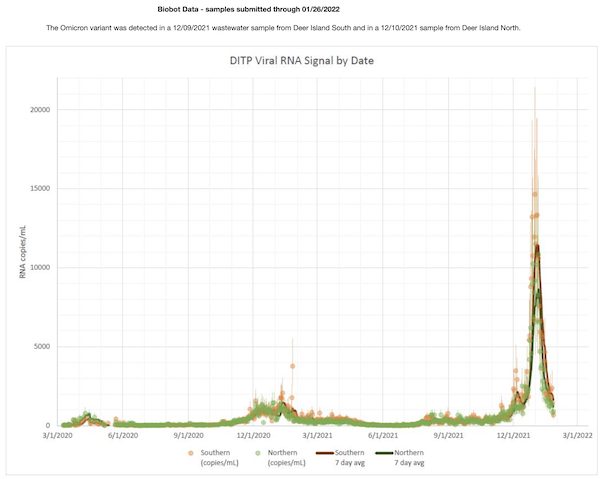 Continues encouraging. No jump from the return of the students yet.
The Massachusetts Water Resources Authority (MWRA) service area includes 43 municipalities in and around Boston, including not only multiple school systems but several large universities. Since Boston is so very education-heavy, then, I think it could be a good leading indicator for Covid spread in schools generally.
From CDC Community Profile Reports (PDFs), "Rapid Riser" counties: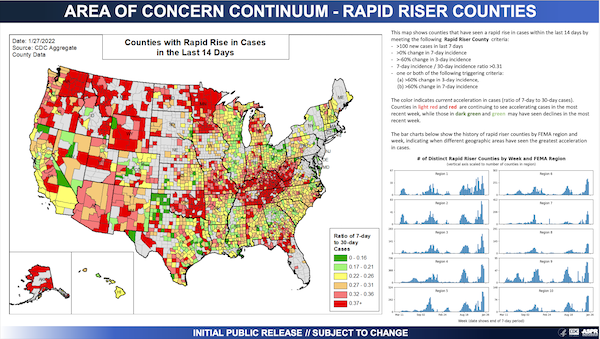 Still improving (Remember that these are rapid riser counties. A county that moves from red to green is not covid-free; the case count just isnt, well, rising rapidly.)
The previous release: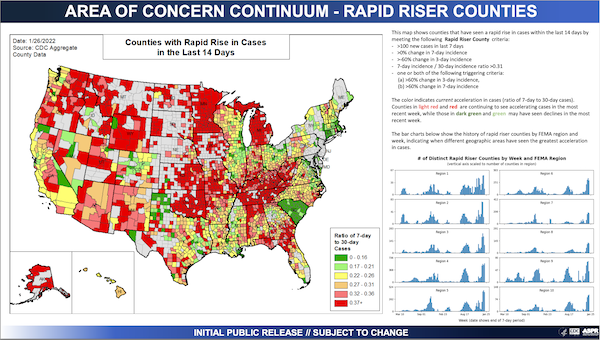 "A data gold mine in our wastewater" [Star-Tribune]. "'We have shown repeatedly through each surge that measures of RNA in wastewater reliably predict up to two weeks in advance increases in cases and we've published that,' said Dr. Tim Schacker, vice dean for research at the U's medical school. 'There are data now that are being published from other centers, who have smaller catchment areas than we do, and they're reporting a similar thing. I think these methods are pretty sound.' Minnesota isn't the first state to surveil wastewater for COVID. Similar efforts are underway in Boston and Seattle and elsewhere. But Minnesota's wide catchment area includes 67% of the state's population." • And the best thing of all? Data from poop is intrinsically anonymized.
Hospitalization (CDC Community Profile):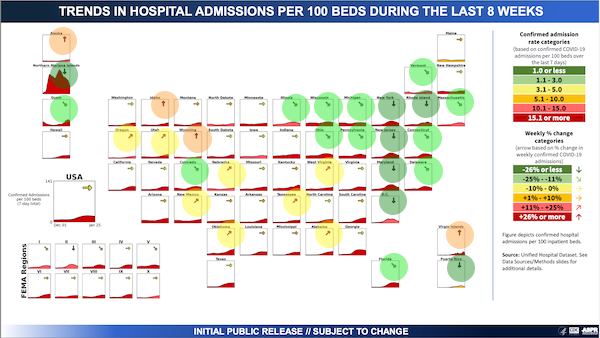 Stilll encouraging (reinforced my MWRA data and case data). (Note trend, whether up or down, is marked by the arrow, at top. Admissions are presented in the graph, at the bottom. So it's possible to have an upward trend, but from a very low baseline.)
Death rate (Our World in Data):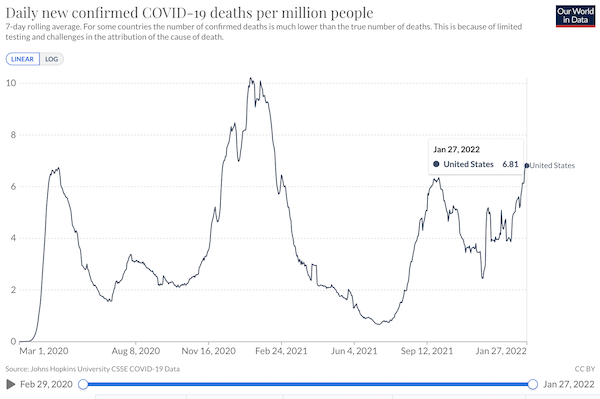 Total: 902,196 894,880. As we know, deaths are a lagging indicator. I assume the absurdity of the "Omicron is mild" talking point is, at this point, self-evident. If you know somebody who's in "lead my life" mode, you might consider telling them the odds of dying from Covid are tied for second worst with the first wave in New York.
Wheeee!
More than 3,000 American Covid deaths reported today, 7-day average > 2,500, and the sharp continued rise indicates this peak may exceed that before there were vaccines. Which is unfathomable. pic.twitter.com/LVDa0pgCgL

— Eric Topol (@EricTopol) January 28, 2022
Covid cases in top us travel destinations (Statista):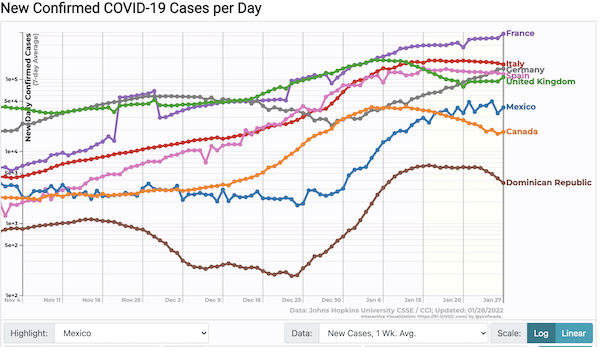 Good news here too. For the time being.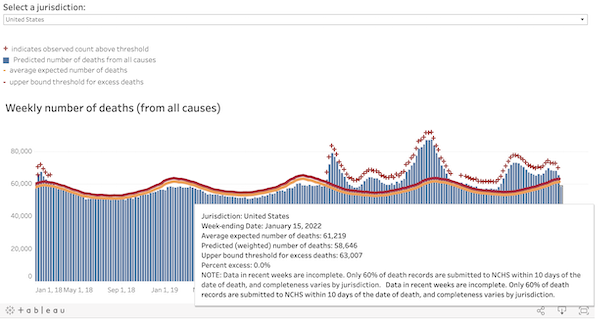 Look at the qualifications in that drop-down. And the enormous typo, helpfully highlighted, which was there last week too. I know the CDC copy editing process is slow, but this is ridiculous.
* * *
On vaccination in general (not these vaccines), let's review:
I post this regularly, and many express surprise.

This is the current childhood immunization schedule. Many childhood vaccines are three+ doses, sometimes a booster.

This is one reason why, unlike earlier centuries, we don't have cemeteries full of children. We've forgotten. pic.twitter.com/H01WqNg7uj

— zeynep tufekci (@zeynep) January 27, 2022
Stats Watch
Personal Income: "United States Personal Income" [Trading Economics]. "Personal income in the United States rose 0.3 percent from a month earlier in December 2021, following a 0.5 percent growth in November and missing market expectations of 0.5 percent, as a 0.6 percent increase in compensation was partly offset by a 1.4 percent decline in proprietors' income. Within compensation, the increase reflected gains in both private and government wages and salaries, while within proprietors' income, both nonfarm and farm income decreased. Government social benefits were slightly down, reflecting the winding down of pandemic-related assistance programs."
Personal Spending: "United States Personal Spending" [Trading Economics]. "Personal spending in the US fell 0.6% mom in December of 2021, the first decrease in 9 months and in line with market expectations as the omicron variant started to spread across the country and holiday shopping was partially pushed to earlier months on expectations of shipping delays. Spending for goods declined, led by recreational goods and vehicles; other nondurable goods which include newspapers, household supplies, games and toys; and furnishings and durable household equipment. Spending for services increased, however, with the largest contribution coming from health care."
Consumer Sentiment: "United States Michigan Consumer Sentiment" [Trading Economics]. "The University of Michigan consumer sentiment for the US was revised lower to 67.2 in January of 2022, the lowest level since November 2011, compared to a preliminary of 68.8. Both current conditions (72 vs preliminary of 73.2) and expectations (64.1 vs 65.9) were revised down. Inflation expectations were confirmed at 4.9% for the year ahead and 3.1% for the next five years. According to Richard Curtin, Surveys of Consumers chief economist, 'the Delta and Omicron variants were largely responsible, but other factors, some of which were initially triggered by covid, have become independent forces shaping sentiment. Overall confidence in government economic policies is at its lowest level since 2014. Although their primary concern is rising inflation and falling real incomes, consumers may misinterpret the Fed's policy moves to slow the economy as part of the problem rather than part of the solution."
* * *
Retail: "5 Days, 26 Restaurants, Surprisingly Little Omicron Anxiety" [Grub Street]. "What I discovered during this somewhat insane (and extremely cold) stretch of days is that New Yorkers, by and large, have separated into two distinct factions. People are no longer tentatively returning to restaurants. They are firmly 'in' or they are firmly 'out,' and the New Yorkers who are going out are really going out. There may be fewer people at restaurants overall, but the ones who do show up are doing their part to compensate for whatever energy might otherwise be missing…. More than anything, it struck me that people wanted the comfort that comes from being inside a lively room filled with happy strangers, exactly the kinds of places we've all probably tried to avoid at one point or another over the last two years." • I suppose one could regard this as a triumph of the human spirit. On the other hand, the extroverts are gonna kill us all.
The Bezzle: "Celebrities Explain Why They Are Investing In Crypto" [The Onion]. Elon Musk: "I like the independence of investing in something that I can control the value of with one tweet." •
The Bezzle: "The fund that made $700 million on GameStop knew it was time to sell after an Elon Musk tweet" [CNBC]. "One hedge fund got the GameStop trade just about perfectly right last year — buying it under $10 and selling when the meme stock peaked. The sell signal it used? An Elon Musk tweet. That's how 2021′s top-performing hedge fund, Senvest Management, was able to notch $700 million in profit from GameStop and bring its annual return to more than 85%. The trade was the firm's single best in its 25 years in existence." • Elon, good job.
The Bezzle: "Would you buy a home in the metaverse?" [Financial Times]. "Or why not buy your own island, complete with villa? Part of an exclusive 100 person community called Fantasy Islands, far away from the hustle and bustle of crowded city streets, its website lists it as the creation of "lady pirate poet" Agadora Humphries. And with prices starting as low as $104,000, it's a steal —less than half the average cost of a first-time buyer's house in the UK. There is one slight catch, though — you can't actually live in it because it only exists online. It exists in The Sandbox, a metaverse: one of many virtual worlds filled with digital assets ranging from dresses and sneakers to art and cars… There are also questions about what happens to the long-term future of metaverse purchases. Game servers have been shut down once companies deem the cost of running them too high… 'Let's imagine you're playing a blockchain game, and you have an NFT of 62 houses and the game goes offline — it's true that you own the NFT, but it has no value,' says Castronova. 'No court has established an obligation of a company to continue to provide electricity to servers so you can access it.'"
Tech: "How to Build a Better Metaverse" [Wired]. "If Facebook is successful at building a metaverse with behavioral ad targeting, it's just a very, very bad outcome. But it's not inevitable at all. I've been saying this to everybody that will listen: Second Life makes more per person who uses it, per year, than YouTube or Facebook does. Second Life is free for basic access, just like Facebook or Gmail or YouTube. But the way Second Life makes money is through fees…. I think the underlying value of clothing that you would wear to a meeting or a concert or whatever—wearing some cool clothes that you bought from a designer—is similar to the value of buying clothes in the real world. Right now, because of the speculative, tulip-bulb type thing going on, it's impossible to separate the speculative noise from the value of the underlying assets. But if you ask what is the actual value of a digital painting that you can hang on your wall in your digital house, or a digital pair of shoes you can wear on your avatar? I think Second Life provides at least some guidance, which is to say that the value of those things is, sensibly, lower than it is in real life, but it's certainly not zero. The average Second Life transaction is about $2. I think it gives evidence that there's a value to NFTs. But right now, the average price of NFTs—it's something crazy like $1000—is substantially higher than what I would guess is its long-term value." • Second Life = Sony Betamax? This is a very interesting interview, well worth a read.
* * *
Today's Fear & Greed Index: 33 Fear (previous close: 33 Fear) [CNN]. One week ago: 43 (Fear). (0 is Extreme Fear; 100 is Extreme Greed). Last updated Jan 28 at 1:36pm.
Our Famously Free Press
"Influential NY Times Writer Under Fire for COVID Propaganda" [Peter Daou, Direct Left]. "I've written at length about the duopoly's unconscionable strategy of downplaying COVID-19 in order to keep the capitalist machine humming…. While liberals attack podcast host Joe Rogan for spreading virus misinformation, they ignore offenders with even larger platforms: the ruling parties and "legitimate" media figures like David Leonhardt. Thankfully, many people see through the propaganda…."
"Our playbook to fight covid-19 is outdated. Here are 10 updates for 2022." [Joseph G. Allen, WaPo]. Allen's no Leonhardt, and he's sound on ventilation. Nevertheless: "Where all people are vaccinated, we should do away with mask mandates and distancing requirements." No, since the vaccinated transmit. And: "Let's dispense with the notion that masks are only protective if everyone is wearing them. Here's a way to think about it: If everyone wears surgical masks, which have a 70 percent filtration rate, the combined protection is 91 percent because the virus must pass through masks twice. But N95 masks — now widely available — offer better protection than universal surgical mask use, which is the approach used in hospitals. For anyone who fears moving away from universal masking, the great news is that they can continue to wear an N95 mask — along with being vaccinated and boosted — and live a low-risk life regardless of what others around them are doing." I'm not seeing numbers from Allen. "Isolation periods should be reduced from 10 days to five. Peak infectivity happens when symptoms first appear for the vast majority of people, and immediately preceding by a day or two, but drops rapidly after that. For vaccinated people, that window is even shorter. Yet we continue to use an outdated 10-day isolation period, when it could be as short as five." At least one study I found showed that peak shedding was at five days (meaning that Walensky's 5-day ukase was the worst possible choice. In general, while I obviously don't support hygiene theatre in any form — Allen does throw handwashing under the bus, fortunately — I don't at all like the tendency to minimize protective measures known to work; the "one mask" idea is a perfect example of this.
News of the Wired
"NASA's 'Nuclear Option' May Be Crucial for Getting Humans to Mars" [Scientific American]. • The Martians won't be happy when we accidentally crash a nuclear reactor into their planet.
* * *
Contact information for plants: Readers, feel free to contact me at lambert [UNDERSCORE] strether [DOT] corrente [AT] yahoo [DOT] com, to (a) find out how to send me a check if you are allergic to PayPal and (b) to find out how to send me images of plants. Vegetables are fine! Fungi and coral are deemed to be honorary plants! If you want your handle to appear as a credit, please place it at the start of your mail in parentheses: (thus). Otherwise, I will anonymize by using your initials. See the previous Water Cooler (with plant) here. Today's plant (TH):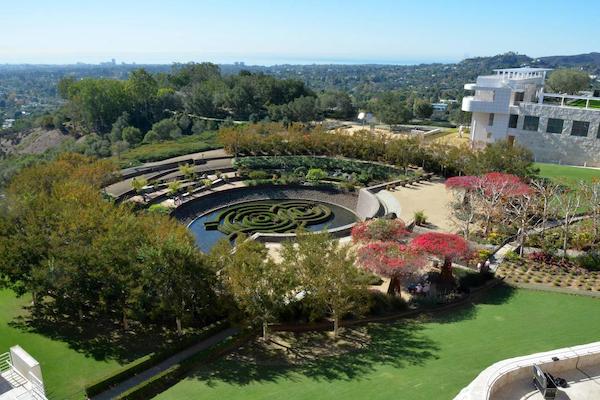 TH writes: "This is from our recent visit (11/14/21) to the J. Paul Getty Center (museum) in Los Angeles. The garden was designed (1992-1997) by Robert Irwin. It's a wee bit more colorful in the Spring." I remember, from my brief time in California, blasting up the 405 to the high desert. Passing the Getty, there would always be the first scent of eucalyptus in the night, and I would know I had truly left the city.
* * *
Readers: Water Cooler is a standalone entity not covered by the recently concluded and — thank you! — successful annual NC fundraiser. So if you see a link you especially like, or an item you wouldn't see anywhere else, please do not hesitate to express your appreciation in tangible form. Remember, a tip jar is for tipping! Regular positive feedback both makes me feel good and lets me know I'm on the right track with coverage. When I get no donations for five or ten days I get worried. More tangibly, a constant trickle of donations helps me with expenses, and I factor in that trickle when setting fundraising goals:
Here is the screen that will appear, which I have helpfully annotated.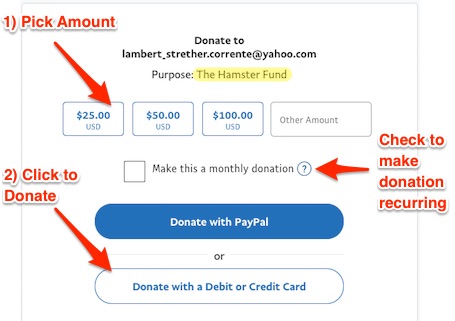 If you hate PayPal, you can email me at lambert [UNDERSCORE] strether [DOT] corrente [AT] yahoo [DOT] com, and I will give you directions on how to send a check. Thank you!