By Lambert Strether of Corrente
Bird Song of the Day
An unusually musical chickadee.
* * *
Politics
"But what is government itself, but the greatest of all reflections on human nature?" –James Madison, Federalist 51
"They had learned nothing, and forgotten nothing." –Charles Maurice de Talleyrand-Périgord
"When the going gets weird, the weird turn pro." –Hunter Thompson
Capitol Seizure
"McConnell differs with Trump on Jan. 6 pardons" [The Hill]. "Senate Minority Leader Mitch McConnell (R-Ky.) said Tuesday that he does not support shortening the sentences of any of the people who have pleaded guilty to crimes related to the Jan. 6, 2021, storming of the U.S. Capitol…. 'The election of 2020 was decided Dec. 14 of 2020 when the Electoral College certified the winner of the election. What we saw here on January the 6th was an effort to prevent the peaceful transfer of power from one administration to another, which has never happened before in our country.'"
Biden Adminstration
"Manchin, key Dem, says Build Back Better bill is 'dead'" [Associated Press]. "'What Build Back Better bill?' Manchin said Tuesday, using the legislation's name, when reporters asked about it. 'There is no, I mean, I don't know what you're all talking about.' Asked if he'd had any talks about it, he added, 'No, no, no no. It's dead.' Manchin has repeatedly said he remains open to talks aimed at crafting a smaller bill that could include its provisions aimed at reducing carbon emissions, creating free pre-Kindergarten programs and increasing federal health care subsidies. But he has said negotiations have yet to begin…. Democrats have been hoping for agreement on a new package, or to be near one, by Biden's March 1 State of the Union address. That's seeming unlikely with lawmakers focusing on another bill financing government agencies by Feb. 18, when funding expires, a Supreme Court vacancy and Russia's threatened invasion of Ukraine. All this comes as both parties are showing a near daily focus on economic issues important to voters ahead of November voting when party control of Congress is at stake."

"Manchin Raked in Record Q4 Donations While Killing Build Back Better Act" [ReadSludge]. "Manchin raised over $1.57 million in the fourth quarter of 2021, the highest total he's ever raised in a year-end report, according to FEC records. …. The fourth quarter sum brings the total raised by Manchin's primary campaign committee to over $4.83 million in 2021, compared with nearly $495,000 in 2020. The 74-year-old Manchin has not announced if he intends to run for re-election in 2024. The committee's cash on hand is over $6.71 million, according to records maintained by ProPublica."

"Democratic senator's stroke exposes fragility of 50-50 Senate majority" [CNN]. "As if their stalled and tattered agenda wasn't proof enough, Democrats just got a poignant reminder of the precarious nature of life in a 50-50 Senate, especially ahead of an impending Supreme Court nomination. After news broke Tuesday that New Mexico Sen. Ben Ray Luján suffered a stroke last week, there was palpable concern for a valued fellow senator and then relief among his colleagues that he was expected to make a full recovery. At 49, Luján is one of the geriatric Senate's young bucks, yet his sudden hospitalization, at least for now, deprives Majority Leader Chuck Schumer of a functioning majority if he needs to call a short-notice vote. And it offered a preview of more serious long-term implications for Democrats if even one of their number becomes temporarily or permanently incapacitated. Thoughts about the fragility of the chamber's delicate balance of power will have flashed across many minds on Tuesday afternoon."
Democrats en Déshabillé
I have moved my standing remarks on the Democrat Party ("the Democrat Party is a rotting corpse that can't bury itself") to a separate, back-dated post, to which I will periodically add material, summarizing the addition here in a "live" Water Cooler. (Hopefully, some Bourdieu.) It turns out that defining the Democrat Party is, in fact, a hard problem. I do think the paragraph that follows is on point all the way back to 2016, if not before:

The Democrat Party is the political expression of the class power of PMC, their base (lucidly explained by Thomas Frank in Listen, Liberal!). ; if the Democrat Party did not exist, the PMC would have to invent it. . ("PMC" modulo "class expatriates," of course.) Second, all the working parts of the Party reinforce each other. Leave aside characterizing the relationships between elements of the Party (ka-ching, but not entirely) those elements comprise a network — a Flex Net? An iron octagon? — of funders, vendors, apparatchiks, electeds, NGOs, and miscellaneous mercenaries, with assets in the press and the intelligence community.

Note, of course, that the class power of the PMC both expresses and is limited by other classes; oligarchs and American gentry (see 'industrial model' of Ferguson, Jorgensen, and Jie) and the working class spring to mind. Suck up, kick down.

* * *

"The Fallacy of Representation" [New York Magazine]. "What we expected of the Obama administration was beyond what the framework of the presidency allowed. That was a heartbreaking realization. Some of us came to it sooner than others." So, that was the lesson Obama taught Democrats? We can't govern? More: "When Obama was on the campaign trail for president, there was still a part of him that was ours: He was supposed to be the Organizer from Chicago. We'd heard that he had cut his teeth on the stones of our history. But the day he crossed that stage as president-elect, he became the figurehead of the elite, of the ruling class, a symbol of its evolution toward a new racial permeability — the kind that exists to create a new, racially integrated class of leaders only meant to continue the project of neoliberalism and its genesis, white supremacy." • "The day he crossed that stage"? Really?

"The BLM Mystery Where did the money go?" [New York Magazine]. I am filing this here because (the national) BLM is an NGO; a component of the Democrat party. Worth reading in full; accounting-oriented readers, especially, will find it interesting: "BLMGNF has never been a model of fiscal clarity." The final paragraph: "[Johnson] sounds disgusted when he hears about the fund-raising levels BLMGNF has achieved over the years and the comfort experienced by the few at the top. 'I don't tell people what I'm actually going through,' he says. 'I don't tell people how stressed I actually am. But, you know, I actually have to live through all of this.' He pauses to clear his head, and offers a final thought: 'They got rich off my back.'" • Adolph Reed nailed these people back in 2018 in "The Trouble of Uplift." If you haven't read it, consider doing so.

"Center For American Progress Staffers Threaten To Strike Amid Contract Fight" [HuffPo]. • Waiting for Neera to show solidarity with labor by weighing in on the union's side [snicker].
2022
* * *

"Muslim military veteran hopes to unseat Ilhan Omar, blasts 'Squad' lawmaker for neglecting her district" [FOX]. "A Somali-born U.S. Army veteran has joined the Republican field seeking to challenge Rep. Ilhan Omar, D-Minn., calling out her lack of attention to the needs of her constituents as violent crime surges in Minneapolis. 'Minneapolis just saw one of the most violent years on record, falling just one homicide short from the all-time record. The city at that time was coined 'Murder-apolis,'; the 5th Congressional District candidate Shukri Abdirahman told Fox News Digital. Abdirahman, a Muslim military veteran and mother of three, announced her campaign Monday. Her journey began in Somalia under a socialist dictatorship…." • I'm sure the Democrats would rather have run her than Omar, but here we are!
2024
"OnPolitics: New poll says the president is struggling with voters in swing state Florida" [USA Today]. "Most of those surveyed [by Suffolk], 53%, disapprove of the job Biden is doing versus 39% who approve. Nearly 60% believe the nation as a whole is on the wrong track, and a similar percentage disapprove of Biden's handling of the economy. Florida is the largest of a handful of states that could effectively decide presidential elections. Biden lost the state to former President Donald Trump by three percentage points in 2020 and, as it stands now, risks losing it again in 2024 to a Republican opponent."

"Joe Biden embraces New York's mayor as crime wave threatens Democrats" [FInancial Times]. • What did I write? "Hero Cop Saves Republic." So, here we go: "Biden's meeting with Eric Adams is an acknowledgment that crime — a perpetual concern in American politics — has again grabbed hold [in a totally spontaneous and organic fashion, as usual. –lambert] of the national consciousness. Shootings have surged since the Covid pandemic began in 2020, and have remained at elevated levels since then in much of the country. The sense of disorder has been amplified by brazen 'smash mob' robberies of luxury retailers and a plague of shoplifting that has unfolded with seeming impunity." And here's an interesting nugget: "In Los Angeles, the shooting to death in December of socialite Jacqueline Avant during a break-in at her Beverly Hills home has rattled wealthy residents and is threatening to upend the city's progressive politics. Avant was a major Democratic fundraiser, wife of music executive Clarence Avant and mother-in-law of Netflix co-chief executive Ted Sarandos. Her killing — one of 397 murders last year, the most since 2006 — has led some Hollywood Democrats to conclude that the city should elect a law-and-order mayor in this autumn's election." • I will watch Adams's broken field running with great interest…. He's going somewhere, even if we don't know where!

"DeSantis says people calling for him to condemn Nazis are trying to 'smear' him" [CNN]. "DeSantis was responding to a question about viral videos and photos of a small group of people wearing Nazi symbols yelling antisemitic slurs while demonstrating Saturday and Sunday on streets and highway overpasses in the Orlando area. While other Florida political leaders, including many Republicans, publicly condemned the gathering, DeSantis had not, sparking some criticism of the governor on social media. DeSantis said those critics were trying to 'use this as some type of political issue,' adding: 'We're not playing their game.'

The remarks came a day after DeSantis spokeswoman Christina Pushaw posted and then deleted a tweet questioning if the demonstrators were actually Democrats in disguise. 'Do we even know they're Nazis?' Pushaw said in the deleted tweet. 'I trust Florida law enforcement to investigate and am awaiting their conclusions.' She later clarified that she didn't know who had staged the protest and called the use of Nazi symbolism and hate speech "disgusting.'" • It is true that "Why will not X condemn ____" is an old political game; that does not, however, mean that either DeSantis or his press secretary played the game well. Why not begin by saying: "I trust Florida law enforcement to investigate"? Anyhow, condemning Nazis shouldn't be hard. Only a Lord of Misrule like Trump can get away with "very fine people"; DeSantis doesn't have the stature, if stature is the word I want.

"Hawley calling on Biden admin to drop support for Ukraine's eventual membership in NATO" [The Hill]. • Interesting position to stake out. Paleocons will love it, but other Republican factions?
2020 Post Mortem
"Ohio secretary of state finds 27 potentially illegal votes" [The Hill]. • 27.
Realignment and Legitimacy
"Five big takeaways from year-end FEC filings" [The Hill]. "Former President Trump's political operation is flush with cash heading into 2022, virtually guaranteeing his place as one of the most influential financial power players in the midterm elections — and perhaps beyond that. …. Republican groups that trailed their Democratic counterparts just a few years ago are pulling ahead in the money race as the GOP prepares for a midterm onslaught….. The democratization of fundraising means small-dollar donors are playing a bigger role in politics than ever before, and they're fueling a surge of spending on Senate contenders on both sides of the aisle…. Trump loves to brag that his imprimatur is stronger than ever in Republican primaries, but the reports show he hasn't been able to fill a candidate's coffers or cut off cash to his rivals…. Results of critical elections in Ohio, Pennsylvania and Wisconsin may determine which party controls the Senate next year — but even before the general elections, primary contenders are spending heavily, often their own money."

"Dems avert total redistricting doomsday — but they're not out of the woods" [Politico]. The deck: "Democrats have seized this year's redistricting battle with an unexpected ruthlessness, carving out more blue territory than most had expected even just a few months ago." • This isn't shocking at all. The NGOs were always the hysterical ones (seeking funding, no doubt) along with the press (clicks). The electeds were completely calm. And to any Sanders supporter, their ruthlessness will not seem "unexpected" at all.
#COVID19
Case count by United States regions: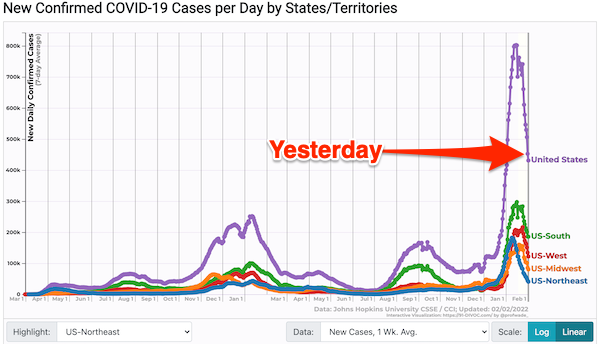 Peak behaviorl; it looks like "rise like a rocket, and fall like a stick" applies; the slope of the downward curve is more or less the same as the upward curve. (Previous peaks — how small the early ones look now — have been roughly symmetrical on either side. But the scale of this peak, and the penetration into the population, is unprecedented.) I wonder if there will be plateau when BA.2 takes hold. Since the Northeast has form, that is probably the region to watch for this behavior first.
The official narrative was "Covid is behind us," and that the pandemic will be "over by January" (Gottlieb), and "I know some people seem to not want to give up on the wonderful pandemic, but you know what? It's over" (Bill Maher) was completely exploded. What a surprise!
NOT UPDATED MWRA (Boston-area) wastewater detection: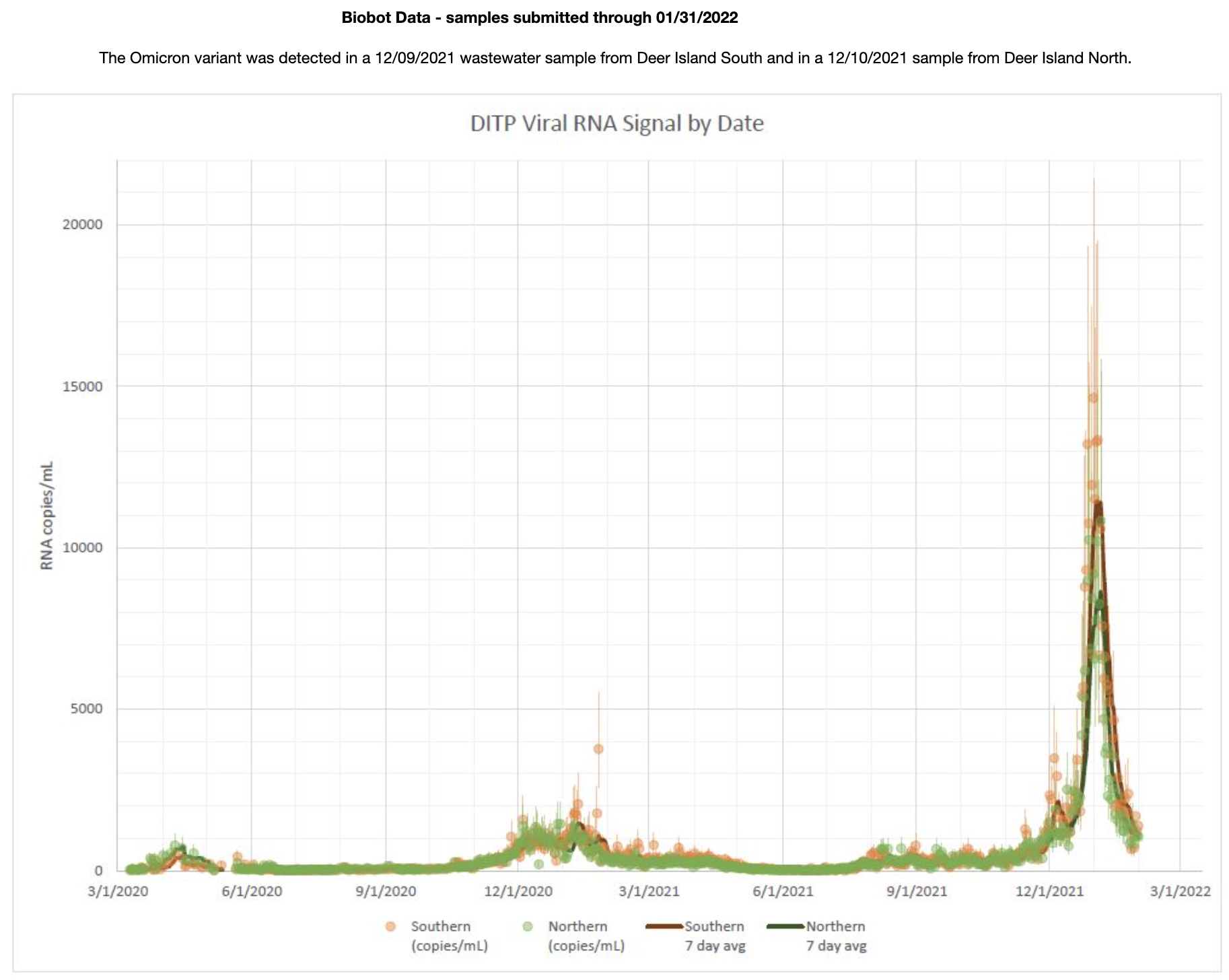 Continues encouraging. No jump from the return of the students yet, which is even more encouraging.
The Massachusetts Water Resources Authority (MWRA) service area includes 43 municipalities in and around Boston, including not only multiple school systems but several large universities. Since Boston is so very education-heavy, then, I think it could be a good leading indicator for Covid spread in schools generally.
From CDC Community Profile Reports (PDFs), "Rapid Riser" counties: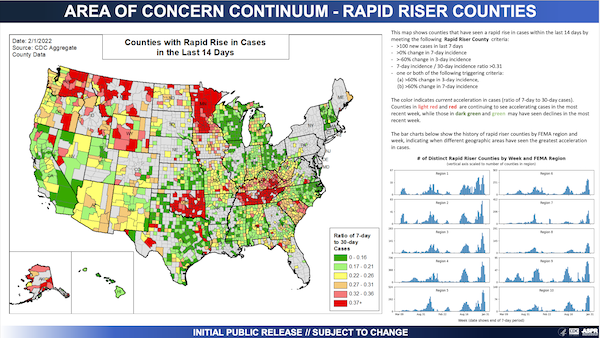 Now, and to great relief, the Ohio Valley starts to improve (remember Tennessee is weekly). Still, Minnesota is stubborn! (Remember that these are rapid riser counties. A county that moves from red to green is not covid-free; the case count just isnt, well, rising rapidly.)
The previous release: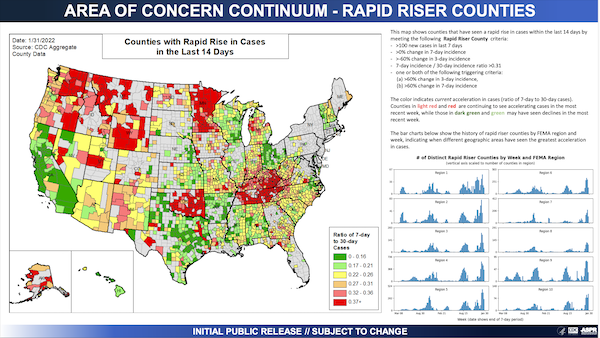 Hospitalization (CDC Community Profile):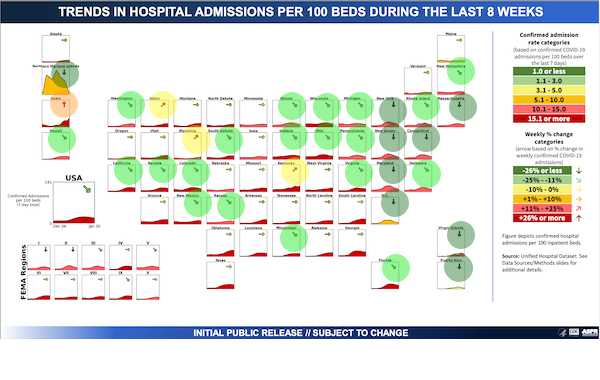 Only one orange jurisdiction; c'mon, Guam! I'm looking forward to the day when there is only green on the map (reinforcing the MWRA data and case data). (Note trend, whether up or down, is marked by the arrow, at top. Admissions are presented in the graph, at the bottom. So it's possible to have an upward trend, but from a very low baseline.)
Death rate (Our World in Data):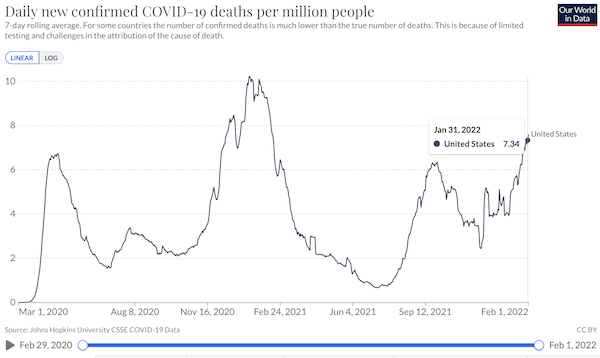 Total: 913,960 907,190 . As we know, deaths are a lagging indicator. I assume the absurdity of the "Omicron is mild" talking point is, at this point, self-evident. If you know somebody who's in "lead my life" mode, you might consider telling them their odds of dying from Covid are tied for second worst with the first wave in New York.
American exceptionalism:
"Since Dec. 1, when health officials announced the first Omicron case in the United States, the share of Americans who have been killed by the coronavirus is at least 63 percent higher than in any of these other large, wealthy nations." https://t.co/4RDF141uCV

— David Wallace-Wells (@dwallacewells) February 2, 2022
Covid cases in top us travel destinations (Statista):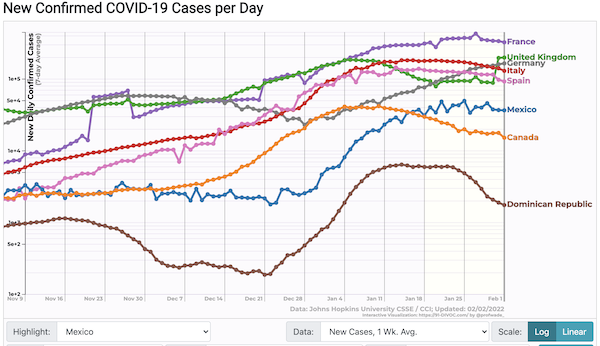 Good news here too. For the time being.
Stats Watch
Employment Situation: "United States ADP Employment Change" [Trading Economics]. "Private businesses in the United States unexpectedly cut 301K workers in January of 2022, the first job loss since December of 2020 and the biggest since April 2020, as the spread of the omicron coronavirus variant hurt the job market. Investors were expecting a job gain of 207K."
* * *
The Bezzle: More on Tesla's rolling stop "feature":
love that the self driving car has a traffic violation mode

— be9a0013—7c12—4be7—bd34—c7ffddad5f62 (@be9a0013) February 1, 2022
Video, with Musk's lying response:
He is confirming that the car is programmed in a way that it *will not come to a complete stop at a stop sign* based on Tesla's evaluation of a "clear view."

So like this? pic.twitter.com/i3fWEXR6Yv https://t.co/lsYxmMc6V8

— Alissa Walker (@awalkerinLA) February 2, 2022
Code is law:
Your interface literally said it would break the law pic.twitter.com/EdMLzFFo4K

— Cooper Lund (@cooperlund) February 2, 2022
More video on Tesla's software (being tested on public streets, if you recall:
Here's a typical drive on Tesla FSD Beta, and why it's the opposite of useful. It's most certainly not even close to being "safer than a human", by any factor.

22-minute drive, 4.5 miles, and WAY too many interventions. pic.twitter.com/oKmkRZ3Tgh

— Taylor Ogan (@TaylorOgan) February 1, 2022
The Bezzle: "Air taxi CEO: fully-autonomous plane market could reach $4 trillion by 2035" [Yahoo Finance]. "In terms of updates to infrastructure that may be needed in order for Wisk to properly scale its operations in urban areas, Gysin said that the company can leverage existing helipads and airports. Electric charging stations and the ability to on-load and offload passengers will need to be incorporated, but ultimately, not much additional infrastructure will be required. 'We've got a 20-city rollout plan. We haven't announced that yet, but we do have our plan,' Gysin said. "We are engaged with the initial cities where we're going to launch the service.'" • And when one of them falls out of the sky and slices up a pedestrian with its propellor?
* * *
Today's Fear & Greed Index: 35 Fear (previous close: 34 Fear) [CNN]. One week ago: 36 (Fear). (0 is Extreme Fear; 100 is Extreme Greed). Last updated Feb 2 at 1:24pm.
Our Famously Free Press
These writers are highly qualified for the New York Times social media team:
Glorious recent correction in WSJ:

"The full names of two Belarusian officials charged with aircraft piracy are not known. An article incorrectly identified them as Andrey Anatolievich Lnu and Fnu Lnu. FNU and LNU are acronyms for 'first name unknown' and 'last name unknown.'"

— Alec MacGillis (@AlecMacGillis) February 1, 2022
Lnu's not Linux?
"Taylor Lorenz Hopes The New York Times Will "Evolve In Their Ways" as She Leaves for the Washington Post" [Vanity Fair]. • Lorenz considers herself "talent," like a Hollywood star.
Games
Very encouraging:
Today is an important day for me. Fifteen years ago @Warcraft, and a good friend saved my life. I was badly addicted to amphetamines, and had nowhere to go. I got this in-game mail from my guild leader, Tremain – Dragonmaw. 1/2 pic.twitter.com/6P5diJgnM8

— Feer. (@recurringfear) May 3, 2021
Not what I would have expected from "World of Warcraft," but as I keep saying, I know nothing about this world.
The Fabulous Invalid
"Why Marlon Brando's Streetcar Co-Stars Couldn't Stand Him" [Slate]. Better than the headline: "As an English actor, Tandy wanted Brando to reform himself in the English tradition, modeling his future self on Laurence Olivier. Her letter clearly sets out the divide between classically trained English actors and their more inward-focused cousins across the Atlantic. Over the years to come, Olivier would become the Method's foil in the public eye, the epitome of the English approach, one that was largely external, based on physical and vocal transformation and careful attention to the rhythms and sounds of the text. Brando, meanwhile, would become the symbol of the Americans: authentic, unpredictable, interior, and drawn from the self. This conflict between Brando and Tandy, America and England, is also the conflict between Stanley and Blanche. Blanche is all artifice. She describes Stanley derisively as "simple, straightforward, and honest." Later, Blanche declares, "I don't want realism, I want magic!" By the end of the play, in a prophecy of things to come for the Method, Blanche has discovered that her artifice doesn't work as well as she thinks it does, while the audience has discovered that Stanley's authenticity is another kind of veneer."
The Agony Column
"The cruelties of self-help culture" [The New Statesman]. " Today's self-help mantra, as Jen Sincero, author of You Are a Badass (2013) puts it, is that "if you want something badly enough, and decide that you will get it, you will". This is a fantasy of infinitude, of a world overflowing with abundant wealth and opportunity for everyone. No one need clean, serve hot food, work tills, drive forklift trucks, enter data or deliver mail if they don't want to. Everyone can be a millionaire "influencer" or CEO. No one is fundamentally limited by the gifts, or disabilities, that they were born with, let alone by being born into a particular class, city or culture. There is nothing put wrong by brute luck that can't be put right by dedication. All that we need in addition to hard-work, most self-help literature suggests, is to master 'one weird trick/." • The obvious "one weird trick"? Write a self-help book!
The Conservatory
"Led Zeppelin Gets Into Your Soul" [The New Yorker]. "The anti-religious religious power of rock was exactly what my mother feared. I don't think it was the obvious mimicry of religious worship—the sweaty congregants, the stairways to Heaven, and all the rest of it—that worried her. I think she feared rock's inversion of religious power: the insidious power to enter one's soul. There were many postwar households where a confession of interest in rock and roll was received rather as a young Victorian's crisis of faith had been in the nineteenth century. Spitz tells us that listening to pop music in the Plant home was 'akin to a declaration of war,' producing an 'irreparable' rift between Plant and his parents. In my own adolescence, I can't clearly separate atheism's power from rock and roll's. My mother was right to be fearful. There was something a little 'satanic' about Led Zeppelin. You can feel it, perhaps, in the music's deep uncanniness; in Plant's unsexed keening; in the band's weird addiction to downward or upward chromatic progressions—the sound of horror-film scores—in songs like 'Dazed and Confused,' 'Kashmir,' 'Babe I'm Gonna Leave You,' and even 'Stairway to Heaven.' It's in the terrifying, spectral, semi-tonal shriek of 'Immigrant Song,' the creepy scratching chords that open 'Dancing Days,' the dirgelike liturgies of 'Friends' and 'Black Dog.' That's the good satanism. What about the actual diabolical activity—the violence, the rape, the pillage, the sheer wastage of lives? Jimmy Page was a devoted follower of the satanic 'magick; of Aleister Crowley, whose Sadean permissions can be reduced to one decree: 'There is no law beyond do what thou wilt.' If the predetermined task of rock gods and goddesses is to sacrifice themselves on the Dionysian altar of excess so that gentle teen-agers the world over don't have to do it themselves—which seems to be the basic rock-and-roll contract—then the lives of these deities are never exactly wasted, especially when they are foreshortened. Their atrocious human deeds are, to paraphrase a famous fictional atheist, the manure for our future harmony." • When they were active, I always had Led Zeppelin filed under B for Bombast and never listened to them. But I had misfiled them, as I came to understand much later:
(The bootleg videos are better since they're at lower resolution and don't show the performers faces in such pitiless detail; but the sound on the official version is better.)
Zeitgeist Watch
"Death Doulas Used to Be Rare. The COVID-19 Pandemic Changed That" [Time]. "Using only words, Lightner, 49, carries him away from a home that he can't physically leave anymore and guides him under the sea, where she knows he used to be happy. She leans her head against his chest and tells him they're now swimming together in the tropical ocean, where so many vibrant schools of fish surround them. She describes for him the striking blues and oranges of their fins, how the sun pierces through the still water and lights up the coral beneath them. She tells him he's warm, weightless and floating. Lightner sits beside the man for nearly seven hours. Before she leaves, she gently places his frail hand on his sleeping cat and reassures him that his beloved pet will be fine when he's gone. Then she opens a window—a symbolic and spiritual gesture of passage to whatever comes next. The man died the next day, which is expected in Lightner's new line of work. She's a death doula, an end-of-life coach who helps the terminally ill be at peace with dying—and she's among hundreds of Americans who've embraced the rising occupation during the pandemic." • Wait 'til private equity moves in, and we get chains.
"Lynnwood pirate bar faces mutiny over 'catch the virus' show" [Everett Herald]. • The train to Assholistan always leaves on time.
"The Exquisite Catharsis of Jackass" [New York Magazine]. "[Knoxville] recently told GQ that he started graying at a very young age and that has been diligently dying it all these years, only to stop during the pandemic. Whatever his reasons, the visual effect is a perfect cinematic touch — as if Knoxville's hair suddenly turned white from all the abuse his body had endured. The spectacle of watching this broken-down crew go about their stunts gives the movie an elegiac quality, forcing us to reflect on our own mortality…. Knoxville and his pals provide catharsis by letting dogs bite them in the ass ("Owwww! Oklahoma! Oklahoma! Ahhh, fuck! My ass meat!") and by trapping each other in limousines full of bees. ("Oh, dude, it hurts. Ayyaaggah! Please put me somewhere where there's no bees!") They take our despairing reality and turn it into entertainment by presenting a vision of loyalty and fellowship. The world is fucked and everything hurts, they seem to say, but at least we have each other." • Somebody should do a "Jackass" for dealing with customer service.
Class Warfare
"As Stocks Tumble, Wealthy Speculators Bid Up House Prices" [Cory Doctorow, Medium]. From last week, still germane: "Many asset bubbles are indirectly harmful — e.g. the climate consequences of crypto, or the way easy capital has spurred even more mergers and monopolization, with the attendant layoffs and worsening labor conditions. Asset inflation has also spurred investment in predatory enterprises like Uber and DoorDash, who use investor cash to subsidize a money-losing operation that strangles real, locally owned businesses. But there's one asset bubble that has an immediate and direct harmful effect: the housing bubble. Since the Great Financial Crisis, Wall Street has been hell-bent on acquiring single-family homes, converting them to rental property, gouging on rent, skimping on maintenance, and evicting on the flimsiest pretense. By every metric, Wall Street investors are the worst landlords, and they're the fastest-growing class of landlord. These two facts are related. Big firms are able to buy up so much housing because they are able to borrow cheaply, issuing bonds that "securitize" the rent payments from tenants. Access to this capital is dependent on the ability to raise rents and scare tenants into silence over dangerous living conditions. In other words, Wall Street firms can only corner the market on housing if they promise their investors that they'll brutalize and beggar their tenants."
"Bank of America Is Refusing to Forgive Some PPP Loans in Full, Giving Small Businesses Little Recourse" [The Intercept]. "One of the first forms of aid Congress offered to businesses during the Covid-19 pandemic was PPP loans, which were meant to be forgiven completely if used to cover payroll and other specified expenses. But in over a half-dozen interviews and emails with The Intercept, small business owners who got their PPP loans through Bank of America described the same experience: A year or more after they first received their loans, they were told that the bank determined they had originally received too much money and that it would only forgive a portion, leaving them to pay back the remainder with interest. Jose Ramos, owner of Kin-Keepers in Virginia, was told that none of his $67,500 PPP loan would be forgiven. Not all of the business owners have been able to determine why they are being denied full forgiveness; some say it has to do with whether the money could be used to pay contractors, and others say it has to do with whether they should have included health insurance costs in their applications. But all maintain that they followed the rules as they were written at the time they signed the promissory notes on their loans and shouldn't be held accountable for the many rule changes the SBA made afterward. Bank of America, they point out, reviewed their applications and approved them for the original loans."
News of the Wired
"Red Flags To Look For When Booking An Airbnb" [The Onion]. "The Description Doesn't Say 'Nestled' Anywhere."
* * *
Contact information for plants: Readers, feel free to contact me at lambert [UNDERSCORE] strether [DOT] corrente [AT] yahoo [DOT] com, to (a) find out how to send me a check if you are allergic to PayPal and (b) to find out how to send me images of plants. Vegetables are fine! Fungi and coral are deemed to be honorary plants! If you want your handle to appear as a credit, please place it at the start of your mail in parentheses: (thus). Otherwise, I will anonymize by using your initials. See the previous Water Cooler (with plant) here. Today's plant (BS):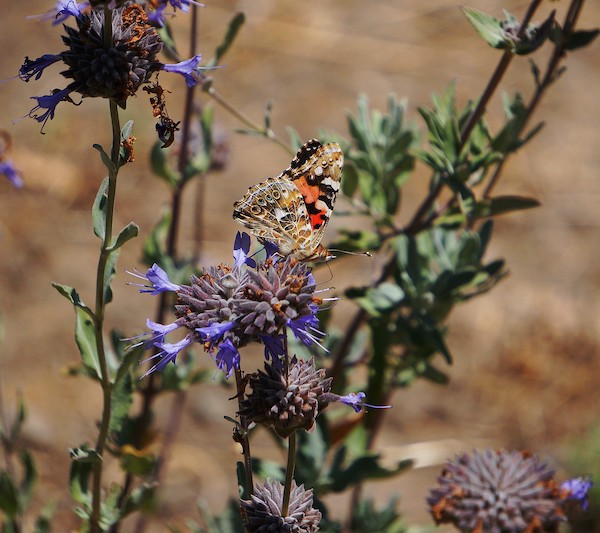 BS writes writes: "Salvia Clevelandii (Cleveland Sage) with Painted Lady (Vanessa cardui) butterfly." I always marvel at this kind of shot; I just can't take them!
* * *
Readers: Water Cooler is a standalone entity not covered by the recently concluded and — thank you! — successful annual NC fundraiser. So if you see a link you especially like, or an item you wouldn't see anywhere else, please do not hesitate to express your appreciation in tangible form. Remember, a tip jar is for tipping! Regular positive feedback both makes me feel good and lets me know I'm on the right track with coverage. When I get no donations for five or ten days I get worried. More tangibly, a constant trickle of donations helps me with expenses, and I factor in that trickle when setting fundraising goals:
Here is the screen that will appear, which I have helpfully annotated.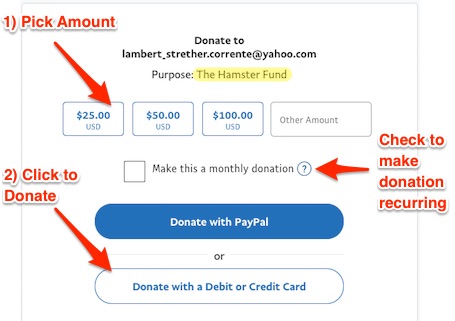 If you hate PayPal, you can email me at lambert [UNDERSCORE] strether [DOT] corrente [AT] yahoo [DOT] com, and I will give you directions on how to send a check. Thank you!