By Lambert Strether of Corrente
Bird Song of the Day
* * *
Politics
"But what is government itself, but the greatest of all reflections on human nature?" –James Madison, Federalist 51
"They had learned nothing, and forgotten nothing." –Charles Maurice de Talleyrand-Périgord
"When the going gets weird, the weird turn pro." –Hunter Thompson
Biden Adminstration
"4 takeaways from Biden's State of the Union address" [WaPo]. "There were a few words notably missing from Biden's speech: 'Build Back Better.' It has been pretty clear for a while now that the signature package is going nowhere in Congress — particularly as we turn to an election year in which passing legislation is much more difficult. But the White House and Democrats have been slow to concede that. Tuesday marked a significant shift away from it. Biden cited others bills he wanted passed, including the Bipartisan Innovation Act, the Freedom to Vote Act, the John Lewis Voting Rights Act and the Disclose Act, along with some more technical changes, but not Build Back Better, a multitrillion-dollar proposal to revamp or bolster child care, education, health care and climate change programs. When it came to large-scale legislation, he focused much more on the benefits of what has already passed, including the Bipartisan Infrastructure Law and the American Rescue Plan. Biden still spoke to the priorities contained in Build Back Better, including energy, housing, child care and cutting prescription drug costs. But it seemed this was now more of a messaging exercise than a true legislative effort." • I guess we'll have to wait until President Manchin delivers his own SOTU.

"Tlaib diverges from Biden's State of the Union address" [Politico]. "Speaking on behalf of the progressive Working Families Party, the "Squad" member mirrored many of the issues mentioned in Biden's remarks, commending the administration for boosting the struggling economy and for quickly tackling the coronavirus pandemic through health care and financial relief. But the Michigan lawmaker quickly pivoted, homing in on talking points that the president either avoided, or had a differing opinion on…. Tlaib also dinged both the Republican Party and "corporate-backed Democratic obstructionists" for blocking the party's $1.7 trillion social spending plan, formerly known as "Build Back Better." The bill, which would increase climate provisions, lower drug costs, and offer universal pre-K, was shot down by Republicans and Sen. Joe Manchin (D-W.Va.), although Tlaib did not call out the detractors of the bill by name…. It's quite unusual for members of the president's party to respond with their own remarks ― it's a role usually reserved for the opposing party's. But it's a growing trend in recent years."

"Joe Biden's State of the Union Didn't Offer Much for the Working Class" [Jacobin]. "There was a blink-and-you-miss-it reference to the PRO Act, the proposed reform that would work to fix America's incredibly broken, pro-boss labor law and make it easier for workers to form unions, but anyone who's memory extends all the way back to 2021 knows that Biden put very little political capital into trying to pass it then; as an active agenda item, it's barely a memory now. As journalist Ana Kasparian pointed out last night, in some ways the most important omission from the speech was any mention of "labor and the gains they've made for themselves without help from Congress or the Executive branch." Kasparian mentioned the successful strikes at John Deere and Nabisco. We could add the shockingly large wave of unionizations at Starbucks locations around the country. The truth is that, apart from refraining from turning them into radioactive ash by escalating the war in Ukraine to World War III, it's unlikely that the Biden administration is going to do much for the working class. Some of the exact promises that Joe Biden made in 2020, like 'card check' for union elections (a process for union recognition that would help avoid the onslaught of union-busting that workers currently face when they organize unions which is a key component of the PRO Act) and a health care 'public option,' were made by Obama in 2008. And they were heading down the memory hole by about this point in the Obama administration. Without any significant change in the political landscape, that cycle of promising desperately needed policies for the working class only to let them quietly slip away will likely play out during the next Democratic administration too. If that landscape is going to change for the better, it's going to have to be changed by workers organizing." • They're just trolling us, aren't they?

"Biden's State of the Union Comments on Defunding Police Were Wrong" [Teen Vogue]. "The State of the Union's bipartisan moment of joy over funding police and emphasis of the perspective of police over those killed by police comes less than two years after the so-called racial reckoning of 2020. That summer, Pelosi and other Democratic leaders knelt in kente cloth in Emancipation Hall, in a show of 'support' for Black lives. But that's the Democrats for you: all optics, no substance."

"Biden speech draws 38.2 million U.S. TV viewers" [Reuters]. "An estimated 38.2 million people watched live U.S. television coverage of President Joe Biden's Tuesday night State of the Union speech, according to ratings data from Nielsen, a42% jump from his 2021 address to Congress…. Biden's audience came in below the total for former President Donald Trump's first State of the Union speech in 2018, which attracted close to 46 million people."

"Dems agonize over Manchin's wish list: Taxes, prescription drugs, climate cash" [Politico]. "Hours after President Joe Biden laid out what he hoped to salvage from Democrats' defunct 'Build Back Better' social spending plan, Joe Manchin quickly assembled a counteroffer. It might amount to deja vu for Democrats, many of whom still feel burned from last year's debacle, yet many in the party are willing to entertain any shot they have to unify while they still have control of Congress. 'Here's the thing. I've always been open to talking to people okay? But they just don't want to hear,' Manchin said in a Wednesday interview. The West Virginia centrist laid out a basic party-line package that could win his vote in the interview, to lower the deficit and enact some new programs — provided they are permanently funded. It may be Democrats' best and last chance to get at least some of their major domestic priorities done before the midterm election, even as some leading liberals acknowledged any potential deal would not come close to the $1.7 trillion package Manchin spurned in December…. Progressives might take a while to warm to it. Asked about Manchin's hopes of diverting new revenues to deficit reduction and inflation, Sen. Bernie Sanders (I-Vt.) griped: 'I don't care what he wants. We're talking about what the American people want. He doesn't like it, he can vote against it, that's his business.'"

On the CDC's depraved "community level" metric, and the role of strategists like Impact Reserch in justifying it:

If an idea crosses the right Substack, the right newsletter, and is retweeted by the same ten Twitter accounts, every consultant and staffer in America will see it.

Then, they'll put in their memos. Then, those memos go up the chain. It's like a groupthink creation machine.

— Will Stancil (@whstancil) March 3, 2022

The whole thread is worth reading; "endemicity," for example, is a bullshit tell.
Democrats en Déshabillé
I have moved my standing remarks on the Democrat Party ("the Democrat Party is a rotting corpse that can't bury itself") to a separate, back-dated post, to which I will periodically add material, summarizing the addition here in a "live" Water Cooler. (Hopefully, some Bourdieu.) It turns out that defining the Democrat Party is, in fact, a hard problem. I do think the paragraph that follows is on point all the way back to 2016, if not before:

The Democrat Party is the political expression of the class power of PMC, their base (lucidly explained by Thomas Frank in Listen, Liberal!). ; if the Democrat Party did not exist, the PMC would have to invent it. . ("PMC" modulo "class expatriates," of course.) Second, all the working parts of the Party reinforce each other. Leave aside characterizing the relationships between elements of the Party (ka-ching, but not entirely) those elements comprise a network — a Flex Net? An iron octagon? — of funders, vendors, apparatchiks, electeds, NGOs, and miscellaneous mercenaries, with assets in the press and the intelligence community.

Note, of course, that the class power of the PMC both expresses and is limited by other classes; oligarchs and American gentry (see 'industrial model' of Ferguson, Jorgensen, and Jie) and the working class spring to mind. Suck up, kick down.

* * *

"Hochul Proposes Bringing Back Private Prison Labor" [New York Focus]. "As part of her executive budget, Governor Kathy Hochul included a proposal that takes aim at low prison wages—not by paying them more in their current jobs, where they're employed by the state, but by passing a constitutional amendment to overturn New York's century-old ban on private employment of incarcerated people. Hochul argues that private employers would pay higher wages—the same wages that would be offered for comparable work outside prison—and offer more job training. The measure is part of a broad agenda she has proposed, dubbed 'Jails to Jobs,' to reform the state's reentry system and help people secure jobs and housing after they're released from prison or jail. Many advocates for incarcerated people—including Guzman, who since his release in 2014 has worked on a campaign to raise the minimum prison wage to $3 an hour—are skeptical. They acknowledge that private employers could pay higher wages, but they say lax oversight of parallel programs in other states has enabled illegal exploitation. They also object to Hochul's proposal to allow the state to garnish up to 50 percent of incarcerated people's wages under the program."
2022
* * *

"Foreign Policy Unlikely To Save Democrats in the Fall" [Charles Cook, Cook Political Report]. "While we don't know the trajectory that the Russia/Ukraine crisis will take, and there are many factors that can impact on midterm elections, we do know that in the absence of a large number of U.S. military deaths, Americans rarely vote on foreign-policy issues, particularly in midterms. The state and direction of the economy, particularly change in real disposable personal income, is far more determinative. Turnout and the relative levels of enthusiasm between the two parties' bases is key. There was a big gap heading into the 2018 midterm elections with, as usual, the party out of power much more motivated going into the fall of that year—though the Brett Kavanaugh Supreme Court nomination did a lot to close the gap in predominantly rural areas, which helped Republicans actually score a net gain in the Senate while getting hosed (a political science term) in the House. Right now, Democrats are the party suffering from a lack of motivation among their base. If someone wanting a read on a midterm is only going to watch two things, it should be a president's approval rating and the generic congressional ballot test, both pretty good barometers of which way the wind is blowing and whether it's light, moderate, or heavy. In my view, Biden and his team are handling this incredibly challenging crisis far better than many other things over the last year. But this is unlikely to save Democrats from what is increasingly looking to be a pretty horrible midterm election."

"Texas primary signals tough path for Democrats heading into US midterms" [Financial Times]. "Progressive challenger Jessica Cisneros has forced incumbent Democratic congressman Henry Cuellar into a run-off in a closely watched congressional primary election in Texas that signals a tough path for Democrats heading into November's US midterm elections…. Cuellar, 66, is a rare example of a conservative member of Biden's party who favours abortion restrictions, laws that encourage gun ownership and stricter immigration policies. But he has enjoyed widespread popularity in the majority Hispanic area that he has represented since 2005, earning him the nickname 'King of Laredo,' a reference to the large city on the US-Mexico border where he was born and raised. This year's contest is a rematch: Cisneros came within 3,000 votes of ousting Cuellar in a Democratic primary in 2020…. Democrats are not the only ones keeping a close eye on the 28th congressional district. Republicans have identified the seat as a key target for November's midterms, after several counties in the congressional district swung aggressively towards Donald Trump in the 2020 presidential elections."

"Rio Grande Valley Voters Face Stark Choices in May Runoffs" [Texas Observer]. "On the Democratic side in Congressional District 15—a McAllen-based seat that Republicans will be competing hard for this year—two candidates emerged from a sprawling field. Ruben Ramirez, leading with about 28 percent of the vote, is an Army veteran who actively grabbed the race's right lane. In a recent forum, he opposed legalizing marijuana and said: 'I'm a South Texas Democrat. … We tend to be more moderate and more conservative in our view.' The other CD-15 hopeful headed for Texas' May runoff appears to be Michelle Vallejo, the co-owner of a local pulga who was recruited by the progressive group LUPE Votes. Vallejo has adopted LUPE's platform, which includes Medicare for All, a $15 minimum wage, and an anti-war foreign policy. Vallejo narrowly edged out another moderate Democrat for second place Tuesday night."
2024
"Walters: Feinstein must decide whether it's time to retire" [Mercury-News]. "California's senior U.S. senator, a California political fixture for more than a half-century, was facing a turning point even before her husband, financier and philanthropist Richard Blum, died on Sunday of cancer. The Senate's oldest member at 88 and the state's longest serving senator has clearly fallen out of favor with voters, even her fellow Democrats. A new poll by UC-Berkeley's Institute of Governmental Studies found that after years of steadily eroding popularity, just 30% of the state's registered voters now approve of her, including just 45% of Democrats. Meanwhile, 49% said they disapproved. 'The five-term senator now receives more negative than positive job ratings from strong liberals, women, voters of color, younger voters, as well as voters in Los Angeles County or the San Francisco Bay Area,' the poll noted…. Newsom is certainly not the only California politician who might want to succeed Feinstein. There are probably several dozen Democratic members of Congress who see a senator staring back when they look in the mirror, plus some other statewide officials and big city mayors. It all hinges on whether Feinstein is ready for a well-earned political retirement." • Feinstein filed in January 2021…
Trump Legacy
Trump's not the only self-believer:

Like there's no look to camera moment where he winks and acknowledges it's BS. No report of him telling his aides "cook up whatever lies you need to." All the accounts seem consistent that he acts, even in private, like he really believes it.

— Andrew Prokop (@awprokop) March 3, 2022
Realignment and Legitimacy
Return to normalcy (1):

The COVID -> war transition was absolutely seamless

— Michael Tracey (@mtracey) March 3, 2022

Return to normalcy (2):

2021: it's weird how WWI totally obliterated any cultural memory of the Spanish Flu

2022: Oh, I see…

— Eric Lach (@ericlach) March 1, 2022
#COVID19
Case count by United States regions: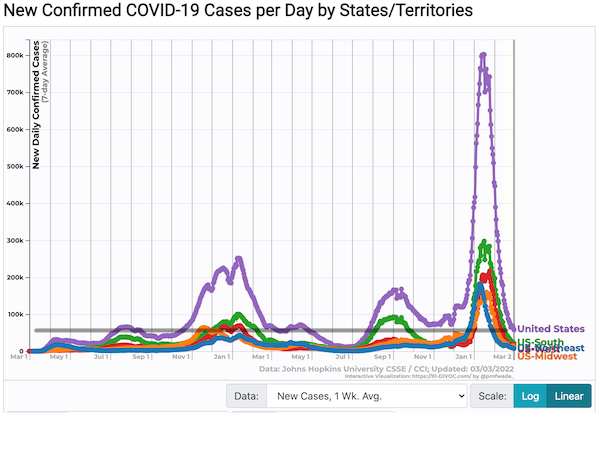 Fellow tapewatchers will note that "up like a rocket, down like a stick" phase is done with, and the case count is now leveling out. At a level that, a year ago, was considered a crisis, but we're "over" Covid now, so I suppose not.
NOTE I shall most certainly not be using the CDC's new "Community Level" metric. Because CDC has combined a leading indicator (cases) with a lagging one (hospitalization) their new metric is a poor warning sign of a surge, and a poor way to assess personal risk. In addition, Covid is a disease you don't want to get. Even if you are not hospitalized, you can suffer from Long Covid, vascular issues, and neurological issues. For these reasons, case counts — known to be underestimated, due to home test kits — deserve to stand alone as a number to be tracked, no matter how much the political operatives in CDC leadership would like to obfuscate it.
The official narrative was "Covid is behind us," and that the pandemic will be "over by January" (Gottlieb), and "I know some people seem to not want to give up on the wonderful pandemic, but you know what? It's over" (Bill Maher) was completely exploded. What a surprise! This time, it may be different. But who knows?
* * *
"Masks Work, Period." [Peter Daou, Direct Left]. "As I wrote recently, it would be awful enough if Republican politicians were the only ones treating vulnerable people as throwaways. That's to be expected from a callous, extremist, anti-science party. But disgustingly, Democratic leaders are following Republicans down the anti-mask and anti-mitigation path." • The Death Panel Podcast, in "Lying Like a State," makes the argument that what elites have learned from Covid is that they can kill a million people in two years and nobody will riot. A valuable lesson, indeed. The podcasters also recall Hobbes, who urged that without society, our lives would be "solitary, poor, nasty, brutish, and short." The Trump and Biden administrations, together, have gotten the State out of the business of making our lives not Hobbesian, good job,
When that kid on the left runs for office, I'm voting for him:
Ron DeSantis to USF students:

"You do not have to wear those masks. Please take them off. Honestly, it's not doing anything. We've gotta stop with this Covid theater. So if you wanna wear it, fine, but this is ridiculous." pic.twitter.com/FKjyeg9loQ

— TheBlaze (@theblaze) March 2, 2022
But tell me DeSantis is worse than Walensky:
"the Scarlet Letter of this pandemic is the mask"–@CDCDirector

Are you ashamed to wear a mask? I'm not. It's unclear why Director Walensky thinks we should be ashamed, but it does make it easier to understand why @CDCgov is retreating from this safe, effective, lifesaving tool https://t.co/Zfkh2Ausod pic.twitter.com/v4Zx0s5FUt

— Matthew Cortland, JD (@mattbc) February 25, 2022
Obviously, they're both equally bad.
MWRA (Boston-area) wastewater detection: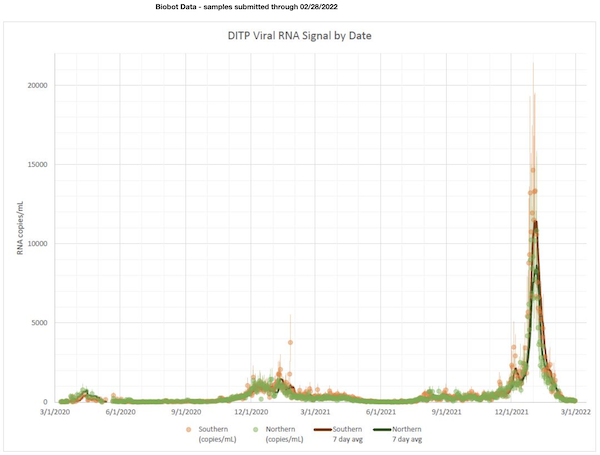 Flattened out, continues encouraging (and independent from the CDC).
The Massachusetts Water Resources Authority (MWRA) service area includes 43 municipalities in and around Boston, including not only multiple school systems but several large universities. Since Boston is so very education-heavy, then, I think it could be a good leading indicator for Covid spread in schools generally.
From CDC Community Profile Reports (PDFs), "Rapid Riser" counties: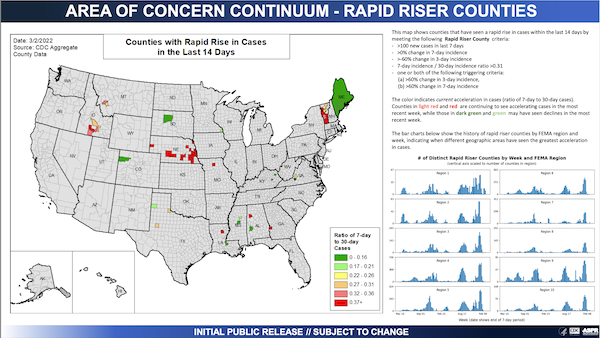 Idaho back up again. Vermont? Remember that these are rapid riser counties. A county that moves from red to green is not covid-free; the case count just isnt, well, rising rapidly.)
The previous release: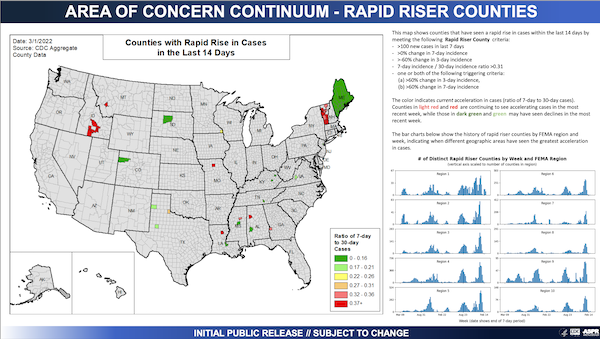 "Health update: Vermont's COVID-19 outlook improves" [Vermont Public Radio]. "COVID-19 case rates, hospitalizations and deaths are declining in Vermont, and health officials say they expect the numbers to keep falling. , there are still questions about how to keep older Vermonters and those with compromised immune systems safe." • Amazing how "the endemic phase" because conventional wisdom without, so far as I can tell, any scientific justification at all. Is it wishful thinking? Is it MBAs thinking their spreadsheets rule the world, instead of the other way round? It's bizarre. Like so much else.
Here is CDC's interactive map by county set to community transmission: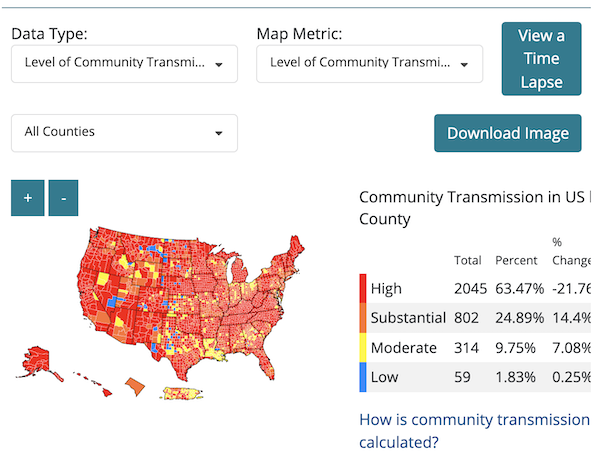 Continuing slow improvement.
Hospitalization (CDC Community Profile):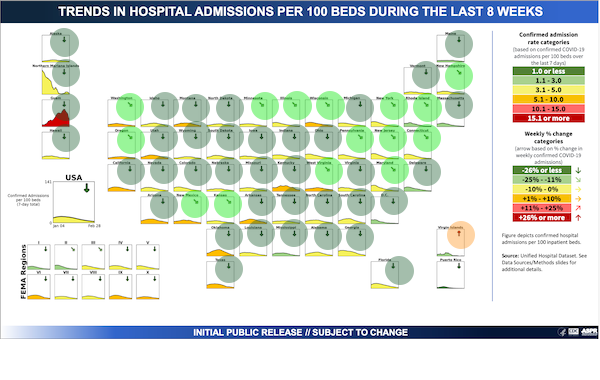 Sea of green once more, including the Northern Marianas. From the point of view of our hospital-centric health care system, green everywhere means the emergency is over (and to be fair, this is reinforced by case count and wastewater). However, community transmission is still pervasive, which means that long Covid, plus continuing vascular damage, are not over. (Note trend, whether up or down, is marked by the arrow, at top. Admissions are presented in the graph, at the bottom. So it's possible to have an upward trend, but from a very low baseline.)
Death rate (Our World in Data):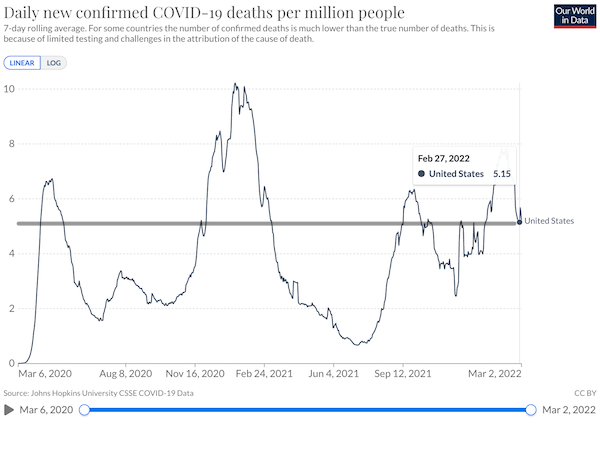 Total: 979,725 977,402. An uptick. But it looks like we won't break a million for Biden's SOTU. I was hoping for a ribbon cutting ceremony of some kind. Maybe the West Wing staff could have staged a photo op with funny hats and noisemakers. Walensky's staff could have joined in by Zoom. Ah well, nevertheless.
Covid cases in top us travel destinations (Statista):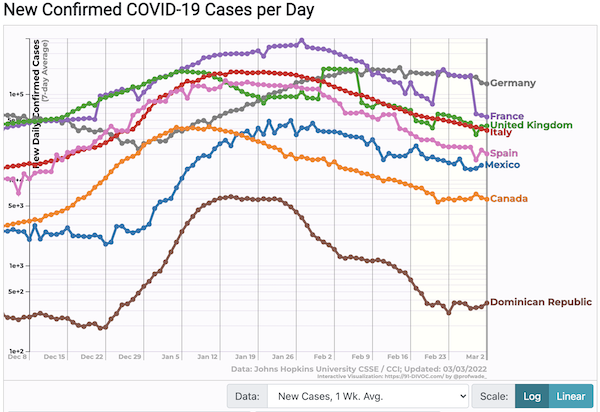 Stats Watch
Employment Situation: "United States Challenger Job Cuts" [Trading Economics]. "Job cuts announced by US-based companies fell to 15,245 in February of 2022 from 19,064 in January with 5,558 positions eliminated due to market conditions. Another 4,671 cuts were due to store, unit, or plant closing, while 1,430 cuts were due to workers refusing to get vaccinated against employer policy. In the first two months of the year, employers announced 34,309 cuts, down 70% year-on-year and the lowest January-February total since records began in 1993. Meanwhile, employers announced plans to hire 215,127 workers, the highest February total on record."
Employment Situation: "United States Initial Jobless Claims" [Trading Economics]. "The number of Americans filing new claims for unemployment benefits decreased by 18 thousand to 215 thousand in the week ended February 26th, from a revised 233 thousand in the previous period and compared with market expectations of 225. It was the lowest number since the start of the year amid strong demand for labor as Omicron restrictions eased."
Manufacturing: "United States Factory Orders" [Trading Economics]. "New orders for US manufactured goods went up 1.4 percent from a month earlier in January of 2022, quickening from a revised 0.7 percent increase in December and above market expectations of 0.7 percent. Orders rose faster in industries producing both durables (1.6 percent vs 1.2 percent in December) and nondurable goods (1.2 percent vs 0.1 percent). Among durable goods, main upward pressure came from transportation equipment (3.4 percent vs 1.7 percent), mainly driven by orders for nondefense aircraft and parts; followed by machinery (2.6 percent vs 1.3 percent), boosted by material handling equipment and ventilation, heating, air conditioning & refrigeration equipment."
Services: "United States Services PMI" [Trading Economics]. "The IHS Markit US Services PMI was revised slightly lower to 56.5 in February of 2021 from a preliminary of 56.7, but sill pointed to a strong growth in the services sector, following the easing of COVID-19 restrictions. The faster rise in output was supported by the steepest upturn in new sales for seven months."
Services: "United States ISM Non Manufacturing PMI" [Trading Economics]. "The ISM Services PMI for the US fell for a third month to 56.5 in February of 2022 from 59.9 in January, below market forecasts of 61. The reading pointed to the slowest growth in the services sector in a year, although a robust and above long-run average."
* * *
Commodities: "Wheat Prices Shoot to 14-Year High on Concerns over Conflict Between Russia and Ukraine" [Farm Journal]. "So, why are wheat prices seeing such momentum? Both Ukraine and Russia account for nearly 30% of the world's wheat exports. It's not just uncertainty about the crisis causing wheat prices to climb, but there's also worries about infrastructure damage in Ukraine and whether it will hinder the country's ability to export in the near future."
Commodities: "Grain Markets Set for Supply Shock of a Lifetime, Economist Says" [Bloomberg]. "Russia's invasion of Ukraine could devastate global grain markets so deeply that it's likely to be the biggest supply shock in living memory. That's according to Scott Irwin, an agricultural economist at the University of Illinois. Tens of millions of acres of grain production are at stake, he said Wednesday on Twitter. 'I am convinced it is going to be the biggest supply shock to global grain markets in my lifetime,' Irwin said. The world 'desperately' needs farmers to plant more acres in 2022, he said, but 'basically nothing can be done in the short-run except to run up the price of grain high enough to ration demand.' Ukraine and Russia together account for more than a quarter of the global trade in wheat, as well as a fifth of corn sales. Prices for those staple crops are soaring on concerns over supply disruptions at a time when global food prices had already reached record highs."
The Bezzle: "Brown-Forman 'underlying' numbers more spirited than actuals" [Francine McKenna, MarketWatch]. "Brown-Forman Corp., a leading U.S. spirits and wine company, put out a first-quarter earnings report on Wednesday that's arguably a dog's breakfast of made-up metrics and mixed-up year-over-year comparisons. The Securities and Exchange Commission issued updated guidance to companies in May, reminding them that numbers prepared according to Generally Accepted Accounting Principles, the accounting standard, must be shown first and emphasized equally with the adjusted, or non-GAAP figures, that often make results look better."
Concentration: "Ice Cream Machine Hackers Sue McDonald's for $900 Million" [Wired]. "For years, the tiny startup Kytch worked to invent and sell a device designed to fix McDonald's notoriously broken ice cream machines, only to watch the fast food Goliath crush their business like the hopes of so many would-be McFlurry customers. Now Kytch is instead seeking to serve out cold revenge—nearly a billion dollars worth of it. Late Tuesday night, Kytch filed a long-expected legal complaint against McDonald's, accusing the company of false advertising and tortious interference in its contracts with customers. Kytch's cofounders, Melissa Nelson and Jeremy O'Sullivan, are asking for no less than $900 million in damages. Since 2019, Kytch has sold a phone-sized gadget designed to be installed inside McDonald's ice cream machines. Those Kytch devices would intercept the ice cream machines' internal communications and send them out to a web or smartphone interface to help owners remotely monitor and troubleshoot the machines' many foibles, which are so widely acknowledged that they've become a full-blown meme among McDonald's customers."
Mr. Market:
Goodbye stay at home stonks, hello MIC Stonks https://t.co/omkgaI0X6p

— Izabella Kaminska (@izakaminska) March 3, 2022
* * *
Today's Fear & Greed Index: 23 Extreme Fear (previous close: 24 Extreme Fear) [CNN]. One week ago: 25 (Extreme Fear). (0 is Extreme Fear; 100 is Extreme Greed). Last updated Mar 3 at 1:21pm. Looks like Putin still has Mr. Market's attention.
L'Affaire Joffrey Epstein
"Maxwell juror to plead the Fifth" [The Hill]. "Both prosecutors and defense raised concerns after [Juror 50, Scotty] David, who identified himself using his first and middle name to the press, spoke to several different media outlets, saying he had informed fellow jurors that he had suffered sexual abuse but had not mentioned that while filling out a questionnaire as a prospective juror. The questionnaire asks if they or a family member has experienced sexual abuse, and a judge involved in the trial would address a juror's response if a prospective juror responded 'yes' to it. David had told Reuters that he 'flew through' the questionnaire but said he would have been honest about it had he been asked. The Maxwell juror explained he did not remember being asked about the matter. Those interviews prompted a motion for a retrial from Maxwell's attorneys. Maxwell, an associate of the late convicted sex offender Jeffrey Epstein, was previously found guilty of sex trafficking charges in December."
The 420
"Dr. Bronner's Offering Its Workers Psychedelic Therapy Coverage" []. "Dr. Bronner's is touting itself as being among the first U.S. employers to offer psychedelic-assisted therapy (PAT) to its employees via a health benefit plan. The soap manufacturer started offering ketamine-assisted therapy (KAT) as a benefit in January. The program is being operated by Enthea, a nonprofit startup aiming to extend PAT to several more employers' plans by the end of the year and make the trend widespread by 2025. 'High-performing and forward-thinking companies know the importance of employee mental health. We also see the best talent attracted to companies MedPage Todaywith next-generation benefits,' Enthea CEO Lia Mix said in a press release issued by Bronner's on Monday. 'We anticipate both human and financial return on these organizations' investment in covering psychedelic healthcare.'"
The Agony Column
"'Hard-partying bands are the outliers now': how rock'n'roll broke up with booze and drugs" [Guardian]. "Musicians and their crew used to be notorious for their booze and drug consumption on tour. Now, however – partly thanks to the pandemic – there's support for those who would rather try to stay sober…. While the artist has to deal with the highs and lows of attention, it's important to remember those not in the spotlight. 'There are a lot of people on crews, in management companies and record labels, who have died,' says Thomas. 'It wouldn't even be known that this is what they died from because there's so much shame and stigma around it. It's covered up.'… 'It's gone full circle: the reason I started playing is because I love it. Now I'm back to where I started – where people can come to watch me just lose myself in the music.'"
Class Warfare
"COVID-19 Pandemic Continues To Reshape Work in America" [Pew Research Center]. "Most U.S. workers (60%) don't have jobs that can be done from home, and others who do have these types of jobs are going into their workplace at least sometimes. For a large majority of these workers, their jobs continue to involve at least some in-person interaction with others at their workplace. About half of those who ever interact with other people at their workplace say they're very (19%) or somewhat (32%) concerned about being exposed to the coronavirus. This is virtually unchanged from October 2020. Roughly one-in-four (26%) say they are more concerned about this now than they were before the omicron variant started to spread, and the same share say they are less concerned now. A plurality (47%) say they are about as concerned now as they were before omicron."
News of the Wired
Living with Covid:
I run a small business.

We're a Covid conscious company.
We:
🏠 Minimise working together (allow WFH)
🔲 Monitor CO2
🌪️ Have air filtration on timers
😷 Provide 3M Aura masks
🧪 Have LFTs (& will buy them)
💷 Provide paid sick leave for isolation/illness

It's not hard.

1/🧵

— Pete 😷 #COVIDisAirborne (@PeteUK7) March 2, 2022
* * *
Contact information for plants: Readers, feel free to contact me at lambert [UNDERSCORE] strether [DOT] corrente [AT] yahoo [DOT] com, to (a) find out how to send me a check if you are allergic to PayPal and (b) to find out how to send me images of plants. Vegetables are fine! Fungi and coral are deemed to be honorary plants! If you want your handle to appear as a credit, please place it at the start of your mail in parentheses: (thus). Otherwise, I will anonymize by using your initials. See the previous Water Cooler (with plant) here. Today's plant (TH):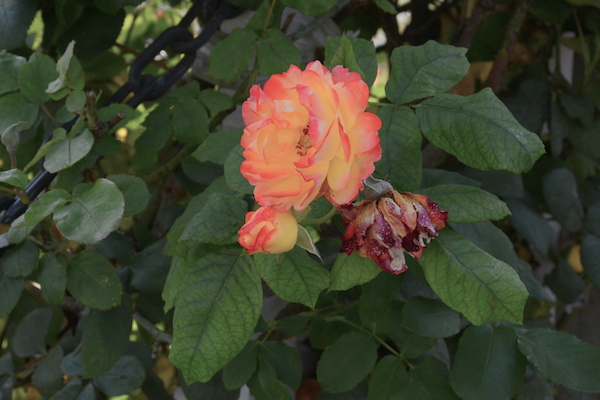 TH writes: "A friend of mine has a pass to the Huntington Library Gardens and invited me to accompany her on her visit. While Winter isn't abundant in blooms, we still found some beautiful plants. The majority of plants there are not identified, so I only know the obvious, that this is a rose."
* * *
Readers: Water Cooler is a standalone entity not covered by the recently concluded and — thank you! — successful annual NC fundraiser. So if you see a link you especially like, or an item you wouldn't see anywhere else, please do not hesitate to express your appreciation in tangible form. Remember, a tip jar is for tipping! Regular positive feedback both makes me feel good and lets me know I'm on the right track with coverage. When I get no donations for five or ten days I get worried. More tangibly, a constant trickle of donations helps me with expenses, and I factor in that trickle when setting fundraising goals:
Here is the screen that will appear, which I have helpfully annotated.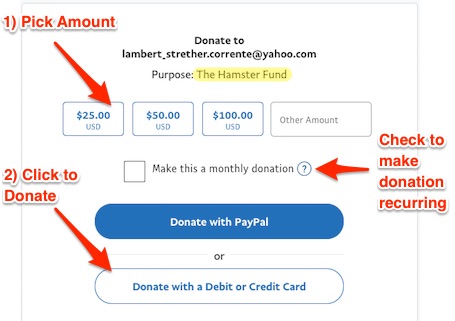 If you hate PayPal, you can email me at lambert [UNDERSCORE] strether [DOT] corrente [AT] yahoo [DOT] com, and I will give you directions on how to send a check. Thank you!