Given that the war in Ukraine is the focus of a massive propaganda operation in the West, it's telling that it's fading a bit from attention, either by design or a need to regroup. While the business press still gives the war top billing due to the fact that energy supplies and pricing around the globe are very much in play, the level of discussion on Twitter in the last couple of days has dropped dramatically. Similarly, I don't check into Daily Mail religiously, but not all that long ago, Russia's campaign crowded out celebrity coverage. By contrast, the last two days, the first conflict-related story, this on a TV host in Russia calling for regime change in the US, was well below the fold.
Not that there aren't new developments, mind you. Russia and Ukraine concluded two days of talks in Istanbul. Progress was made and the two sides will meet again. As I understand it (and readers are welcome to correct me) Ukraine presented a proposal. It appears Russia didn't, due to some combination of having already set forth its red lines and not wanting to negotiate against itself.
The two sides appear to have closed the gap on some issues. Russia said it will provide more in the way of a response in the next round. So press reports that Russia is saying there was no breakthrough and a lot of work remains to be done should come as no surprise.
Specifically, Ukraine says it will not join NATO. How Zelensky can commit to that when it's been put in the Ukraine constitution is beyond me. Russia agreed that Ukraine can join the EU. The latter sounds like a non-concession. Most of the EU has cooled considerably on further expansion to the East now that Poland has turned out to be a monster headache. On top of that, having Ukraine join would have all of those supposedly temporary refugees from Ukraine have the right to live and work in their new home countries. Bloomberg reports tonight that 4 million have fled.
Another Russian non-concession was offering that Russia would considerably reduce the size of its forces near Kiev. Interestingly the Western press and officials did not depict this as an admission of Russian weakness or reduction of aims, but instead first tried to portray Russia as dishonest and doing no such thing. The reality is more along the lines that reducing troop levels in Ukraine would be a big deal, but in the Kiev environs serves mainly to give civilians some sense of relief.
For instance, an early evening take from the Financial Times:
Russia has decided to "dramatically" scale back its military activities in the Kyiv area, a top Moscow defence ministry official said following a fresh round of peace talks with Ukrainian counterparts in Istanbul.

Alexander Fomin, Russia's deputy defence minister, said the move was intended to "increase mutual trust" as he announced it in Turkey after face-to-face talks concluded on Tuesday.

But western officials cautioned against taking Moscow's pledge at face value. "Nothing we have seen so far suggests that Putin and his colleagues are particularly serious about the talks. They are likely just playing for time," said one.
Recall the US wouldn't deign to negotiate with Russia before the war, refusing repeated entreaties from Russia to provide written responses to its proposals, and then accused Russia of not being willing to negotiate! So the US is hardly one to judge what good faith amounts to in this arena.
But it should be obvious that loosening the noose on Kiev isn't as big a deal as it might sound, particularly since Russian officials have said they've finished the first phase of their operation. That presumably means now that they have effectively taken Mariupol, they can reduce headcount there, to recover, assist forces elsewhere in Donbass to capture the >60,000 Ukrainian soldiers cauldroned there, or occupy the rear between that grouping and Kiev so the "pinning" operation is less necessary. This important tweetstorm by Scott Ritter explains how the Russian operations employed some classic military devices practiced by the US in Desert Storm. From the opening of his discussion:
2/ Maneuver warfare is a good place to start. Understand Russia started its "special military operation" with a severe manpower deficit—200,000 attackers to some 600,000 defenders (or more). Classic attritional conflict was never an option. Russian victory required maneuver.

— Scott Ritter (@RealScottRitter) March 29, 2022
6/ While this complex operation unfolded, Russia needed to keep Ukraine from maneuvering its numerically superior forces in a manner that disrupted the Mariupol operation. This entailed the use of several strategic supporting operations—feints, fixing operations, and deep attack.

— Scott Ritter (@RealScottRitter) March 29, 2022
Accordingly, the Western press has now shifted tone toward more sensible arguments, that any reduction is short-term and tactical (Bloomberg) or Reuters taking up Zelensky messaging, that Russia is pulling back near Kiev simply to "refit after heavy losses." Erm, the troops around Kiev were not doing all that much save pin down Ukrainian forces in the west so they could not assist the ones Russia was attempting to and eventually did encircle in the east).
A Russian perspective on the state of play, from Vedomosti, translation courtesy TASS:
In Istanbul, Russia heard Ukraine's "clearly formulated" stance…Ukraine's proposals include the country's neutral and non-nuclear status, ensured by international guarantees and the non-use of force against Crimea and "certain areas of the Donetsk and Lugansk Regions."…. the sides have diverging positions on Donbass' borders. That said, Russia does not oppose Ukraine's aspiration to join the EU.

Judging by the latest talks, the rhetoric of both sides has toned down, Russian International Affairs Council (RIAC) Director General Andrey Kortunov said. According to him, Russia is ready to work with Ukraine's leadership and does not seek regime change. That said, it is obvious that so far there is no clear rapprochement on the territorial issue, he added.

The special military operation will continue at least in Donbass, and Russia will aspire for the Donbass republics to receive control within the spring 2014 borders of the Donetsk and Lugansk Regions, Deputy Director of the Center for Comprehensive European and International Studies at the Higher School of Economics Dmitry Suslov said. Therefore, Ukraine's armed forces there will be either pushed back or encircled. He noted that the proposals do not provide answers to Russia's two key goals of the special operation – demilitarization and denazification.

The expert thinks that it is possible to divide the agenda into several components while postponing the final settlement, particularly with regards to the status of Crimea and the Donbass republics. In his opinion, Ukraine's temporary rejection of a military resolution to the territorial issues for 15 years does not suit Russia at all. He envisions two possible scenarios: Russia will either try to resolve all the issues comprehensively in one agreement which means that the special operation will continue, including in the south of Ukraine since there Russia hasn't assumed any obligations, or will agree to Ukraine's proposals on its neutral and non-nuclear status and postpone the resolution of the territorial issues. In this case, it is likely that Russia will keep its military presence in the areas where its units are already located or will be located in the near future. The complete pullout will happen after a comprehensive agreement with Kiev is reached.
Now to the Russia "unfriendlies can only buy gas using roubles" countersanction. This standoff is coming to a head. Recall that Russia set a deadline of the 31st when Gazprom is announcing the mechanism(s) at the earliest today. This is already peculiar unless Russia would accept buyers simply making a statement that the new scheme was acceptable, since it's extremely unlikely that many would have the right banking/payment system mechanics in place already.
Alternatively, Russia could have heard the nearly-united "Nyets" and decided that there was no point except for the observers in the nosebleed seats to give buyers much time to react, since they'd already made up their minds. Note that South Korea last week stated it would pay in roubles. Plus the G7 saying no is not tantamount to all of the EU saying no. For instance, Hungary has been sitting out this spat. They seem likely to accept the Russian requirements.
As I was drafting this post, a new story from Reuters shows that Russia recognized the Putin-imposed deadline of March 31 was unrealistic overly ambitious even for those that did want to play along. But Russia is showing a new stick as well as offering a sort of carrot:
Russia will not immediately demand that buyers pay for its gas exports in roubles, the Kremlin said on Wednesday, promising a gradual shift and saying Russia should work on an idea to widen the list of its exports requiring rouble payment….

Earlier on Wednesday, Russia's top lawmaker Vyacheslav Volodin said the European Union would have to pay in roubles if it wanted Russian gas and said oil, grain, metals, fertiliser, coal and timber exports could be priced the same way.

The government, the central bank and Gazprom are due to present proposals for the switch by Thursday.
And Russia made clear that buyers that do not comply will not get gas. From Anadolu Agency earlier in the week:
Russia will not deliver gas to Europe for free, Kremlin spokesman Dmitry Peskov said on Monday.

Asked at a daily briefing in Moscow what Russia will do if Europe refuses to pay for gas deliveries in rubles, Peskov urged to "to solve issues as they come."

"The delivery process is very, very complicated, it's not buying some product in a store — you buy and pay at the checkout. These are deliveries, payments, and balance sheets, these are time-stretched processes. Now all the modalities are being worked out between the departments, with Gazprom.

"But the fact that we will not supply gas for free is unequivocal. This can be said with absolute certainty. In our situation, it is hardly possible and hardly advisable to engage in pan-European charity," he said.
Let's stop here to make a key point I may not have flagged as strongly as I should have earlier. Because Russia has been running trade surpluses in recent years, and even Russians haven't regarded the rouble as a great store of value, there aren't a lot of roubles floating around outside Russia. And gas buys are in very big volumes.
So any workable "pay in roubles" scheme will have gas buyers going to Russian banks to execute the foreign exchange transactions, as in sell dollars or euros or sterling to the bank and have it buy roubles to tender to Gazprom. Or in the old world, before the Russian Central Bank was on the top of the sanctioned banks list, the Russian Central Bank could have extended currency swap lines to some large Western banks as another way to allow for banks to obtain roubles.
Now it may be that Russia really wants to stick it to the West and demand an above-market foreign exchange rate for the rouble. But the rouble has already gone up markedly from its start of sanctions low. From TradingView: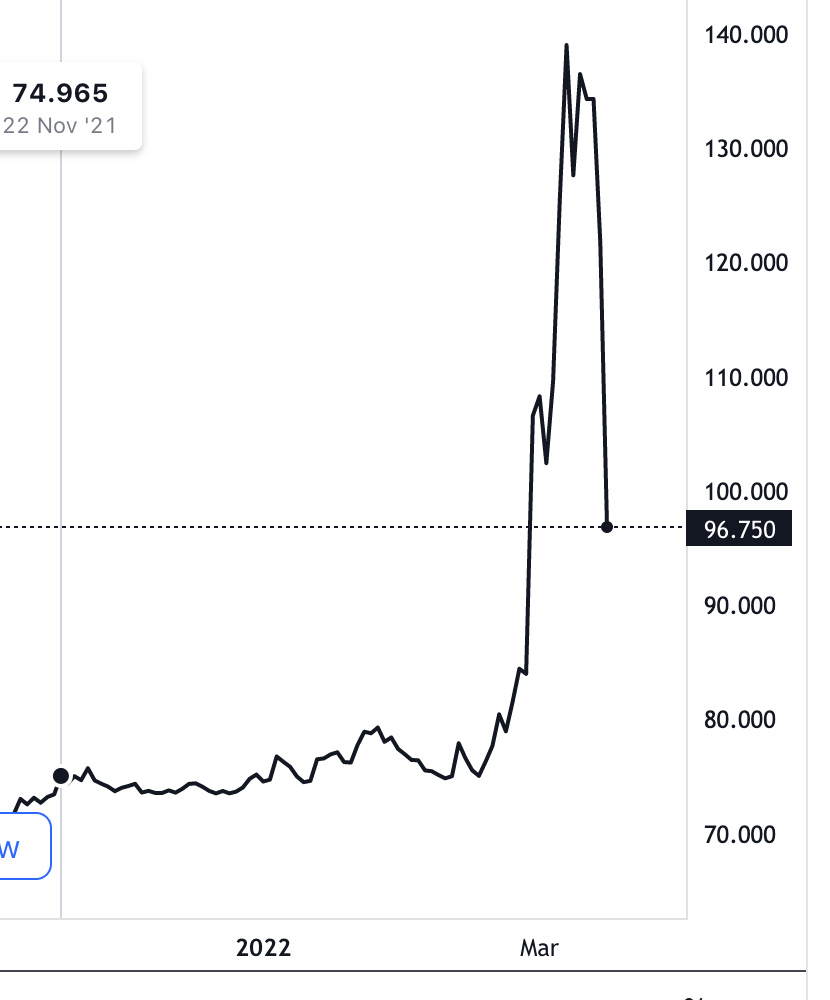 Bear in mind that the rouble traded in a fairly narrow and higher range in 2021, from a high of roughly 69.4 to a low of roughly 77.5.
Again, and I may be proven wrong, but the body language from Russia so far is that this change is not about propping up the rouble with an artificial FX rate, but to reduce its exposure to further financial sanctions by making Russian institutions the locus of payment operations. That also means the West could not afford to sanction them if it wants to buy Russian goodies.
Consistent with that reading, one Russian economist opined that a light touch approach, of having buyers transaction with Russian banks, should suffice. From Nezavisimaya Gazeta, translation via TASS:
Leading expert at the Financial University and the National Energy Security Fund Stanislav Mitrakhovich believes that in reality "finding rubles" is very easy. "It is enough to come to the Moscow stock exchange or simply open an account in a Russian bank and make a conversion," the expert said.
An additional consideration is that Germany, despite taking a very hard line stance, is not making it a legal requirement of public utilities. Note German Energy Minister Robert Habeck's words, as reported by Associated Press:
Habeck said that "payment in ruble is not acceptable and we will urge the companies affected not to follow (Russian President Vladimir) Putin's demand."
I have no idea how much of Russia's gas to Germany is sold to private entities versus government buyers. However, despite the apparent lack of compulsion to follow the government's strong desire, I doubt that many will break ranks. First, they could expect to be savaged in the press. Second, they could be subject to secondary US sanctions, depending on what the Russian mechanisms are.
Finally, Russia is already cutting some energy flows due to lack of buying. This OilPrice story is about oil pipelines, but it illustrates how Russia is willing to halt supply:
Transneft, the Russian oil pipeline operator, has informed local oil companies that it would be capping the intake of yet-to-be-sold crude because of full storage as buyers in the West shun Russian oil, Reuters reported on Tuesday, quoting sources with knowledge of the plan.
Note that another OilPrice story makes clear a lot of Russia oil is still making its way to users:
Despite the U.S.-led ban on importing Russian oil that some of Washington's allies will also implement, Russian oil in significant volumes will continue to flow into various leading oil-importing countries, so adding to the overall global supply and affecting oil prices. In oil trading terms, then, it is erroneous to assume that all circa-11 million barrels per day (bpd) of Russian oil supply has somehow been removed from the global supply/demand matrix and that this will tighten that oil pricing matrix in favor of further gains….

Three other factors are also apposite to note in terms of explaining Novak's upbeat take on the prospects for Russia's oil sector, each of them analyzed in full in my new book on the global oil markets. First, Russia has long been able to make very good profits on all of its oil at US$40 per barrel of Brent…

The second reason is that despite the US dollar-centric sanctions on Russia, the country pays all of its domestic expenses in roubles, so the availability of US dollars or the US dollar-Russia rouble exchange rate is of no consequence in this regard. That said, it is a very clever move to make importers of Russian gas from 'unfriendly countries' pay for Russian gas in roubles, as it does lend support to the Russian currency, which has a positive psychological effect on those receiving money in that currency. And third, Russia will not be devoid of US dollars anyhow, or other hard currencies, given that it can certainly count on continued massive oil and gas and other trade with China and India.
So as this oil detour makes clear, Russia does not need more Western currencies while it is under sanctions. Ivestia explained why the rouble has rallied:
The Russian currency rose sharply on March 28 as a result of exporters selling foreign exchange earnings and a drop in demand for dollars from resident enterprises and residents….

Meanwhile, a sharp decline in international tourism from Russia has also led to the strengthening of the ruble, and as a result the demand for foreign currency has naturally fallen, investment strategist at BCS World of Investments Alexander Bakhtin said. He noted that commodity prices remain high, which is also a positive sign for the Russian currency.
And Russian purchases of Western consumer and industrial goods are also down, again reducing demand for foreign currencies.
Russia is also starting to reduce gas shipments. From Reuters in a story on the 29th:
Physical gas flows through the Yamal-Europe pipeline at Germany's Mallnow point fell to zero on Tuesday afternoon, data from operator Gascade showed, while Russian gas deliveries to Europe on the other two key pipeline routes were broadly steady…

Russian gas giant Gazprom has booked some westbound gas transit capacity via the Yamal-Europe pipeline for Tuesday night and for Wednesday, Interfax news agency reported, citing auction results.

The actual flows are not guaranteed because Gazprom does not always use booked capacity.
The picture for Europe, particularly Germany, is more painful. A politically-connected contact was gobsmacked by German Chancellor Olaf Scholz having a major attack of cognitive dissonance in the same interview, that Germany would not buy Russian gas in roubles, yet saying that Germany needed Russian gas. Due to the hour and this post getting overlong, just a quick item on this front from the Financial Times, Germany takes step towards gas rationing over payment stand-off with Russia:
The German government has taken the first formal step towards gas rationing as it braces itself for a potential halt in deliveries from Russia because of a dispute over payments…

During the early warning phase — the first of three stages in Germany's emergency response — a crisis team from the economics ministry, the regulator and the private sector will monitor imports and storage.

If supplies fall short, and less draconian attempts to lower consumption do not work, the government would cut off certain parts of German industry from the grid and give preferential treatment to households.
I am sure we'll have more to say soon about the details of the Russian plan and whether it looks like it will deliver on its threat to extend its "rouble pay" scheme to other commodities, and how Europe is battening down. Stay tuned.