Patient and generous readers, we are now at 290 donors, which is a bit over 80% of this year's goal of 350. If you have been waiting until the last minute to make your contribution — you can click to donate here — now is the time. If you can only give a little, give a little; every little bit helps! If you can give a lot, do feel free to give a lot!
Here are some of the kind messages readers have sent:
With daily thanks. . . –A.T.

WC is a daily necessity in this household. Grateful for what you do. –C.K.

Thanks for the daily content! Very thorough and well documented. –B.F.

You (and the NC crew) are the best source of information on the internet, bar none. –M.H.

Thanks for all the sorting — love the shipping news! –L.L.

Thanks for the daily dose of close reading and commentary on a range of topics. I do need a second helping of Naked Capitalism after the morning's Links and appreciate the work you do to provide it! –J.I.

Can't wait until 2pm for most days. The daily Links usually comes out at the beginning of my work day but by 2 pm I am thirsting for the water cooler. Many thanks. –M.T.

With deepest appreciation for all that you do! –L.W.J.

Thanks for all the hard work! –J.J.

Keep up the great work! — S. Intro

Just keep doin' what yer doin' –D.E

It's funny to see that many other commenters have passed on your witticisms to friends like I do, "Lambert says…." You're the best. –C.T.

If NC's analysis of the extent of the US elite's blundering is on target, we're in for some very difficult times in which NC will be essential. –W.E.

How nice that you (and we) find yourself just where you belong —-M.K.

Your wit, wisdom and writing ability really stand out at the Water Cooler. I want to do my part to make sure it continues. I'm very thankful that there is a place to go to find thoughtful, intelligent discussions on relate to topics. You are truly an oasis in this crazy world. –D.M.

Hope the fundraiser is a big success! –A.M.
If you see yourself in any of these comments, then please do what you can to keep Water Cooler going. As Yves writes:
To be crass, Lambert is making well under a living wage for his work on Water Cooler and that is not right. We need you to live up to what we hope is one of the widely-held values in the commentariat, that people should be paid fairly for their work, especially work that has already been done! That means digging into your wallets, whether a little or for a lot, and chipping in for Water Cooler.
One final word: Readers, I could not write Water Cooler without your careful attentiveness to word and fact, your critical thinking skills, your remarkably broad range of experience (especially working experience), your willingness to engage in debate, and your willingness to be pleased by what is after all a very eclectic and constantly shifting collection of bright shiny objects. I could not write Water Cooler without you. (Well, I suppose I could, but it certainly wouldn't be any fun.) So I thank you for your as well.
Here is the screen that will appear, which I have helpfully annotated.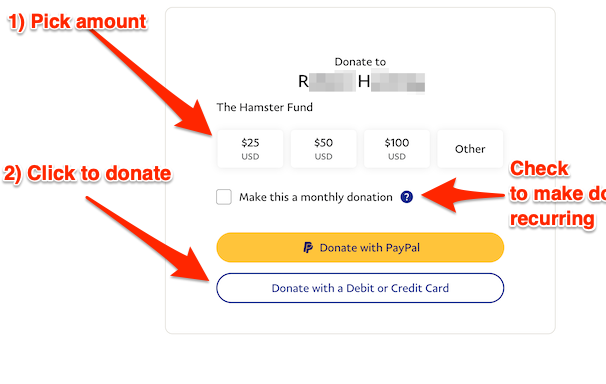 If you hate PayPal, you can email me at lambert [UNDERSCORE] strether [DOT] corrente [AT] yahoo [DOT] com, and I will give you directions on how to send a check. Thank you!